Adriana has published hundreds of recipes online and is a Board Certified Nutritionist. Read our recipe development process or more about Adriana.
Lemon simple syrup is a delicious citrus-infused liquid sweetener perfect for creating flavored cocktails. This recipe pairs lemon juice, lemon zest, and sugar together to create a tangy powerhouse of flavor. Not only is lemon syrup great for cocktails– it works in tea, lemonade, lattes, and desserts as well.
The tartness of the lemon juice is balanced with sugar for a sweet puckery flavor combo. Who would have thought lemon juice and sugar were a match made in heaven?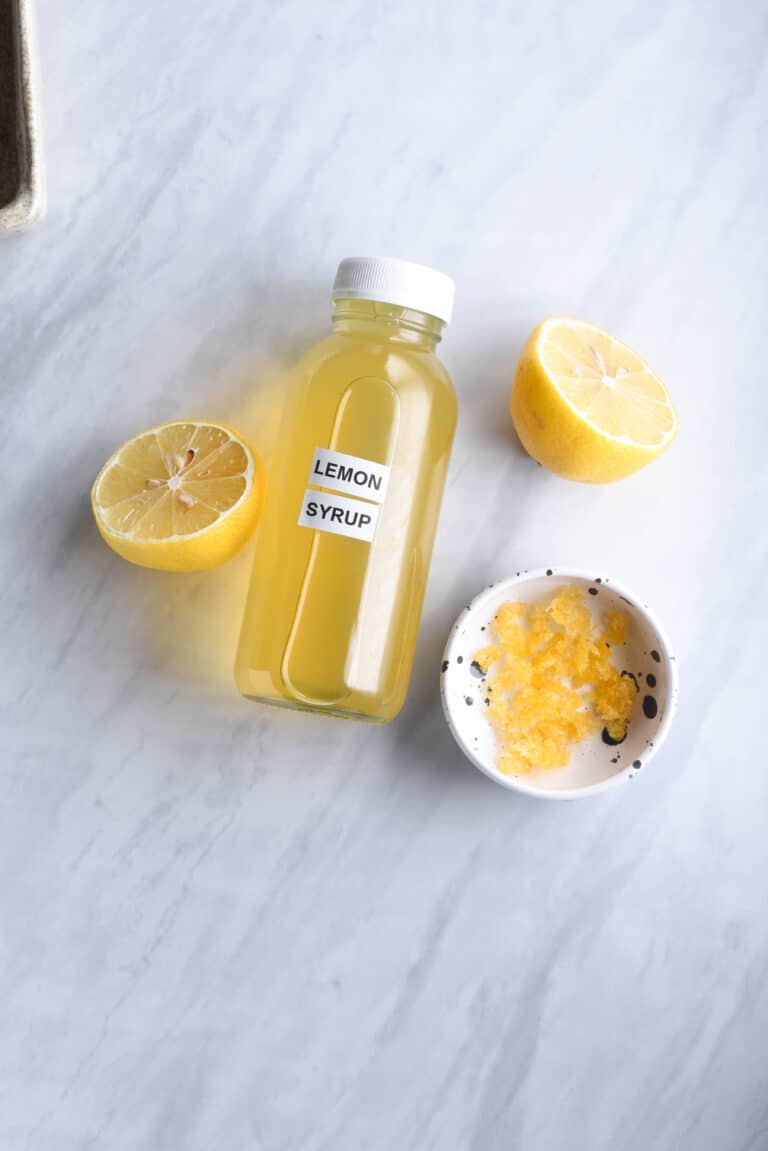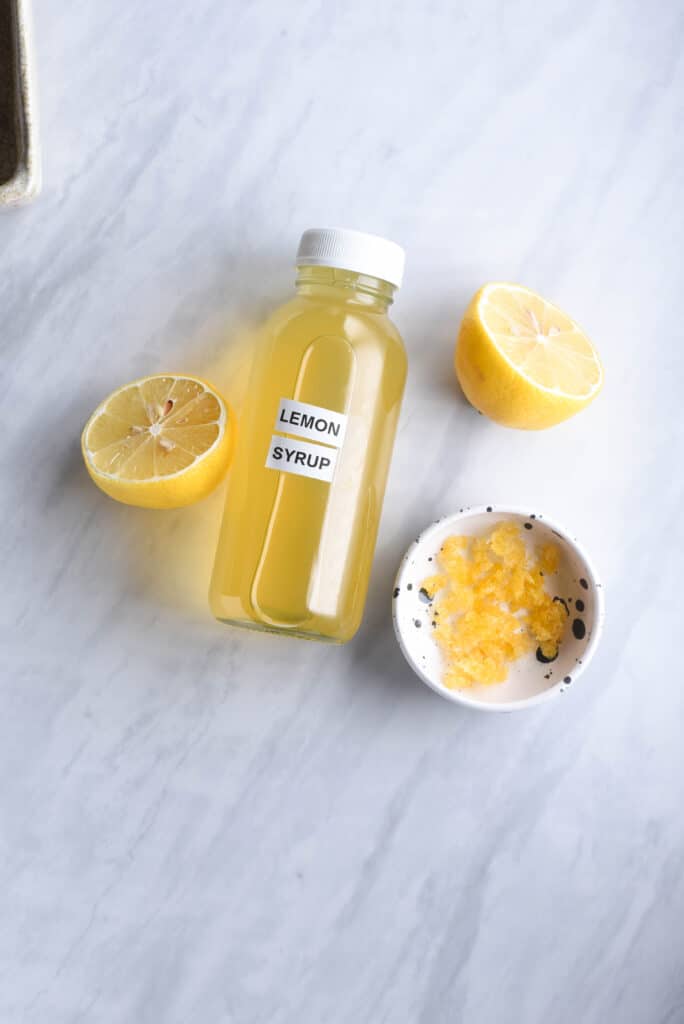 (This post may contain affiliate links. That means I'll get a small commission on any sales made through those links. Read our full disclosure.)
How To Make Lemon Syrup
Making lemon simple syrup is quite easy. All the ingredients you need are likely already waiting for you in your kitchen. It's only 2 ingredients: fresh lemons and sugar; it's only 15 minutes of your time.
Lemons are easier to zest prior to cutting and juicing so we recommend starting with zesting the lemons. Juice enough lemons for 1 cup of fresh juice- we have tips below to help select the juiciest lemons.
For 1 cup of lemon juice you'll need 4-7 lemons, depending on size.
Add lemon juice, lemon zest, and sugar to a small pot over medium-low heat and bring to a simmer. Reduce heat to maintain a gentle simmer for 5 minutes to help the lemon zest release its oils.
Pour the lemon simple syrup through a fine mesh strainer and store in the fridge to use as needed!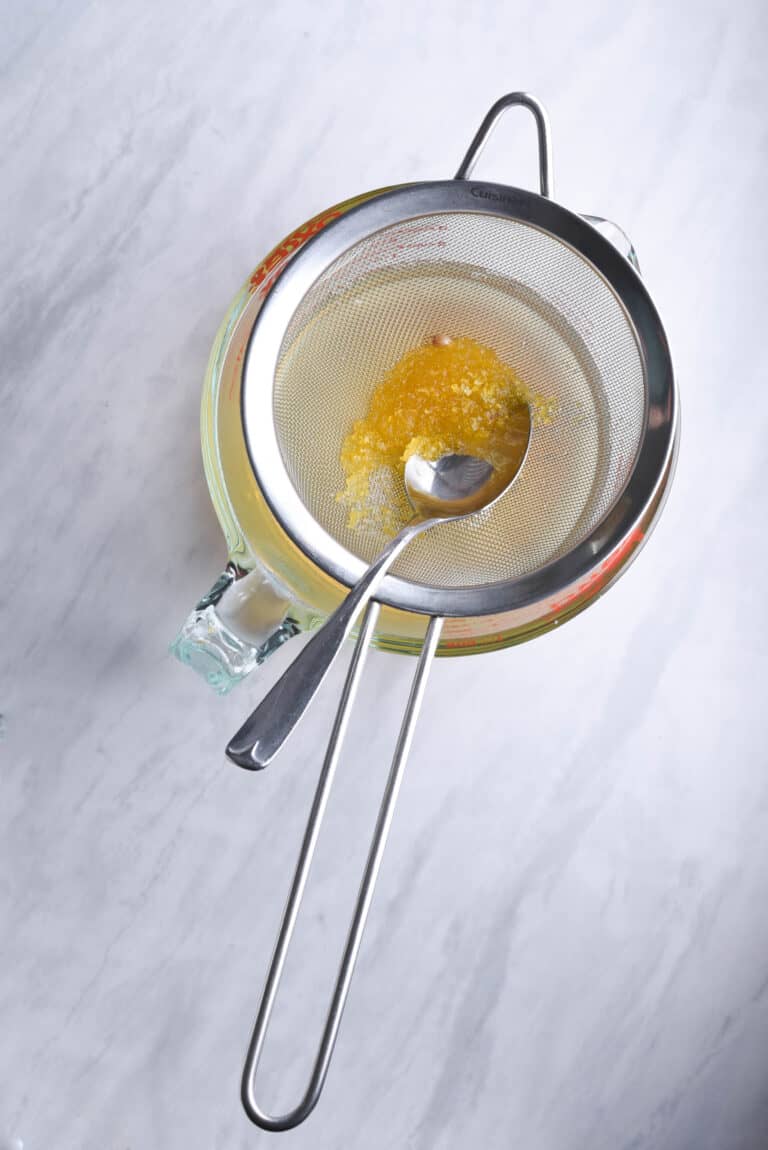 Related Recipes: Rose Simple Syrup | Jalapeno Syrup | Ginger Simple Syrup
How To Choose The Juiciest Lemons
Have you ever noticed there is a huge difference in the amount of juice from lemon to lemon? Some lemons are small but release a large quantity of juice and some large lemons have a scant tablespoon of juice! What gives?
There are some tried and true tips to help you select the best lemons at the grocery store– saving you time and money! One lemon can yield 2-4 tablespoons (1/8-1/4 cup), depending on the size and a few other secret factors.
Additionally, one lemon can yield about 1 tablespoon of zest.
Our tips for selecting the juiciest lemons:
Lemons with thinner skin are juicier. First, look at the fruit's skin: you want fewer and flatter 'dimples' on the surface. You can also look at the stem end of the lemon– if the stem end is bulbous and protrudes, this often indicates thicker skin. A thinner, flatter stem end usually signals the fruit has thinner skin.
Smaller dimples or 'pores' are another sign of thinner skin on a lemon.
Heavier, more dense lemons tend to be juicier! If you select 2 similar-sized lemons, opt for the heavier of the two! More weight = more juice.
Color: Avoid green, brown, or whitish-looking lemons; deep golden yellow lemons are the most ripe and contain the most (and best tasting!) lemon juice.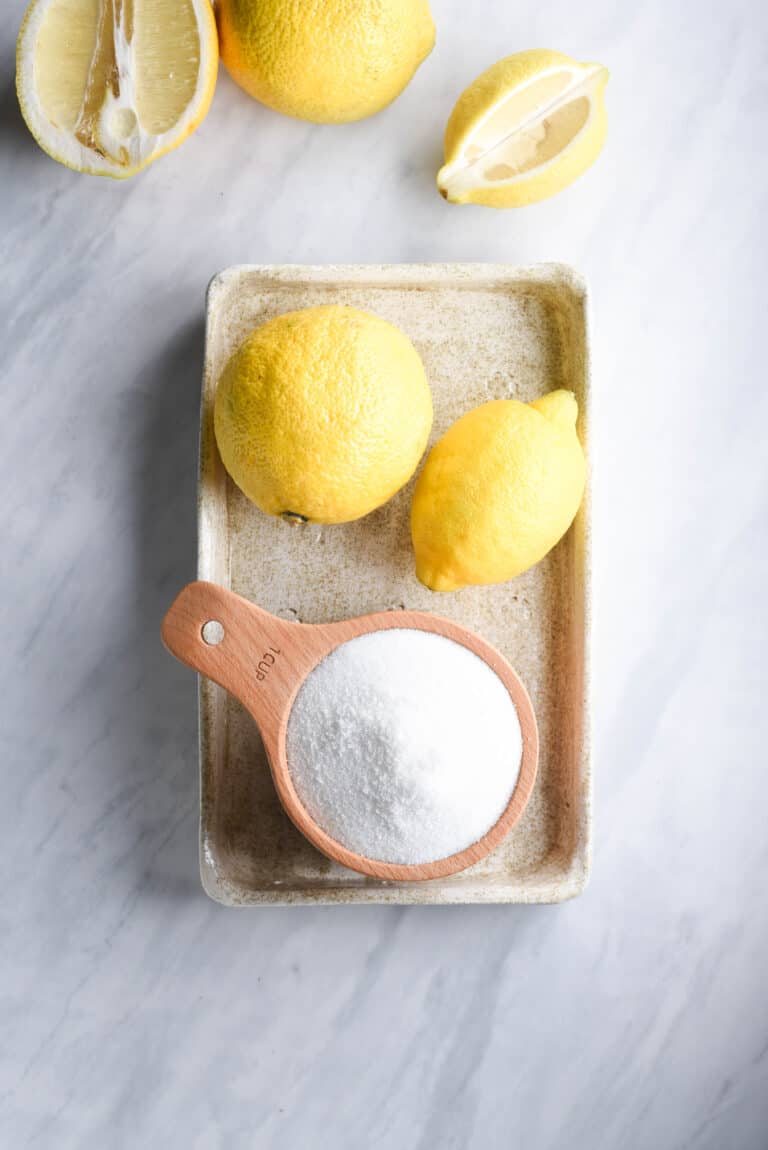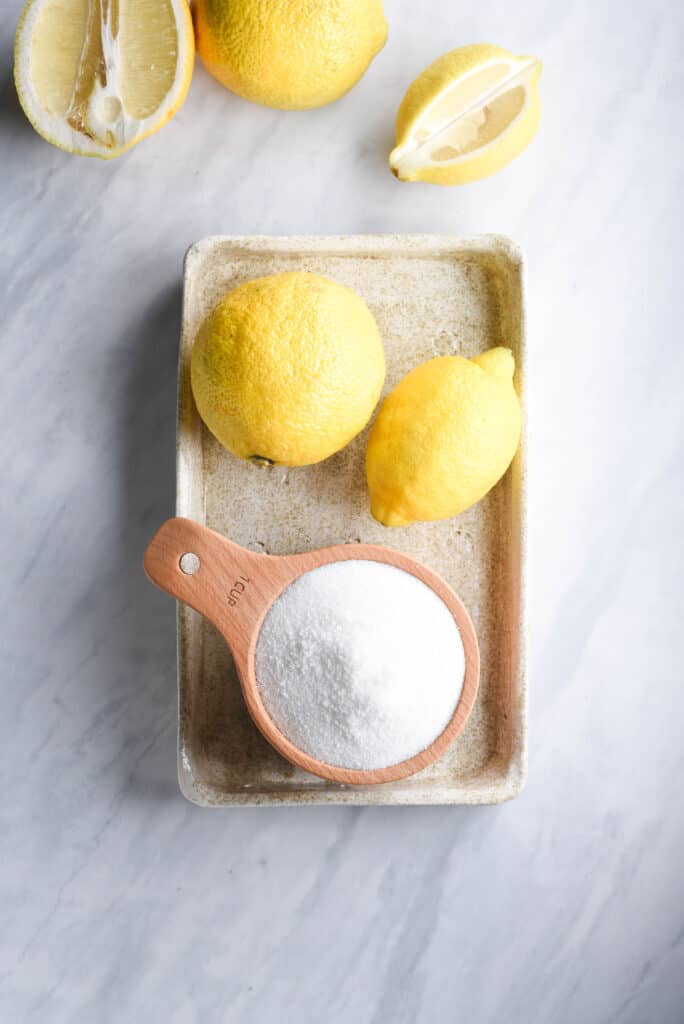 Lemon Syrup Cocktails
Citrus simple syrup can be used to create cocktails with a variety of different spirits and mixers. Lighter-colored spirits like vodka, gin, and light rum are especially wonderful; whiskey and lemon work very well together.
To use lemon simple syrup, replace the standard simple syrup called for in a recipe with lemon syrup in the same amount, a 1:1 substitution. Any mixed drink made with simple syrup can be turned into a lemon version by using lemon simple syrup. All you need to do is think about how the flavors align and run wild!
Margaritas, old fashioneds, smashes, sours, juleps, mojitos, gimlets, and collins' are cocktail types that typically use simple syrup and are a good starting point to try and build a lemon version!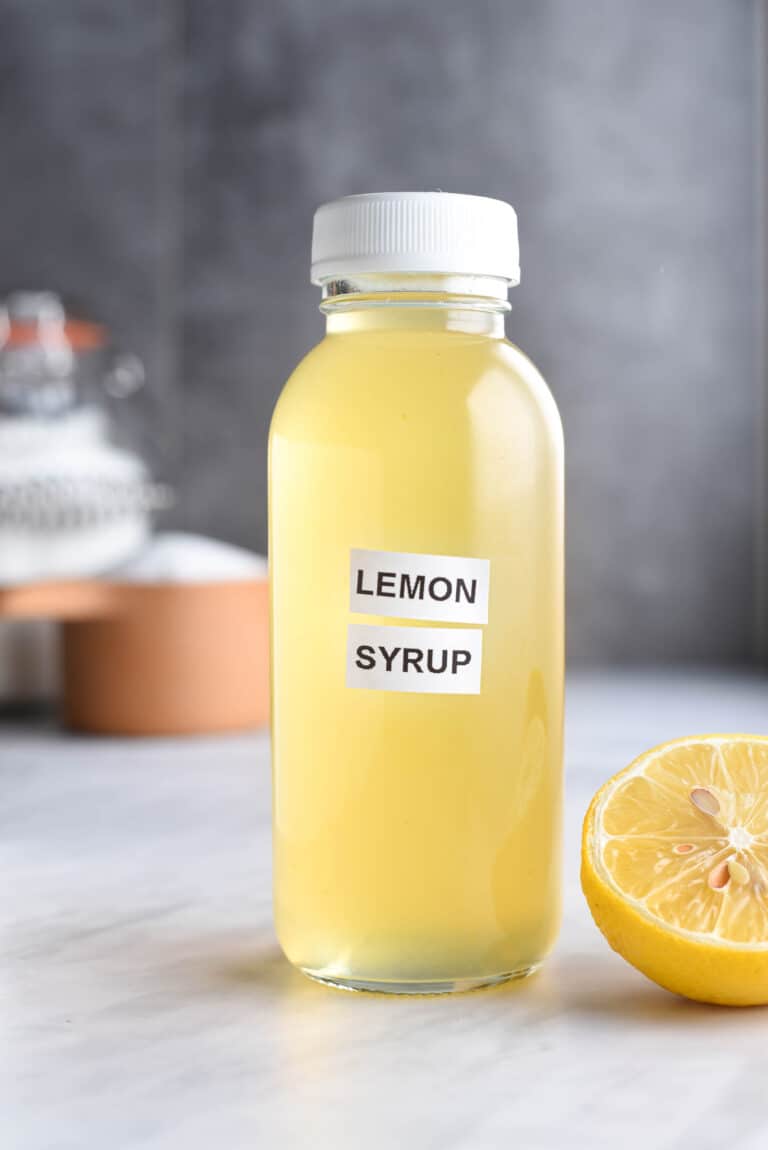 Lemon Syrup Variations
Lemon is a unique and beloved flavor in the kitchen. It pairs wonderfully with so many other flavors. If you love lemon simple syrup and are looking to get creative, here are delicious lemon flavor pairings.
Vanilla: Lemon and vanilla go surprisingly great together! The smooth, smoky undertones of high-quality vanilla can stand up to the big flavors of lemon.
Fresh herbs: Basil, thyme, and rosemary are lovely with lemon. Use 1 tablespoon of chopped fresh herbs to flavor this syrup without overpowering it.
Fruits: Summer berries are perfect with lemon; berries will drastically change the color of the syrup! Adding 1/2 cup of mashed berries is a great starting place.
Other citrus: Lime, grapefruit, and orange all go hand in hand with lemon. Try making a combination of citrus syrup by using half lemon and half a different citrus!
Lavender: We love lavender syrup on its own, but pair it with lemon for a perfumey syrup.
More Ways To Use Lemon Syrup
If you only wanted to make a few cocktails with lemon simple and you have some extra syrup kicking around in the fridge here are some creative ways to use it.
Beverages: Lattes, steamers, coffee, tea, iced tea, lemonade, and flavored sodas.
Cocktails & Mocktails: Use in cocktail or mocktail recipes.
Brush fresh-out-of-the-oven pizza crust with lemon syrup for a surprising flavor pop.
Drizzle over ice cream!
Make lemon tea by adding leftover lemon syrup to boiling water in a mug.
Use as a breakfast syrup on pancakes, waffles, or Dutch baby pancakes.
Use it to sweeten homemade jams and jellies.
Parfaits & Yogurts: Flaxseed pudding, chia pudding, oatmeal bowls (like flaxseed oatmeal), yogurt parfaits, and overnight oats can all be sweetened with lemon simple syrup.
Add it to a marinade.
Toss freshly made popcorn with basil syrup and salt.
Add to smoothies or homemade popsicles.
Use to make candied nuts.
Swap simple syrup for the sweetener in salad dressing.
It's great for sweetening and flavoring homemade granola.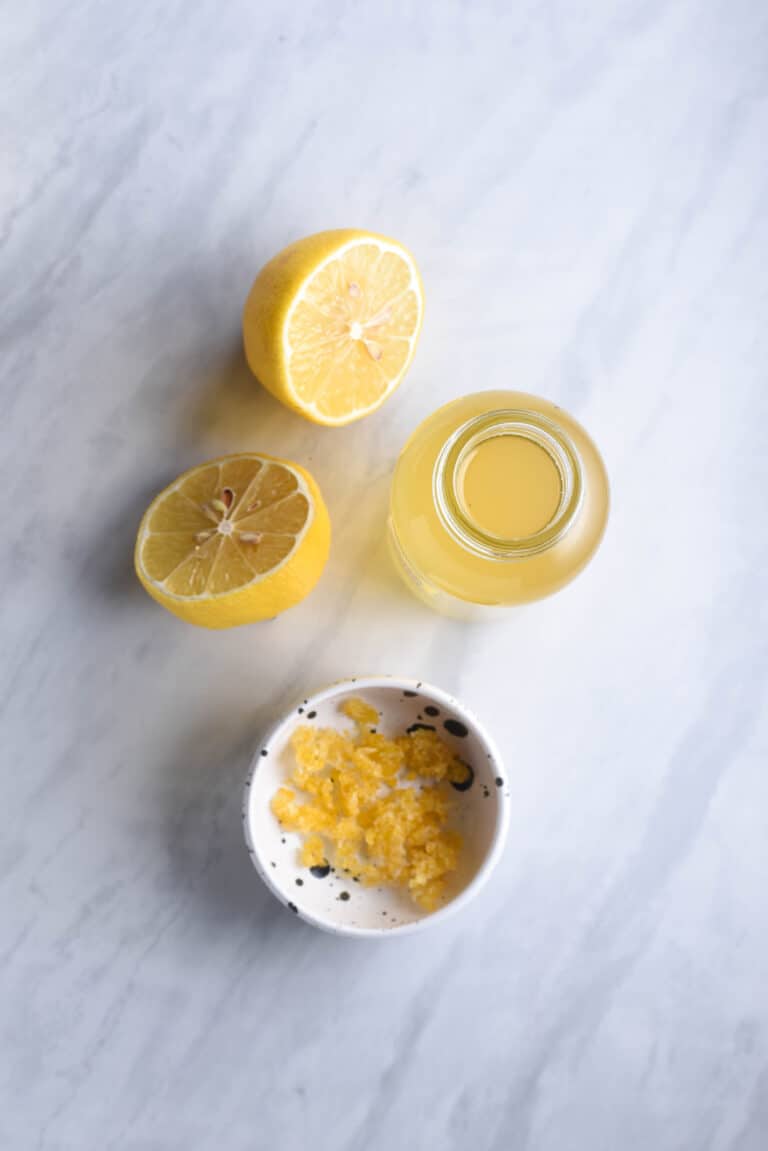 Lemon Simple Syrup FAQs
Does bottled lemon juice work for this recipe? Bottled lemon juice can contain preservatives, fillers, and stabilizers and frankly, just doesn't taste nearly as good as the fresh stuff. Leave the bottled juice on the shelf and squeeze fresh lemon juice for a superior lemon syrup.
Does adding lemon zest make a difference? Lemon zest contains lemon oils which are highly aromatic and provide intense, complex lemon flavor and aroma. We don't recommend skipping this step!
Can I simmer the syrup with seeds and pulp in it? We have made this recipe without straining the seeds and pulp from the lemon juice and simply strained it after simmering to remove the zest, seeds, and pulp. One less step!
Do alternative sweeteners work in simple syrup? It depends on the sweetener, the ratio of liquid to alternative sweetener, and the method used. We haven't tried this recipe with an alt sugar, but it may work.
Print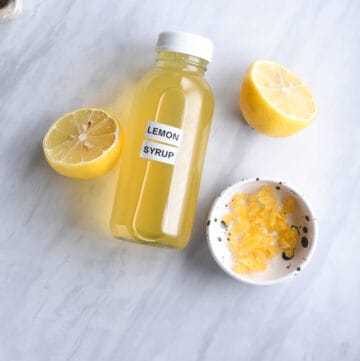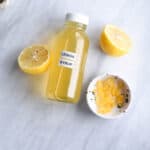 Lemon Simple Syrup
Author:

Adriana

Prep Time:

10 minutes

Cook Time:

10 minutes

Total Time:

20 minutes

Yield:

~1.25 cups

Category:

Syrups

Method:

Stovetop

Cuisine:

American
---
Description
Lemon simple syrup is a tart, tangy, sweet affair made using fresh lemons and sugar. It's loaded with lemon flavor and is addictingly well-balanced! We use both the juice and the zest in this syrup recipe.
This recipe details how to make it, suggested uses, flavor combinations & variations, and tips on choosing the best lemons at the grocery store.
---
1 cup

lemon juice (juice from

4

–

7

lemons)
lemon zest from all juiced lemons

1 cup

sugar
---
Instructions
Zest and juice lemons until you have 1 cup of fresh juice. 
Add the lemon juice, zest, and sugar to a small pot and heat over medium-low until simmering.
Simmer gently for 5 minutes then pour through a fine mesh sieve to strain.
Store in the fridge for 2-3 weeks or 2-3 months in the freezer.
---
Notes
It's easier to zest lemons before cutting and juicing them. We recommend zesting and juicing a couple of lemons at a time until you reach 1 cup of lemon juice.
An average-sized lemon should yield about 3 tablespoons of juice, you may need up to 7 lemons depending on how juicy they are.
Keywords: Lemon simple syrup