Adriana has published hundreds of recipes online and is a Board Certified Nutritionist. Read our recipe development process or more about Adriana.
Rose syrup is a flavored simple syrup (liquid sweetener) commonly used in beverages and desserts to add a rose flavor and aroma. This recipe requires just 3 ingredients and a few minutes of simmering to create! We'll share the tips and variations we learned along the way.
Make a batch of rose simple syrup at home to use in beverages, desserts, and cocktails! The delicate floral aroma elevates everything you add it to: from lattes to mimosas and more.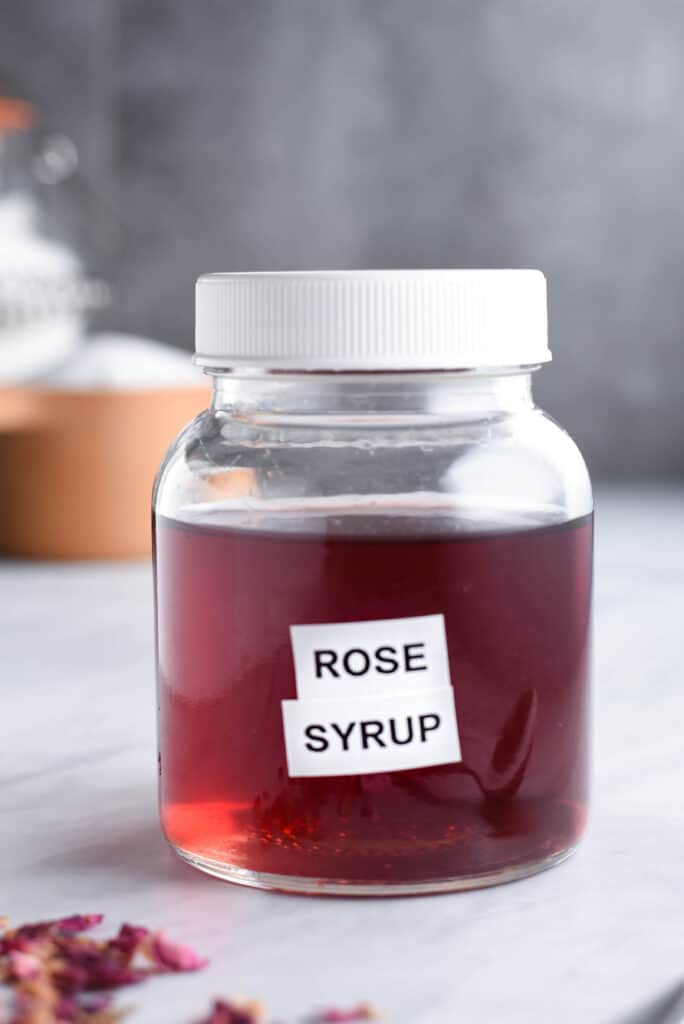 (This post may contain affiliate links. That means I'll get a small commission on any sales made through those links. Read our full disclosure.)
How To Make Rose Syrup
You'll need dried rose petals, sugar, and water to create a batch of homemade rose simple syrup– that's it! Now let's talk specifics.
To make rose syrup, follow the same method to prepare a standard simple syrup but add dried rose petals to the mix! Instead of only dissolving sugar in water, add dried rose petals and bring them to a simmer The simmer dissolves the sugar and helps the rose petals release their flavor. Simmer for about 5 minutes for the flavor and aroma of the rose petals to fully infuse into the syrup.
After simmering, pour through a fine mesh strainer to filter out the rose petals and store in an air-tight container in the fridge. Rose syrup has a very light pink hue, rose flavor, and rose aroma!
The color of your rose syrup will vary by the brand of dried rose petals used. If you want your rose syrup to have a bolder color, add 1-2 drops of red food coloring to the syrup.
This recipe makes about 1 cup of rose syrup. Most drinks and cocktails calling for rose syrup require 1-2 tablespoons per beverage.
We recommend using dried food-grade rose petals to ensure they are of the highest quality and safe for consumption. We've used this brand with great success!
What About Rose Water and Rose Hips?
Rose water is a distillation of rose petals and it can be used to make rose syrup in place of dried rose petals. Rose water is inexpensive to purchase and easy to buy online– here's our favorite brand. To make rose syrup using rose water: use 1 cup of rose water and 1 cup of sugar and simmer gently until the sugar is dissolved.
Rose water does not contain any sweetener and is used in skin products and perfumes whereas rose syrup is sweetened with sugar.
Rose hips are small, round 'fruits' that look like little berries and they grow underneath rose flowers. Rose hips have rose seeds inside of them. Although you can buy dried rose hips, they should not be used to make rose syrup. Rose hips have a bold, tart flavor, and while you can make rose hips syrup it's quite different than the delicate floral flavor of this rose syrup.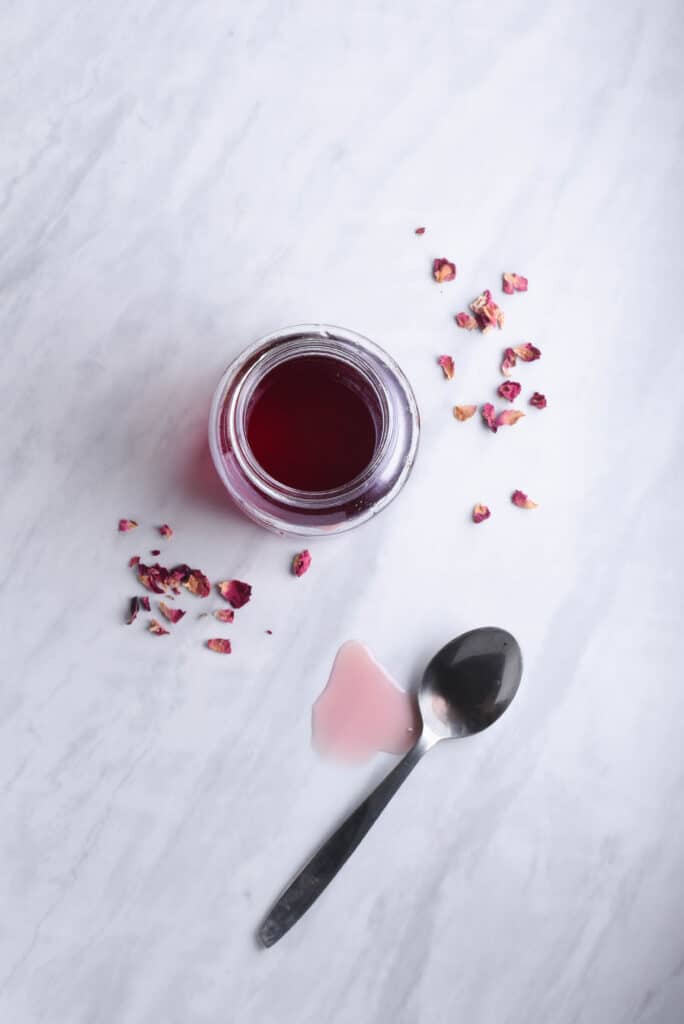 Variations To This Recipe
Aside from using rosewater to make rose syrup, several more variations are delicious. Rose pairs exceptionally with strawberries, blueberries, and peaches. Pistachio, vanilla, and chocolate are also complimentary flavors of rose.
Use those flavor combinations to make flavored rose syrups (strawberry-rose is a favorite for mimosas!) or keep those flavors in mind when you use your rose syrup.
Related Recipes: Lavender Syrup | Honey Syrup | Raspberry Syrup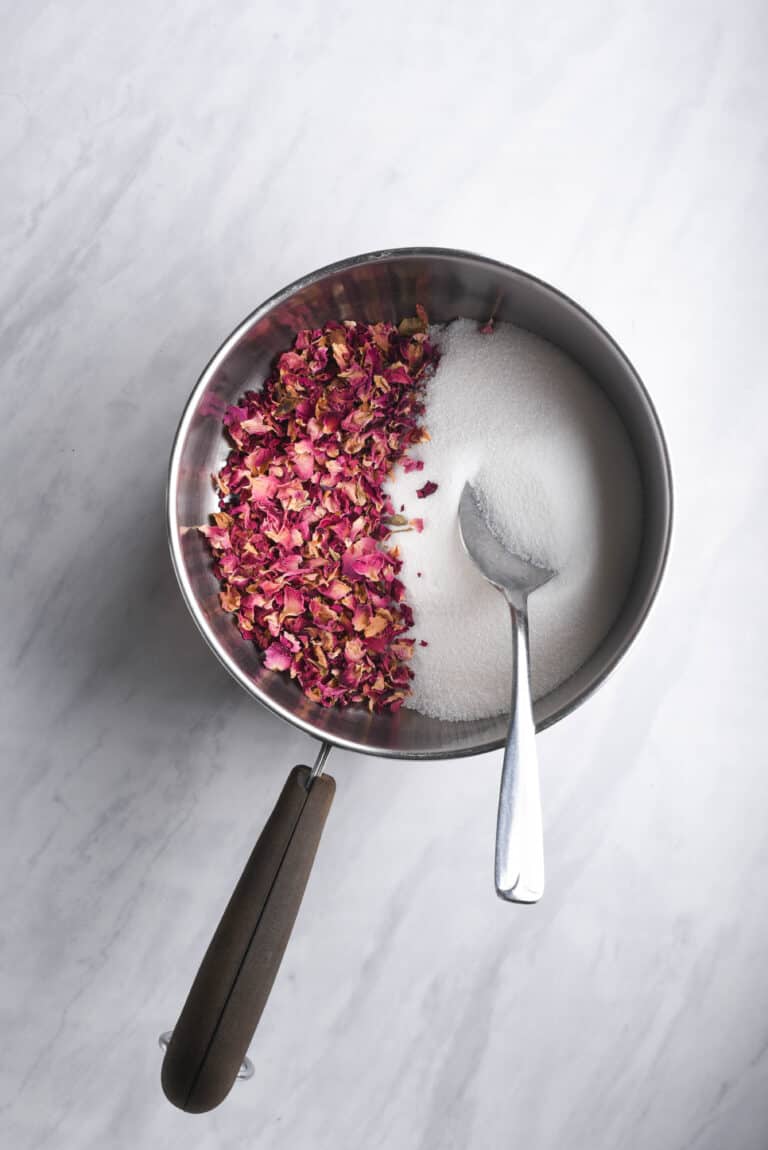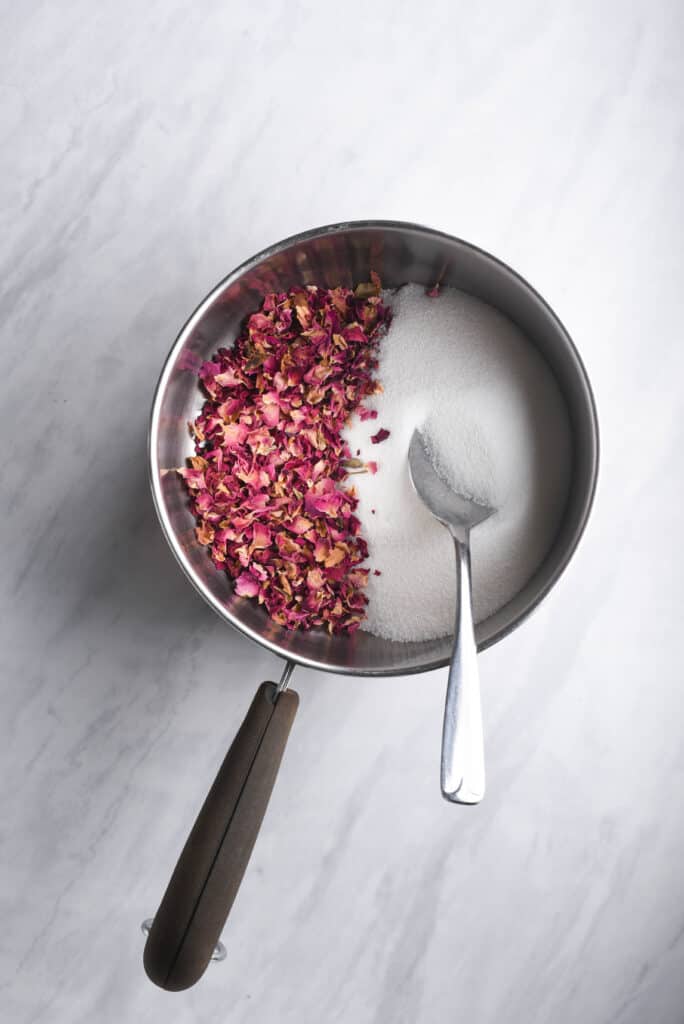 Rose Syrup Cocktails
Enhance the flavor of your favorite cocktails by substituting rose-flavored syrup for other sweeteners called for. You can use rose syrup in cocktails just as you would use simple syrup, use an equal amount of rose syrup in place of simple syrup.
Rose syrup pairs phenomenally with lighter spirits like gin, vodka, and light rum. Carbonated cocktails are an excellent choice for swapping in rose syrup as the carbonation opens up the aroma of the drink. Punches and sangrias are fabulous with rose syrup as well.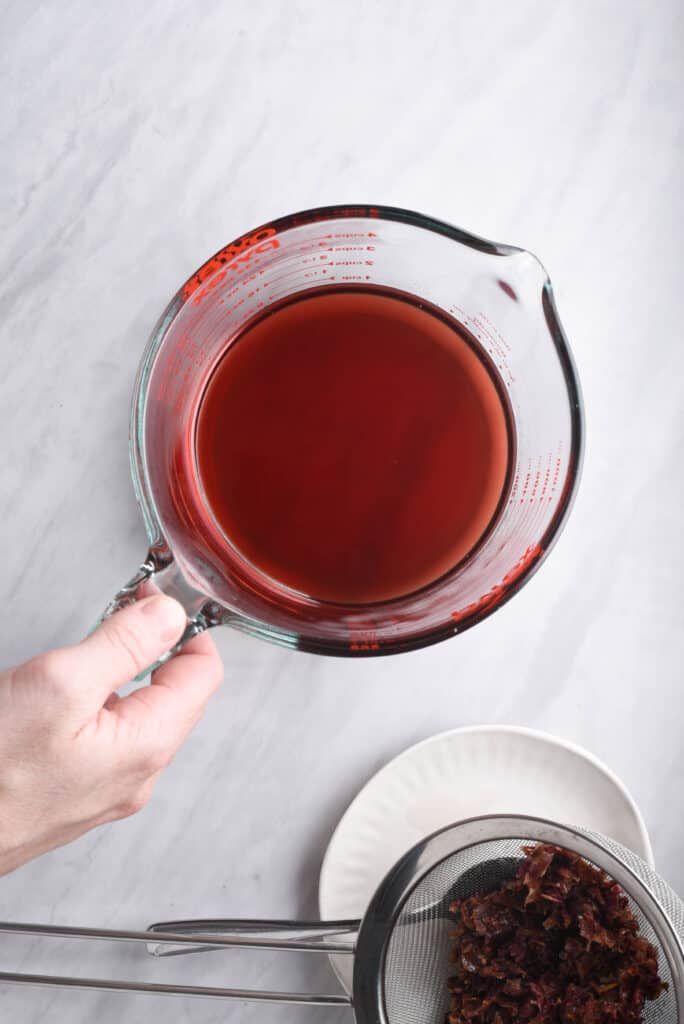 Rose Syrup Uses
Simple syrups are primarily used to sweeten and flavor beverages. Liquid sugar mixes in beautifully with cold beverages whereas granulated sugar has a gritty mouthfeel and doesn't dissolve. Beverages aside, there are many uses for leftover rose simple syrup!
Beverages:

Lattes, steamers, coffee, tea, iced tea, lemonade, and flavored sodas.

Cocktails & Mocktails:

Swap rose syrup for simple syrup 1:1 in cocktail recipes, or mix with sparkling water, ginger beer, or tonic water for an easy floral mocktail!

Baking:

Rose syrup can be used to make icing for a variety of baked goods, as a glaze to flavor baked goods right out of the oven (brush over warm muffins, cookies, or scones), or it can be used to moisten layer cakes in place of simple syrup.
Drizzle over ice cream!

In place of maple syrup:

For a fancy morning treat, use rose syrup in place of standard syrup for pancakes, waffles, or Dutch baby pancakes.

Parfaits & Yogurts:

Things like chia pudding, flaxseed pudding, or a yogurt parfait for breakfast can all be sweetened with rose syrup instead of other sweeteners!
Add it to a marinade: Leftover rose syrup can add flavor to marinades.
Toss freshly made popcorn with rose syrup and salt.
FAQs About Rose Syrup
Can you use dried rose buds instead of petals? Dried rose buds work for making rose syrup. If there are green stems or leaves attached remove them before use. Crumble the dried rose buds in your hands as you add them to the pot to simmer. Use only 1/3 cup if using dried rose buds.
Do you need to steep the syrup before straining? We tested this recipe with and without steeping and found there was not a difference in taste or aroma so we opted to skip the steeping!
Why isn't my rose syrup red? This depends on the type and color of dried rose petals used. If your syrup is a very light pink color you can add 1-2 drops of red food coloring to the finished syrup if needed.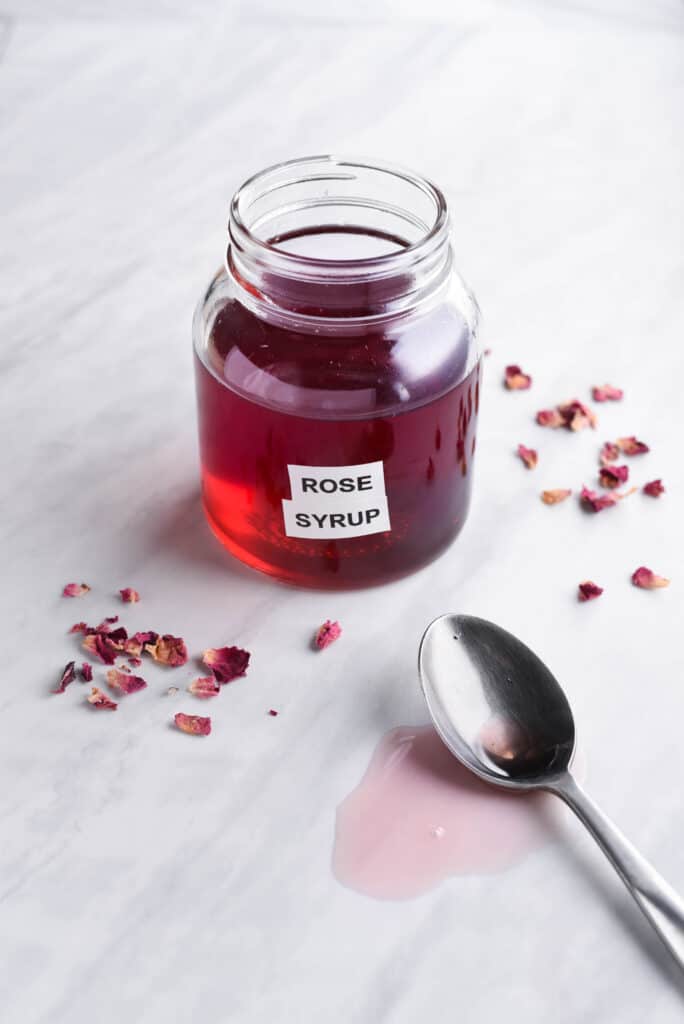 Print
Flavorful Rose Syrup
Author:

Adriana

Prep Time:

2 minutes

Cook Time:

10 minutes

Total Time:

12 minutes

Yield:

~1.25 cups

Category:

Syrups

Method:

Stovetop
---
Description
Rose syrup is a delicately flavored floral syrup perfect for sweetening a variety of beverages. It's incredibly easy to make and is sure to impress your guests with a unique 'can't put my finger on it' flavor. This recipe will explain how to make it, how to use it, common questions, and suggested variations to the base recipe!
---
1 cup

water

1 cup

sugar

1/2 cup

food grade/edible dried rose petals
---
Instructions
Add all ingredients to a small pot on medium-low heat and stir to combine.
Bring to a simmer and simmer for 5 minutes to infuse the syrup with rose flavor and thicken the syrup.
Pour through a fine mesh strainer to remove the rose petals and store in the refrigerator.
---
Notes
Rose syrup will keep in the fridge for 2-3 weeks and in the freezer for 2-3 months!
You can use a variety of different types of sugar in this recipe, lighter and more neutral-flavored sugars allow the rose flavor to permeate the syrup. Brown sugar, coconut sugar, or honey all work as well!
Use fresh dried rose petals. Dried florals like rose and lavender lose flavor and aroma in storage. If you've had your rose petals for longer than 6 months, buy a fresh batch. There is a HUGE difference!
Most brands of dried rose petals will create a very light pink syrup, if you would like a brighter pink or red syrup, add 1 drop of red food coloring.
Dried rose buds can also be used in this recipe. Remove any stems or leaves that are present and crumble the rosebuds into the pot to simmer. If using rosebuds, use only 1/3 cup.