Raspberry syrup is a luscious, jammy, flavor-packed means of putting raspberries to good use. This raspberry syrup recipe will walk you through making a raspberry simple syrup as well as a syrup to use on pancakes and waffles.
Whether you're knee-deep in fresh raspberries or in the depths of winter with only a bag of freezer-burned raspberries and a longing for sunshine, this will help you transform them into something amazing.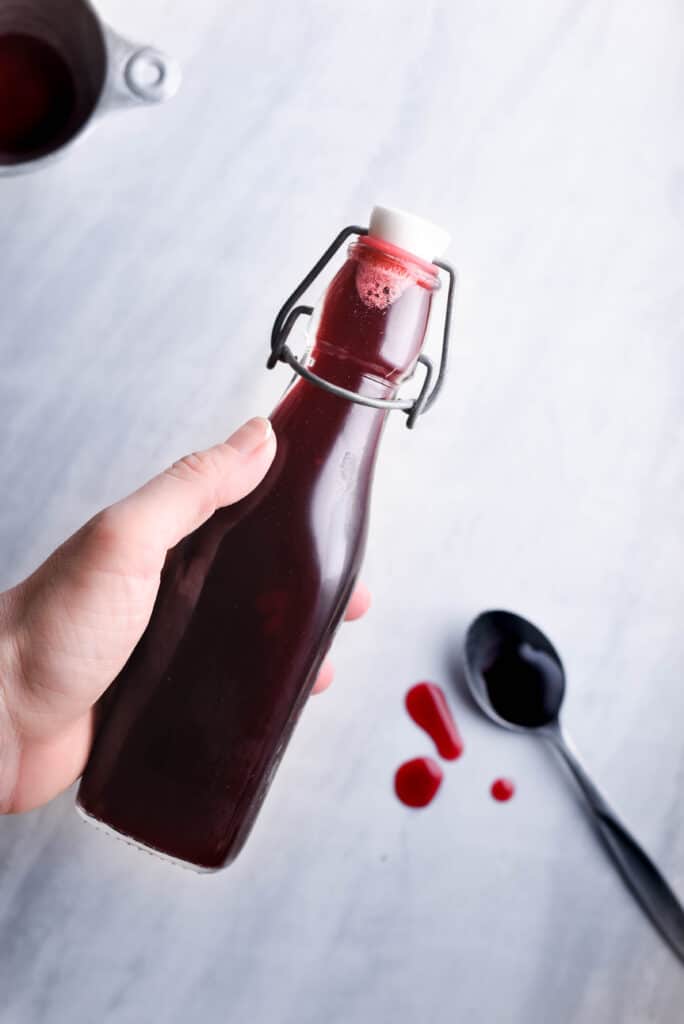 How To Make It
Homemade raspberry syrup is a 3 ingredient, 1 pot operation that's ready in less than 10 minutes! The ingredients you need to make raspberry syrup are raspberries, sugar, and water. You can use fresh or frozen raspberries interchangeably in this recipe… (If you have an abundance of fresh raspberries, learn our tips for how to freeze raspberries!) This is a great way to use up fresh raspberries that have turned mushy and are about to expire!
To make raspberry syrup, bring raspberries, sugar, and water to a boil in a small pot. Reduce heat and simmer for 7-10 minutes and strain, if desired. The syrup will thicken slightly after cooling in the fridge. That's it! In less than 10 minutes you have homemade raspberry syrup for drinks, breakfast syrup, or desserts!
The syrup should be stored in a clean container in the fridge, not left at room temperature. Raspberry syrup will keep for 1-2 weeks in the fridge and 3-6 months in the freezer!
Tips On Making Raspberry Syrup:
Alrighty- we touched on the basics of making raspberry syrup– but we have a few more kitchen circumstances to detail here. What if you're using frozen berries? How do you thicken your raspberry syrup? How to thin it? How to store it? These questions need answers.
If using frozen raspberries you can use them straight out of the freezer, no need to defrost them first as we'll be heating them up. Use the same amount of frozen raspberries as you would fresh.
How to thicken raspberry syrup? If you want to thicken the syrup to use this as a breakfast syrup or for desserts, simply simmer the mixture for 15-20 minutes instead of 7 minutes. The syrup will reduce and thicken significantly so keep in mind the recipe won't yield as much syrup- likely 1/3-1/2 cup instead of 1 full cup.
How to ensure raspberry syrup doesn't get too thick? Ensure you add enough water to the syrup. Don't cook the syrup for too long or it will reduce and thicken, simmer gently for the recommended amount of time.
How to thin raspberry syrup that thickened too much? You can always whisk in a few tablespoons of water after removing a syrup from heat if time escaped you and the syrup thickened too much.
Raspberry Syrup vs. Raspberry Simple Syrup?
The difference between raspberry syrup for pancakes or desserts and raspberry simple syrup is simple (wink, wink): raspberry simple syrup is a thinner consistency. Also, for fruit-flavored syrups to use at breakfast, you don't need to strain the seeds and fruit pulp. Straining the syrup results in a silkier and thinner liquid that blends effortlessly into drinks and cocktails. Keeping the fruit pieces in the syrup thickens the syrup which works better for a pancake or waffle syrup!
Other Uses For Raspberry Syrup:
For Pancakes & Waffles:
We love serving this raspberry syrup with pancakes and waffles at a fancy brunch, it's a delicious homemade touch! The syrup plus some whipped cream is a SERIOUS combo–bites and bits of fresh raspberries plus sweet vanilla cream, oh dear. It's heavenly. Or add it to a breakfast parfait for sweetness and flavor, add to smoothies as a sweetener, you can even use it to make a marinade or bbq sauce.
The raspberry syrup recipe listed here works great for breakfast items. We recommend making it the day before you wish to use it. This allows it to naturally thicken up in the fridge overnight as it cools.
Raspberry Syrup For Drinks:
To use the raspberry syrup in drinks, aka raspberry simple syrup, you'll want a strained, thin, pourable syrup that will easily dissolve into your beverages. Use raspberry simple syrup the same way you would use simple syrup. If a recipe calls for 1 ounce of simple syrup, you would use 1 ounce of raspberry simple.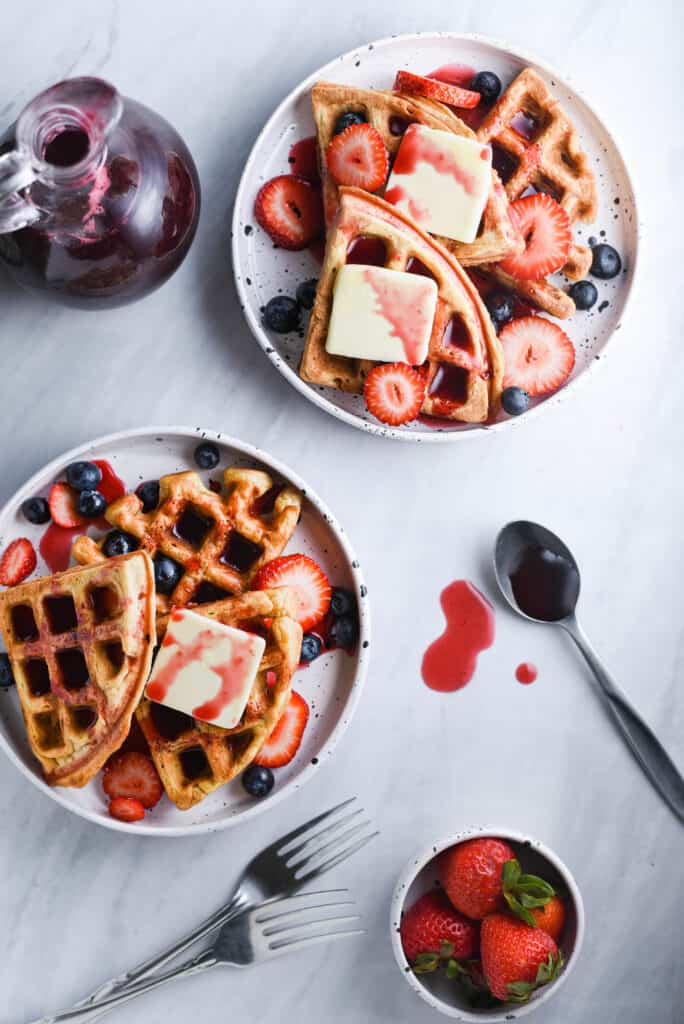 Variations To This Recipe:
While the base recipe for raspberry syrup is killer as-is, we do have some variations we have used on various occasions if you're up for an elevated spin on things! If you are a fan of simple syrups or homemade syrups (like we are) as a means of preserving and/or infusing flavor, check out our blueberry syrup or ginger simple syrup for some interesting ideas!
You could try adding any of the following to your raspberry syrup:
Juice + zest of 1 lemon or 1 small orange
Vanilla extract or fresh vanilla bean
1/4c of chopped herbs like basil, mint, or rosemary
1 teaspoon of dried lavender buds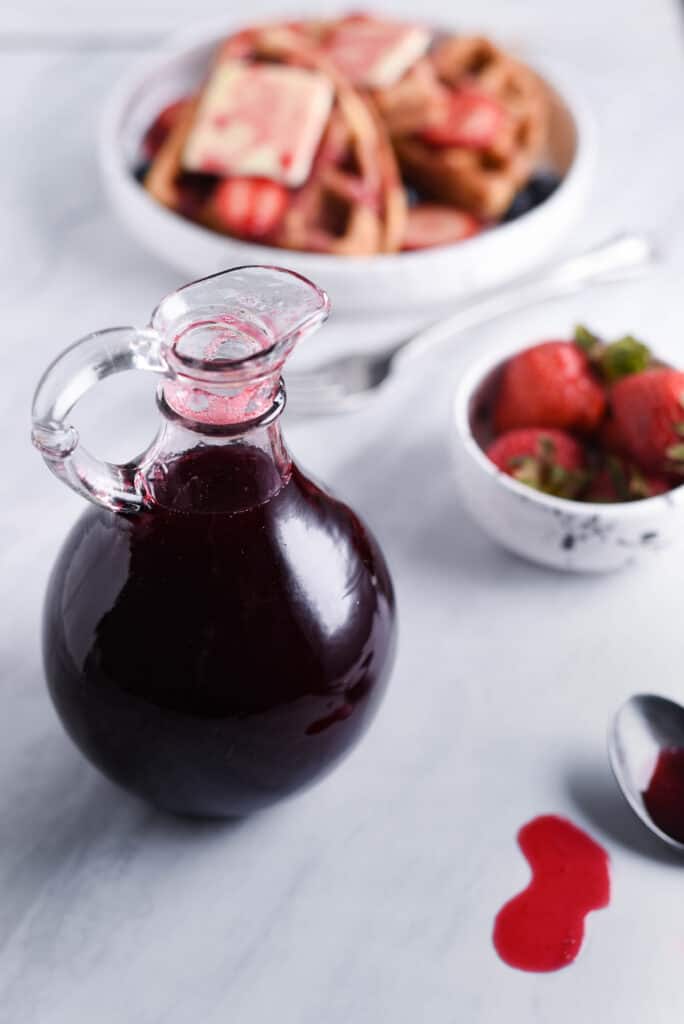 FAQs About Raspberry Syrup:
Why is my raspberry syrup so thick? Raspberries have naturally occurring pectin, which is a gelling agent/ thickener found in many fruits. With this, you won't need to add any cornstarch or other starch to thicken it unless you want an extra thick syrup.
Can I sub other berries for this sauce or syrup? You can substitute or add other berries to this recipe, however, each type of fruit has varying water, fiber, and sweet contents. You can absolutely use this as a guide but you may need to make minor adjustments if substituting other fruits.
If making raspberry simple syrup, what do I do with the strained raspberries? The raspberry pulp can easily be added to smoothies, salad dressings, on top of ice cream or yogurt, or frozen for later use.
Print
Raspberry Simple Syrup
Author:

Adriana

Prep Time:

2 minutes

Cook Time:

10 minutes

Total Time:

12 minutes

Yield:

~1 cup

Category:

Syrup Recipes

Method:

Stovetop

Cuisine:

American
---
Description
Raspberry syrup is an amazing way to transform a handful of raspberries into a flavorful component for drinks, cocktails, desserts, and breakfast goods. This raspberry simple syrup comes together in less than 10 minutes!
---
1 cup

raspberries (fresh or frozen)

1/2 cup

cane sugar

1/2 cup

water
pinch salt
---
Instructions
Add all ingredients to a small pot and bring to a simmer over medium heat.
Mash berries with a fork then simmer for 7 minutes.
For a thicker raspberry syrup suitable for pancakes and waffles, simmer for 15-20 minutes to thicken and reduce the syrup.
Optional: strain through a sieve to remove all seeds and raspberry pulp for a smooth syrup.
Pour into a clean container and store in the fridge for 1-2 weeks or in the freezer for up to 3 months!
---
Notes
*This recipe will yield 1 cup of raspberry syrup if not strained and 2/3 cup of syrup if the seeds and pulp of the raspberries are strained out.
*If simmered for 15-20 minutes for a thicker syrup, the yield will be lower (closer to 1/3 cup strained) so plan ahead and make a double batch if you'd like plenty for breakfast!
---
Nutrition
Serving Size:

1 tablespoon

Calories:

28

Sugar:

6.6g

Sodium:

18.3mg

Fat:

0

Saturated Fat:

0

Unsaturated Fat:

0

Trans Fat:

0

Carbohydrates:

7.2g

Fiber:

.5g

Protein:

.1g

Cholesterol:

0
Keywords: Raspberry Simple Syrup, Raspberry Syrup