The finder of lost things, the answer to all your questions, the journey to end your searching…It's homemade coconut milk, y'all! We're about to get real intimate with these tropical creatures- learning the ins & outs of how to make coconut milk at home- 4 different ways!
People. Let's get coconutty!
There are 4 ways to make homemade coconut milk:
Here are the basic tools you'll need to make all 4 of these recipes:
A high powered blender (We do list several food processor substitutions!)
Nut milk bag to strain the fresh coconut milk
A sweetener (optional), if using the coconut milk for a sweet application
Additionally, if using a fresh coconut- A sharp kitchen knife, hammer, and patience!
From A Fresh Coconut
First up, how to make coconut milk from a fresh coconut? This process sounds simple but it does require finesse. Steps: You need to crack open the coconut, remove the meat, and blend the meat with water. Sounds easy, right?
Mature coconuts are key here, you'll want to pick up a brown, fuzzy coconut- not a young Thai coconut. The young coconuts have sweet and delicious coconut water but zero or low amounts of coconut meat. The coconut meat is what we'll use to make coconut milk.
Tidbit: If you want to be certain, gently shake the coconut near your ear when you are choosing a coconut to purchase…. you should hear water sloshing around! Young Thai coconuts, also called 'drinkers' or 'poppers' are nearly filled to the brim with coconut water– you won't hear the sloshing sound. As coconuts mature the amount of water inside decreases! Thus you'll unmistakenly hear the 'sloshing' sound in a mature coco– this is perfect!
Also: As coconuts are shipped in (at least in the PNW) from a land far, far away and are not a kitchen staple I would opt for purchasing 2-3 coconuts from the grocery store. 1 in 10 coconuts I've purchased from a standard grocer has been bad. (Sorry, real talk) This may not be the case everywhere, but a quick heads up! I'd hate for you to get your heart set on making this, finally crack the coco open only to learn it's spoiled.
The ratio for coconut milk from a fresh coconut is: 1/2 a fresh coconut and 2 cups of water.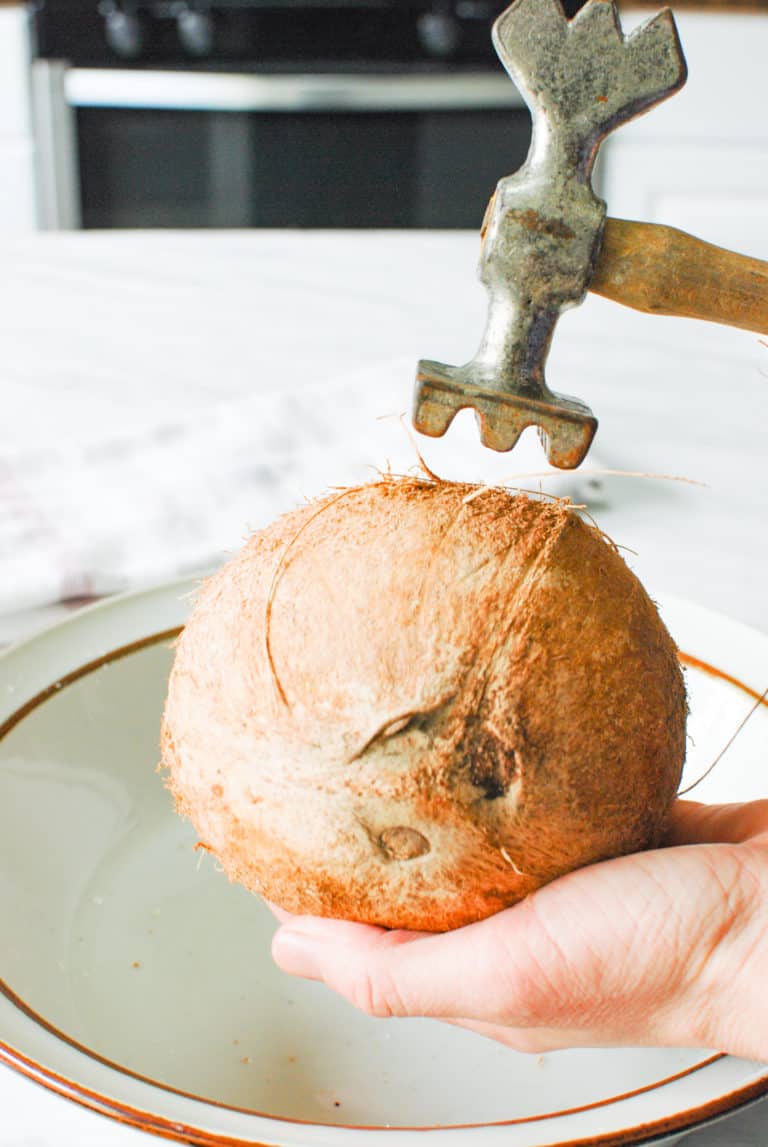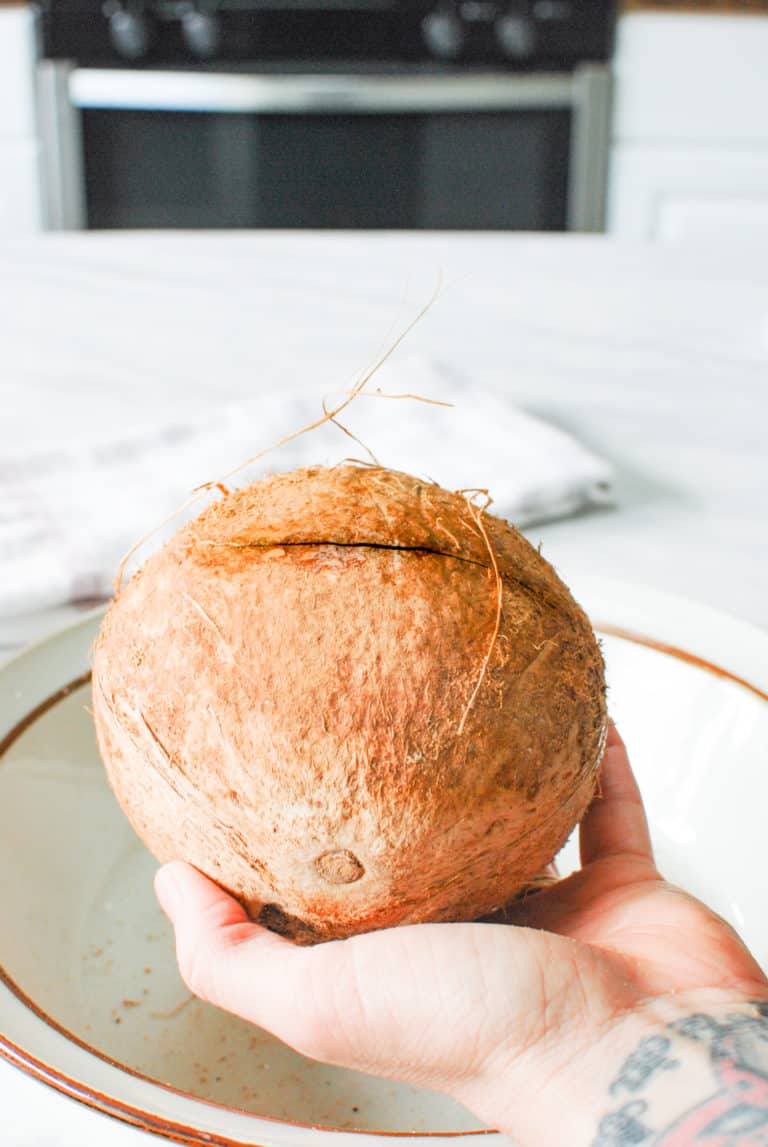 Open sesame! This is where a hammer is NEEDED! You'll need to tap all around the circumference of what we call the 'equator' of your brown, fuzzy coconut!
On one end there will be 3 'eyes' (3 dots arranged in a triangle)– we'll call this the north pole. Begin tapping your hammer around the equator, turning the coconut as needed. Hey, you-be gentle! You don't want to puncture the coconut! Within 1 minute you should see/feel a crack forming where you are tapping and you may even hear a small pop or whiz sound!
It requires experience to learn to gauge how hard you'll need to tap, tap, tap the coco to get it to open. It's okay. (I lived in Hawaii for 10 years and I've husked over 3,000 coconuts my dears! It takes time!)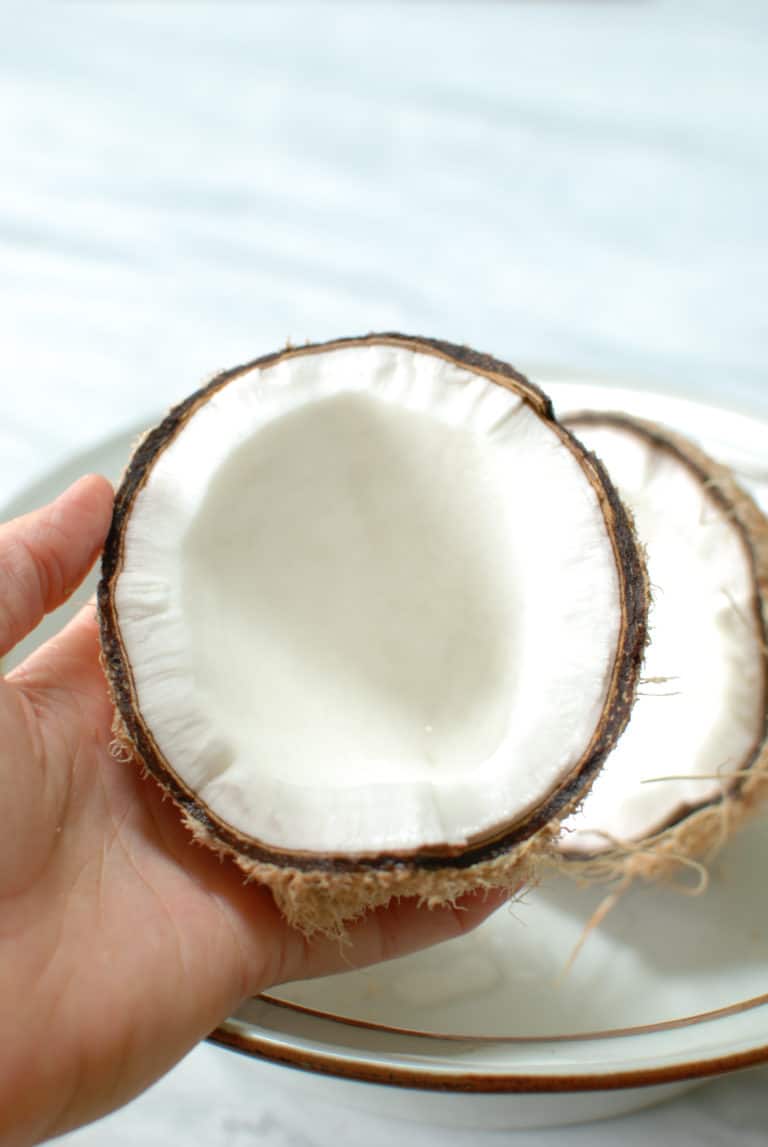 Once you have a solid crack around the equator, open the coconut over a bowl as a small amount of liquid will drain out. The meat inside should be white and firm- no pink, no brown, no moldy spots- otherwise you'll get to practice opening one up again!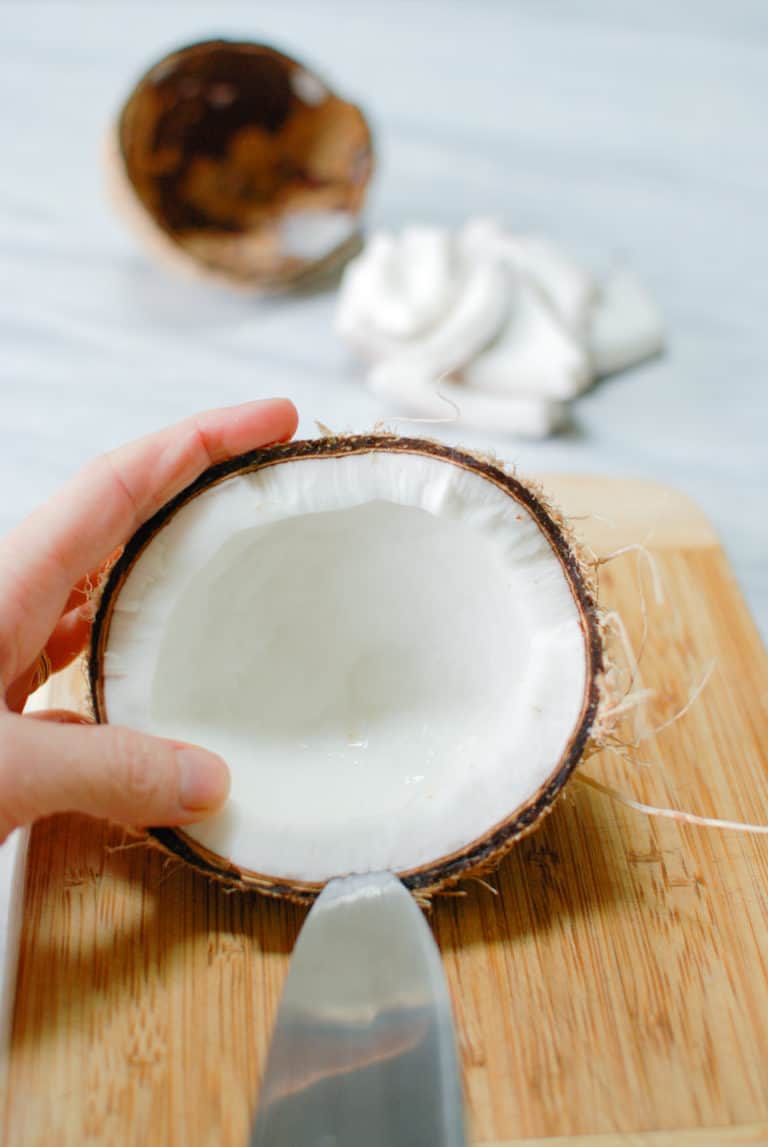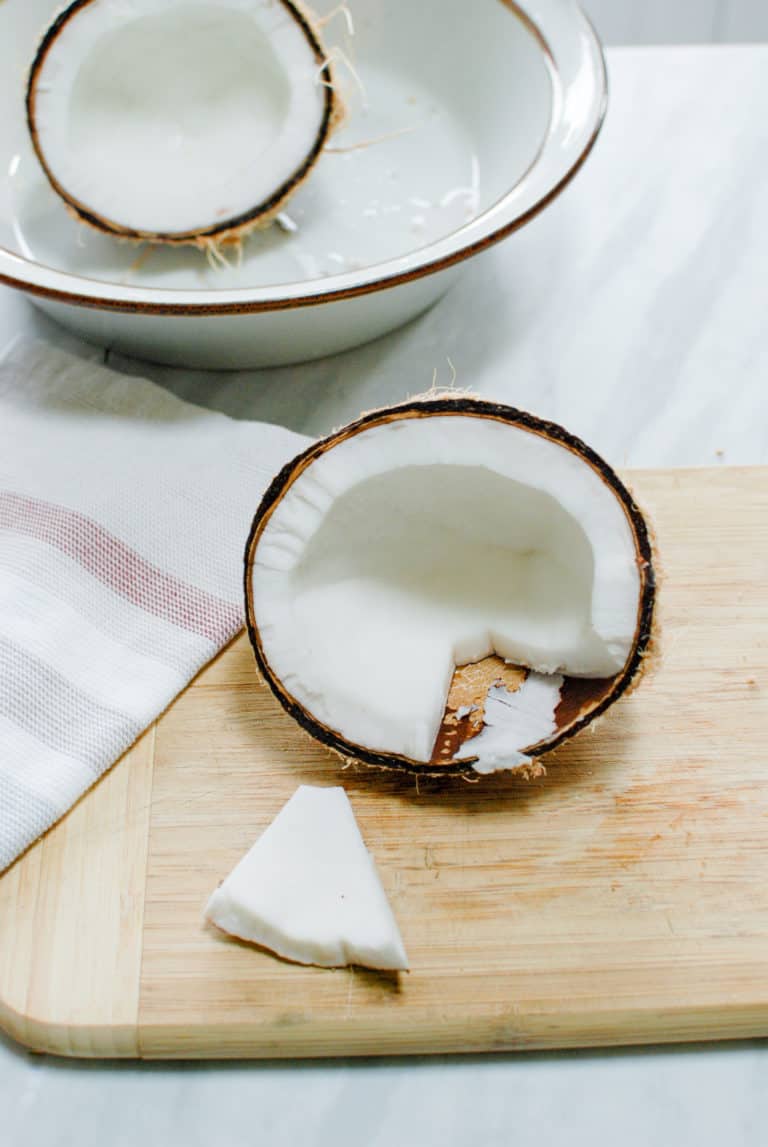 This is the hard part. When I did this for a living, my BFF was this gadget called 'The Coconut Tool.' Google it. But, for the average home chef how in the world do you get the coconut meat out? Very, very carefully!
The best method I know is to make little triangular cuts on the coconut meat and pry small pieces out as pictured above. Please, be so careful if you use a knife! We recommend make the cuts with a knife, then try to do the 'prying' with a spoon!
The meat will have a tough, brown outer layer. You can use a vegetable peeler to remove it but it's fully aesthetic- we don't bother with that, we're ready to make coconut milk!
Coconuts do vary in size, but my standard rule of thumb is one whole coconut mixed with 4 cups of water in a high-speed blender to make coconut milk from a fresh coconut!
From Shredded Coconut
Ok, next we'll focus on how to make coconut milk from desiccated coconut? This method is very simple as shredded coconut is already in a usable form. Simply add the desiccated coconut, water, and a pinch of salt to a blender or food processor and blend for 45-60 seconds. You don't have to strain this through a nut milk bag but we usually do to remove any fibrous texture.
The ratio for coconut milk from shredded coconut is: 1 cup of desiccated coconut and 2 cups of water.
Pro Tip: You can make homemade coconut milk with shredded coconut in a food processor! A high powered blender does a better job of this but if you don't have a blender you can still play this game!
PSA: If you avoid additives in your food, check the ingredient panel when you purchase shredded/desiccated coconut as unfortunately many brands have a lot of those difficult-to-pronounce words.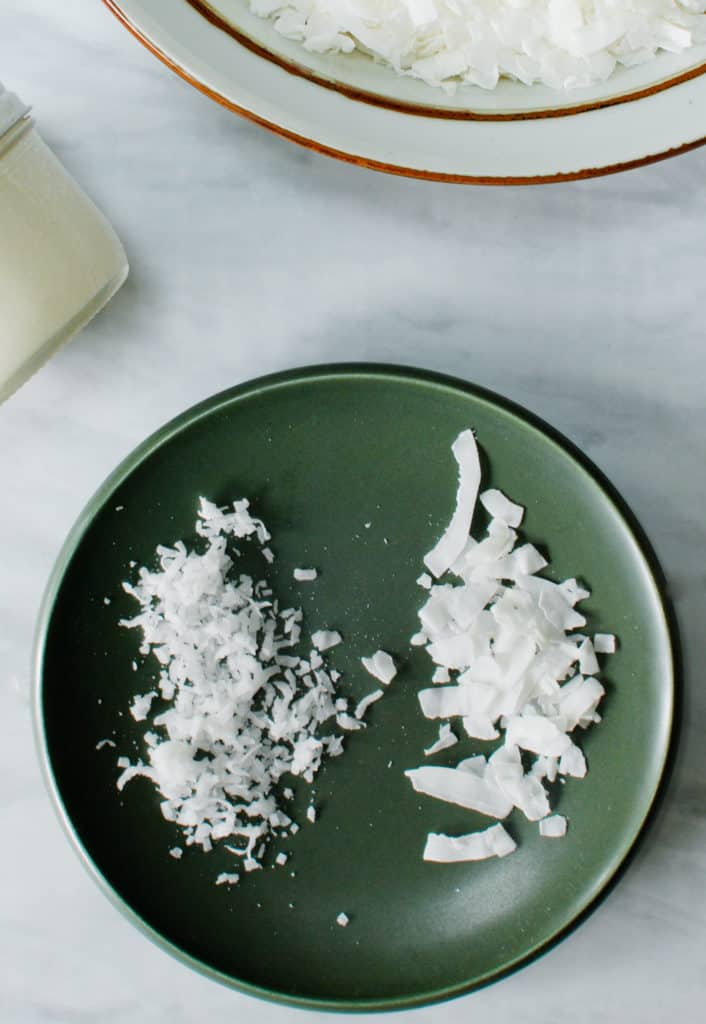 From Coconut Butter
Oh yeah- it's real and it's delicious! The coconut milk recipe using coconut butter is the silkiest and most flavor-packed, in our opinion… All you need is coconut butter and water!
**This is our favorite method of making homemade coconut milk! We make a big batch of homemade coconut butter and use that to make coconut milk for the next few months- very creamy, very easy and zero gums/additives/weird ingredients!
The ratio for coconut milk from coconut butter is: 1/3 cup of coconut butter and 2 cups of water.
DIY coconut milk using coconut butter can be made in a blender or a food processor! As with the shredded coconut milk process, we like to strain this through a nut milk bag as there can be a fibrous, pulpy texture- this is entirely optional!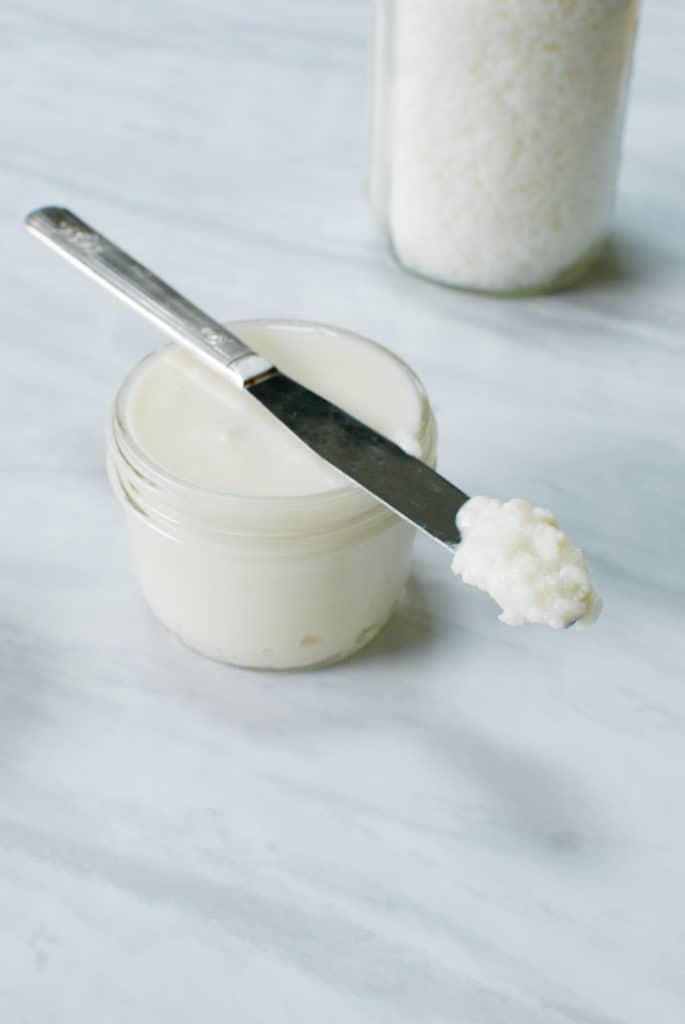 From Canned Coconut Cream
We weren't going to include this option originally but we remembered times we have been cooking dinner, been in a pinch and only had coconut cream on hand- no coconut milk. What to do? WHO do you turn to?!Can you turn coconut cream into coconut milk? Yes, you can. And we shall!
Never fear– the remedy is here! You can make this version in a blender or food processor, and you do not need to strain this through a nut milk bag!
The ratio for coconut milk from canned coconut cream is: 1 can of coconut cream (5.40 oz) and 2 cups of water.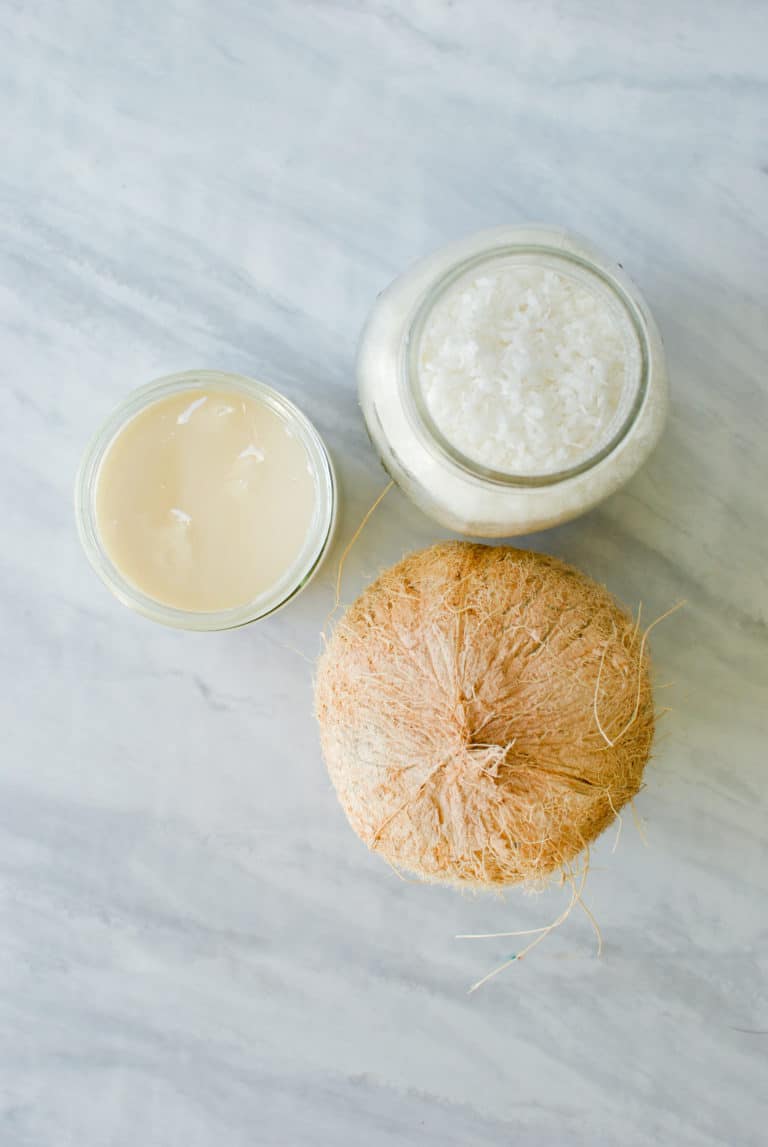 We're thrilled to see interest in homemade alternative milks! We hope the information detailed above can help you to be more resourceful and experimental in the kitchen! Try all 4 ways and report back which method tastes best to you and yours <3
Before you go… check out these common questions regarding homemade coconut milk!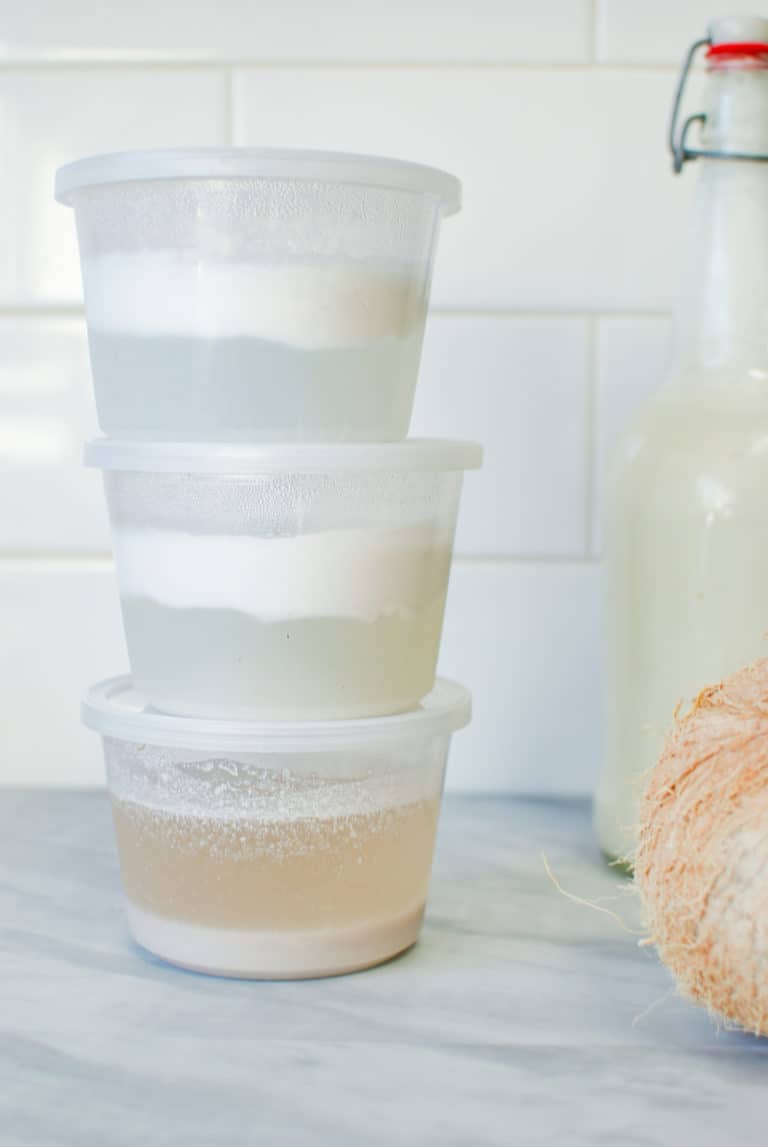 Coconut Milk FAQs:
How long does homemade coconut milk last? If kept in a sealed container in the fridge this will last 3-6 days. Homemade coconut milk from a fresh coconut will last 3 days.
Can you use coconut oil to make coconut milk? No, not that we have come across!
Is coconut milk keto? Yes.
Can you make homemade light coconut milk? Yes. Increase the ratio of water to coconut, for the following recipes we'd suggest starting with 1 additional cup of water and tasting.
How do you make coconut milk not separate? Homemade coconut milk doesn't have gums, stabilizers, or fillers so it will separate in the fridge. Simply shake and use! Some forms of coconut milk have a very thick cream on top that won't disperse by shaking- pour the contents into a blender for 30 seconds prior to using!
How to make coconut milk without a blender? You can make coconut milk from shredded/desiccated coconut or from coconut butter in a food processor- not recommended for a fresh coconut.
Can you make this coconut milk for a curry? Yes. Homemade coconut milk definitely works in a curry recipe!
Is homemade coconut milk full fat? Yes. Increase the amount of water for lower fat coconut milk options!
How to store homemade coconut milk? Store in a sealed jar or container in the fridge. We recommend a wide-mouthed jar or container in case the coconut cream solidifies, so you can remove and blend to reincorporate (especially if using coconut butter or a fresh coconut!).
What's the difference- homemade versus canned coconut milk? Canned coconut milk has additives like stabilizers and preservatives to lengthen the shelf life whereas, with homemade coconut milk recipes, you are only using whole foods!
Is coconut cream the same as coconut milk? No, coconut milk has a higher water content than coconut cream. Coconut cream is concentrated fats and proteins- the coconut cream is the white, solidified mass inside canned coconut milk if placed in the fridge!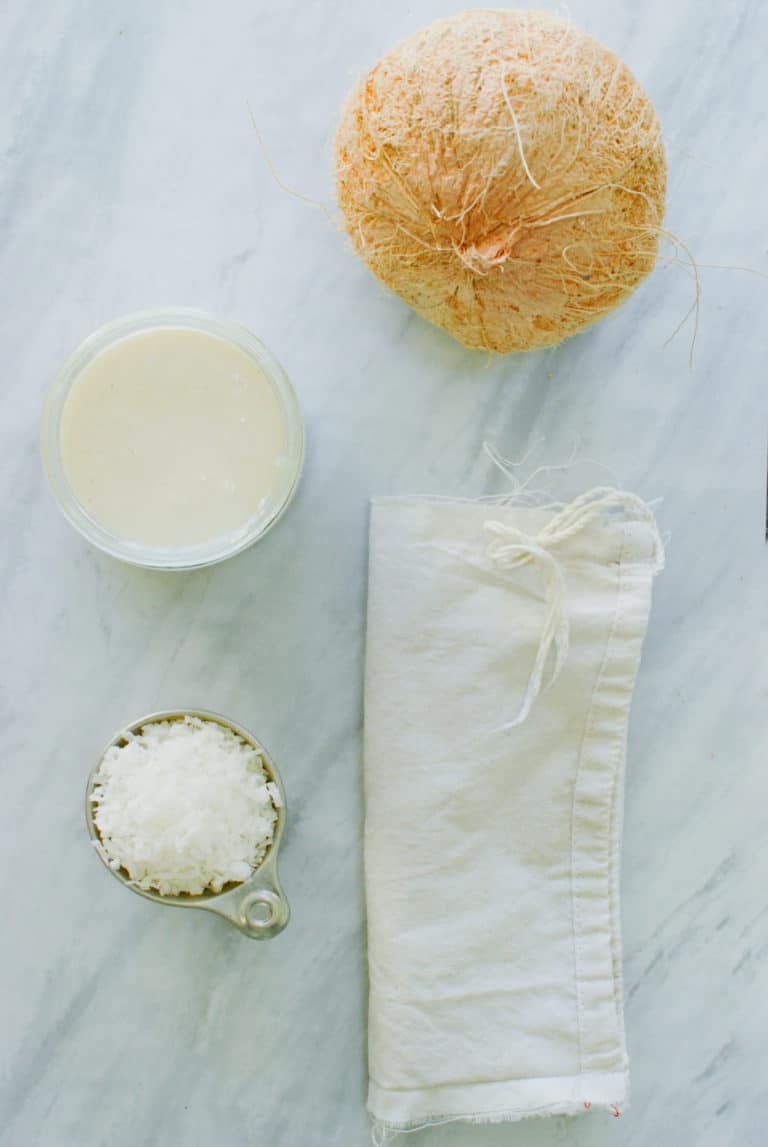 Print
4 Ways To Make Coconut Milk
Author:

Adriana

Prep Time:

10 minutes

Total Time:

10 minutes

Yield:

2 cups

1

x

Category:

recipe

Method:

Blender, Food Processor, Nutribullet

Cuisine:

Vegan
---
Description
Consider this the encyclopedia on how to make coconut milk at home. We'll show you 4 different ways to make homemade coconut milk: from shredded coconut, coconut butter, fresh coconut, and coconut cream! 
---
1/3 cup

coconut butter OR

1 cup

shredded coconut OR 1 can coconut cream OR 1/2 mature adult coconut

2 cups

water
pinch of salt

Optional: sweetener of choice, vanilla extract
---
Instructions
Place coconut, water, and salt into blender or food processor. Blend for 45-60 seconds.
Strain through a nut milk bag.
Store in a sealed container in the fridge & enjoy as needed!
---
Notes
** A food processor may be used for coconut butter, shredded coconut, and coconut cream methods. A food processor is not recommended for fresh coconut.
** Coconut cream method does not require straining.
** Homemade coconut milk will last 3-5 days in the fridge.
**This can be frozen for up to 1 month, if frozen right away! Defrost fully prior to use.
Keywords: coconut milk, how-to make coconut milk