Close your eyes and you'll see it… a thin, crispy crust with smoky red sauce under a blanket of vegan cheese covered with blistered tomatoes and heaps of fresh basil. *Heavy Breathing* We're having pizza for dinner! We're having homemade vegan cheese pizza– we'll categorize this as a vegan chipotle Margherita pizza because we're bougie like that.
This vegan cheese pizza recipe will walk you through all the ingredients for 2- 12″ thin-crust pizzas: the dough, the sauce, and the cheese!
Ladies & gentleman, fire your ovens!
The Sauce
You can use any sauce you fancy on this cheese pizza, but I'm strongly suggesting you make this really simple, really delish smokey chipotle sauce. It's a fresh take on your standard marinara and it's a breeze to make. Here's the other thing: The vegan cheese you're going to make is the yin to the yang of this tomato sauce. You just can't go wrong. okay?
If you want to save time (and dishes) and you already have a jar of sauce- you can absolutely use that. You could even add a few chipotle peppers in adobo to the sauce for that smoky heat. You could.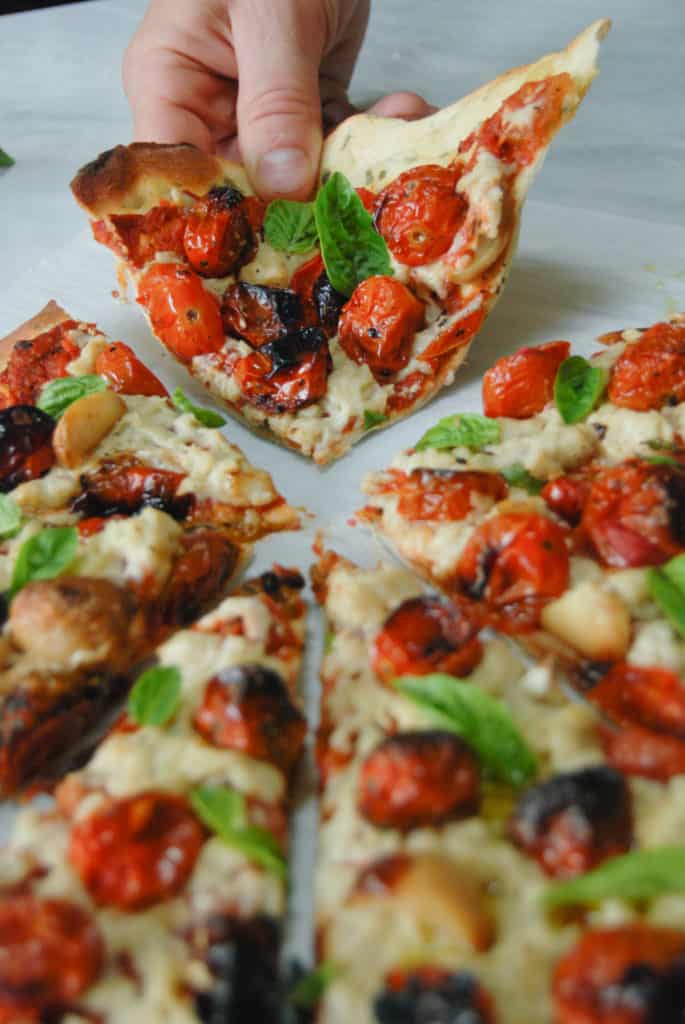 The Cheese
Don't say pizza without cheese. This melty vegan cheese comes together in a cinch, but you can make it ahead of time if you'd like. This melty cheese recipe is more of a 'clump it on to the pizza' vs. sprinkle all over.
In fact, I recommend you make this ahead of time to get the look of the pizza pictured below…
Here's a pro tip: I make this cheese ahead of time and I freeze it. WHY? when it's a frozen block, you can grate it and pop it back in the freezer. You wanna talk maximum cheesy coverage with me? You gotta freeze and grate it, then you can use it just like regular ol' shredded cheese!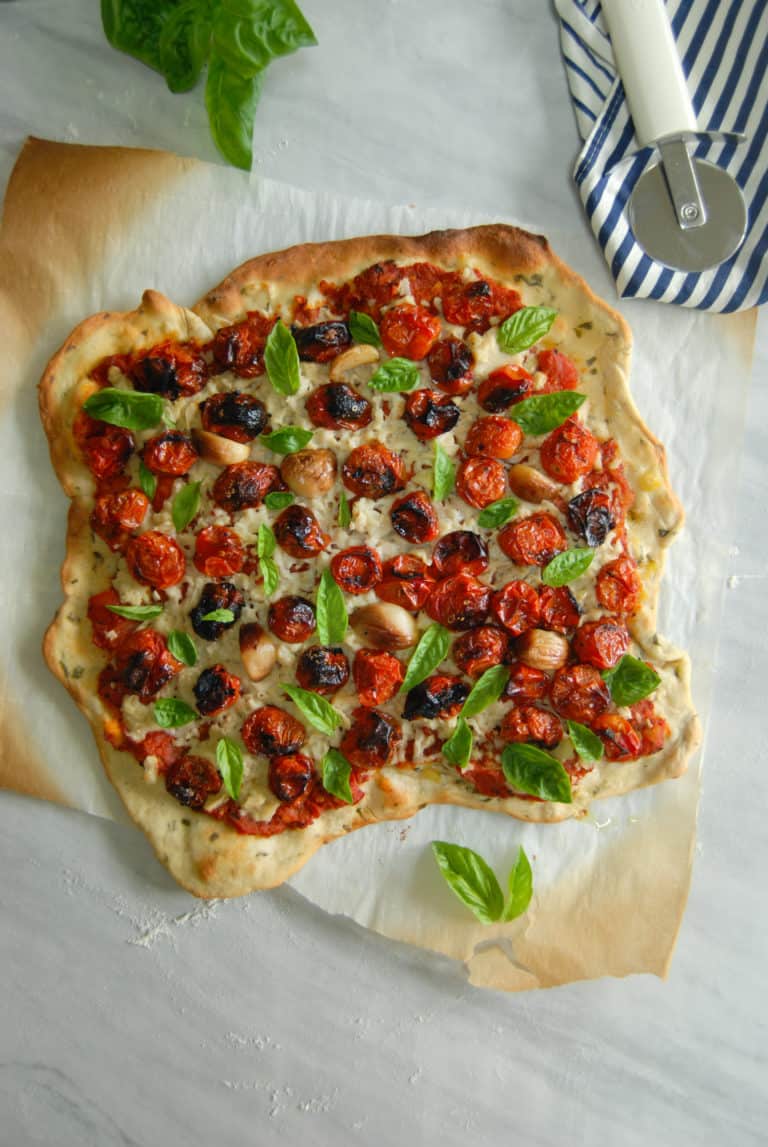 The Assembly + Toppings
Ok. We're going to call today opposite day and do this in a different order. We're going to bake these pizzas without any toppings… I know, this is madness. But by par-baking the crust before we place the toppings on, we can achieve a crispier crust! Halfway through baking, we'll pull the pizza out, add all our favorite toppings, and send it back into the fire. It's optional but in our recipe testing (which we reallllly enjoyed, pizza=love) the par-bake THEN add toppings really gave the crust an oomph factor.
For the full Hail Mary Margherita affect we're gonna need fresh tomatoes and fresh basil. On the pie pictured here, we've got a mix of cherry and grape tomatoes that were blistered in the oven first for that oh em gee sweet caramelization factor. Any fresh tomato will work!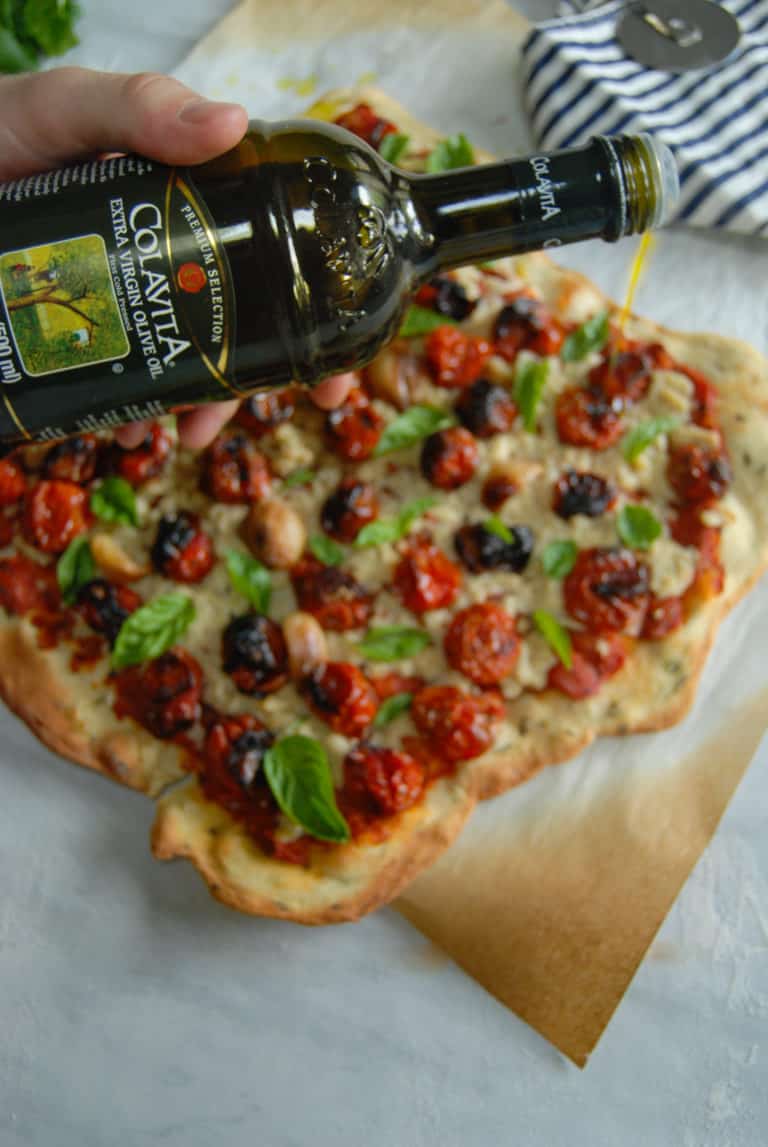 The Crust
I'm going to throw heaps of tips and tricks at you, some new some old. The best thin crust pizzas I have enjoyed have all been cooked in a super high heat, wood-fired oven. Here's what you can do to best replicate that in your standard home kitchen oven! Also, view the full vegan pizza dough recipe for more tips!
Use a perforated pizza pan. All the little holes in these pans allow the hot air in the oven the have more direct contact with the crust! We like these pans more than pizza stones!
Get your oven HOT and I mean HOT.
Make sure your dough is room temperature.
Roll the dough out thin. I know, this sounds like a no-brainer but this takes practice. If you are starting out with a too-thick crust, you're gonna end up with a too-thick crust.
After rolling out the dough, let it rise for another 15 minutes.
When the par-bake step is done and you're ready to get your pizza dressed for the ball- Flip the crust over first! Girl/Boy- you with me? The bottom side of the crust has had more contact with heat and is less likely to fall flat once doused in sauce. For the love of thin crust, flip the crust!
If you are using a pizza stone: The stone needs to get really, really hot. I used to put the stone in the oven, preheat, then throw my pizza in. Actually, it'll take about 30 minutes to truly and fully heat up your stone!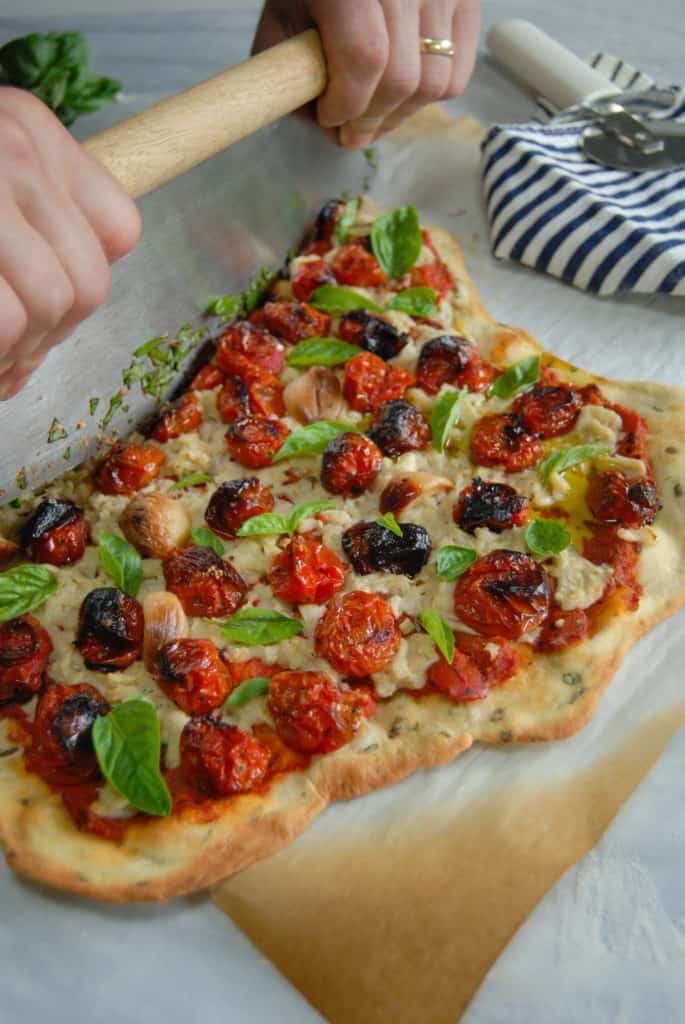 Print
Vegan Cheese Pizza
Author:

Adriana

Prep Time:

45 minutes

Cook Time:

30 minutes

Total Time:

1 hour 15 minutes

Yield:

2

–

12

" vegan cheese pizzas

1

x

Category:

recipes

Method:

oven

Cuisine:

Italian, pizza
---
Description
What do we want? Pizza! When do we want it? Now! This vegan cheese pizza recipe smashes pizza cravings like no other- it is SO cheesy, SO crispy, and SO scrumptious! We hope you love this homemade vegan cheese pizza as much as we do (a lot)!
---
For the Thin Crust Pizza Dough: yield (2- 12″ thin crust pizzas!)
1 teaspoon

yeast

1 teaspoon

honey or sugar

1 teaspoon

salt

2 tablespoons

fresh herbs (omit if you don't have any)

3/4 cup

warm water

2 cup

all purpose flour
For the Chipotle Tomato Sauce:
2

cans diced tomatoes, fire roasted is preferred

2 teaspoon

chipotle peppers in adobo sauce

3

cloves garlic

1 tablespoon

olive oil

2 teaspoons

ginger powder (omit if you don't have it)
salt & pepper, to taste
For the Melty Pizza Cheese:
1 cup

plain vegan yogurt, Forager brand cashewgurt is my favorite

1 tablespoon

white wine vinegar

1.5 teaspoon

salt

1

–

2

tablespoon nutritional yeast (want more cheesy flavor, add more nooch!)

1 tablespoon

miso

1/4 cup

tapioca starch
Optional toppings:
1 cup

fresh chopped basil

1

–

2

cups fresh tomatoes (sliced or diced- your preference)
---
Instructions
Start your dough:
 Mix the warm water, the yeast, and the honey/sugar together in a bowl, let it sit for 5 minutes for the yeast to bloom.
Mix in the salt, fresh chopped herbs, and flour. Stir together until a rough dough forms.
Flour a cutting board and knead the dough for 3-5 minutes. Then place in a large bowl and cover with a towel to rise for 1-2 hours.
This post has tips and tricks on crispy thin crust pizza dough!
Start your sauce:
Peel and chop the garlic. Heat a pan with the olive oil and sautee gently for 3 minutes.
Add the canned tomatoes (and liquid) along with the ginger powder, vinegar, and chipotle peppers in adobo sauce.
Simmer 10- 15 minutes, or until your desired consistency is reached, then reserve for later.
For the cheese:
Add all ingredients to a blender and blend for 30-60 seconds.
Pour mixture into a small pot and cook on medium heat for 5-7 minutes.
You'll notice the mixture begin to thicken, the tapioca starch stretchy action occurs as this begins to boil/bubble. Keep stirring for 1 minute after simmering then remove from heat.
You can drizzle/clump this cheese on as is, or you can freeze it, grate it, and place it back in the freezer until you're ready to use it.
This vegan cheese recipe has in-depth info about the cheese!
Make your pizza:
Preheat the oven to 500 degrees, yes 500 degrees.
Divide the dough into 2 equal portions.
Flour a working surface and use a rolling pin to roll into 2 thin circles.
Place your crust on a parchment lined pizza pan, preferrably preforated.
Bake for 6 minutes, then remove from the oven. Flip the crust over (optional), add your toppings and bake another 4-5 minutes until the crust is golden brown.
Top with fresh basil and fresh cracked pepper and enjoy!
---
Notes
** If you have a storebought vegan cheese or tomato sauce, you can use that instead of making your own.
Keywords: Vegan pizza, vegan entree