Adriana has published hundreds of recipes online and is a Board Certified Nutritionist. Read our recipe development process or more about Adriana.
We're having vegan pizza for dinner! This vegan pizza recipe is a solid base for you to make whenever pizza cravings strike. It's straightforward to make, is highly customizable, and hits the spot for pizza cravings.
Our vegan pizza recipe will walk you through making 2- 12″ thin-crust pizzas: the dough, the sauce, and the cheese! We're making a quick canned tomato sauce, super easy pizza dough, and a very fast vegan mozzarella cheese!
(This post may contain affiliate links. That means I'll get a small commission on any sales made through those links. Read our full disclosure.)
The Dough
This is our absolutely easy, go-to vegan pizza dough recipe. It rises quickly and it's forgiving and easy to work with. You can use this dough to create 2–12″ pizzas or one larger, sheet pan style pizza. We suggest making the dough first as it needs about an hour to rise. The dough can do its thing while you prep the sauce and toppings.
The dough is a simple flour, water, and salt dough. It will take 1-2 hours to rise, depending on how warm it is in your house. No mixer is required but if you'd like to use one, you can.
This dough recipe will make 2– 12″ pizzas or one extra large 20″ pie.
The Sauce
You can use any sauce you fancy on this cheese pizza, but I'm strongly suggesting you make this really simple, really delish fire-roasted tomato sauce with canned tomatoes. It's a fresh take on your standard marinara and it's a breeze to make.
If you want to save time (and dishes) and you already have a jar of sauce- you can use that.
The sauce has only 4 ingredients and uses canned tomatoes for maximum convenience and speed. Here they are:
Canned Tomatoes: We highly recommend canned fire-roasted tomatoes as they have a superior flavor– they make the sauce.
Extra Virgin Olive Oil: You can't have tomato sauce without it, right? The olive oil will carry the flavors of garlic and herbs into the sauce.
Fresh Garlic: A few cloves of garlic sliced and sauteed provide a big background flavor.
Dried Herbs: Any pizzaesque herbs will do: dried oregano, thyme, basil, pizza seasoning, or Italian seasoning will fit the ticket and help give our sauce flavor and aroma.
All that's needed is a quick sautee of the garlic and herbs in the olive oil, then add the tomatoes (and their juices) into the sauce. Let this simmer on the back burner while you get the toppings going!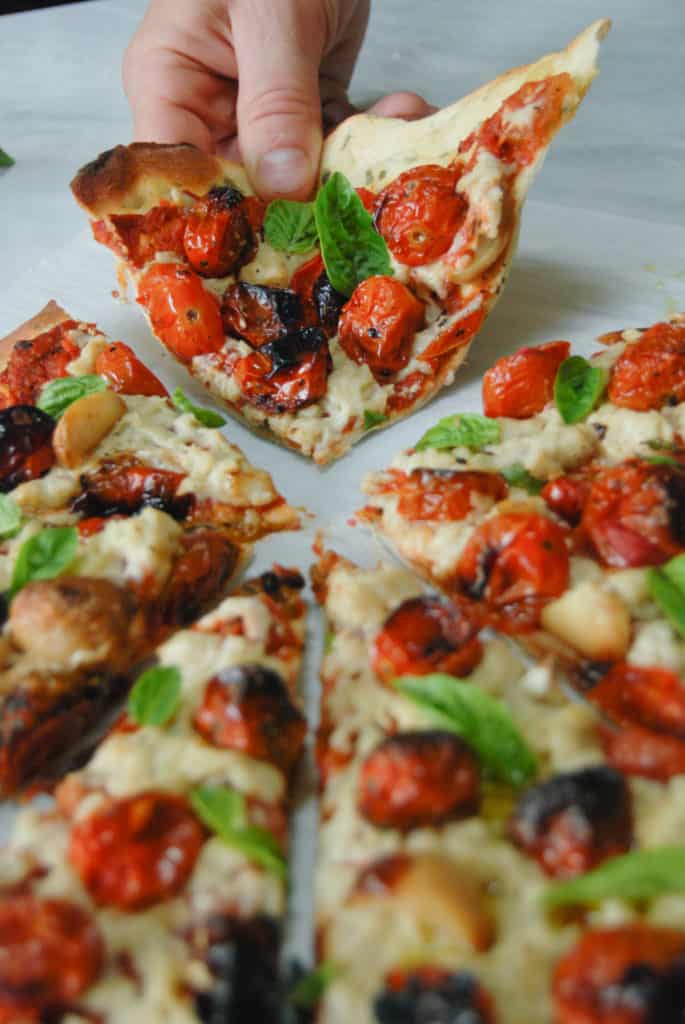 The Cheese
Don't say pizza without cheese. This melty vegan cheese comes together in a cinch, but you can make it ahead if you'd like. This melty cheese recipe is fast to make and has a similar effect to using burrata or fresh mozzarella pearls– it's little pockets of cheese across your pizza.
If you have store-bought vegan shredded cheese, you can totally use that instead.
The cheese uses tapioca starch to come together and get all stretchy and melty. It'll only take you about 5 minutes on the stovetop!
Here's a pro tip: Make this cheese ahead of time and I freeze it. When it's a frozen block, you can grate it and pop it back in the freezer as shreds that will keep their shape. Then you have your own homemade vegan cheese shreds 😉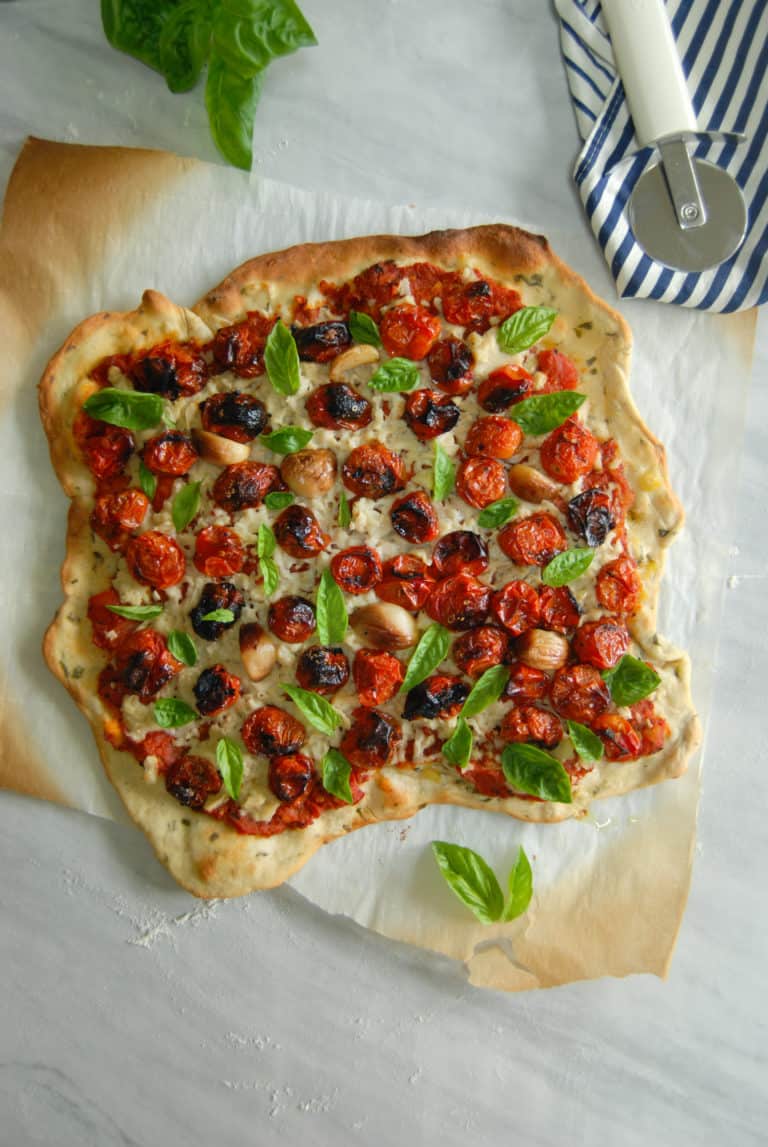 The Toppings
Here's where you can let your imagination run wild– pizza topping ideas are endless! While there is nothing wrong with a simple cheese pizza we are fans of toppings galore. You can use a mix of fresh produce and canned pantry staples for pizza toppings.
Here's a breakdown of some solid pizza toppings:
Fresh veggies/fruit: Sliced bell pepper, minced garlic, sliced mushrooms, sliced red onion, diced tomatoes, sliced jalapenos or other hot peppers, spinach, zucchini, pineapple, leeks, asparagus, or eggplant.
Fresh herbs: Basil, thyme, or oregano are wonderful on pizza. Cilantro and parsley work as well. For fresh herbs, it's best to sprinkle them on top after baking the pizza. A handful of arugula or spinach can be tossed on top of the pizza after baking as well.
Canned/pantry items: Sliced black olives, kalamata olives, canned corn, sliced sundried tomatoes, artichokes, pickled onions or jalapenos, canned pineapple, roasted red peppers, or chile crisp.
On the pie pictured here, we've got a mix of cherry and grape tomatoes that were blistered in the oven prior to being topped on the pizza then we covered the pizza in fresh basil leaves after baking.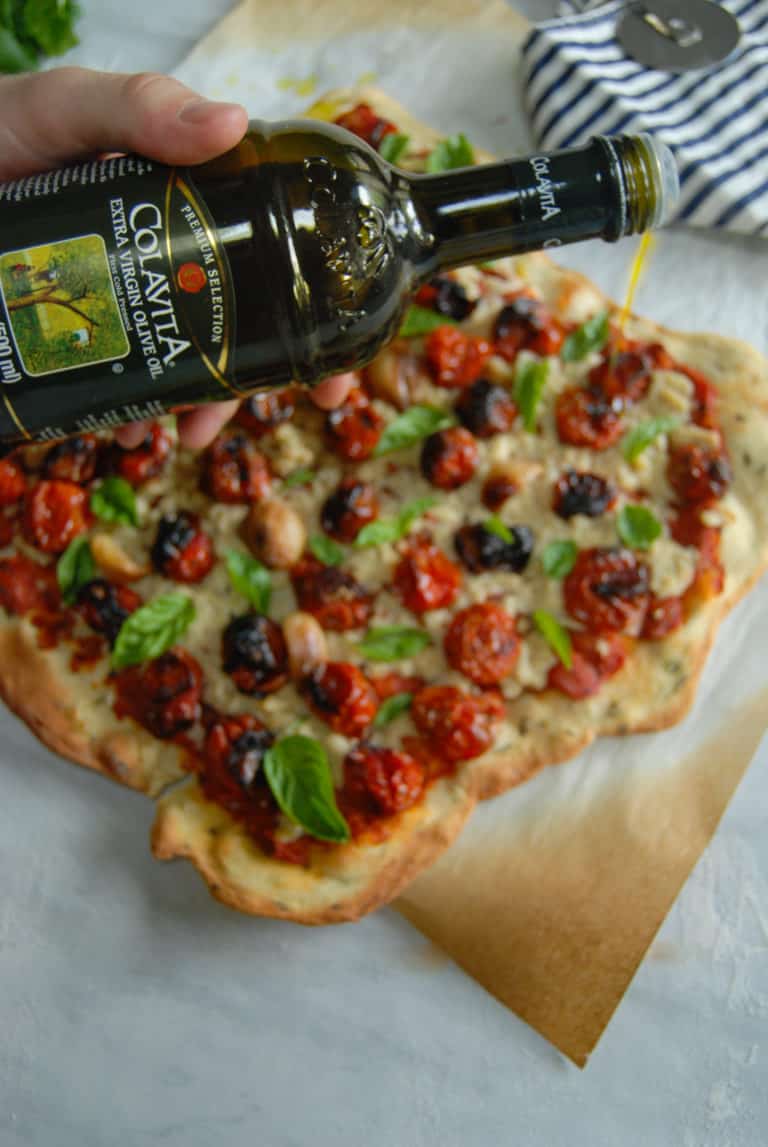 Expert Tips For Homemade Vegan Pizza
We're going to throw heaps of tips and tricks at you, some new some old. The best homemade pizzas we have enjoyed have all been cooked in a regular home ovens but at high heat (450-500*). We also have a full post on tips for vegan pizza dough.
Get your oven HOT, the 450-500* mark is great for pizza.
Make sure your dough is at room temperature before you roll it out.
After rolling out the dough, let it rise for another 10-15 minutes.
If you are using a pizza stone: The stone needs to get really, really hot. We used to put the stone in the oven, preheat, then throw our pizza in. For best results, it'll take about 30 minutes to fully heat your pizza stone.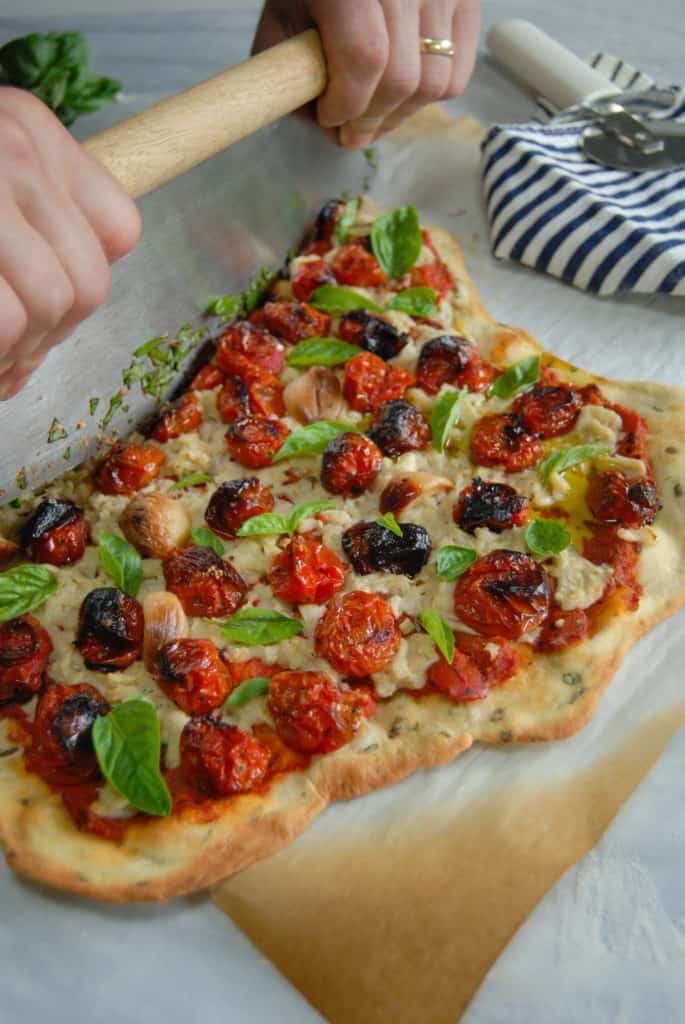 Vegan Pizza FAQs
Can I make this pizza without cheese? The options are endless! You can use the vegan melty cheese recipe listed, go without cheese, use store-bought vegan cheese, or simply sprinkle some nutritional yeast on your pizza in place of cheese. Whatever route is most convenient for you.
Is store-bought pizza dough vegan? Most pre-made pizza dough you can purchase at grocery stores is accidentally vegan! Pizza dough doesn't typically have dairy or animal products in it. Of course, double-check the label but 90% of the time it's vegan.
Is it best to use raw or cooked vegetables on vegan pizza? Lightly sauteing raw veggies that you plan to use on your vegan pizza is the best option for texture and flavor. Raw veggies won't soften much as these pizzas cook up quickly and raw vegetables lose some water as they cook. Giving them a quick saute will help them shed water and soften just enough for the perfect bite.
Related Recipes: Garlic Pizza | San Marzano Pizza Sauce | Roasted Garlic Butter
Print
The Best Vegan Pizza
Author:

Adriana

Prep Time:

90 minutes

Cook Time:

30 minutes

Total Time:

2 hours

Yield:

2

–

12

" vegan pizzas

1

x

Category:

recipes

Method:

oven

Cuisine:

Italian

Diet:

Vegan
---
Description
What do we want? Pizza! When do we want it? Now! This vegan pizza recipe smashes pizza cravings like no other- it is SO cheesy, SO crispy, and SO scrumptious! We hope you love this homemade vegan pizza as much as we do (a lot)!
---
For the dough: (enough for 2, 12″ pizzas)
1 teaspoon

yeast

1 teaspoon

sugar

1 teaspoon

salt

2 tablespoons

fresh herbs or 2 teaspoons dried (omit if you don't have any)

3/4 cup

warm water

2 cups

all-purpose flour
For the sauce:
1

can diced tomatoes, fire-roasted is preferred

3

cloves garlic

1 tablespoon

olive oil
salt & pepper, to taste
For the Cheese:
1 cup

plain vegan yogurt

1 tablespoon

white wine vinegar

1.5 teaspoon

salt

1

–

2

tablespoons nutritional yeast (want more cheesy flavor, add more nooch!)

1 tablespoon

miso

1/4 cup

tapioca starch
Optional toppings:
1 cup

fresh chopped basil

1

–

2

cups fresh tomatoes (sliced or diced- your preference)
---
Instructions
Start your dough:
 Mix the warm water, the yeast, and the sugar together in a bowl, and let it sit for 5 minutes for the yeast to bloom.
Mix in the salt, fresh chopped herbs, and flour. Stir together until a rough dough forms.
Flour a work surface and knead the dough for 3-5 minutes. Then place in a large bowl and cover with a towel to rise until doubled in size, for 1-2 hours.
This post has tips and tricks on our thin-crust pizza dough!
Start your sauce:
Peel and chop the garlic. Heat a pan with the olive oil on medium-low and saute gently for 3 minutes.
Add the canned tomatoes (and liquid) and bring to a simmer. Add salt & pepper to taste.
Simmer for 10- 15 minutes until your desired consistency is reached, then remove from heat.
For the cheese:
Add all ingredients to a blender and blend for 30-60 seconds.
Pour mixture into a small pot and cook on medium heat for 5-7 minutes.
You'll notice the mixture begin to thicken, the tapioca starch stretchy action occurs as this begins to boil/bubble. Keep stirring for 1 minute after simmering then remove from heat.
You can drizzle/clump this cheese on as is
This vegan cheese recipe has in-depth info about the cheese.
Assemble your pizza:
Preheat the oven to 450*.
Divide the dough into 2 equal portions.
Flour a working surface and use a rolling pin to roll into 2 thin 10-12″ circles.
Place your crust on a parchment-lined pizza pan or baking sheet.
Top with about 1/2 cup of sauce, the vegan pizza cheese, and your toppings of choice. 
Bake in the preheated oven for 12-15 minutes, until the crust is firm and lightly golden around the perimeter and the bottom of the pizza.
---
Notes
** If you have a storebought vegan cheese or tomato sauce, you can use that instead of making your own.