Adriana has published hundreds of recipes online and is a Board Certified Nutritionist. Read our recipe development process or more about Adriana.
Calling all garlic lovers- it's pizza night and we've got a great garlic pizza for you this week! We can classify this one as a triple garlic pizza– there is delicious garlic butter sauce, chopped fresh garlic as a topping, and a brushing of garlic butter on the crust!
This recipe for garlic pizza has a robust garlic flavor that comes from the combination of raw and roasted garlic. You get a little of that raw garlic bite and a little of the smooth, sweet roasted garlic flavor. It's perfection in a pizza. Let's begin!
How To Make Garlic Pizza
Making garlic pizza is similar to making any other pizza- you need to prep the dough, the sauce, and the toppings prior to assembling your pie. You can also use store-bought dough in this recipe to save on time instead of making your own.
Here's a rough breakdown of the steps:
Make the pizza dough so it has time to rise
Roast the garlic (or make a raw garlic butter to save time)
Make the garlic butter
Shape your pizzas, assemble with toppings, and bake that garlicky goodness!
If this feels like a lot, don't sweat it– it is 100% worth it for this super delish pizza! Not many can lay claim to making a triple garlic pizza from scratch.
The great thing about garlic pizza is that you can prep the main components up to 2 days in advance, getting your pizza in the oven in less than 10 minutes on the day of 🙂
How To Prep Garlic Pizza In Advance
Pizza night is messy! Chopping toppings, making sauce, and rolling out dough do a number on your kitchen. We do pizza night every Friday and it's a lot of components to put together. The great news is you can start to prep the ingredients for this garlic pizza a few days beforehand: the roasted garlic, the garlic butter sauce, and the garlic pizza dough.
Step 1:
We typically roast our garlic earlier in the week: if we're running the oven to cook dinner, we simply toss a few heads of garlic in to roast while dinner cooks!
Step 2:
Once you have the roasted garlic, the garlic butter comes together quickly. It must be stored in the fridge but can be pulled out in the morning to soften the day you make your pizza. Or you can simply melt the butter in a pot when it's pizza time. Here's an in-depth guide to roasted garlic butter!
Step 3:
The pizza dough can be made the day before, oiled and covered with a towel, and placed in the refrigerator. Simply remove the dough from the fridge at least 3 hours before you want to make your pizzas and voila!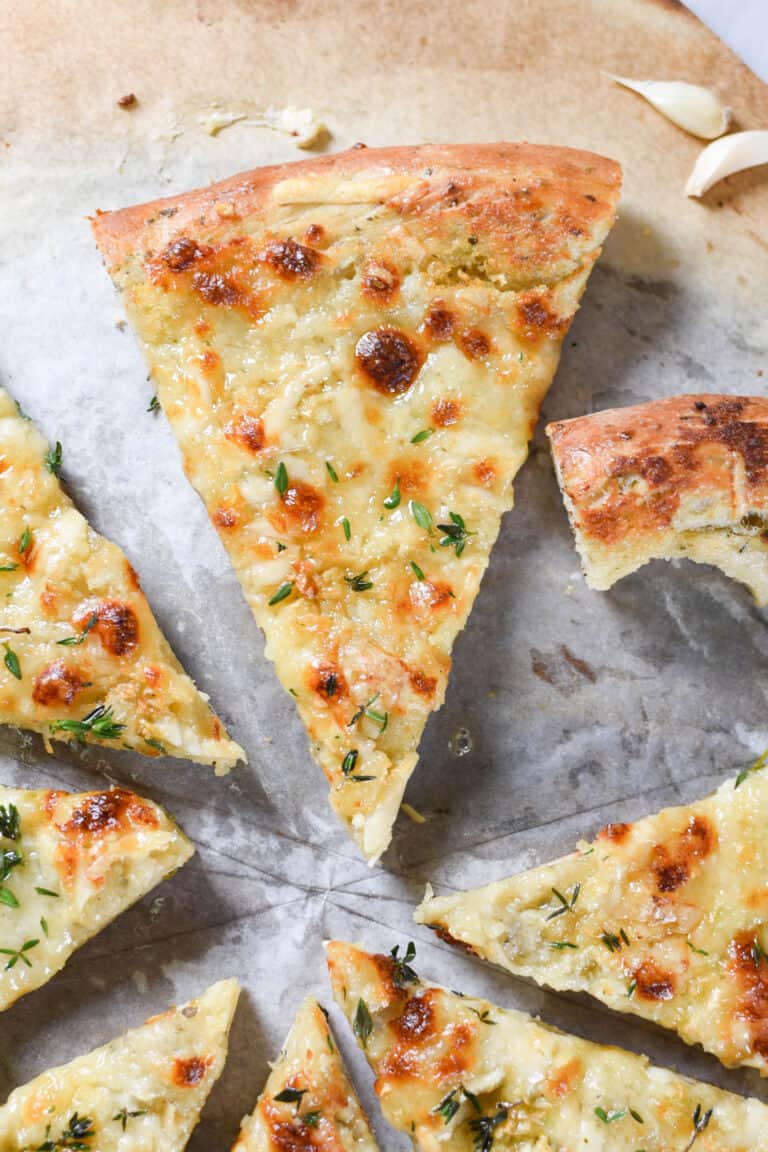 Related Recipes: San Marzano Pizza Sauce | Vegan Pizza Dough | Melty Vegan Cheese
How To Shape The Garlic Pizza Dough
Shaping pizza dough by hand does require a bit of practice as there are many things at play: thickness, crust, shape, and rise. Don't sweat it if your garlic pizza isn't perfectly round! Our mantra on pizza night is 'rustic rules'. That said, we totally understand the desire for a nice round pizza so here's a quick tutorial on how to shape pizza dough.
Steps to shape garlic pizza dough:
Lightly dust your hands and work surface with flour.
Deflate your pizza dough, shape it into a disc, and divide it into 2 portions. (Work with 1 portion at a time)
Shape the dough into a round, flat disc. This is a VERY important first step! Start off with the shape you want to end up with.
Use the pads of your fingertips to gently press and push out the dough, from the center of your disc outward. Spinning the dough often is crucial for a round pie.
Think of your dough disc as a clock. Begin at the center where the hands are anchored, lightly press with your fingertips on both hands, and gently stretch or push upward toward 12 O'clock and release. Spin the disc a quarter turn and repeat. Repeat, repeat, repeat!
Once you have a 12" circle you can create some indentations for the crust, if you like a thick crust.
As soon as your pizza dough is shaped, move it onto a sheet of parchment paper! This really helps prevent sticking and makes it easy to get the pizza on and off baking trays in between baking, cooling, and cutting.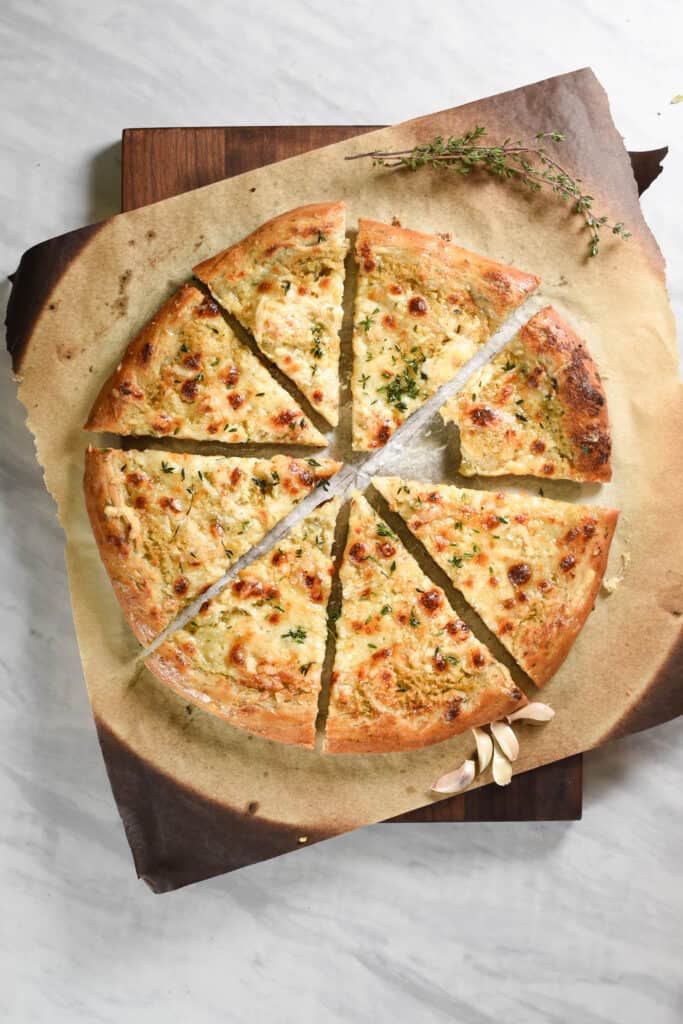 How To Cook The Best Garlicky Pizza At Home
Heat is the #1 factor that leads to really great pizza– most home ovens will go to temperatures of 450-500* and yes, you should crank the oven and cook your pizza that hot. We've been meaning to buy one of those super nifty pizza ovens forever as they get very hot, very quickly- our friends have one and it's amazing!
Cooking pizza at high heat helps firm up the crust, bake the dough quickly, melt the cheese and cook your toppings.
A lower heat on pizza can lead to the bottom of the crust not being firm enough to support the slice (read: floppy pizza).
So crank those oven temperatures up and give your oven a good 10-15 minutes at temperature to really heat up!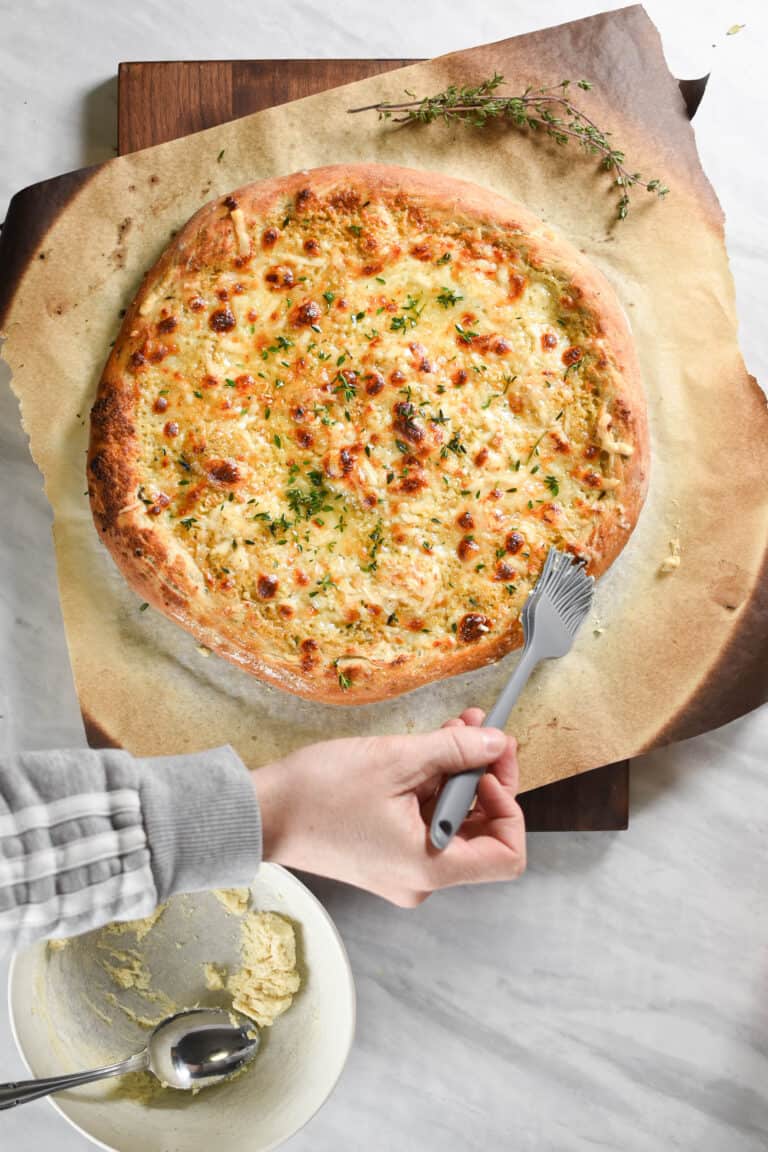 Garlic Pizza FAQs
Can you use garlic powder instead of garlic?

Garlic powder simply doesn't have the same flavor as fresh garlic. You can use garlic powder in the garlic butter sauce, but garlic powder is made from raw garlic– you won't get the deep, mellow flavor or roasted garlic.

Is minced garlic, sliced garlic, or whole cloves best as a topping for garlic pizza?

We personally love using whole or half cloves scattered about! Larger pieces of garlic, like whole or half cloves, will create pops of flavor, whereas using minced or sliced garlic can evenly top the entire pizza for loads of garlic in every bite.

Is fresh garlic too strong for pizza?

Although these pizzas only bake for about 10 minutes, the garlic does cook slightly in that time and is not as potent as raw garlic. We use whole cloves but we're garlic lovers! The garlic isn't as mellow as fully roasted garlic but the quick bake on the pizza does take the edge off the sharp, pungent bite of raw garlic.

How to make a garlic-flavored pizza crust?

As soon as the pizza comes out of the oven, spread garlic butter on the crust!
Print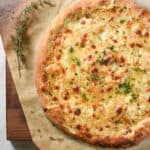 Triple Garlic Pizza
Author:

Adriana

Prep Time:

50 minutes

Cook Time:

10 minutes

Total Time:

1 hour

Yield:

2

, 12″ garlic pizzas

1

x

Category:

Vegan Pizza

Method:

oven

Cuisine:

American
---
Description
Garlic pizza is a really delicious flavor of pizza! This recipe combines raw and roasted garlic for BIG garlic flavor that isn't overpowering. The components of garlic pizza (dough & sauce) can be made ahead of time for quick pizzas when you want them.
This recipe walks you through:
Roasting garlic
Making the pizza dough and shaping it
Assembling the garlic pizza
Different toppings & flavor combos
---
The Dough:
1 teaspoon

yeast
1 teaspoon sugar, honey, or maple syrup

3/4 cup

 warm water

2 cups

all-purpose flour

1 teaspoon

 salt
2 tablespoons chopped fresh herbs or 2 teaspoons dried herbs (optional)
The Garlic Butter Sauce:
1

stick butter or vegan butter (

4 oz

,

1/2 cup

)

2

whole heads of roasted garlic

1 teaspoon

olive oil

1/4 cup

chopped fresh herbs (basil is our pick)
ALTERNATIVE: Sub 4 cloves of minced fresh garlic for roasted garlic. Use a microplane or garlic press for ease or very finely mince garlic with a knife. Skip to step 2.
The Toppings:
6

cloves fresh garlic (

3

per pizza)

2 cups

any blend of white cheeses, vegan or regular, (

1 cup

per pizza)

1/4 cup

chopped fresh herbs (optional)
---
Instructions
Roast the garlic. Peel the outer papery skin and slice garlic heads in half. Drizzle with 1 teaspoon olive oil and salt and pepper, then cover with aluminum foil and roast in a 375* oven for 45 minutes. Set aside to cool.
Make the pizza dough. Combine 2 teaspoons active dry yeast, 1 teaspoon sugar, and 3/4 cup warm water together and let sit for 5 minutes until thick and foamy. Add 2 cups flour, 1 teaspoon salt, and optional 2 tablespoons fresh herbs together to form a dough. Shape into a ball, cover, and let rise until doubled in size or about 1 hour. 

To make ahead, skip the rise time and place dough in an oiled bowl, covered in the fridge. Remove and let come to room temperature prior to use.
This dough can be prepared 1-2 days before use. Ensure the bowl is covered with plastic wrap or a lid and the dough has been lightly coated in oil to prevent drying out.
Bring dough to room temperature prior to shaping pizzas.

Make garlic butter. Combine garlic, 1 stick butter, and 1/4 cup roughly chopped herbs together. Do this manually using a fork to mix and mash everything or use a food processor. If using a food processor, the herbs will turn the butter a slight green tint– just a note. Ensure the garlic butter is at room temperature or close to it prior to use.
Assemble the pizza. Take dough out of the bowl and flatten into a disc, divide it into 2 equal pieces.

Shape each half disc into a circle by hand, then roll into a 10-12″ circle. Place on a piece of parchment paper before topping.
Reserve 2 tablespoons of garlic butter to brush after baking. Spread half of the softened garlic butter on each pizza using the back of a spoon or a spatula, top with 1 cup of cheese and additional 3-4 garlic cloves– sliced, chopped, or whole.

Bake the pizza. Bake pizza on parchment paper on a sheet pan in a 450* oven for 10-12 minutes, until the cheese is bubbly and golden brown and the crust is lightly browned. Brush the crusts with remaining garlic butter when you remove the pizzas from the oven.
---
Notes
If you don't want to roast garlic, you can make garlic butter with fresh garlic. A garlic press or Microplane is the best way to do this. Use only 4 cloves of garlic for 1 stick (1/2 cup) of butter as fresh garlic has a much stronger flavor.
This recipe can be made using vegan shredded cheese and butter or standard shredded cheese and butter! Both work.
For Garlic Butter Sauce:
1- 4oz, ½ cup stick of butter (salted or unsalted, dairy or vegan butter!)
2 heads of roasted garlic
¼ cup finely chopped fresh herbs
Pizza dough:
1 teaspoon yeast
1 teaspoon sugar, honey, or maple syrup
3/4 cup warm water
2 cup all purpose flour
1 teaspoon salt
2 tablespoon chopped fresh herbs
For Garlic Pizza toppings, 2 pizzas:
6 cloves of garlic, minced
2 cups of cheese (dairy or vegan butter!)
Optional: fresh herbs, if desired
Optional: very finely sliced lemon quarters (yes, lemon is fantastic on garlic pizza!)