Roasted garlic is an absolute delight to use in a wide variety of recipes and the easiest way to make it is to roast garlic in the oven! The sharp and pungent flavor characteristic of raw garlic is softened when garlic is roasted– it develops a smooth baseline garlic flavor that's mellowed, creamy and caramelized!
Shortcut: Watch the video or Read 50+ ways to use garlic!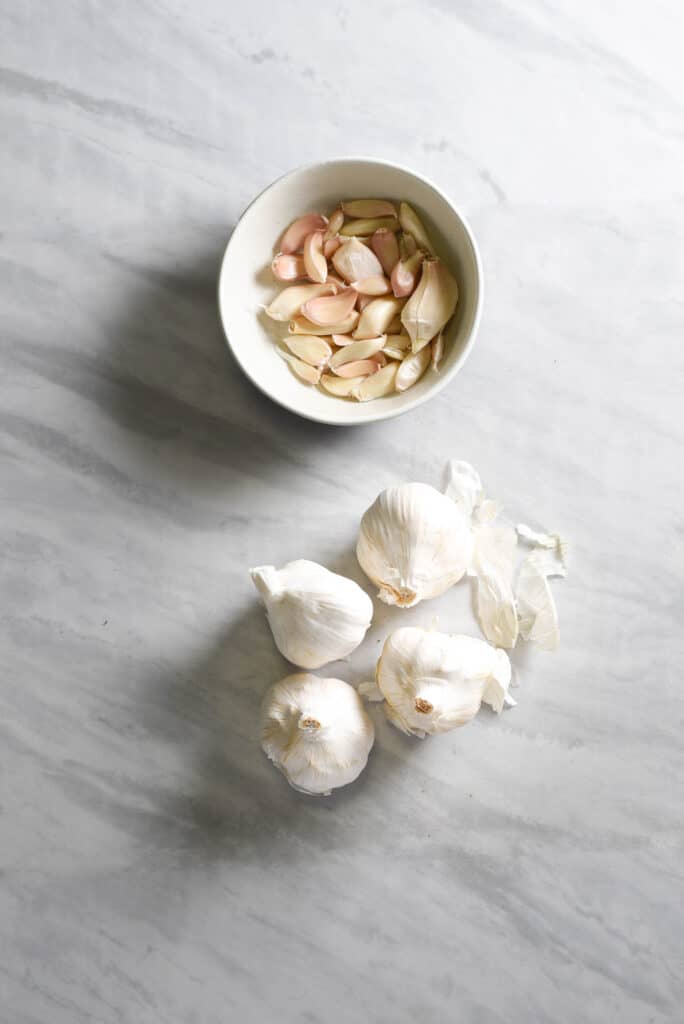 How To Roast Garlic In The Oven (Whole Roasted Garlic)
Oven roasting garlic requires only 3 ingredients and about 5 minutes of hands-on prep work. It does take 45 minutes to 1 hour to roast in the oven but that time is completely hands-off. When roasting garlic, we tend to roast 5 or more whole heads of garlic at a time so we have plenty to store and use later.
The process for roasting garlic bulbs couldn't be simpler.
Remove the papery skins cover the head of garlic
Slice the top ¼ of the garlic head off to expose the cloves. This is optional but makes it much easier to remove individual cloves after roasting.
Drizzle with olive oil & season with salt and pepper.
Wrap loosely with aluminum foil and bake at 400.
That's it! The whole-head oven method is the best way to roast garlic.
Additionally, you can roast garlic in the oven alongside something else you may be already baking! If you have a recipe that requires about an hour of time in the oven, toss in a foil pack of garlic to roast up simultaneously. In winter when the oven is on every other day, it's very easy to prep a batch of roasted garlic in advance!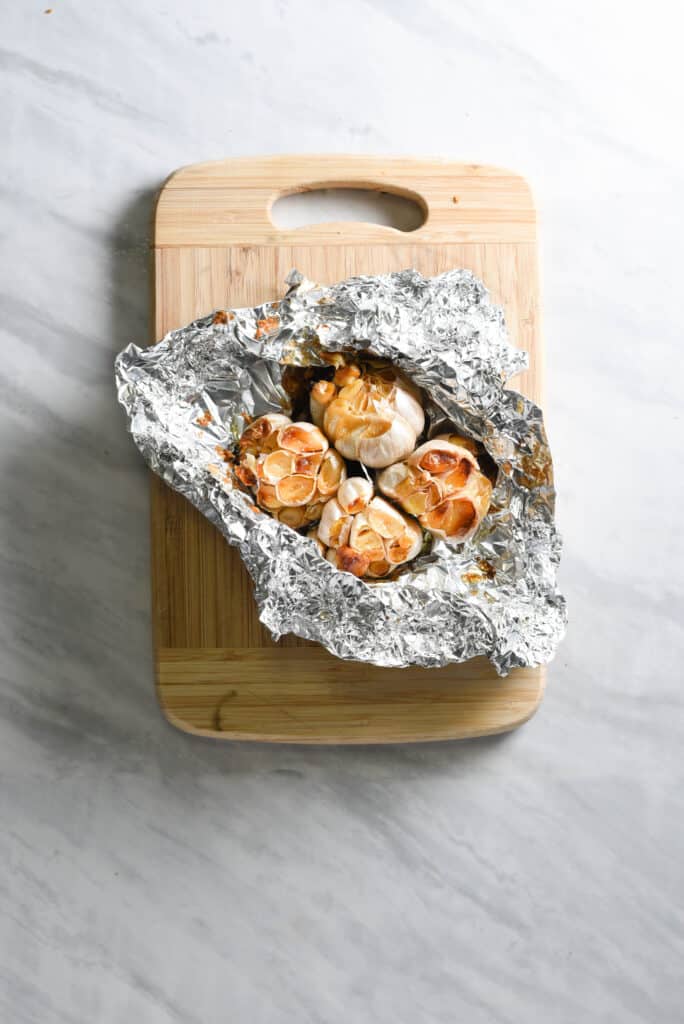 How To Tell When Roasted Garlic Is Done
We all know that burnt garlic can develop a strong, unpleasant bitter taste, so how do you know when your roasted garlic is done? You can tell the cloves are done when the garlic has a light golden color and some of the cloves may have shrunk and no longer fill their papery cavities. There will likely be pockets of deeper brown caramelized coloring but you want to remove the garlic as these deep brown sections just begin to appear.
How To Roast Individual Garlic Cloves
There is an alternative method for roasting garlic which yields 2 roasted garlic components for cooking: individual roasted garlic cloves as well as roasted garlic olive oil! Baazinga! This is a great way to use up lots of individual cloves of garlic. After a few weeks of cooking we usually have a bowl of small garlic cloves, too small to chop– we roast this up!
Maybe you regularly purchase peeled garlic cloves at the store or maybe you have lots of loose garlic cloves at the bottom of your root-vegetable storage.
To roast individual cloves of garlic we recommend adding them all to a very small oven-safe dish and covering them with olive oil. You can add a touch of salt and pepper to season or toss in some fresh or dried herbs for a flavor kick.
GREAT news! You don't need to peel these individual cloves– hooray! After roasting in the oil, the cloves will pop right out of their skins. Toss the full, paper-wrapped cloves right into the bowl and cover them with oil 🙂
Some recipes recommend tossing with olive oil and loosely roasting in a foil pack in the oven versus submerging them in oil– I've found this method can very easily burn the cloves. Roasting individual cloves submerged in oil is a foolproof method that doesn't require constant checking!
Roast individual cloves at a lower oven temperature of 350, for 20-30 minutes, depending on the quantity of cloves. Begin checking the cloves for a light golden brown color at the 15 minute mark to avoid burning.
Swapping Roasted Garlic For Fresh
Once you've got your delicious baked garlic you can use this in so many ways and swap it out for fresh garlic in recipes where applicable. As the flavor of roasted garlic is very mellow in comparison to fresh garlic, we tend to triple the amount of garlic a recipe calls for.
For recipes requiring 1 clove of fresh garlic, we use 3 cloves of roasted garlic!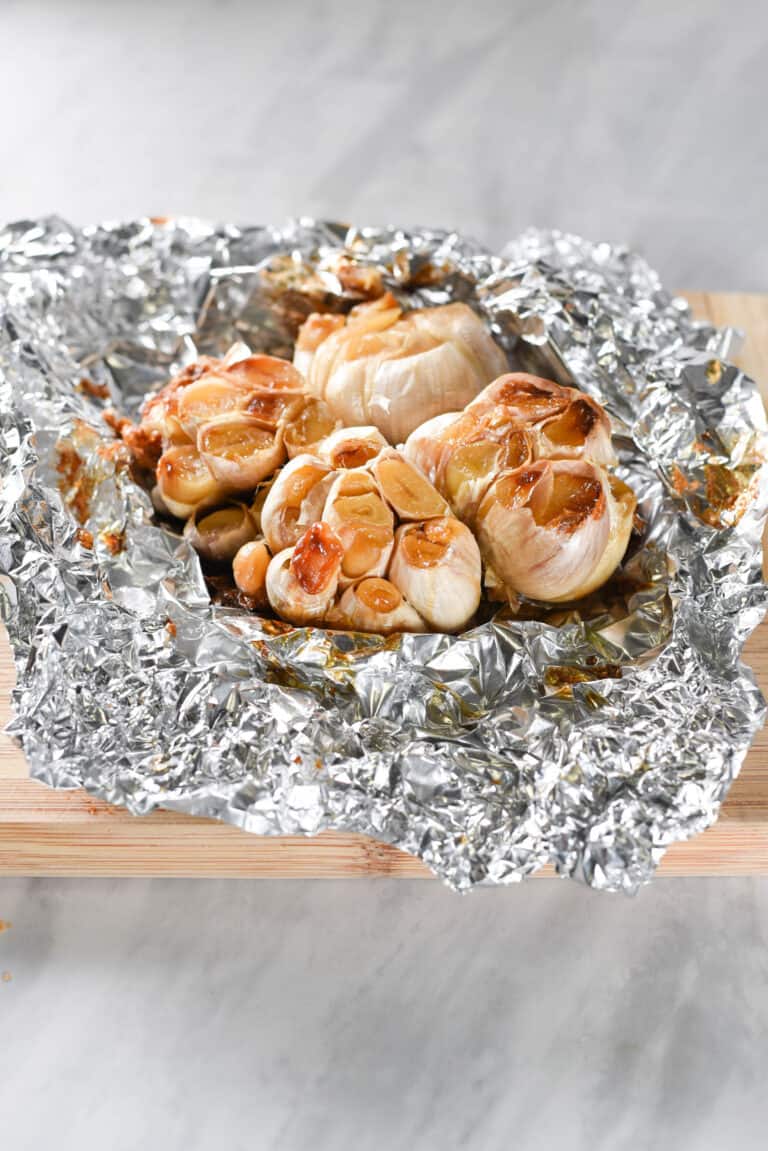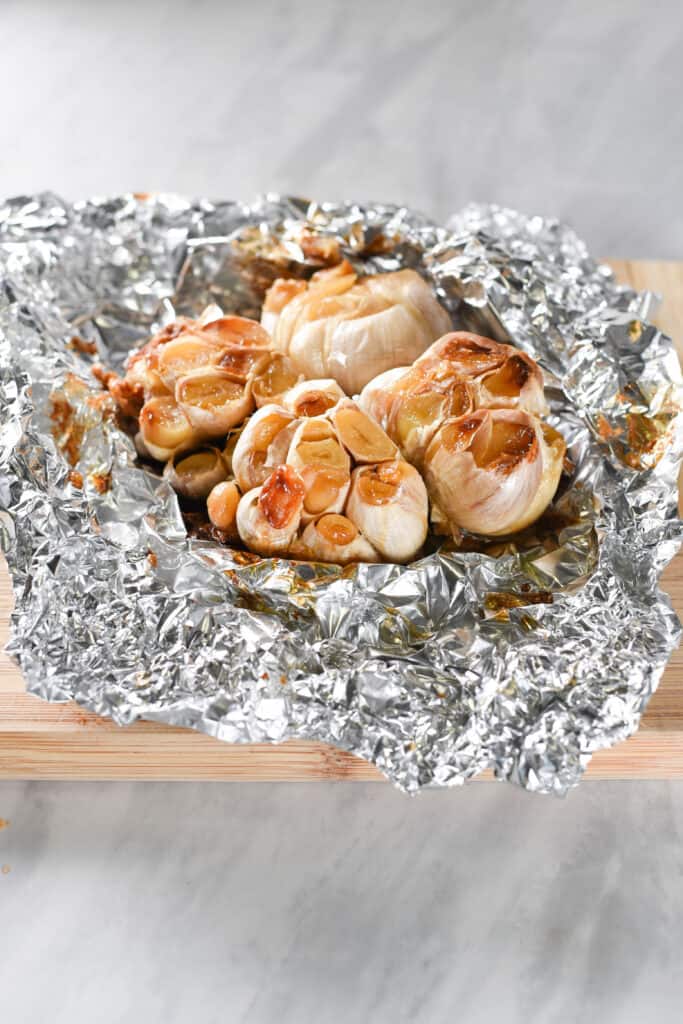 Using & Storing Roasted Garlic
Roasted garlic is a phenomenal addition to mashed potatoes, pesto, creamy spreads like aioli, salad dressings, hummus, soup, creamy pasta sauces, pizza sauce (and topping!), and a variety of other things. Read here for all 50 ways to use roasted garlic 🙂
Whole roasted garlic heads will keep for about 7 days in the fridge in a ziploc bag or storage container. If you need to separate the cloves from the head, this is easier to do after they have cooled in the refrigerator. You can freeze the cloves for 2-3 months and for freezer storage we recommend removing the cloves prior to freezing.
Individual cloves roasted in oil can be stored in the fridge for about a week, in the oil or in an airtight container. You can freeze the cloves for 2-3 months as well and we recommend separating the cloves from the oil prior to freezing.
Cook & Learn More With Roasted Garlic
Roasted garlic soup
Creamy garlic sauce
Garlic pizza
Roasted garlic bread
How To Video
Print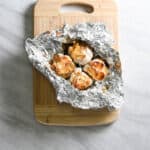 Roasted Garlic: 2 Ways
Author:

Adriana

Prep Time:

5 minutes

Cook Time:

45 minutes

Total Time:

50 minutes

Yield:

2 tablespoons

1

x

Method:

Oven
---
Description
Making roasted garlic is an easy way to eat more garlic and enjoy garlic in a different way. The flavor is subdued and smoother yet still robust– it's really delicious!
---
fresh garlic

1 teaspoon

olive oil
pinch of salt & pepper
---
Instructions
For an entire head of garlic (or multiple):
Remove all the exterior papery skins from the head(s) of garlic and try to keep the cloves attached at the root.
Slice off the top 1/4 to 1/3 of the top of the head of garlic to expose the tops of the cloves.
Set on a sheet of aluminum foil, drizzle with olive oil, salt & pepper.
Roast in a 400* oven for 45-60 minutes, beginning to check the garlic at 45 minutes.
How to tell when garlic is roasted:
Cloves will be soft to the touch and will likely have shrunk and appear smaller
Cloves will be a very light golden brown color
Some cloves may appear to be 'popping out' of their papery skins!
For individual cloves:
Remove any loose papery skins if they are present but you do not need to peel the cloves! Occasionally there are many layers of extra papery coverings.
Add cloves to a bowl that's just larger in size than the amount of cloves you are roasting. (This will require less oil).
Pour in enough olive oil to submerge the cloves.
Bake in a 350* oven for 20-30 minutes, beginning to check at the 15 minute mark. Individual cloves burn easier than whole heads of garlic, hence the lower temp and shortened bake time.
Notes
*The smoke point for most olive oils is about 400* so we don't recommend roasting garlic above 400* as many recipes do. Even in a 400* oven, the moisture from the garlic will keep the temperature lower than 400*.
*Cloves are easier to peel if they are cooled in the refrigerator.
*Depending on the size of the head of garlic, a typical yield for an entire head is about 2 tablespoons.