Enter vegan butter boards, entertaining just got interesting! A butter board is just as it sounds, a cutting board artistically slathered with butter and all dressed up. Butter boards can be dusted with seasonings, sprinkled with fresh herbs, dotted with veggies, spotted with citrus or pickled things, and drizzled with liquids like honey or hot sauce. It's a build your own flavor experience suited for a perfect crusty loaf of bread– I mean, we all mastered homemade bread across the past 2 years right?
A butter board is how you celebrate. Cheers to us, now let's spread some buttah!
(This post contains affiliate links, everybody. That means I'll get a small commission on any sales and get a teeny kickback to help keep making creative recipes for y'all.)
Method
Making a butter board is incredibly fluid and open for interpretation and riffing, however, one thing will set you apart and that's a smooth, spreadable consistency butter! While you can indeed force it with cold butter from the fridge as it will soften while you work with it, I highly recommend softer butter.
Once your butter is softened the method is simple: shmear that butter on! You can place the entire block on the board and start carving and spreading. Alternatively, slice the butter into 1/4″ slices (remember its soft so these slices won't be perfect)and scatter across your board to spread.
A thinner layer of butter will result in a wider coverage area (read: use a larger board) and will ensure all 'butter swoops' have both butter and toppings picked up!
Tip On Softening Butter
If your butter is a cold brick in the fridge and you've got the butter board urges striking now– never fear, there's a solution for that. My favorite way to soften those sub 40* blocks is to use a dutch oven! Place your dutch oven in the sink and fill it with HOT tap water and cover with the lid. Leave the hot water in your dutch oven, covered for 5-10 minutes and this will warm your dutch oven, gently and perfectly.
Then, pour out the water, add a block of cold butter, and place the lid back on. Leave the butter in this dutch oven sauna for another 10 minutes then BOOM, baby, we've got butter!
Tip On Vegan Butter (Yeah, we veganized this)
There are 2 very common types of vegan butter: vegan buttery sticks and vegan buttery 'spread', the spread is sold in a plastic tub and remains well, spreadable, even when kept in the fridge. For a vegan butter board, the buttery sticks are key! Butter sticks have higher fat content and lower water content than the spreadable option which will prevent the butter from melting as quickly!
Ingredients, Toppings, Assembly
The sky is the limit with ingredients and toppings so long as flavor profiles align and each buttery bite is balanced. Keep in mind that butter is a fat, and salt is a necessary addition for the best flavor unless you're using salted butter. That big, flaky, gorgeous salt? Yeah, those crystals will add saltiness, texture, and charisma to your butter board.
Acid is also a great compliment to fat, think: vinegar, citrus, roasted/sun-dried tomatoes, spice, and, ahem, a glass of wine or two.
Fresh herbs are going to brighten things up and I highly recommend them! Whatever you've got in your crisper will work, cilantro, basil, and thyme are on regular rotation at our house right now.
Thinly sliced raw veggies! Onion, garlic, jalapeno or serrano peppers, paper-thin lemon slices, or minced garlic.
Pickled goodies like olives, capers, pepperoncini, sauerkraut, or kimchee
Cooked veggies: roasted garlic or tomatoes, or sauteed mushrooms or onions. I'd recommend letting these cooked veggies cool to room temp before adding to your butter board.
Whatever toppings you end up using, chop them so they are small enough that they'll easily be swopped up by a dipper like a cracker, piece of bread, or veg stick.
Tips For Assembling:
After you've painted your board with butter, I'd recommend the following order. Remember, just like charcuterie boards, butter boards have loads of room to play and experiment.
Layer of butter
Sprinkle of salt
Scattering of larger toppings like veggies, nuts, pickled items etc
Anything you're going to drizzle: honey, hot sauce, etc
A scattering of fresh herbs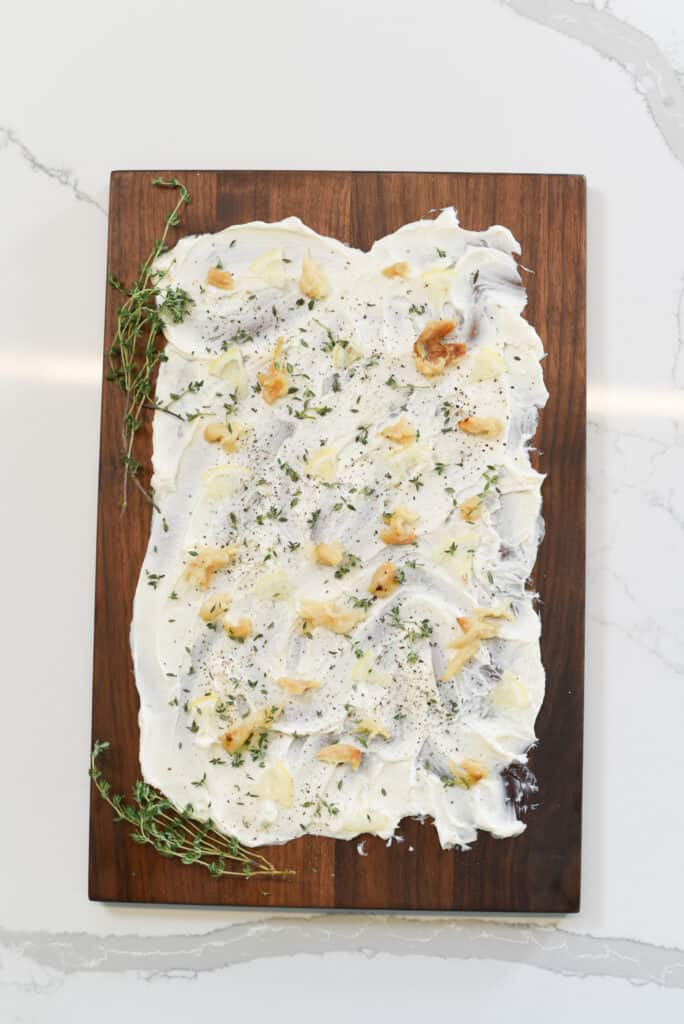 What To Serve With A Butter Board
A butter board + a fresh loaf of crusty bread = natural-born BFFs. Crackers, warm and crispy tortillas, flatbreads like sliced pita or naan, sliced vegetables, and sliced fruits all have a home on a butter board.
Any carb and any vegetable or fruit that will hold their shape while swiping up on some fancy butter are game.
I'd serve a butter board with a few butter knives or cute wooden butter spatulas in a jar nearby so guests can use a utensil if they'd prefer.
How To Prepare In Advance
What's pretty nifty about a butter board is that you can paint your butter, add salt and toppings and then pop your board in the fridge for a few hours until guests arrive to keep its shape. Again, quite nifty. Since the butter will be in a thin layer, it will warm and come to room temp much, much faster than a solid block of butter will.
You can make a styled-out butter board up to 6 hours in advance of your event, loosely wrapped in plastic wrap. If you want to prep a butter board the day before an event I'd keep it at just the butter layer and wrap well with plastic wrap. You can prep/chop/roast your toppings the day before, however, I wouldn't 'dress' the butter board a day in advance.
If you make a styled butter board the day of, pull it out of the fridge just as guests are arriving. This will give you enough time to pour the first round of drinks and toast up your bread.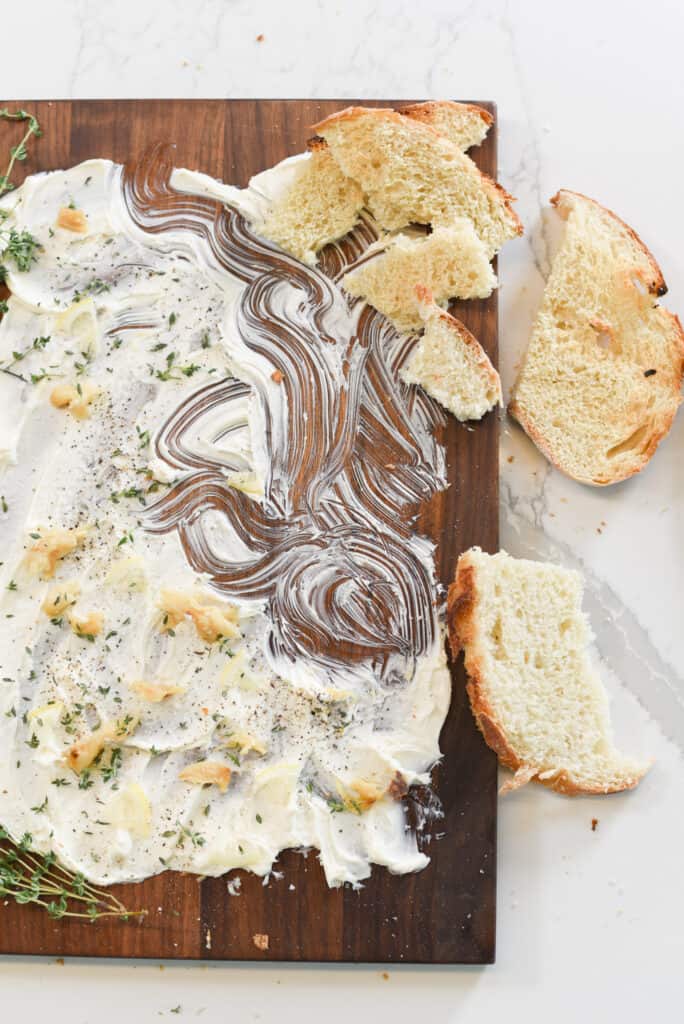 Variations
Instead of a typical cutting board as is the norm for all things charcuterie, you could easily use a marble slab or pastry slab for a butter board! If placed in the fridge for a few hours prior to serving it will help keep the butter spreadable but not too-warm so it's greasy. Perfect form.
Another spin on a butter board would be to use flavored butter. Wut. Yes, herbed butter, jam-spiked butter, honey butter, or citrus butter would all be spectacular uses for a butter board! You can make these yourself as well.
The concept of a butter board comes from Joshua McFadden, author of Six Seasons and exploded onto the FYP by Justin Dorion.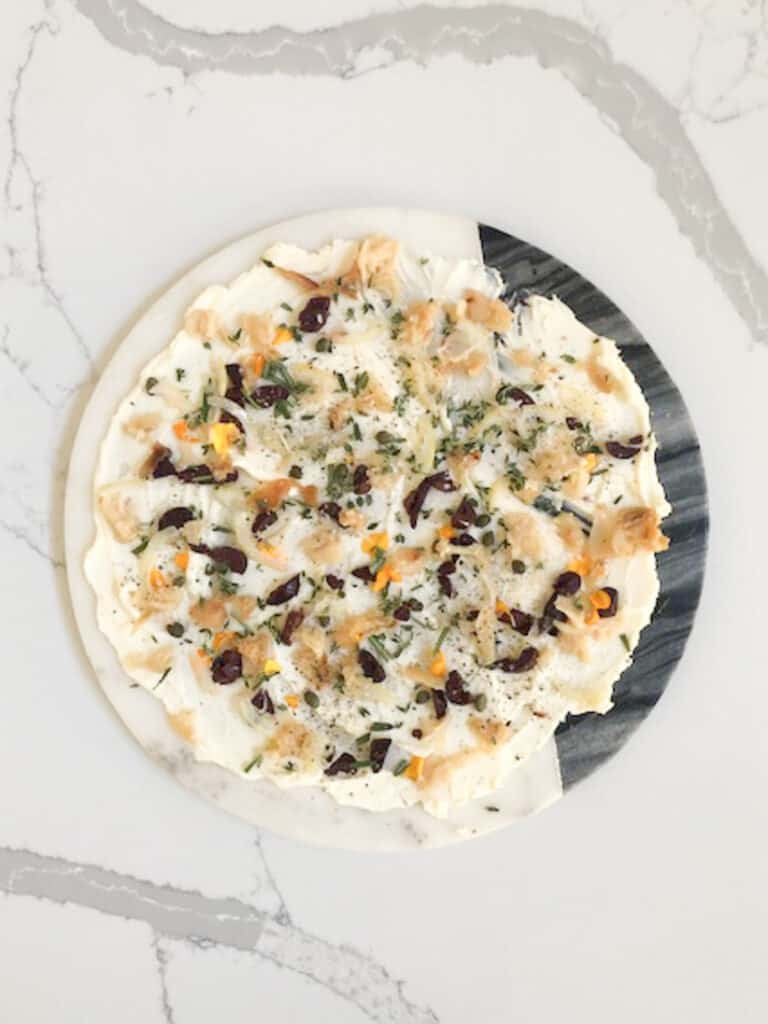 Flavor Suggestions:
Here are the flavor variations and combinations we're wild for! We went into a butter board feeling like 'less is more' would win as far as toppings go but listen up– we were wrong! Plentiful and crowded butter board is the way to go, just keep your toppings bite-sized and your butter spread thin!
Print
BEST Butter Board
Author:

Adriana

Prep Time:

20

Total Time:

20 minutes

Yield:

4

servings

1

x

Category:

Appetizers

Method:

Cold prep

Diet:

Vegan
---
Description
Butter? On a board? YES, it's called a butter board, and that's what we're doing! Whether it's a date night in or you're hosting a gathering, butter boards are a creative new spin on the cheese and cracker type spread.
---
1/2 cup

butter (or vegan butter)

1/4 cup

finely chopped fresh herbs

1 tablespoon

large flake salt or

1 teaspoon

fine grain salt

1/2 cup

toppings of your choice
---
Instructions
Spread room temperature butter across a cutting board.
Sprinkle liberally with flake salt, if using iodized or fine grain salt use only 1 teaspoon.
Scatter toppings of your choosing atop the butter in a stylized fashion.
Sprinkle with chopped herbs.
Drizzle with anything you fancy that fits (honey, hot sauce, lemon juice, etc)
Refrigerate if not serving immediately and bring to room temp as guests arrive.
---
Notes
See recipe post for tips on how to soften butter, flavor & topping suggestions, and assembly tips!