Lavender simple syrup is a delightfully aromatic and flavorful sweetener with a variety of culinary uses. It's a painlessly easy way to incorporate the unique flavor of lavender into drinks and cocktails. It doesn't require any complicated ingredients or methods. Plus, lavender syrup easily stores in the freezer for up to 3 months.
Whether you grow fresh lavender and are looking for ways to use it, need the syrup for a specific recipe, or are just looking to experiment with new flavors in the kitchen, this lavender syrup can add some variety to your life!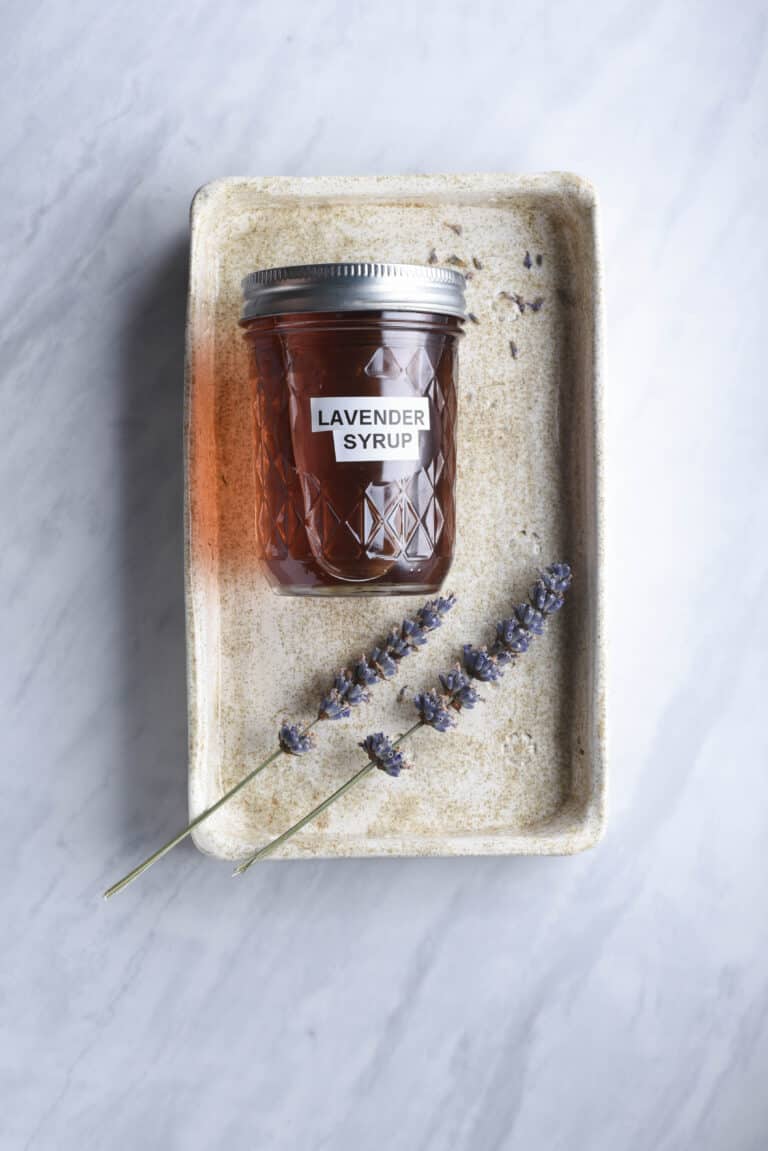 How To Make It
Making lavender simple syrup is quick and easy as with all simple syrups! To make the lavender syrup you need to dissolve sugar in water and add the lavender for flavor. We do this by bringing all 3 ingredients to a low simmer on the stovetop for several minutes to melt the sugar then strain the syrup to remove the lavender buds.
Standard simple syrup calls for white sugar however you can switch up the sugar you use: cane sugar, coconut sugar, and brown sugar all work in this syrup, although they do change the flavor. As lavender is a delicate flavor we recommend using white or cane sugar in this recipe.
Store lavender syrup in a container in the fridge. It will last 2-3 weeks in the fridge and up to 3 months in the freezer. It's convenient to use if stored in a container that's easy to pour from such as a flip-top bottle or squeeze bottle.
Using Dried Vs. Fresh Lavender
Fresh lavender, like most fresh herbs, is less potent than dried lavender. Therefore if you're using fresh lavender in this recipe you'll need to double or triple the amount. The general rule of thumb for cooking with herbs is a ratio of fresh to dried, 3:1. So 1 teaspoon of dried lavender equals 3 teaspoons of fresh lavender. As this is a general rule, start by doubling the amount, taste, and adjust as needed.
If using fresh lavender, omit the leaves and stems as they can add a bitter flavor to the syrup.
You can easily find dried lavender for sale at most health food stores or online. Also if you've had a jar of dried lavender in your spice drawer for years, dump it! We tested this recipe with an old jar of dried lavender and some more recently purchased, it made a HUGE difference. The fresher was far more pungent!
What Is Lavender Syrup Used For?
Lavender syrup is an herb-flavored simple syrup with a wide variety of uses! First and foremost, this syrup is wonderful for sweetening and flavoring cocktails! It also pairs well with coffee and tea beverages, as a pancake/waffle syrup for an elevated brunch, or used to sweeten baked goods and pastries like scones, muffins, and loaves. Add it to a smoothie!
Lavender syrup perfectly complements many dessert offerings as a topping or a sweetener such as ice cream, cheesecake, frosting, creme brulee, parfait, cake syrup, or bars/cookies.
It can also be used in a marinade for any protein or as a sweetener in salad dressing. If you are a fan of floral flavors, try our rose syrup or honey syrup!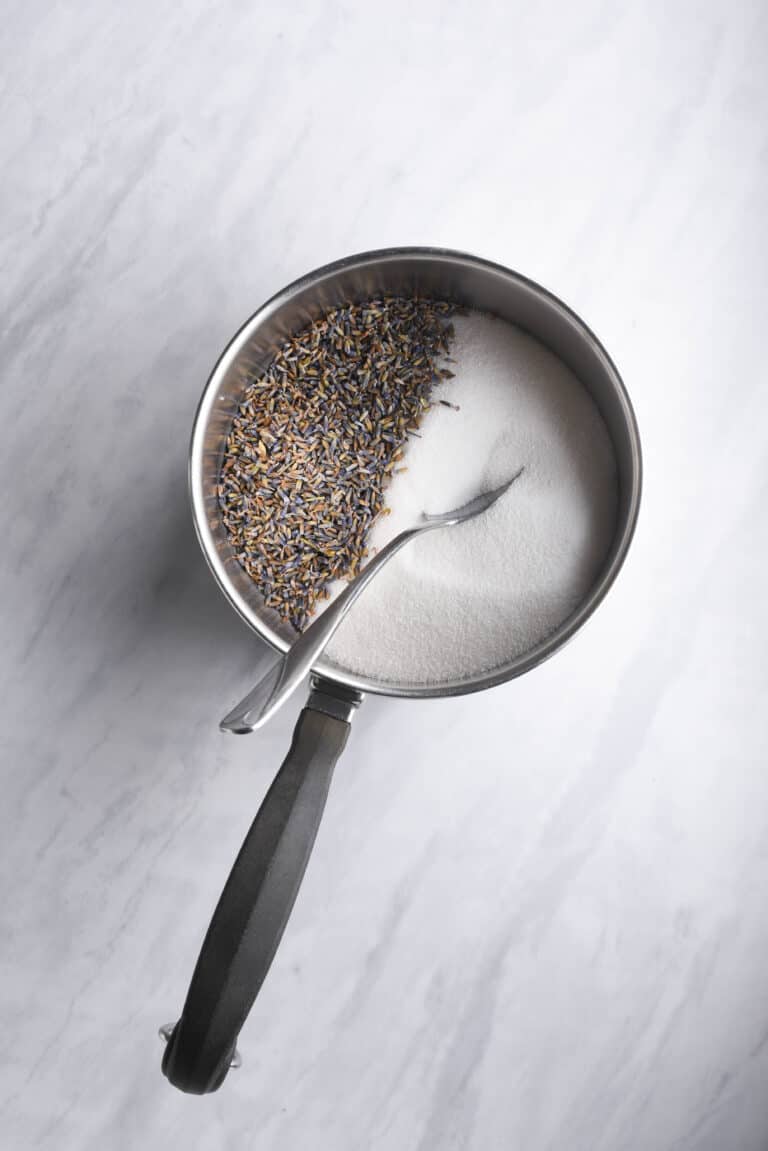 Lavender Syrup For Coffee
Lavender syrup has been used in coffee and espresso drink off and on for ages and shows up regularly on menus in the spring as a fresh, floral variation to coffee drinks. Common coffee drinks with lavender include lavender lattes, lavender white chocolate mochas, and iced lavender cold brews. Lavender is also added to teas, both hot and iced, as a sweetener and a flavor enhancement. Chai and Earl Grey teas are both exceptional with a hint of lavender. Brown sugar syrup is also a killer syrup to use in coffees.
If you have an espresso machine at home and are interested in trying your hand at some fancy lavender beverages it's simple! For a standard 2-shot espresso drink try adding 1 tablespoon (1/2 ounce) of lavender syrup, increasing to 2-3 tablespoons depending on desired flavor and level of sweetness. My preference is 2 tablespoons (or 1 ounce) of flavored syrup in a homemade espresso drink.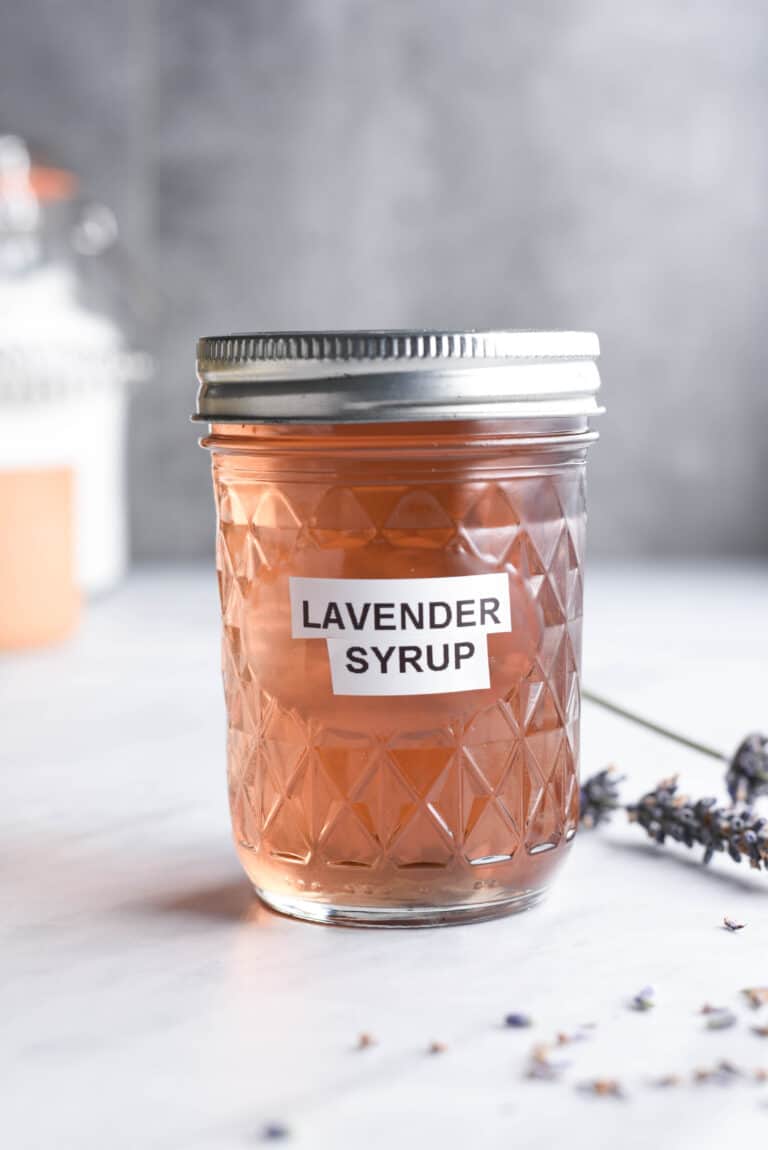 Lavender Syrup Cocktails
When we think of simple syrup, most of us will default to its use in cocktails and lavender syrup works phenomenally in cocktails and mixed drinks! Many cocktail recipes call for 1/2 ounce to 1 1/2 ounces of simple syrup depending on the spirit and the acid used and personal preference.
Lavender pairs well with vodka as it's a neutral spirit. Using lavender syrup in gin, light rum, or a smooth bourbon.
Here are some cocktail ideas to try!
Lavender Moscow Mule
1.5 oz Vodka
2 oz ginger beer
.5 oz lime juice
.5 oz lavender syrup
Add vodka, lime juice, and syrup to a copper mug. Fill glass with ice and stir to combine. Top with ginger beer and enjoy!
Lavender Mojito
1.5 oz Light Rum
.5 oz lime juice
.5 oz lavender syrup
5-7 mint leaves
Club Soda
Muddle mint and syrup in a cocktail shaker. Add lime juice, rum, and ice and shake until nice and frosty. Pour into a highball or collins glass– strained or not strained, up to you– and top with ice and club soda.
Lavender Whiskey Smash
2 oz Bourbon Whiskey
2-3 lemon wedges
3 mint leaves
.75 oz lavender syrup
Muddle lemon wedges and syrup in a cocktail shaker. Add mint, bourbon, and ice and shake until frosty. Double strain into an old-fashioned glass.
Lavender Gin Martini
2 oz Gin
1/2 oz dry vermouth
1/2 oz lemon juice
1/2 oz lavender syrup
Add all ingredients to a cocktail shaker, add ice, and shake until frosty. Double strain into a martini glass.
Why Is Lavender Syrup Bitter?
We tested this recipe with both fresh and dried lavender and found that fresh lavender buds were surprisingly more bitter than dried lavender buds! Additionally, if using fresh lavender use just the flower buds, not the stems or leaves as these parts can create bitter flavors.
A longer steep resulted in more bitter flavors in our testing, the quick simmer then strain is really all you need to extract the delicate floral notes for this syrup. Boiling or excessive steeping could result in bitter flavors in homemade lavender syrup.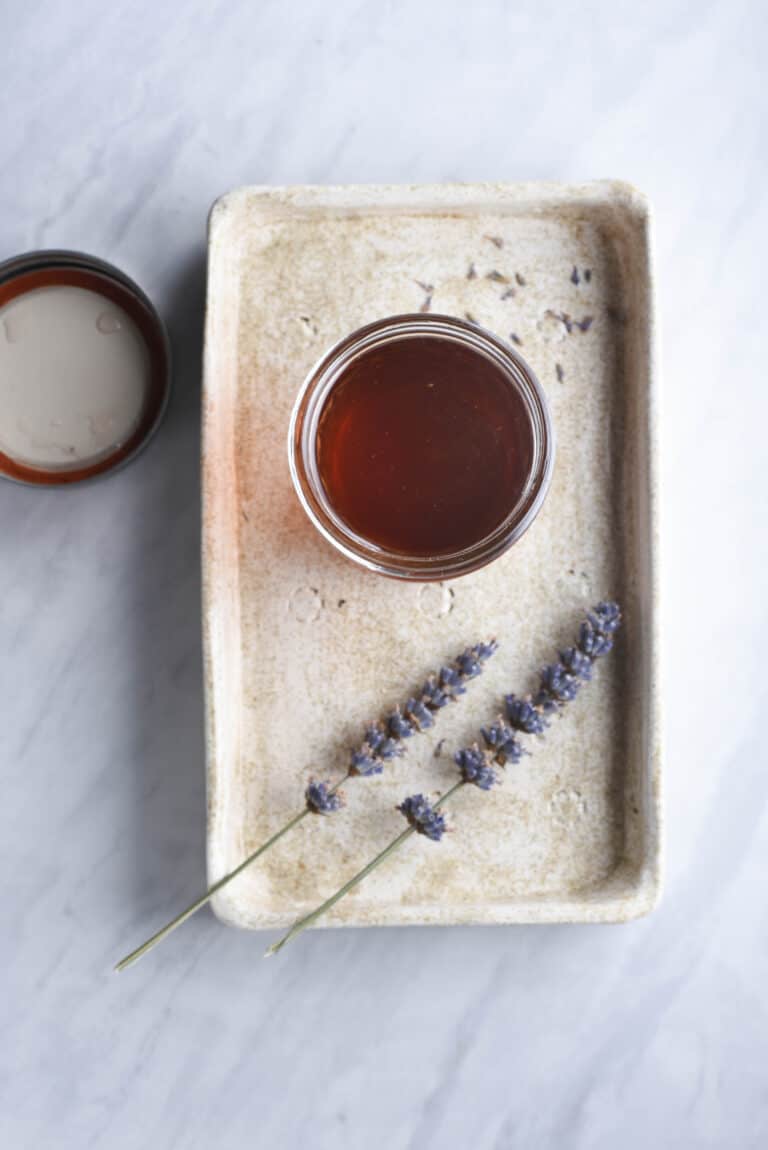 Variations To This Recipe
The flavor of lavender is floral, slightly perfumey, herbal, and earthy. It's a bold flavor that pairs well with a select few other bold flavors, such as lemon, or left to be the primary star of a dish. Lavender pairs well with lemon, orange, mint, vanilla, almond, berries, honey, and ginger.
Lavender is also a key component of herbs de Provence, a mix of herbs and spices similar but more robust than Italian seasoning, as it adds an uncommon but intriguing floral note.
As lavender is a strong flavor it's best to begin adding a small amount of lavender to a recipe, sweet or savory, then adjust and add more as needed.
Print
5 Star Lavender Syrup
Author:

Adriana

Prep Time:

1 minute

Cook Time:

7 minutes

Total Time:

8 minutes

Yield:

~1 cup

Category:

Syrup Recipes

Method:

Stovetop

Cuisine:

American
---
Description
Lavender syrup add extra oomph to coffees, cocktails, baked goods, and more! It will leave your friends and family asking what IS that interesting flavor?! Your secret's safe with us!
---
1 cup

water

1 cup

sugar

1/2 cup

dried lavender flowers*
pinch of salt
---
Instructions
Add lavender, sugar, and a pinch of salt into the 1 cup of water in a small pot.
Heat over medium low, stirring occasionally until the mixture comes to a simmer.
Keep an eye on the simmering syrup to ensure it does not boil or bubble up over your pot! Reduce heat if needed to maintain a simmer.
Simmer for 5 minutes to infuse the lavender flavor then remove from heat and strain, and pour into a clean container for storage.
---
Notes
This syrup will last 2-3 weeks when kept in the fridge; up to 3 months when stored in the freezer.
You can strain this syrup through a sieve or fine mesh strainer, but a small amount of debris will pass through. If desired, strain through a layer of cheesecloth for increased clarity.
If using fresh lavender, use 1/4 cup fresh lavender flowers.
---
Nutrition
Serving Size:

1 tablespoon

Calories:

48

Sugar:

12.5g

Sodium:

18.9mg

Fat:

0

Saturated Fat:

0

Unsaturated Fat:

0

Trans Fat:

0

Carbohydrates:

12.5g

Fiber:

0

Protein:

0

Cholesterol:

0