Adriana has published hundreds of recipes online and is a Board Certified Nutritionist. Read our recipe development process or more about Adriana.
Looking for an easy vegan pancake recipe that makes a stack of tall, fluffy pancakes? This is it! We made pancakes for breakfast every day for 3 months as we developed this recipe in order to find the ultimate fluffy vegan pancakes.
We tested leaveners, ratios of flour to liquid, duration of 'rest time', overnight batters, cook temperature, and more to find the best vegan pancake recipe. There are many ways to make vegan pancakes extra indulgent and brunch worthy but this base vegan pancake recipe is the perfect foundation.
Let's make some flapjacks!
(This post may contain affiliate links. That means I'll get a small commission on any sales made through those links. Read our full disclosure.)
How To Make Vegan Pancakes
The lovely thing about pancakes is they come together so fast, especially if you have vegan pancake mix around, and they are super customizable.
The steps to making vegan pancakes are simple:
Mix your wet ingredients together in a medium-sized bowl with a whisk, mixing well to help incorporate the milk and oil.
Add your dry ingredients to a sieve and sift your dry into your wet, then stir to combine.
Let the batter rest for 5 minutes, this is the perfect time to heat your griddle or skillet.
Pour batter into the pan or griddle. Our preference is 1/3 cup per pancake but you may go larger or smaller! Note that cook time will change slightly based on the size of the pancakes and larger pancakes are more difficult to flip.
After 2-3 minutes (based on 1/3 cup of batter) there should be a few tiny holes on the surface of your pancake and the edges should be dry and have a matte appearance. It's time to flip!
Flip and cook for an additional 1-2 minutes on the second side.
Remove from pan and serve immediately with desired toppings. Or store on a wire cooling rack in a 150* preheated oven to keep warm until all pancakes are cooked.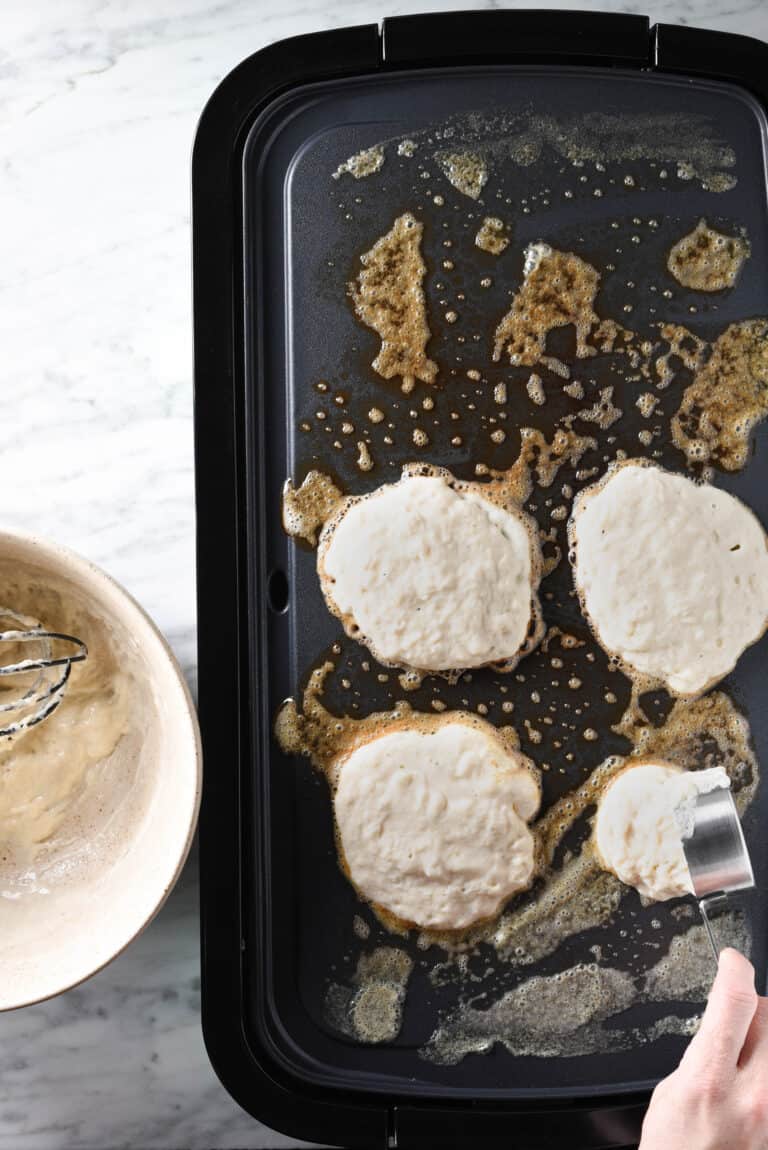 The Batter: Wet First Then Dry
For this recipe, we have chosen to combine the wet ingredients in a mixing bowl first, THEN add the dry. You might be thinking umm, isn't this a little backward? There are several reasons we recommend this for these vegan pancakes.
#1: To fully incorporate the oil and milk. Eggs are used in many pancake recipes and they emulsify the wet ingredients together. If using melted vegan butter, the wet ingredients will emulsify in this recipe. If using oil, a true emulsification will not take place thus being able to thoroughly whisk the wet ingredients in the mixing bowl on their own vs. in a well of flour is important.
#2: To minimize stirring and help incorporate ingredients together efficiently… It's common for dry patches of flour to hide at the bottom of the mixing bowl when preparing batter. There are no dry patches hiding if the liquid is added first.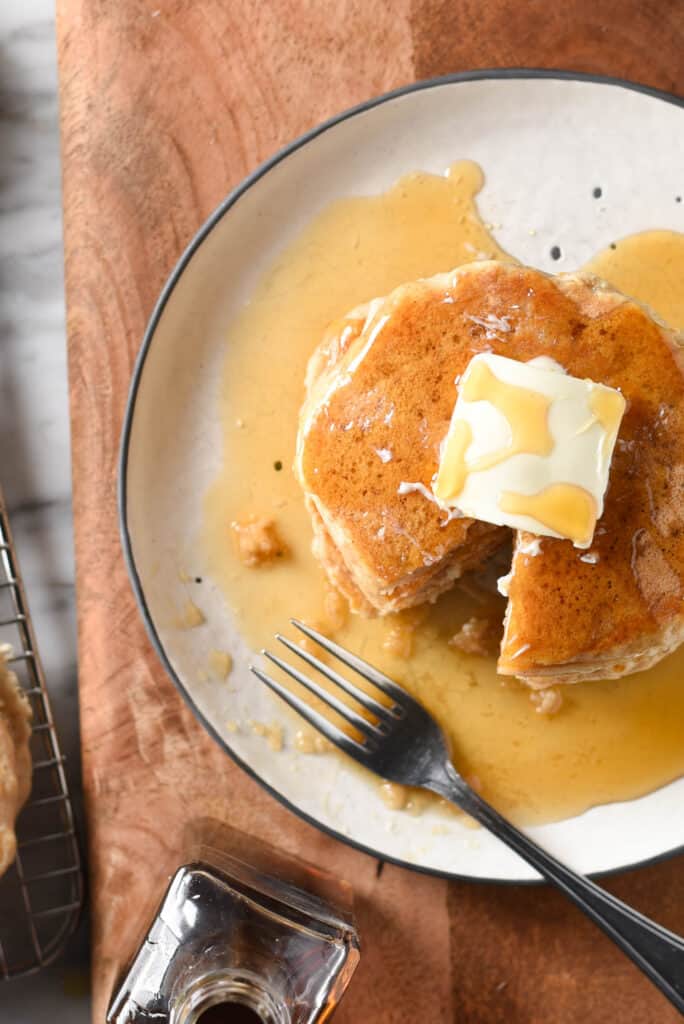 Ingredients
One of the great features of vegan pancakes is that you probably have all the ingredients on hand at home to make the batter!
All-purpose flour: We have only tested this recipe with all-purpose flour, if you use a different flour, please let us know!
Sugar: Sugar adds flavor to the pancakes and also assists with browning.
Baking Powder: This is the main leavening agent that creates the fluff.
Non-dairy milk: We've tried this recipe with almond, oat, and coconut milk with great results!
Oil: A neutral-flavored oil like avocado or canola is ideal. Extra virgin olive oil will work as well! Oil in the batter helps keep pancakes moist & soft and prevents sticking while cooking. Oil also helps to add a bit of fat– traditional pancakes have eggs and the yolk contains fat. Adding oil to vegan pancakes assists in replacing that fat.
Baking soda & lemon juice: While not required, this ingredient duo helps with creating fluffy pancakes. Baking soda also assists in the browning of pancakes!
For pancake toppings, the list goes much deeper than maple syrup! Vegan whipped cream, vegan honey, nut butters, fruit jams, lemon curd, fruit syrups, vegan yogurt, or vegan butter all work exceptionally in place of syrup.
What is a vegan substitute for eggs in pancakes?
Most pancake recipes that are not vegan include 1, if not 2 eggs– eggs provide binding, lift, and moisture to quickbreads. How can we replace eggs in vegan pancakes? This vegan pancake recipe replaces eggs using primarily 2 ingredients. First, oil in the batter to replace the fat that an egg would provide. Second, a sizable amount of baking powder for lift.
Most baking recipes keep the ratio of baking powder to flour at 1 teaspoon per 1 cup, this recipe uses a much higher ratio of baking powder to flour.
Related: Strawberry Syrup | Blueberry Syrup | Raspberry Syrup | Pistachio Muffins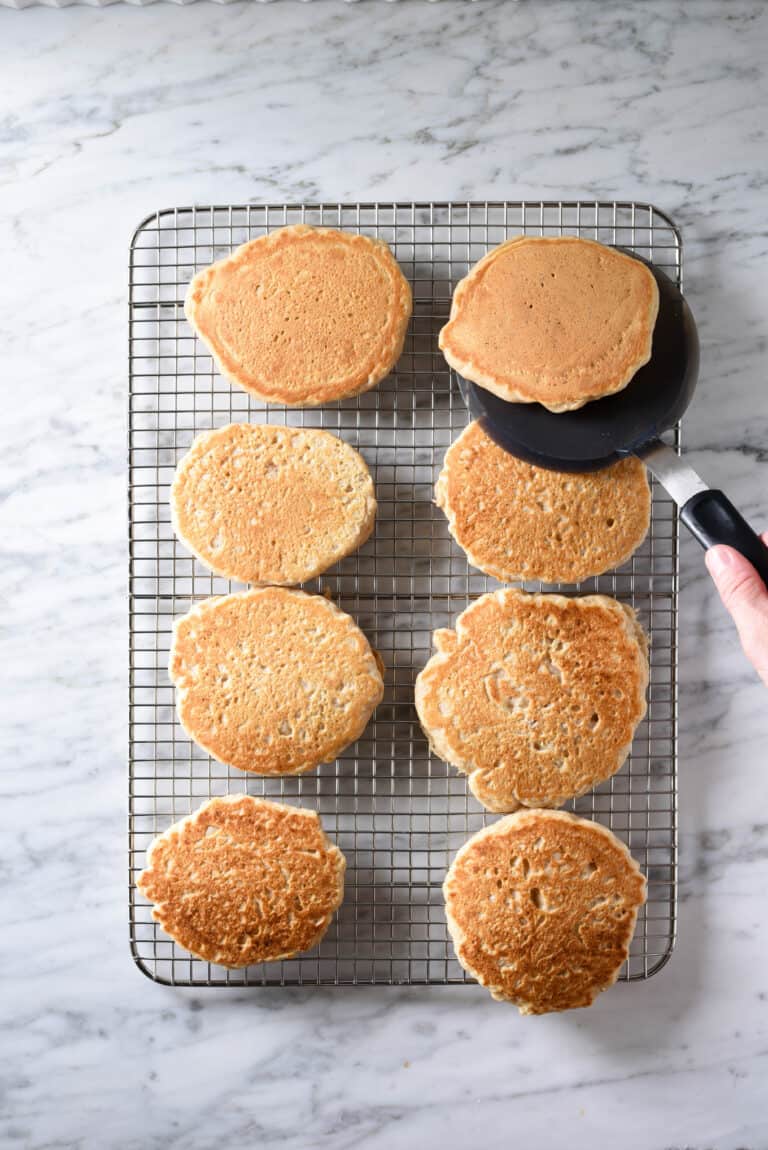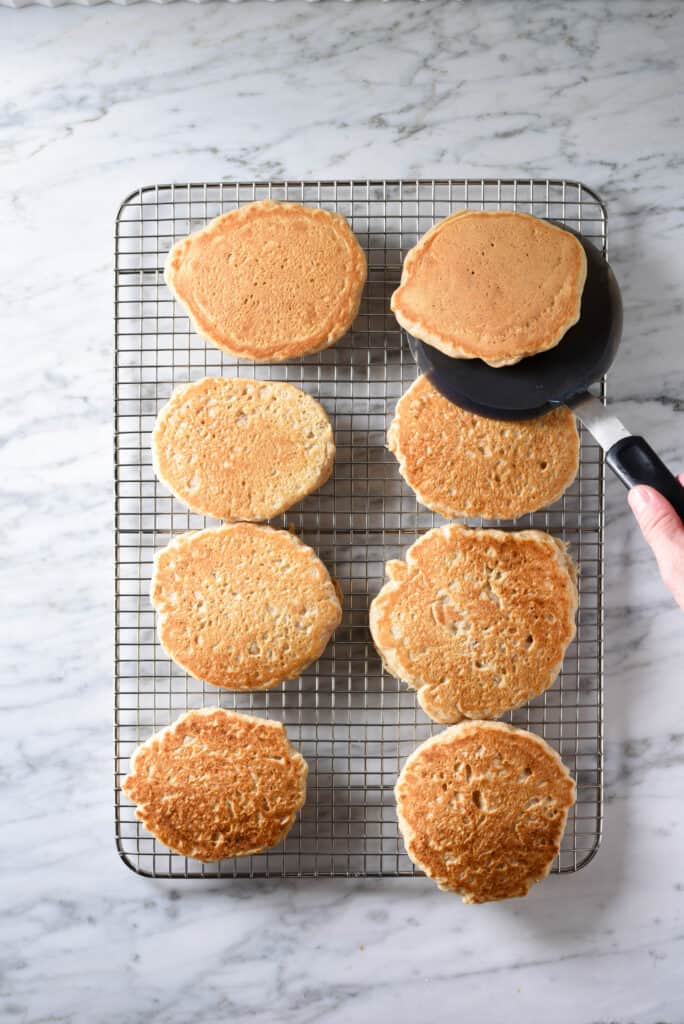 How To Store Vegan Pancakes
Pancakes are a food you can meal prep for the week and even freeze for several months! After cooking each round of pancakes, place them on a wire rack instead of a plate. This will prevent condensation from forming on the underside which leads to soft bottoms.
Once cooled, pancakes can be stacked in between layers of parchment paper and stored in an airtight container in the fridge for up to a week or freezer for several months. The parchment paper is optional, but the pancakes will stick together a bit without it.
To reheat refrigerated or frozen pancakes, try one of the following methods:
In the toaster: Place one pancake in each bread slot and toast on low setting 1-2 times until pancakes are heated thoroughly. Add an additional 1-2 toasts if frozen.
In the oven: Arrange on a sheet pan in a single layer and cover with aluminum foil or another sheet pan inverted. Bake in a 325* oven for 5-7 minutes. Add an additional 3-4 minutes if frozen.
In the microwave: Line a plate with a paper towel and place pancakes on a single layer, microwave in 30-second intervals until heated through.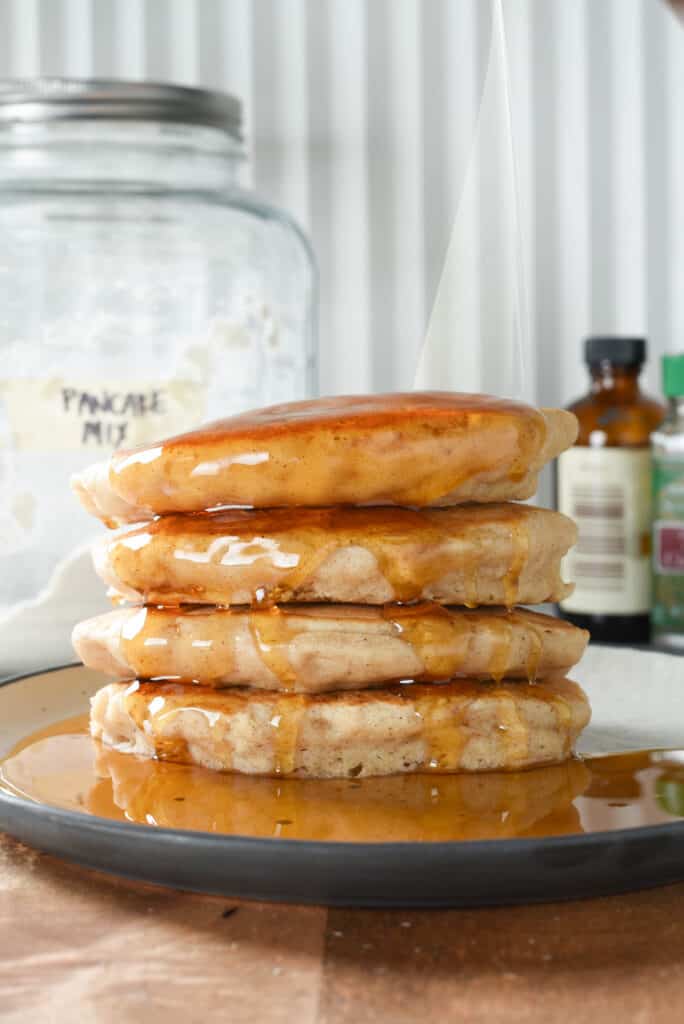 Tips For Making The Best Pancakes
Pancakes at the breakfast table feel so nostalgic and simple, pour some batter in the pan, cook, flip, and eat, right? When you get down to it there are so many factors at play to create delicious pancakes. And then pancake preferences– delicate and fluffy, crispy and biscuity, or melt-in-your-mouth tender, the art of the humble pancake takes practice to master.
Here are our best tips for making pancakes as you set out to master your perfect version!
As everyone says 'Don't over mix the batter!' A few spins of the whisk once wet and dry ingredients are combined is really all you need, as long as there are no dry spots hiding at the bottom of the mixing bowl– you're set.
After mixing your batter, a 5-minute rest will help leaven the batter. The batter will thicken and bubble, almost taking on a cottage cheese appearance! Anything longer and the baking soda will have lost potency as you get around to making your last pancake.
We've found frying pancakes in vegan butter, not oil produces the best result. Either cut a thin slice of butter from the block or swirl the tip of a stick of butter around in the pan a few times. Weee.
The thickness of the batter affects cooking time AND temperature. Some vegan pancake recipes create a thin, pourable batter. Others feature a thicker batter resulting in tall, thick pancakes. For thick batter/pancakes medium-low heat is best, for thin batter/pancakes, medium heat is best.
Pancakes are ready to flip when the perimeter edge begins to look cooked, dry, and has a matte appearance. There will be visible holes on the surface of the pancakes, where air bubbles have popped. For thick & tall pancakes the matte/cooked edges are a better indication of when it's time to flip– there won't be many bubbles present in very thick pancakes.
It is tempting to pat or smash pancakes down with the spatula after flipping, but don't do it! This will compress and flatten the pancake.
Our Favorite Pancake Spatula | Our Favorite Electric Griddle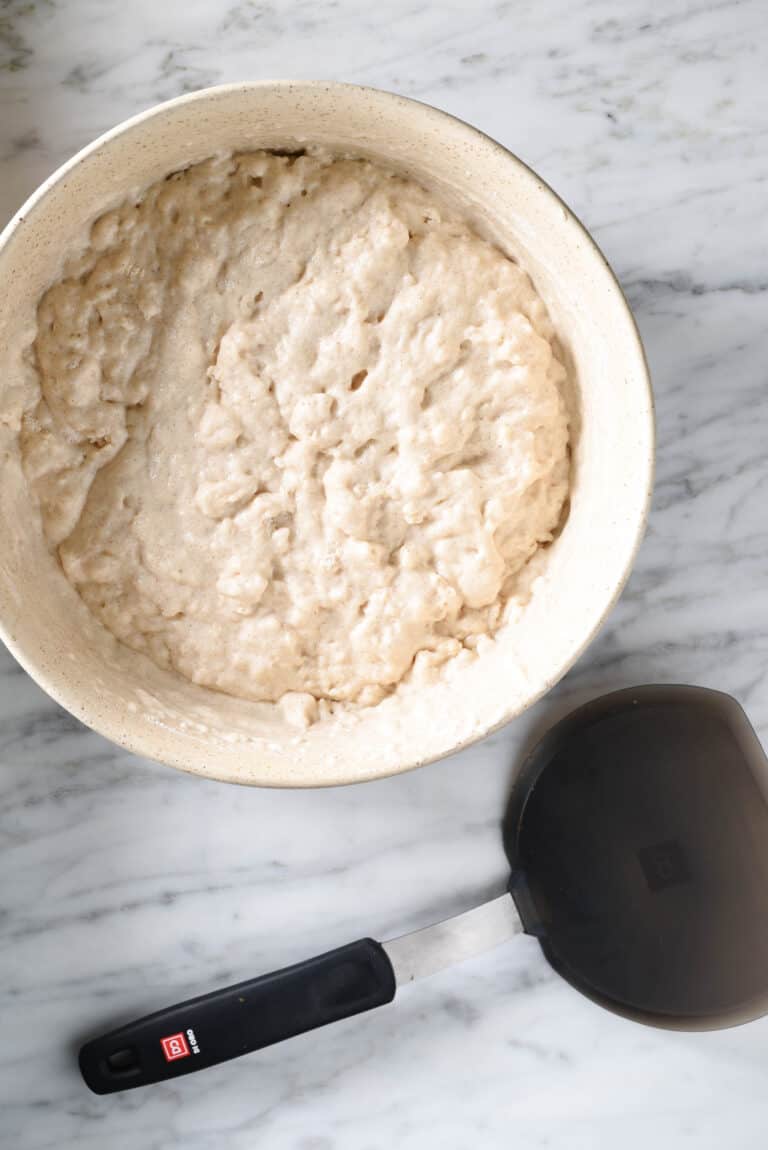 Substitutions & Variations
Pancakes are science! We don't recommend making any big variations to this recipe as they will significantly alter the end result. Here are a few tiny modifications that will work with great results and a few flavor variations!
Substitutions:
Swap the oil for equal parts melted vegan butter! Melted butter has a superior flavor in our opinion but oil is SO convenient. Use these interchangeably.
You may use any alternative milk to make this recipe, for most recipes we lean on coconut or soy as our go-tos! Both coconut and soy milk have some fat content present (compared to say, 100% rice or oat milk) and fat improves the texture of many baked goods!
White sugar can be swapped with brown sugar! The pancakes will have a slightly deeper/molasses flavor.
You can use a 1:1 GF flour blend but the pancakes will likely have a gummier texture than AP flour.
Up to 1/2 cup of AP flour can be swapped with whole wheat flour.
Variations (Pancake mix-ins)
These mix-ins should be folded in gently to incorporate, just after combining the wet and dry ingredients. Alternatively, you can dot each pancake with mix-ins as soon as you pour the batter in the pan (as the first side cooks, before you flip).
up to 1 cup of chocolate chips
up to 1 cup of chopped nuts
up to 1 cup of shredded coconut
up to 1 cup of fresh berries
up to 1 cup of frozen berries (tossed with flour for best results)
a few tablespoons of citrus zest (lemon, orange, grapefruit, or lime)
1 teaspoon of cinnamon or cardamom
swirl in 2-3 tablespoons of nut butter
3 tablespoons cocoa powder (sifted as cocoa powder tends to have many lumps)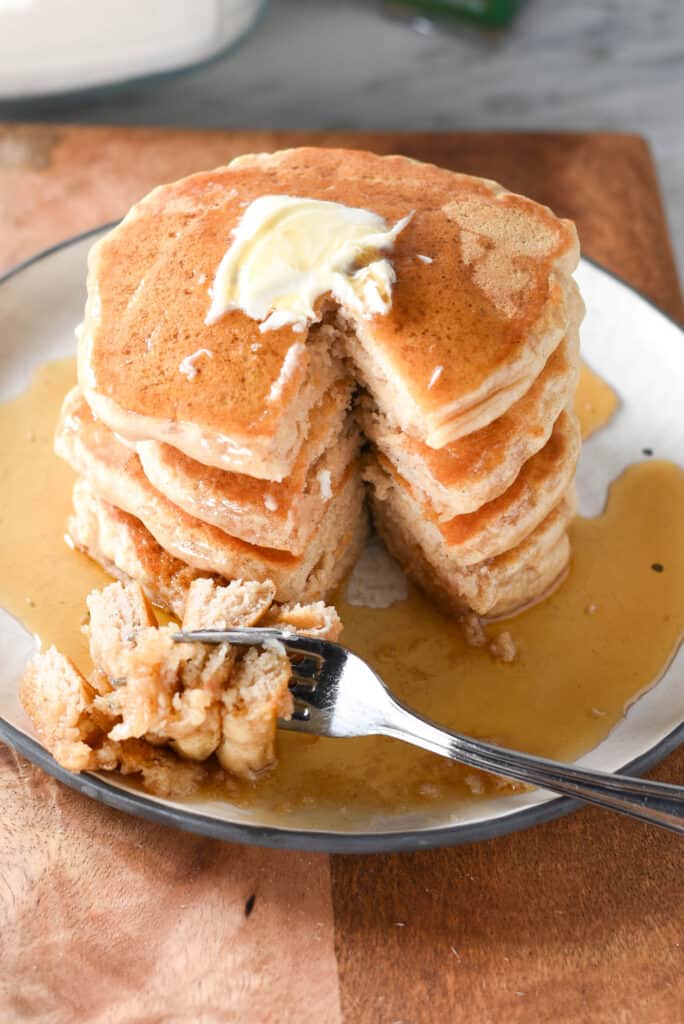 Vegan Pancake FAQs
How to tell when pancakes are ready to flip? If using a thin, pourable batter look for lots of small bubbles that have popped and turned into holes. The edges will also begin to look cooked and take on a dry, matte appearance. If using a very thick batter for tall pancakes, there may be very few visible holes so monitoring the edges for a dry, matte appearance is your best bet!
How to cook pancakes with dark brown crispy rings around the edges? For those classic brown crispy rings around the pancake, you need lots of butter! Extra butter hanging out in the pan helps to fry and crisp the pancakes a bit.
How to cook pancakes that are uniformly brown on top? Adding 1 teaspoon of vinegar and 1/4 teaspoon of baking soda is the best means of creating uniformly brown pancakes! The full pancake browning that occurs in many restaurants (yes, IHOP!) pancakes is a Maillard reaction, heat that triggers a series of chemical processes that change the flavor and appearance of your food– it's responsible for the 'sear' on many proteins. (More here) Baking soda, or an alkaline environment, helps facilitate the Maillard reaction.
Print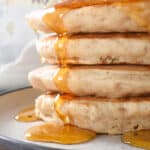 Fluffy Vegan Pancakes
Author:

Adriana

Prep Time:

10 minutes

Cook Time:

10 minutes

Total Time:

20 minutes

Yield:

8

pancakes

1

x

Category:

Vegan Breakfast

Method:

Stovetop

Diet:

Vegan
---
Description
Looking for the perfect stack of fluffy, golden-brown vegan pancakes? Hi, you've arrived. This vegan pancake recipe will walk you through everything you need to know about making spectacularly fluffy & irresistible vegan pancakes.
---
Wet:
1.25

–

1.5

cups non-dairy milk (less for tall, thick pancakes & more for pourable, 'soft' pancakes. See notes)

1 tablespoon

oil or

1

T melted vegan butter

1 teaspoon

vanilla extract

1 teaspoon

lemon juice (sub white or apple cider vinegar)
Dry:
1.5 cups

all-purpose flour (scooped & leveled)

3 teaspoons

baking powder

3 tablespoons

sugar

1/2 teaspoon

salt

1/4 teaspoon

baking soda
---
Instructions
Combine all wet ingredients into a medium-sized mixing bowl and whisk thoroughly.
Add the dry ingredients to a sieve and sift into the wet ingredients. If you don't have a sieve you can sprinkle & spread all dry ingredients on top of the wet.
Whisk the dry ingredients into the wet until the batter is JUST mixed– small lumps are okay.
Let the batter rest and thicken for 5 minutes as you pre-heat your skillet or griddle to medium heat.
Coat the skillet well with vegan butter or oil then pour the batter into the skillet using a measuring cup and spatula.

1/4 cup makes 8-9 silver dollar sized pancakes.
1/3 cup makes 5-6 adult-sized pancakes that are easy to flip. 
1/2 cup makes 3-4 big, restaurant-style pancakes that may be more challenging to cook & flip.

Cook the pancake on the first side for 2-4 minutes. When ready to flip you'll notice a few small 'holes' on the surface and the edges will appear cooked, taking on a dry, matte appearance.
Flip and cook for an additional 1-2 minutes. 
Serve immediately. Or place pancakes on a wire rack until ready to serve as this prevents condensation and soft undersides. Pancakes can be kept warm in a preheated 150* oven.
See detailed notes on batter & pancake consistency, & cooking tips below! Some folks like soft, melt-in-your-mouth pancakes while others prefer tall, thick biscuity pancakes.
---
Notes
For Ultra Soft & Fluffy Pancakes: We recommend a 1:1 ratio of flour to milk! This yields a thin, pourable batter that will spread into a circle on its own and cook up soft and thin.
For Thick, Tall Pancakes: For thick and tall pancakes, dial the milk back to 1.25 cups. This batter won't quickly spread out on the pan into perfect circle but it will give you TALL and THICK pancakes!
Tips for Cooking:
Cooking pancakes in vegan butter resulted in more even browning and those delectable crispy brown rings around the pancakes in comparison to oil. You can use either.
To get crispy pancakes and crispy brown rings around the edges you need a lot of butter swimming around on the skillet or griddle. The edges of the pancakes will fry in the butter. Nom nom nom.
If your batter is extremely thick, thus your pancakes very tall– cook them on medium-low heat so the center cooks through. IE if you need to use a spatula or spoon to spread your pancake around in the pan, cook on medium-low heat.
If your batter is a pourable consistency and spreads in the pan without you needing to assist it, cook on medium heat.
Our general rule for cooking pancakes is 3 minutes on the first side and 1 minute on the second. That first pancake doesn't always have to be a flop– adjust the cooking temperature based on the consistency of your batter and set a timer for the first few pancakes!!!
If you are using a cast iron skillet, you may need to lower the heat after your first couple of pancakes if your pancakes are cooking too fast. 
Keywords: Vegan pancakes, fluffy vegan pancakes