Have you ever had a pistachio muffin? Either homemade pistachio muffins or those from a bakery? Today we're going to get up and close and personal with pistachio muffins that are bursting with flavor- lightly sweet, nutty, aromatic pistachio muffins!
PS- This recipe has a vegan AND a gluten-free option.
Ready? Let's bake!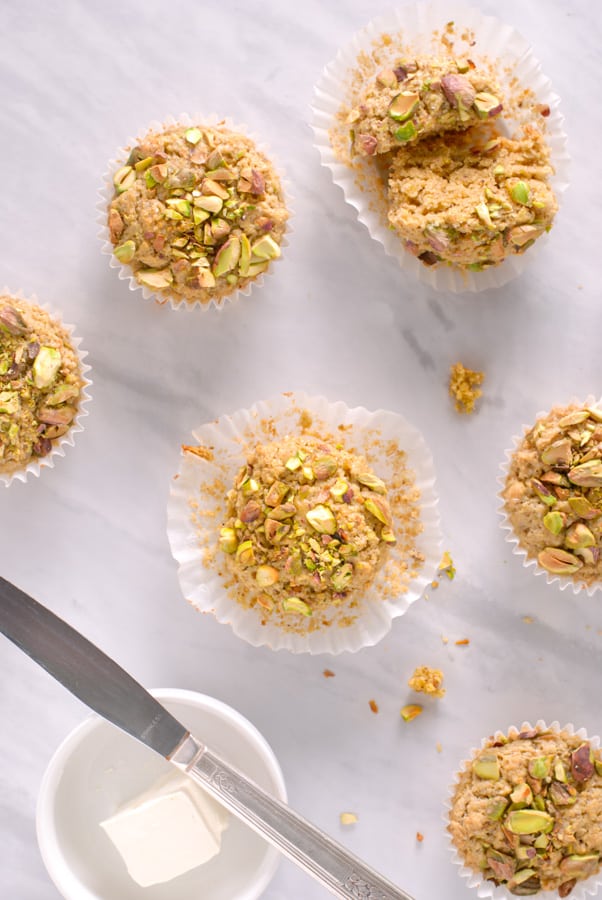 Muffins with real pistachios
Okay, okay- let's clear something up. These pistachio muffins are going to use REAL pistachios! Many recipes for pistachio muffins use pistachio pudding which has very low amounts of actual pistachios, it's primarily artificial colors, flavorings, and preservatives. Additionally, this ingredient is becoming more difficult to find and is expensive to buy online.
Guys & girls, we're going to bake green pistachio muffins that are as delicious as your local bakery and we're gonna do it using whole, real pistachios!
You can buy whole pistachios shelled or unshelled, unshelled pistachios do take a bit of time to get into a usable form but they are usually less expensive.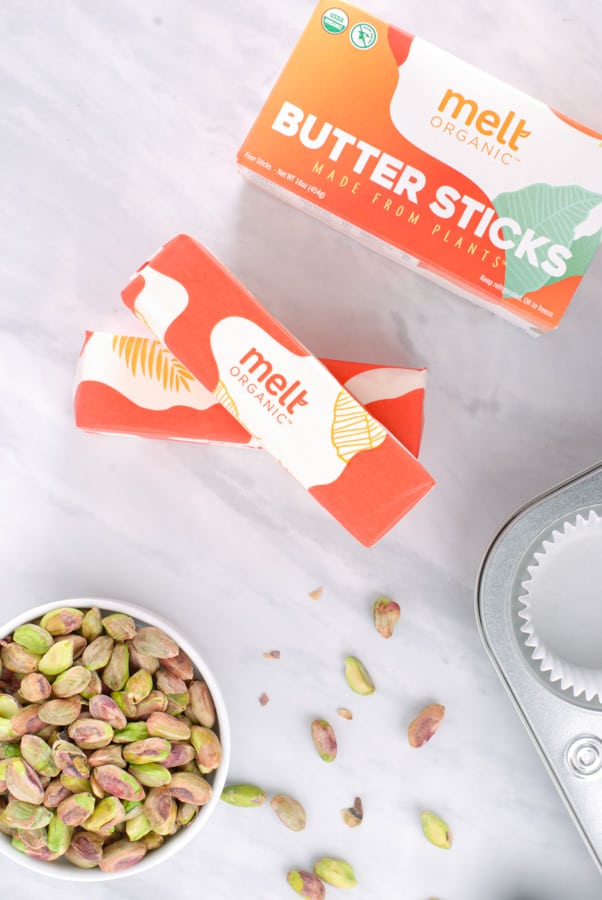 How to make them
This recipe is beginner baker friendly as pistachio muffins are super duper easy to make! The batter comes together in less than 10 minutes and only needs to bake for about 25 minutes, so 35 minutes to fresh-baked muffins in the morning.
Making these beauties is easy and follows the classic muffin order of operations; mix the dry ingredients, mix the wet ingredients, then mix it all together & bake.
This pistachio muffin recipe perfectly fits a 12 muffin tin so you can divide this recipe in half to make 6 muffins instead of 12. Also, this recipe works well with our without muffin cup liners. We usually use liners as they make the muffins an easy grab and go situation in the morning, my husband grabs a few as he is running out the door.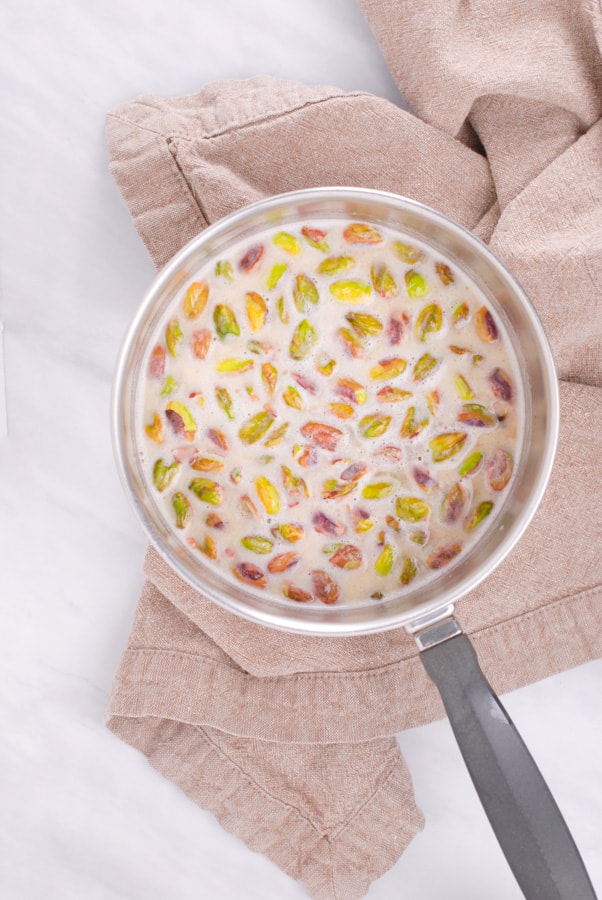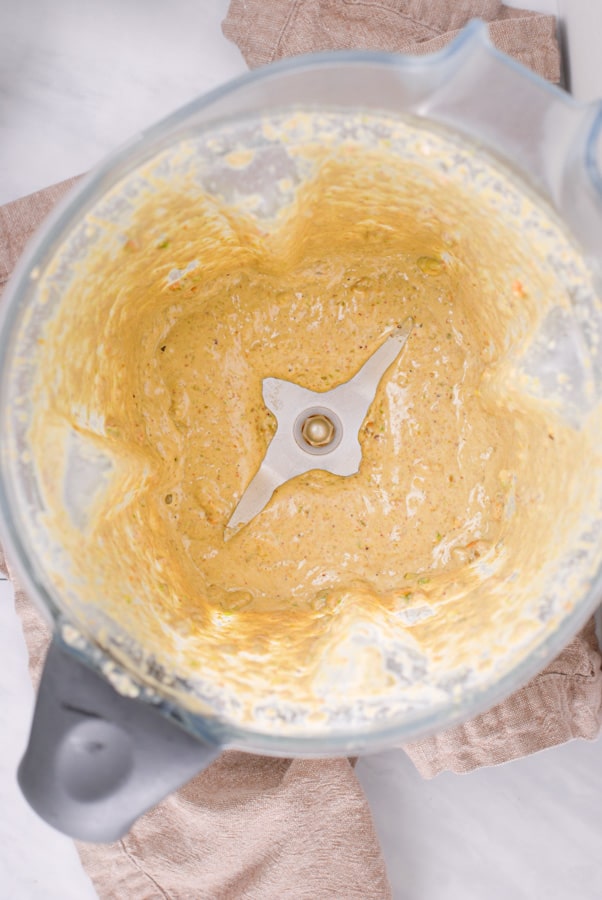 How to make GREEN pistachio muffins
When we eat pistachio goods- anything from ice cream to cakes and cookies, especially from a bakery, these treats are green colored! Many pistachio sweets and treats are altered both in flavor and in color. Almond extracts and flavorings are widely used in pistachio goods, as well as food colorings for that gorgeous green color.
Don't freak, it's gonna sound weird, BUT we're going to use a touch of spinach to gift these pistachio muffins a green hue! You can't really taste the spinach in the final muffins, we promise! Alternatively, you could use green food coloring mixed in with the wet ingredients.
We usually have a handful of spinach in the fridge or freezer, so this is an easy and affordable hack to make these pistachio muffins green!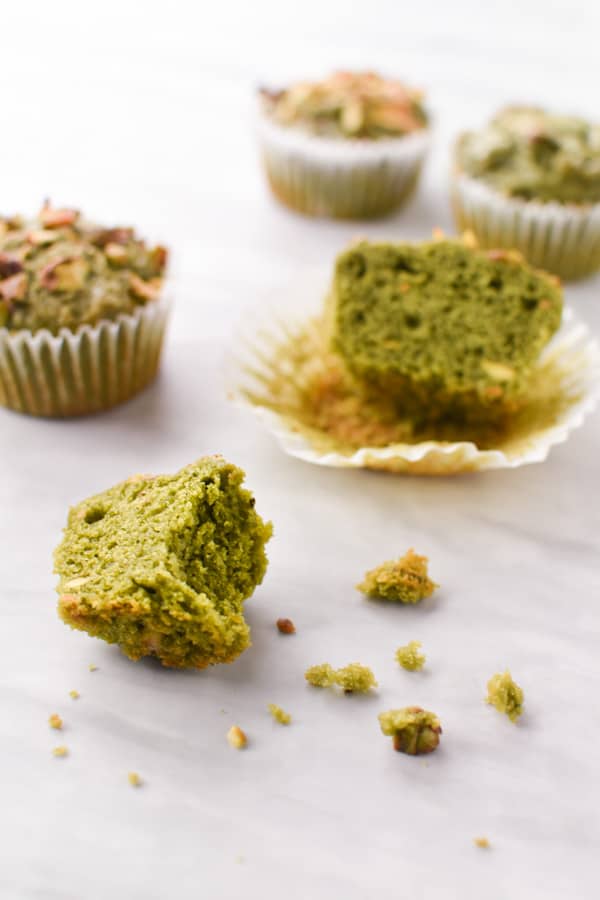 Troubleshooting muffins/ FAQs
We want to dive in and cover some basic troubleshooting and tips for baking muffins that are perfectly domed, have a little crunchy layer on top, are moist, and don't stick to the pan!
Our tips for making the best pistachio muffins:
For rounded, domed muffins:
Don't overfill your muffin cups! Filling muffin tins only 3/4 of the way to the top with batter help to create perfect dome tops. If you overfill muffins, the batter will spread out sideways versus doming up properly.
Also, don't skip or reduce the amount of baking powder. This helps the batter rise.
I also have tested a method of making muffin batter the night before you want to bake them, then storing it in the fridge overnight. YOU GUYS. This method does give noticeably more domed muffins AND you don't have to make batter in the morning.
Once you've got your batter made cover the bowl with plastic wrap and pop in the fridge. In the morning take it out and fill your muffin cups. As the butter is chilled now, you can fill your muffin cups nearly to the top with minimal spreading!
You may need to bake an additional 1-2 minutes.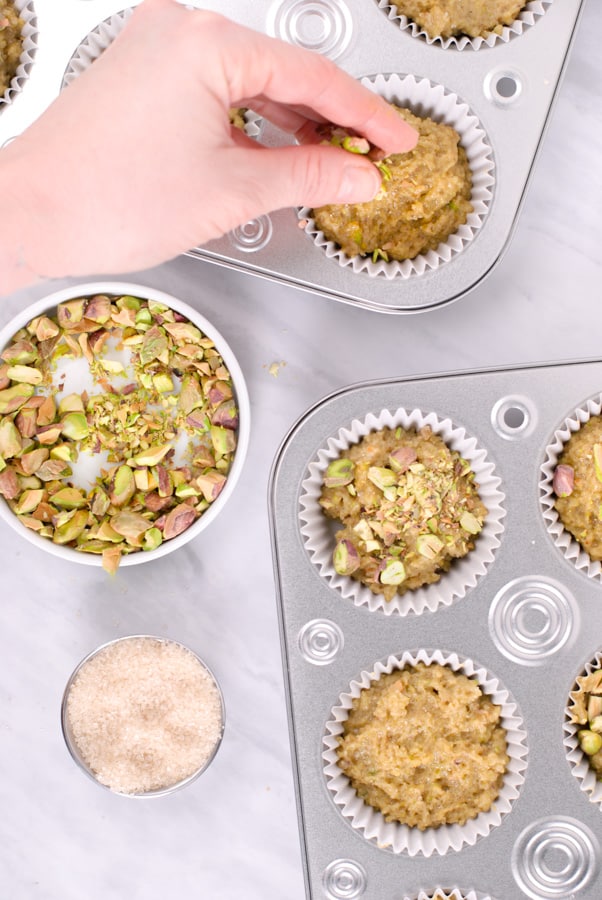 Prevent muffins from sticking in the pan:
Be sure to grease the muffin cups prior to adding batter to them. You can use an oil sprayer or butter and a paper towel to grease the bottom and sides of the tins.
Don't wait until the muffins are completely cooled to remove them from the pan. Once I take muffins out of the oven I set a timer for 7 minutes to let them cool, then remove the muffins from the pan. Running a smooth-edged butter knife or thin spatula around the perimeter of the circle can help to loosen and remove the muffins.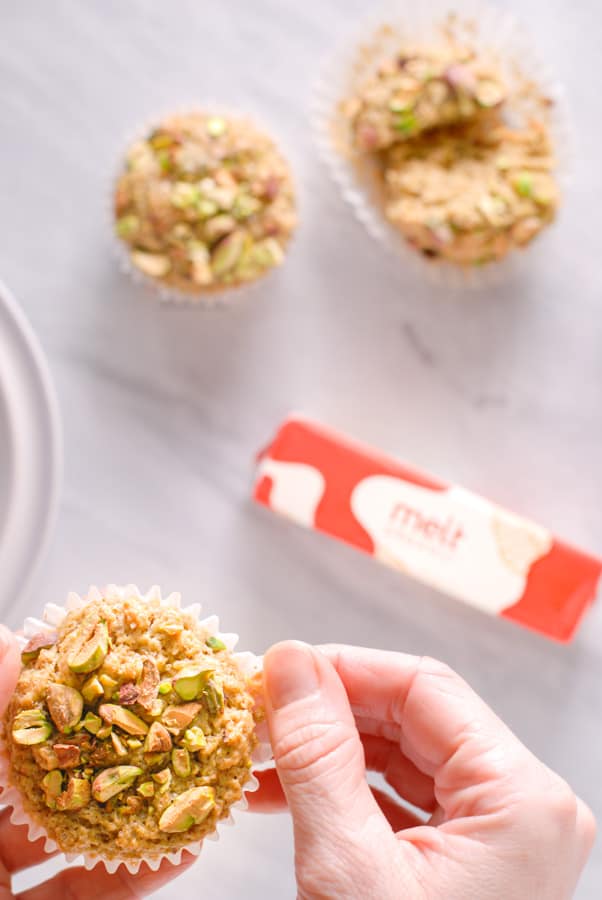 How to freeze muffins:
Good news- these muffins freeze well. The texture is a little less fluffy and more dense after freezing and thawing, but only slightly!
To freeze the muffins for later, bake and remove them from the pan as usual and let them fully cool down. Place them in a single layer on a sheet pan or other flat surface and put in the freezer until fully frozen. Once fully frozen, store them in the freezer in an airtight plastic bag or container for up to 3 months.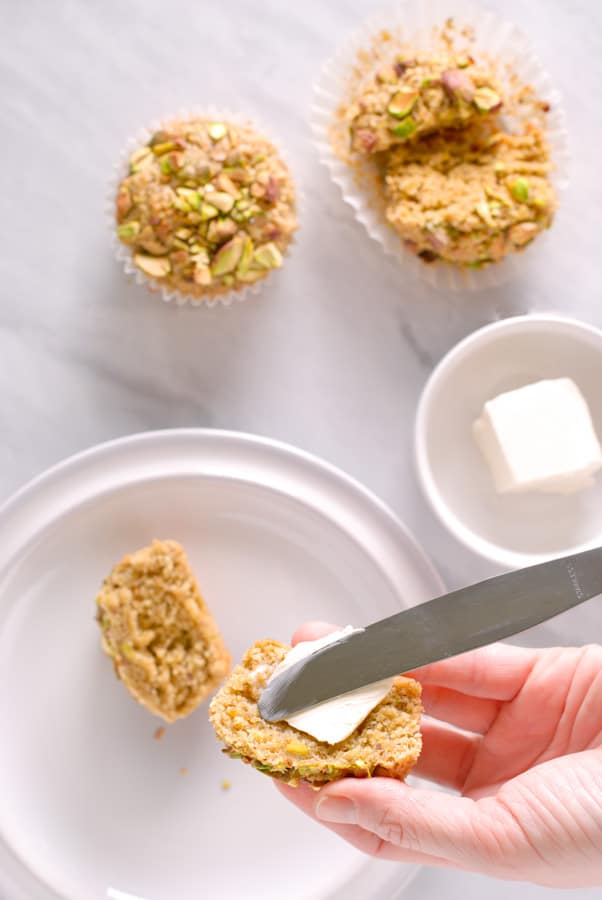 Print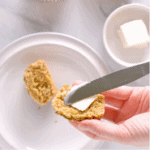 Pistachio Muffins
Author:

Adriana

Prep Time:

15 minutes

Cook Time:

23 minutes

Total Time:

38 minutes

Yield:

12

pistachio muffins

1

x

Category:

Pistachio Muffins

Method:

Oven

Cuisine:

American
---
Description
The recipe for pistachio muffins of your dreams! For these pistachio muffins, we're going to use REAL pistachios and they sure do taste great. We've also got some tips on how to make green pistachio muffins!
---
DRY INGREDIENTS:
1.5 cups

all-purpose flour

3 teaspoons

baking powder

1.5 teaspoon

salt

3/4 cup

sugar
WET INGREDIENTS:
1/3 cup

melted butter (vegan or regular)

1/3 cup

milk (vegan or regular)

1/2 cup

yogurt (vegan or regular)

3/4 cup

pistachios

2 teaspoon

vanilla extract

1/2 teaspoon

almond extract
TOPPING:
1/3 cup

chopped pistachios

1 tablespoon

sugar
---
Instructions
Preheat oven to 350.
Measure dry ingredients into a mixing bowl and stir to combine. Note: Measure flour by scooping flour with a spoon into a measuring cup then leveling off excess, not by scooping a measuring cup into the flour.
Measure butter, milk, yogurt, and pistachios and add to a small pot over low heat– just long enough for the butter to melt. Add to a blender or bullet blender and blend for 30-45 seconds until the pistachios are creamy and no longer large pieces, stopping at least once to scrape the sides of the blender down with a spatula.
Add in vanilla and almond extract. Pour wet mixture from your blender into the dry mixture and stir until JUST combined.
Be sure to check the bottom of the mixing dish when stirring for any large pockets of flour and mix.
Add liners to your 12 muffin pan OR grease with butter or an oil sprayer.
Use a cookie scoop to fill muffin cups 1/2 to 3/4 of the way full, then sprinkle with reserved sugar and chopped pistachios.
Bake for 21-23 minutes, or until a toothpick inserted comes out clean.
Let cool for 5-7 minutes then remove the muffin tin and enjoy!
Store at room temperature in a plastic container for up to 5 days or freeze for up to 3 months.
See notes on GREEN pistachio muffins!
---
Notes
** For Green pistachio muffins: For BRIGHT green muffins, add 3 ounces of frozen spinach (about 1 heaping tightly-packed cup) to the wet ingredients prior to blending. As the batter is moister when using spinach, I recommend using liners in muffin tins and baking an additional 1-2 minutes if needed.
Keywords: Pistachio Muffin Recipe