Adriana has published hundreds of recipes online and is a Board Certified Nutritionist. Read our recipe development process or more about Adriana.
San Marzano pizza sauce is the best way to capture big tomato flavor in the depths of winter or when you're pressed for time. We're fond of this uber-fast but phenomenally delicious San Marzano sauce as these tomatoes have a reputation: they are less acidic and a bit sweeter than your typical tomato, creating a delicious sauce with a big tomato flavor.
If Friday night is pizza night at your house, be sure to give this San Marzano pizza sauce a try. It is SO good and SO easy!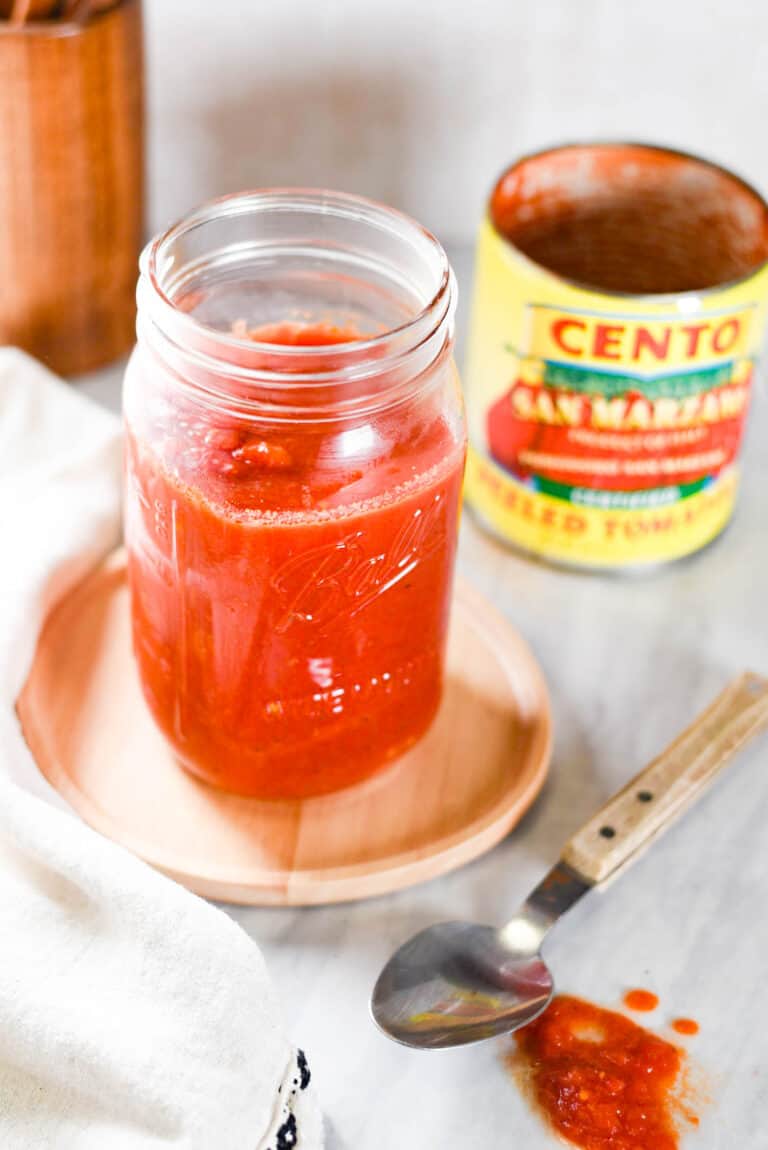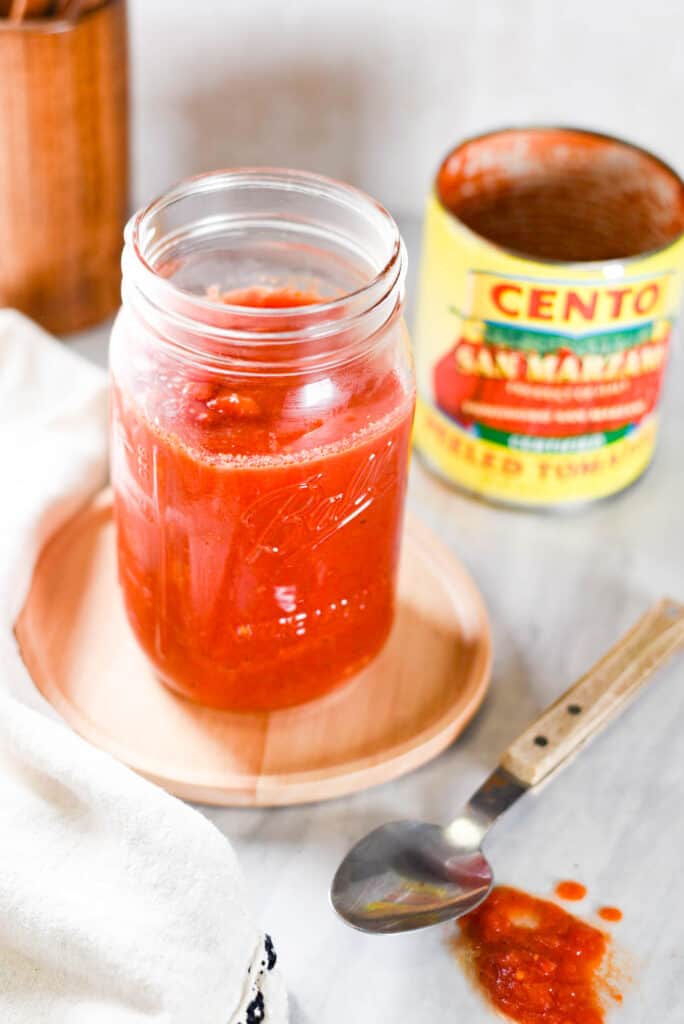 (This post may contain affiliate links. That means I'll get a small commission on any sales made through those links. Read our full disclosure.)
How To Make San Marzano Pizza Sauce
San Marzano sauce comes together on the stovetop in 5 minutes. Yes, you heard that right. These tomatoes have a big flavor and the beauty of this sauce is keeping it simple and letting those gorgeous tomatoes shine.
Here's what you'll need:
1- 28 oz can of whole, peeled San Marzano tomatoes
Salt & pepper
Fresh or dried herbs (we usually opt for dried as it's convenient)
Extra Virgin Olive Oil
Fun fact: authentic San Marzano tomatoes are canned WITH basil leaves. Yet another reason to reach for the San Marzanos when making pizza sauce!
Now, since this variety of tomatoes is canned whole and peeled, you'll need to use a fork or potato masher to break the tomatoes down into a sauce. You could use a blender or food processor but we like a bit of texture in our pizza sauce. The tomatoes are soft and break down very easily. You could even hand squeeze them, but watch out they might spray you with sauce.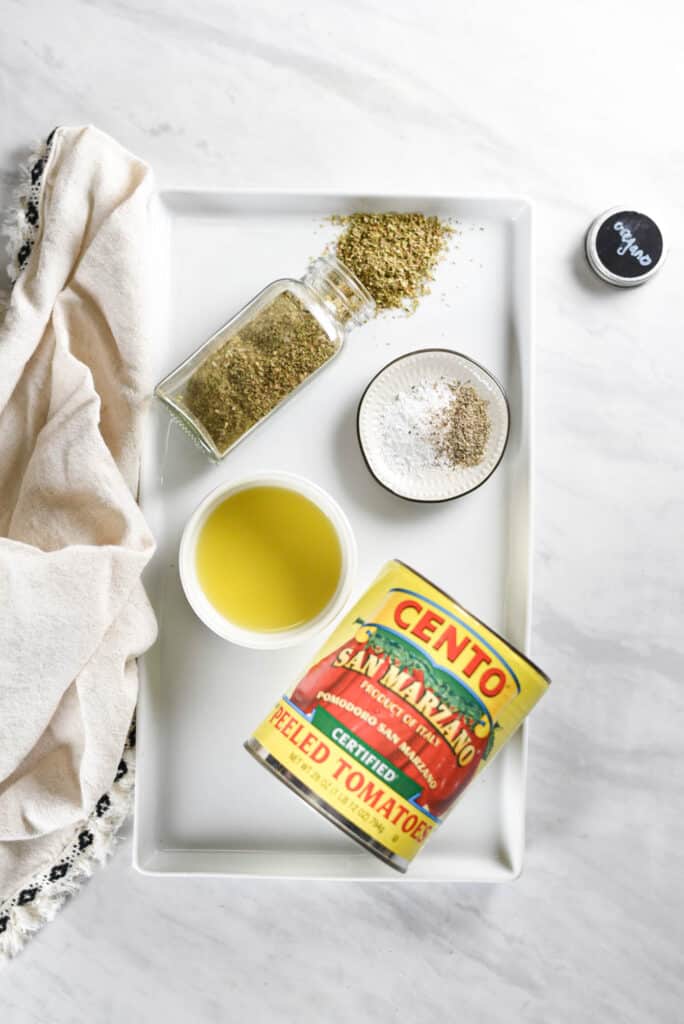 Backstory on San Marzano Tomatoes
These tomatoes are commonly seen in the US in vibrant yellow cans and they are usually whole, peeled tomatoes. San Marzano tomatoes are grown in the Campania Region of Italy, near the Bay of Naples. These tomatoes receive a special certification that you'll see emblemed on the can if you are purchasing true San Marzano tomatoes from the San Marzano region of Italy: 'DOP' meaning, "Denominazione d' Origine Protetta" in Italian, or in English, it roughly means 'designation of origin'.
According to Cento, who is a top supplier of San Marzano tomatoes to the US, their tomatoes are grown "literally in the shadow of Mount Vesuvius" which is believed to contribute to their outstanding flavor. It's the perfect storm of ideal growing conditions: warm weather, rich mineral soil, and a high water table.
Cento San Marzano tomatoes are not DOP-certified but they are grown in Italy. Cento brand San Marzano tomatoes are used in this recipe because they are widely available in the US.
For DOP-certified San Marzano tomatoes, Rega is a great brand!
Regardless of this deep tomato trivia content, we think canned San Marzano tomatoes make an AMAZING pizza sauce so let's get to it!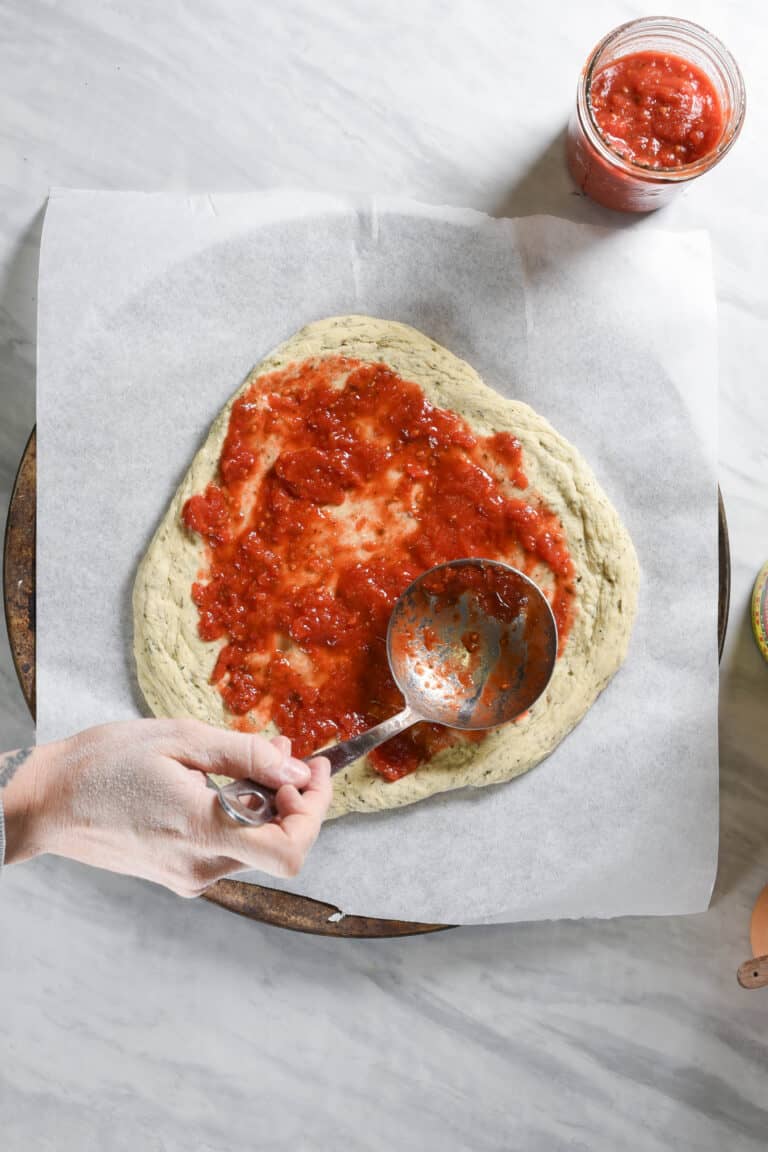 Variations & Substitutions To This Pizza Sauce
We love this sauce as-is but we want to mix things up on pizza night! Maybe you have a weekly pizza night (same), make a variety of pizzas on pizza night, or have guests over and let them build their own pizzas– having a few different sauces is a great way to change the flavor of a pizza.
Here are a few ways you can easily alter this base recipe:
Add a head of garlic and ½ a small onion and saute before adding other ingredients
Add 1 tablespoon of balsamic vinegar for a dark, vinegary undertone
Add 2 tablespoons roughly chopped olives
Add 1 cup coarsely chopped, sauteed mushrooms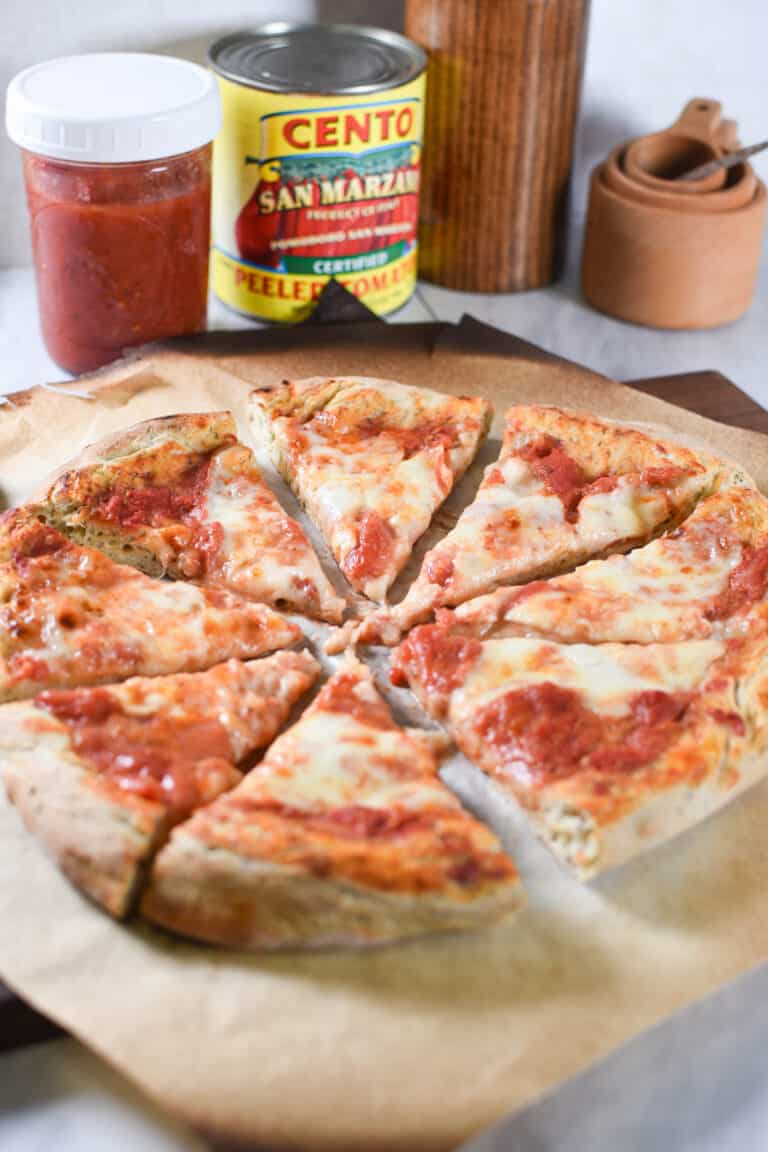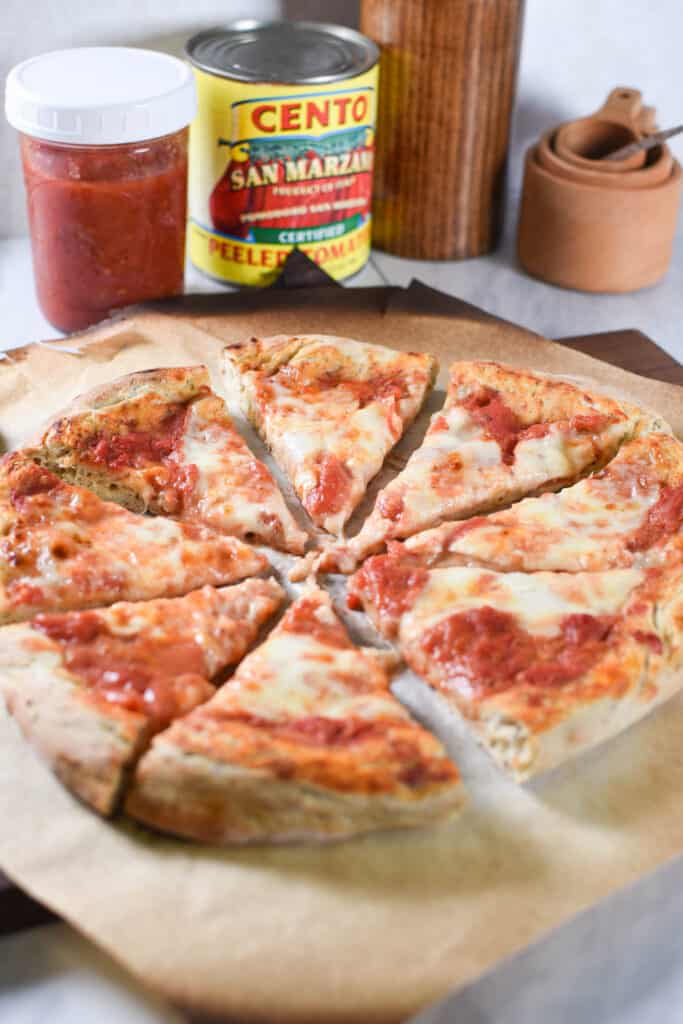 Related Recipes: Garlic Pizza | Thin Crust Pizza Dough | Chimichurri Sauce
San Marzano Pizza Sauce FAQs
Is there a substitute for San Marzano tomatoes?

For an exact flavor match, no there is not an equal substitute for San Marzano tomatoes. The closest we have found is using canned, fire-roasted tomatoes which most grocery stores sell.

How much San Marzano sauce do you need per pizza?

(average size pizza is 12")
This ranges depending on your taste and pizza preferences, anywhere from ¼ cup for a very lightly sauced crust to ½ cup for a sauce-forward pizza. We don't recommend adding more than ½ cup to a 12" pizza as the crust may become soggy.

Why doesn't this recipe have sugar?

Many tomato sauce recipes call for a small amount of sugar to help balance the acidity of the tomatoes, however, San Marzano tomatoes have a lovely and well-balanced flavor profile as they are and we don't recommend adding sugar.

Can you freeze this sauce?

You can freeze San Marzano pizza sauce– it's straightforward to make a double batch and freeze half for a later date.

Can you substitute fresh tomatoes in place of canned tomatoes?

You can use fresh tomatoes in place of canned San Marzano tomatoes if they are a comparable tomato. Either a Roma, Campari, or a US-grown San Marzano. Other varieties of tomatoes have much higher water content and would need to be cooked down far longer to reach a sauce consistency.

Where to buy authentic San Marzano tomatoes?

Where I live: Trader Joe's, Safeway, and several health food stores in town carry them. You can also purchase them online on Amazon here in bulk for a great price.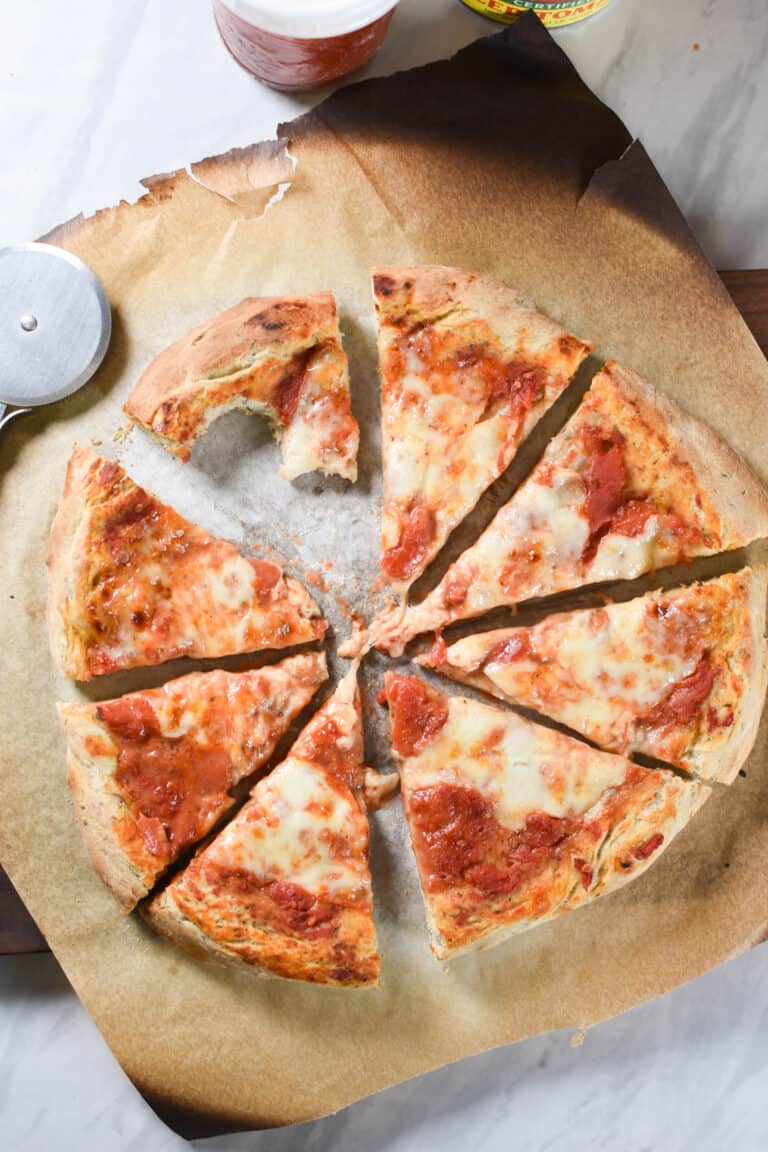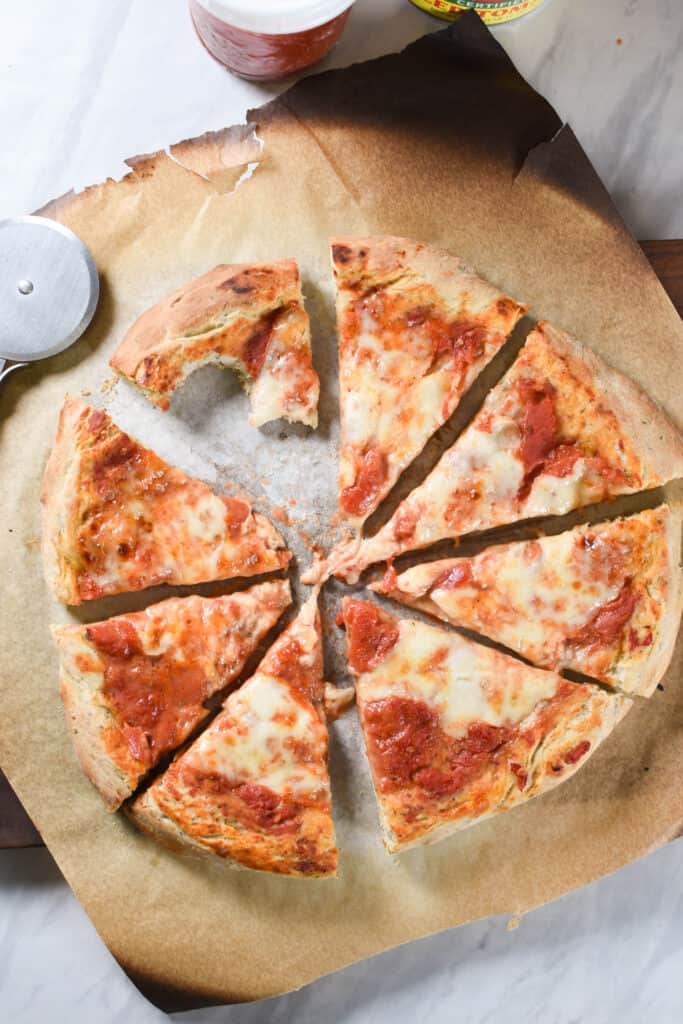 Other Uses For San Marzano Tomato Sauce
We're been talking up San Marzano Tomatoes all day, so what else can you use this sauce for? This recipe is a great jumping-off point for a variety of tomato-based sauces and since it begins with the best tomatoes, you can't go wrong! Change up the flavor profile by adjusting dried seasonings, cooking time, adding aromatics like onions and garlic, or adding fresh herbs.
Here are some other ways you can use this sauce:
As a spaghetti sauce (or pasta sauce in general)
A marinara for dipping meatballs, breadsticks, or even pizza crust
Use this as a base for tomato soup
Shakshuka
Spanish rice
Lasagna
Print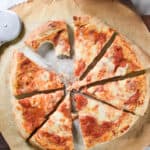 San Marzano Pizza Sauce
Author:

Adriana

Prep Time:

1 minute

Cook Time:

10 minutes

Total Time:

11 minutes

Yield:

about

4 cups

1

x

Category:

Sauces

Method:

Stovetop

Cuisine:

Italian
---
Description
San Marzano pizza sauce is the fastest and tastiest sauce to make at home for pizza night. These canned tomatoes taste exceptional and have a true tomato flavor!
This recipe will cover:
How to make San Marzano Pizza Sauce
Background on San Marzano Tomatoes & why they are so tasty!
Variations & substitutions to this recipe
FAQs about San Marzano pizza sauce
---
1

–

28

oz Can San Marzano Tomatoes (use the tomatoes and their juices!)

1 tsp

Kosher Salt

1/2 tsp

Freshly Ground Pepper

1 tsp

dried herbs (we like Oregano, Italian blend, or Thyme)
---
Instructions
Open the tomatoes and pour the entire can into a medium-sized pot. Use a potato masher or your hands to break the tomatoes down for a chunky sauce or use an immersion blender for a thin sauce. San Marzano tomatoes are typically canned whole, peeled, and packed with fresh basil. If you notice a big spring of basil, you can remove it if you'd like.
Add the olive oil, salt & pepper, and dried herbs to the pot. Bring this to a simmer over low heat & simmer for 10 minutes to thicken, stirring occasionally.
Tomato sauce tends to splatter. Simmer at low heat or add a lid to help control the mess.
After 10 minutes the sauce is ready! If you'd prefer a thicker sauce you can continue to simmer until the sauce reaches your desired thickness.
Store leftovers in the fridge for up to a week or freeze them for up to 3 months. (Leftovers can turn into a great tomato soup!)
---
Notes
You can freeze this sauce for up to 3 months in an airtight container.
If you can't find San Marzano tomatoes near you, they are worth it! You can buy them online here or in a pinch you could substitute fire-roasted canned tomatoes, but the taste isn't the same.
For authentic and certified DOP San Marzano Tomatoes, Rega is a great brand!
Keywords: San Marzano Pizza Sauce