Hi! I'm Adriana! I live in the Pacific Northwest with my husband, our 2 babies, and our 2 dogs. We live just outside the city surrounded by blackberry bushes, vineyards, and Christmas tree farms. You can usually find me in the kitchen, drinking coffee and playing a game of dishwasher Tetris.
I'm always slow to adopt a new kitchen gadget or appliance… No, I still don't own an air fryer. I'm okay going to bed with dishes still in the sink, as long as the counters are clear. And, we love leftovers around here because leftovers = one less night you have to cook 😉
As a family, we enjoy going for long walks, weekend trips to the coast or the mountains, having get-togethers on the deck, and enjoying a beer or glass of wine at any of the great breweries or wineries when the sun decides to actually peek out.
Our kids have enriched our lives and with them we enjoy swimming, music, and visiting museums and nature attractions.
Fun Facts About Me
My husband and I eloped in the UK.
I've done a triathlon and many half marathons.
I've been scuba diving all the way to 106 feet deep.
We've hosted & met over 350 travelers in our home on Airbnb.
I worked on a boat in Hawaii for 4 years doing snorkeling, whale watching, and fishing tours during college.
I paddled outrigger canoe from Maui to Moloka'i and Maui to Lana'i.
I've eaten at the James Beard House in NYC.
This website has a mix of vegan recipes- all with the intention of eating healthy, whole foods across every season of the year. These recipes are all vegan or vegan-friendly and focus a lot on breakfast but also include: turmeric recipes, teas & fresh juices, components & condiments, cocktails, and vegan sweet treats.
We are a flexitarian household– there's no other way to classify it. We eat a variety of recipes, cuisines, and flavor profiles! We're here for flavor, simplicity, and finding the next recipe you love so much it just might become part of your regular rotation.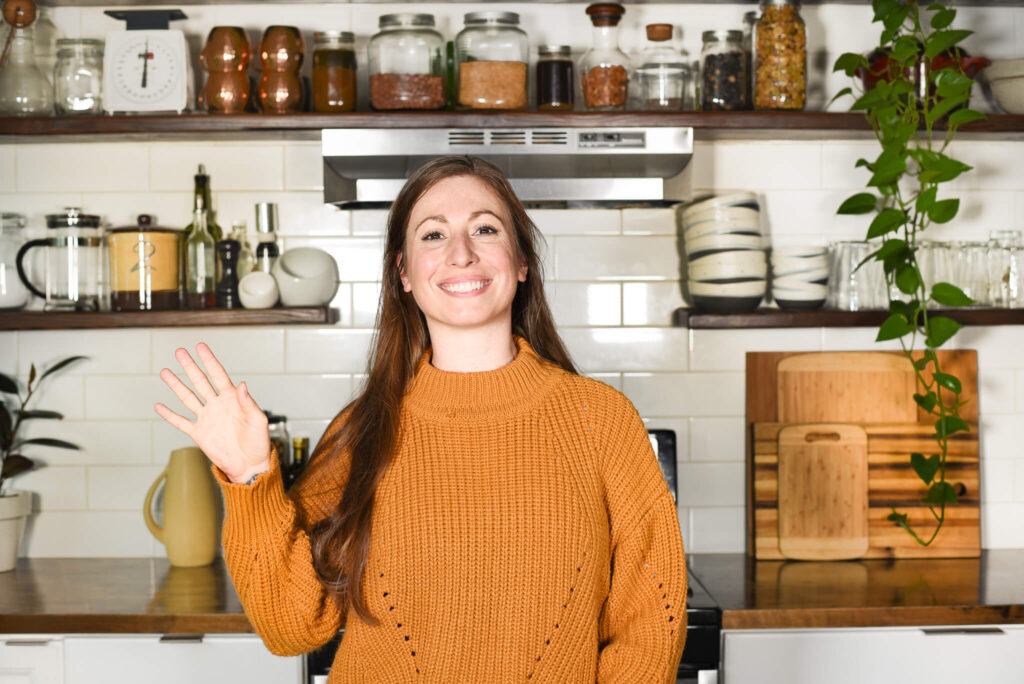 Experience
We believe that meal planning & preparation, shopping, cooking, and balancing ingredients for holistic nutrition are all key parts of the process of cooking for your family at home. You likely don't realize all the skills that go into keeping the fridge stocked and delivering warm meals to the table everyday; it's a lot of work to provide for your family in this way!
My experience comes from a variety of different arenas and studies that allow me to showcase recipes that are easy to prepare, healthy for your family (most of the time ;), and taste amazing!
I'm a Board Certified Nutritionist via the American Naturopathic Medical Association. This training and ongoing education helped me in considering which ingredients to use in combination for a great balance between taste and nutritional value.
I'm certified in Recipe Writing & Development by Le Cordon Bleu Culinary School. Extensively studying recipe development helped me communicate instructions & steps clearly to all our readers. It helped me learn to take really great notes to pass on to you all as tips & tricks of the trade.
Professionally relevant, I have worked as an Events Director planning and executing weddings, corporate events, and private parties. This experience was helpful in learning to meal plan and prep for a household– i.e., how can I use one large head of cauliflower to prepare 2 equally different and delicious meals in a week.
I have been food blogging since 2017, with hundreds of recipes shared online. The best way to get better at cooking is… TO COOK! The more you cook and use different ingredients, seasonings, and cooking methods, the more you understand how these all affect foods!