Yellow Turmeric Rice is sensational- that's the simplest way to put it! This yellow rice dish has substantial aromas and flavors happening without being overwhelming– serve this up with a variety of cuisines AND get your daily dose of turmeric!
Turmeric rice (Indian rice) has a bold yet gentle flavor that keeps us coming back for more- and it's loaded with the good stuff! Trust us, it is SO SURPRISINGLY GOOD!
You on board?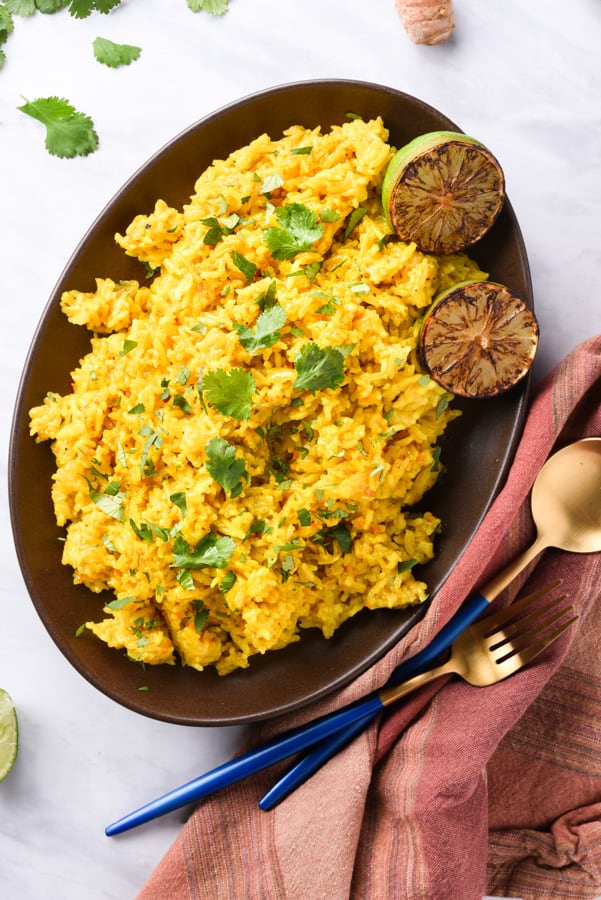 Let's Cook Yellow Turmeric Rice
This is a simple one pot yellow rice recipe- whether you make this on the stove or in an instant pot. Most of these ingredients you probably have sitting on the shelves of your pantry already- we're just going to combine them in a fresh new way.
Here are the ingredients you'll need:
1 cup of rice, preferably a long-grain variety, like basmati
1 medium onion
2 cloves garlic
2 tablespoons oil (or you could use butter)
2-3 teaspoons turmeric powder OR 2-3″ fresh turmeric root
1 teaspoon ground or 2″ fresh ginger
1/2 teaspoon cumin
1.5 cups vegetable stock, or water
salt and pepper to taste
We like to finish with a squeeze of lime and fresh cilantro!
This recipe makes enough for 4-6 people if served as a side and makes really excellent leftovers.
Turmeric, ginger, and cumin give this yellow rice a fantastic flavor and aroma- it can stand on its own but it isn't overpowering when served with other flavors and components of a meal.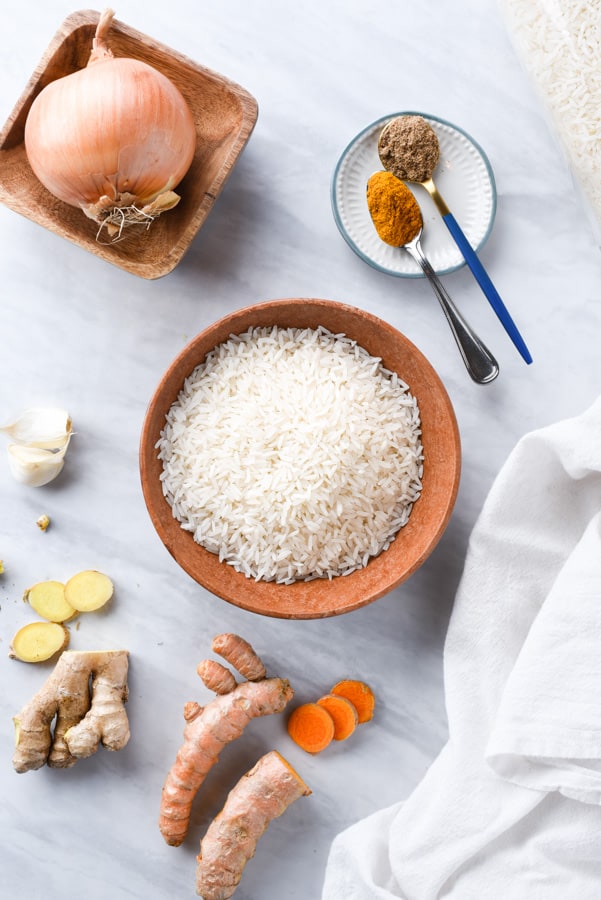 Use Fresh Or Ground Turmeric For This Indian Inspired Rice
Turmeric is what gives the flavor in this mild Indian rice. I will say, my husband is not a fan of Indian food or the flavor of turmeric but he PILES this Indian rice on his plate sky-high!
What could make turmeric rice aka Indian rice even better? Versatility and flexibility! Some readers have easy access to fresh turmeric root, while others can only find ground turmeric powder. BOTH are okay!
Either one will work perfectly~ here's how:
If using ground turmeric use 2-3 teaspoons, depending on the desired flavor. We like 2 teaspoons!
If using fresh turmeric root, use 2″- 3″ of peeled turmeric and a microplane or the smallest side of a box grater to finely zest the turmeric. Or simply mince with a knife.
OR you could add the broth and fresh turmeric to a blender or bullet blender and blend for 30 seconds to grind up the fresh turmeric! Seriously easy.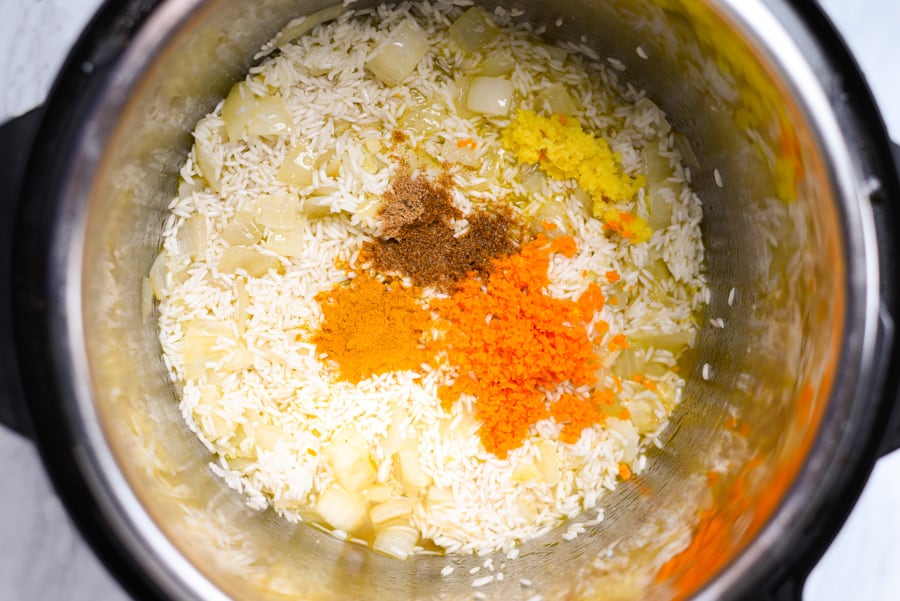 This applies to the ginger in this recipe as well! Use ground ginger or peeled ginger root! Once every 6 months or so, we make a batch of ginger paste and store 1 tablespoon portions of it in the freezer. This is a game-changer for home chefs and we use that when we make this recipe.
We add ginger paste to soups, sauces, smoothies, and stir fry dishes all the time and LOVE not having to fuss with fresh ginger every night.
Related: I bought organic turmeric root from Amazon. Here's how it went.
What To Serve With Turmeric Rice?
You guys. You girls. Turmeric rice can perfectly accompany a wide variety of tasty vegetables, grains, and proteins! We have often had this for dinner one night, then used leftovers with a breakfast scramble the following day.
Delicious uses for yellow rice:
Build a grain bowl, top with roasted veggies
Add to salads for texture and flavor pops
Serve with a protein
Add to morning scrambles
Use in soups in place of plain rice or noodles
Serve with tacos
Serve with curry
Serve with roasted veggies!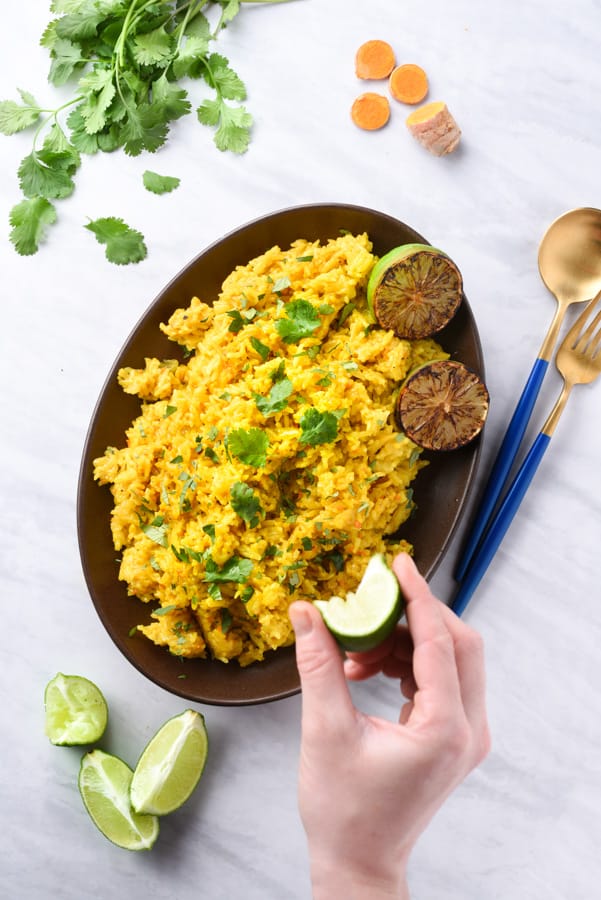 Which type of rice to use?
There are two main types of rice dishes: sticky rice and non-sticky rice. You can make this recipe either way based on the type of rice grain you use and the way you prepare it.
We loooove sticky rice but this recipe is designed not to be sticky. Here are some tips to prevent your rice from becoming sticky.
Use long grain rice instead of short-grain rice, like basmati or quick-cooking white rice. Jasmine rice will also work. Longer, skinnier rice grains work better than short, plump rice varieties as they have less starch. Short grain rice is great for sticky rice.
Don't use too much water. For long-grain rice a 1:1.5 ratio usually works great. 1 cup rice to 1.5 cups water.
Give your rice a rinse before using it as this can help remove some starches from the rice.
When the rice is cooked, remove from heat and let sit, covered, for 5 minutes.
For recipes where I want dry rice, I use a wider pot that has more surface area on the bottom vs. a small pot. This helps the rice spread and cook in a thinner layer.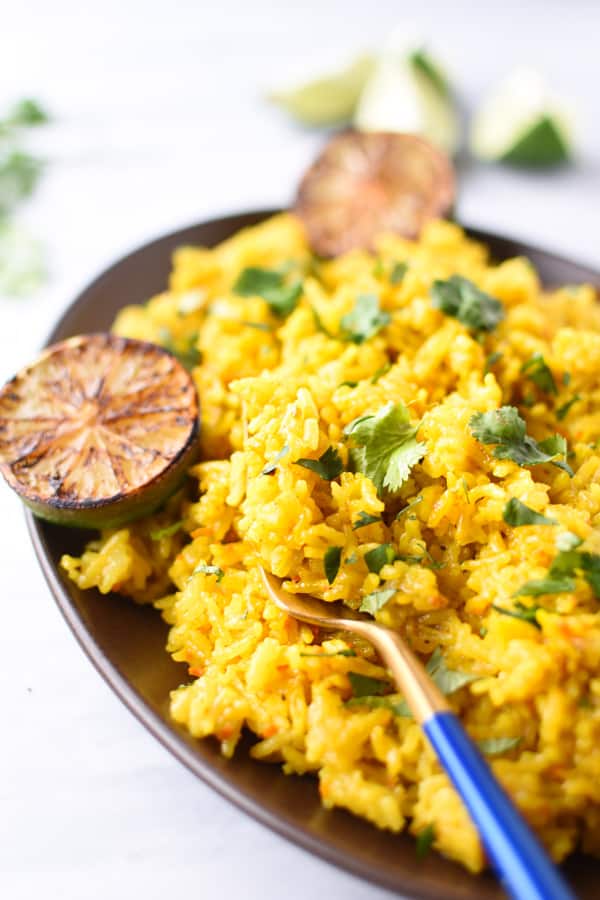 It's One Of Our Favorite Turmeric Recipes!
I have to tell you, I was skeptical of a purely turmeric-flavored dish. We eat turmeric more as a supplement, then an ingredient or flavor but turmeric really shines in this recipe. If you're also looking for ways to cook with more turmeric- this is the recipe for you!
This is a fantastic fresh turmeric recipe- or ground turmeric for that matter! It's really easy to make and incredibly versatile- this rice works on taco night or curry night.
Give it a try and tell us if you feel the same! Plus, check out our round-up list of fresh turmeric recipes.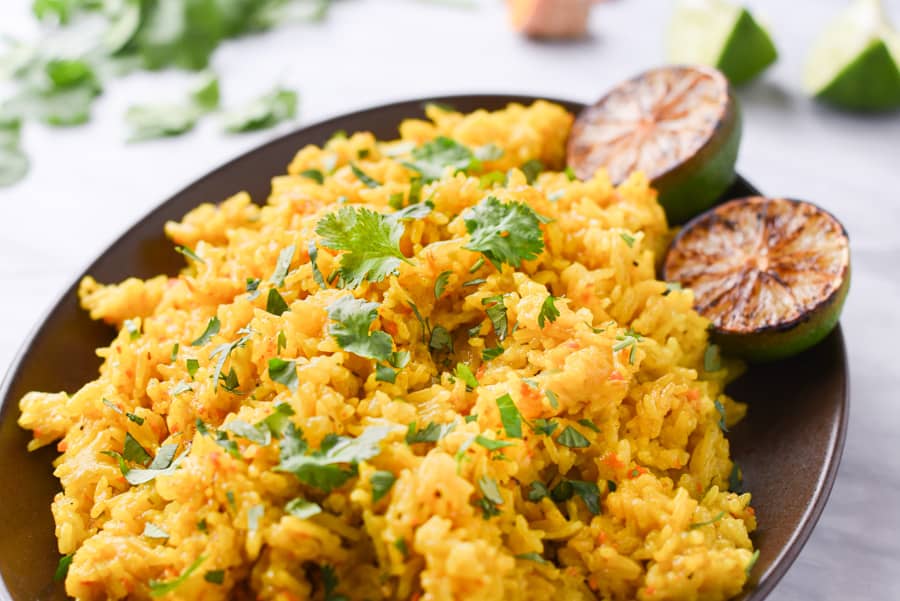 Print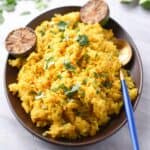 Yellow Turmeric Rice
Author:

Adriana

Prep Time:

10 minutes

Cook Time:

10 minutes

Total Time:

20 minutes

Yield:

~4 cups

Category:

Turmeric Rice

Method:

Instant Pot or Stovetop

Cuisine:

Indian
---
Description
Yellow Turmeric Rice is sensational- that's the simplest way to put it! This yellow rice dish can be made in the instant pot or on the stovetop in less than 30 minutes- say hello to dinner!
FYI: You can buy organic whole turmeric root on Amazon! Here's my favorite.
---
1 cup

basmati rice

1

medium onion, diced

2

garlic cloves, sliced

1 teaspoon

ginger powder or

1 tablespoon

fresh minced ginger

2

–

3

teaspoons turmeric powder or

2

–

3

tablespoons fresh minced turmeric

2 tablespoons

olive or coconut oil

2 teaspoons

salt + pepper to taste

1.5 cups

vegetable broth (or water will work)

1/2 teaspoons

cumin or

1/2 teaspoon

coriander
Optional for garnish: fresh cilantro and fresh lime wedges!
---
Instructions
Stovetop:
Sautee the onion & garlic in oil for 3-5 minutes until soft.
Add the turmeric, ginger, salt, pepper, and cumin & stir to combine.
Add the rice & broth, bring to a boil.
Reduce hit and gently simmer, covered, for 15 minutes. 
Remove from heat and keep covered for 5 minutes. 
Fluff, and enjoy!
Instant Pot:
Using saute mode, saute onion and garlic in oil for 3-5 minutes until soft.
Add the turmeric, ginger, salt, pepper, and cumin & stir to combine.
Add the rice & broth. Cover and turn valve to 'sealing'.
Cook on high pressure for 5 minutes.
Set the timer for 5 minutes & 'natural release' for this time. Don't go over 5 minutes or rice may become too soft.
After 5 minutes, manual release any additional steam, fluff and serve!
---
Notes
** This will last 5-7 days in the fridge and makes excellent leftovers!
** You can use jasmine rice- or any other rice, simply adjust the liquid and follow cooking times for the type of rice you are using.
Keywords: Yellow Turmeric Rice, Indian Rice