Parsley pesto is a bright, herby, grassy sauce here to make the meals you cook for you & your loved ones pop with flavor! You can use this parsley pesto recipe just as you would use regular ol' pesto- it's a fresh remix on the traditional pesto we all love.
We'll walk you through how to make it, PLUS- whether flat-leaf or curly parsley makes a better parsley pesto…
Get ready for a new spin on an old favorite!
Let's Make Parsley Pesto
You know pesto, we know pesto. We're dishing up a pesto variation that is fantastic for those winter and early spring months before fresh basil is widely available. Parsley pesto is not an exact replica of it's basily cousin and quite honestly, we love that.
The ingredients to make parsley pesto are the same as basil pesto, simply swap the fresh basil for fresh parsley and you are in business.
This recipe works excellent in a bullet blender or food processor- we recommend both appliances to easily make this. If you are using a full size high powered blender, you may need to double the recipe or feel okay with a kinda coarse, kinda rustic, not-finely-chopped texture.
Ingredients you'll need for parsley pesto:
Fresh parsley, about 2 cups packed
olive oil
garlic
nuts – ANY kind you have on hand will work, seeds even work if you're nut-free!
fresh lemon juice
nutritional yeast (if vegan/ dairy-free) OR parmesan cheese
salt & pepper
Guy/Girl: All that's left is a 30-second whir in your appliance of choice and you have a fresh, herby DELICIOUS sauce to slather on everything.
Trust us when we say go ahead and make a double batch.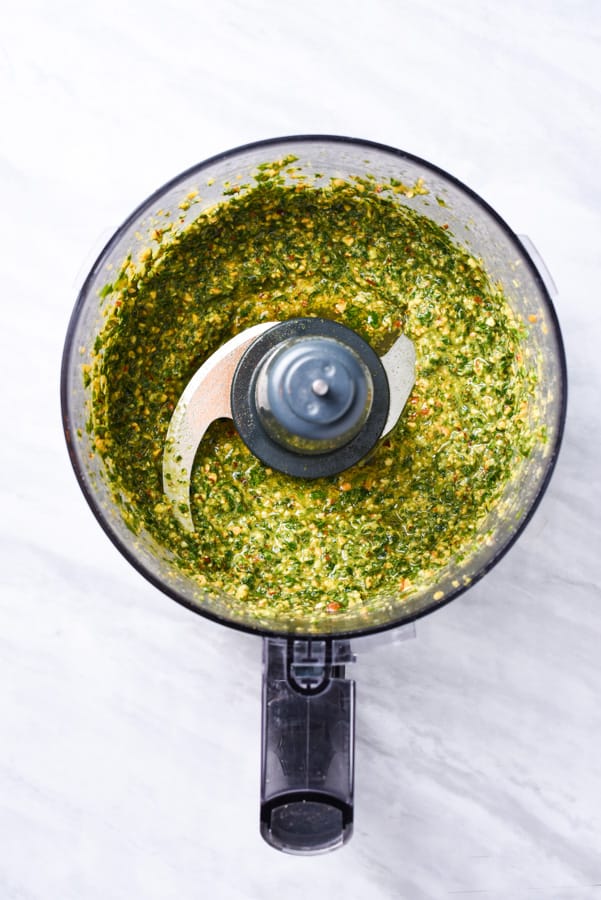 What Does It Taste Like?
First of all, parsley pesto is a great way to use up a bunch of fresh parsley. We can completely appreciate the grandeur that is an herb or garnish stealing the stage. But how does it compare to regular pesto?
I won't lie- I was legit very, very skeptical the first time I tried making pesto with parsley. Basil is so sweet, so fragrant, SO tasty. HOW could this even come close?
It does. Parsley pesto has a bolder, grassier, punchier flavor. It doesn't have the fluff and softness of traditional pesto. It's here to get things done.
The biggest difference is in sweetness. Basil has this sweet, perfumey, fall-in-love with me flavor that, we'll be honest, parsley lacks. The main difference is: it's slightly bitter, slightly peppery, and has more of a green or vegetal taste.
Aside from that, parsley pesto still holds the bright, herby, and fresh flavor of traditional pesto.
It's a great accompaniment to fats as it is mildly bitter and it works excellently with lemon and vegetables.
If you try this recipe and you love it like we do, give these other pesto rule-breakers a try: Oregano Pesto or Roasted Garlic Pesto. ORRRR Meyer Lemon Pesto or Nut-Free Pesto.
Can you tell we are here for the green, herby sauces?
How To Use Parsley Pesto
Pesto and pasta are a match made in heaven- are you with me?! So, of course, you can use parsley pesto to make pasta dishes. Absolutely, yes you can indeed use parsley pesto on homemade pizza!!
Use it to flavor gnocchi. With whole roasted cauliflower. Or mashed potatoes.
Here's how we have found ourselves using up the last of the parsley pesto in the fridge:
Add to sandwiches / paninis
Use it to amplify the flavor of breakfast scrambles
Thin with olive oil for a salad dressing
Toss roasted or grilled veggies with parsley pesto
Add to soups for a flavor boost
Stir into hummus or other dips
Use in lasagna or stuffed shell recipes
Add to cream sauces like alfredo to make pesto cream sauces
You see? Parsley pesto really can be used so many ways!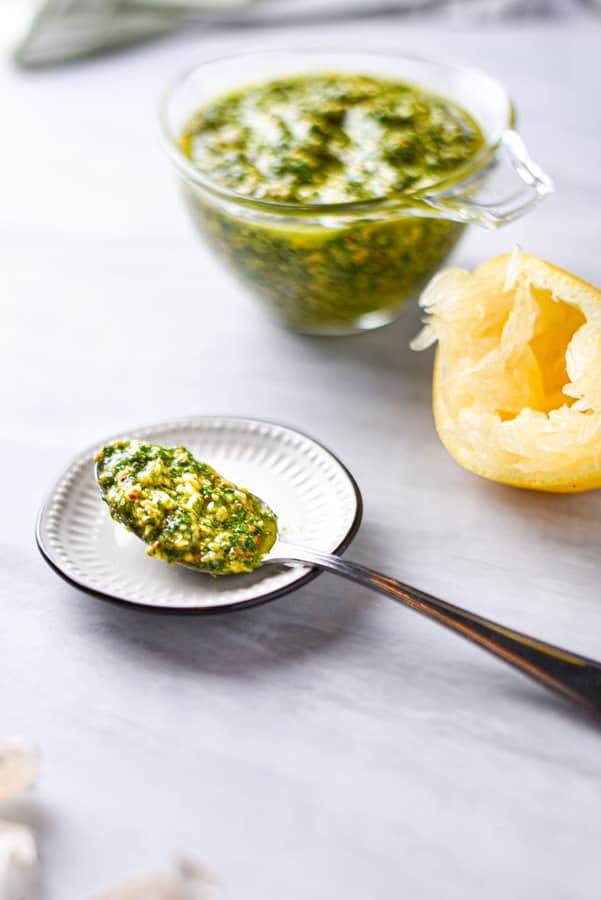 Our Favorite Parsley Recipe
Fresh herbs and citrus are key for super flavorful and impressive home-cooked meals. Many of the dishes we cook at home include a sauce that showcases fresh herbs.
Making a batch of parsley pesto is a great fresh parsley recipe because it simplifies your weeknight dinners and meal prep options. Instead of another item to wash, chop, and prep- if you've got a batch of parsley pesto in the fridge, you have a speedy and flavorful friend ready to add some pizazz to your cooking.
Another reason we love parsley pesto: Parsley, like most herbs, has health bennies galore. It's an antioxidant that delivers substantial amounts of vitamin C, A, E, and K! (Source)
We also like adding fresh parsley to veggies juices and smoothies, and using fresh chopped parsley as a garnish.
Flat Leaf, Italian, Curly– Which to buy?
Here's the skinny: flat leaf, also called Italian parsley, is the type of parsley we recommend using to make parsley pesto. Curly parsley doesn't pack quite as much herbal or aromatic flavor- and it's more bitter.
The flavor of Italian parsley is superior to curly parsley!
Curly parsley is usually used for garnishing as the tightly curled leaves stand upright and add a textural component to platters and buffets.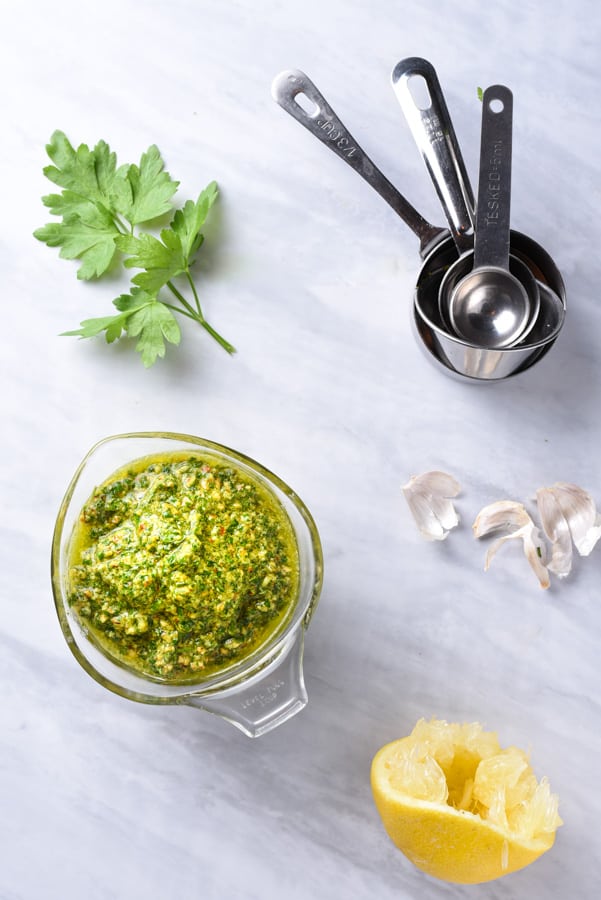 Print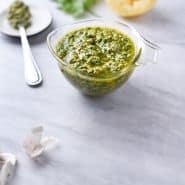 Easy Parsley Pesto
Author:

Adriana

Prep Time:

5 minutes

Total Time:

5 minutes

Yield:

~1 cup

Category:

Parsley Pesto

Method:

Food Processor

Cuisine:

Italian
---
Description
Parsley pesto is a deliciously bright and aromatic herby sauce perfect for adding to pasta, pizza, soups, and scrambles. This parsley pesto recipe is easy peasy to make requiring just 6 ingredients and a whir in the food processor!
---
2 cups

fresh parsley (preferrably flat leaf/ Italian but curly parsley will work)

1/3 cup

nuts (any you have on hand!)

2 tablespoons

parmesan cheese or nutritional yeast if vegan

1

–

2

tablespoons lemon juice or red wine vinegar (start with

one

& taste)

2

cloves garlic

1/3 cup

olive oil

1.5 teaspoon

salt

1/2 teaspoon

black pepper
---
Instructions
Wash and roughly chop your parsley- flat leaf parsley has a better flavor than curly parsley, get that if you can.
Measure the nuts you are using. Optionally you can toast the nuts to bring out more flavor- we usually skip this step. It does add more flavor if you have the time and will to do it!
Add all ingredients to a food processor or bullet blender. If making this recipe in a blender, you may need to double the recipe in order to meet the minimum capacity for smooth blending- or be okay with a more rustic pesto.
Once everything is in your food processor or bullet blender, blend until smooth stopping 1-2 times to scrape down the sides of the vessel with a spatula.
Taste and adjust seasoning as needed. Store in the fridge for 5-7 days. Use the same way you would use a basil pesto.
---
Notes
** You can make this a basil parsley pesto by using half parsley and half basil, to try the flavor and see how you like it.
** You can add more oil for a thinner consistency and reduce the amount of oil for a thicker consistency. If you want to reduce the oil, you can sub some of the oil with water.
** You can definitely make a double or triple batch of this and freeze it for later. This keeps in the freezer for 3-6 months!
Keywords: Parsley Pesto Recipe