Up for a new spin on pesto? Unlearn your basil-loving tendencies and use all the fresh oregano instead! If you have excess oregano in your garden or if you pick some up at the grocery store- this is a gorgeous transitionary sauce to carry you into fall feeling exactly like you're in the right place at the right time eating exactly the right… <insert whatever meal you drench in this sauce>.
Oregano? Check. Hazelnuts? Check. Yearning for a delicious sauce to put on everything? Game on.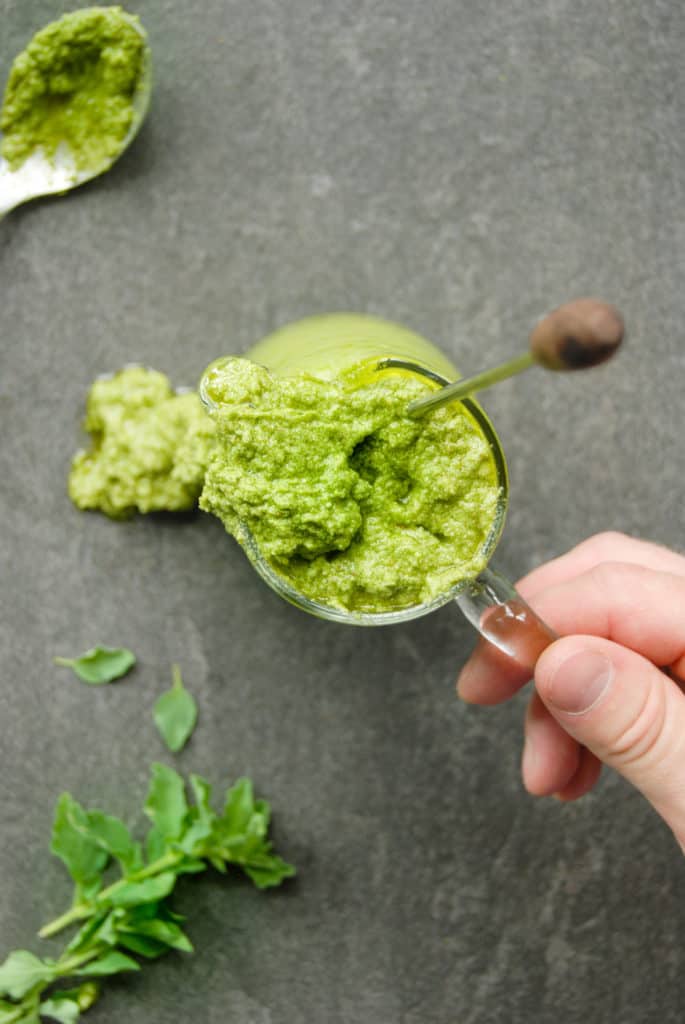 Flavor Showdown: Oregano v. Basil
There aren't many recipes out there showcasing fresh oregano as the star. We've all experienced the flavor of oregano- possibly without even realizing it- in dishes like pizza and spaghetti sauce. But how is oregano different than basil?
Basil has a much sweeter and brighter flavor in my opinion, whereas oregano is deeper and more robust, e.g. too much oregano can overpower a dish but I've never experienced this with basil.
Oregano is sturdier, think of the Cuban sandwich… oregano is a staple ingredient that holds up to the 6-8 hours of slow cooking and still shines through.
Oregano has a woodsier, less perfumey flavor and aroma than basil.
How to make Oregano Hazelnut Pesto
Hazelnuts soaked or unsoaked? In recipe testing, we tried this both ways, with soaked and unsoaked hazelnuts. The final verdict was we preferred unsoaked, raw hazelnuts as they yielded a coarser, more rustic texture. If you are after a smoother consistency, soak the hazelnuts in water for 4-6 hours before blending. To further increase the hazelnut flavor you could even roast them prior to making this. How next level of you.
Blender or food processor? Both work! We made this with both appliances and ended up favoring our Vitamix simply because it's usually already out on the counter. #ConvenienceQueen
You could substitute hazelnuts and use whatever nut you have on hand- think oregano pesto with pine nuts, almonds, walnuts or pistachios!
How to use oregano pesto
Any food you would slather your trusty friend basil pesto on, you can replace with oregano pesto. Don't judge… we use this on toast… quite often. As a spread in grilled sandwiches. In our gnocchi seared vegetable salad. With pasta & vegetables. In our tomato tart.
Additionally, this would work really nicely as a sauce for a grain bowl, as a base for a salad dressing, or mixed with yogurt for a tangy, herby dip.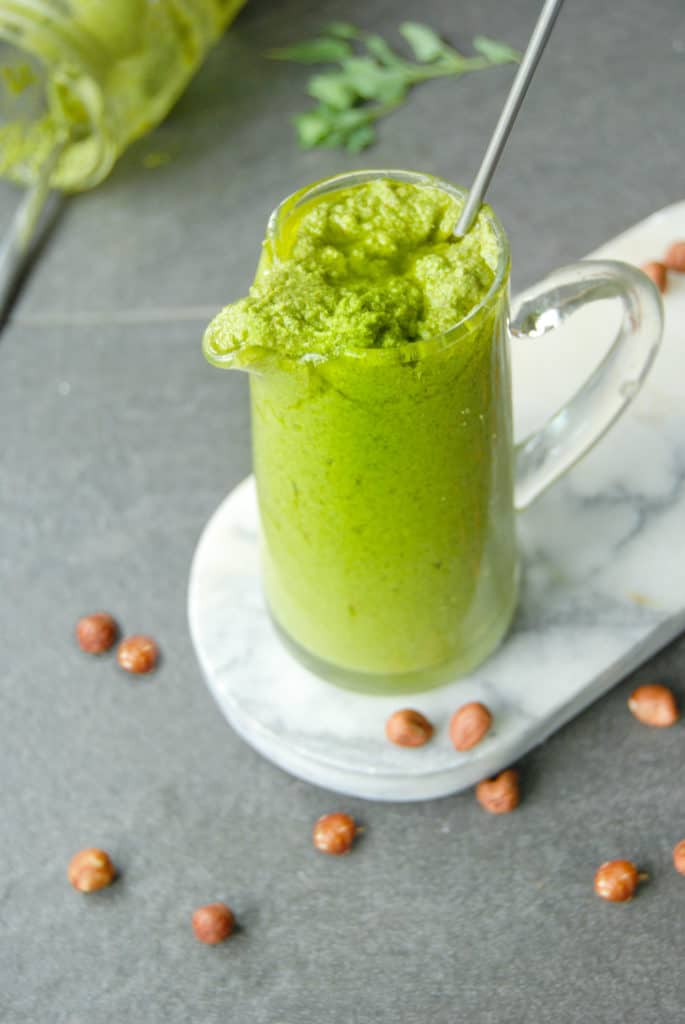 FAQs about this recipe
Can I use this as oregano pesto pasta sauce? Yes indeed, oregano pesto works mighty fine as a pasta sauce.
Is this good for pizzas? Oregano pizza sauce? Ohhhh yes, we have been known to use oregano pesto as a pizza sauce.
Print
Oregano Hazelnut Pesto Sauce
Author:

Adriana

Prep Time:

10 minutes

Total Time:

10 minutes

Category:

Recipes

Method:

Cold Prep

Cuisine:

Sauce
---
Description
Oregano hazelnut pesto is something to brag about and comes together in a snap! If you've got a serious love affair with traditional pesto like we do, this fresh oregano pesto recipe will take things to a whole new level. Moving too fast? We think not…
---
2 cups

fresh oregano leaves

1/2 cup

olive oil, or more depending on your preferred consistency

2

cloves garlic

1/4 cup

lemon juice

1/4 cup

hazelnuts
salt & pepper to taste
---
Instructions
1. Pick the leaves off the rinsed oregano leaving the woody stems behind.
2. Add all ingredients to your blender, bullet, or food processor and blend until combined, stopping and scraping down the contents as neccessary.
Notes
** This will keep for 5-7 days or longer in the fridge.
** Adjust the consistency by adding more olive oil. More olive oil = thinner and more drizzley pesto.
** You can freeze this! Place in an airtight container in the freezer.
Keywords: Oregano, Hazelnut, Vegan Sauces