Vegetarian gyoza dumplings and I operate on a first-name basis. These are one of my go-to comfort foods and they're basically a vessel for all your saucy dreams to come true. If you have yet to make your own vegan dumplings, we've got you- there's a video tutorial to walk you through the folding process.
Whose having dumplings for dinner tonight?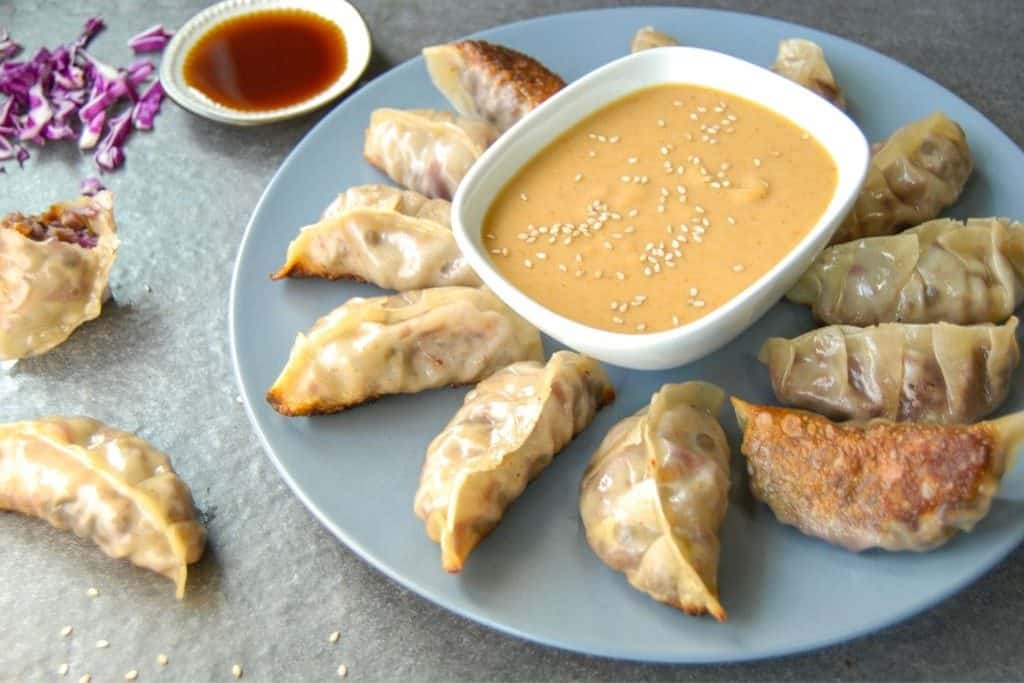 How to make Vegetarian dumplings?
Let me be honest with you when I tell you this recipe is an investment. You have to first invest what feels like allll the time cooking then allll the time folding these adorable little dumplings. This isn't a recipe you can expect to master on your first attempt.
But the payoff! The payoff is exceptional and ongoing! You'll have dinner to be proud of one evening, followed by sophisticated weeknight meals that you pull right out of your freezer. Getting the chopsticks out and having a pile of dumplings on a Tuesday?
Count me so in.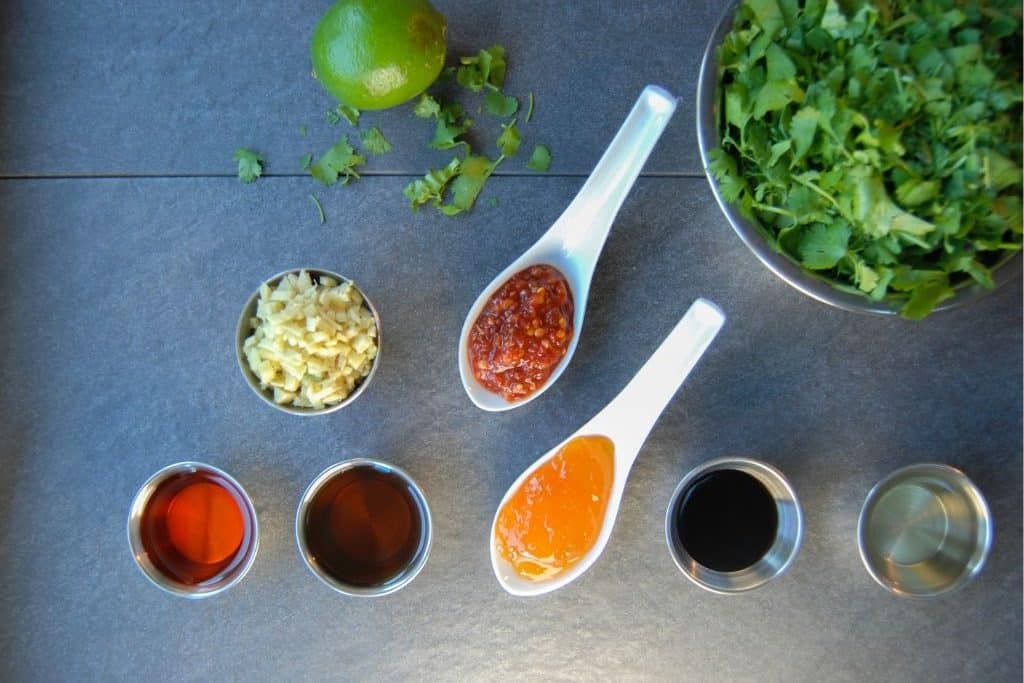 Cooking Potsticker Filling
As this recipe is plant-based, we're using veggies galore. Vegetables hold higher amounts of water than pork used in traditional dumplings. We need to cook the vegetable filling, and then cook the dumplings. You see, the vegetables need to cook down and shed water before the wrapping process. Otherwise, the gyoza would give off water during frying, leading to soggy, sad little potstickers. So yes, to veganize this recipe we do have an additional step- but I promise it's worth it.
We'll heat up some oil to sautee onion and garlic.
We'll deglaze and add lentils to the now-seasoned oil to cook.
We'll toss in cabbage and sweat its water, then top it off with ginger and fresh cilantro.
Houston, we have our filling.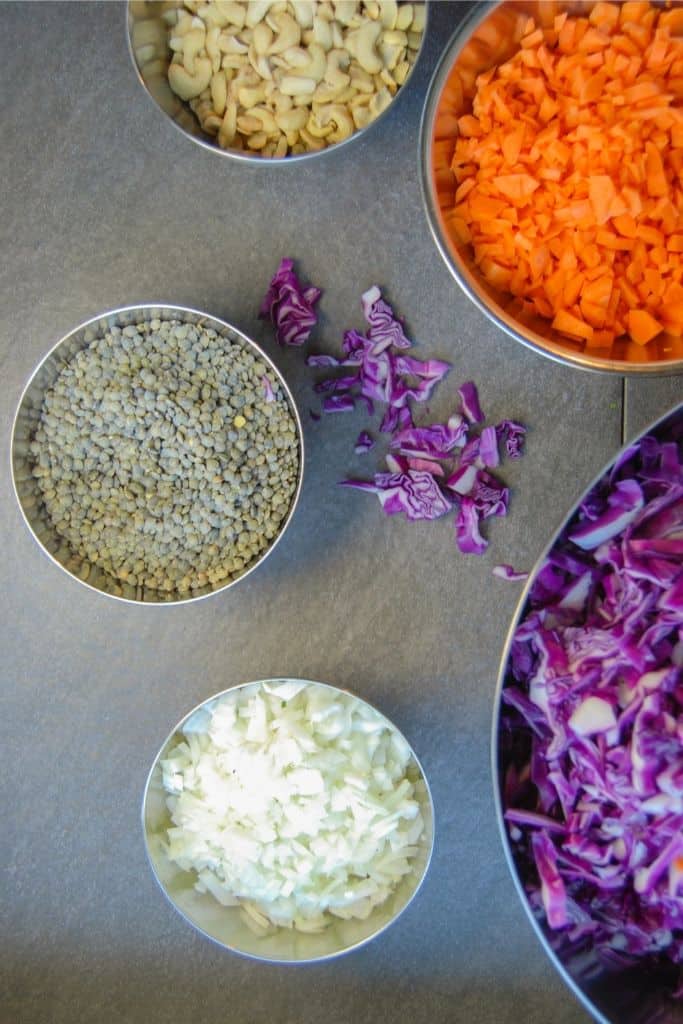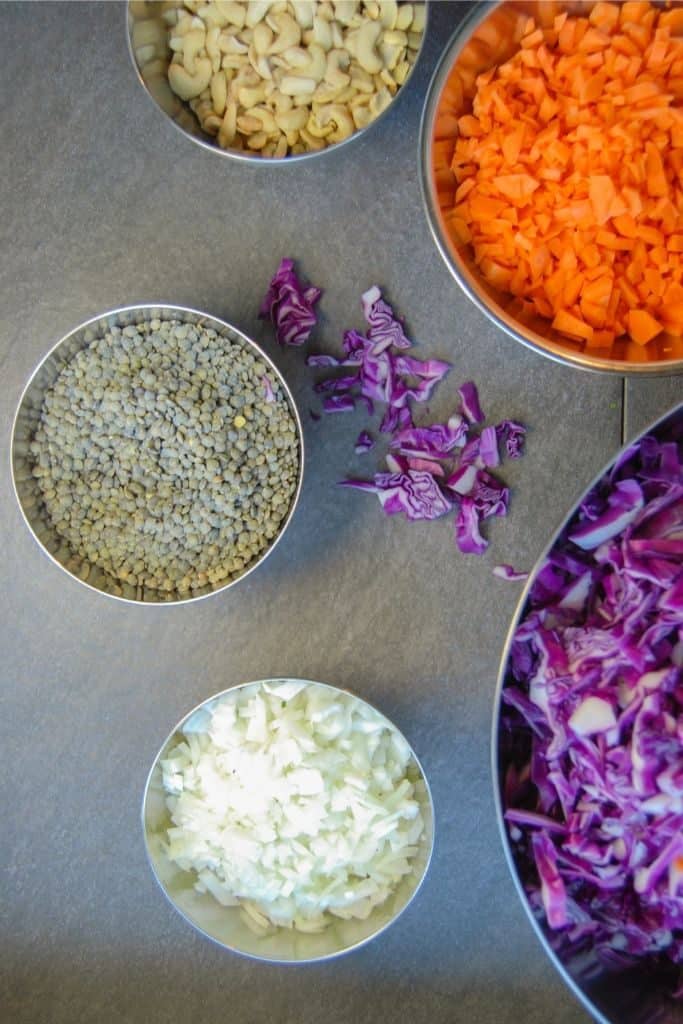 Which Wrapper To Use?
Spring roll wrappers, wonton wrappers, square wrappers, circle wrappers- why do good things happen to bad people?
I use the wrappers shown below, they are 3.5″ circular wrappers, aprx 50ct package. Usually, we buy two packages and have a serious dumpling extravaganza- we eat about 25 potstickers the night we make them, (I know, I have arrived) then freeze nearly 7 dozen for later! (Sorry, Lingling!)
However, you could use this same filling recipe for spring rolls! You also can use square wrappers, just a different folding method.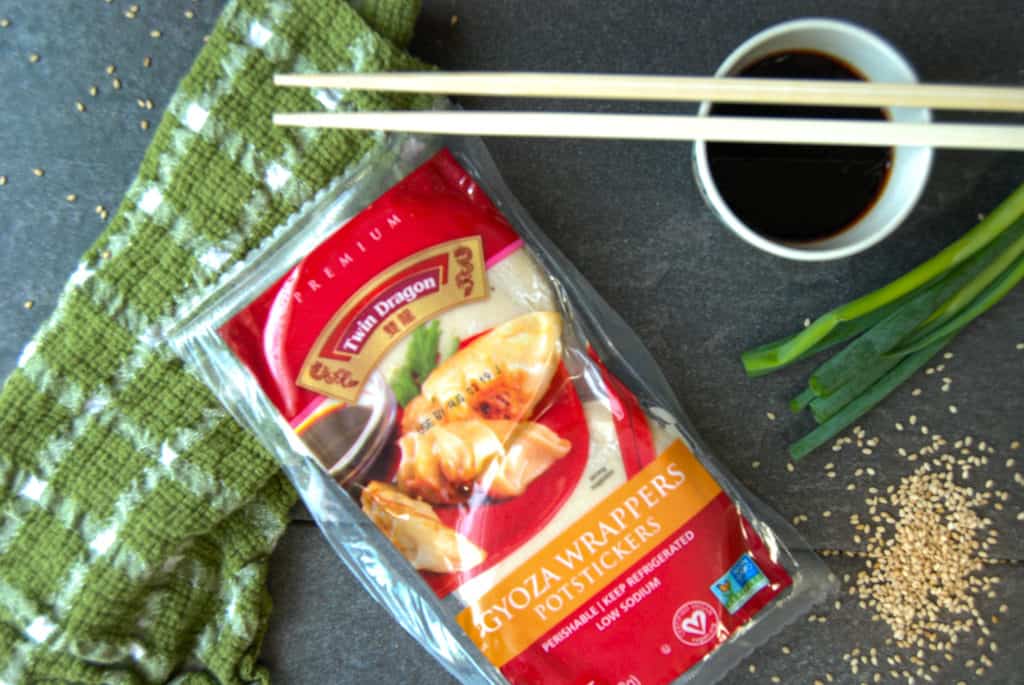 Potstickers, Gyoza, Dumplings- Oh My!
Let's dive into how to cook these little dumplings. There are two main schools of thought on how to cook up potstickers for the basic home chef.
Searing and steaming: This method gives the bottom side of the potsticker a nice caramelized sear while steaming the tops of the potts- gives you crunch and chew in every bite.
Searing only: Some eaters fall into club crunch in a serious way. Another method of cooking gyoza is to sear all three sides, skipping the steaming.
I opt for the steam & sear combo for two reasons:
I like the texture combo of the crunch and the chew.
I add heaps of fresh ginger and cilantro near the end of prepping the filling and the flavors/ aromas of these ingredients are delicate! By steaming the dumplings there is less direct heat on the filling which I believe maximizes the flavor!
Play around with both methods. I will say the sear-on-all-sides option may be more approachable if this is your first time cooking gyoza. Regardless of which option you choose, I have to gift you this tidbit: unpack the name 'potstickers.' Pot-stickers. Pot STICKERS. Yes, these can be devilishly inclined to "pot stick" to the pan. I'm always armed with my favorite trusty spatula when cooking dumplings. You know the one. It's firm and flexible annnnd super thin all at the same time. Also why does every household only have one of these? Ours is 30+ years old, swiped it from my mom.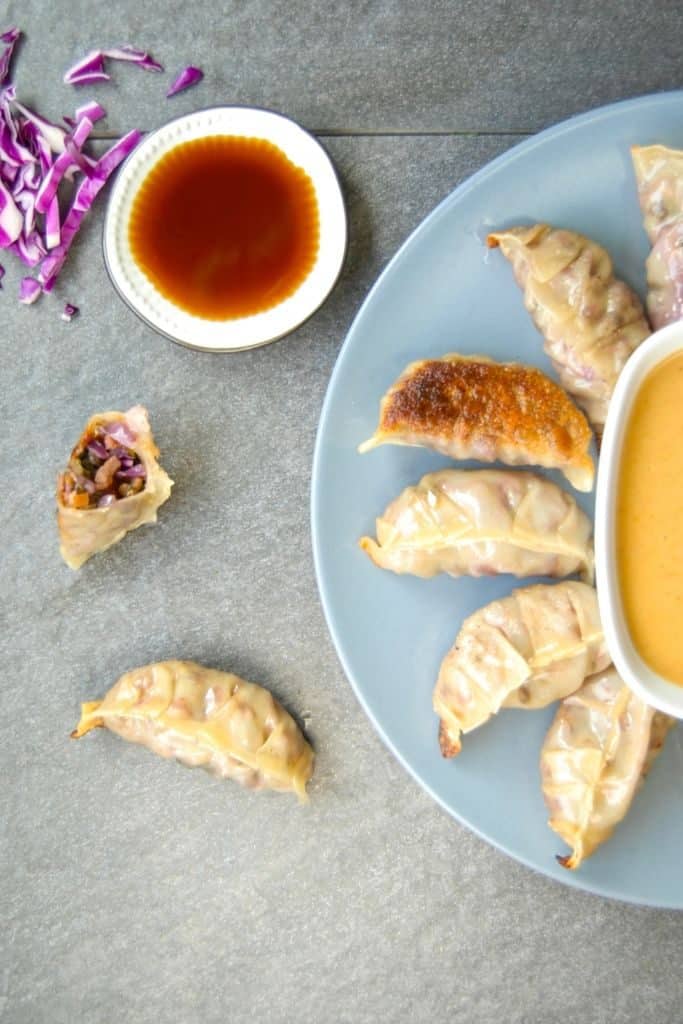 See that bottom golden crispiness and the soft, chewy dumpling top? That's the ticket.
Common Questions About This Recipe
How to freeze vegetarian potts? Great question! I arrange these on a parchment-lined cookie sheet and place in the freezer until frozen. This prevents them from sticking together. Once frozen, I place all potstickers into a bag for storage.
How to cook frozen gyoza/potstickers/dumplings? I cook them the same exact way as fresh dumplings! If using a cast iron pan or another pan with high heat retention, you might opt for a medium-low heat when cooking frozen potstickers. You can pull frozen potts in the morning and defrost them in the fridge.
Can you make dumplings with tofu? Yes, you can use tofu in vegan gyoza. I have found it is easiest to fold the dumplings if the filling is in pea-sized pieces as overstuffed gyoza are more challenging to seal.
Can I buy gluten-free potsticker wrappers? Where I live, I've never seen GF gyoza wrappers, BUT GF potsticker dough is on my list of recipes to publish!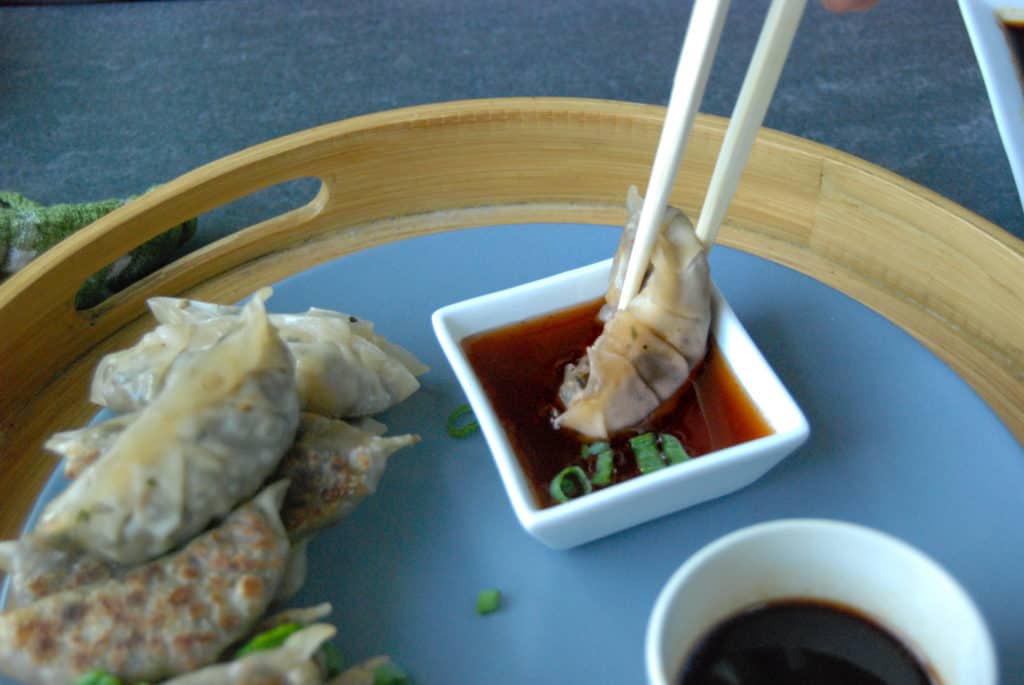 Print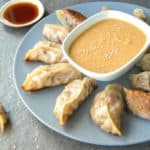 Vegetarian (Vegan!) Gyoza Dumpling Potsticker Recipe
Author:

Adriana

Prep Time:

60 minutes

Cook Time:

35 minutes

Total Time:

1 hour 35 minutes

Yield:

4

8

1

x

Category:

Vegan

Method:

Stovetop

Cuisine:

Asian
---
Description
We've got a recipe for the vegetarian gyoza dumplings of your dreams… I know, SAY MORE NOW! These vegan potsticker dumplings use veggies you probably already have, a few seasonings and spices, and a touch of patience to pleat 'em up! Let's do this.
---
For the filling:
1.5 cup

diced carrot (about

3

medium carrots

3 cup

shredded cabbage (about

1

small head)

1 cup

dry lentils (red lentils- they cook the fastest!)

6

cloves garlic, minced

1

medium onion, chopped

1 tablespoon

chili oil (or other high heat oil like coconut or sesame)
salt & pepper to taste

1

bunch cilantro, reserved for later

2

" ginger, minced and reserved for later
For the liquid to cook lentils:
3 tablespoon

miso

2 teaspoon

Braggs / soy sauce / tamari

2 tablespoon

rice vinegar

1.5 tablespoon

maple syrup

1 tablespoon

chili garlic sauce (more if you want firey heat!)

1.5 cups

water

2 tablespoon

ground coriander

1 tablespoon

ginger powder (or 1″ minced ginger if you don't have powder)
---
Instructions
Prepare the filling:
Chop onion and carrot, mince garlic.
Heat a medium-large sized skillet to medium heat, add chili oil.
Sautee onion, garlic, and carrot until soft and translucent- about 5-7 minutes. Once onion and carrot are soft, add diced cabbage and cook an additional 5-7 minutes.
While the vegetable mixture is sauteeing, prepare the liquid we'll use to cook the lentils. Add all ingredients together and use a whisk to mix well, making sure the miso is incorporated.
The vegetable (onion/carrot/cabbage) mixture should be nicely caramelized, use the broth to deglaze the pan (fancy term for pour it in and stir it around) then add the lentils.
Bring to a boil, cover and reduce to a simmer. Simmer 20-25 minutes until the lentils are tender. 
After the lentils are tender, turn off the heat and add chopped cilantro and minced ginger.
At this point I conduct some 'quality checking.' Taste your filling- add more umami, more spice, more salt or more acid if needed.
I personally set the filling aside to cool before wrapping the potstickers. You can begin to wrap them immediately however the wrappers are prone to stretching and tearing. If this is your first time making gyoza dumplings, I would wait a couple hours until the filling cools, or wrap the next day.
Wrapping your dumplings:
You'll need a small dish of water, a spoon, and a large flat surface to place all your finished dumplings.
 Hold one dumpling wrapper in the palm of your hand, usually your secondary hand. (I'm right handed and I place the wrapper in my left hand).
Dip your index finger in the water and coat the perimeter of the circular wrapper, the side facing up.
Place 1 tablespoon of the filling into the center of the dumping.
Using the hand the dumpling is in, pinch the dumpling together in the center- usually this uses your thumb and middle finger. Seal this first bit tightly together.
Using the opposite hand, start from the center outward pinch and fold the dumpling together. This will be two different operations, center to the right-end of the dumpling and center to the left-end of the dumpling.
After you have your potsticker pleated and sealed, you can apply a bit more water with your finger to any areas that aren't sticking properly. They don't look pretty as your are learning, but they taste great!
You can cook these immediately or freeze for later.
Cooking potstickers:
Heat a heavy bottom skillet or cast iron to medium heat with 1 tablspoon of oil. (I like sesame oil here)
When the pan is hot, place your first round of potstickers in the pan. Place them flat side down and be sure they aren't touching.
Leave dumplings to sear and get a nice golden crunch, about 3 minutes. You can tip a couple over and check for golden-brown crusts to be sure the sear is done!
After 3 minutes, add 1/3c water to the center of the pan and immeditately place a tight-fitting lid on.
Steam for about 2 minutes, or until water is evaporated.
Use a thin, flexible spatula to remove the dumplings with one swift lift! You can place on a tea towel to absorb excess oil before serving, or place directly on a plate.
Serve with your favorite dipping sauce and enjoy!
Notes
** To freeze these gyoza dumplings, place dumplings not touching, on a parchment lined baking sheet until frozen. Once frozen you can remove and store in your containter of choice.
** If you're after function and frustrated with beauty, you can 100% do a simple fold to seal these. Simply follow steps 1-4 of the folding process, then instead of pleating just squeeze the wrapper together with your thumb and index finger. No sexy pleats, but this will get potstickers on your plate. I probably folded 200 potstickers before I could easily pleat and wrap these- it takes practice!
** Another option is to roll out the potsticker wrappers with a rolling pin. I don't usually do this but it does give you more wrapper  to work with as you are learning! I find this method more difficult as the wrappers are thinner and more prone to tearing when rolled out…. But, when I recruit my husband to help me wrap dumplings, he always uses a rolling pin. It's personal (and hand size?) perference!
** If your potstickers don't look fully cooked after steaming, you can add another 2 tablespoons water and steam an additional 2 minutes. This can often be the case when cooking frozen potstickers. I've found that a 1/3 cup water steam followed by a 2 tablespoon water steam results in better potstickers. Here's why: If you add too much water up front, the potstickers will simmer for a bit v. steaming thus loosing their crunchy underside. Recap: 2 shorter batches of steaming work better than 1 longer simmer/steam.
** I know it's tempting to put as much filling as possible into every precious dumping but let me tell you- the more filling you add to your dumplings, the harder they are to wrap. Start small and add more filling when the wrapping process gets easier for you!
** Where I live, the most available package of dumpling wrappers / wonton wrappers is a package of 48 round potsticker wrappers. I tried to craft this recipe to perfectly use 48 round wrappers. If you have leftover filling (which I had several times in recipe testing this) you can cook up some rice or quinoa and you've got a certified stir fry!
Keywords: Asian, Potsticker, Lentils