This cheesy vegan broccoli side dish with lemon and nutritional yeast hits the spot like no other vegetable side! We'll take a few heads of steamed broccoli, layer on some nooch for a salty, addicting need-more-now feeling and then BAM- the lemon juice + zest duo keep things real snappy.
Ready for your new fall favorite? I'm telling you, this is a vegetable dish I actually crave and it comes together in 10 minutes!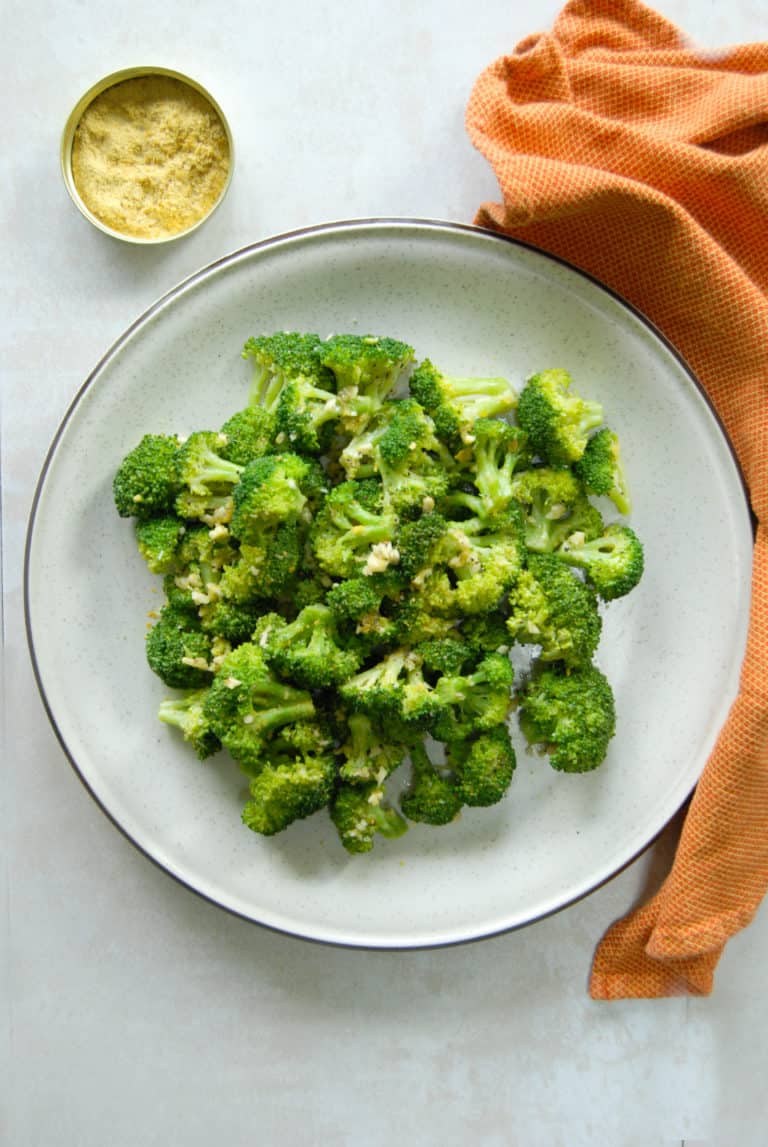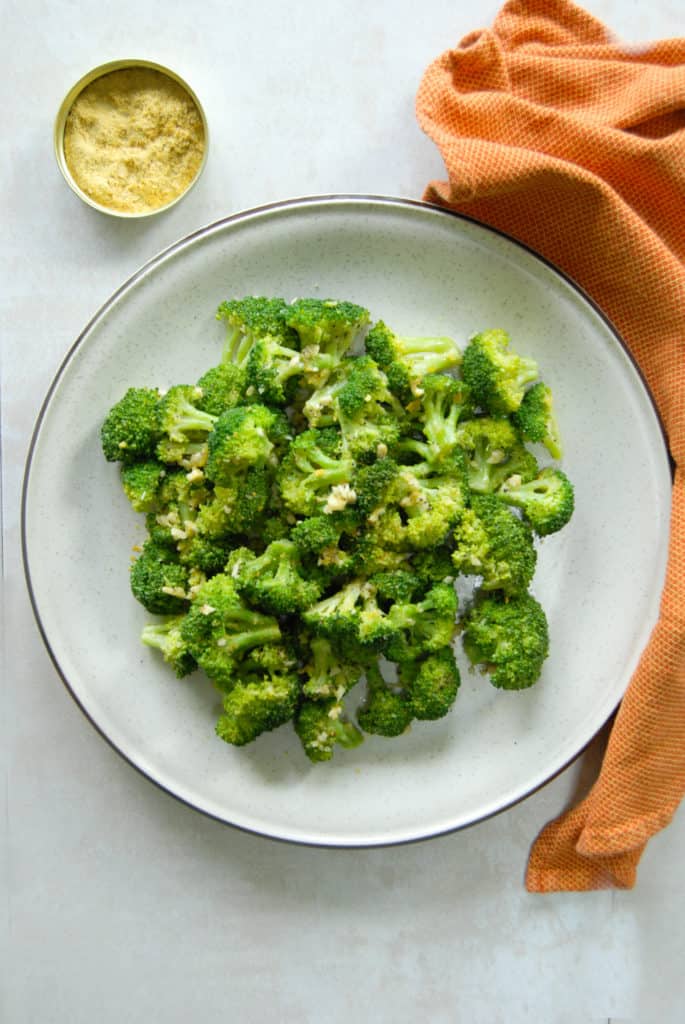 How is this cheesy broccoli different?
I know, I know broccoli has appeared on dinner tables for ages. There are 2 main differences that make this vegan cheesy broccoli pop!
Nutritional yeast. It's cheesy and savory and satisfying.
Lemon juice. The tang of lemon juice plays so nicely with the savory nutritional yeast.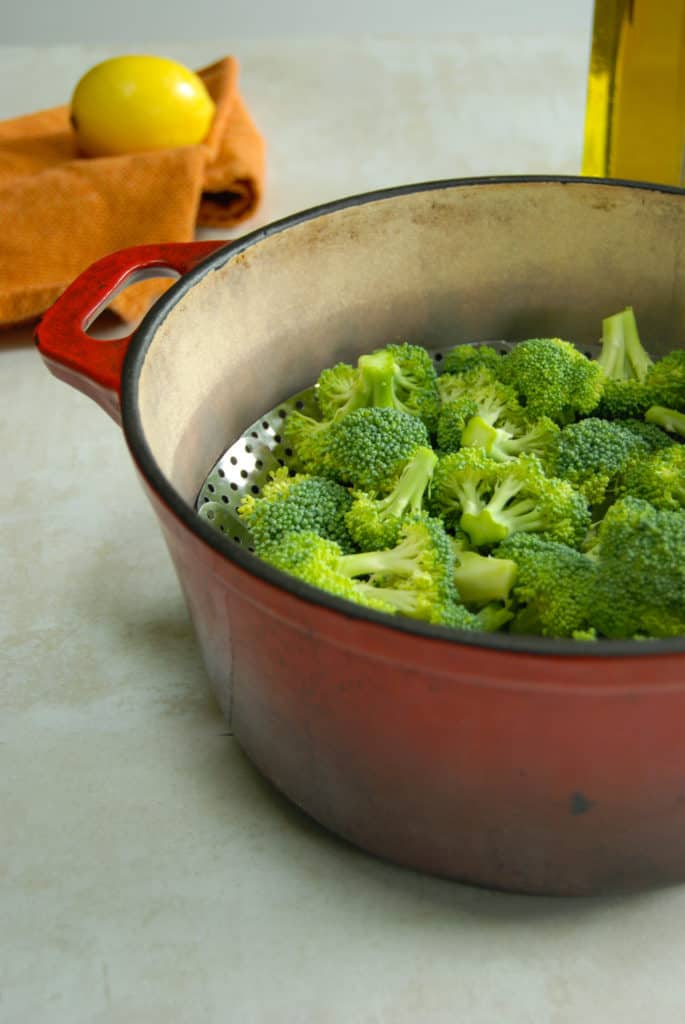 How do YOU like your broccoli?
Eaters are real particular when it comes to the texture and doneness of their veggies. It's quite the bummer when your vegetables are soft and lack chomp-factor.
For those who want to retain a nice crunchy bite:
Try and chop your florets into pieces of equal size. If there are large and small pieces mixed together, the smaller pieces will overcook and the larger, under-cook. Consistently sized pieces require similar cooking times!
Check on the broccoli early. I use a fork to test for tenderness. If you're unsure, remove one piece to taste test. Let it cool down and check the status.
If you think it is just a touch too firm, remember it will keep cooking after you remove it!
Toss this together well to lock down your flavor experience! This vegan cheesy broccoli is best when every piece of broccoli is coated trunks to trees in nutritional yeast and black pepper. By using a large mixing bowl, you can ensure every little tree is wearing alllll the flavor. Add the lemon and toss to coat first, so your nutritional yeast and black pepper will adhere evenly!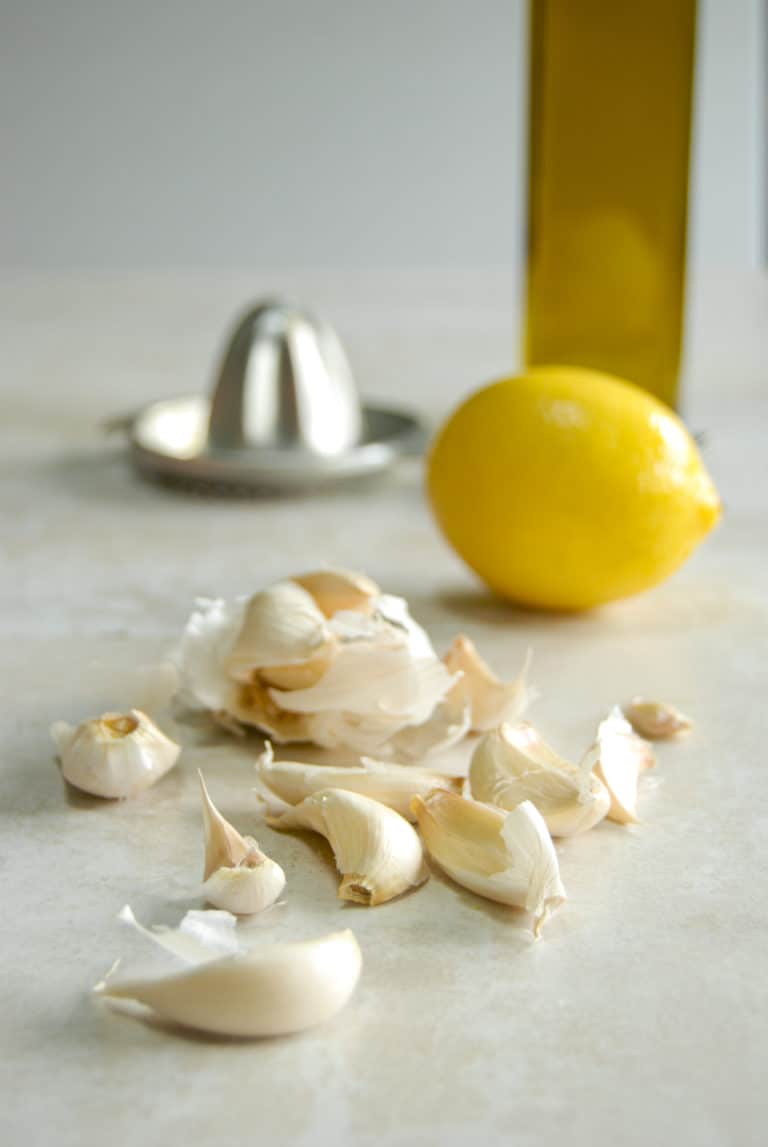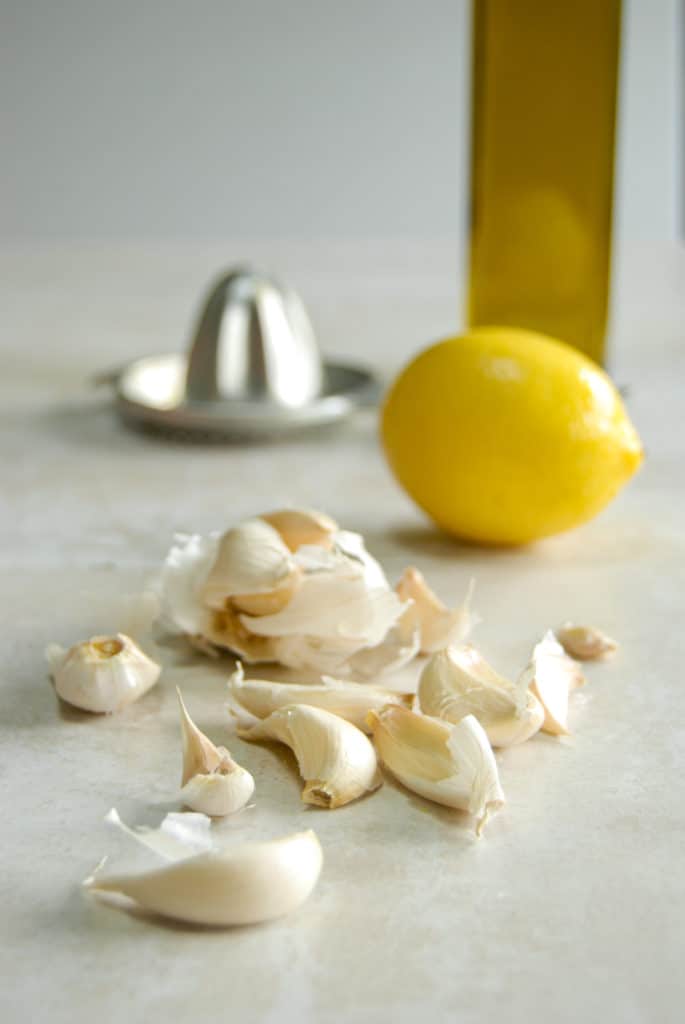 Tidbit: After I have the steamed broccoli in the mixing bowl, I keep things moving. If you leave all the broccoli sitting atop itself in the bowl, the steam being released could soften things up if left to sit. Once the broccoli is in the mixing bowl, toss with flavor and remove onto individual plates or a serving platter.
Pro tip: remember to zest your lemon prior to slicing and juicing it! If you keep lemons/ lemon juice in the refrigerator, pull it out when you start prepping the broccoli so your vegann broccoli side dish stays piping hot!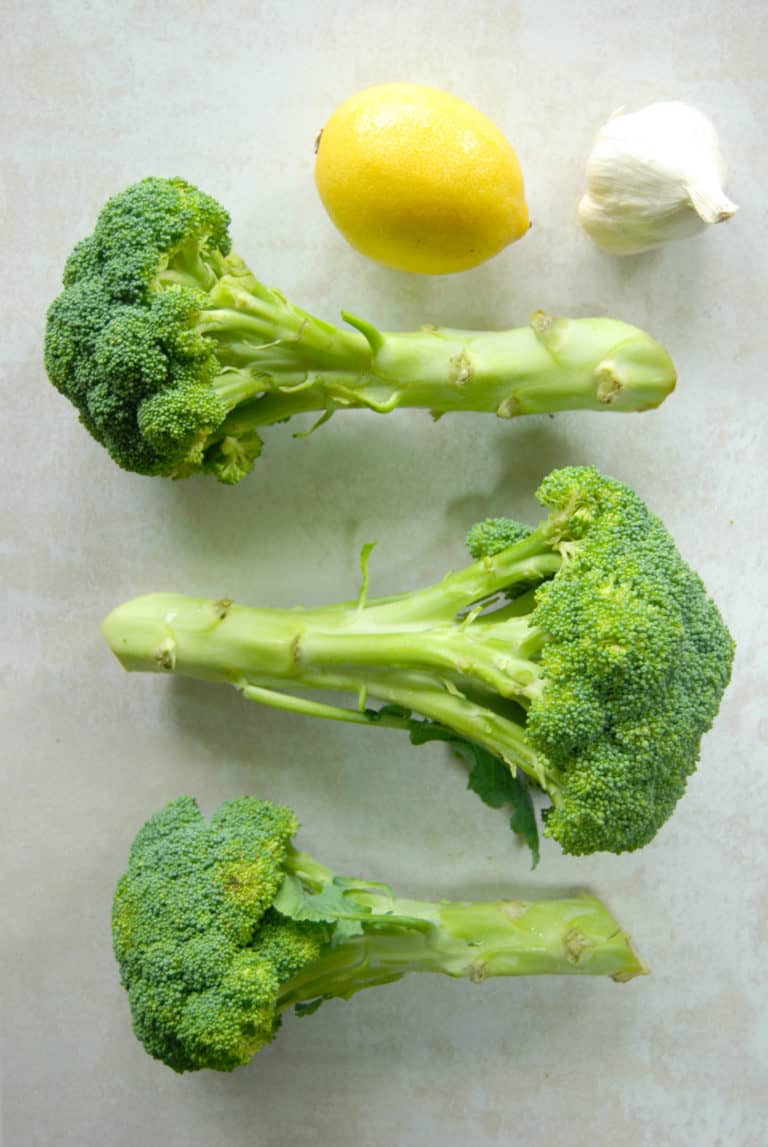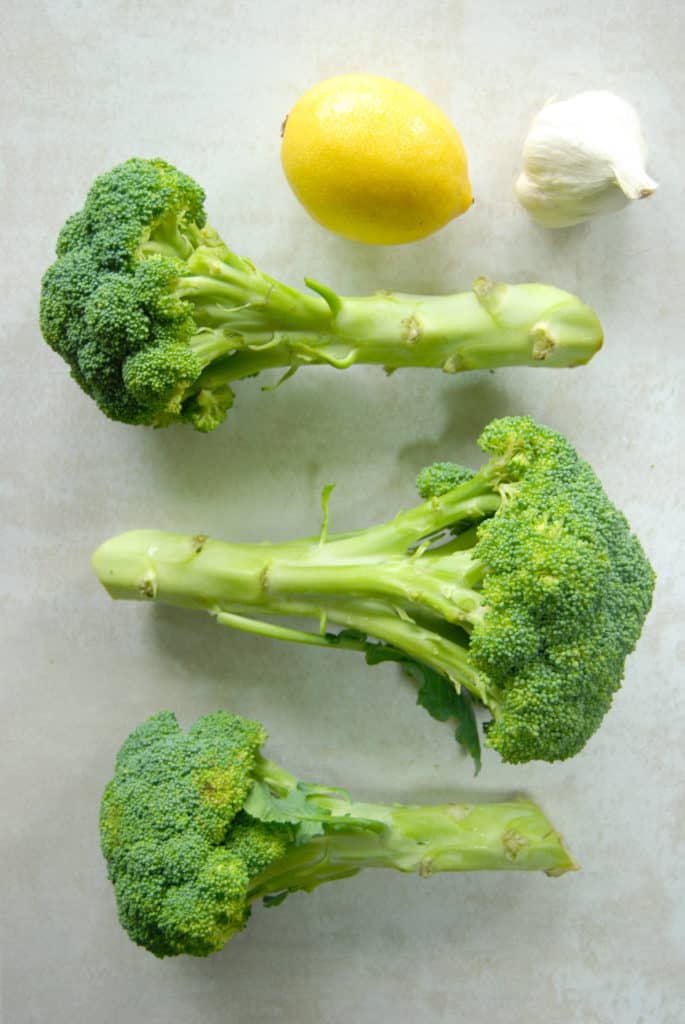 Which oil to use for seasoning steamed broccoli?
You aren't limited to olive oil here! If you don't have olive oil on hand, you can definitely mix it up… let me throw some ideas at you:
Coconut oil! Depending on ambient temps, you may need to warm and soften the coconut oil first.
SESAME OIL! We use sesame oil quite often, but do note it lends a flavor profile change- which frankly, I'm all about. Its got a nutty, roasty flavor to it.
Avocado oil! This is a neutral-flavored high-heat oil, acceptable to swap in!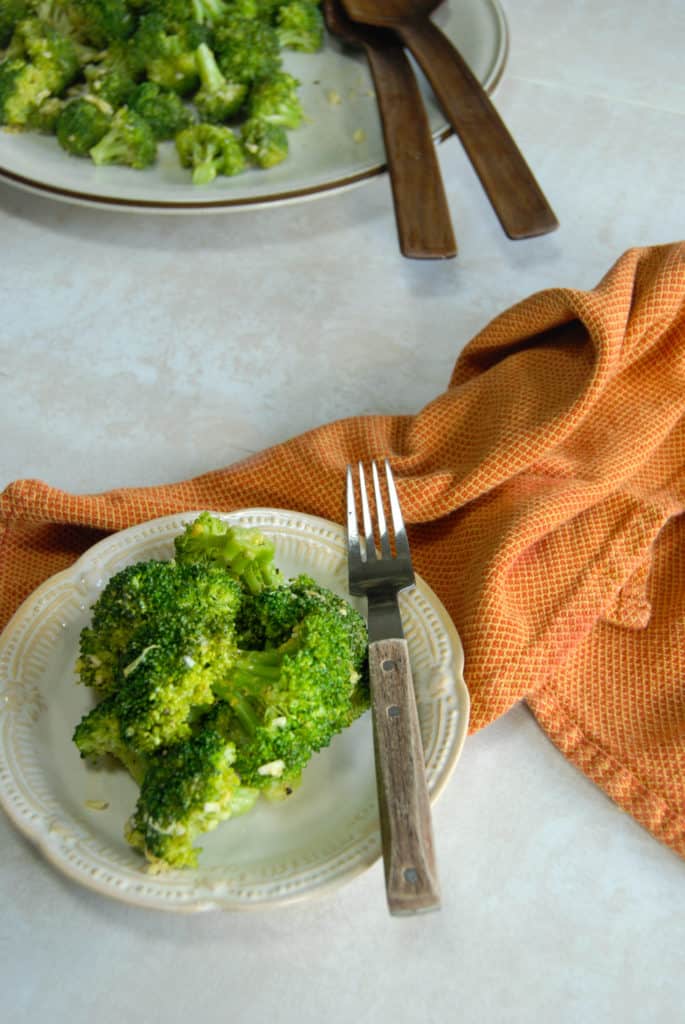 Print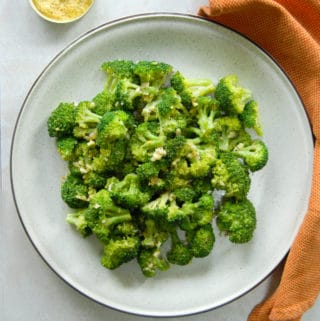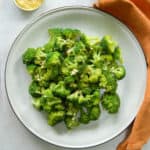 Vegan Cheesy Broccoli
Author:

Adriana

Prep Time:

5 minutes

Cook Time:

10 minutes

Total Time:

15 minutes

Yield:

3 cups

1

x

Category:

Recipes

Method:

stovetop

Cuisine:

Vegan, Gluten-free
---
Description
If you ever realize you have a dinner plate lacking fresh veggies, this quick vegan cheesy broccoli side dish will come to your rescue. This is a quick chop/steam/season trifecta to get vegetables on your plate, pronto! 
---
2

–

3

heads broccoli, chopped into florets
Zest + juice of 1-2 lemons

1

–

2

tablespoons of olive oil

2 tablespoons

nutritional yeast

2

cloves garlic finely minced (or garlic powder)
salt & pepper to taste
---
Instructions
Place a pot with 1-2 cups water and a steamer basket on the stovetop to heat up.
Chop the broccoli into equally sized 1-2″ florets and place into steaming basket. Cover and steam for 5-7 minutes. 
While your broccoli is steaming zest the lemon and mince the garlic.
Check broccoli for doneness. When fork-tender remove from basket and place in a mixing bowl.
Pour olive oil and lemon juice over the broccoli and toss to coat.
Add remaining ingredients (garlic, nooch, zest, salt & pepper) and toss to coat all pieces in the steamed broccoli seasoning.
Plate and serve!
---
Notes
**If you don't want to mince the garlic, you can add lemon juice + zest, oil, and the cloves of garlic into a nutribullet to do the work for you.
**You can use this same steamed broccoli seasoning for other steamed veggies as well! It goes great with cauliflower & zucchini. Adjust steaming time as needed.
**You can use this recipe to meal prep! Increase the amount of broccoli you steam, and remove from heat when it's 'al dente.' This will give you a buffer to maintain crunch when you reheat the broccoli.
Keywords: Sides, broccoli, nutritional yeast