Parsley tea is an herbal tea made from either fresh or dried parsley. It's incredibly easy to make and has a grassy, earthy taste. As a bonus, parsley grows all year where I live and most other fresh herbs can't survive the cold.
We'll walk you through how to make parsley tea and touch on some of the benefits of parsley tea plus which version we like better- fresh parsley tea or dried parsley tea.
Clearly, it's tea time.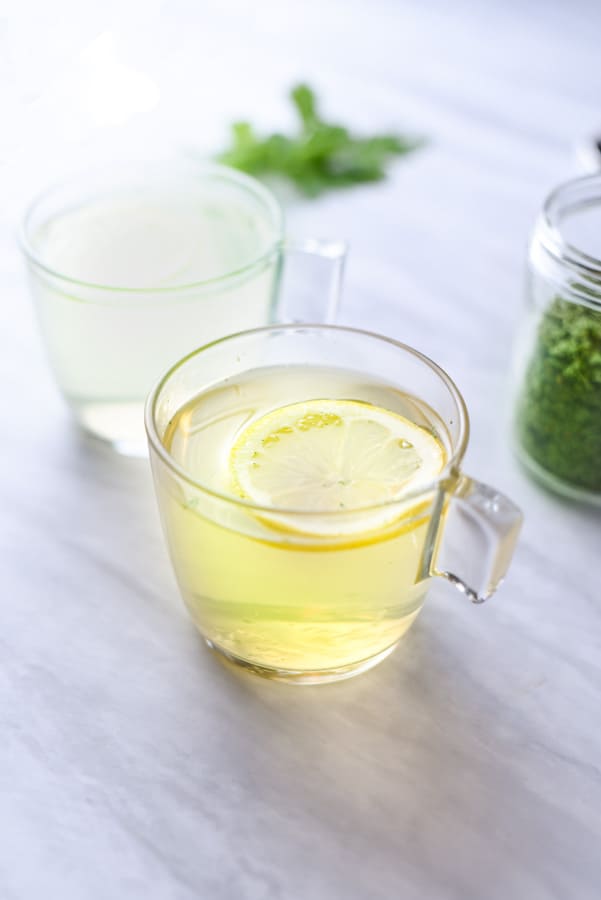 Benefits Of Parsley Tea
We're going to touch on more than just the benefits of parsley tea- we'll dish the benefits of parsley, the super plant, plus some other recipes that feature parsley as the main ingredient.
On to the major benefits of parsley tea:
Parsley, like most fresh herbs, is an antioxidant powerhouse! Parsley has high levels of vitamin C, A, E, and K! (Source)
Parsley has anti-inflammatory properties. (Source)
It may be beneficial for kidneys, bladder, and urinary tract ailments. (Source)
Parsley may have an effect on estrogen, including menstruation and pregnancy. (Source)
Parsley may help with bad breath!
Now, I am no medical doctor but I can fully and truly say from first-hand experience parsley does indeed freshen your breath. Real talk.
The benefits of parsley aren't limited to the intake of parsley tea! You can get creative with how you incorporate more parsley into your home cooking.
Chimichurri sauce is a tangy, bright, and fresh parsley and cilantro herb sauce great to pair with grilled foods- or used as you would use pesto. It is simply phenomenal if you've never tried it we highly recommend it!
Speaking of pesto, ditch the basil and opt for parsley pesto– it's peppery, aromatic, and chock full of fresh parsley. Also, parsley pesto is a great winter pesto as fresh basil may be hard to source. Parsley is cold hardy and grows year-round in our backyard!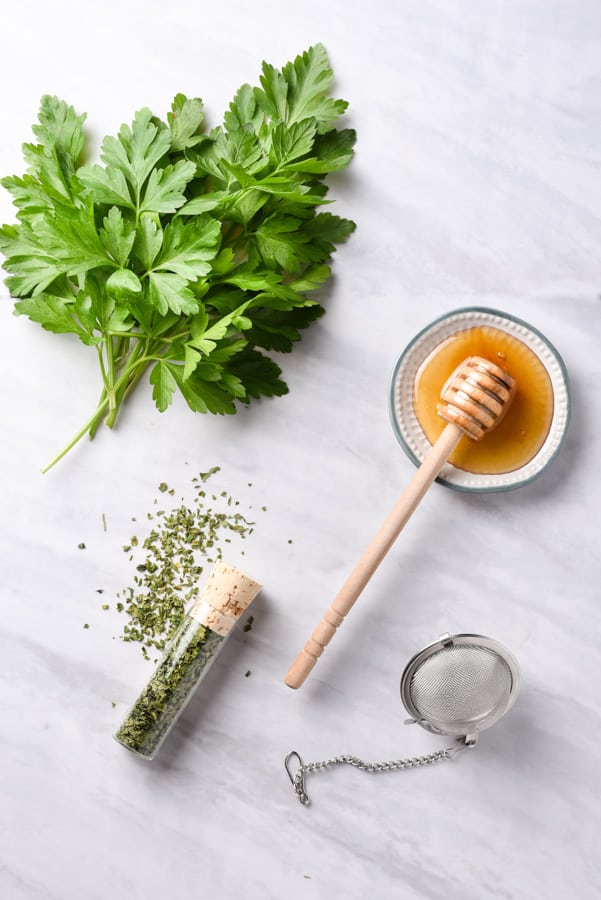 How To Make Parsley Tea With Fresh Or Dried Parsely
Parsley tea can be made with either fresh or dried parsley, although they differ a bit in flavor. Both methods are similar to prepare as the process is the same as making any herbal tea.
Measure out parsley (fresh or dried), heat up water, and optionally add a sweetener and/or fresh lemon. Steep fresh or dried parsley in hot water for 5-7 minutes.
There are 3 main methods to steep parsley tea in most home kitchens:
Use a tea ball: Place fresh or dried parsley inside the tea ball, steep for 5 minutes then remove.
Use a small sieve: If you don't have a tea ball, this option is a great runner up. Add parsley to a small sieve, place over your mug and pour hot water over the parsley until your cup is full. The parsley in the sieve can steep for 5 minutes, then use the back of a spoon to press the parsley against the sieve– just as you would squeeze a teabag.
Steep & strain: If you don't have a tea ball or small sieve, mix the parsley and water in your mug, steep for 5 minutes then strain.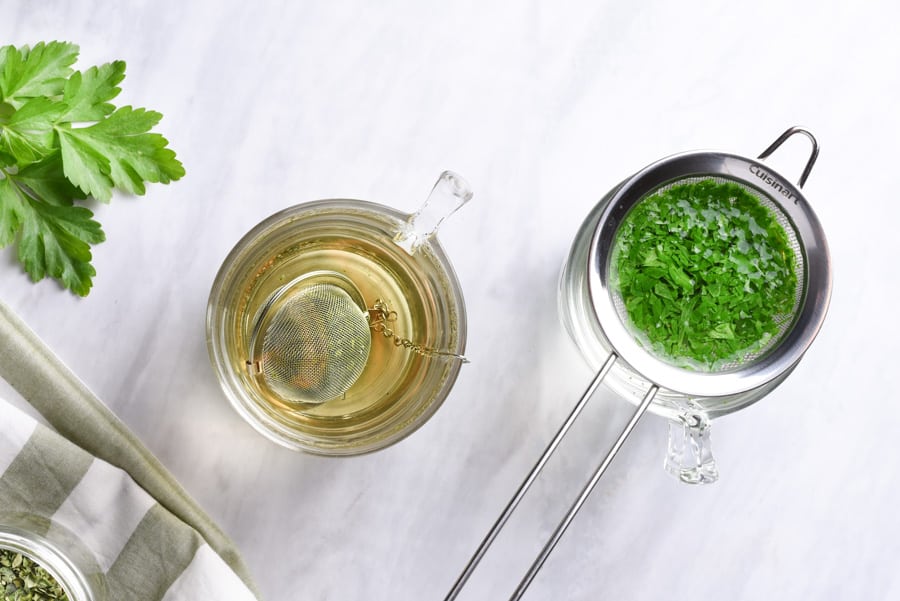 Dried parsley tea has a stronger taste and has more bitterness. Fresh parsley tea has an herbal, grassy taste in comparison and has a better aroma. Our preference is fresh parsley tea, but experiment and find which works for you!
To make parsley tea with dried parsley, use 2 teaspoons of dried parsley per cup of tea.
To make parsley tea with fresh parsley, use 2 tablespoons of chopped fresh parsley.
These amounts are a guide; if you prefer your parsley tea to have a stronger or milder taste, adjust the amount of parsley you use accordingly.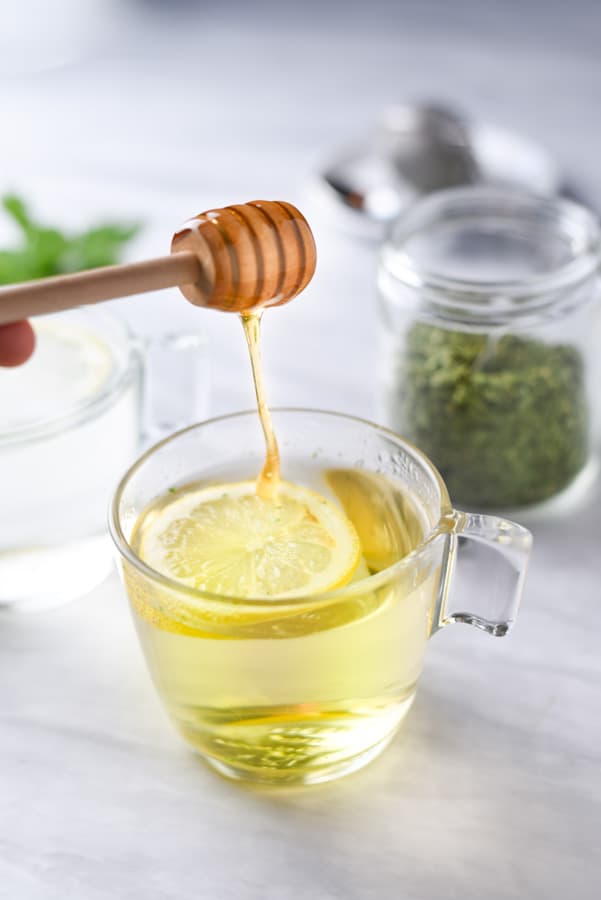 Does Parsley Tea Have Side Effects?
Herbs are powerful plants and foods and just as they have beneficial compounds, there may be instances where an excessive amount of parsley could have a downside. I am not a doctor and cannot give medical advice, but here are a few bullet points of potential parsley side effects.
Parsley is a diuretic. Prolonged use of diuretics may lead to dehydration and other issues resulting from dehydration. (Source)
Parsley may slow blood clotting. (Source)
Parsley may have an effect on kidney disease, talk with your doc prior to beginning a parsley regimen. (Source)
This is in no way an exhaustive list, check with your doctor prior to beginning a parsley regimen.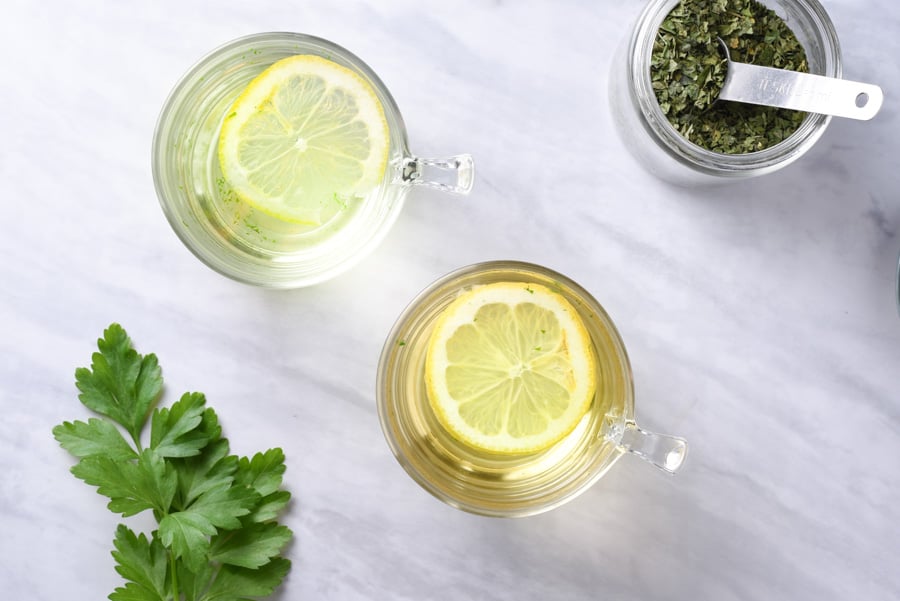 Print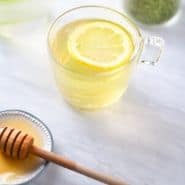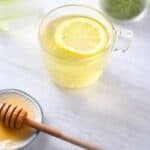 Parsley Tea + Benefits
Author:

Adriana

Prep Time:

5 minutes

Total Time:

5 minutes

Yield:

1 cup

1

x

Category:

parsley tea

Method:

stove top

Cuisine:

tea
---
Description
Here's a recipe for how to make parsley tea with either fresh or dried parsley. Parsley tea is an herbal tea that's easy to make and offers many benefits. 
---
2 teaspoons

dried parsley OR

2 tablespoons

fresh chopped parsley

1 cup

hot water
lemon juice or slices (optional)
sweetener of choice (optional)
---
Instructions
Measure dried or fresh chopped parsley and add to a tea ball or fine sieve. 
Add hot water to fill your tea mug and steep for 5-7 minutes.
Remove the parsley and add flavorings as you see fit, lemon or honey/maple syrup are common tea additions!
Adjust as needed, add more parsley for a stronger flavor and reduce the amount used for a milder flavor.
---
Notes
You can also chill this in the refrigerator to make iced parsley tea!
Keywords: parsley tea recipe, parsley tea benefits