Mexican Tequila Mules are here to help you eat and drink in style!! Arriba my friends! The zesty ginger beer, spark of lime, and bold tequila flavor make these Mexican mules fantastic cocktails to enjoy on any occasion.
If you know and love the classic Moscow mule, you're going to love this spin also served best in a copper mug- the tequila mule!!
Happy hour starts in 3, 2, 1……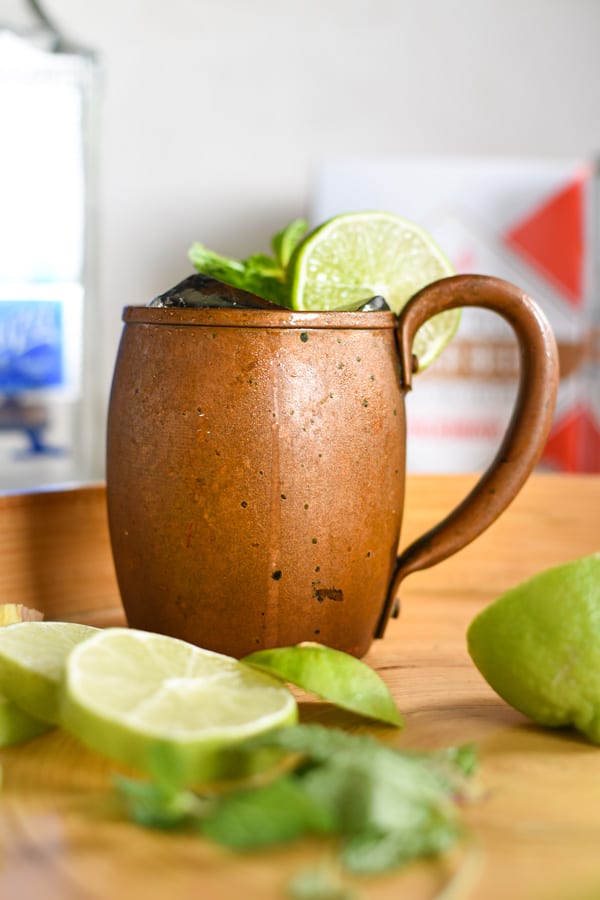 A Moscow Mule with Tequila?
You guys, tequila is for so much more than margaritas and palomas! This Mexican mule recipe is here to prove it- it's a delicious Mexican cocktail with tequila! The main difference here is we're switching up the vodka for tequila.
Mexican mule ingredients are:
Tequila
Ginger Beer
Lime
Mint
Some recipes include simple syrup; while others do not.
This recipe does not call for simple syrup as frankly, most mass-produced ginger beers have PLENTY of sugar.
Now, if you like your cocktails on the sweet side you can absolutely add 1/2 ounce of simple syrup- or triple sec, as we're working with tequila here— to dial up the sweet factor.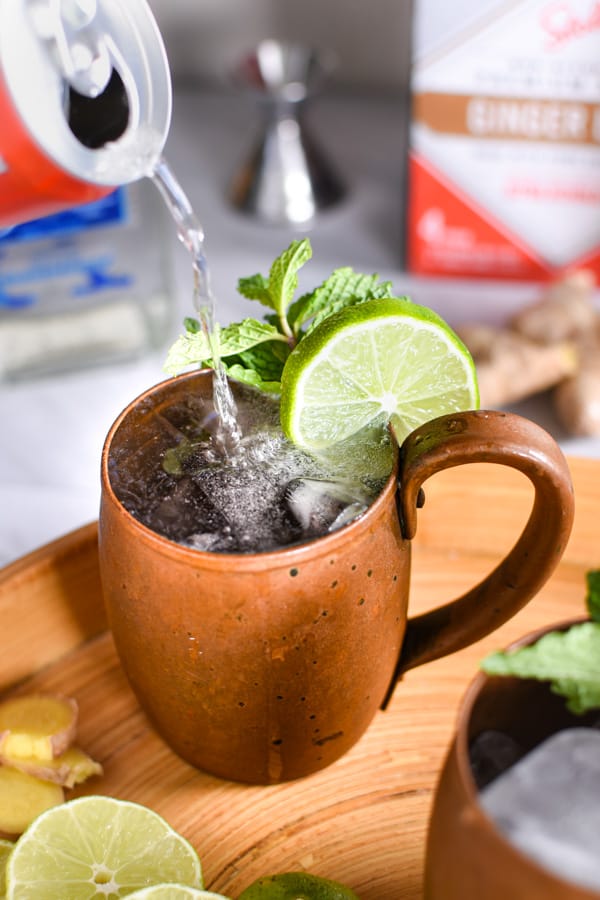 You don't need a fancy copper mug to enjoy this, a glass tumbler will work just as nice- but if you have added a few copper mugs to your bar collection, it's time to dust those babies off!
Mint isn't actually mixed into the cocktail, but it really does add so much to the drink! Garnishes add to cocktails by layering on aromas.
Picture this: You just made a fizzy, bubbly tequila mule loaded with snappy lime and fiery ginger flavors and added a sprig of mint to garnish.
As you take a sip and the mint garnish gets close to your face– you're hit with a cooling burst of mint aroma! Helloooo, refreshing summer cocktail! You can totally do without it. But adding it elevates things to a whole new level. You professional, you.
The Mexican Mule/ Tequila Mule Recipe
Ok, ok! Enough hyping you up to make this, let's get into the recipe deets and how to make tequila mules! To make this mule cocktail variation you are going to need the following 3 ingredients: tequila, ginger beer, and lime!
First off, we'll add lime to our glasses and throw the squeezed lime halves in the glasses as well.
Next, add tequila. 1.5 – 2 ounces is a standard pour.
Fill your glass with ice, whether a cooper mug or a glass tumbler. We like serving these in stemless wine glasses for some reason- it actually looks really nice!
Top with 4-6 ounces of ginger beer and garnish with a sprig of mint and/or wedge of lime.
Easy, right? Cheers and enjoy this satisfying tequila cocktail!
Note the amount of ginger beer! We've noticed it's pretty common for people at home to pour in a shot, a few ice cubes, and top the glass with ginger beer, using nearly 1 whole can per cocktail.
By only using 4-6 ounces you can make 2-3 cocktails with most cans/bottles of ginger beer and the flavors are better balanced.
An easy frame of reference: 4 ounces is 1/2 cup!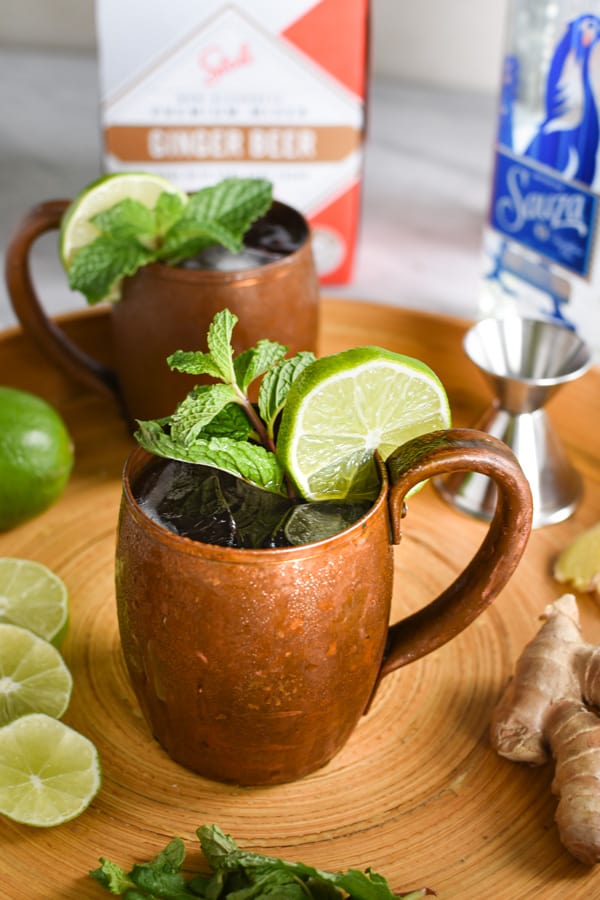 Our favorite ginger beer cocktail!
This is one of those ginger beer cocktails that we absolutely love! I don't instinctively pair tequila and ginger together, but considering ginger goes great with lime, heat, and herbs- it's no wonder that this Mexican mule is a dreamy ginger beer cocktail!
We stock our fridge with ginger beer during the summer months as you can make a mule with a heck of a lot more than vodka! Ahem, this tequila mule comes to mind first, but you can also use gin, bourbon, or rum to mix with ginger beer.
Those cans of gingery goodness hiding in your fridge are super versatile and perfect for lazy summer BBQ days on the back patio. Make all the ginger beer drinks!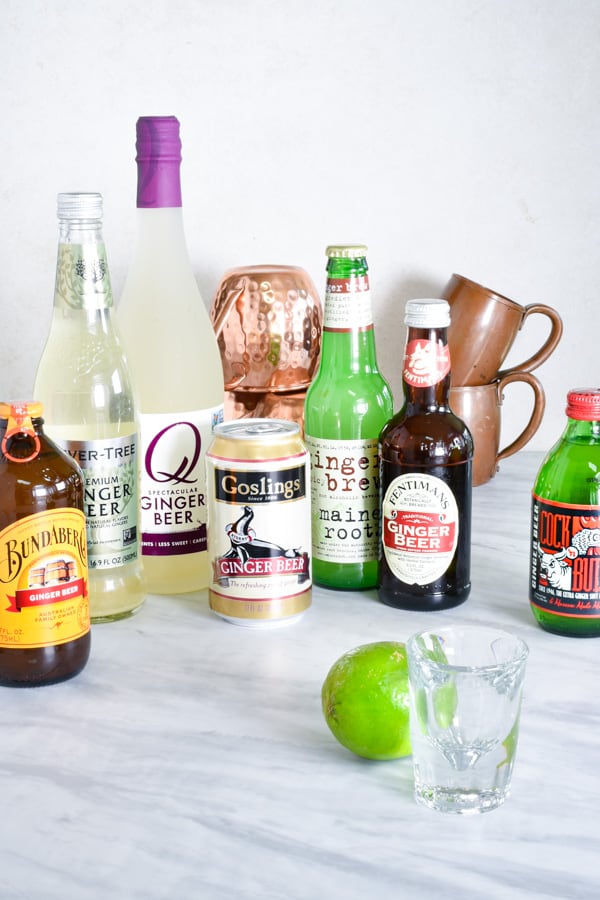 Just to help point you in the right direction, ginger beer varies wildly in terms of heat, sweet, and carbonation. We like SUPER spicy, SUPER carbonated, and LOW sweetness.
Here's the CliffsNotes breakdown on the most popular US brands of ginger beer to use in your cocktails!! Pro tip: health food stores usually carry a pretty awesome selection of ginger beer!
Cock N Bull: Spicy ginger, very carbonated, very sweet
Bundaberg: Pretty middle of the road on sweet, heat, & carbonation
Fever-Tree: High carbonation & sweetness, low ginger heat but solid ginger flavor
Goslings: Pretty sweet, medium carbonation, low ginger heat
Fentimans: High carbonation, no spicy ginger kick, kinda sweet
Maine Root: It's spicy, has a true ginger flavor, and is nicely carbonated! This is our second fav.
Q Ginger Beer: We LOVE this stuff! Super carbonated, super spicy ginger heat, and very flavorful!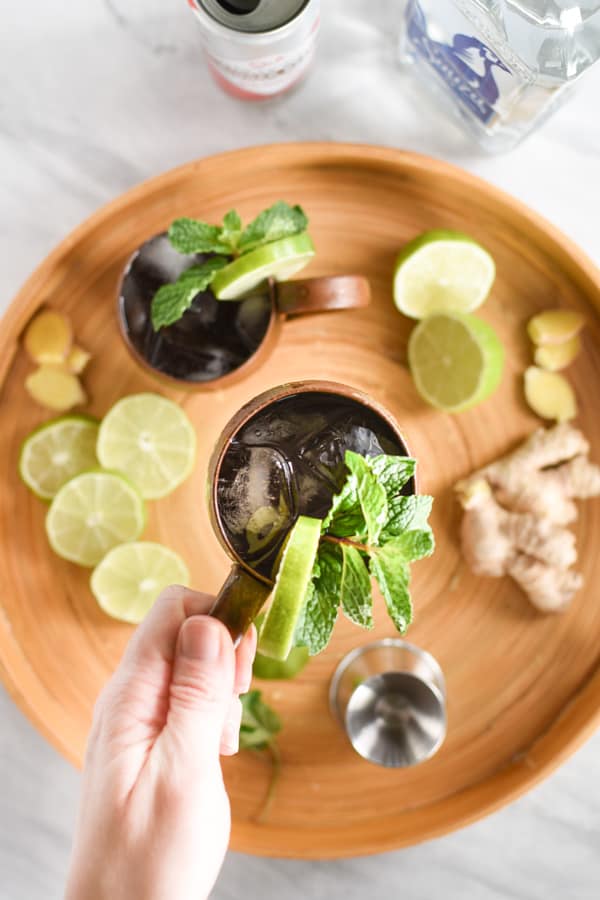 Mexican Mule Variations
Alright, lastly we're here with some mule cocktail variations! If you adore tequila mules as we do, here are some interesting twists on the original recipe…
Turn up the heat with jalapenos! You can either muddle 3-5 slices of fresh jalapenos in the bottom of your glass or add 1/2 ounce of jalapeno simple syrup. This spicy simple syrup is easy to make and dangerously easy to use!
Add orange flavors! Most margarita recipes call for orange liquor like triple sec or Grand Marnier, you can add some va-va voom citrus flavor to these Mexican mules by adding 1/2 ounce of orange liquor. PLUS, you could even swap the squeeze of lime for a squeeze of orange or mandarin.
Swap the tequila for mezcal! Mezcal is tequila's smoky, mysterious cousin… When served on its own, it can be overpowering but, when used in a cocktail it's absolutely divine! Expand your horizons and give mezcal a try!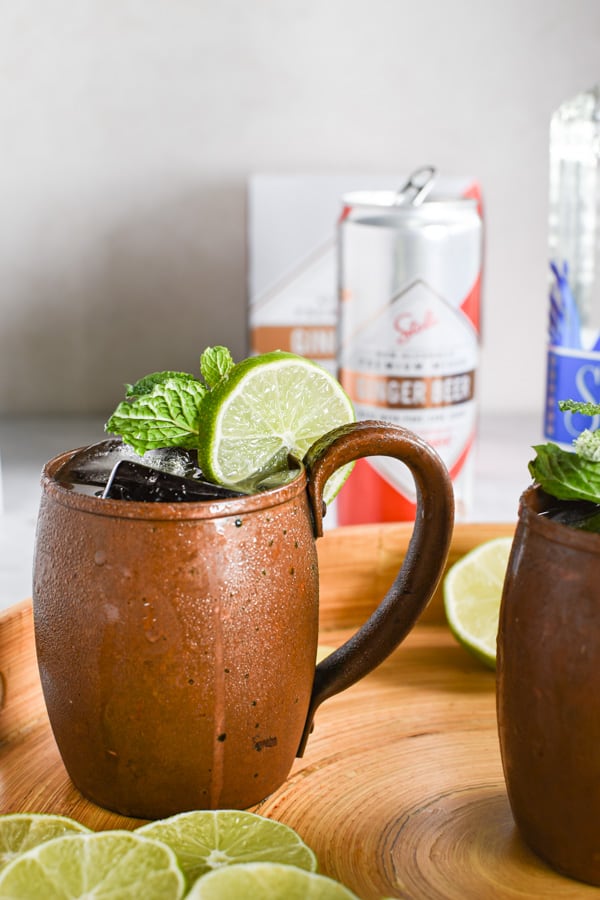 Print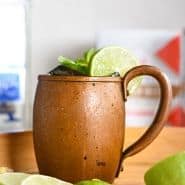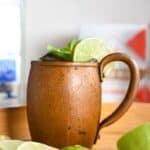 Mexican Tequila Mule
Author:

Adriana

Prep Time:

5 minutes

Total Time:

5 minutes

Yield:

1

drink

1

x

Category:

mexican mule

Method:

cold prep

Cuisine:

cocktails
---
Description
Say hello to THE MEXICAN MULE– the snappy, refreshing tequila cocktail of your dreams! This recipe walks you through how to make tequila mules, plus offers variations and tips on buying the right ginger beer to make your cocktail dazzle!
---
2 ounces

tequila

1/2 ounce

lime juice, preferrably fresh squeezed

4

–

6

ounces ginger beer (

1/2 cup

)
Mint & lime for garnish
---
Instructions
Squeeze lime juice into the bottom of your glass. Eyeballing it is okay, for reference, 1/2 ounce is a half tablespoon, or 1.5 teaspoons.
Measure and add tequila and top with ice.
Top with 4-6 ounces of ginger beer, a sprig of mint and a wedge of lime.
---
Notes
** You can reduce the alcohol to 1.5 ounces if preferred.
** If you don't have a copper mug serve in a glass tumbler or stemless wine glass!
** Ginger beer and mexican mules are intended to be consumed while carbonated, so making these in a large batch or pitcher isn't recommended.
Keywords: Mexican mule, tequila mule