Lemon tea is a soothing home remedy for sore throats and sniffy noses- enjoyed by adults and little ones alike. We'll walk you through why our household turns to lemon tea in times of discomfort, plus why we like to add honey and ginger to our lemon tea!
We're only 5 minutes away from a warm cuppa goodness!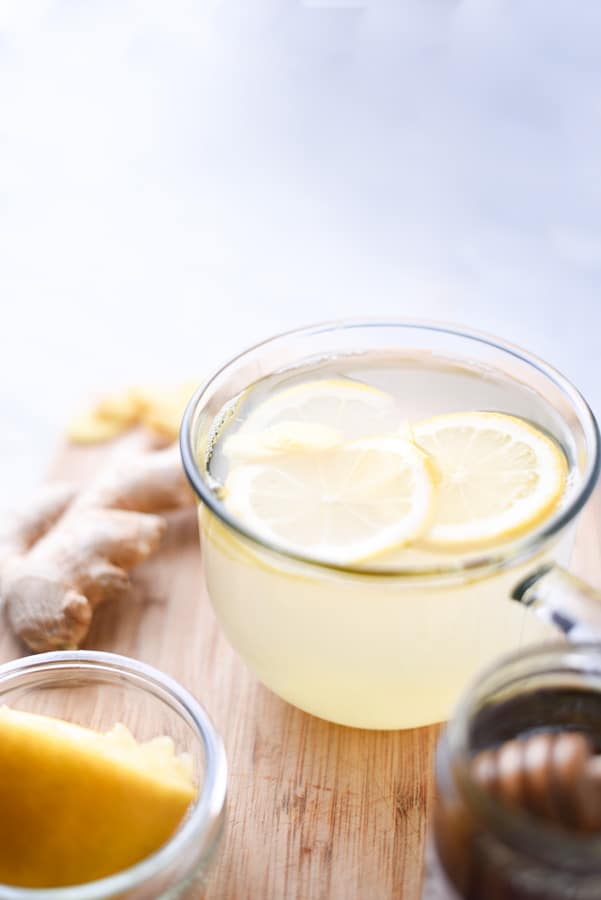 How to make lemon tea
This may come as a glorious surprise– you only need a fresh lemon and hot water to make lemon tea! It's the easiest, low-maintenance beverage for when you are under the weather– or for those of us who don't drink coffee!
When we make this at home, we don't measure anything. In goes the lemon, in goes the water and Ta-Da! we have warm citrus tea. For the sake of recipe clarity, we have included a rough measurement to use as a guide and adjust as you see fit.
There are two easy, lazy ways we make lemon tea at home. When we make lemon tea, we usually make lemon ginger tea or lemon honey tea. Mmm mmm delicious!
How to make lemon tea:
Slice a lemon in half and squeeze the juice from one half of the lemon into a mug, seeds and pulp are okay. Top with hot water and enjoy!
Cut a lemon into 6-8 round slices and add half of them to the bottom of a mug. Top with hot water and steep for 3-4 minutes- we like to use a spoon to gently smush the lemon slices against the bottom of the mug to release more lemon juice and flavor.
See? It's SO easy!
You can add fresh lemon slices or lemon juice to your regular black or green tea if you'd like. Simply cut a few slices of lemon and add to your cup or teapot as it steeps for a delicious lemon flavor!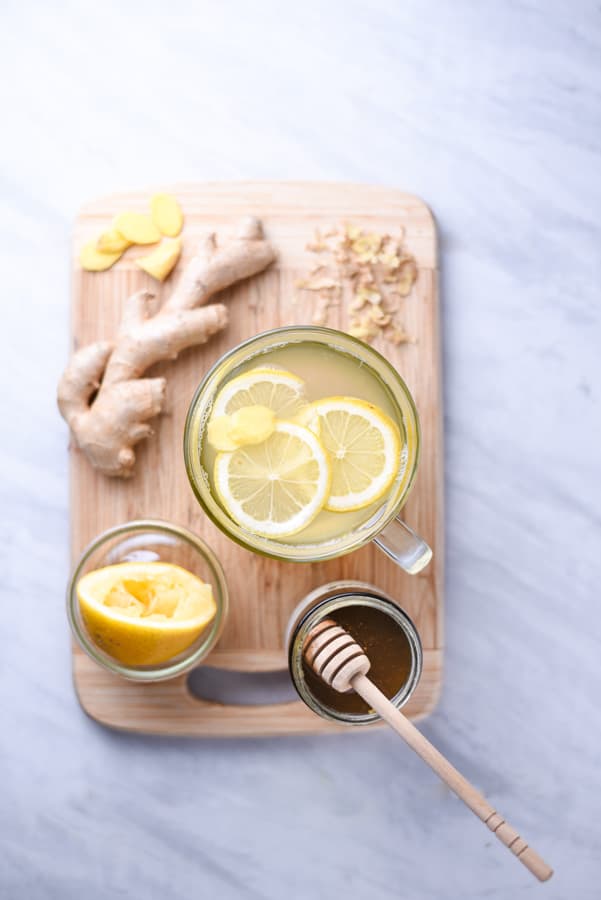 Benefits of lemon tea with honey
Why drink lemon tea? This has become popular as a drink believed to help with weight loss or to help ease the symptoms of a cold. While I can't speak to the science of either suggestion, here's what we do know! (Source)
Lemons are a great source of vitamin C
Vitamin C contains antioxidants
Staying hydrated is beneficial for clearing up mucus and muck and congestion if you fall sick
Vitamin C has been studied for its ability to reduce the duration/length of colds
Lemon water has been studied regarding weight loss and might be helpful simply due to increased hydration and metabolic rate (source)
Honey lemon tea is also great if you fall sick and don't have tea on hand in the pantry, all you need is a lemon for a warm, soothing cup of tea!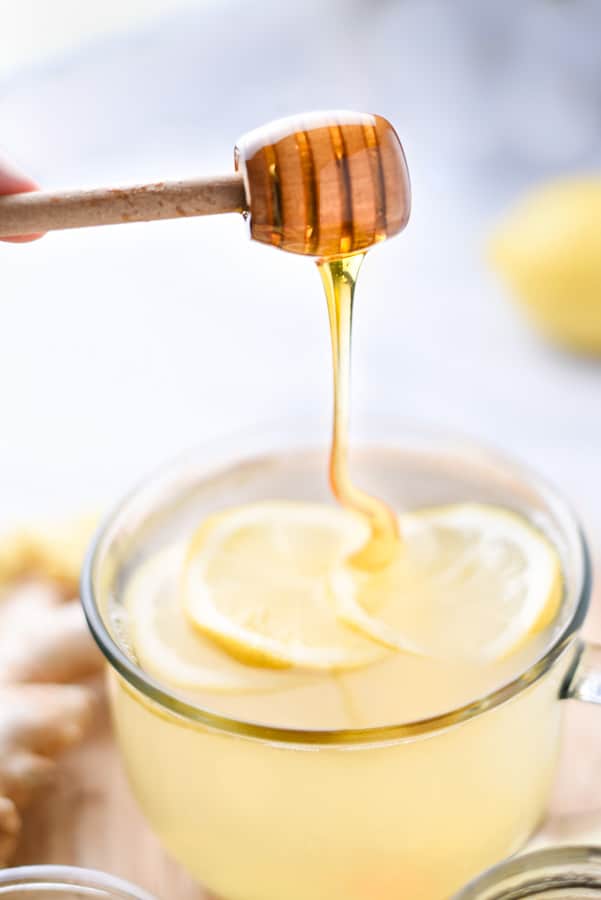 Why add honey? And Ginger?
Why drink lemon ginger tea? Or lemon honey tea? Honey and ginger absolutely boost up the benefits in this cozy citrus tea. Here's how!
Honey has been used as a natural cough suppressant for decades and has received growing endorsements as a cough remedy by national publications over the last few years. It's a superfood with a super-backing!
**Keep in mind, honey may not be safe for children under 2.
Ginger is famous for both culinary flavoring and healing uses. Ginger is associated with easing symptoms from a variety of stomach issues: from nausea to motion sickness, morning sickness, and menstrual cramps.
Additionally, ginger is believed to help ward off cold, flu, and infections- plus has been studied for anti-inflammatory and cholesterol-lowering properties!
Adding honey and ginger to your lemon tea not only amps up the flavor, it provides a few extra health perks. If you like the taste of honey and ginger, you'll enjoy what they bring to your lemon tea!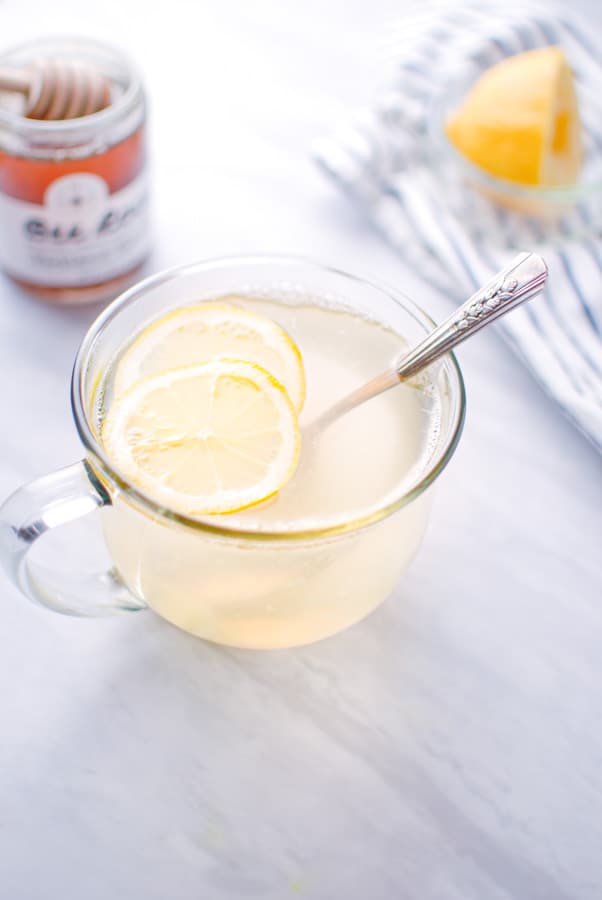 About lemons…
If you store your lemons in the fridge and you want your tea piping hot, I'd recommend only adding the juice, not the whole slices to your lemon tea. I have a good friend who is insistent on scalding, piping hot tea and adding the refrigerated lemon slices can really take the heat away!
We like our tea on the lower end of hot– the cool slices work just fine for us.
Here's a quick hack for how to juice a lemon quickly and squeeeeeze the most juice out if you don't have a citrus juicer. All you need it a fork!
Simply cut the lemon in half and stab one half with a fork. Then squeeze and twist the lemon around the fork tines. Works like a dream!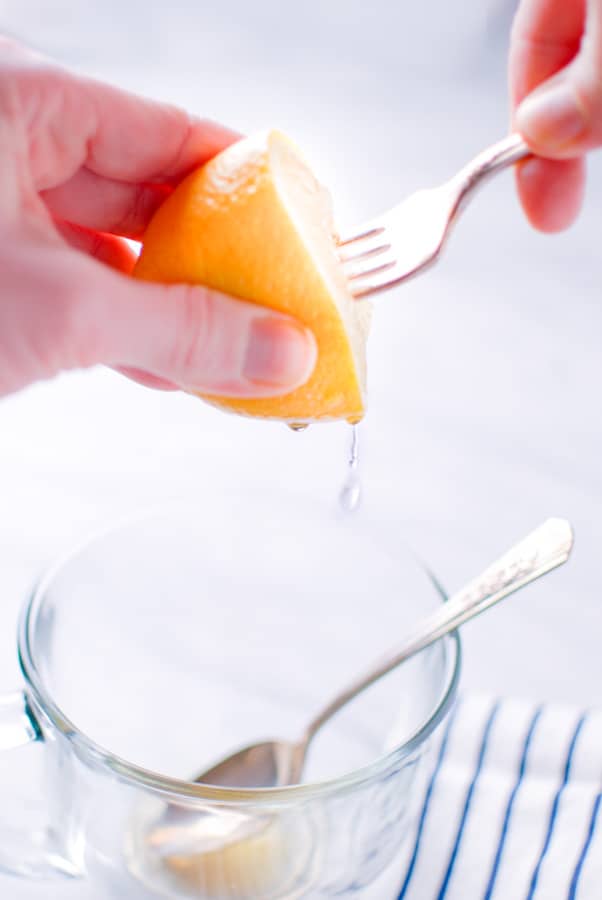 Conventional vs. Organic lemons
If you intend to slice the lemons and add them to your tea, using organic lemons is preferred as their skin is unwaxed. Conventional lemons at most supermarkets have a wax coating to help them hold a shiny appearance and maintain freshness during transit and while on store shelves.
You CAN scrub lemons under warm water to try and remove the wax.
To my knowledge, organic lemons are not coated in any substance, so there's no mystery when using the peel and zest in recipes!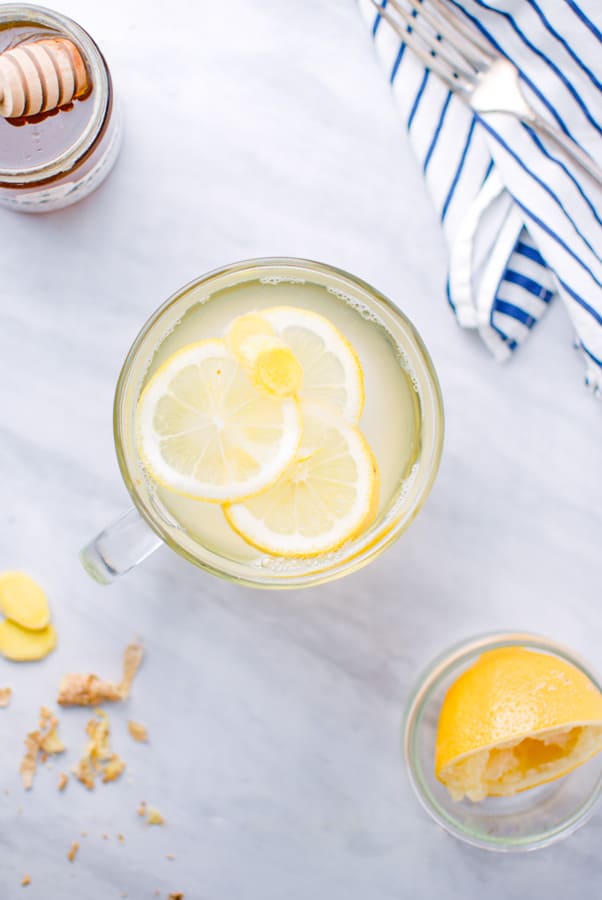 Other variations to lemon ginger tea!
Lemon tea is warming and flavorful as is but variety is the spice of life! Here are some delectable variations to our standard lemon tea.
If you are vegan and don't consume honey, maple syrup is a great liquid sweetener to use in its place. Maple syrup adds a nice flavor as well.
Other herbs & spices we have added to our lemon tea:
fresh mint leaves
a tablespoon of apple cider vinegar
a few slices of fresh turmeric
a pinch of cinnamon
teensy dash of cayenne pepper or black pepper if we are REAL congested
Add a clove of garlic for an immune booster!
Use a teabag in addition to the lemon: mint, berry, chamomile, green tea, or black tea!
Another easy to make and super soothing fruit tea you can make is orange tea! Follow the same steps, simply use orange instead of lemon! This is one the kiddos definitely love!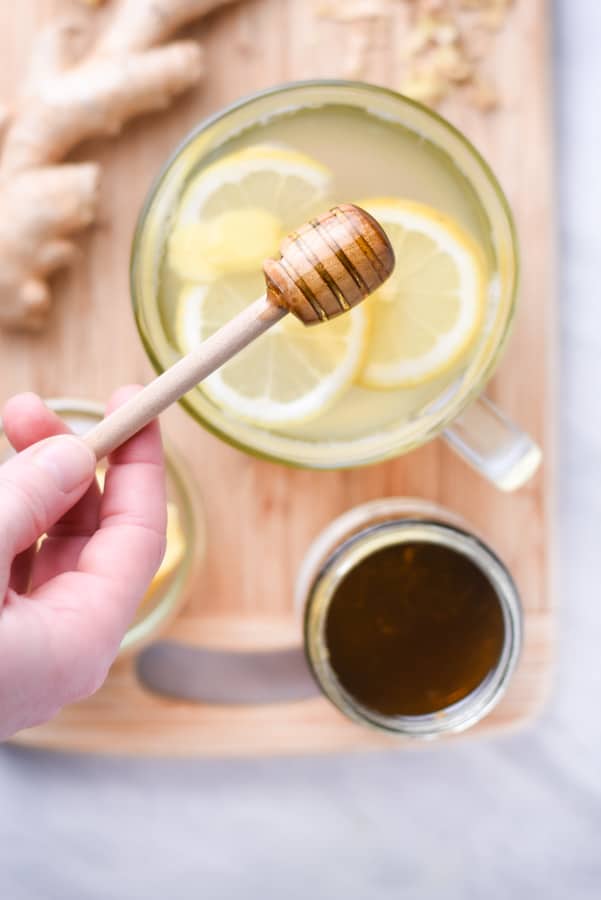 Print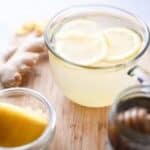 Soothing Lemon Tea
Author:

Adriana

Prep Time:

5 minutes

Total Time:

5 minutes

Yield:

1 cup

1

x

Category:

Lemon Tea

Method:

Stove top

Cuisine:

American
---
Description
All you need to make lemon tea is a fresh lemon & water! Lemon tea pairs well with honey and ginger as well and you may even have those in your kitchen. This lemon tea is soothing for sore throats and sniffy noses during cold and flu season- one for adults & kids to sip on!
---
1/2

medium fresh lemon, juiced (about

2

–

3

tablespoons lemon juice)
hot water
fresh ginger (optional)
honey or maple syrup if vegan (optional)
---
Instructions
Heat water using a kettle or by adding water to a mug and placing in the microwave.
Squeeze the juice from 1/2 a lemon into you mug and stir. Or you can thinly slice the 1/2 lemon and add slices to you mug.
Add honey or sweetener of choice, and ginger if using and stir to combine.
---
Notes
** If your lemons were stored in the fridge, we recommend using the only the juice vs. whole slices of lemon to ensure your tea stays hot. Or if microwaving, add your lemon slices to the mug of water prior to placing in the microwave.
** You can use your favorite teabag, fresh herbs, or a pinch of cinnamon or cayenne pepper to this tea.
** The honey and ginger are optional, you can make this by simply using fresh lemon and hot water.
Keywords: Lemon Tea, Lemon Ginger Tea, Lemon Honey Tea