Turmeric Paste (Golden Paste) is the MVP of superfood concentrates! We'll dish up how to make turmeric paste with fresh turmeric root OR with ground turmeric powder. And answer questions like should you add ginger? What about cinnamon? How do you use turmeric paste?
We'll give you our take on how to make golden paste, talk about how to use it, and touch on the many suggested benefits of turmeric.
This is one of our favorite fresh turmeric recipes!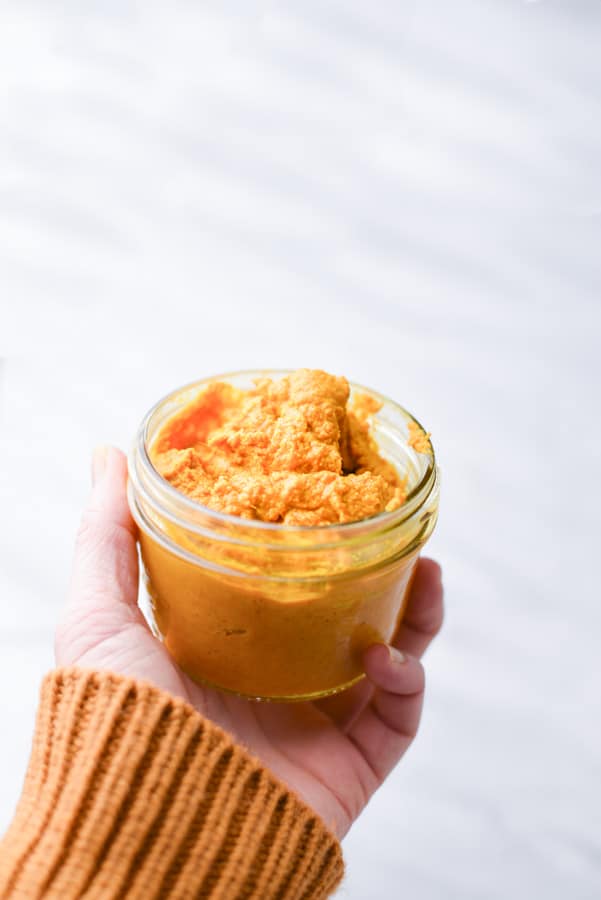 How To Make Turmeric Paste
To make turmeric paste, aka golden paste, we'll use a mixture of warming, flavorful spices and coconut oil for a luscious, silky paste! As you prepare and consume your own turmeric paste to use in cooking, baking, and in golden milk you'll see how easy it is to incorporate turmeric into your diet on a regular basis.
Keep in mind there's flexibility to riff away and adjust the flavors to your liking as you work with turmeric paste.
Love ginger? Add more! Not a fan of cinnamon- don't add it! Riff away.
The ingredients to make golden paste are:
fresh turmeric root OR ground turmeric
fresh ginger root OR ground ginger
Black pepper + pinch of salt
Cinnamon
Honey OR maple syrup
Coconut oil
Water
The above ingredients are simmered on the stovetop for 7-10 minutes to allow their flavors to fully bloom and come together. After cooling, it can be stored in the fridge for 2-3 weeks and you can use it as needed!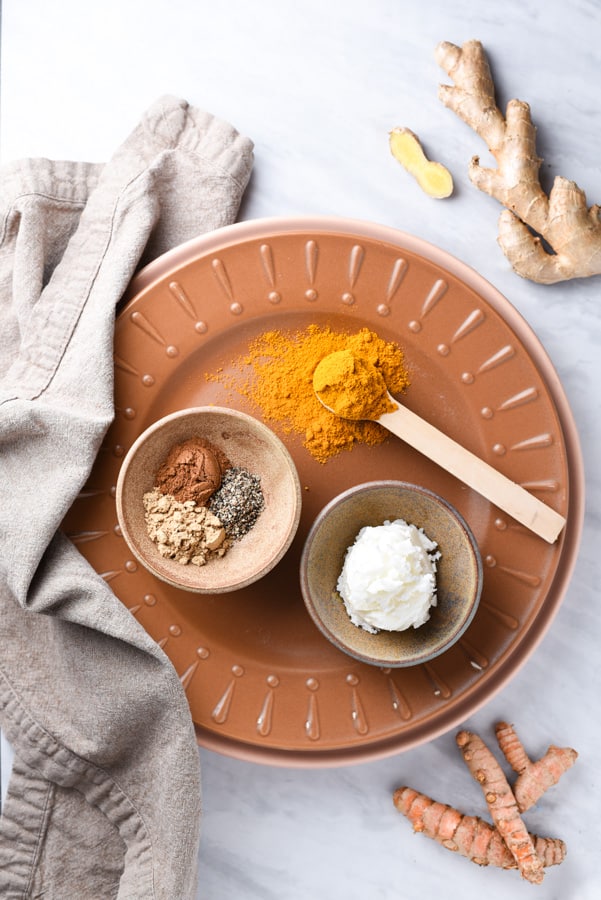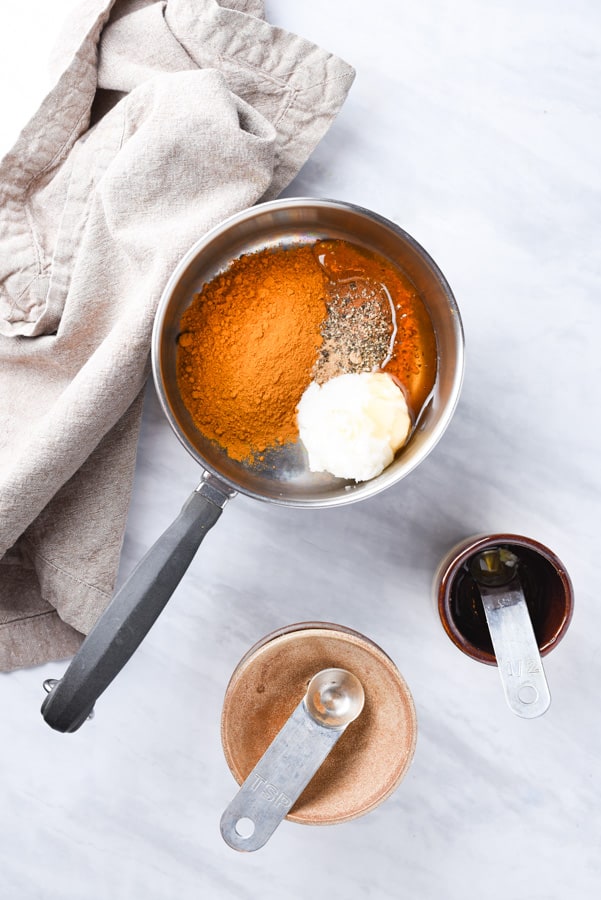 Beware as you make this, your utensils, hands, counter, cutting boards and anything in sight could be discolored by the turmeric, especially if using fresh turmeric.
As golden turmeric paste is used in Ayurvedic medicine, we want to point out that you don't need to heat the honey. You can simmer all other ingredients together then whisk the honey in prior to placing in a jar to store.
If you're vegan or don't want to use honey, maple syrup is a great substitute.
Fresh vs. Dried Turmeric
The flavor of turmeric paste is stronger if using dried turmeric vs. fresh turmeric- the dried turmeric paste is more concentrated, use a higher quantity in cooking if using fresh turmeric paste.
However, the texture of fresh turmeric paste is far superior and blends really nicely into anything you add it to!
Definitely add more salt if using fresh turmeric instead of ground.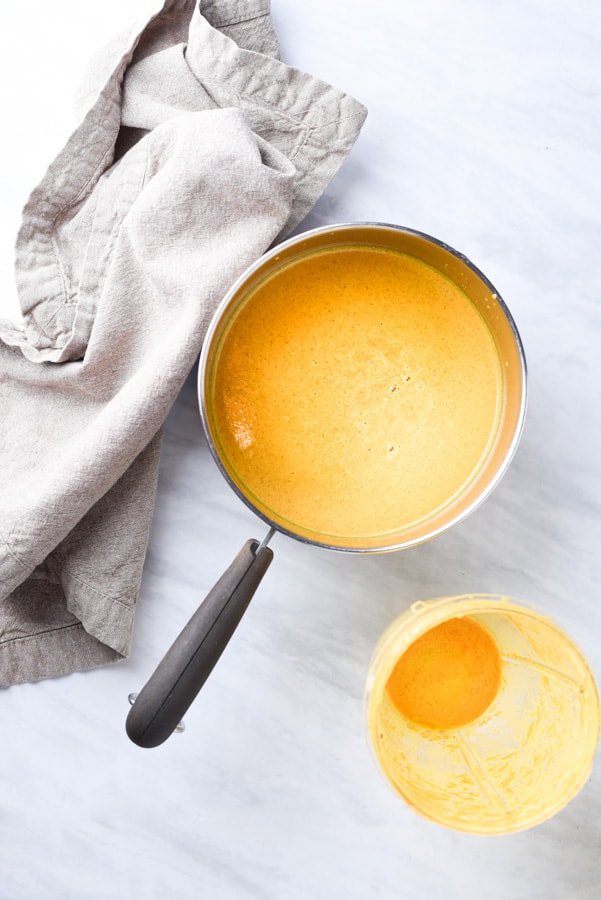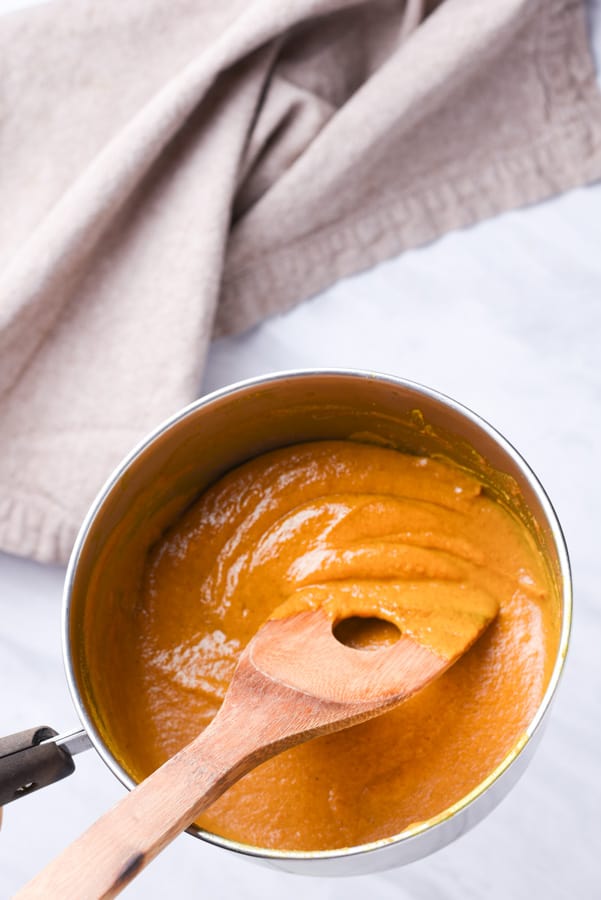 If using fresh turmeric, the turmeric paste is lighter and more yellow~ with ground turmeric it's a slightly darker color.
We use about 12-14″ of fresh turmeric and 2-3″ of fresh ginger to make this. Turmeric rhizomes are thinner and smaller than ginger rhizomes- basically, it comes out to about 1/3 lb fresh turmeric before peeling.
Regardless of how you make it, this turmeric and coconut oil paste is the good stuff! It's a powerful anti-inflammatory concentrate that is unbelievably warm and soothing when used to make golden milk. We'll show you how in just a bit.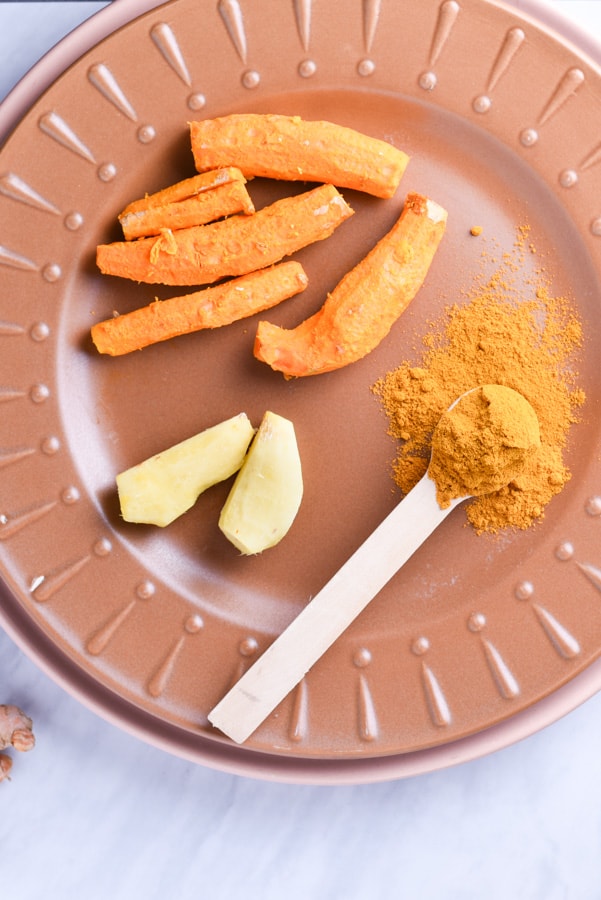 How To Use Golden Paste
Once you have a jar of golden paste in your fridge- the fun has just begun! First and foremost, we think of using this to make golden milk, which is a delicious spiced turmeric milk.
You could also use turmeric paste to kickstart your day by stirring into yogurt, oatmeal, and adding to smoothies. Add it to toast on top of almond butter!
Here are additional turmeric paste uses:
Add to rice to make turmeric rice
Add to curry and stir fry for a flavor boost
Make turmeric hummus!
Use it to flavor soups and pasta sauces
Spread it on a baked potato
Mix with olive oil for a salad/ roasted vegetable dressing!
Use as a natural food coloring for things like homemade pasta, icing, and beverages
Add a healthy spin to cocktails~ turmeric gin & tonic, anyone?
You could also add turmeric paste to the sweet treats you are baking, we haven't extensively tested this but we think 1-2 tablespoons would fare well in baked goods like muffins, breads, brownies, and cookies.
For more turmeric cooking inspiration, view all of our turmeric recipes for juices, smoothies, condiments, and sides that incorporate turmeric root!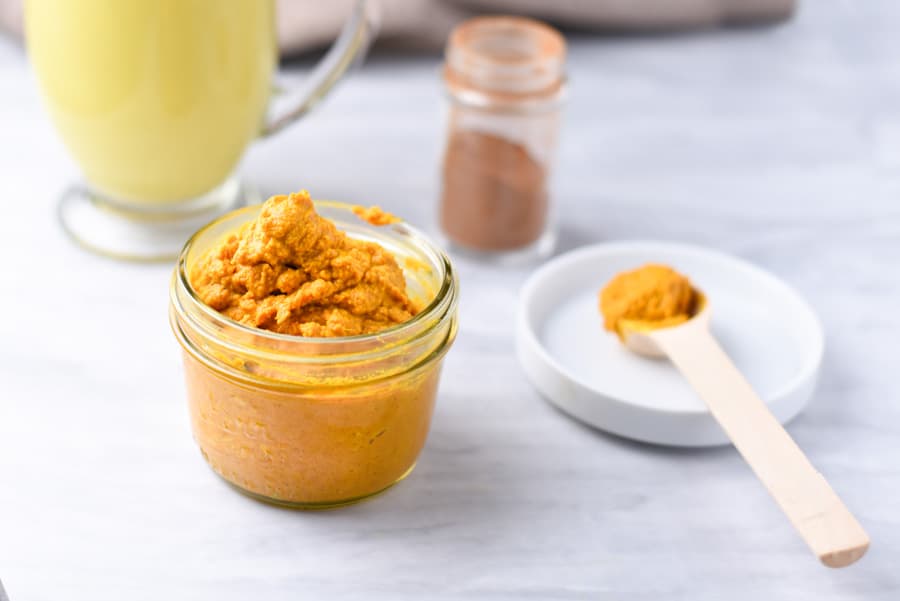 Golden Milk
To make golden milk with this turmeric paste, simply whisk 2-3 teaspoons of turmeric paste into 1/2 cup of milk in a pot until heated through.
**Pro tip: If you don't have any milk on hand, fill your mug with water to measure the right amount and pour in a blender. Add 3-4 teaspoons cashews (depending on how big your mug is), ~1 tablespoon turmeric paste, 1 teaspoon vegan butter and a pinch of salt. Blend until smooth then heat in a pot.
Cashew milk doesn't need to be strained, so you can make a DIY cashew milk and mix your golden milk ingredients all at once! Plus, the vegan butter helps make a frothier, foamier golden milk.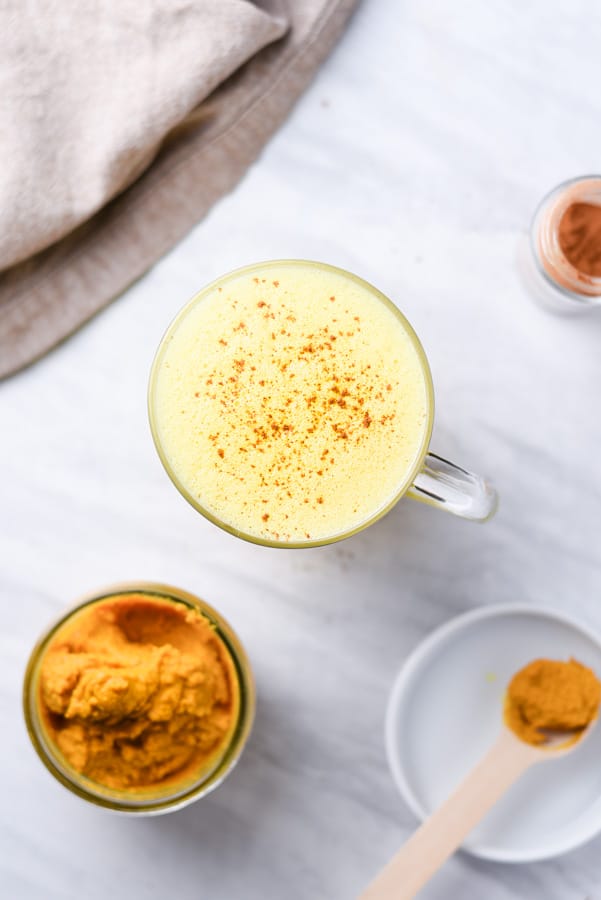 Turmeric Paste Benefits
Turmeric has both a historical and present-day reputation for possessing astounding health benefits. It's actively being researched and tested in the medical community for a variety of ailments. But what is turmeric believed to help with? What are the potential benefits of incorporating turmeric paste into your diet?
Turmeric is known first and foremost as a powerful anti-inflammatory. By reducing inflammation, turmeric could assist with pain management and many people research turmeric paste for pain. (Source)
Additionally, many believe turmeric can help with skin issues and irritation. From psoriasis to eczema and acne, as well as swelling, bruising, and boils- turmeric is believed to be a home remedy.
**As we cannot provide medical advice, speak to your doctor about the possible benefits or side effects of adding turmeric to your diet!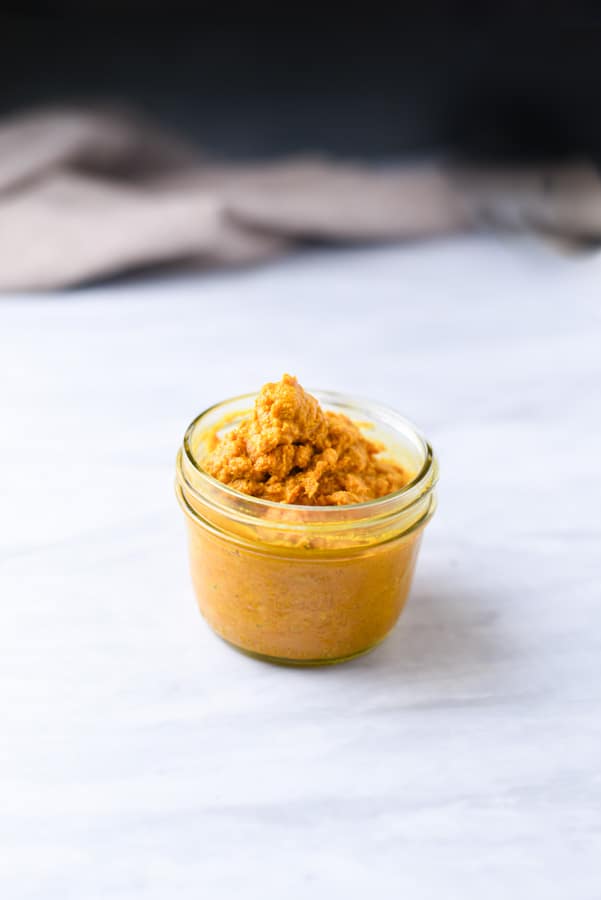 Does Turmeric Paste Have Side Effects?
Generally, turmeric consumed in whole food forms, like fresh turmeric and ground turmeric, isn't of concern but high dosage turmeric supplements could present issues. Every body is unique and ingredients may affect everyone differently. Check with your doctor! (Source)
Taking large doses of turmeric may interact with some prescription drugs; check with your doc before changing up your routine.
Turmeric may slow or change blood clotting and/or blood-thinning properties.
There may be a risk for iron deficient or anemic people taking high doses of a turmeric supplement.
Any history of gallbladder or kidney irregularities or medications.
There may be others, check with your doctor!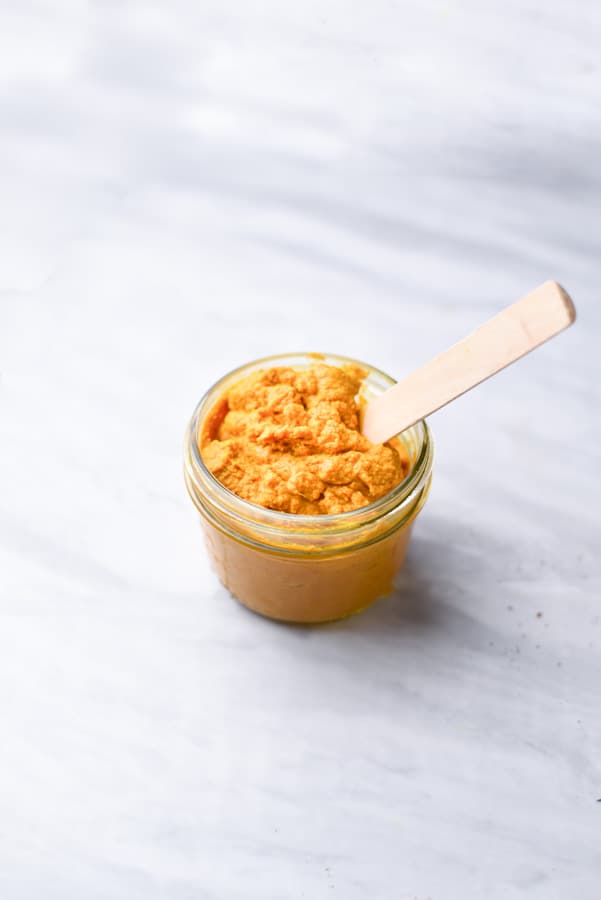 Psst! If you are into cooking with turmeric and learning more about the benefits of turmeric check out these baddies: Turmeric Honey, it is DEE-LISH-OUS and then our bestie, Turmeric Tincture, a turmeric anti-inflammatory powerhouse!
Print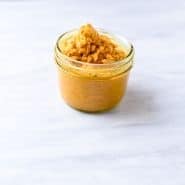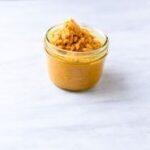 How To Make Golden Turmeric Paste
Author:

Adriana

Prep Time:

5 minutes

Cook Time:

5 minutes

Total Time:

10 minutes

Yield:

~1 cup

Category:

Turmeric Paste

Method:

Stovetop

Cuisine:

American
---
Description
Turmeric paste is easy to make using fresh or ground turmeric on your stovetop in about 10 minutes! Turmeric paste aka Golden milk paste has a variety of uses around the kitchen, especially for making golden milk lattes and boosting the flavor of meals. 
---
1/4 cup

dried Turmeric OR 1/3 pound fresh

1 tablespoon

dried Ginger OR 3″ fresh

1/2 cup

water

3 tablespoons

Coconut Oil

2 tablespoons

honey or maple syrup (optional)

1 teaspoon

Cinnamon

1 teaspoon

Black Pepper
pinch of Salt, more if using fresh turmeric
---
Instructions
If using dried turmeric: Measure all ingredients and add to a small pot. Stir well to incorporate- go to step #3.
If using fresh turmeric & ginger, use a spoon to peel the skin then chop into 1″ pieces. Add to a blender with other ingredients and blend until smooth, then add to a small pot.
With all ingredients in a pot, heat over medium low, stirring frequently. We don't want this to boil, just simmer gently. The dried turmeric version will be quick to thicken- and can possibly burn, stir often.
Simmer for 3-5 minutes, until combined and has slightly thickened to a paste. Turmeric paste will thicken substantially as it cools and is placed in the fridge.
Note: Turmeric paste using fresh turmeric & ginger will need to simmer longer, perhaps 7-10 minutes. Stir often and don't let burn or boil!
Let cool and store in an airtight container in the fridge for 2-3 weeks.
---
Notes
**Turmeric paste using fresh turmeric/ginger will need more salt than dried turmeric paste. Adjust seasoning as needed.
**Dried turmeric paste is more concentrated; the flavor is stronger and more potent in dried turmeric paste.
** I used a bullet blender to make fresh turmeric paste- as many regular size blenders require high volume of ingredients to smoothly blend, you may need to double this recipe if using a full size blender- or add more water then simmer longer for it to thicken apropriately!
Keywords: Turmeric paste, Golden paste