Turmeric is king of anti-inflammatories, reigning supreme in this DIY turmeric tincture! This is my go-to recipe for an anti-inflammatory tincture to support well being. This recipe is an easy & affordable way to incorporate turmeric and black pepper into your daily routine!
Say hello to homeostasis!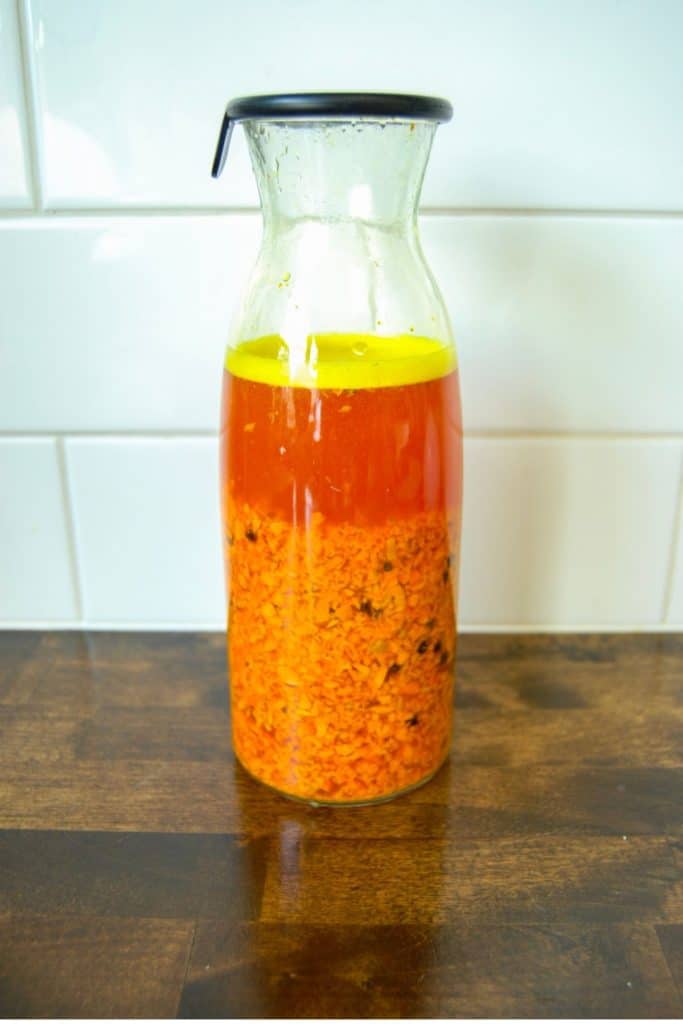 DIY Turmeric Tincture
Ever notice when the grocery store has stocked the produce section with a fresh, vibrant supply of turmeric? Yeah, me too. I can't find this year-round in the PNW so when it's abundant I take full advantage!
As turmeric carries a strong and distinctive flavor, it can be difficult to include turmeric in daily cooking. I sometimes include this in smoothies, vegetable juices, and curries, but the flavor just isn't apropos in every meal we have. A tincture is a fantastic way to preserve this powerful supplement and ingest it daily.
Turmeric's Anti-inflammatory: Curcumin
Turmeric is a rhizome (same as ginger- think edible underground root) famous for anti-inflammatory and anti-oxidant properties. Curcumin IS the anti-inflammatory compound within turmeric.
When we think about creating a tincture we want to extract curcumin from the turmeric in a bioavailable format, allowing our bodies to reap all the benefits possible.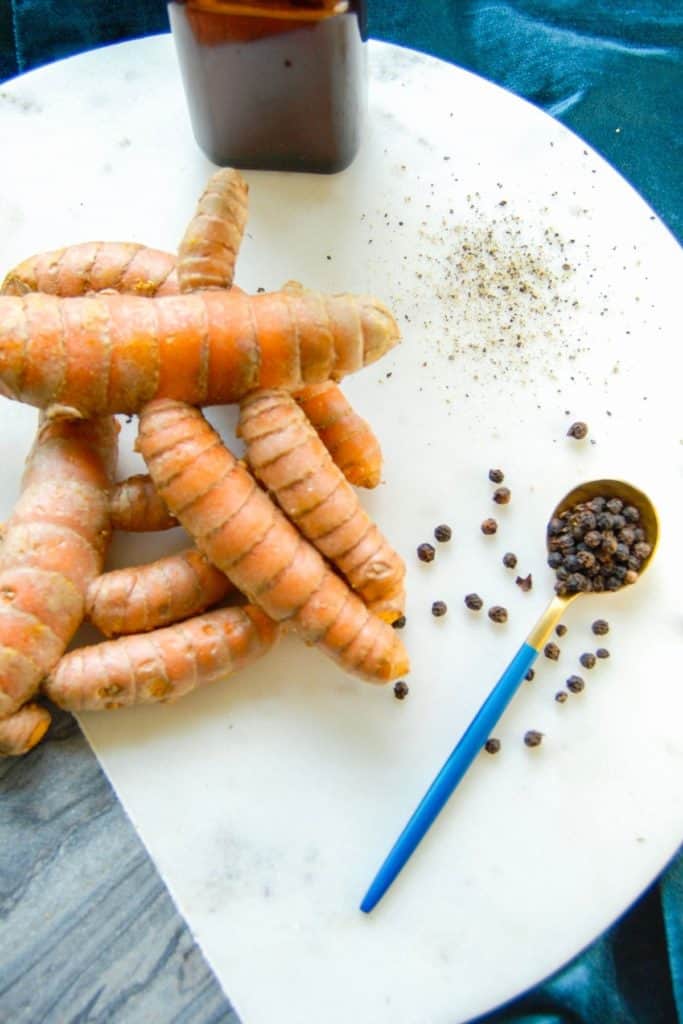 Turmeric & Black Pepper, better together?
Here's where black pepper fits into the picture… black pepper and curcumin complement each other, they're pals. If you ingest turmeric and black pepper together your body is able to absorb higher quantities of curcumin. Compounds in black pepper make the curcumin more bioavailable, maximizing the healing qualities! We're after those antioxidants and anti-inflammatories!
It's similar to including vitamin C with iron-rich foods, vitamin C supports your body in absorbing more iron than ingesting iron without vitamin C.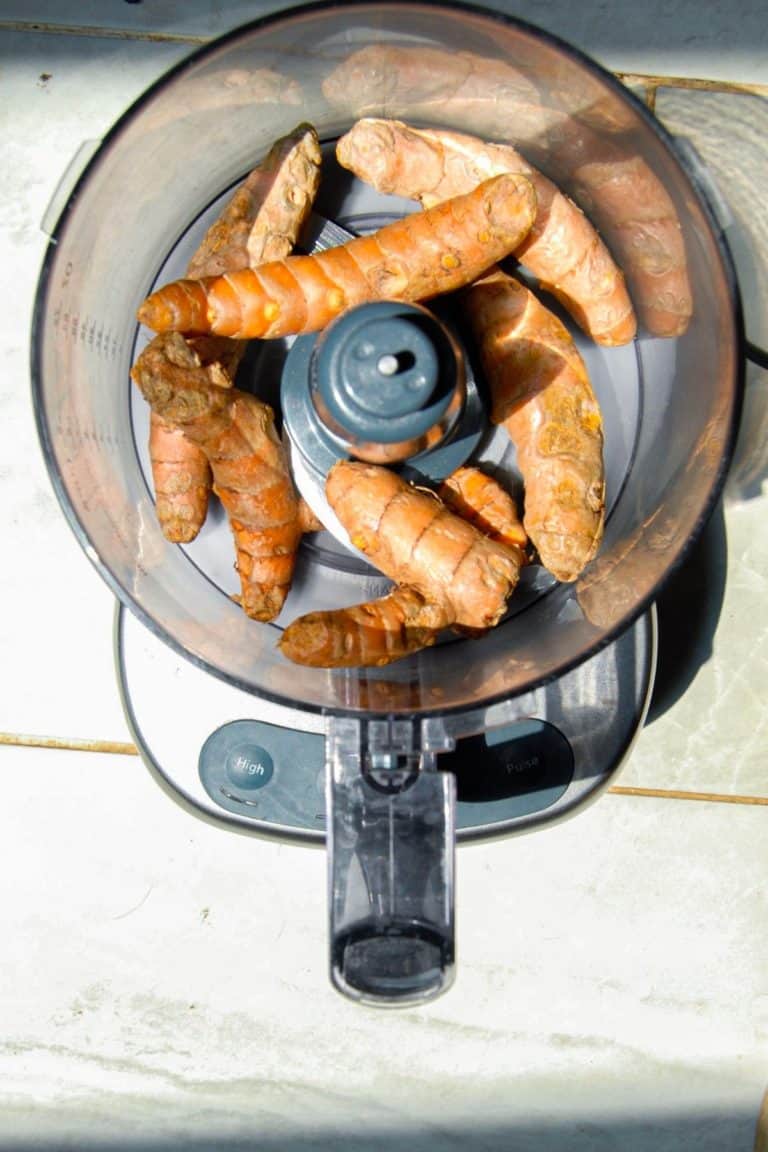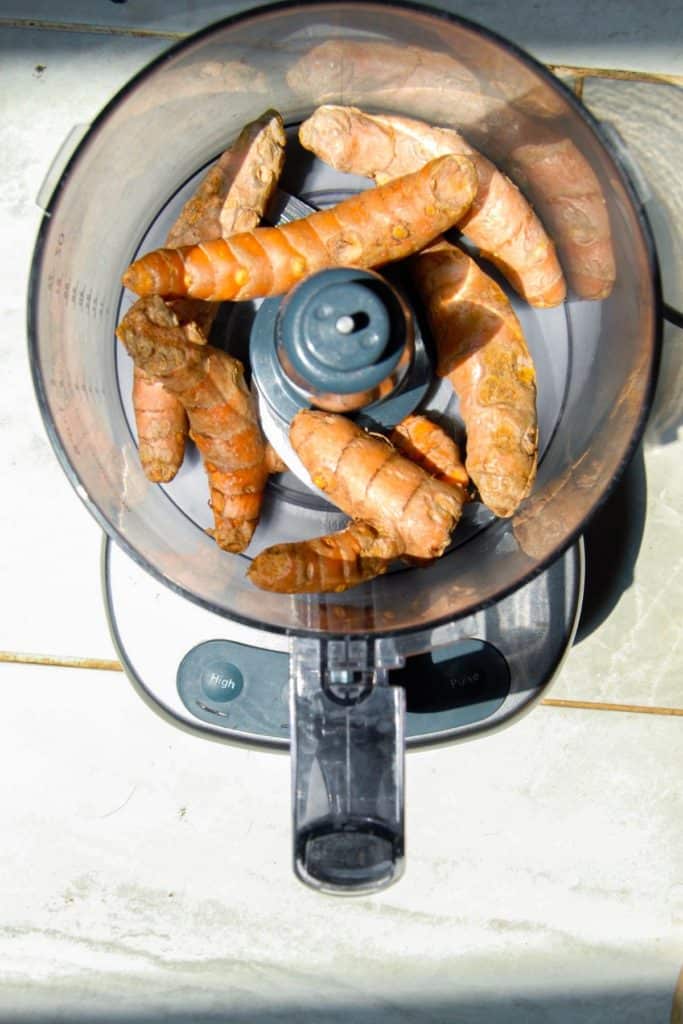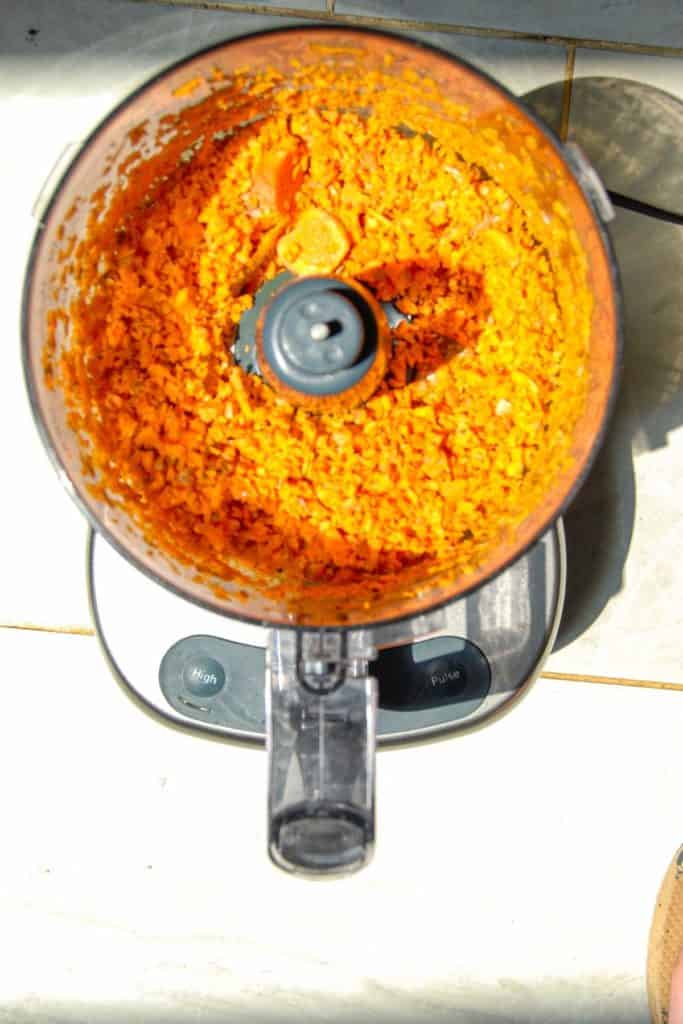 Ratio of Black Pepper to Turmeric in Tinctures
I've been making this tincture for over 4 years and along the way, I've done a lot of research on the proper ratios of turmeric to black pepper in tinctures. I haven't found any conclusive answers out there. I have tried a variety of different ratios and percentages; I've had tinctures turn out shockingly black pepper forward! (ouch that burns)What I prefer is a ratio of 1:10, one part black pepper to 10 parts turmeric by weight. This isn't an exact science and if you don't have a kitchen scale handy, don't sweat it.
Want more info about turmeric tinctures?
Check out these turmeric tincture Frequently Asked Questions from other readers!
Here's a list of questions and answers I commonly receive about this recipe:
What is turmeric tincture good for (what are the benefits)? Turmeric boasts amazing anti-inflammatory properties; there are a variety of research efforts surrounding the anti-inflammatory benefits relating to arthritis, pain management, and Alzheimer's disease. Turmeric may also help regulate some homeostatic efforts like blood sugar and cholesterol.
Can I use turmeric powder in place of fresh turmeric root? Short answer: yes, this substitution can work. Long answer: I strongly recommend using fresh organic turmeric root. You will receive the greatest benefit by consuming turmeric that is minimally processed- turmeric powder has undergone exponentially more processing than fresh turmeric root.
Are there any side effects to taking a turmeric tincture? If you have blood-thinning, or blood clotting concerns, if you are pregnant or nursing, undergoing surgery, or have gall or kidney stones- you may want to research any possible side effects! As with any new addition to your diet, consult your physician prior to beginning a new regiment.
How can I make this tincture alcohol free? If you prefer to keep this alcohol free, you can substitute apple cider vinegar for the everclear or vodka. Tinctures of alcohol are more shelf-stable than vinegar, but if you are using a tincture daily this shouldn't be a problem.
Is it beneficial to add apple cider vinegar to my turmeric tincture? Apple cider vinegar has great healing properties, I personally make this tincture as described and incorporate ACV separately.
Will turmeric tinctures help my skin? Ok- Yes! Turmeric can help your skin in multiple ways! With inflammation at the root of many skin conditions, the inherent anti-inflammatory properties in turmeric are of benefit. Turmeric offers beneficial contributions to skin irritations like hydration, acne, psoriasis, eczema and expediting the healing process of skin abrasions and cuts. Potential perk: Gives skin a dewy fresh glow. Also, TMI: I have used a turmeric paste to use on a skin irritation / boil / mystery problem on my thumb back in college when I didn't have insurance. That turmeric paste brought whatever was causing problems up to the surface and OUT.
Can I use turmeric root to make this recipe? Yes! Turmeric root is the same as fresh turmeric! It's the same plant turmeric powder comes from.
How many drops should I take (what's the dosage)? I have found the appropriate dosage for myself to be between 20-30 drops daily. I am not a doctor and cannot provide medical advice. Consult with your doctor prior to incorporating any new supplements into your diet.
Other ways to add more turmeric to your life…
If you're into turmeric as much as we are, here are a few additional ways to add more turmeric to your plate! When we first started incorporating more turmeric into our diets- it was a struggle. It felt like a chore and it was just clunky and hard to do, over time we've created an entire list of recipes with turmeric!
These recipes have helped our fam consume more turmeric, we hope they can help you also!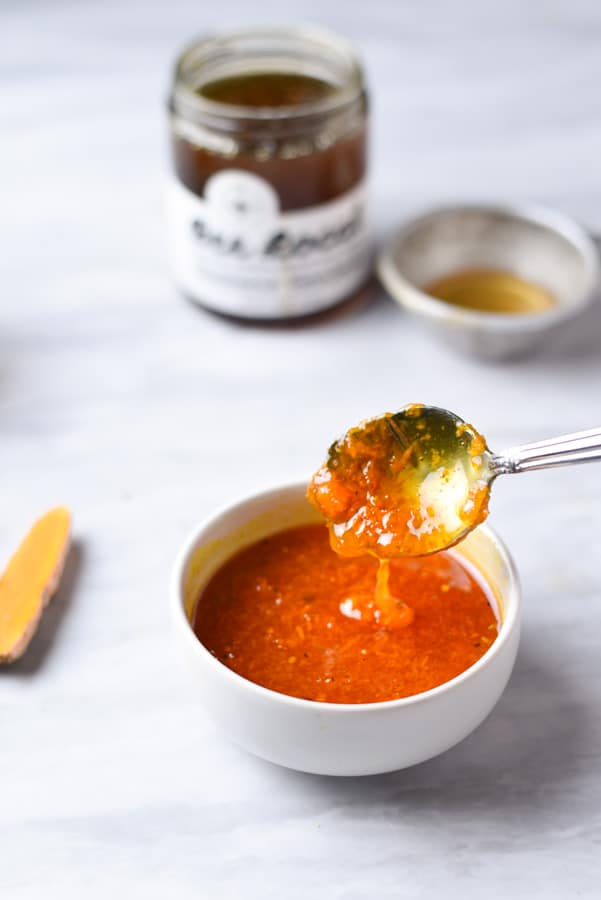 This is supremely delicious and easy to slather on everything!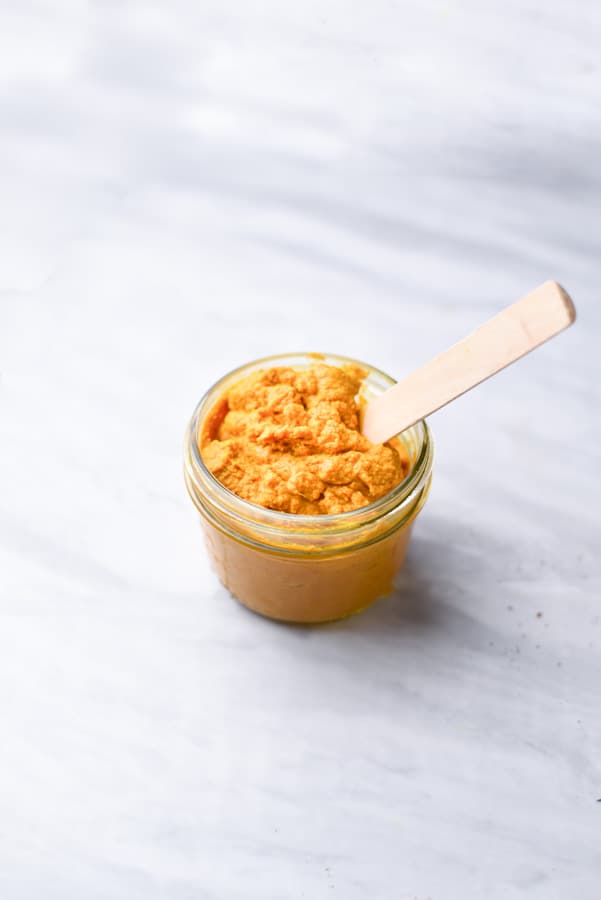 It's easy to add to soups, baked goods, and beverages.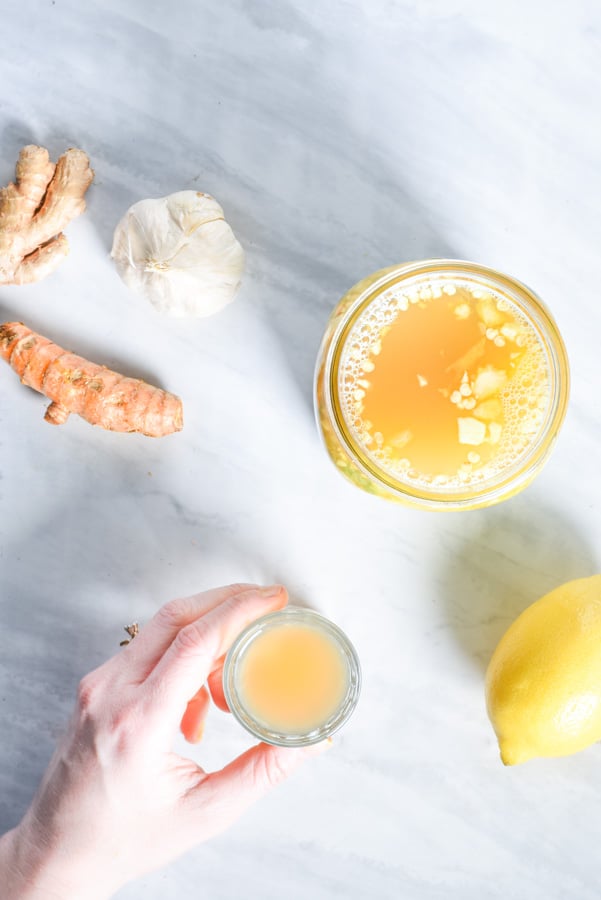 This is a DIY health shot~ the master tonic for immunity.
Print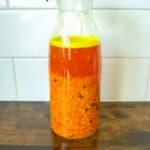 Turmeric Black Pepper Tincture
Author:

Adriana

Prep Time:

10 minutes

Total Time:

10 minutes

Yield:

2 cups

1

x

Category:

Recipes

Method:

Cold Prep

Cuisine:

Elixir
---
Description
This recipe for turmeric black pepper tincture is a no brainer- 3 ingredients and 10 minutes of hands-on time, plus a 2-4 week waiting period and BOOM! You're basically a modern day apothecary, wizarding your health and wellness. 
---
1/4

lb. fresh turmeric, processed into small pieces

1 tablespoon

whole black peppercorns

1 cup

Everclear

1/4 cup

water
---
Instructions
Wash and chop the turmeric, you don't need to peel it. You can easily dice it with a food processor and avoid yellow-stained hands that come with handling turmeric. If you don't have a food processor a knife will work just fine.
Place the chopped turmeric into a glass jar and add the black peppercorns.
Pour the everclear and water into the glass jar and put the lid on.
Shake the jar gently and set aside to steep for 2-4 weeks, shaking gently every couple days.
Using a nut milk bag or cheesecloth strain the mixture over a bowl and squeeze the turmeric solids to release all the liquid.
Store this in a sealed container for use as needed.
---
Notes
** You don't have to use everclear, you can absolutely use vodka and omit the water as most people are more likely to have this around the house. I use high proof everclear and dilute it with water because some compounds are water-soluble and some are alcohol soluble. Even though this recipe dilutes the everclear to the same 40 proof level as vodka, it is likely to extract a more diverse range of nutritional compounds using water AND alcohol.
** I keep this out of direct sunlight while it's steeping. After it's pressed I store it in a blue or brown bottle, to prevent sunlight from altering the tincture.
** This beautiful orange root has serious staining power! Your hands, cutting board, counter, clothing, kitchen towels, light colored spatulas, and the like may become discolored from contact with turmeric! It's a temporary discoloration, but one to note.
Keywords: Elixirs, Turmeric