This vegan flaxseed pudding recipe is a quickstart weekday breakfast! The quick & dirty… It's incredibly speedy to put together, requires only 4 ingredients and it's healthy! Flaxseeds provide substantial dietary fiber, plant-based omega 3's, and lignans.
This is a great low carb / keto vegan breakfast recipe that is easy to make and easy to switch up with different variations based on the season and what you're craving!
Flax Pudding
If you're a fan of chia pudding, you're gonna be fast friends with this. Flaxseed pudding is very similar in texture but packs a more pleasant flavor profile!
This recipe is incredibly flexible; you can easily add sweeteners, adjust the texture, and dress it up however you please. My personal favorite is including some vegan yogurt, chopped nuts, and fresh fruit for a SUPER healthy and filling flaxseed breakfast recipe.
Also. Flax pudding has a milder and nuttier flavor than chia pudding, which let's be honest we're all happy about. Plus, flaxseeds are nearly half the price where I live. #winning
If you are looking for more flaxseed or keto-friendly recipes, you're gonna need to take a look over here: Blackberry Jam
Flaxseeds v. Flaxmeal
Before we jump into the recipe I want to answer the most common question I get about this recipe… flaxseeds, flax meal, ground flax- what's the difference? Should I buy whole flaxseeds or flaxseed meal?
Flaxseeds- the whole seed, these are commonly found in two varieties: brown flax seeds and golden flaxseeds. Both work interchangeably in this recipe. Gold flaxseeds are more mellow in flavor, so I usually opt for those.
Flax meal- this is simply a convenient option for you to buy pre-ground flaxseeds. The seeds have been milled and are no longer whole. I recommend storing flaxseed meal in the refrigerator. It's painfully simple to save money via making your own flaxseed meal at home!
Ground flax- another name for flaxseed meal!
Are flaxseeds and flaxseed meal the same thing? Flaxseed meal is the result of processing or milling whole flaxseeds into a meal or coarse flour. Flaxseed meal needs to be stored in the refrigerator to retain maximum freshness and nutritional value. Flaxseed meal is easy to make at home with a food processor or blender and has a variety of uses in the kitchen.
How to make your own Flaxseed meal
Let's talk about how to make flaxseed meal from whole flaxseeds! Flaxseeds are incredibly affordable and easy to source at your local grocery store- we usually purchase flax seeds in the bulk bins and make our own flax meal at home.
All you need is a blender, food processor, or even a coffee grinder! It's easy and saves you money! I usually make a batch of this and store in the fridge to use as needed.
Simply add flaxseeds into your blender/ food processor and let it run for +/- 30 seconds! After 30 seconds use a spatula to scrape the sides and bottom of your blender to thoroughly mix the flaxseeds and blend for an additional 30 seconds.
Depending on the quantity you process, you may need to scrape the sides of the blender several times, scraping every 30 seconds or so and checking to see if any whole seeds remain. If so, blend for another 30 seconds and check again.
If you are following a keto or low-carb diet there are a ton of great flaxseed recipes out there. Making your own flaxseed meal is easy to do- just be sure to store it in the fridge! (We even store our whole flaxseeds in the fridge.)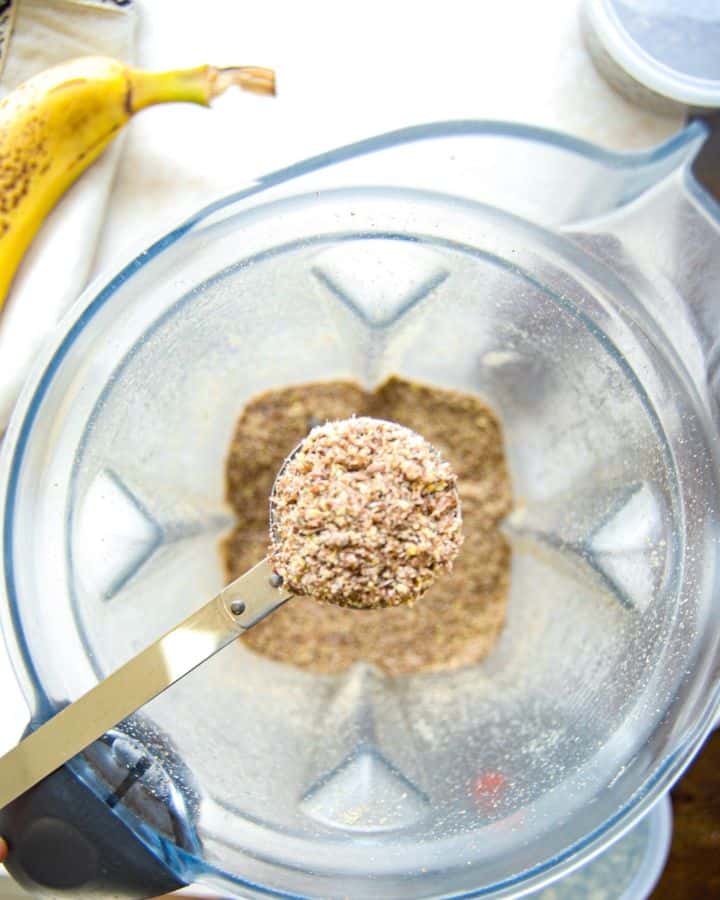 We prefer using flaxseed meal over whole flaxseeds in most vegan or keto flaxseed recipes for several reasons:
Flaxseed meal has stronger gelling properties than whole flaxseeds! Flax meal is a more powerful thickener.
If the flaxseeds are ground into flaxmeal, it's easier for your digestive system to process and absorb the nutrients from the flaxseeds.
Hold Up: Chocolate Flaxseed Pudding… An Easy Keto Dessert!
Ok! Our go-to for flax pudding is to have this for breakfast as it's easy to add in other ingredients and change up the flavor. However, I've been trying to watch my carbs and sweets so I've been turning this into a keto dessert and yes it works, think: chocolate pudding!
Here's how you turn this into a dessert: Make the flax pudding recipe as listed and add 1-2 tablespoons of cocoa powder, depending on your carb/nutrition needs. You can also top this with berries, or add some finely ground coffee/ espresso powder to the mix. The options are endless! This is an easy vegan keto dessert!
You could swirl in some peanut butter, almond butter, or coconut butter and call it good!
Trader Joes sells cocoa powder for a super affordable price- it's $2.99 where I live. If I'm craving chocolate this totally does the trick!
Print
Vegan + Gluten-Free Flaxseed Pudding
Hi, FOUR WORDS: Low carb healthy breakfast. This is an easy to prepare healthy breakfast option for those busy mornings when you're trying to get yourself fed and out the door. It's great for meal prep and easy to customize!
Author:
Prep Time:

10 minutes

Total Time:

10 minutes

Yield:

4

servings

1

x
Category:

Recipe

Method:

Cold Prep

Cuisine:

Vegan, Gluten- Free, Low carb
Scale
Ingredients
1 cup

flaxseeds, ground

2 cups

alternative milk of your choice- or even water if you're in a pinch! (I used almond milk here)
Optional: sweetener of choice, 2-3 dates pitted and diced, 1 mashed banana, 1 TB honey or maple syrup
pinch of salt
Check out this sugar-free blackberry jam! It's made with flaxseeds also.
Instructions
Combine the ground flaxseeds and milk together in a bowl.
Add a pinch of salt and your sweetener of choice (optional).
Wait 30-60 minutes in the fridge or overnight for this to set to a pudding like consistency.
Alternatively, you could blend whole flaxseeds + all other ingredients in a blender for 30-60 seconds, then portion and refridgerate until set.
Top with all your favorites and enjoy!
Notes
* Top this with yogurt, granola, fresh fruit and chopped nuts for winning health & flavor combinations! I love vegan vanilla yogurt with chopped strawberries, bananas, and hazelnuts! Think: blueberry + chocolate chip for a classic combo or mango & pineapple with macadamia nuts for a tropical summer twist!
* You can adjust the final texture of this recipe by altering the amount of liquid. Want this in a thinner, more porridge-like consistency or ultra thiccccc and hearty? You can make that happen. Add more liquid for a thinner consistency or less to thicken things up! You do you, friends.
* You can also portion this out into individual containers before you let it set. Tupperware to easily take breakfast with you on the go or stemware to start your day off feelin' regal, you've got options and you know how to use them!
Keywords: Breakfast, Low Carb, Flaxseeds, Vegan
Flaxseed pudding, it'll make your breakfast brighter
You guys know I'm here for that Organic v. Conventional life. Here's the price breakdown on this recipe (where I call home).
ORGANIC
Flax seeds $1.99
Nut milk $2.49
Total cost for 4 servings: $4.48
CONVENTIONAL
Flax seeds $.99
Nut milk $.49
Total cost for 4 servings: $1.48
I want to know how much you love this recipe! If you think of any drool-worthy variations, drop 'em in the comments!
Reader Interactions