Here are 3 flavor variations of flaxseed smoothie recipes that are incredibly easy to make and taste delicious! If you are trying to incorporate flaxseeds into your diet, they will work in any smoothie however, here are 3 ideas to help you along the way! All of these smoothies with flaxseed use ingredients you probably already have at home.
Which for you? Blueberry, Strawberry, or Green?!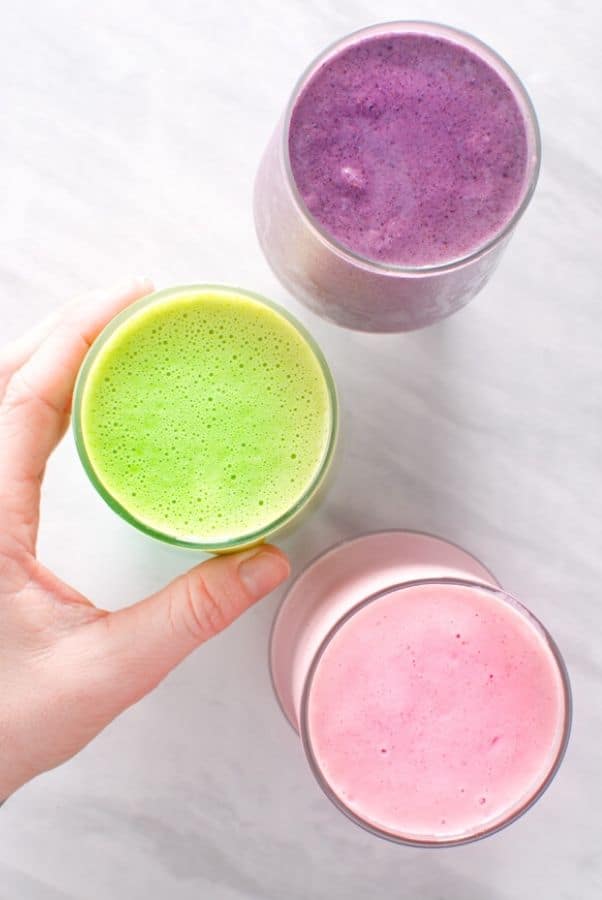 Whole Flaxseed Or Ground Flaxseed Smoothies?
To make a smoothie with flaxseed you can use ground or whole flaxseeds. We will combine all the ingredients and blend for 1-2 minutes so whichever form of flaxseeds you have on hand will work. Even if you start with whole flax, the flaxseeds will be ground during blending! *If you add whole flaxseeds, the smoothie will have a slightly grittier texture than if you add flaxseed meal.
Call it a ground flaxseed smoothie or a flaxseed meal smoothie, it is BOTH and it is delicious!
Ground flaxseeds (flax meal) are more bioavailable, meaning our bodies can absorb them and extract greater nutritional value. While whole flaxseeds have the same nutritional profile, our digestive system can't break down the outer shells of flaxseeds and will pass through our system whole.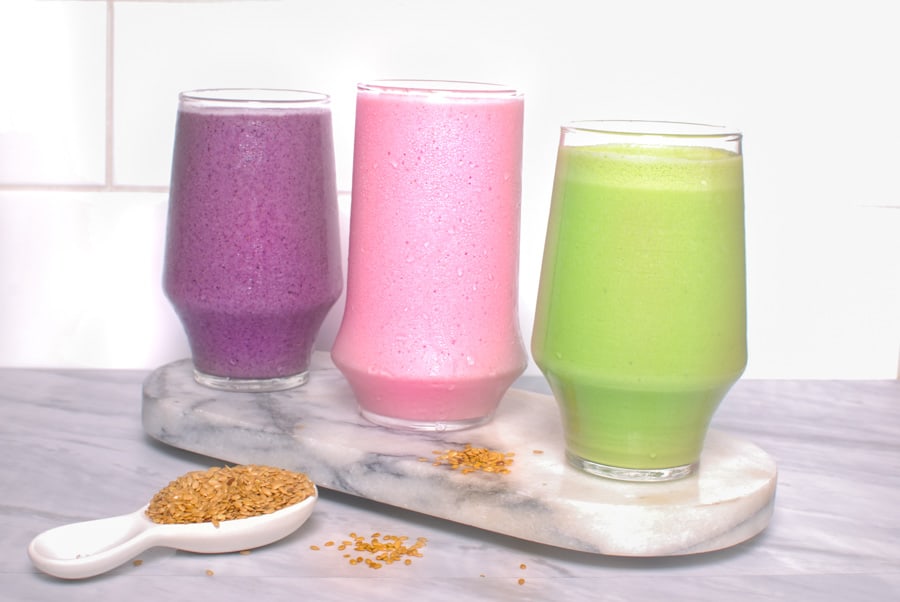 Tips On Making Flax Smoothies
Making a flax meal smoothie is a piece of cake, especially with a high power blender. However, there is an order of operations to help your blender work more efficiently, especially if you're adding large chunks of frozen fruit or ice cubes.
Have you ever tried blending a smoothie and there was no movement? You had to use this tamping stick over and over and things just weren't working?! Ensuring you have enough liquid does help, BUT the order you add your ingredients to your blender cup makes a huge difference!
Here's our suggested order to add ingredients to your blender:
Start with the liquid ingredients: juice, milk, water, yogurt, oil, etc. This will help your blender get all ingredients smoothly flowing from the start.
Add any dry supplements, seeds/nuts, nut butter, or yogurt into the water: things like protein powder, spirulina, sweeteners, etc. They'll mix well with the liquid.
If using leafy greens or herbs, fresh or frozen, add in the next layer.
Lastly, add frozen fruit and or ice cubes. The heavier items on top help to weigh down everything else and push leafy greens down into the blades.
This should help produce even, consistent blending without air bubbles and blades locked up or not moving.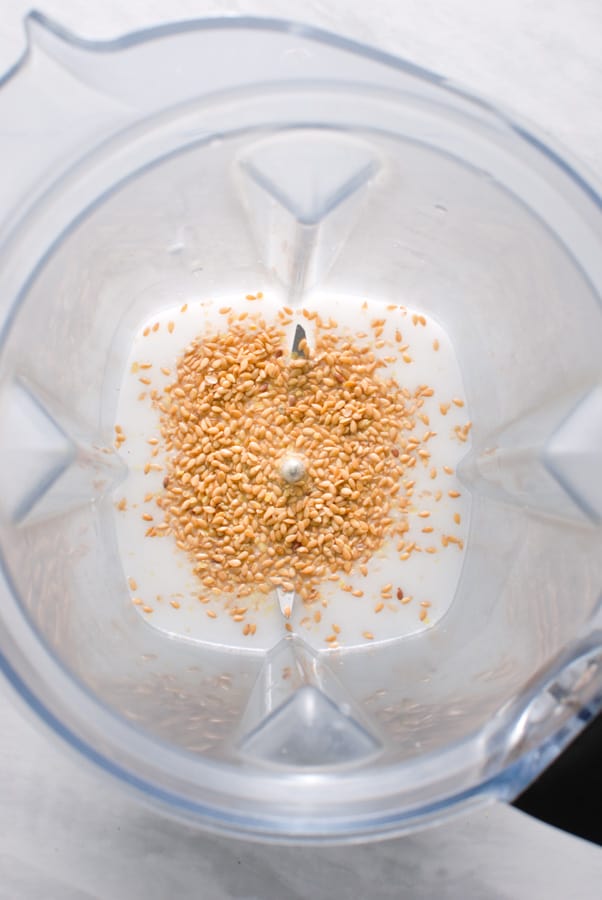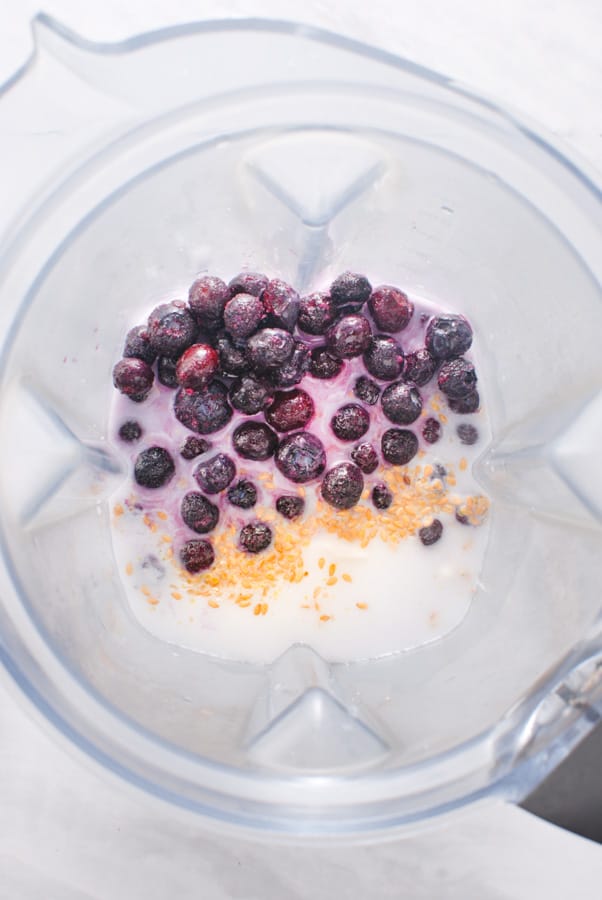 3 Flax Smoothie Recipes:
1- How to make a Blueberry Flaxseed Smoothie
Here's how to make a berry flaxseed smoothie- that's low carb and uses common ingredients! We make this blueberry flaxseed smoothie fairly often for breakfast, or after a workout and add some protein powder.
You'll need to following ingredients, added to your blender in the order listed for best results:
1.5 cups liquid (I used coconut milk!)
2 tablespoons flax (whole or ground)
optional sweetener of choice (1 TB maple syrup is easy!)
1 tablespoon nut butter
1/4 cup yogurt
1.5 cups frozen blueberries (for low carb use 1/2 cup berries + 1 avocado)
2- Strawberry Flaxseed Smoothie
Strawberries are delicious and make for a really tasty smoothie. This smoothie reminds me of a strawberry milkshake– especially if you add 1/2 a sliced frozen banana for a strawberry- banana flaxseed smoothie.
1.5 cups liquid (I like vanilla almond milk)
2 tablespoons flaxseeds
optional sweetener of choice (1 TB maple syrup is easy!)
1.5 cups whole strawberries
optional: half a frozen banana
3- Green Flaxseed Smoothie
This is my trusty smoothie recipe with flaxseed and spinach, you can hardly taste the spinach but the smoothie is a beautiful vibrant green color! Plus this one has cashews in it to give you a little added protein/fat boost.
1 cup liquid
2 tablespoons flaxseed
1 peeled lemon, whole (optional, add 1/4 liquid if omitting)
1/4 cup cashew pieces (optional)
1 cup spinach
1/2 cup frozen strawberries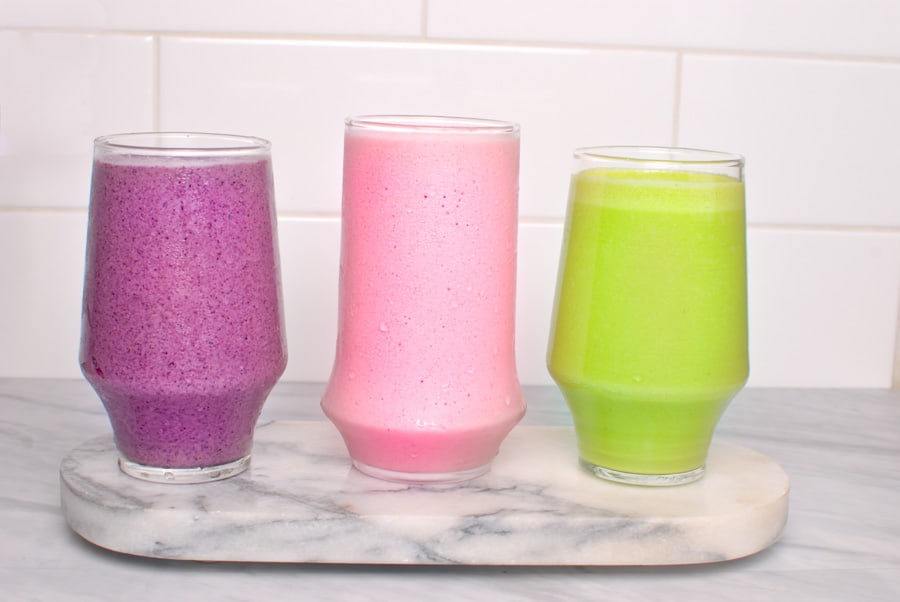 Flax Smoothie Variations & Substitutions:
One of the best qualities of smoothies is the ability to adapt and customize your smoothie as you go. If you finish blending a smoothie but feel the flavor is missing something, you can easily add it and blend it again.
Keto/Low Carb Option: Use only 1/2 cup frozen fruit + one avocado to reduce the carb count!
Sweeteners:
Honey, maple syrup, sweetened yogurt, a tablespoon of jam
Fruits that add natural sweetness: bananas, pears, apples
Keto/Low carb: a dash of stevia, monk fruit, or sugar-free syrup!
Veggie Add-ins:
In most smoothies, it's easy to sneak in some mild greens in low quantities, a handful of spinach, kale, or collard isn't that noticeable but increases the nutritional profile. Spinach adds the least 'green' taste to smoothies.
Herbs like parsley, cilantro, and watercress are wonderful and full of vitamins & minerals but DEFINITELY changes the taste. We personally don't mind most of the time, but start by adding only a small amount ( 1-2 tablespoons chopped) if you're nervous about the taste!
Beneficial Add-ins:
Lemon juice, ginger & turmeric
If I'm drinking a smoothie on a cold winter morning to get a boost of nutrients, I find it helpful to make the smoothie bright and zippy. Adding citrus juice or slices to smoothies delivers a real 'pep in your step' quality!
Ginger and turmeric are both studied as extremely beneficial foods and are easy to add to smoothies. Ginger can add some heat/ warming quality which I really like on cold mornings. Fresh turmeric is preferable, but you can use turmeric powder if you can't locally source fresh turmeric. Add 1/2″ peeled fresh ginger or turmeric to a smoothie!
How To Adjust Consistency:
To make a thicker smoothie ensure your fruit is frozen. If you are adding yogurt, placing the yogurt in the freezer for 30-60 minutes prior to blending will help thicken as well. Adding oil, avocado, or nut butter will also make smoothies thicker and creamier.
On the other hand, to make a thinner smoothie use more liquid: milk, juice, or water & avoid adding nut butters, oils, or bananas as these all thicken smoothies!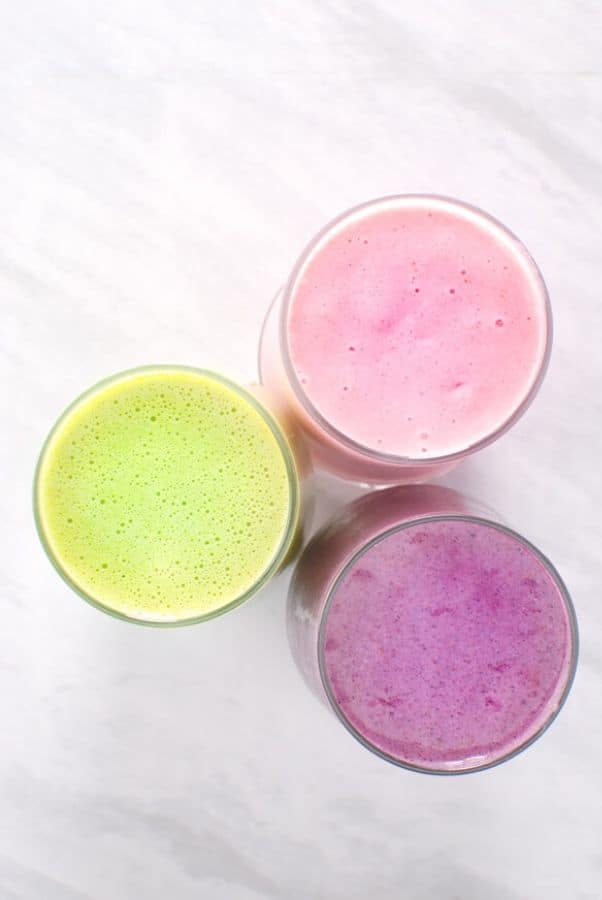 FAQS ABOUT FLAX SEED SMOOTHIES:
What kind of flaxseeds do you use in smoothies? Both types of flaxseeds (brown & golden) and both forms of flaxseeds, whole or ground, work favorably in smoothies. With a high-powered blender whole flaxseeds are ground into flaxseed meal during blending, so whole flaxseeds are safe to use.
How much flaxseed should I put in a smoothie? 1-3 tablespoons of whole flaxseeds are appropriate to add to a smoothie without negatively affecting taste or consistency.
How do you ground flaxseed in a smoothie? With a high-powered blender, whole flaxseeds will break down when added to a smoothie.
Are flax seeds good in smoothies? Flaxseeds add beneficial lignans, fiber, and omega-3 fatty acids to smoothies. They also act as a thickening agent in smoothies.
Can I put flaxseed oil in my smoothie? Flaxseed oil can be added to smoothies but will alter the taste, 1 tablespoon of flaxseed oil is sufficient for a smoothie.
Print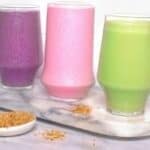 3 Easy Flax Seed Smoothies
Author:

Adriana

Prep Time:

5 minutes

Total Time:

5 minutes

Yield:

~2 cups

Category:

Flaxseed recipes

Method:

Blender

Cuisine:

Healthy
---
Description
A flaxseed smoothie is a delicious and easy meal packed with nutrients. This flax smoothie recipes offers 3 flavor variations PLUS tips on how to pack your blender for easy blending. Use whole OR ground flaxseeds!
---
For the Strawberry Flaxseed Smoothie:
1.5 cups

liquid (I like vanilla almond milk)

2 tablespoons

flaxseeds
optional sweetener of choice (1 TB maple syrup is easy!)

1.5 cups

whole strawberries
optional: half a frozen banana
For the Berry Flaxseed Smoothie:
1.5 cups

liquid (I used coconut milk!)

2 tablespoons

flax (whole or ground)
optional sweetener of choice (1 TB maple syrup is easy!)

1 tablespoon

nut butter

1/4 cup

yogurt

1.5 cups

frozen blueberries (for low carb use

1/2 cup

berries + 1 avocado)
For the Flaxseed Smoothie With Spinach:
1 cup

liquid

2 tablespoons

flaxseed

1

peeled lemon, whole (optional, add

1/4

liquid if omitting)

1/4 cup

cashew pieces (optional)

1 cup

spinach

1/2 cup

frozen strawberries
---
Instructions
As detailed in the post, let's pack our blender cups the best way for smooth blending: Add the liquid to your blender first, followed by the flaxseeds and mix ins(sweetener, nut butter, yogurt).
Next, add greens (if using) then top with the frozen fruit.
Blend for 1-2 minutes, until very smooth. If you notice anything sticking to the sides of your blender, stop and scrape with a spatula.
Keto/ Low Carb option: Use 1/2 cup frozen fruit + 1 avocado in the berry/strawberry flax smoothies.
---
Notes
** You can add 1/2 cup spinach to any of these smoothies without significantly changing the taste- although the color will change.
** If the contents in your blender are not smoothly flowing, try adding a bit more liquid.
Keywords: Flaxseed recipes