Flaxseed oatmeal is a delicious & healthy keto/ low carb alternative to oatmeal! This flaxseed porridge recipe can easily be made on the stovetop or in a microwave with whole or ground flaxseeds- it doesn't matter as we'll be chopping them up! The texture of this keto oatmeal is amazingly similar to traditional oatmeal we ate growing up- we hope you enjoy this flax oatmeal as much as we do!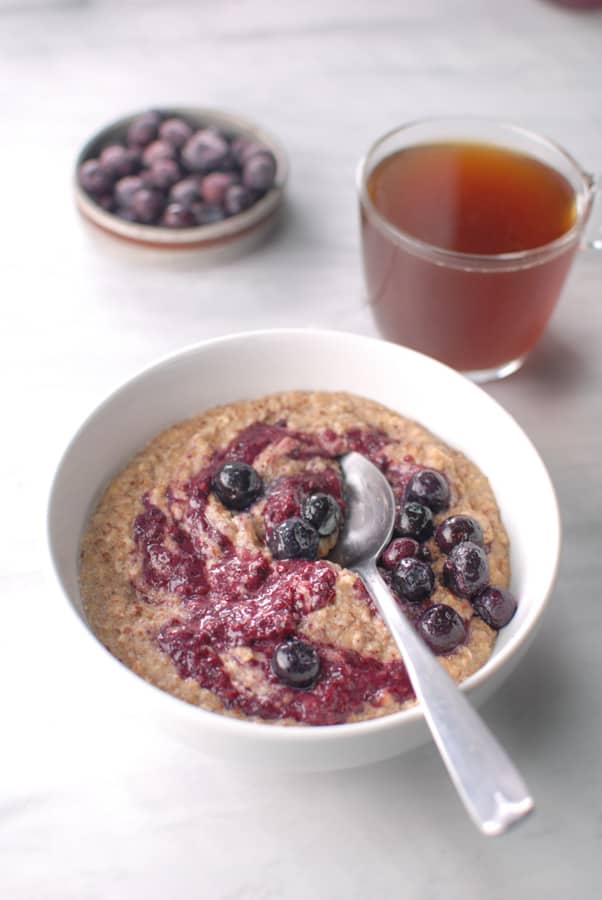 How To Make Flaxseed Porridge
Flaxseed porridge has the familiar taste and texture of standard oatmeal due to 2 ingredients: flaxseeds and nuts (or seeds if you're nut-free!). In either a blender or food processor we'll pulse the flaxseeds and nuts into a very coarse meal and use this as our base! When processing the nuts you only need to run your blender or food processor for about 30 seconds for the desired consistency.
You can use any combination of nuts or seeds in this flax porridge recipe and have great results- we usually use whatever nuts we have on hand ranging from cashews, hazelnuts, pecans, and macadamia nuts– all have worked great.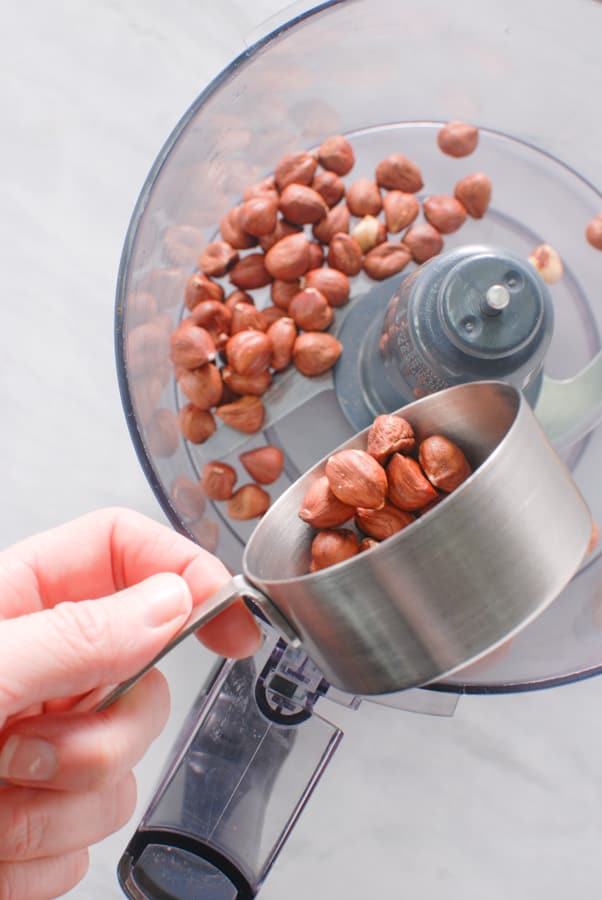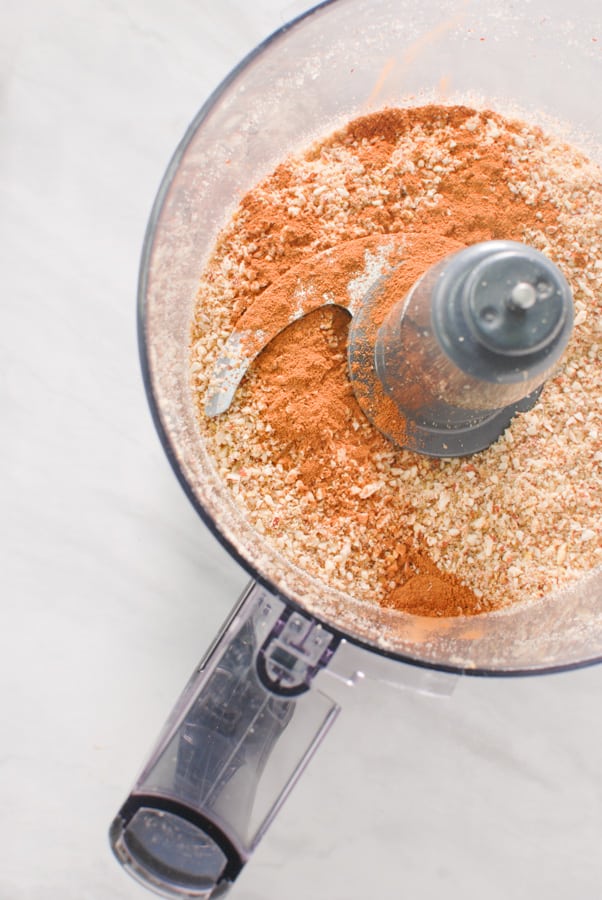 You can adjust the consistency of flaxseed porridge just as you would alter the consistency of traditional oatmeal- add more liquid for a thinner, less goopy result. Flaxseeds have a thickening & gelling effect so flax oatmeal thickens as it cools.
Additionally, when we prep a double or triple batch of this for breakfast throughout the week we'll add a bit of extra water/ milk when we reheat portions. This is an easy low carb oatmeal alternative for weekday breakfasts and busy mornings on the go.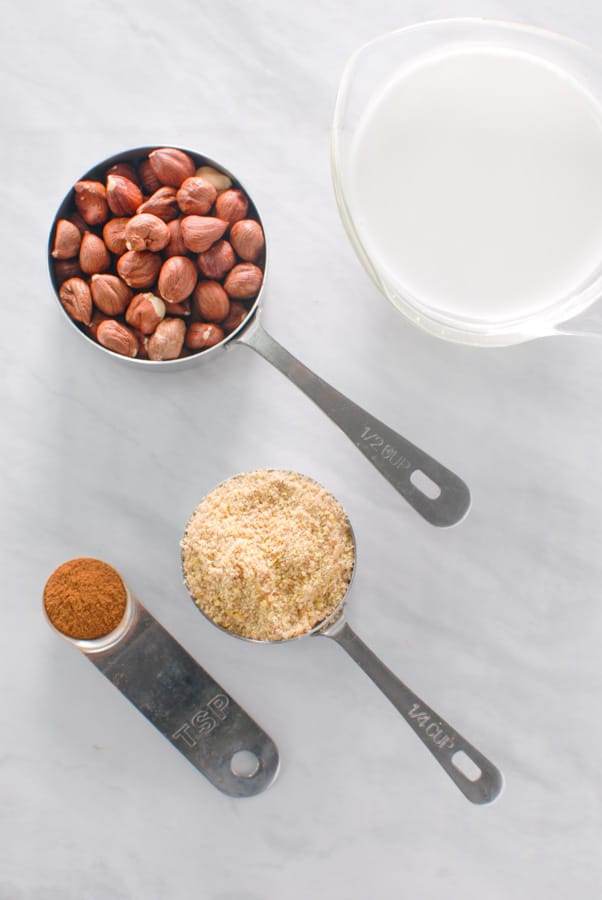 Benefits Of Flaxseed Keto Oatmeal?
This recipe is great for those on low carb, keto, or diabetic diets as ground nuts and flaxseeds are significantly lower in carbs than regular oats. The combination of nuts and flax still provides protein & fat to keep you fueled through the morning.
Flaxseeds contain substantial amounts of beneficial essential omega-3 fatty acids, lignans, and fiber. In fact, one tablespoon of ground flaxseeds boasts 1.8g of omega-3 fats! Our bodies can't make omega-3 fats, we need to incorporate foods rich with omega-3 fats into our diet. Learn more about flaxseed nutrition here.
I started making this flaxseed oatmeal as my doctor advised me to watch my carbohydrate counts and their effect on GI/ blood sugar. Both flaxseeds and nuts are low glycemic index and low carb, making this breakfast a low-carb win for me! Everyone is different, consult with your doctor for specific advice relating to your circumstance.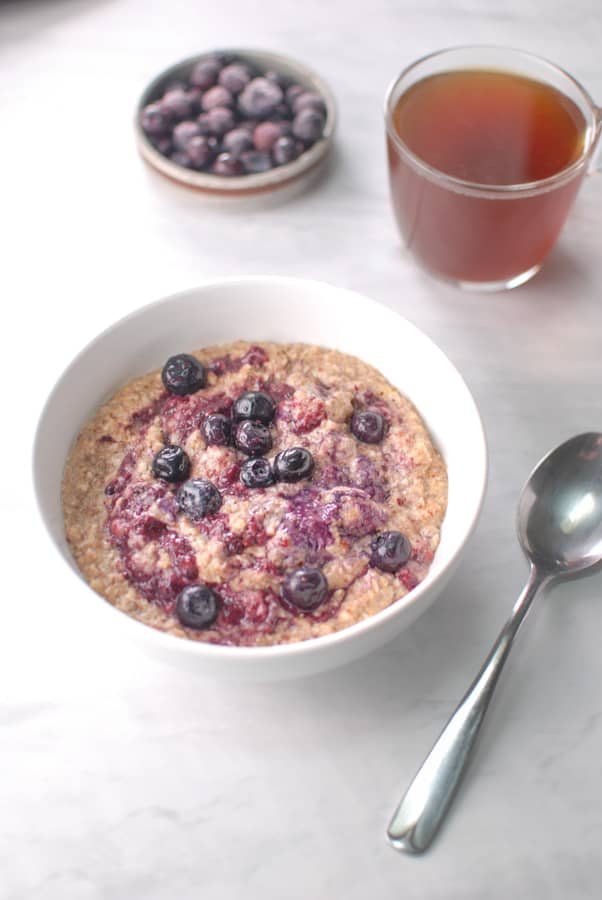 Is Whole Or Ground Flaxseed Oatmeal Better?
To make flaxseed oatmeal you can use whole or ground flaxseeds. We will combine the flaxseeds with nuts and process them into a meal together so whichever form of flaxseeds you have on hand will work. Even if you start with the whole flax, this recipe will create ground flaxseed oatmeal.
Ground flaxseeds are more bioavailable, meaning our bodies can absorb and extract greater nutritional value. While whole flaxseeds have the same nutritional profile, our digestive system can't break down the outer shells of flaxseeds and they will pass through our system whole.
Variations & Substitutions To This Low Carb Oatmeal
Flaxseed meal oatmeal is highly customizable both in flavor and in texture. We've touched on how to adjust the texture so here are easy ways we recommend to try different flavors.
The flavor of this oatmeal is very neutral without and spices or sweeteners. We encourage you to add any of the following to your personal flavor preferences & favorites:
1 teaspoon vanilla or 1/2 teaspoon almond extract
1 teaspoon cinnamon powder
1/4 chocolate chips (for keto use Lily's Sugar Free)
1-2 tablespoons sugar-free maple syrup
1/4-1/2 cup fruit, fresh or frozen (add frozen during cooking!)
Yogurt, plain or flavored
1-2 tablespoons fruit jam (Try our sugar-free blackberry jam!)
Low carb sweetener of choice (Stevia, Truvia, monk fruit)
Adjusting Fat Content: For those following a keto diet, you can easily create a keto flaxseed oatmeal by adding butter, oil, or nut butter to increase the fat content and keep an enjoyable taste. Note that nut butter will thicken the porridge and you may need to increase the amount of liquid used. **You could even turn this into a savory porridge and add avocado & egg if not vegan!
Nut-Free Variation: If you avoid nuts try a blend of any of the following: hemp seeds, sesame seeds, sunflower seeds, or pumpkin seeds.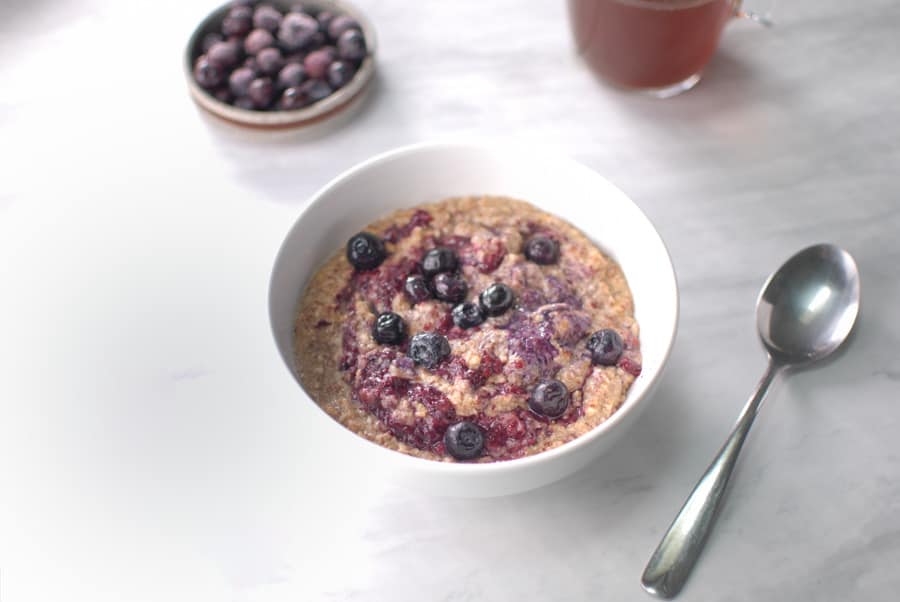 FAQS ABOUT FLAXSEED OATMEAL/PORRIDGE
Is flaxseed oatmeal keto-friendly? Flaxseed oatmeal is a low-carbohydrate and keto-friendly choice for breakfast. However, those on a keto diet will still need to be mindful of the fruit and sweeteners added to flaxseed oatmeal.
What are the benefits of flaxseed oatmeal? Flaxseed oatmeal is a healthy, low carbohydrate, and low glycemic index option. Flaxseeds provide substantial amounts of lignans, omega-3 fats, and fiber.
Is whole or ground flaxseed oatmeal better? Ground flaxseed oatmeal is more bioavailable than oatmeal with whole flaxseeds as your digestive system can absorb more nutrients from ground flaxseeds.
Print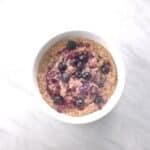 Low Carb Flaxseed Oatmeal (Flaxseed Porridge)
Author:

Adriana

Prep Time:

5 minutes

Cook Time:

5 minutes

Total Time:

10 minutes

Yield:

~ 3/4 cup

Category:

Vegan Keto Recipes, Flaxseed Recipes

Method:

Stovetop OR Microwave

Cuisine:

Breakfast
---
Description
Flaxseed oatmeal: Hot Diggity! Here's an effortless keto & low carb alternative to oatmeal: flaxseed oatmeal! This flaxseed porridge is a breakfast with a boost, think: healthy fats, protein & fiber without the carbs. Also it's supremely customizable on the flavor front.
The dream of breakfast is very much alive with flaxseed oatmeal.
---
1/4 cup

whole or halved nuts, any combination of your choice

1/4 cup

flaxseed meal or

2.5 tablespoons

whole flaxseeds

3/4 cup

– 1 cup milk (more if you like a thinner consistency, I use

3/4 cup

almond milk)
Pinch salt

1 teaspoon

cinnamon
Sweetener of choice (I used 2 tsp stevia but honey or maple syrup would be great too!)
---
Instructions
Measure your nuts and flaxseed meal (or whole flaxseeds) and add to a blender or food processor. Run about 30 seconds until a coarse meal/flour is reached.
Add your flaxseed meal base to a pot, add milk, cinnamon, and sweetener of choice and simmer over low heat for 3-5 minutes. This will cook and thicken quickly! Don't walk away.
Adjust the consistency as needed depending on your taste- I use 3/4 cup but add more liquid to reach the consistency you desire. You can also use water instead of milk!
Microwave option: Follow step 1 but instead of adding to a pot, add ground nut/seed mix and all other ingredients into a bowl & microwave for 1 minute. Stir and add liquid as needed, microwaving in 30-second increments until desired consistency is reached.
---
Notes
** Keep in mind flaxseeds have a thickening property & this oatmeal will thicken as it cools. Also, if prepping a batch for several days, add a few tablespoons of water when reheating to thin again.
** Nutritional info for this recipe was calcuated using 3/4 cup almond milk & 1/4 cup hazelnuts, swapping different nuts and milks will change the nutrition count.
** Try this swirled with our sugar free blackberry jam!
** Nuts and seeds are calorically dense foods but provide a variety of essential nutrients. If you're looking for a low calorie option, you can substitute the 1/4 cup nuts with 1/4 cup cauliflower rice (cauliflower florets finely chopped of pulsed in a food processor!) or you can eat this as 2 servings vs. 1 serving. 
Keywords: flaxseed oatmeal, flaxseed porridge, vegan keto recipes