Have you jumped aboard the cauliflower rice craze yet?! This recipe will outline everything you need to know about cauli rice so you can start enjoying it on the regular… including how to make cauliflower rice, how to cook cauliflower rice, and most important- how to make cauliflower rice taste good!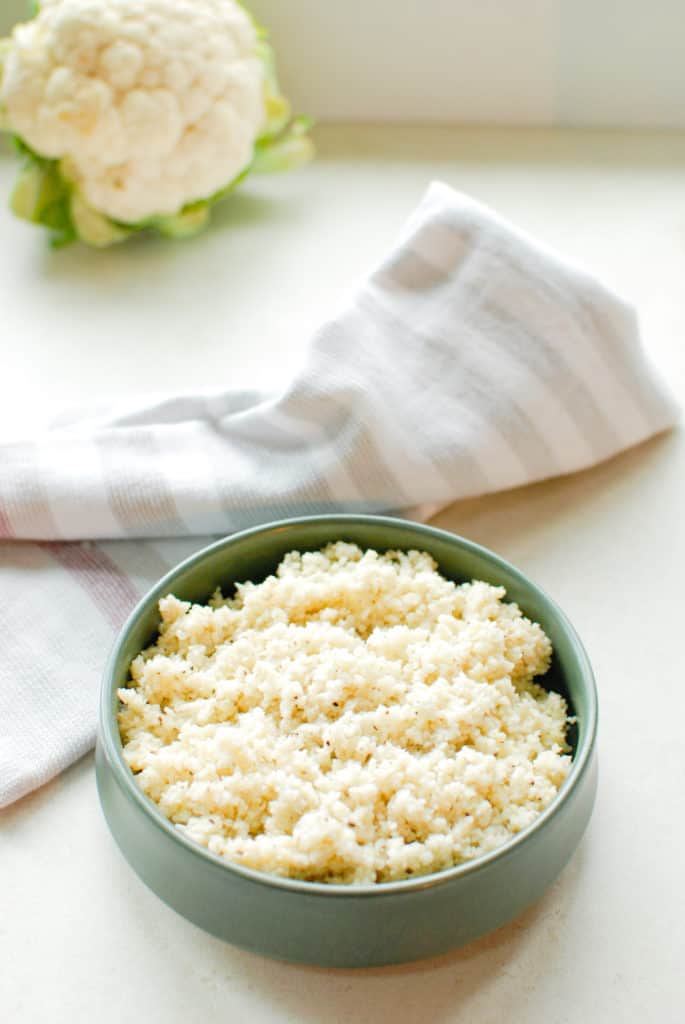 Let's make it!
How to make cauliflower rice? The most common method is to cut cauliflower into small florets and pulse in a food processor. Here's the thing- you can make cauliflower rice without a food processor or a blender, you can make it with the most basic kitchen gadget- a knife!
We have also tried using a grater, using our blender & tamper, and using both the grating disc and the S-blade of our food processor– all work and yield a slightly different size 'grain' of rice.
Ok wait, how do you make cauliflower rice without a food processor? You can simply use a chef's knife or santoku knife (really any knife with a wide blade) to simply chop the cauliflower into cauliflower rice.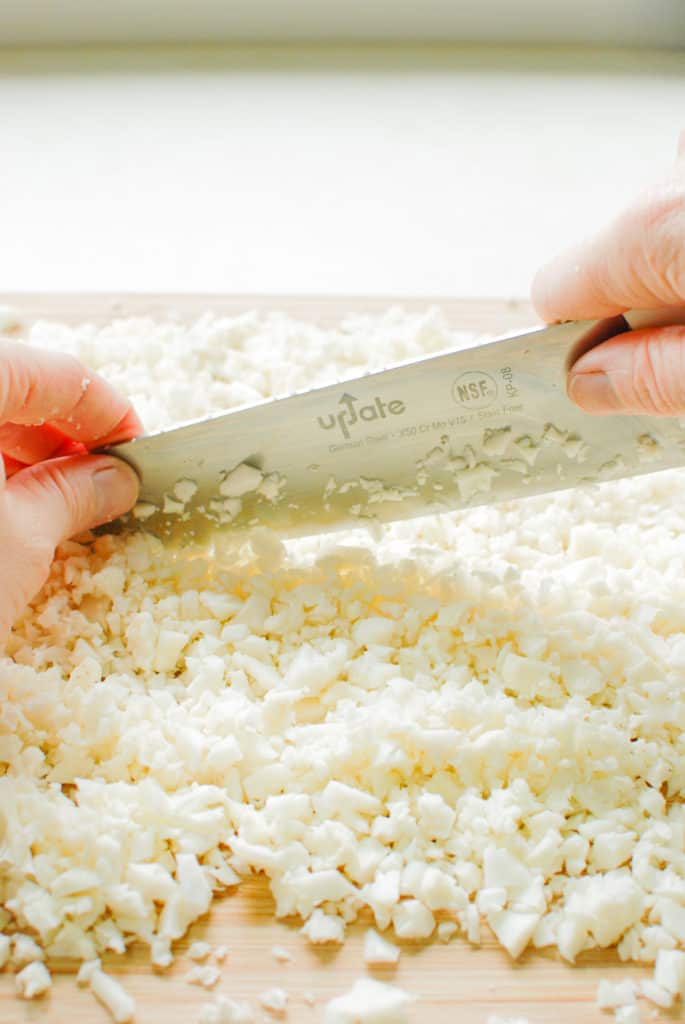 It will take a bit more time, a bit more mess, and it's helpful if you feel comfortable using a kitchen knife. But you've got this! Cauliflower rice is accessible to everyone with a large cutting board and a knife, friends!
Simply remove the leaves and stem from a cauliflower head and cut into 4 large pieces. Slice each of the 4 pieces into smaller pieces, then continue slicing and dicing until the cauliflower florets are all broken down into small pieces- this takes me about 10 minutes to do the entire cauliflower.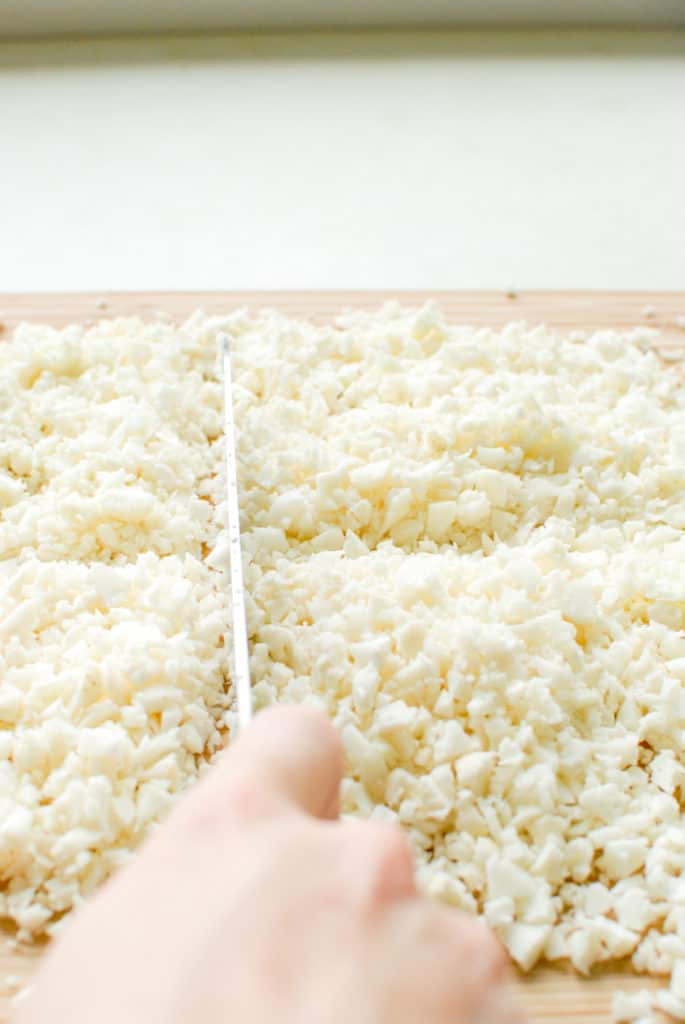 Note the floret head, or the top/outer portion of the cauliflower, is easier to break down than the stalk/stem. You can separate these and chop as needed, or just chop everything together. (I do it all together and make it easy!)
How to rice cauliflower? Now you're in the know! We recommend using a food processor with an S-blade or a knife and cutting board!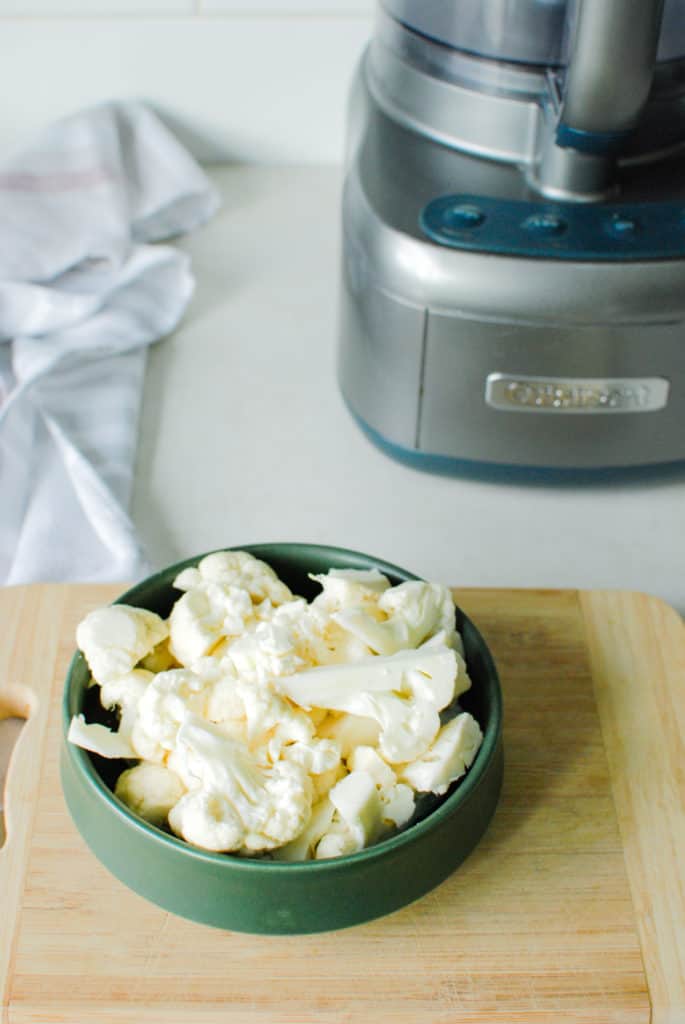 Let's cook it!
Ok, we've got our 'rice' prepared- now, how to cook cauliflower rice? This is a simple stovetop operation! Heat 1-2 tablespoons of oil in a medium skillet, on medium heat. When the oil is warm add the cauliflower rice & seasonings and cook for 5-7 minutes.
We use a cast iron skillet, pour the 'rice' in, spread it out into an even layer and leave it to sear for about 3 minutes. Then we stir it occasionally for the remaining 2- 5 minutes.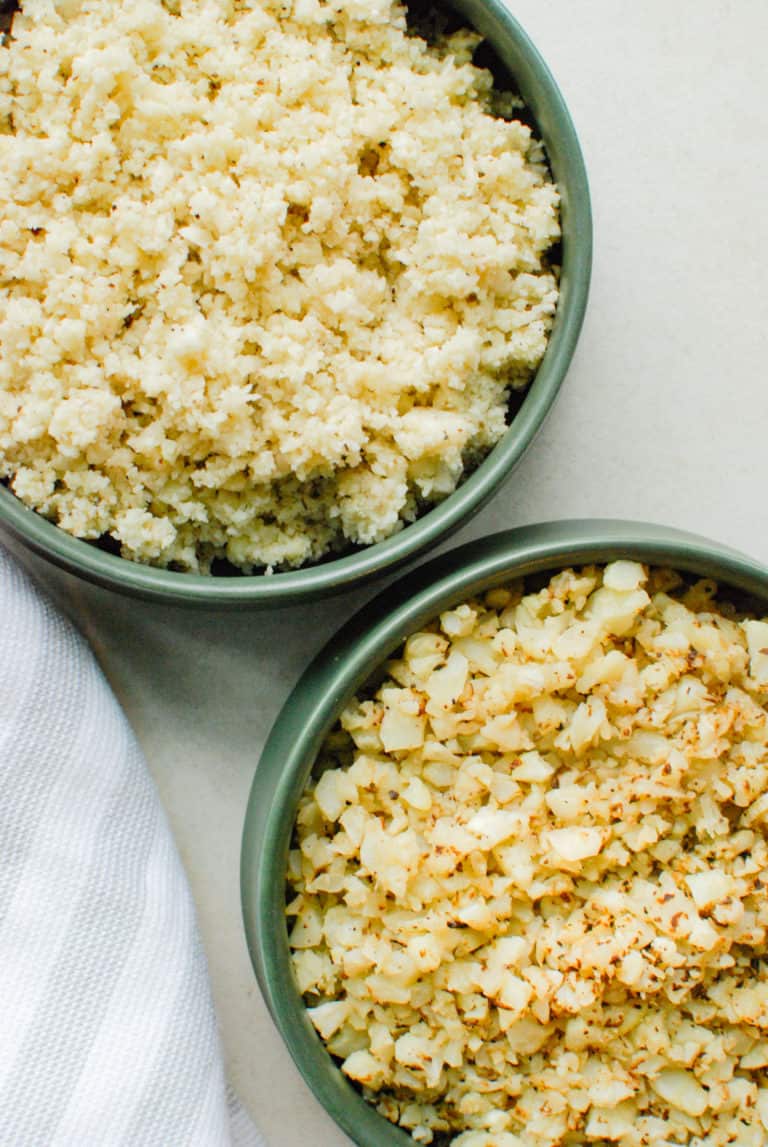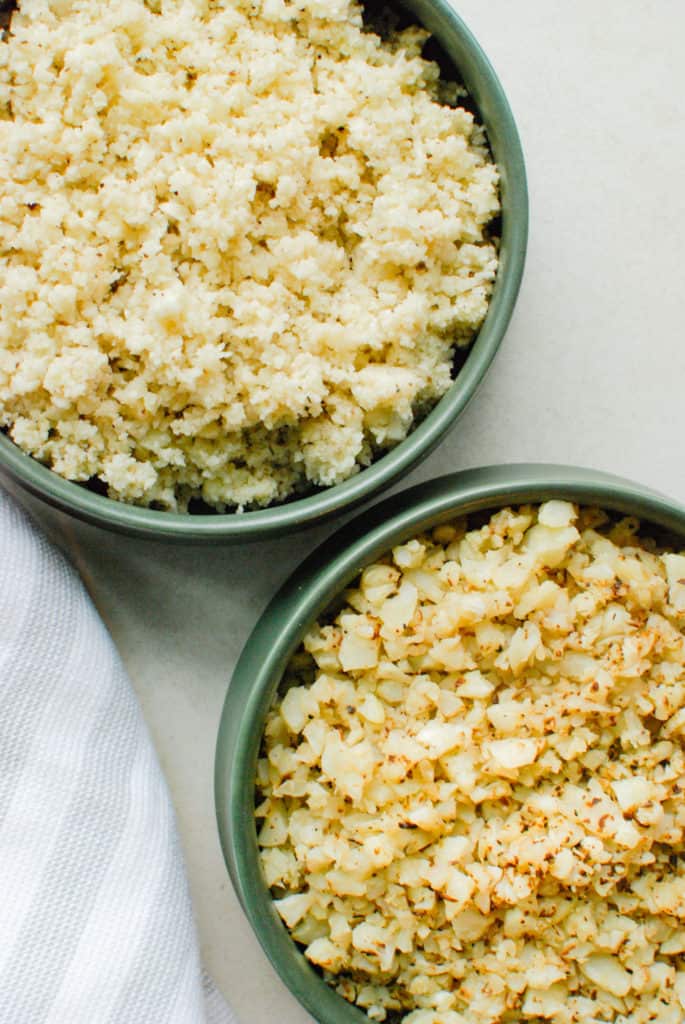 How to cook frozen cauliflower rice? The same method will work. We recommend defrosting for 20-30 minutes prior to cooking in order to break the solid mass into smaller pieces, then cook on medium-low heat for 10-15 minutes until heated thoroughly.
How to cook cauliflower rice without oil? Substitute 1-2 tablespoons water instead of oil and cook on medium heat for 5-7 minutes, stirring occasionally.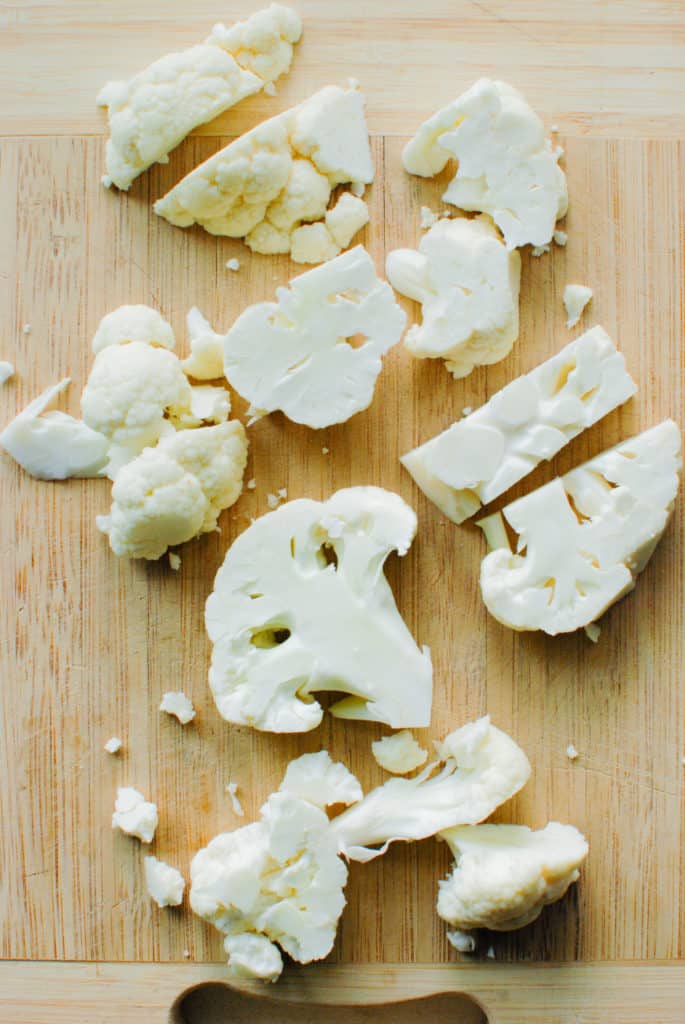 What does it taste like?
If you're following a keto diet, we think you'll need to watch out for seasonings and other ingredients in most cauliflower rice recipes– the cauliflower itself is A-okay!
Before we first tried cauliflower rice, we were so curious- does cauliflower rice taste like rice? It has a mild yet versatile flavor, it will take on the flavors you cook it in so it's best if you season it to complement the meal you're making. It does a nice job of absorbing the flavors you add to it.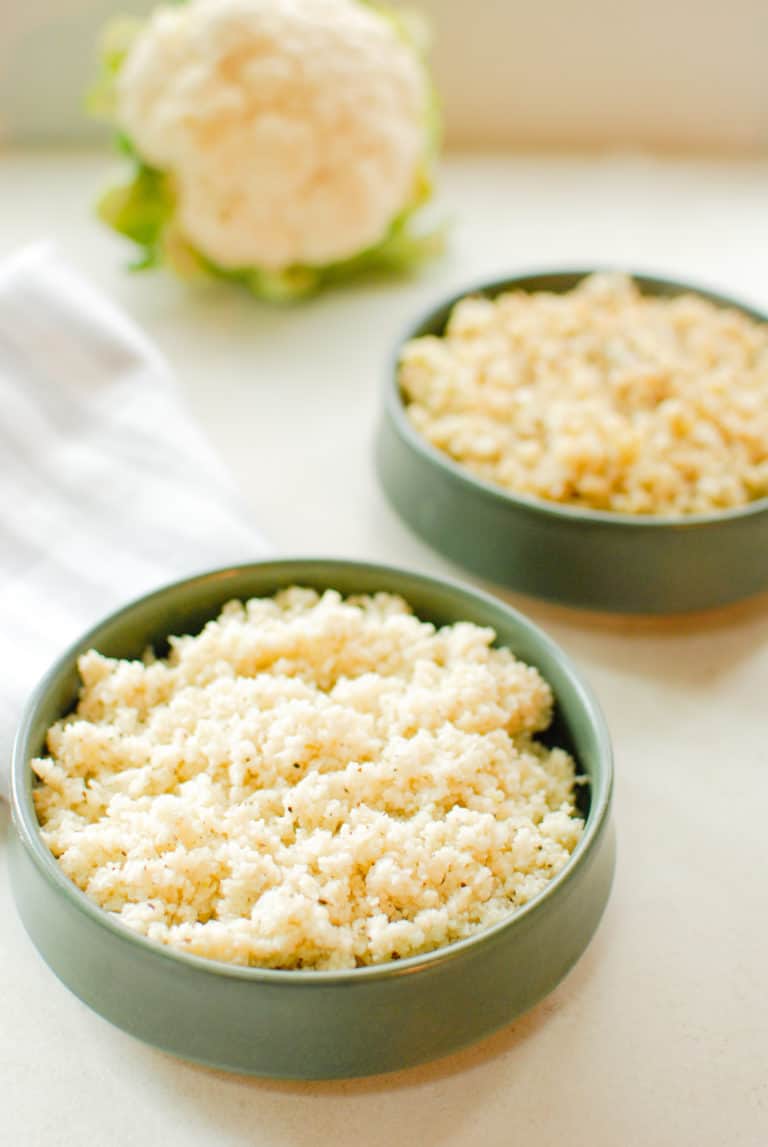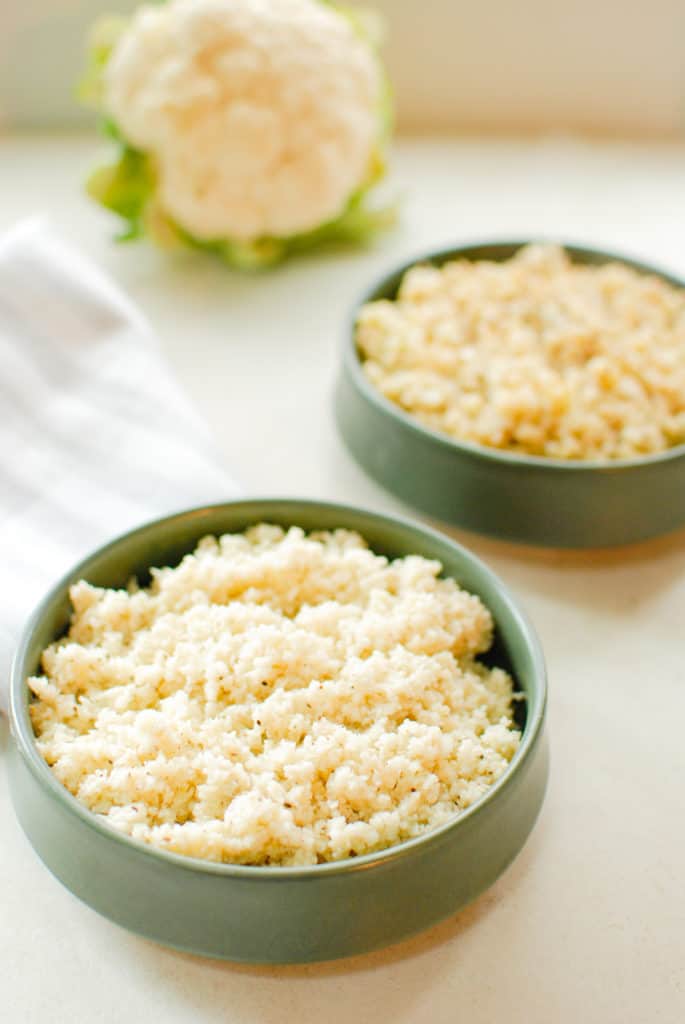 How to make it taste good? We like to gently sautee cauliflower rice with oil and seasonings, being sure not to overcook it as this could cause it to get mushy. Definitely salt, pepper, and oil. Sometimes we add dried herbs, lime juice, cumin, or paprika. When we use this at home it's frequently a base for veggie bowls and we usually add a sauce to it. The texture is not as fluffy, sticky, or chewy as regular rice but cauliflower rice is a great substitution!
Cauliflower Rice + Keto Diet
As keto or low-carb diets are guidelines some use to map out meals and nutrition, I wanted to touch on some basic questions real quick regarding cauliflower rice and the keto diet.
Is cauliflower rice keto? Yes, as cauliflower is both low carb and high fiber, this is a keto-friendly vegetable.
Can you eat cauliflower on the keto diet? Cauliflower rice is a great option for the keto diet!
How many carbs are in 1 cup of cauliflower rice? Depending on how firmly packed, there are 5-8g carbs and 3-5g fiber per cup of cauliflower rice. It is absolutely low carb!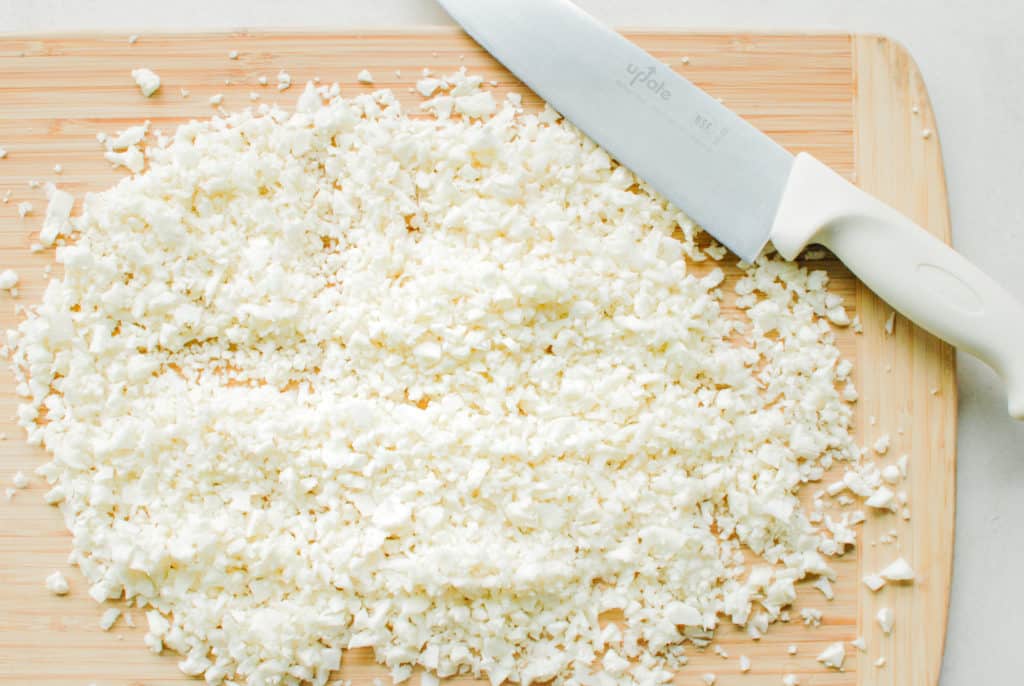 Cauliflower rice FAQs
How long does cauliflower rice last? Cooked or uncooked, this lasts in the fridge up to 5 days.
Is cauliflower rice better than rice? It is different. It sneaks in another serving of vegetables, it's lower in carbohydrates, and it has a lower glycemic index than traditional rice!
How do you know if cauliflower is bad? If the cauliflower is soft, rubbery, or mushy, or if it's entirely covered with brown spots/mold, or if it smells sour/rotten- those are sure signs it's gone bad.
Is it okay to cut mold or brown spots off cauliflower? Yes- If we have a cauliflower with some brown spots here and there, we simply cut them off.
Does cauliflower rice cause water retention? Some individuals have issues with cruciferous vegetables and bloating, cramping, or water retention. We've noticed fully cooking these vegetables and not eating them raw helps our digestion- but everyone is different!
Does cauliflower taste like broccoli? No, cauliflower has a milder, more neutral taste than broccoli. Broccoli is more bitter and fibrous. Broccoli rice is another popular option for low-carb eaters!
Can you freeze cauliflower rice? Yes, you can freeze either cooked or uncooked cauliflower rice. Be sure to freeze it into useful portion sizes for your cooking/eating style. The texture of frozen cauliflower rice is better if you freeze it prior to cooking in our opinion!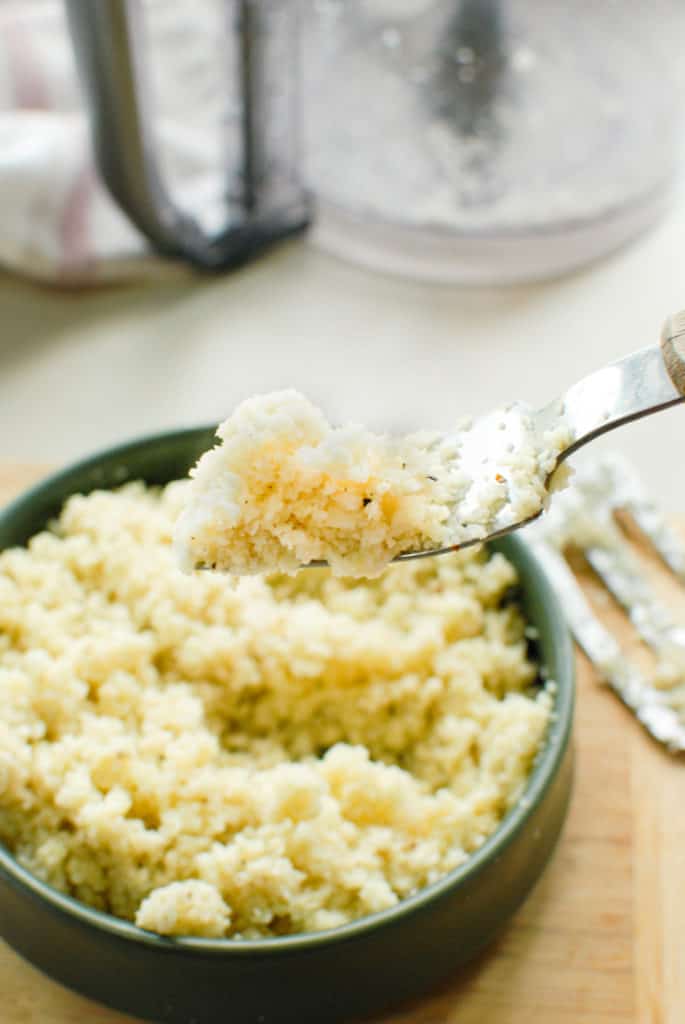 Whew, we covered a lot! Here's a quick recap…
How to make cauliflower rice:
Remove the leaves and stem.
Chop into small florets.
Use the S-blade of a food processor, add the cauliflower florets.
Pulse until the cauliflower has a small, rice-like size and shape.
Cook 5-7 minutes on medium heat with oil, salt & pepper.
How to make cauliflower rice without a food processor:
Remove the leaves and stem.
Chop into small florets.
Continue chopping with a chef's knife, working on a cutting board left to right & top to bottom.
Cook 5-7 minutes on medium heat in a skillet with oil, salt & pepper.