Are you there ice cream? It's me, sweet-toothed & craving you! Enter vegan vanilla ice cream stage right, here to save the day and crush our cravings! If you're ready to cuddle up with a blanket, a warm dessert and a few scoops of homemade vegan ice cream, we are so ready to show the way.
Let's get going!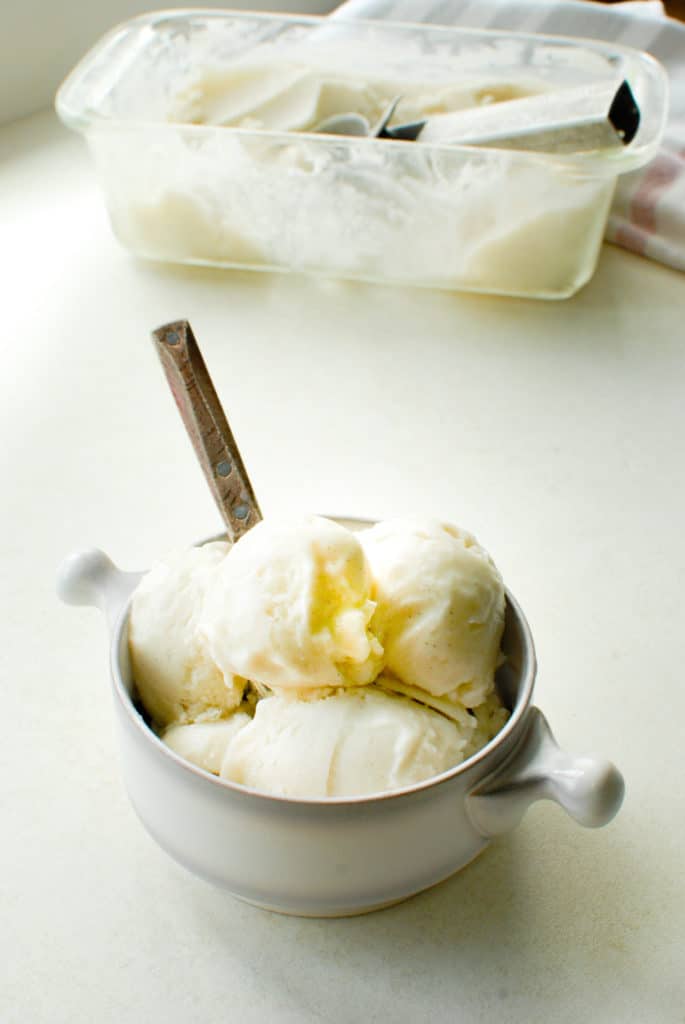 Homemade ice cream recipe process
How to make vegan vanilla ice cream you ask? This recipe is SIMPLE to make with an ice cream machine, but it does require a bit of hands-off waiting time. We have 3 main steps ahead of us to create this vanilla bean ice cream.
First things first, we'll combine the sweetener with the coconut milk and the vanilla bean, steeping this overnight in the fridge (our ice cream base).
The next day (or at least 8 hours later) we'll blend the ice cream mixture.
Lastly, we'll churn the ice cream base until it's a soft-serve consistency and firm it up in the freezer for 2-4 hours.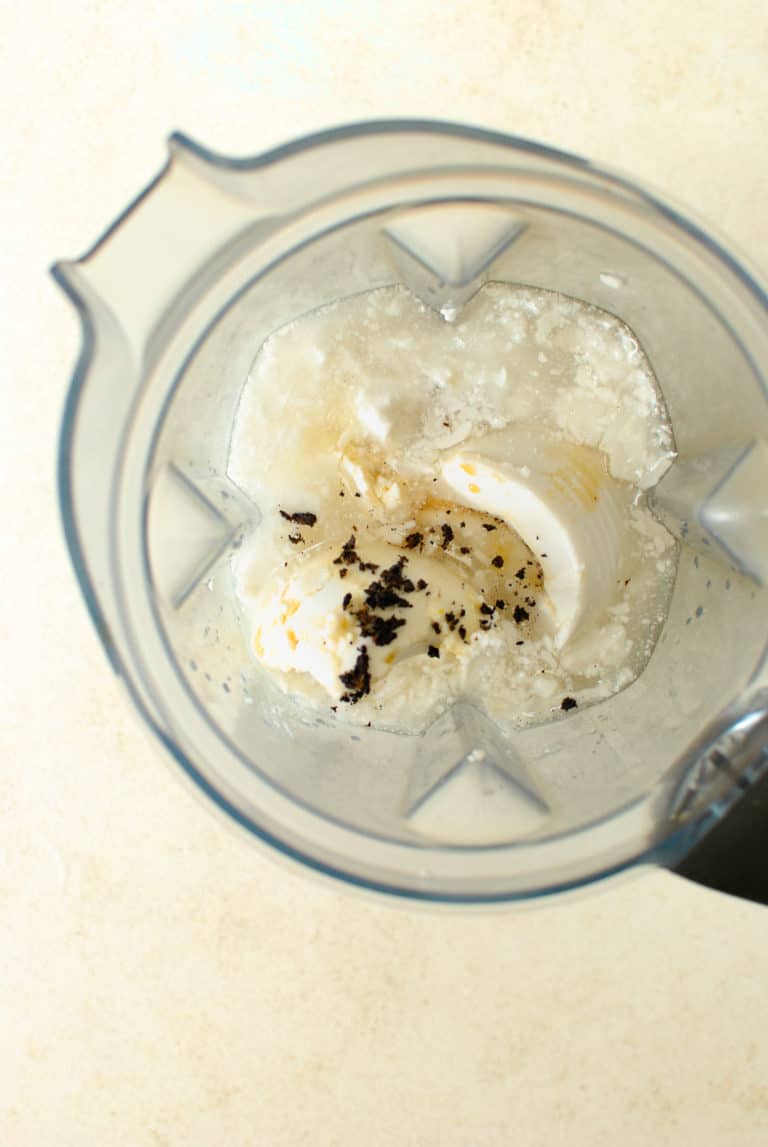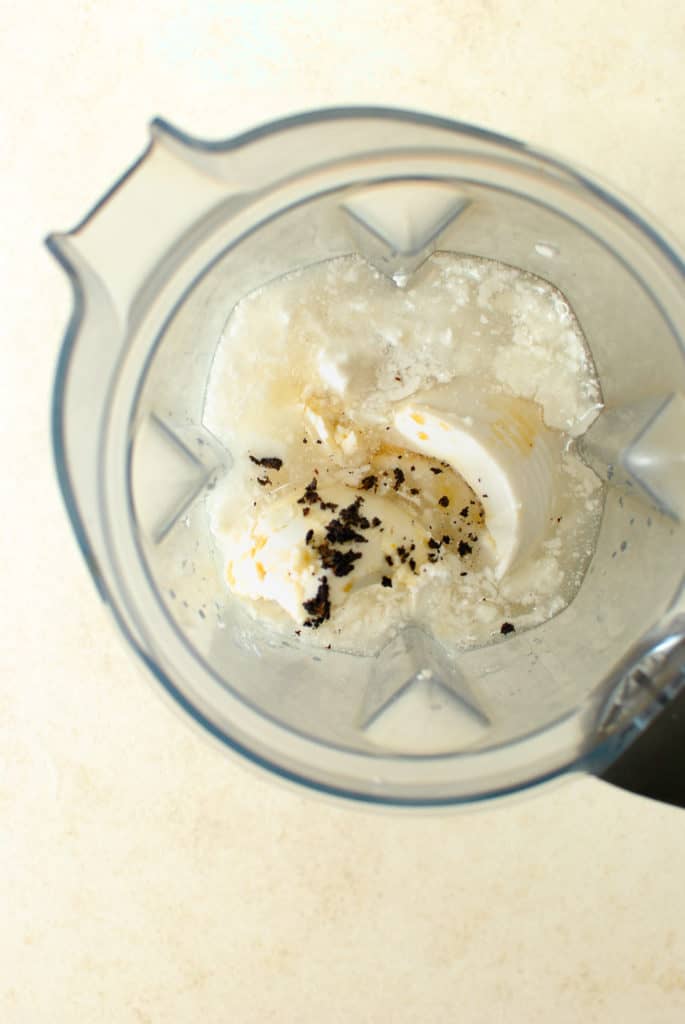 Which coconut milk to use?
I strongly recommend using Thai Kitchen full fat coconut milk to make this vegan ice cream. The uber creamy consistency we all know, love, and trust in ice cream is a result of both fat content and sugar content.
You need a high-fat, plant-based milk-all brands of coconut milk vary in their fat content– too low fat content and your ice cream won't be creamy, it will turn out hard and icy!
This brand is widely available on the west coast and it's available on Amazon. Opt for the regular unsweetened coconut milk, not the lite version. If you have a different brand of coconut milk that you know works well, I'd love to hear it in the comments!
If you can't find Thai Kitchen, I'd advise to avoid the paper carton coconut milk and stick to trying a full-fat, canned variety for your end result to have a rich, creamy, scoop-able consistency!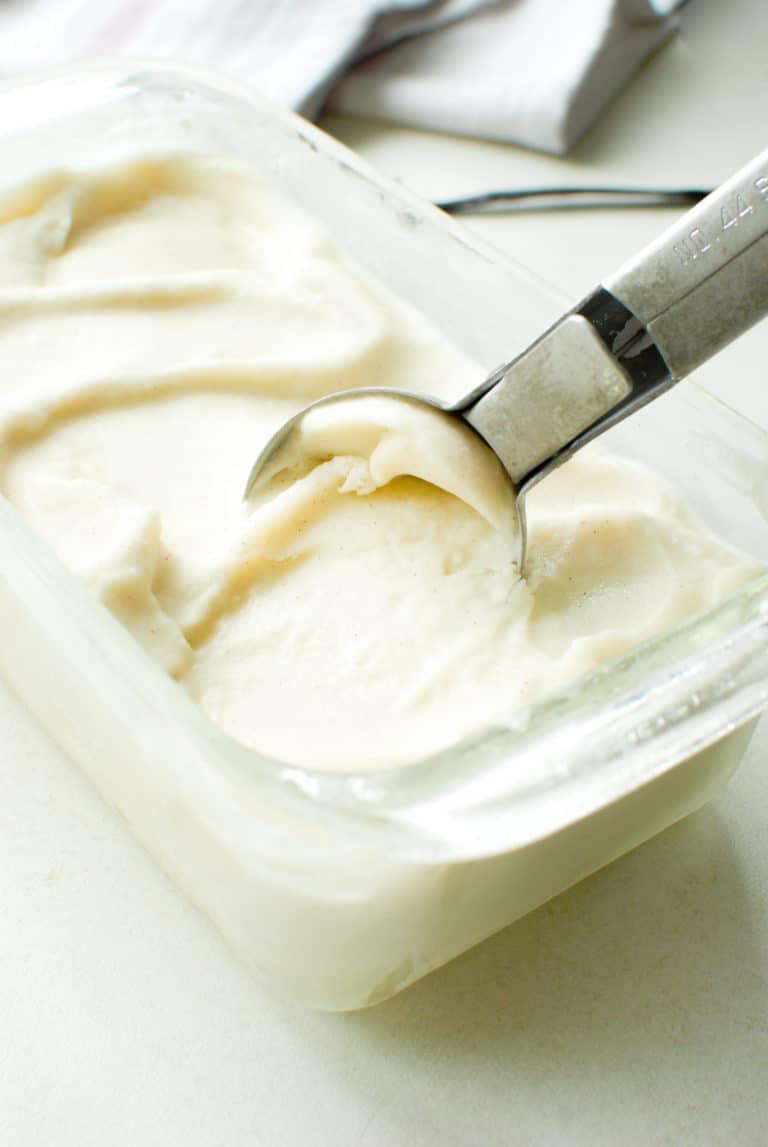 Vanilla beans: Can you taste the difference?
In the early stages of creating homemade vegan ice cream and experimenting with different ingredients, styles, and flavors I was really skeptical about the flavor boost from real vanilla beans vs. the cost of buying vanilla beans. I mean hellooo, we're on a budget.
I did several blind taste tests of vanilla ice cream with and without vanilla beans. Using real vanilla beans to make this vegan ice cream does truly give you a stronger vanilla flavor!
An added bonus with this recipe is the overnight chilling… this gives the vanilla beans a lengthy amount of time to steep. And by steep, I mean gift us with allll the vanilla flavor!
Tidbit: You can repurpose your vanilla beans into vanilla sugar! Whoa, you're reaching ultimate home chef status… Can we come over for dinner at your place soon?
The deeper I travelled down this vanilla infused rabbit hole I went, the more I was sold on using them!
Tips for thick & creamy vegan ice cream
I want to help ensure your vegan vanilla ice cream turns out fantastically on your first try! The following tips and tricks will help you reach ice cream success…
The main helpful hint I've already touched on and that is using a full-fat coconut milk like Thai Kitchen brand!
The ice cream base needs to be as cold as possible! If you place a warm/ room temp mixture into your ice cream machine, your churner will start to 'lose it's cool' very fast and begin melting! I always chill this in the fridge overnight. (I learned this tidbit from my mother in law!)
The churning base of your ice cream machine needs to be frozen SOLID! This should definitely be in the freezer for 24 hours prior to making vegan ice cream.
Having a higher sugar content can help create a creamier consistency. For this recipe, I have used the least amount of sugar possible but enough to end up with a creamy consistency. You can add more sugar for both flavor and texture!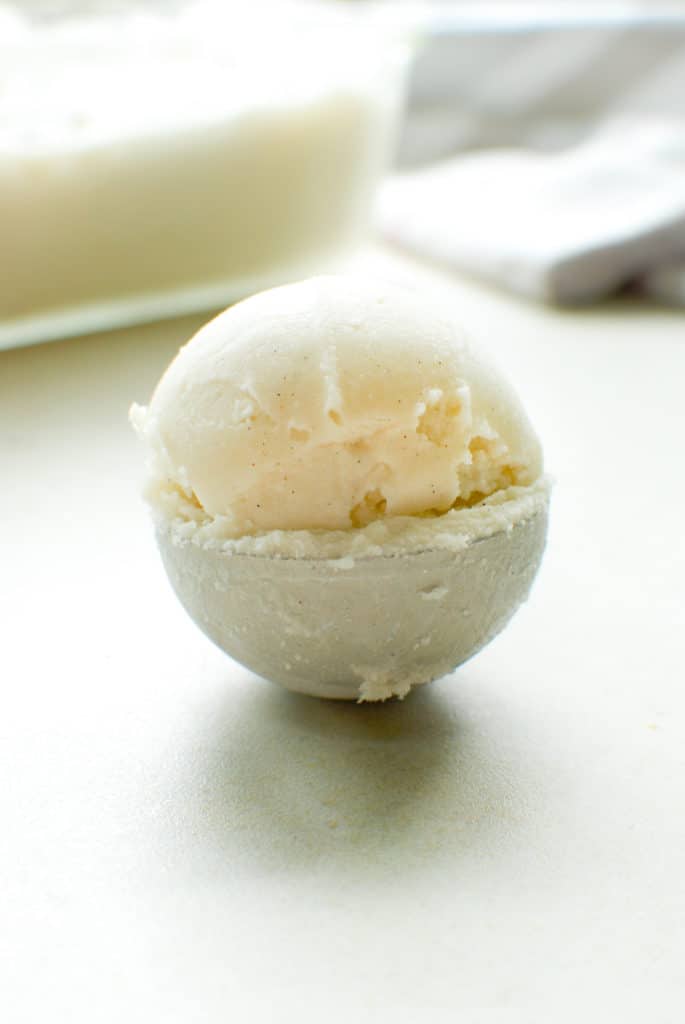 Print
Vegan Vanilla Ice Cream
Author:

Adriana

Prep Time:

10 minutes

Cook Time:

3 hours

Total Time:

3 hours 10 minutes

Yield:

4 cups

1

x

Category:

Recipes

Method:

Cold prep

Cuisine:

Dessert
---
Description
We're biased, but we think you should live your life eating this vegan vanilla ice cream! This vegan ice cream recipe is spot-on to crush cravings AND it's a canvas to use for all your future flavor combination creations! Let's all scream for ice cream.
---
2

cans Thai Kitchen brand coconut milk (full-fat)

1/2 cup

maple syrup

1

vanilla bean (or sub

1 tablespoon

vanilla extract)
pinch of salt
---
Instructions
The day before making vanilla ice cream, place your ice cream base in the refrigerator to chill. This step is VERY important!
When ready to prepare the ice cream base, open the 2 cans of coconut milk and pour into a mixing dish.
Add 1/2 cup maple syrup and pinch of salt.
Split the vanilla bean and use a spoon to scrape out all the vanilla. Combine all ingredients well.
Place in the refrigerator overnight, or at least 8 hours.
To make ice cream: Blend your ice cream base for 60 seconds. This will break up the now solidified coconut chunks, AND it will incorporate air into your ice cream mix. More air=creamier ice cream!
Assemble the ice cream machine and turn it on. Pour the mixture into the base and leave to churn for 15-30 minutes.
When ice cream has thickened and has a soft serve consistency, remove from ice cream maker and place into a dish, into the freezer to set for at least 3 hours.
Remove from freezer 5-10 minutes prior to scooping and enjoy!
---
Notes
** I tested this recipe multiple times and I really do believe the vanilla bean adds vanilla flavor.
** You can sub 1/2 cup of white or cane sugar instead of the maple syrup. The 'syrup' consistency helps the ice cream have a creamier consistency, AND helps to disguise the coconut flavor. With any other sweetener we tried this tasted like coconut ice cream more than vanilla- the maple syrup adds a small layer of complexity that is PERFECT without overpowering the ice cream!
** This tastes best if eaten within 5 days.
Keywords: Ice cream, Desserts