Welcome to the Great Northwest, we eat a lot of blackberries. Today we're doing so in the form of sweet, summery vegan blackberry muffins. What's that you say? You love your blackberry muffins with a streusely topping? I just knew we'd get along swimmingly.
BRB gotta take my dog for a walk & pick more berries.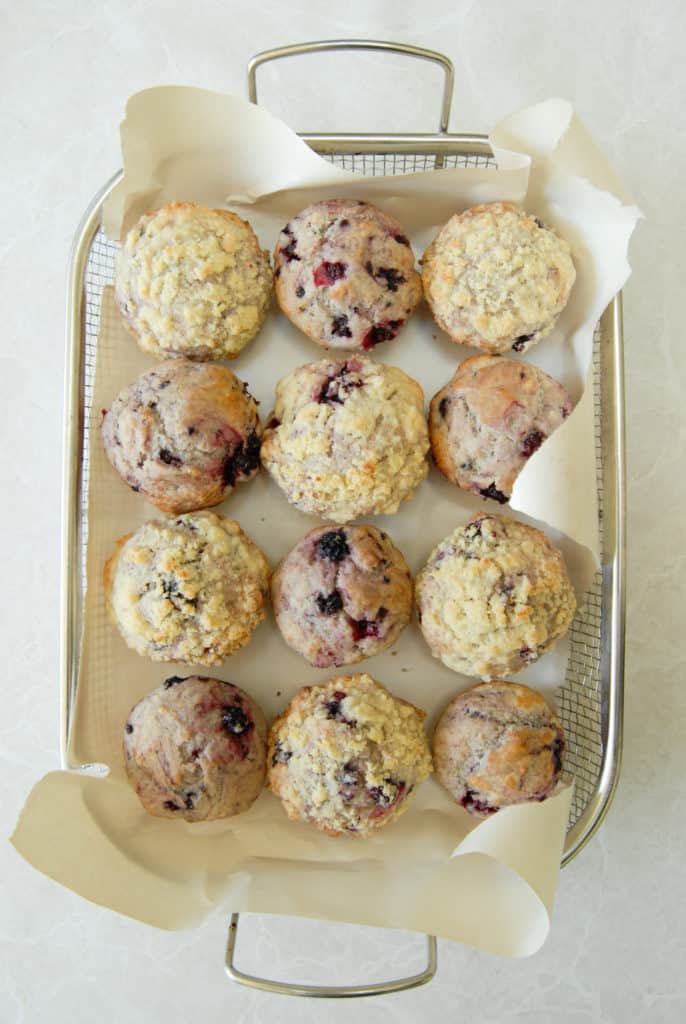 Call me the muffin man
This recipe will walk you through how to make 12 blackberry muffins, all with their own perfect crumbly streusel topping. A muffin is basically a breakfast-approved cupcake so what's not to love am i right?
And I have to say I get satisfaction out of using all my kitchen gadgets… when I actually pull them out and use them- am I alone here? When I think about baking donuts, or muffins, or anything in a springform- things that require *Heaven forbid* getting out that dusty pan I haven't used in a while- I find myself reluctant to get started but 4″ taller and so proud of myself when looking down at the glorious creations.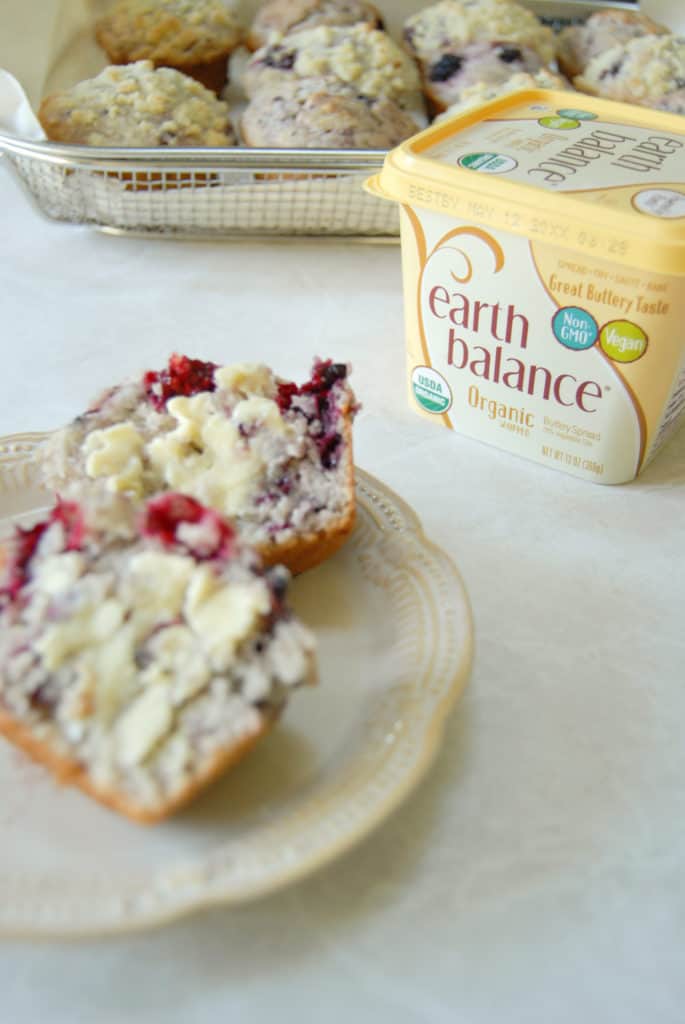 Quick pep talk. You'll never regret baking all the things, okay? And today the things are blackberry muffins, so get out your muffin pans!
The process
This recipe is actually really simple to make, which means you can have berry muffins on the regular-YESSS! I do want to point out a couple tips on making & baking:
The batter is going to be thicccck. This is totally ok! Some of your berries are going to break down when you fold them in. This is totally ok (aka it's encouraged!)
I'm a fan of big, crispy muffin tops so this recipe fills the muffin cups to the brim! If you have overfull muffin cups, the batter can spill out and lose shape, so make sure you evenly fill the pan!
Paper muffin liners are great here! If you're unsure of your muffin making abilities- I'd opt for using these to make removal easy.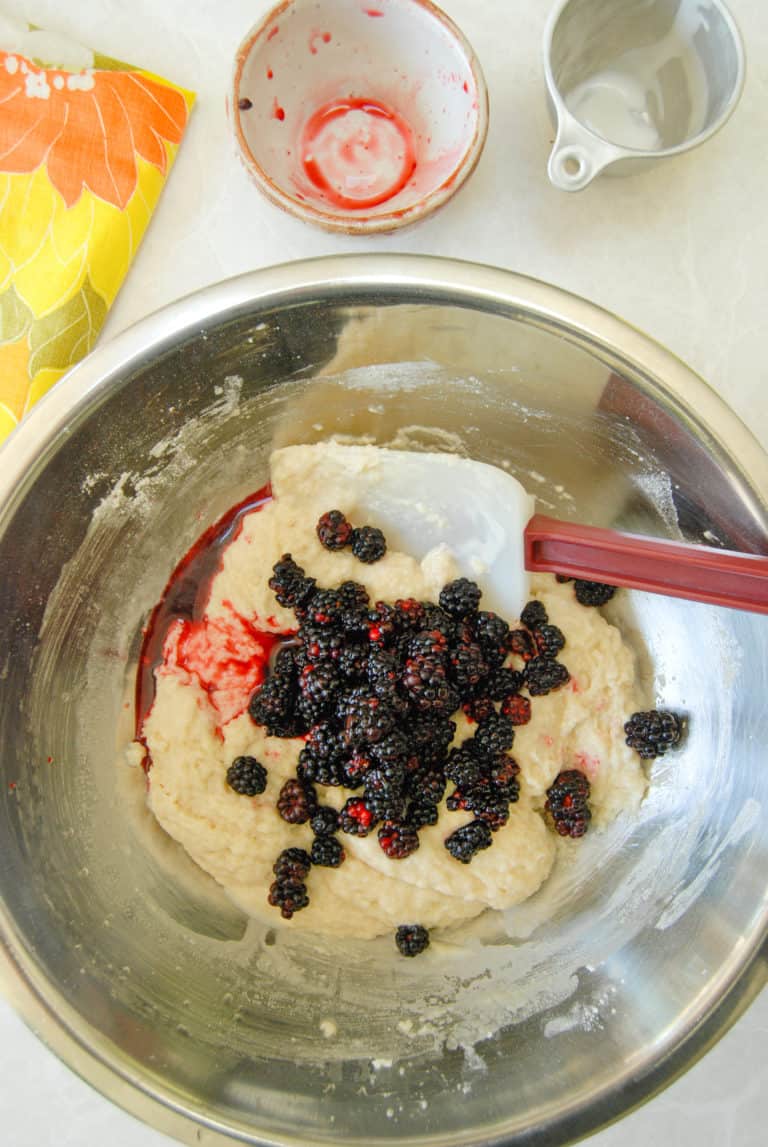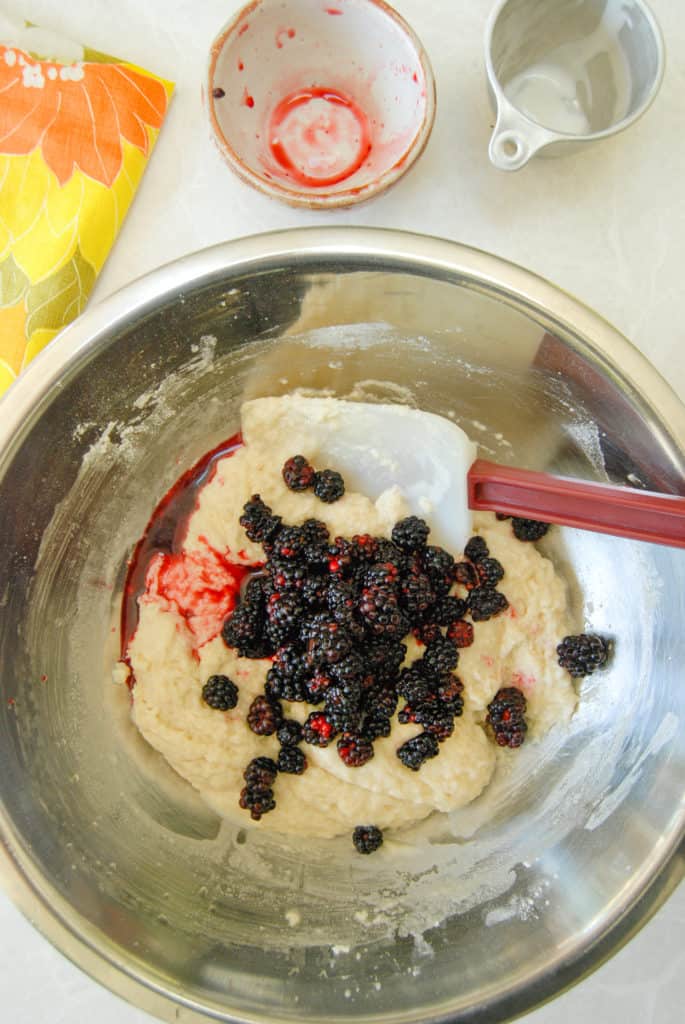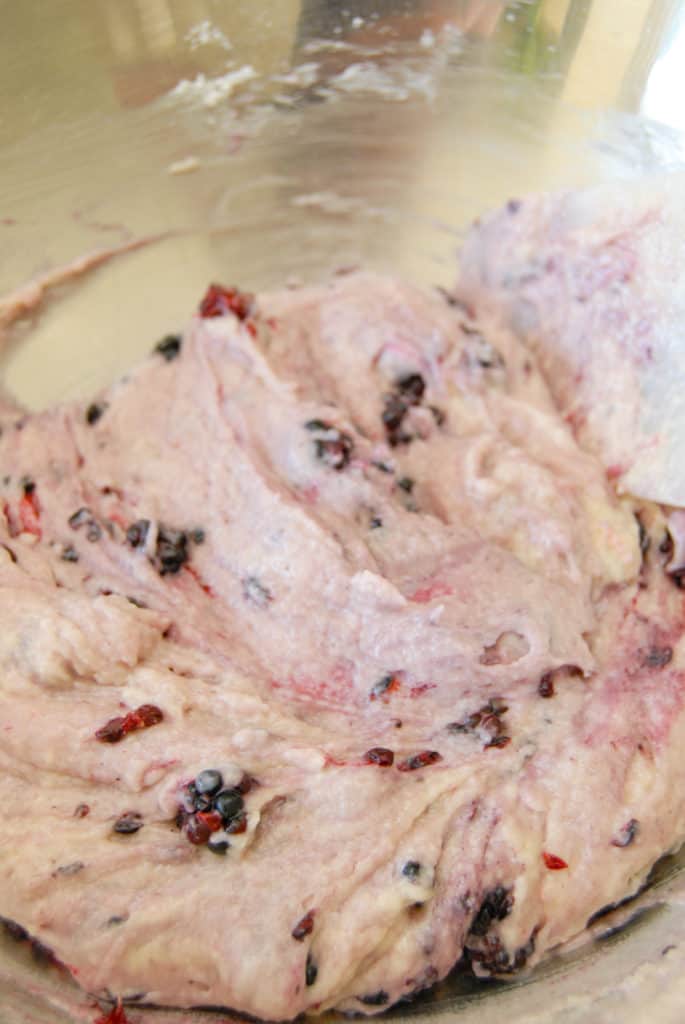 Here you can see the streusel v. regular blackberry muffins! Both have the same baking time and both are equally delicious. And can I tell you BOTH are delectable toasted with butter for breakfast… or toasted with ice cream for dessert.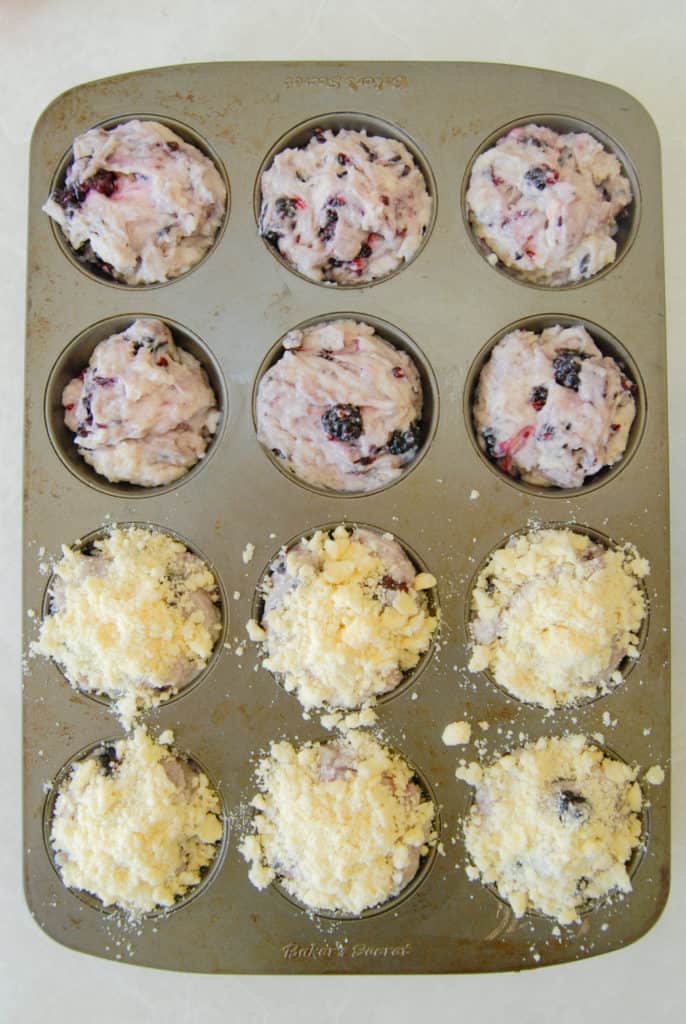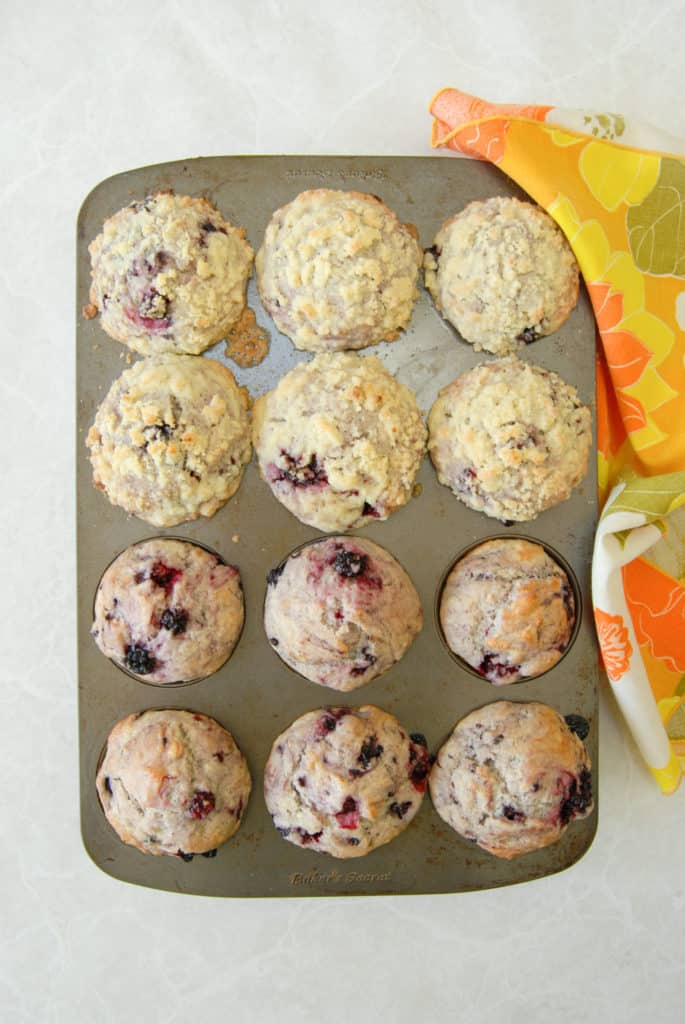 That streusel topping though
If you aren't head over heels for streusel like we are, feel free to skip this step. Streusel lends a certain childlike wonder to all the baked goods in my opinion. Yes, it crumbles and showers you with little sugary morsels but it's seriously yummy so it's really ok.
To make this topping you simply need to combine all dry ingredients, then use a pastry cutter to cut in the butter so it's in pea-sized chunks and has a crumbly texture. It's similar to making vegan pie / galette / pastry dough, but with a touch less moisture and no kneading to form a dough. This crumbly mixture simply gets sprinkled, ahem- doused, onto the tops of the muffins then bakes up sweet & crumbly!
Be warned: you're probably going to want to streusel everything from now on. Also note: We highly recommend a streusel craze phase. Thanks for coming to my Ted Talk.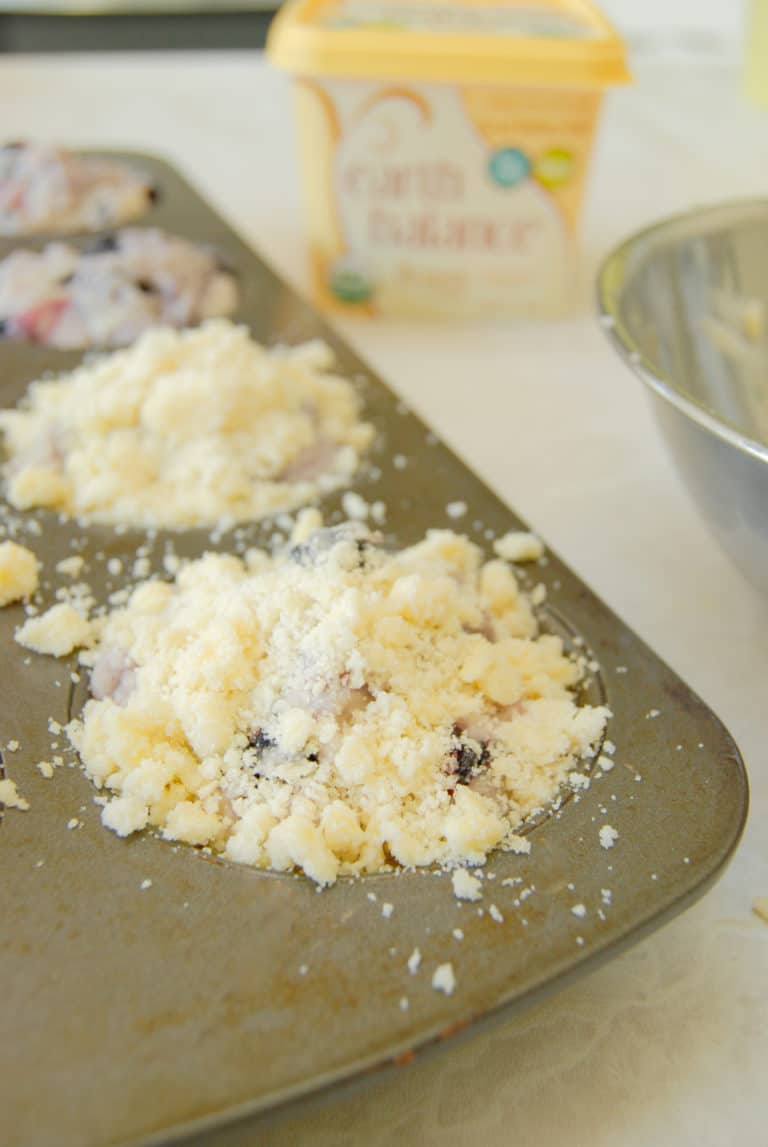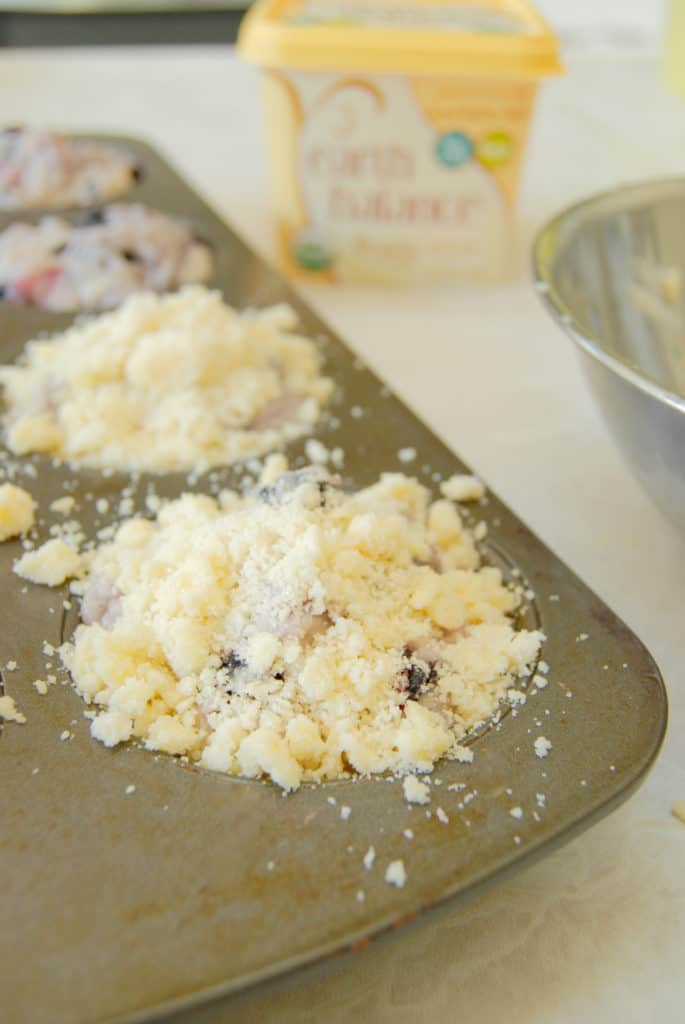 Frozen or fresh?
You can use either fresh or frozen berries, although I do recommend defrosting the berries prior to using them. The blackberry flavor really permeates the entire muffins, the muffins rise easier, and the berry juices get bubblier if you defrost them! A 30 minute defrost is all that's needed here to get the payoff!
I don't chop the blackberries for these muffins- I leave them whole and appreciate the bites with big blackberry flavor! You can chop the berries if you'd like but I don't think it's necessary.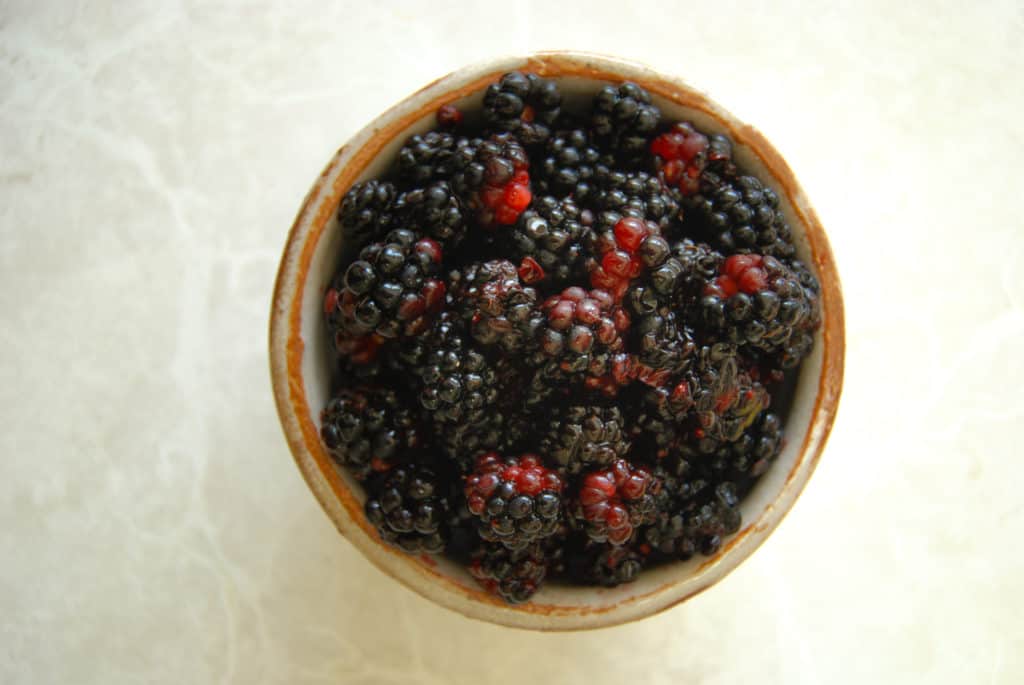 Blackberry Muffin FAQs
Can you use flavored vegan yogurt in this recipe? Wow wow, hello & PS I love you. Lemon yogurt! Or vanilla yogurt would make these blackberry vanilla muffins and will you excuse me, I have things to bake now.
Can I sub blueberries in these? Yes, girl/boy, YES! Pretty much any berry will work. You can even do a 50/50 split and turn these bad boys into vegan mixed berry muffins. Extra.
Gluten-free substitute? I haven't tried this recipe with a GF flour- please let me know if you do!
I don't have vegan yogurt on hand, what can I use? Hmm, you can try applesauce as a substitute, or mashed ripe bananas. Both will change the flavor but have similarish consistencies.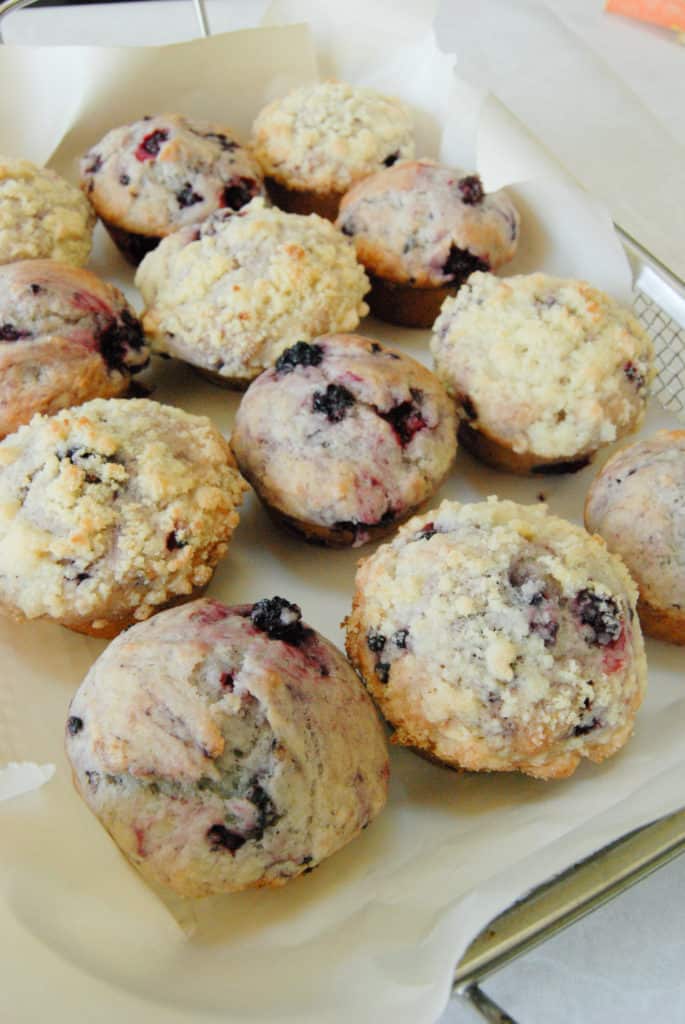 Print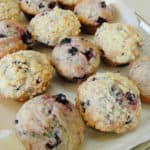 Vegan Blackberry Muffins
Author:

Adriana

Prep Time:

15 minutes

Cook Time:

20 minutes

Total Time:

35 minutes

Yield:

12

muffins

1

x

Category:

Recipes

Method:

Oven

Cuisine:

Breakfast, Dessert
---
Description
Summer intentions: Eat all the blackberries, namely these vegan blackberry muffins! Easy, reliable, and delicious these muffins are sure to satisfy! This recipe gives you 2 options: with a streusel topping and without because we want you to have your blackberry muffins and eat them too.
---
2 1/2 cups

all purpose flour

1 teaspoon

salt

1 cup

sugar

4 teaspoons

baking powder (

1 tablespoon

+

1 teaspoon

)

1 cup

vegan yogurt (I'm a huge fan of Forager)

1/2 cup

melted coconut oil

1/4 cup

water (or any plant milk)

2 teaspoons

vanilla extract

1 1/4 cup

blackberries, rinsed

2 tablespoons

flax meal
Optional: Streusel recipe below!
---
Instructions
Ensure your oven rack is in the center position and preheat your oven to 400. If making streusel topping, do so now (read below).
In a bowl, sprinkle the 2 tablespoons flaxmeal on blackberries and stir to coat. Set aside.
Measure dry ingredients and stir together in a mixing bowl. Ensure your flour is not packed. I store my flour in a large container and stir it around to aerate it prior to measuring!
Add melted coconut oil, vegan yogurt, and vanilla. Stir lightly until just combined.
The batter will be thick, it's ok! Pour the blackberries into your batter and stir to combine. Some blackberries will tear apart as you stir- this is OK! The dough will have a swirled appearance, there will be bits of purple tinted-dough and bits of regular dough- also OK!
Grease your muffin pan if not using muffin cups. I do recommend muffin cups for these unless you are ok patiently removing the muffins!
Pour batter equally into the 12 muffin cups. Optionally sprinkle a pinch of sugar on each muffin or top each muffin with the streusel. (See below if using)
Bake for 17-20 minutes, until golden and a toothpick inserted comes out clean.
To remove, let cool for 5 minutes then gently use a butter knife to ring around each muffin and softly pop out.
For optional streusel topping:
Measure 2 tablespoons of butter, place in freezer prior to making the batter or at least 10 minutes.
Measure 2 tablespoons sugar & 1/4 cup flour and place in a bowl.
Remove the butter from the freezer and use a pastry cutter or fork to cut the butter into the dry mixture. It will look like large grainy sand. There should be small (coffee bean or smaller) sized pearls of butter coated with flour. The trickiest step with streusel is ensuring the butter doesn't melt! This streusel crumble will not resemble a dough, it will be loose and sandy.
Place into fridge.
---
Notes
** Try to even out all muffin cups with batter so baking times are equal.
** Streusel can be tricky to make. The best tip I can give you is to keep it COLD! If the butter melts, it's all over. I'm working on a post with tips on how to make vegan streusel, stay tuned! If using streusel note the muffin tops will be crunchier (YUM) but also more likely to break when you remove the muffins! Muffins cup liners will help mitigate this issue, allowing them pop out easier!
** You can easily sub raspberries or blueberries!
** If you leave the muffins in the pan for a long time after baking, they will continue to bake and may dry out. 5 minutes to cool, then remove.
** The flaxseed meal is optional, but helps to absorb additional liquid from the berries!
Keywords: Berries, Muffins, PNW inspired