We have reached the epicenter of tomato season thus I vote we all make vegan tomato galettes tonight! Embrace the flavors of summer with garden fresh tomatoes and fresh herbs joining together in a rustic, flaky pie crust. Hello, goodbye I need to go make this again now!
Those tomatoes on your counter are about to become part of something for the greater good. YOUR greater good. OMG let's go.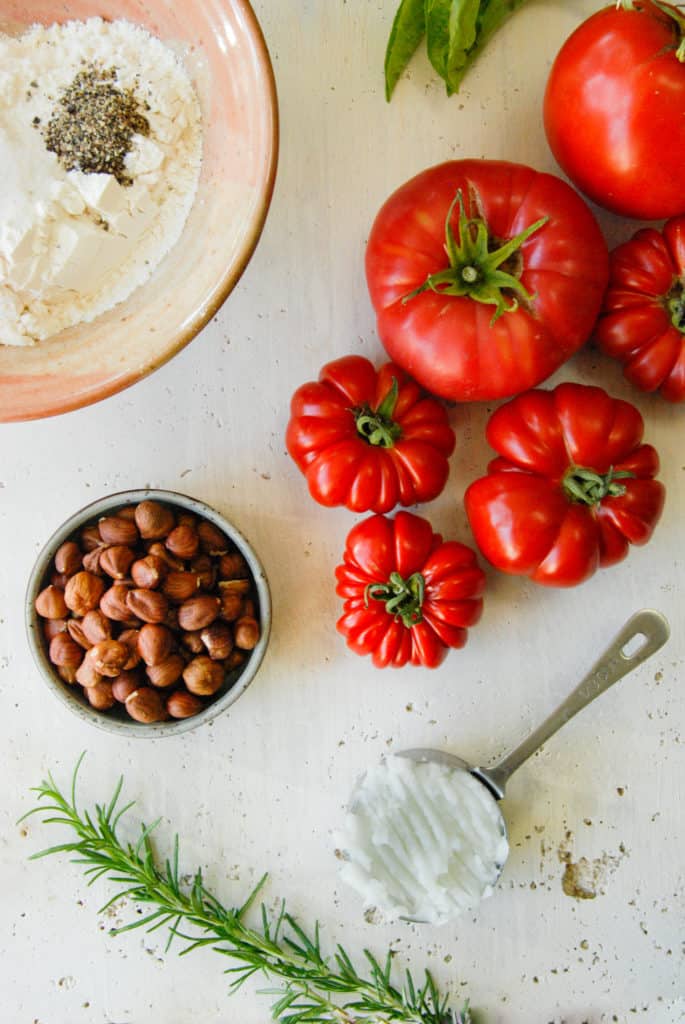 Tomatoes… Prepare yourselves!
You can use up whatever tomatoes you have on hand- beefsteak, heirloom, cherry or grape- however, I encourage you to use large slicer tomatoes! (These can be beefsteak OR heirloom varietals!) Cherry tomatoes just don't meld into this holy tomatoey oneness that I truly expect from a galette. Real talk.
So take your large, slicer size tomatoes and do just that. Core and slice them, then coat them- 2-3 teaspoons- with salt and set them aside while you master the crust. We'll circle back and squeeze the last bit of water out of them prior to layering them into their new pie crust home.
This crust- it's simple
I know, you're thinking "okay I don't DO pie crust!" Don't freak, you got this. We seriously don't need to worry about ice water, or over-handling the dough or any of that touchy business. This is a foolproof galette crust.
Here's the thing, we're going to place our coconut oil and flour in the freezer for a bit. *Game changer* Our food processor will do all the work for us, and we'll roll out a rustic (read: hip & gram worthy) pie crust. This ship is going to sail smoothly into vegan tomato galette harbor and we're going to feast. That's all there is to it.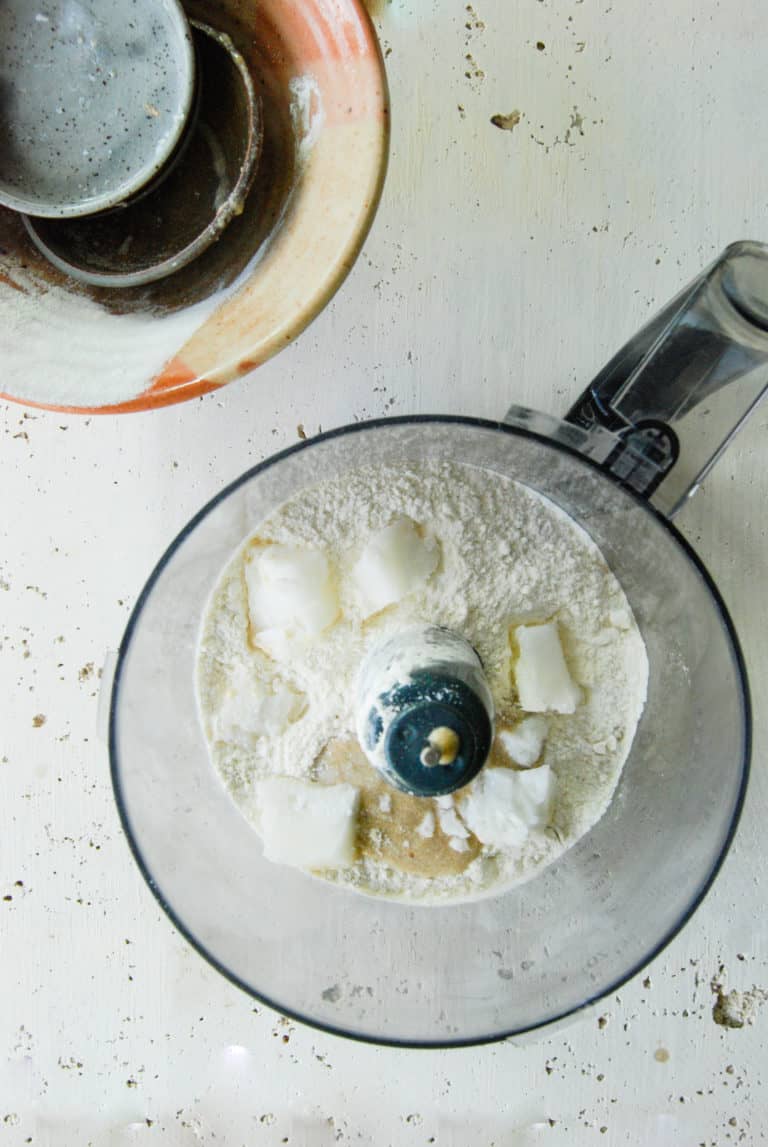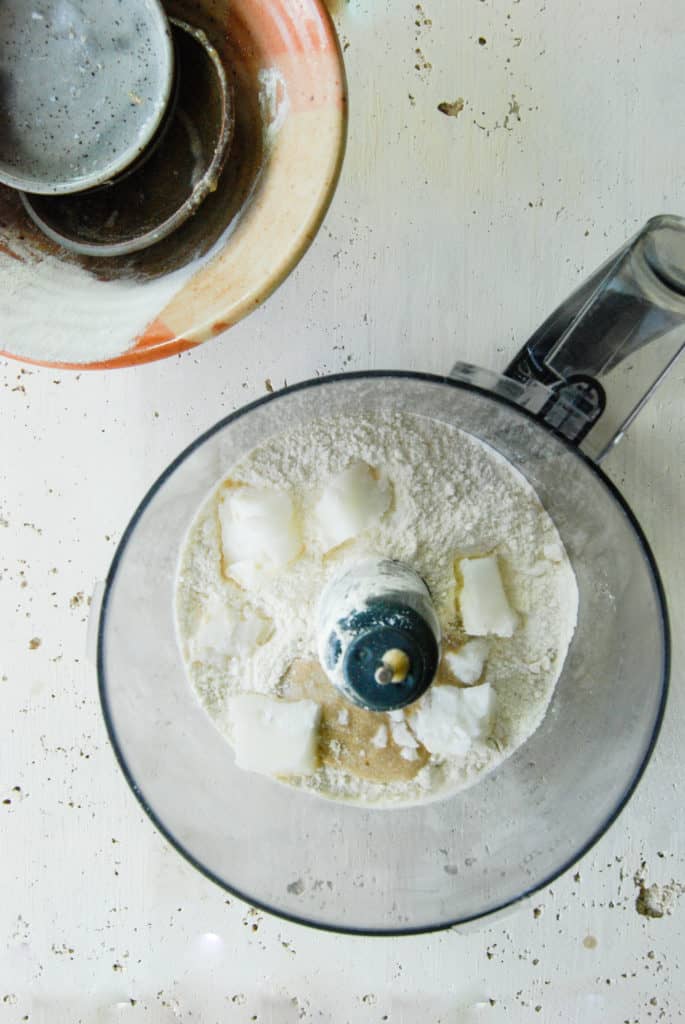 When the dough is a sandy texture and the frozen coconut oil is processed into coffee bean-sized pieces or smaller, you are ready! As you can see in the above right photo, the mixture doesn't resemble a dough BUT when you pinch and press it together, a dough easily forms! At this stage, pour the mixture out and shape into a dough round.
We'll refrigerate the galette dough to properly chill it, then roll and shape the dough! As galettes are considered rustic pies I'm all for irregularly-shaped galettes.
Hazelnut ricotta, who dis?
The first few times I made this recipe I was really working on removing any and all potential problems in the crust. However, as I tried galette after tomato galette I realized I wanted something more. More flavors, more layers, more complex. I wanted cheese.
Enter: Hazelnut ricotta. It lends a creamy richness (and protein!) to this vegan tomato galette that is muah *chefs kiss* a serious lesson in summer indulgence. Thank you, PNW, we're on board.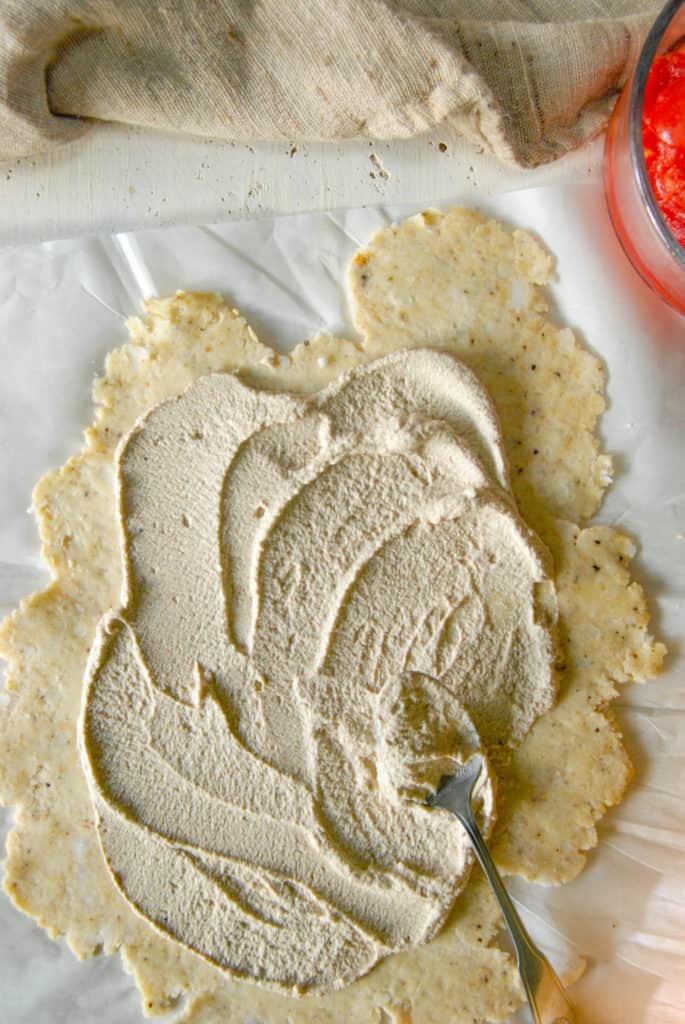 Let's talk: fresh herbs
If it's an herb, it's green, and it's in your garden- it's going to work magnificently! We know basil + tomato = heaven, but let me tell you: oregano, rosemary, thyme, cilantro, chives, and sage all fit the bill.
I'm going to use basil and rosemary in this recipe, but please sub in whatever you have on hand! I'd recommend layering herbs into the galette before baking AND sprinkling fresh herbs after baking!
When you remove this from the oven, the galette crust will most likely be bubbling and have a small amount of liquid beneath it. It's okay! You don't have a soggy crust on your hands! (My heart sank the first time I saw this pool of liquid!)
The liquid is actually coconut oil- and we all know hot oil gives us crispy textures- so thank that bubbly goodness. Carefully remove the galette from the baking sheet and place on a rack to cool for 5-10 minutes. This crust recipe is nice and crisp.
FAQs about this tomato galette:
What to serve with a tomato galette? This goes great with a salad, with roasted vegetables, or even with mashed cauliflower as we head into fall!
Can I make this tomato galette without cheese? YES, this tomato galette recipe works without cheese. It is also dairy-free.
Will this recipe work with heirloom tomatoes? This would be great as an heirloom tomato galette!
Can I use a storebought pie crust? Yes, double check baking times and adjust as necessary.
I've had trouble making a galette crust before… scared to try this one? I'm working on a follow-up post with tips and tricks of making vegan galette dough, and a few options to try.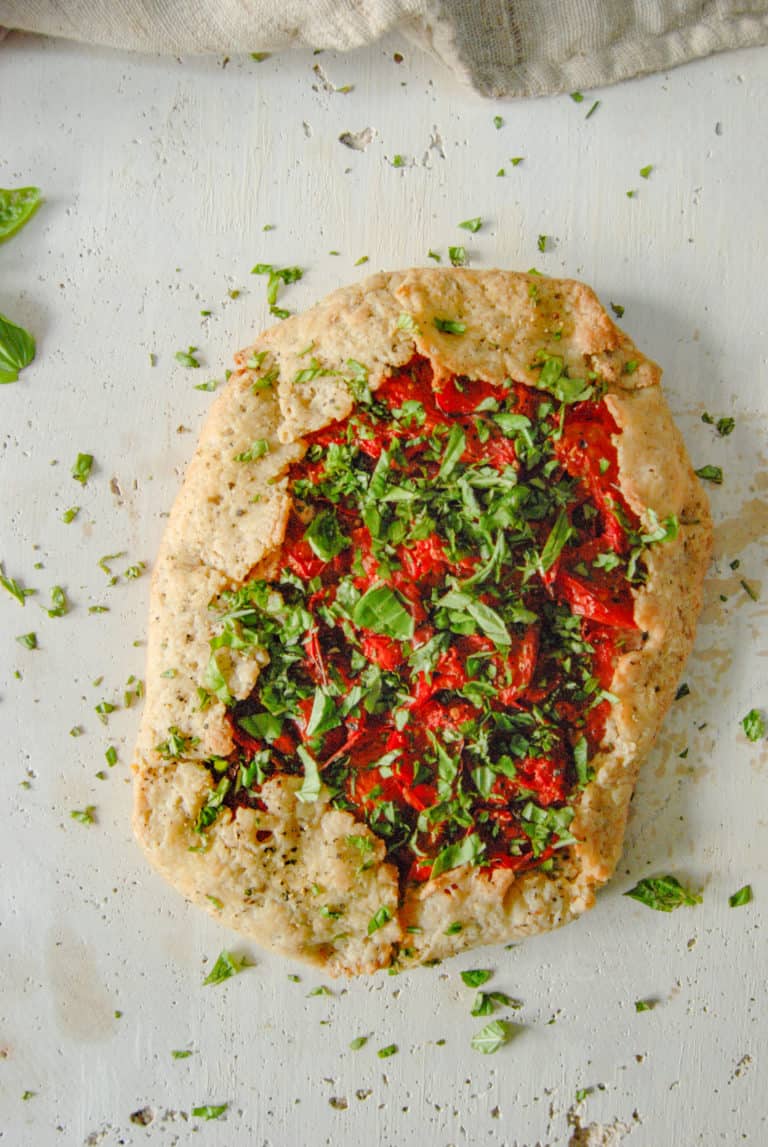 Print
Vegan Tomato Galette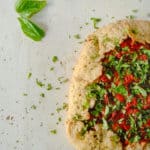 Hubba, hubba gimmie that vegan tomatoe galette! This tomato galette recipe delivers a crispy crust, bright tomato flavor, and fresh herb finish every time. Yes, it's homemade pie crust and yes, you've got everything under control!
Author:
Prep Time:

40 minutes

Cook Time:

30 minutes

Total Time:

1 hour 10 minutes

Yield:

8

pieces

1

x
Category:

recipes

Method:

oven

Cuisine:

Italian
Scale
Ingredients
For the crust:
1 1/3 cup

all purpose flour

1 teaspoon

salt

1 teaspoon

black pepper (

15

–

20

cranks of your pepper mill)

1/3 cup

coconut oil

1/4 cup

cold water

1

flax egg (

1 tablespoon

flaxseed meal +

2 tablespoon

cold water)
For the tomato-herb filling:
3 cups

sliced tomatoes of any variety

2

–

3

teaspoons salt

1/4 cup

fresh chopped herbs, finely chopped
For the hazelnut ricotta:
The hazelnut ricotta is optional! This recipe makes about 2 cups of ricotta, but you'll only need 1/2 cup for this recipe- I want to be fully transparent, you will have leftover ricotta! You can sub any storebought vegan cheese, or omit this portion entirely and the galette will still turn out AMAZING!
1 1/4 cup

hazelnuts, soaked 4-6 hours

1 cup

water

1.5 teaspoon

salt, or more to taste

2 tablespoon

olive oil

2 tablespoon

lemon juice

1 tablespoon

nutritional yeast
fresh black peper to taste
Blend all ingredients in a high powered blender until you have a smooth consistency. Place in a container and store in the fridge to chill and thicken.
Instructions
Prep your components:
Measure out the 1/3 cup coconut oil for the crust and place it in the measuring cup, in the freezer.
Measure out the flour, pepper, and salt for the crust and place ingredients in a bowl in the freezer.
Make the flax egg- 1 tablespoon ground flaxseeds & 2 tablespoon water. Set aside.
Next, slice tomatoes and place in a colander. Sprinkle with 2-3 teaspoons salt and mix well. Leave to drain in the sink or in a wide mixing bowl.
Make the galette dough:
Remove the dry ingredients from the freezer and place in food processor.
Remove the coconut oil from the measuring cup. It should be a solidified disk- cut into 6-8 smaller chunks and add to food processor. (I cut in half, then cut into thirds) If you're having a hard time removing the hardened coconut oil, dip the measuring cup into a bit of warm water.
Pulse the food processor until the mixtures is a sandy, grainy texture. Pour in the flax egg and pulse a few more times to incorporate.
The mixture won't resemble a dough, but if you pinch it together it will form a small dough clump. Pour the mixture out onto a cutting board and form into a disc.
Wrap with a tea-towel or plastic wrap and place in the fridge for at least 10 minutes.
Use a piece of parchment paper or a well floured surface to roll out the dough- it will be very firm at first and soften up as you roll. For this recipe, I recommend rolling the dough out into an oval shape about 10″x 13″. This will leave plenty of room for the filling and for a 'crust' to fold over. Place on a sheet pan lined with parchment paper and set in the fridge.
If you are comfortable working with the crust and your tomatoes are ready, you don't need to place this in the fridge again. Simply assemble and bake! 
The tomato mixture:
You'll notice the tomato-salt mixture has shed a bit of water. Using a spatula, gently press down on the tomatoes in the colander. This will help to release more water and ensure we have a crisp-crusted-galette!
Assemble & bake!
Preheat oven to 400.
Remove the galette crust from the fridge. Optional: spread 1/2 cup of hazelnut ricotta or other vegan cheese over the dough if using, leaving a 1 1/2″ perimeter to fold over.
Sprinkle half of the fresh herbs onto the crust or vegan cheese (if using). Top with the tomatoes.
Fold the crust over the filling and optionally brush/spray with oil or vegan butter.
Bake for 30 minutes, remove and set on a wire rack to cool.
Sprinkle with remaining fresh herbs, serve and enjoy!
Notes
** Use any tomato variety you have on hand. I personally like the flavor and texture of using larger, slicer tomatoes vs. cherry or grape tomatoes.
** You can sub vegan butter for coconut oil in this recipe if you'd like. Still follow all prompts regarding freezing!
** To make a proper galette crust, there needs to be small bits of coconut oil (fat) in solid form throughout the crust. Placing your flour and coconut oil in the freezer prior to making the dough help keep the mixture COLD which keeps the coconut oil from melting! Anytime you are not actively working with the dough it should be placed back into the fridge to keep those little oil pockets solid!
** This will last for about 3 days in the fridge. To reheat any leftovers, place into a 350 oven for 7-10 minutes. You can reheat in the microwave or on the stovetop but the crust won't be as crisp.
** Nutrition information is for 1/8 small slices, without hazelnut ricotta.
Keywords: vegan galette, tomato, vegan cheese
Reader Interactions