Update on our love affair with gnocchi… we're now eating gnocchi succotash on the weekly- it is effortlessly delicious and surprisingly spirited. Friends, looks can be deceiving- this is gnocchi with vegetables! You will not find a gnocchi recipe that is
A) More delectable
B) More versatile
C) More straightforward
than gnocchi succotash. 'Nuff said, let's do this thing.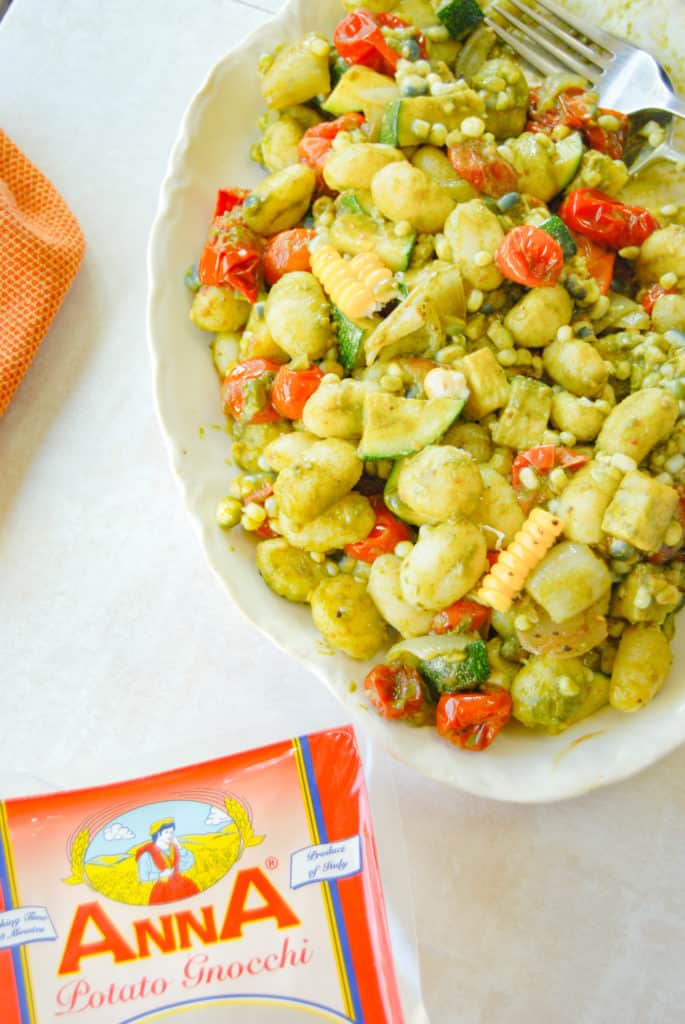 You NEED this gnocchi succotash
We really just need to touch on how flexible this recipe is. The only rule is, there are no rules! First off, you can serve up gnocchi vegetable succotash warm or cold, just as you would a warm pasta dish or cold pasta salad.
Second, use whatever vegetables you have on hand. We eat this throughout the year using whatever produce is seasonally abundant. As we're publishing this recipe during late summer, you can bet this specific gnocchi succotash is going to house a few of the usual suspects in a succotash-tomatoes and corn!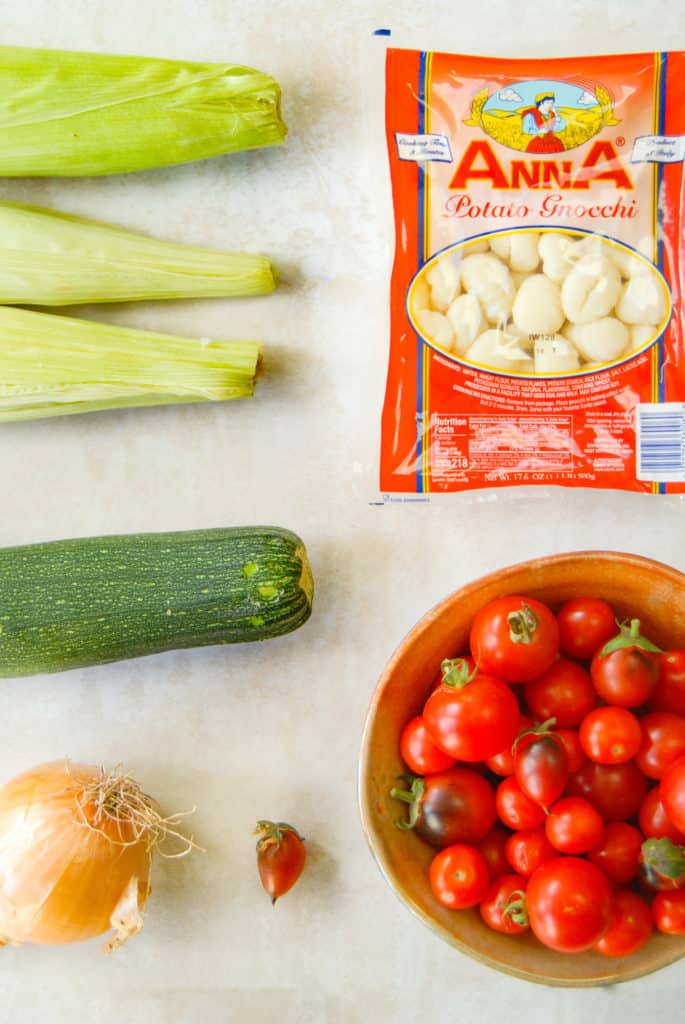 Lastly, are you saucy? We know that sauce is boss- regardless of the dish you're eating- so go ahead and use your favorite sauce here! Pesto recipes of any kind work beautifully but the options are limitless. Think: leftover salad dressing, pasta sauce, creamy sauces, chunky sauces, whoa- wait – even BBQ sauces! Girl/boy, you go nuts.
Bonus: Yes, you sure can make this ahead of time and keep it in the fridge! If using a more liquidy sauce like a salad dressing, leave the sauce out so things don't get soggy. Leftovers are delectable (if you have any) and they'll keep for about 3-5 days in the fridge.
If you're a fan of the nutty, herby, textural component that dukkah adds to any and everything– a sprinkling of dukkah to garnish would fit in here like a BFF.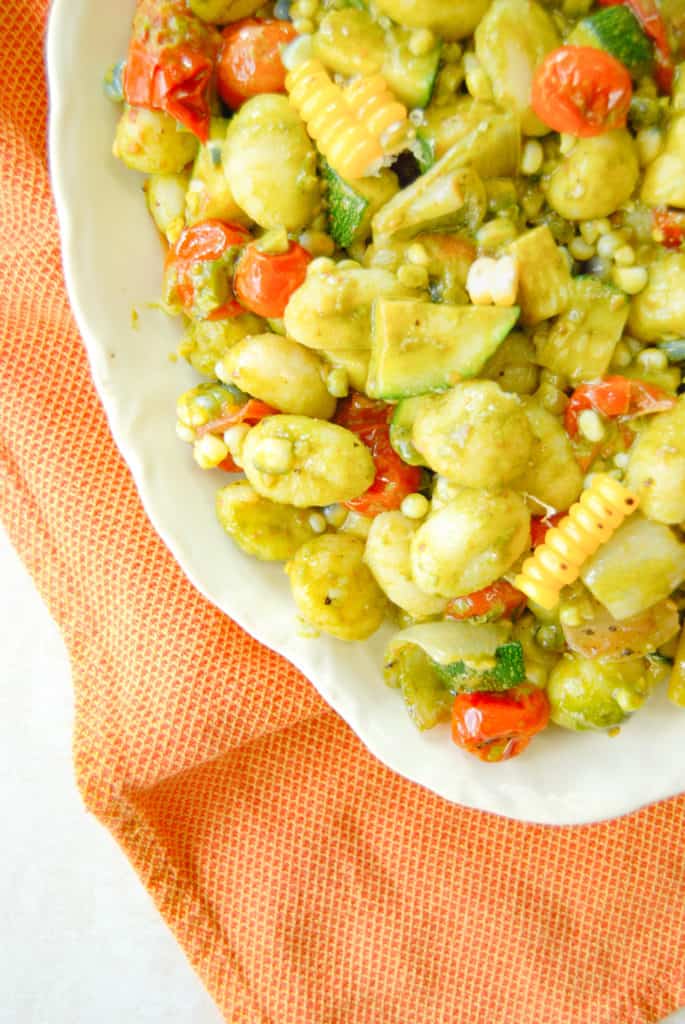 Putting it all together
Okay, the only real work here is chopping your veggies. And by work we mean we're gonna chop and throw 'em all on a sheet pan. If you plan to have a warm succotash, wait to cook your gnocchi until the veggies are nearly ready. Typically we eat this recipe as a warm side the first time, then eat leftovers as a cold pasta salad.
You can use raw vegetables in this gnocchi-vegetable recipe but roasting them just brightens up everybody's flavor so much that it's worth it.
Give the tomatoes and zucchini a quick chop, toss with oil & seasonings, then into the oven they go. The corn can cook, husk on, in the oven as well. If you don't have corn on the cob- no worries, just use 1 can of drained corn.
If you are following along and making the pesto, do this as your veggies roast. If you are in the mood for uber simplicity, don't worry about the pesto. As we're roasting the cherry tomatoes whole, they'll be really juicy and delicious, with enough moisture/liquid to flavor the dish.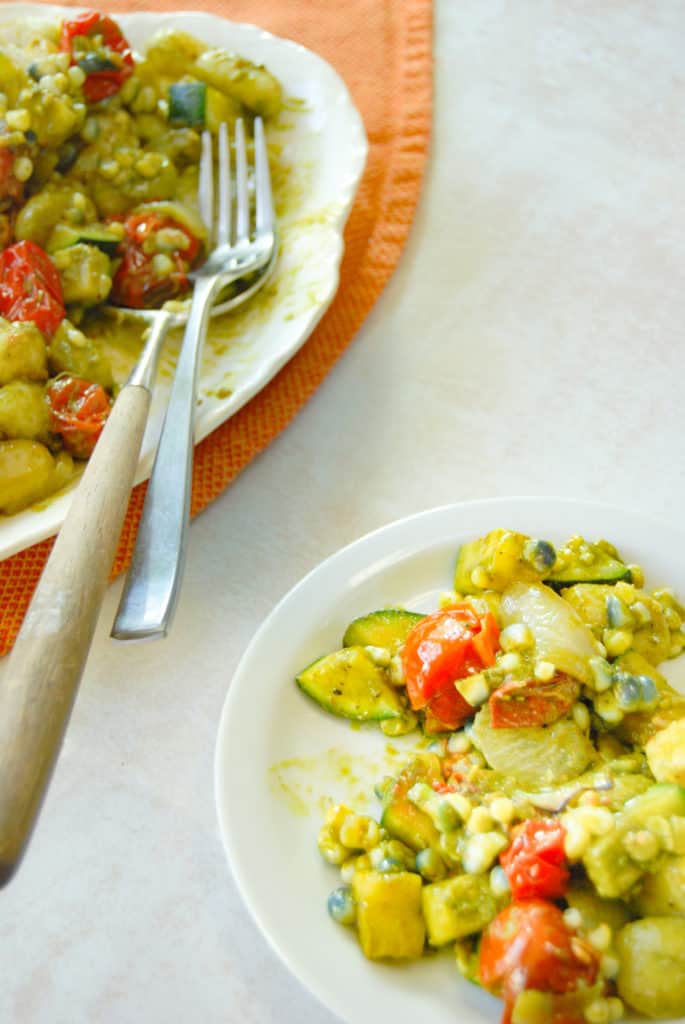 Variation inspiration
We're going there, we're exploring. Imagine you find yourself loving this gnocchi succotash but lacking the necessary components… Now what?
Teriyaki Twist: Roasted pineapple, mushrooms, bell peppers with teriyaki sauce and a macadamia nut dukkah. Hi, marry me?
Winter warmer: Roasted beets, brussel sprouts, pecans, and a balsamic-rosemary vinaigrette. Fuzzy sock season <3
Or even: Fennel, avocado, and strawberries with sunflower seeds & basil. K I'm dead.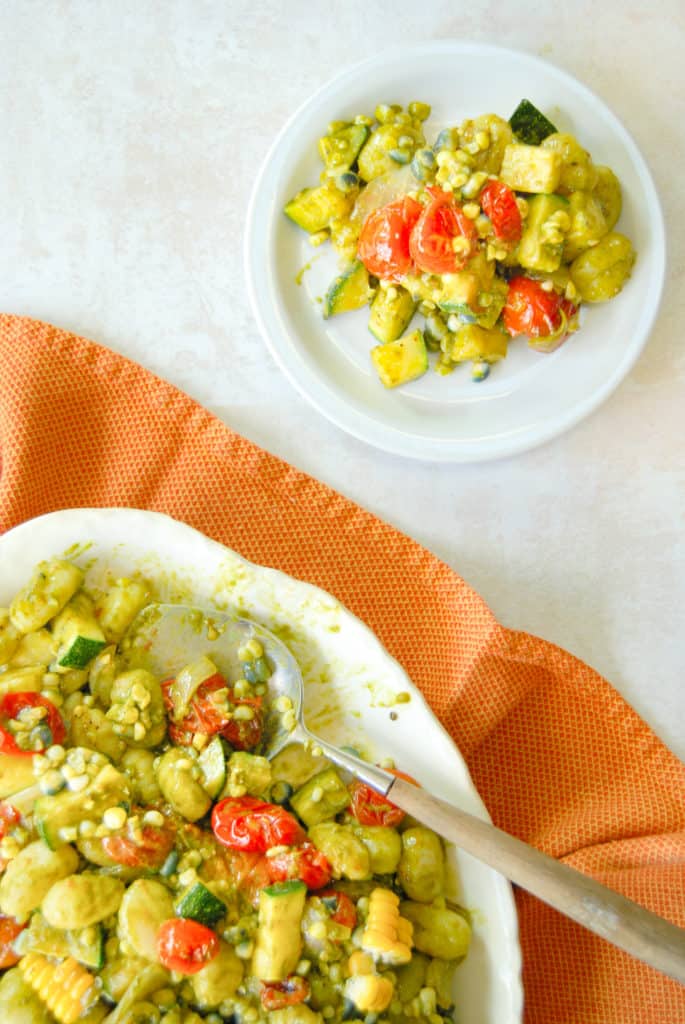 Print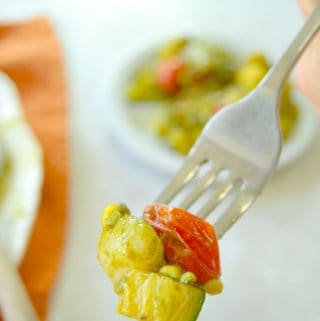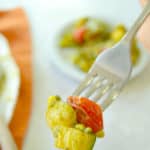 Gnocchi Succotash
Author:

Adriana

Prep Time:

10 minutes

Cook Time:

35 minutes

Total Time:

45 minutes

Yield:

6

–

8

servings appetizer, 3-4 entree

1

x

Category:

Recipes

Method:

Oven

Cuisine:

Italian
---
Description
Gnocchi Succotash will help you satisfy all the hungry people in your life- and sneak in a full helping of vegetables. This is a spin on a classic succotash that replaces beans with gnocchi dumplings, I mean hello- how can you go wrong?
---
3 cups

cherry tomatoes

3 cups

coarsely chopped zucchini (about

2

medium zuchini)

1

medium onion coarsely chopped

4

corn cobbs, or

1

can of drained corn

1/4 cup

pesto (optional)

1

package gnocchi (about

3 cups

cooked if you have homemade!)

1 tablespoon

olive oil
salt & pepper to taste
---
Instructions
Prep your veggies:
Heat oven to 400. Coarsely chop zucchini and onion.
In a mixing bowl and add the tomatoes, onion, olive oil, salt & pepper. (And canned corn, if using)
Toss to coat veggies in oil, roast on a parchment lined sheet pan for 30 minutes. (if using corn on the cobb, leave the husks on and place corn on the baking sheet).
Using the same mixing bowl, toss the zucchini with oil left in the bowl. We'll add this in later to avoid soggy zucchini!
While the veggies roast, boil water for the gnocchi. Cook and drain the gnocchi, set aside.
At 30 minutes, add the zucchini to the baking sheet and cook and additional 5 minutes. You can remove the corn and let it start to cool, then remove from the cobb.
To assemble:
Add all roasted vegetables to the mixing bowl, add cooked gnocchi, and 1/4 cup pesto. Stir gently to mix together!
---
Notes
** The pesto in this recipe is optional, with the juicy tomatoes you don't have to use it!
** A traditional succotash includes red beans, and doesn't usually have gnocchi or zucchini. This is our spin!
** You can substitute any other vegetables you have around… This gnocchi succotash recipe, as-is, is great for end of summer produce.
Keywords: Gnocchi, tomato