Adriana has published hundreds of recipes online and is a Board Certified Nutritionist. Read our recipe development process or more about Adriana.
We're proud to introduce cilantro detox juice! It's an oh-so-refreshing and revitalizing beverage… it's green, it's healthy… and the taste is reminiscent of a cilantro-flavored lemonade. Consider this the ace up your sleeve to hydrate during those hot end-of-summer days or the detoxifying juice to jumpstart your journey if you've fallen off the healthy horse.
This recipe requires just 3 ingredients and can be made in your blender– Let's get to it!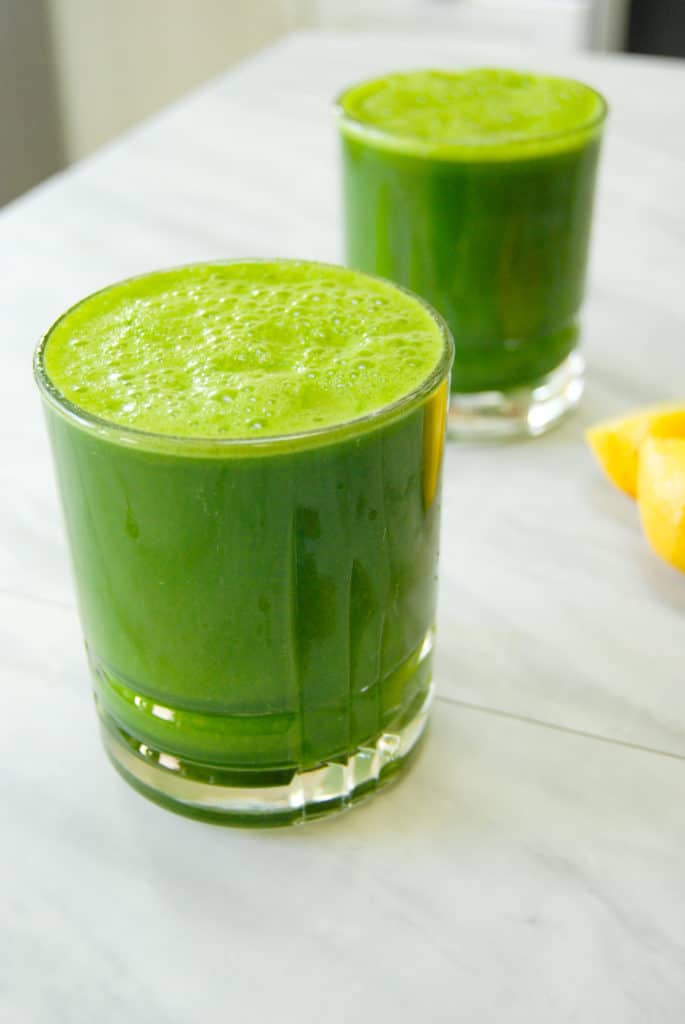 Cilantro Juice Ingredients
The base of this cilantro detox juice is 1 entire bunch of cilantro! You can customize the additional ingredients you add to this juice to suit your palate and health preferences.
Cilantro:

Fresh, washed cilantro leaves and stems and all! We usually cut the bottom 1-2″ off the stems and use the whole bunch.

Lemon Juice:

Fresh lemon juice provides an added boost of vitamin C and compounds found in lemons have been studied to help lower cholesterol! Lemon juice also provides a tart, bright flavor for the juice.

Sweetener:

Honey, agave, maple syrup, a date, or simple syrup will all work in this recipe if using a blender.
Optionally, a nub of ginger for zing, a cucumber for extra hydration, or even a jalapeno for spice work amazingly well in this juice blend.
How To Make Cilantro Juice
There's no need to get your juicer out of that dark, dusty corner of your cabinet and wash all those parts. You can make this recipe with a blender or with a juicer! We're opting to get our health on thanks to our trusty, countertop blender!
We recommend roughly chopping the cilantro prior to blending. If you fill your blender up with long, unchopped cilantro stems they can get wrapped around the base of your blade.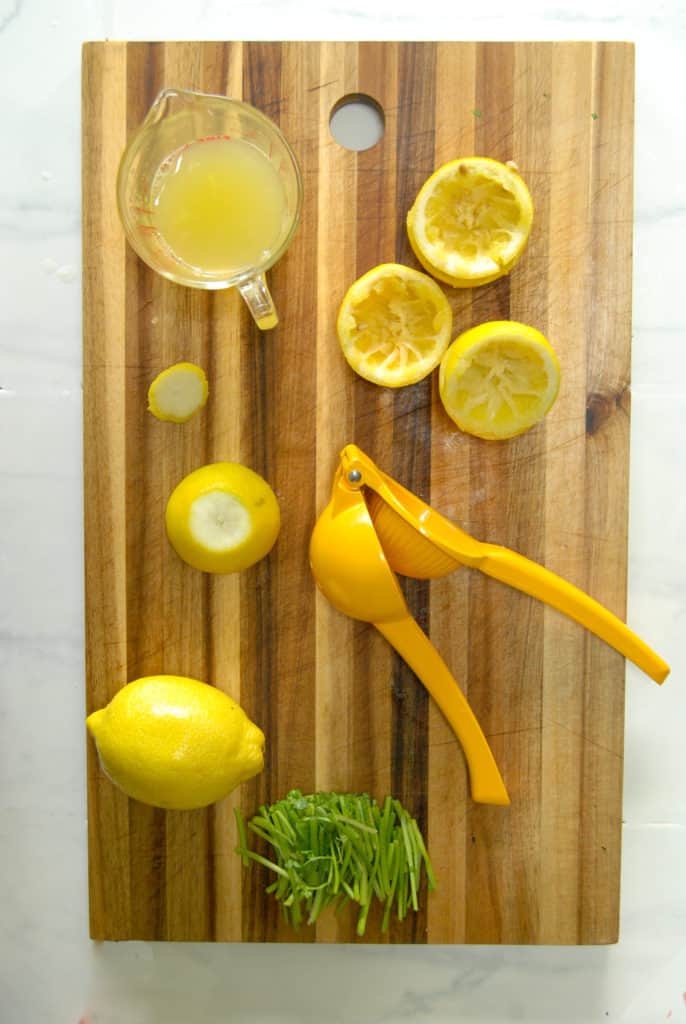 Cilantro Juice Health Benefits
Cilantro is a green leafy herb with soft leaves and stems, very similar in appearance to parsley. Like most herbs, cilantro provides numerous health benefits. The most well-known and discussed cilantro health benefits are heavy metal detoxing, anti-oxidant qualities, and chronic disease management, however, there are many additional benefits to including a good dose of cilantro in your diet. (Source)
Heavy metal detoxing:

Various heavy metals can accumulate in our body and are stored in various tissues which can potentially lead to a host of chronic, reproductive, and neurological symptoms and issues. Cilantro has been studied and shown to help the body remove these metals from body tissues and excrete them.

Anti-oxidant properties:

Free radicals can build up in the body and cause damage to molecules, potentially increasing the risk of cancer and other chronic diseases. Cilantro has high anti-oxidant properties that may help combat the effects of free radicals in the body.

Reduction in anxiety levels:

High levels of cilantro can have anti-anxiety effects, research has shown that cilantro extract given at 100 mg/kg had an 'almost similar' effect to taking valium. (Source)

Lowering cholesterol:

Cilantro may help reduce cholesterol numbers, help improve heart health and prevent damage by free radicals specifically linked to heart damage.

Lowering blood sugar:

Cilantro has been found to support liver function in maintaining healthy blood sugar levels.
What Is A 'Detox' Juice?
Juicing has entered the mainstream and is touted as a way to 'detox' your body naturally, but what does a detox juice actually do and does drinking vegetable juice truly help your body to detox? The science is still out as 'juice detoxing' hasn't been studied in humans in-depth and there are varying opinions on it. (Source)
Here's what we do know:
#1: Your body is already working around the clock to detox itself! The liver, kidneys, lungs, and more organs are working consistently to rid the body of toxins.
#2: Fruit and vegetable juices do have an exceptionally high amount of compounds ranging from antioxidants, micronutrients, vitamins and minerals, and immune-supporting properties that can help your organ systems work at peak efficiency and replenish nutrients that your body may be low in.
#3: Juicing fruits and vegetables helps some people increase their intake of vegetables, thus providing your body with a higher supply of a wider amount and variety of nutrients in comparison to eating whole vegetables.
A 'juice detox' may mean something different to everyone and everybody. A detox juice that consists of whole vegetables and fruits will provide your body with essential nutrients and antioxidant properties to support your body's organs in operating efficiently.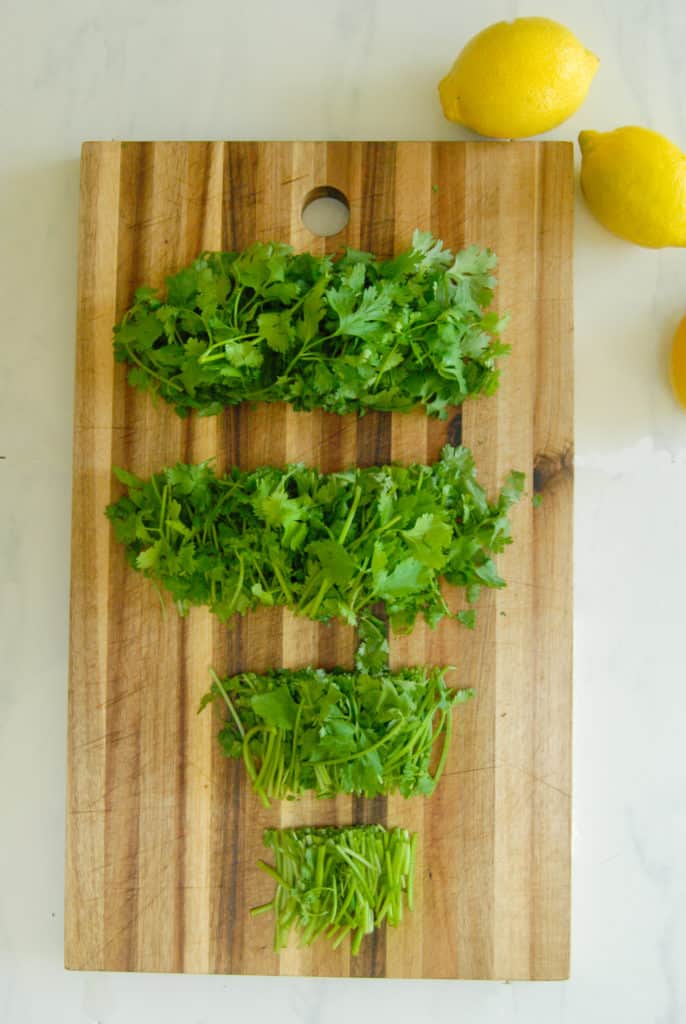 Using Honey As A Sweetener
Honey isn't vegan but it shows up a lot in our recipes– anytime we call for honey, you can substitute another liquid sweetener like agave, simple syrup, or maple syrup.
We prefer to use honey for several reasons:
In the great PNW, allergies are a real thing. We buy and use quality honey as a means to combat allergies naturally.
Through growing a vegetable garden, we've really seen just how crucial bees are to an ecosystem to grow an abundant, healthy garden.
There are a number of ethical beekeepers and bee farmers working to support bee population growth and we wish to support them.
Honey is an unrefined, natural sweetener…. that's hard to come by these days!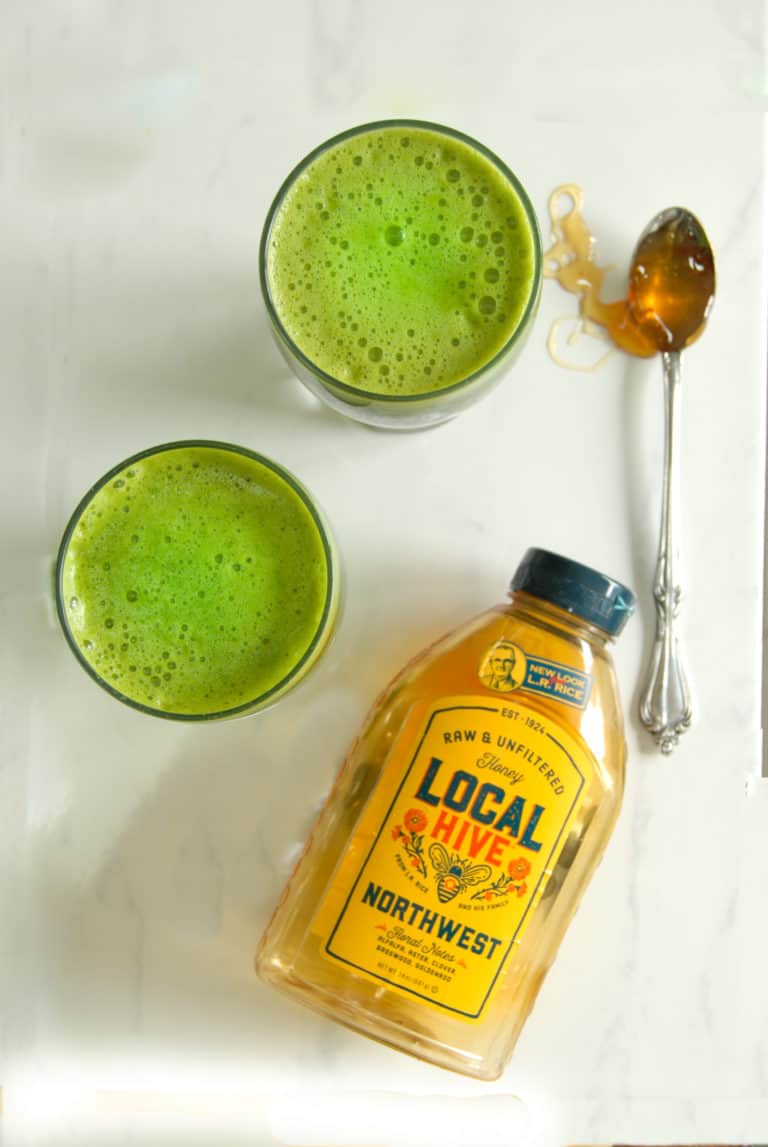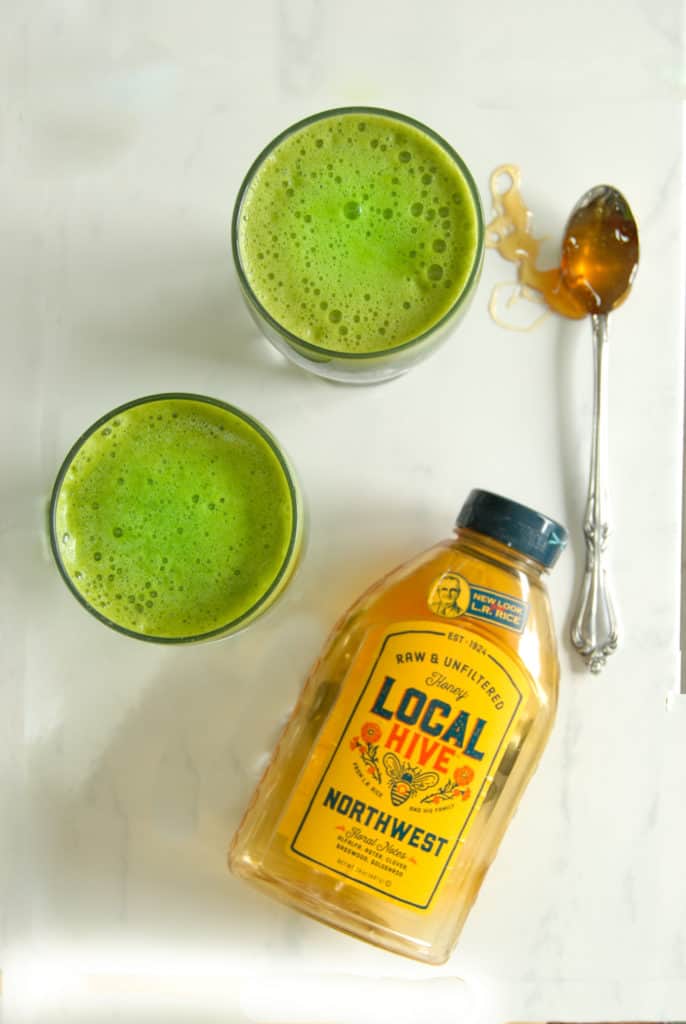 Print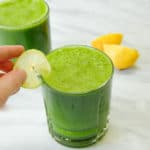 Cilantro Detox Juice
Author:

Adriana

Prep Time:

5 minutes

Total Time:

5 minutes

Yield:

2 1/2

–

3

cups

1

x

Category:

Recipes

Method:

Blender

Cuisine:

Juice
---
Description
Cilantro juice is a delicious, easy 3 ingredient green juice. Also, it's a cilantro detox juice that doesn't require a juicer- make it right in your blender, and cheers to good health!
---
1

big bunch of cilantro, 2-3 cups chopped 

1/2 cup

fresh lemon juice (

3

–

4

juicy lemons)

2 1/2 cups

cold water

1

–

3

tablespoon honey or maple syrup, or other liquid sweetener (to taste)

1/4 teaspoon

salt
---
Instructions
Wash and roughly chop the cilantro, cutting off the bottom 1-2″ of stems.
Squeeze the lemons into the blender cup.
Add the cold water, salt, and sweetener to the blender cup and blend for 1 minute.
Pour through a sieve or nutmilk bag to strain any pulp and serve.
---
Notes
You don't need to pour through a sieve if you would like a pulpy consistency.
Alternatively, you could use a juicer for the cilantro and lemon juice. Then stir a liquid sweetener into your juice.
This will last 2 days in the fridge, but it's best if consumed the day you make it.
Nutrition information reflects 1/4 teaspoon salt & 1 tablespoon honey.
Keywords: Cilantro Juice, Cilantro Detox Juice