We're proud to introduce an oh-so refreshing and revitalizing beverage… it's green, it's healthy… it's cilantro lemonade! Consider this the ace up your sleeve to survive those hot end-of-summer days or the tonic to jumpstart your journey if you've fallen off the healthy horse.
Let's get to it!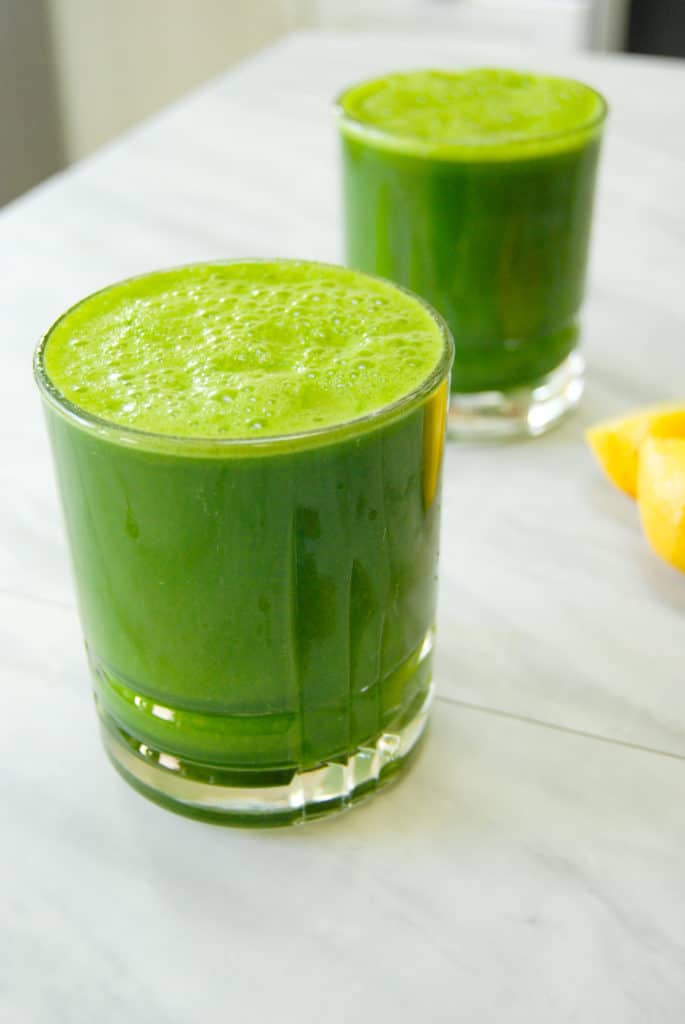 It's basically a green lemonade
but with SASS!
It's September and we just had the 2 hottest days of the year and I was NOT ready for that heatwave & a half. The beauty of this green lemonade is that yes, it's refreshing and thirst-quenching, but it's also a green drink. It's a green drink with an attitude, like if a green drink could be a 13-year-old. There is no other green juice I'd prefer in 90-degree heat.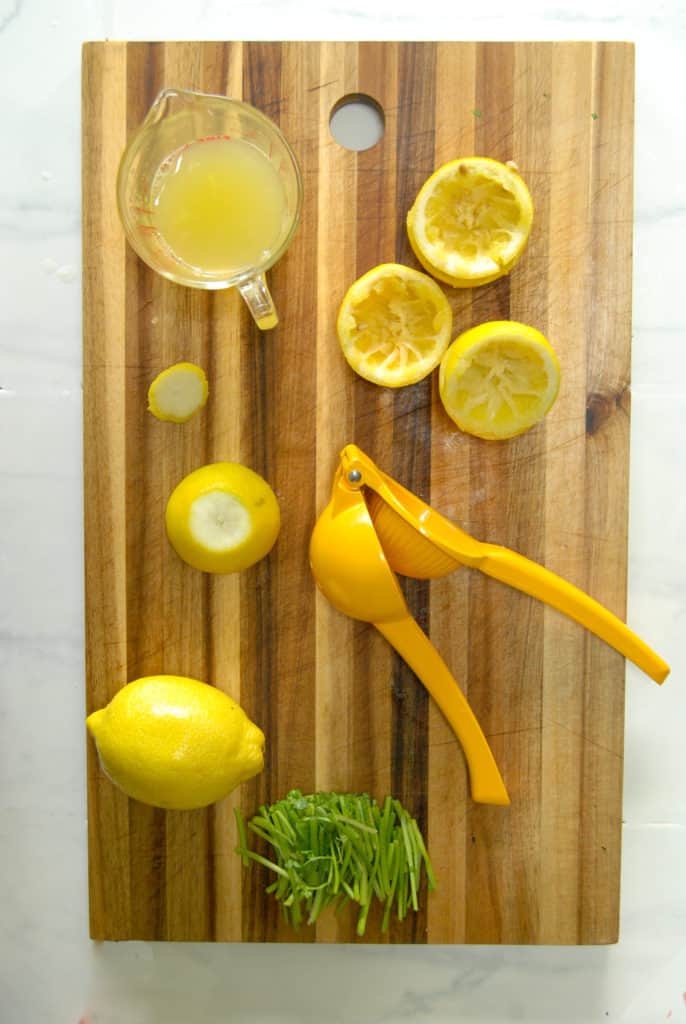 How to make cilantro lemonade
No, no there's no need to get your juicer out of that dark, dusty corner of your cabinet. We're going to get our health on thanks to our trusty, countertop blender! (I know, thank goodness!)
All you need is 1 bunch of cilantro, 2-3 lemons, and a dash of sweetener!
I roughly chop the cilantro prior to blending. If you fill your blender up with long, unchopped cilantro stems they can get wrapped around the base of your blade.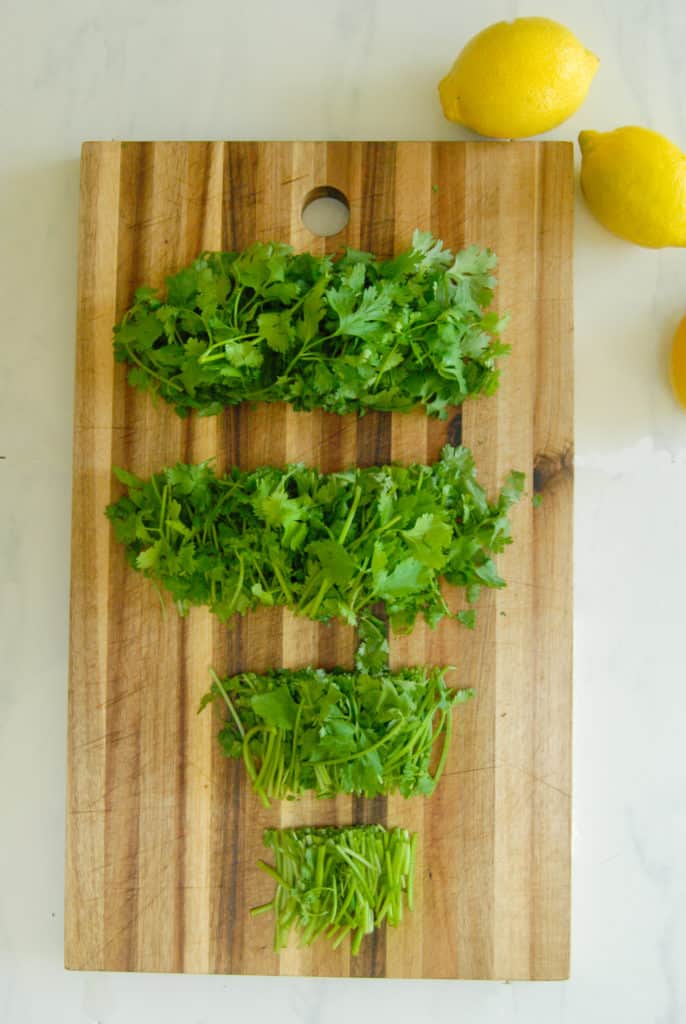 Oh, you're thinkin' what I'm thinkin'? A sweetener, honey or maple syrup, yes that would be delicious. Sure, let's do it. Maybe a nub of ginger if you're on fire- who am I to hold you back?! Could you throw in a jalapeno? Could this become a green alternative to bloody mary mix?
Honey, here's a PSA
Honey isn't vegan but it shows up a lot around here- what's the deal? Anytime we call for honey, you can substitute another liquid sweetener like agave or maple syrup.
We prefer to use honey for several reasons:
In the great PNW, allergies are a real thing. We buy and use quality honey as a means to combat that.
Through growing a vegetable garden, we've really seen just how crucial bees are to an ecosystem that grows an abundant, healthy garden.
There are a number of ethical beekeepers and bee farmers working to support bee population growth and we wish to support them.
Honey is an unrefined, natural sweetener…. that's hard to come by these days!
On salt & sweeteners
You'll see the recipe for this cilantro lemonade juice calls for a pinch of salt and you may think- UM no, I don't like the sound of this. You can leave the salt out but it's very well balanced with the sweetener and the green factor.
In the blazing heat (or the 'I need to detox' mode) I like the sweet, salty, herby taste of cilantro lemonade. It's like the whole gang is getting replenished! Vitamins, minerals, electrolytes- oh my!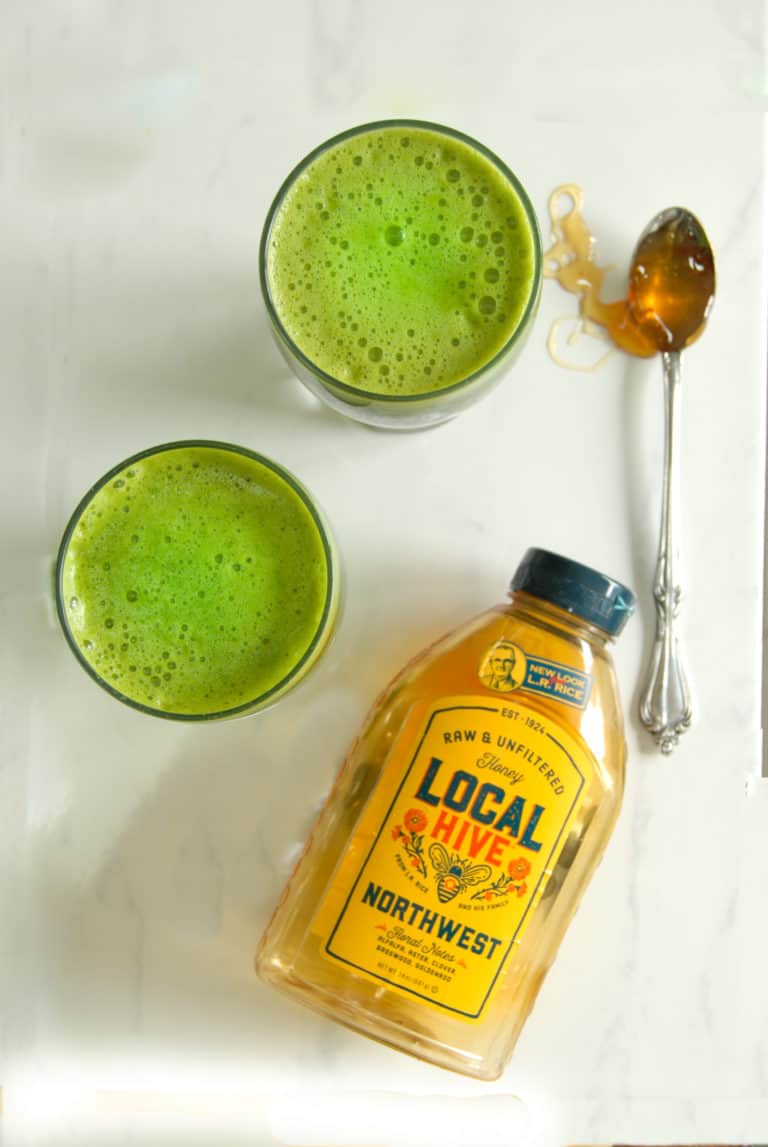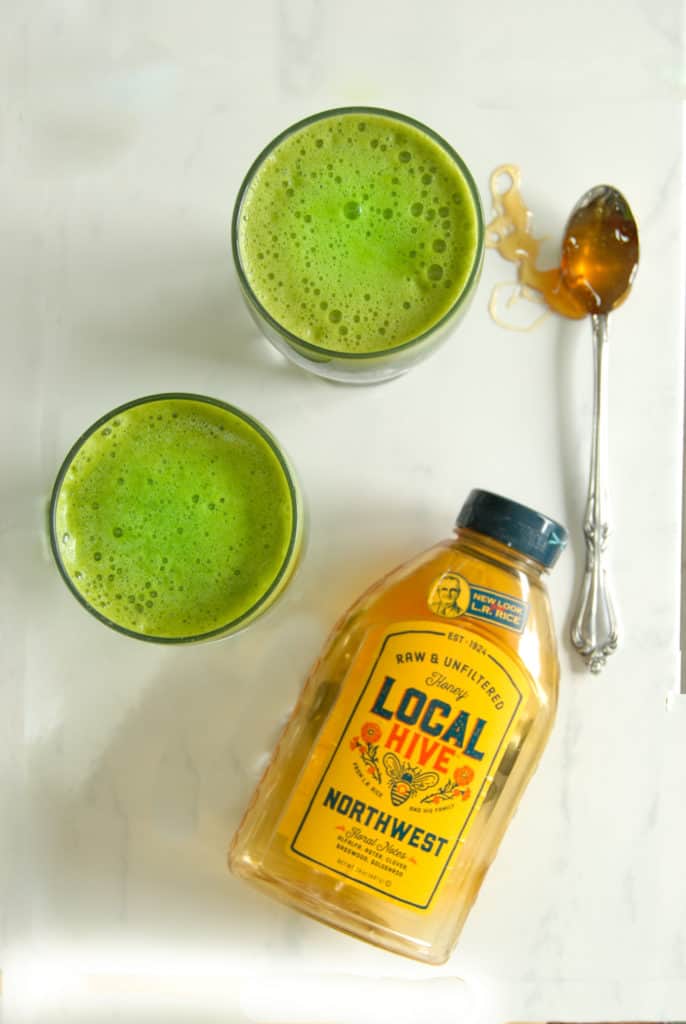 Print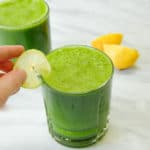 Cilantro Green Lemonade
Author:

Adriana

Prep Time:

5 minutes

Total Time:

5 minutes

Yield:

2 1/2

–

3

cups

1

x

Category:

Recipes

Method:

Blender

Cuisine:

Juice
---
Description
Dare I say this green juice actually tastes good? This cilantro lemonade is so great I dare you to try it! Also, it's a green lemonade recipe doesn't require a juicer- make it right in your blender and cheers to good health!
---
1

big bunch cilantro, 3 cups chopped (if smaller bunches, use 2!)

1/2 cup

fresh lemon juice (

3

–

4

juicy lemons)

2 1/2 cup

water

1

–

3

tablespoon honey or maple syrup (to taste)

1/4 teaspoon

salt
---
Instructions
Wash and roughly chop the cilantro.
Squeeze the lemons into the blender cup.
Add remaining ingredients and blend 30-60 seconds.
Pour through a sieve to catch any pulp and serve!
---
Notes
**  You don't need to pour through a sieve if you would like a pulpy consistency.
** Alternatively, you could use a juicer for the cilantro and lemon juice. However, a liquid sweetener is easier to incorporate if using a blender.
** This will last 2 days in the fridge, but it's best if consumed the day you make it.
** Nutrition information reflects 1/4 teaspoon salt & 1 tablespoon honey.
Keywords: Elixir, Cilantro