Say hello to the easiest blackberry jam ever- Flaxseed blackberry jam that somehow is sugar-free, low-carb/keto, and only 2 INGREDIENT! This homemade blackberry jam is going to impress you over & over again. Oh and PS- you'll be eating this 10 minutes from now. I KNOW! Amazing.
Shall we hop to it?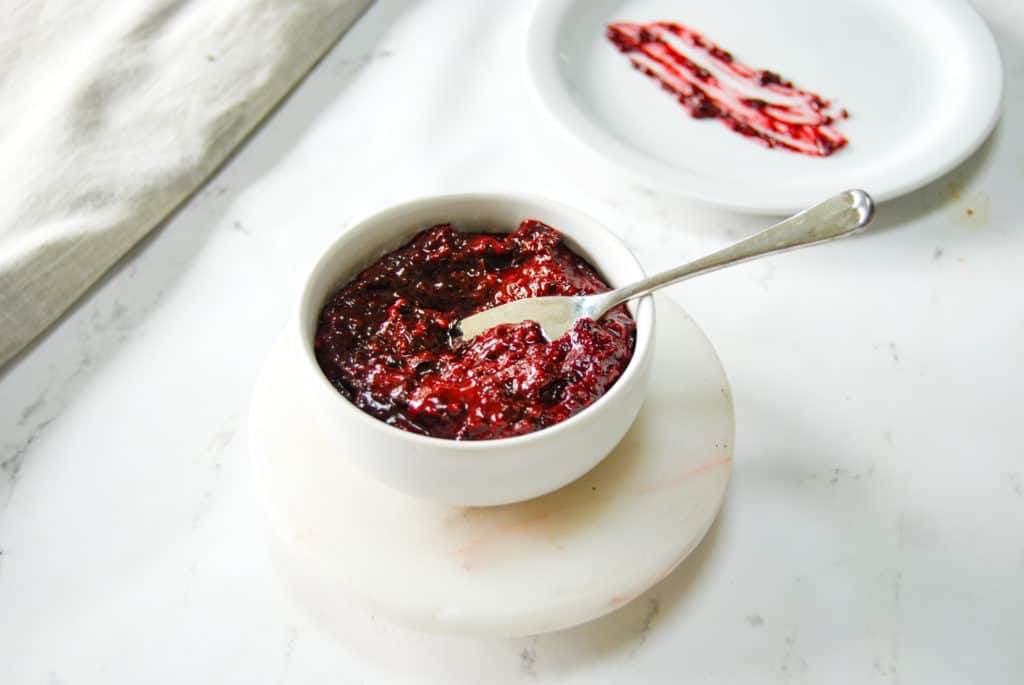 Sugar-free Blackberry Jam
This recipe is 2 ingredients. It's 10 minutes. Also- use whatever fruit you fancy: blueberry jam, raspberry jam, strawberry jam- the world is yours to own today!
If you are following a keto or low-carb diet and realllly moderating your carb/sugar intake here's an extra tip: use blackberries that are more tart than sweet as they have less natural sugar content. Note: for 1/4 cup serving of jam (which is a generous amount!) this recipe has only 1.6 net carbs! Helloooo, fabulous!
Yes, you'll see in the photo below I'm adding 1 teaspoon of honey- because why not- it's still SO much healthier and lower in sugar than the storebought versions!
I am here to tell you this is truly a sugar-free blackberry jam recipe and it is truly flavor-packed and delicious! The honey is entirely optional!
It's really a shame if you don't make this ASAP!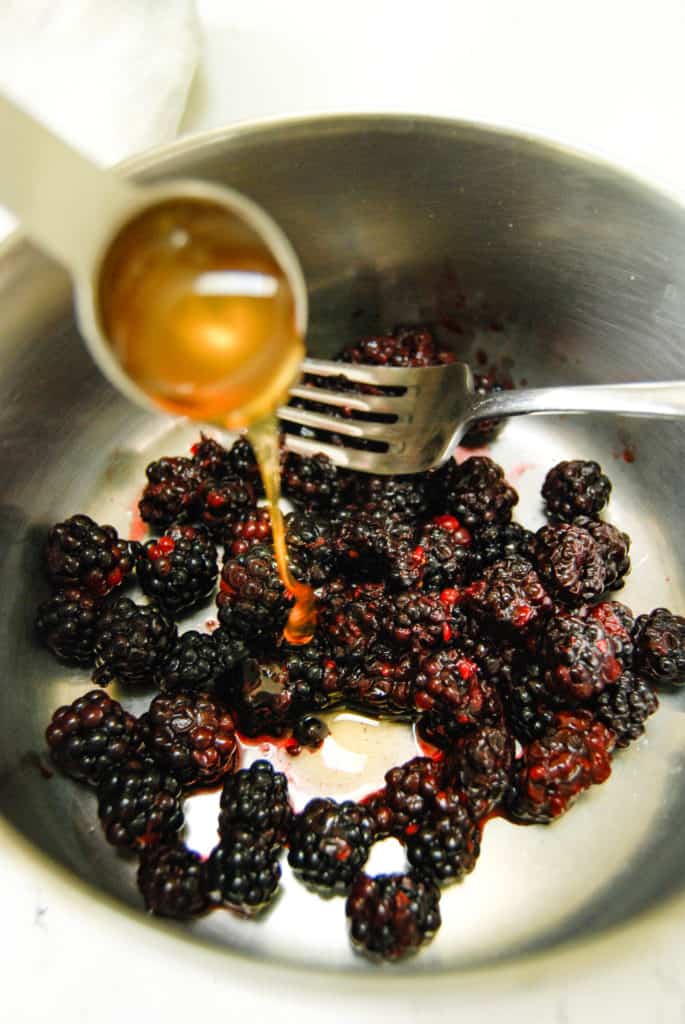 The Sugar-Free Blackberry Jam Secret…
FLAXSEEDS!
Flaxseeds are far less expensive than chia seeds and more flavor neutral in my opinion. The basic ratio we'll use for any sugar-free flaxseed jam is 1 cup fruit to 1.5 tablespoon flax meal.
Now, if you are using a super juicy fruit with a high water content (read: peaches!) you may need to add more flax meal. BUT we add the flaxseeds as the last step in this recipe and it is easy to adjust the consistency. Girl/boy- you're driving this car!
You don't have to worry about dealing with canning this, or the correct amount of pectin. This is jam without pectin!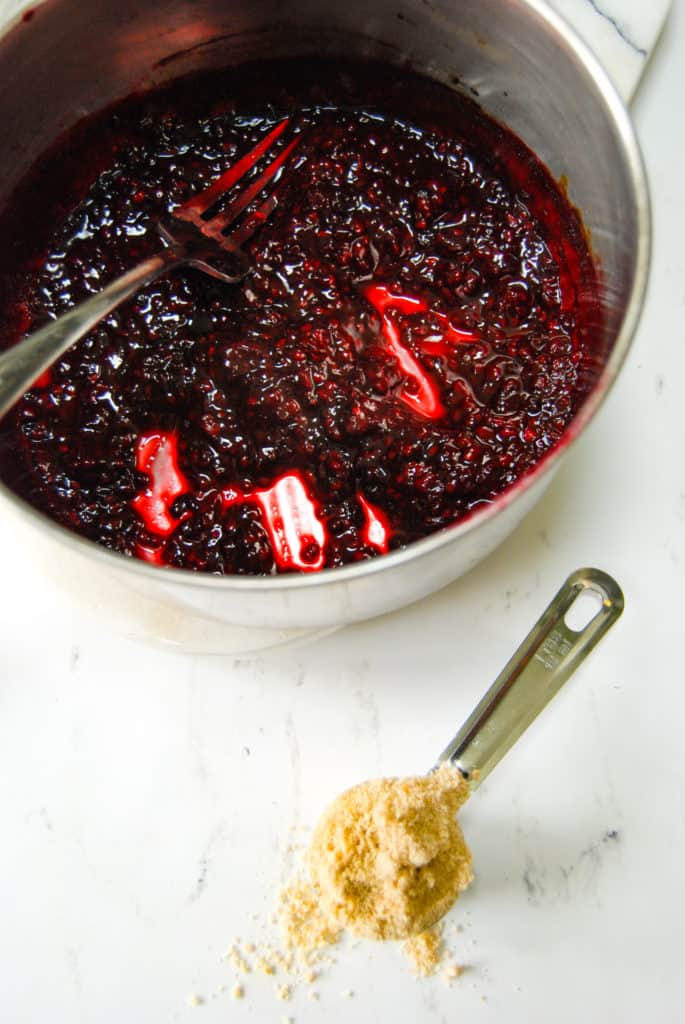 Let's Make Blackberry Jam!
Here's the drill on how to make blackberry jam: Measure, simmer, mash. You can adjust the quantity to make a larger or smaller amount of jam, just note that as you increase the quantity of berries the time to simmer and break down the berries will increase also.
How to make blackberry jam:
Measure the amount of blackberries you want to use. Rinse them and drain them in a colander.
Add the berries to a pot on medium heat.
As the blackberries heat up they will begin to bubble and break down. Use a fork, muddler, or potato masher to further break them down.
Remove from heat and stir in flaxseeds to thicken and place in a jar in the refrigerator.
See? This blackberry jam recipe is foolproof! To make 1 cup of jam you'll need to simmer the berries for about 5-7 minutes.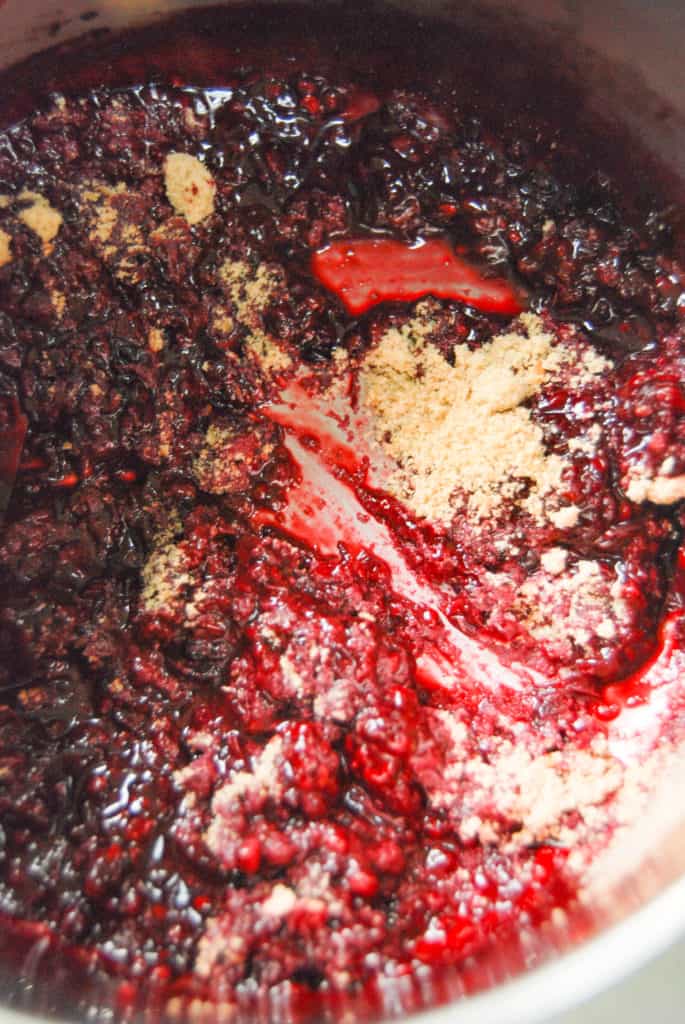 How to use blackberry jam
We use this quick jam in a variety of ways- some the usual and some more interesting! If you are following a low carb or keto diet, this is an easy way to add a flavor pop here and there into a sweet treat without all the sugar.
On toast- or cornbread, OMG, the cornbread!
Swirled into oatmeal, yogurt parfaits, or flaxseed pudding!
With cheese, vegan or regular, blackberry jam is a perfect complement to a charcuterie board!
Use it for a low-sugar blackberry BBQ sauce. Seriously delicious.
To flavor smoothies
As a flavor pop in baked goods- cookies, cake, cheesecake, or lemon bars.
Make ice cream.
Umm a blackberry moscow mule? Blackberry sangria?
If you have new and creative ways to use blackberry jam- please let me know! In the PNW blackberries are abundant and I'd love to hear how you use them.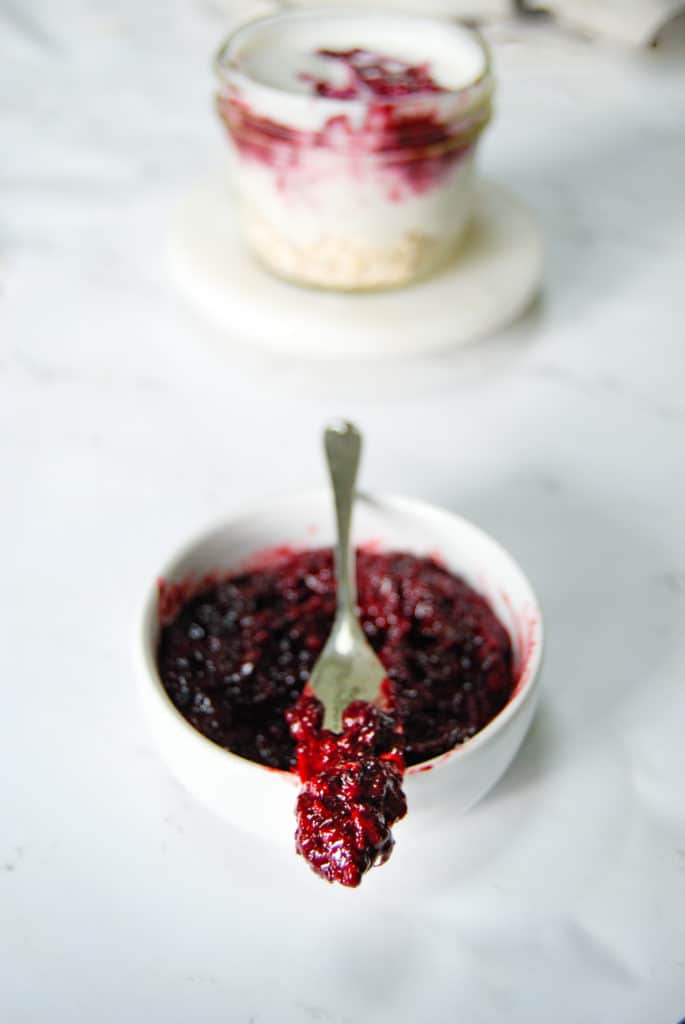 FAQs about this sugar-free blackberry jam recipe:
Can you use frozen blackberries (or other berries)? Yes, you can use frozen berries for this recipe but you will need to simmer them longer in order to break them down and get them all jammy!
Why doesn't this recipe have lemon juice- most berry recipes require lemon juice? I honestly don't feel it needs it! Most berries are tart already, and I believe there are requirements for levels of acidity in jam recipes for canning that we aren't limited to as we aren't canning! You can add lemon juice if you'd like.
How long does this last for? I use this within 2 weeks, stored in the fridge!
Can you make this blackberry jam without a canner? Yes, this is an easy homemade jam recipe that you don't need a canner for.
Does this blackberry jam need pectin? Nope, nada, zero! The flaxseed meal serves as the thickener in this recipe.
What's the difference between blackberry jam and blackberry jelly? Jam has fruit pieces, jelly is simply fruit juice with sugar and thickeners!
Can I freeze this recipe? Yes!
Do I have to keep this in the fridge? Yes, as we are not canning this sugar-free jam, you need to store it in the fridge.
Do you have to wash berries before making jam? I personally do! Blackberries are delicate and fall apart easily- especially if they are super ripe. I place them in a colander and rinse them with cold water, gently moving them around.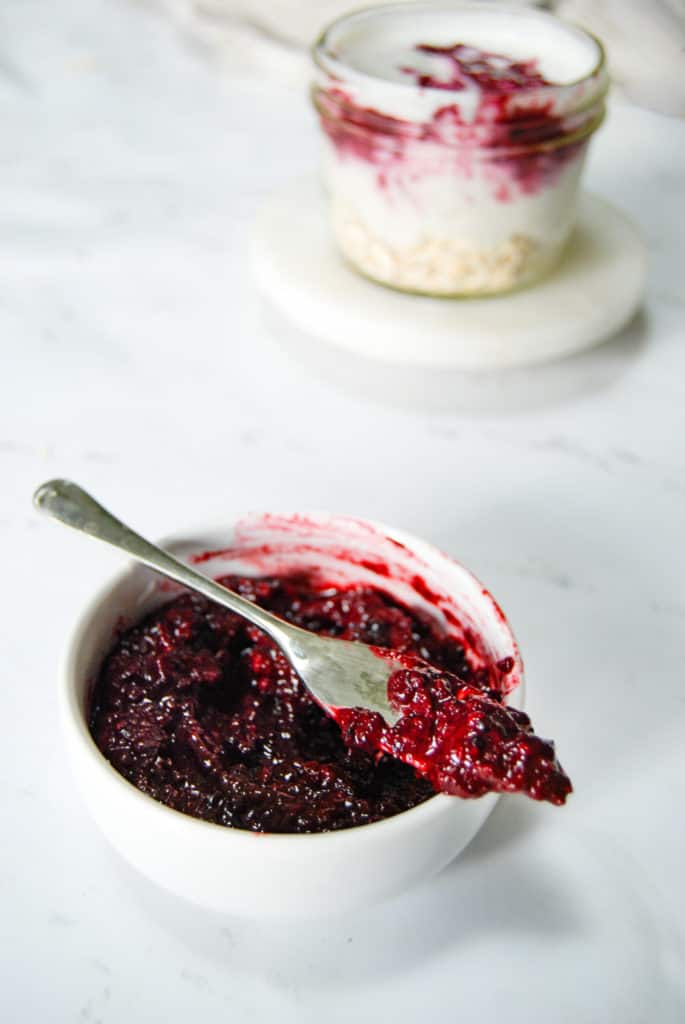 Print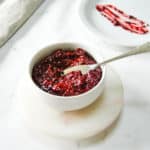 Blackberry Flaxseed Jam
Author:

Adriana

Prep Time:

5 minutes

Cook Time:

5 minutes

Total Time:

10 minutes

Yield:

1 cup

1

x

Category:

Recipes

Method:

Stovetop

Cuisine:

Keto, Low-carb
---
Description
Hi, we're here to dazzle you today with an easy, 2 ingredient sugar-free blackberry jam! This recipe uses flaxseeds as a thickener and takes 10 minutes to come together. Also, check it: you can sub in other fruits you may have using this same method. Let's get jammy!
---
2 cups

blackberries

3 tablespoon

ground flaxseeds aka flaxseed meal
pinch salt
Optional: sugar or honey to taste
Optional lemon or lime juice
---
Instructions
Gently rinse your blackberries and place into a pot on medium heat. Add a pinch of salt.
Simmer 5-7 minutes, using a fork or potato masher to break them down to your desired consistency.
Remove from heat and stir in the flaxseed meal, stir to combine. If you want a thicker consistency, add more flaxseed meal, a tablespoon at a time.
Place in a jar and store in the fridge!
---
Notes
** In the suggested timeframe, the 2 cups of blackberries will reduce down to 1 cup of jam. The longer you simmer these, the more they will reduce. (Also the more concentrated the natural sugars will become!)
** This will keep in the fridge for about 1 week.
** If you substitute other fruit that is more tart, you may want to add a touch of sweetener. If you substitute fruit that is more juicy/liquidy you'll need to add more flaxseed meal. It's okay! This recipe is forgiving, if you need to thicken the final texture slowly add more flaxseed meal until you reach the consistency you're after!
Keywords: Blackberry, Breakfast