Blackberry cobbler: it's a quintessential recipe that is simple, sweet, and relaxing. The kind of dessert where cold ice cream and warm berries confront each other in such a pleasing way. The kind you don't stress about making because when you mix it with ice cream, no matter what, it always turns out. The kind that makes your eyes close during the first bite. The kind of dessert you need to make.
In the PNW you can just go ahead and officially call the second half of summer blackberry cobbler season because blackberries are ripe & juicy & abundant!
It tastes like memories of sunshine, purple smiles, and foresty walks.
Get nostalgic with me.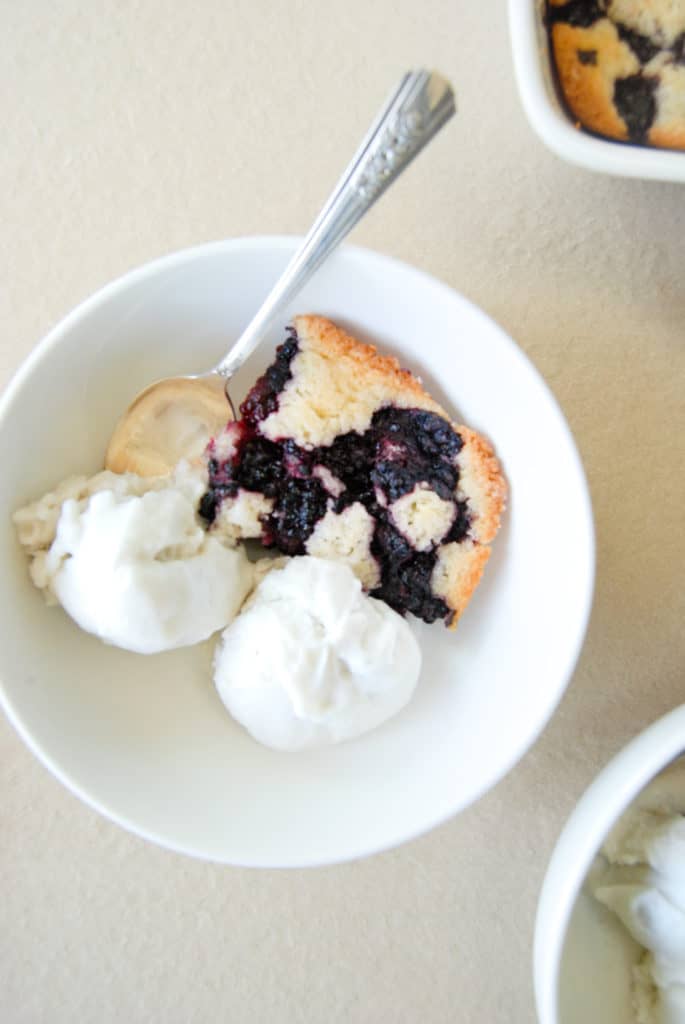 A Cobbler, a Crisp, and a Crumble walk into a bar…
Before we get into how to make this berry cobbler let's unpack the options we have on the table. What's the difference between a cobbler, a crisp, and a crumble? Which one should you make? Here's my own personal take on the berry dessert madness. Yes it's science.
Vegan Cobblers
Okay, a cobbler is the most cake-like of the three. Typically with any cobbler recipe, you'll create a batter (biscuit or cake-like), pour that batter into your baking dish and top with berries. Some berries sink into the batter and some stay on the surface giving the final dish an old-world 'cobblestone street' appearance.
Vegan Crisps
Now a crisp, on the other hand, is usually the opposite order of operations resulting in extra crispy crunchy bits. A crisp is most likely to have oats or nuts in the batter and the batter is much drier than that of a cobbler. You pour the berries into the baking dish first, then pour the batter over top of the berries for a crisp. The juices from the berry mixture don't seep down into the batter further allowing crisp factor and exxxtra golden browness.
Vegan Crumbles
A crumble is closely related to a crisp as you place the berries in the pan, then top with the batter. In my opinion, a crumble topping is closer to the consistency of coffee cake, or streusel– kinda crumbly, kinda soft, get everywhere deliciousness, you know?
Today, we're making a blackberry cobbler!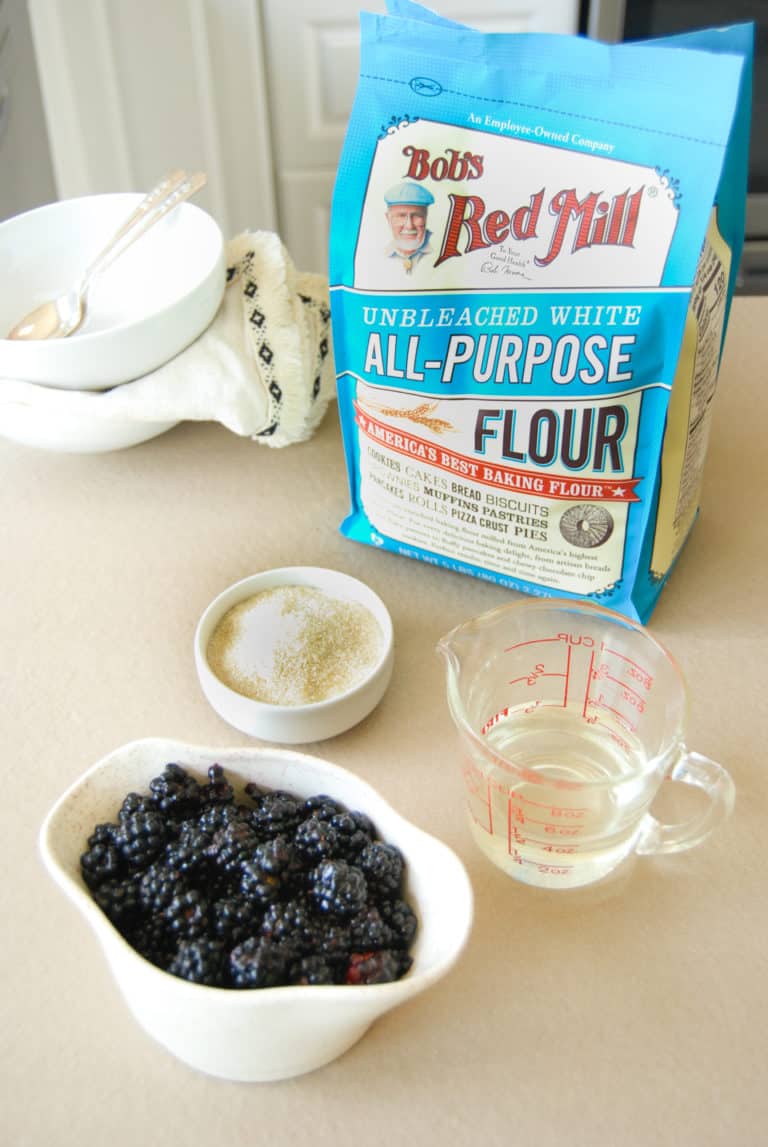 How to make a blackberry cobbler?
This recipe is one my mother-in-law uses, which she adapted from the pioneer woman, which I veganized from both of their versions. It's extremely simple to put together and you could use a variety of fruits or berries in this blackberry cobbler recipe.
We'll compile the batter (no appliance needed!), grease our baking dish, and pour it in!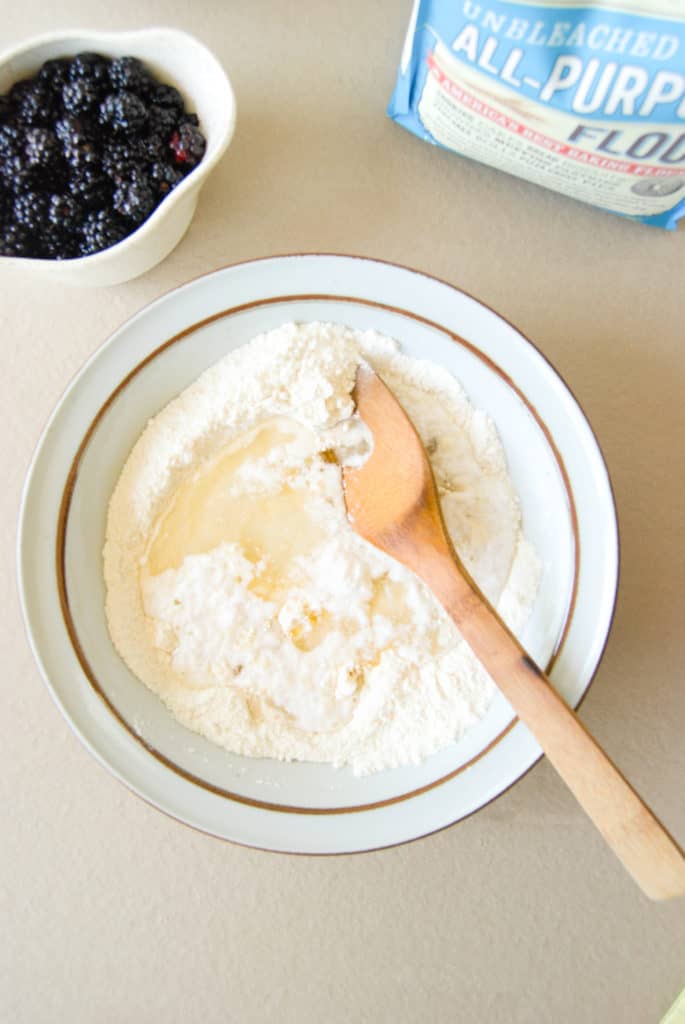 Next, we rinse the berries, dust them with a touch of flaxseed meal, and pour them on top!
Bake for 45 minutes, serve warm with vanilla bean ice cream and hit status: summer has arrived.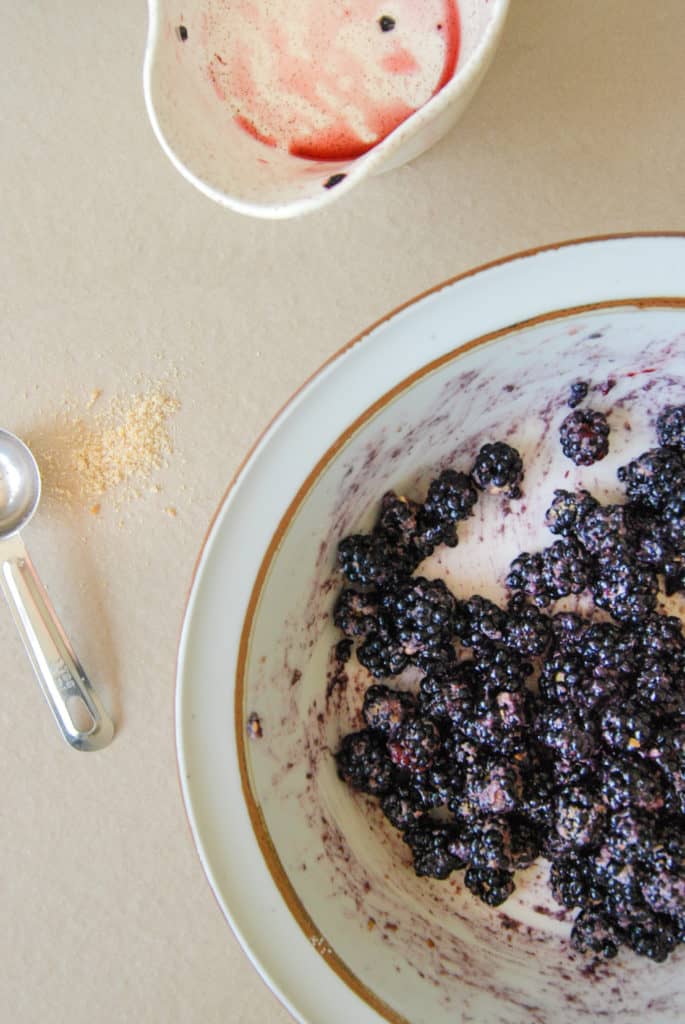 Tips on making
We want your blackberry cobbler to turn out fantastic and in testing a vegan version I noticed several key points worth mentioning.
When you pour the berries into the cobbler if they don't sink down into the mixture lightly press them down. This will help ensure there is a happy balance of berries/crust in every bite.
If the berries you have are more on the tart side than sweet, consider adding a touch of sugar to coat the berries.
If you have an oil sprayer (like a misto) you can lightly spray to the surface of this cobbler prior to baking for a more golden crust! Also, if you let the blackberry cobbler cool for 10-15 minutes prior to serving, the crust will crisp up a bit!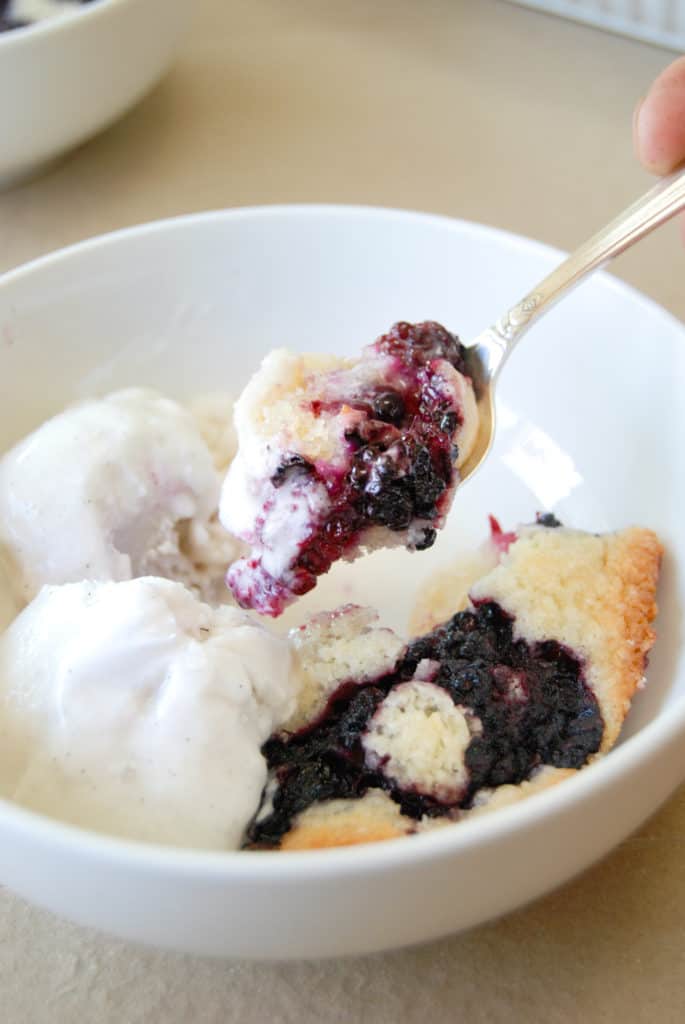 FAQs / Variations of this blackberry cobbler
How to make this gluten-free? We have replaced the AP flour with oat flour and this has worked perfectly! The end result may be a bit more crumbly, but it works as a substitution!
Can I use peaches or strawberries in this recipe? Yes! You can swap in just about any berry- or any fruit. A couple items to note: if you are using a really tart fruit, you may need to add more sugar. Second, if the fruit you want to use has high water content (aka is really juicy: e.g. peaches) you'll need to address this. You could slice the fruit and let it drain extra juice in a colander for an hour, or give it an extra dusting of flaxseed meal/cornstarch, or plan to increase the baking time. We recommend draining AND tossing with flaxseed meal.
Can you make personal cobblers? 100%! Just note that the baking time will be lower if you make smaller, individual portions.
Do you have to refrigerate blackberry cobbler once cooked? As we like to eat/serve this warm I typically don't place leftovers in the fridge especially as the entire cobbler is gone within 3 days. You absolutely CAN save leftovers in the fridge.
Can I make 2 and freeze one? I've never tried this honestly. We imagine the best route would be to bake, cool, then freeze but please report back if you attempt it!
Can I use frozen berries? Yes, you can. I prefer to thaw them first but you CAN use frozen. Be sure to still toss them with flaxseed meal for the best results!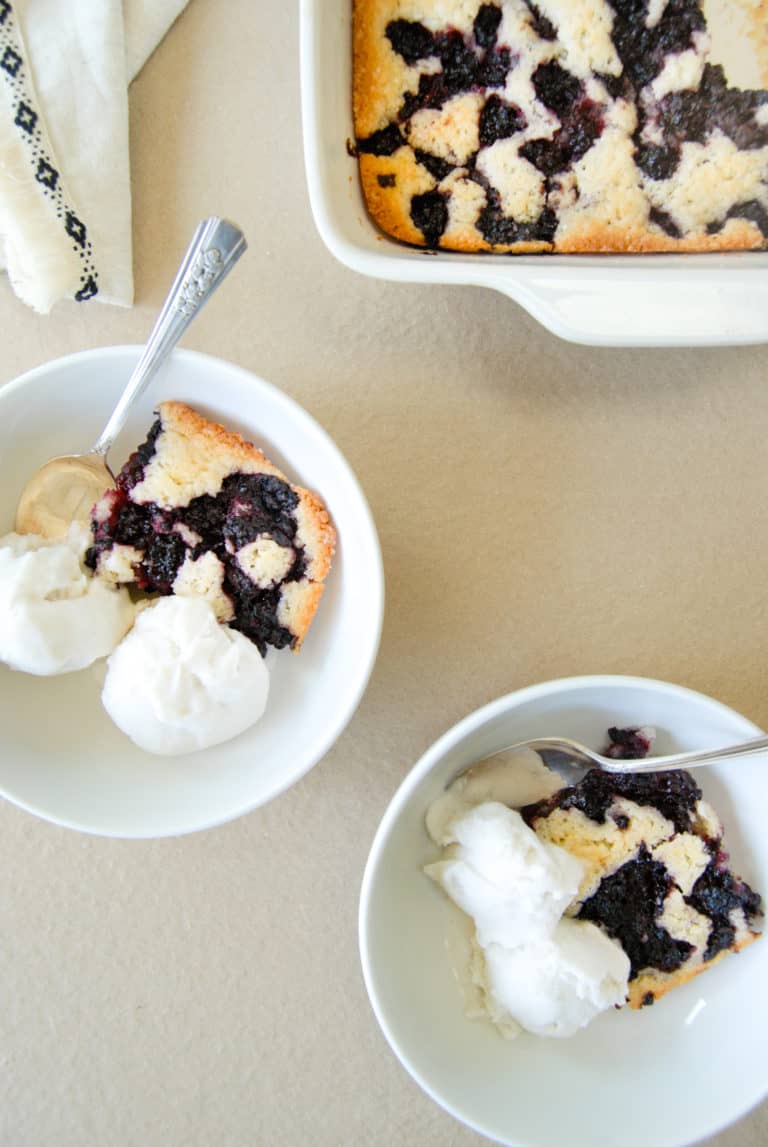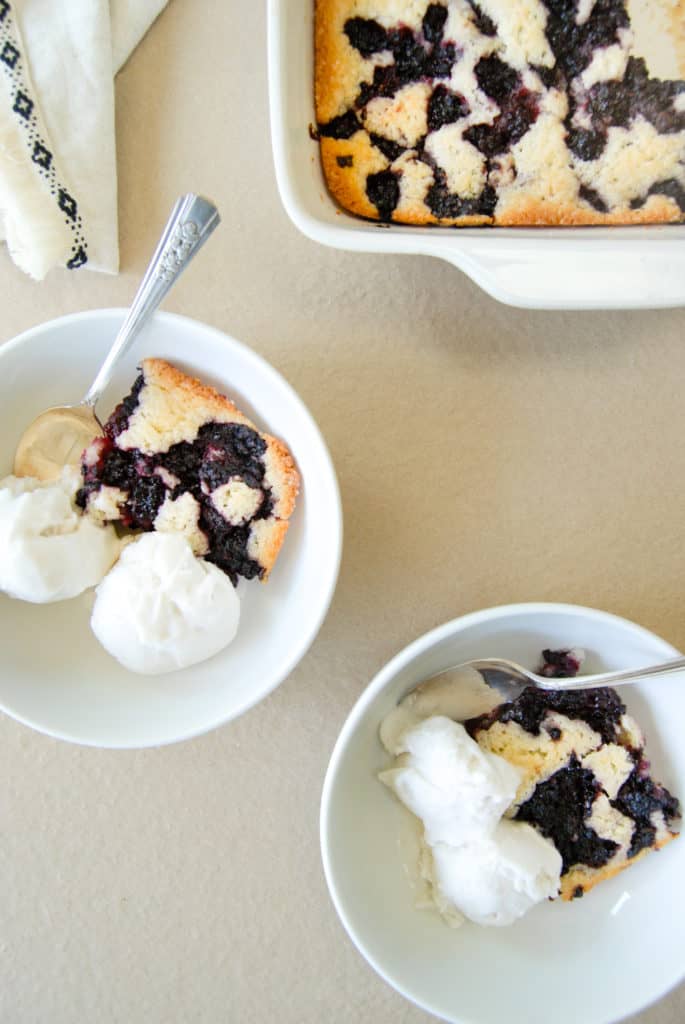 Print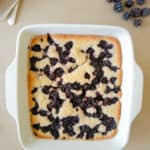 Vegan Blackberry Cobbler
Author:

Adriana

Prep Time:

15 minutes

Cook Time:

45 minutes

Total Time:

1 hour

Category:

Recipes

Method:

Oven

Cuisine:

Dessert
---
Description
We interrupt our regularly scheduled broadcast to remind you that summer is almost over and have you even made a vegan blackberry cobbler yet?! This is a crazy simple and crazy delicious recipe to help your vegan berry cobbler dreams come true!
---
1 cup

all-purpose flour

1 teaspoon

baking powder

1/2 teaspoon

salt

1/2 cup

sugar

3/4 cup

alternative milk (I used coconut)

1/2 cup

melted coconut oil (or melted vegan butter)

2 cups

blackberries

1 tablespoon

flaxseed meal
---
Instructions
Heat the oven to 350 and grease a 9″ baking dish.
In a mixing bowl add the flaxseed meal to the blackberries and stir to coat the berries in flaxseed meal. Set aside.
Mix the batter: combine flour, sugar, salt, and baking powder into a dish and stir to combine.
Add in the wet ingredients: melted coconut oil & milk.
Pour the batter into your baking dish.
Pour the blackberries (coated in flaxmeal) into the batter evenly scattered across the pan- lightly pressing the berries down.
Bake for 45-50 minutes. Check at 45 minutes, if the edges are golden brown and berries are bubbly it is ready. If you prefer a crispier cobbler, bake an additional 5-10 minutes.
Slice and serve warm with vegan vanilla ice cream!
---
Notes
** Be sure to lightly press the berries down into the cobbler batter.
** If you're after a very golden, crispy crust- lightly spray/brush the top of the cobbler with oil prior to baking.
** You can sprinkle on another 2-4 tablespoons of sugar on top of the cobbler prior to baking for a sugary golden-crisp top.
** If you use a smaller/larger pan to make this blackberry cobbler, adjust baking times to ensure proper cooking. Smaller pan = thicker cobbler & longer baking time. Larger pan=thinner cobbler & less baking time!
Keywords: Dessert, Blackberry, PNW Inspired