Keep your eyes on the pies- today we're setting the standard for easy vegan pizza dough. We have a feeling dinner tonight is going to be a winner. Making homemade vegan pizza dough is easier than you think- let's eat all the carbs and misbehave together, shall we?
Ready. Set. Dough.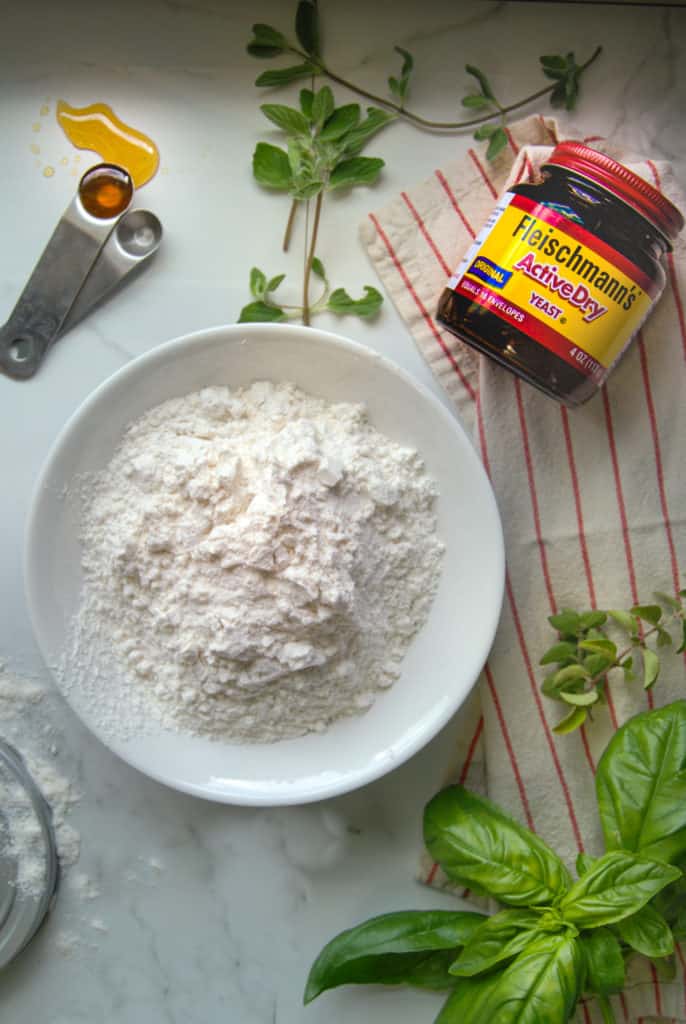 The ingredient line up:
This is easy peasy y'all. You've probably got all-purpose flour, yeast, and sugar in your pantry. That's all you need to get this pizza dough party started! Fresh herbs are a win if you have some lying around.
First, we'll make a sponge to wake up the yeasties. (Water, yeast, sugar)
Then we'll add the remaining ingredients & combine until it's a dough. As your mixture starts to take shape as pizza dough, we'll knead it just a bit.
How to shape the pizza dough- Step 1
Ok. First things first, make sure your dough has at least doubled in size prior to rolling and shaping your pizzas. Yes, we end up flattening it as we roll it, but the key here is knowing the yeast is active!
Check out that rise. We ready.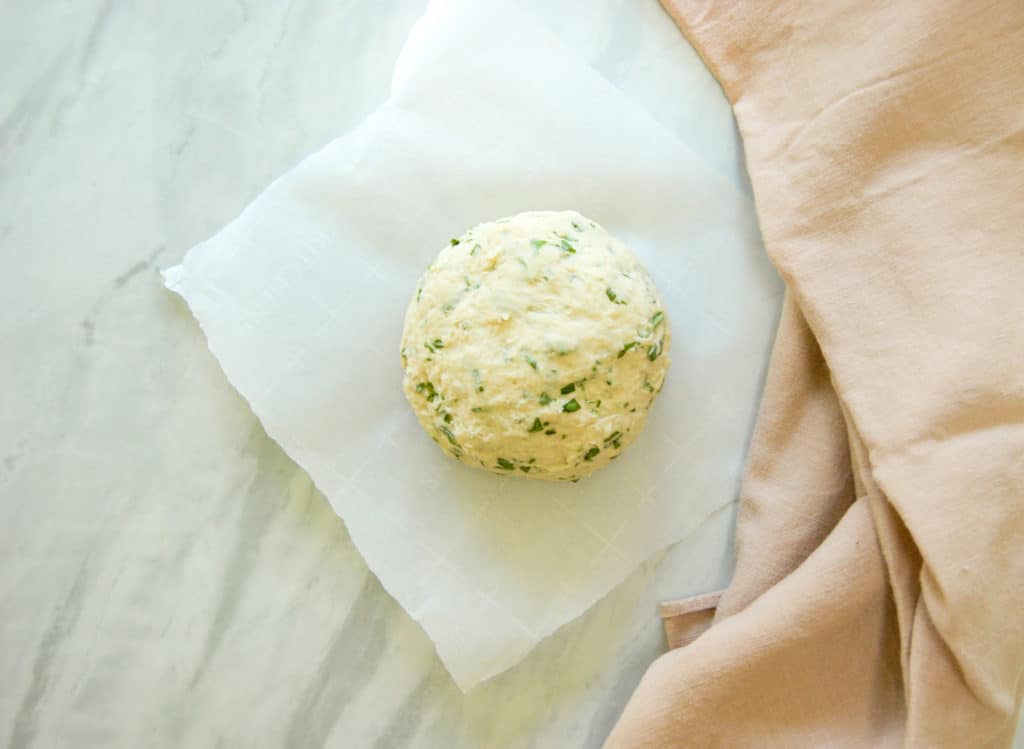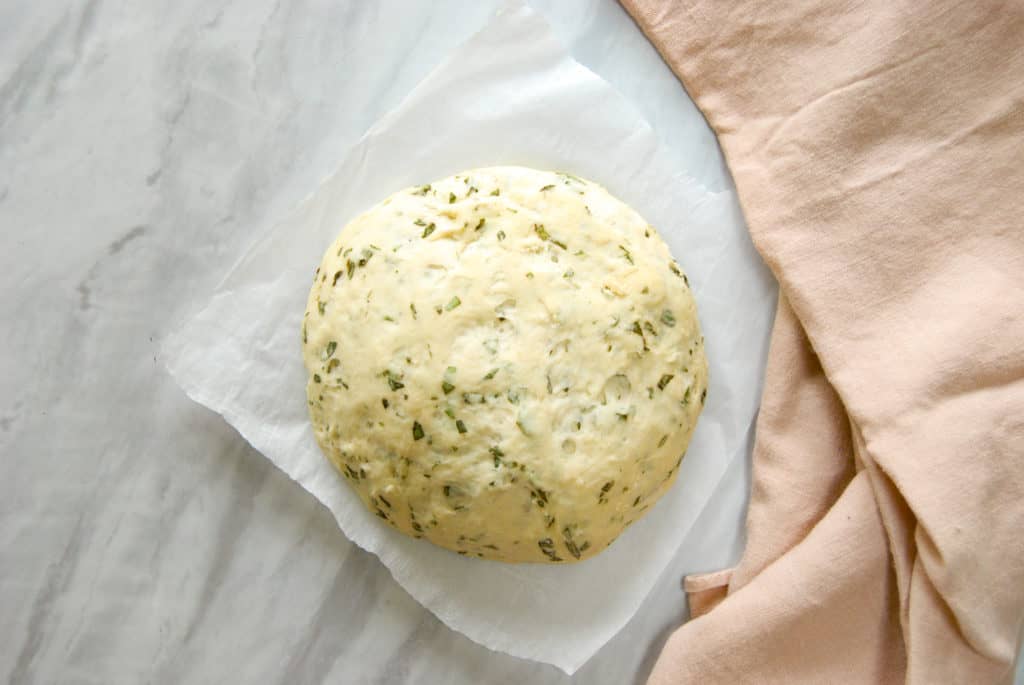 Step 2
Time to roll out! (PSA: Get your oven preheating!)
After you have divided the dough in 2, make sure you're working with a floured surface to prevent sticking. You can use a layer of parchment paper in between the dough and the rolling pin as well.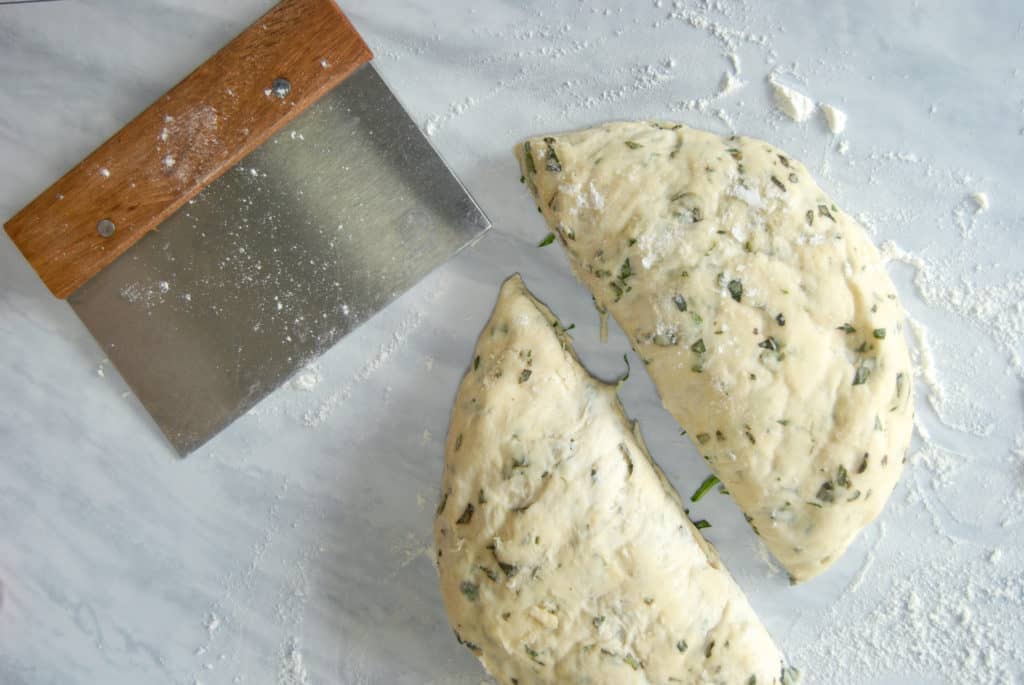 We want the pizza dough to be thin- when you have a pizza that is about 12″ across you have reached the proper thinness.
PS- Just because it's pizza, doesn't mean it has to be circular! Go rustic with your rollout…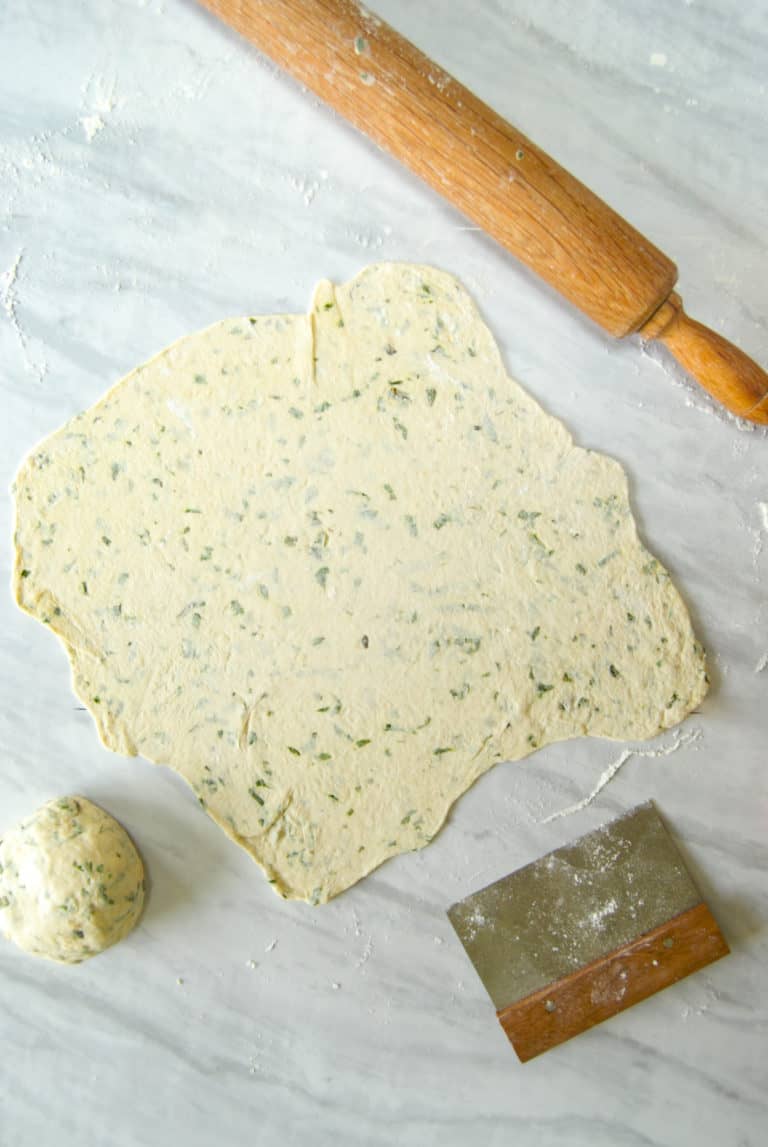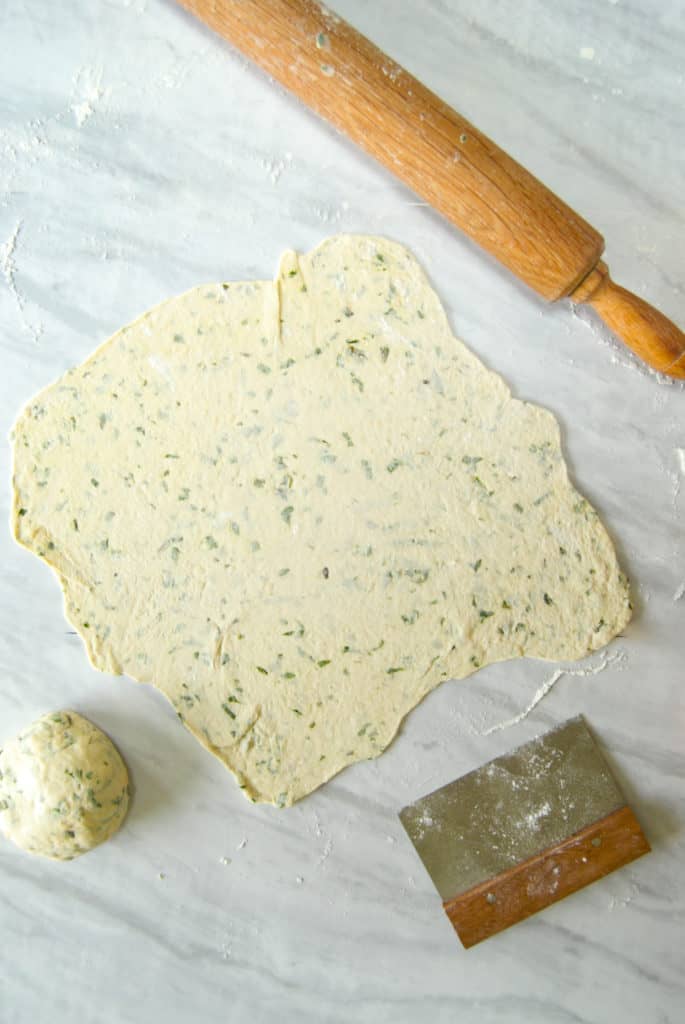 Step 3
Before we get into baking this vegan thin crust pizza dough, let's recap.
You have:
Made the dough
Let it rise
Split it in two
Rolled into thin, approx 12″ pizzas
Now, we need a second rise. After rolling and shaping the pizzas, let the pizza dough rise for 15 minutes. Just leave it be on the counter. This will set your crust up for those light, airy, crispity-crunchity pockets.
Final notes before baking:
Ensure your oven is really, really hot. We're talking 500* and it has held 500* for 10-15 minutes.
If using a pizza stone, put it in the oven while you're preheating & give it those additional 10-15 minutes to fully heat up!
Par-baking without any toppings does several things. It makes it easier for the crust to rise without the weight of all those toppins' AND it doesn't cool down your vegan pizza dough. If you load your pie up with cold sauce, cold cheeze, and cold toppings- it won't be warm, cozy, and ready to rise!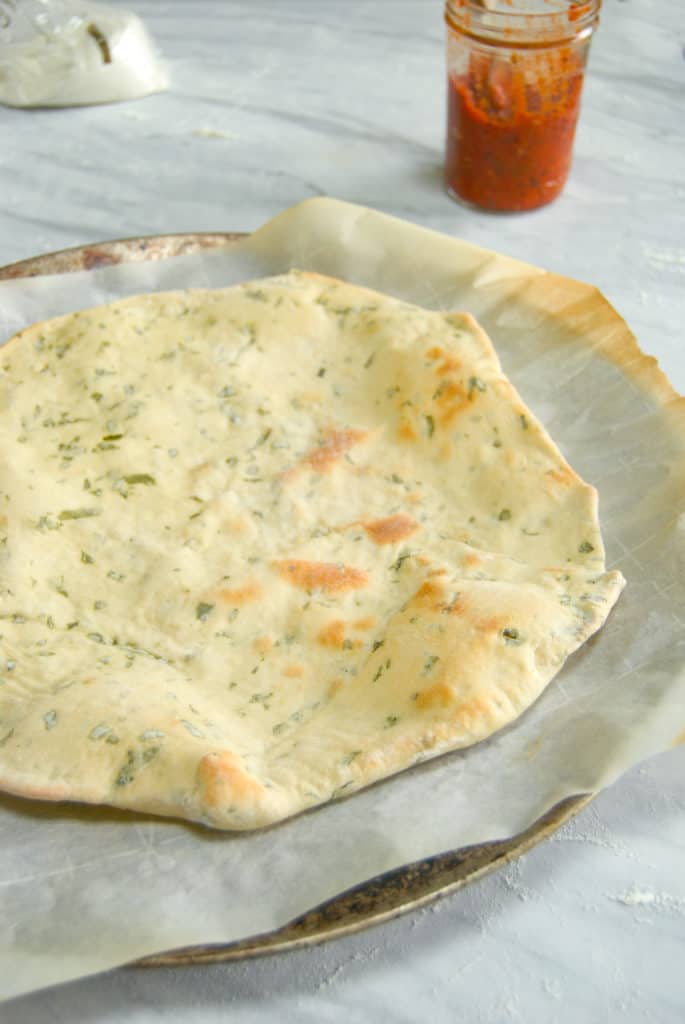 DO YOU SEE THOSE AIR POCKETS?! That goldeny crunch?
Welcome to the thin crust club. We're glad you're here.
Now all you have left to do is flip the pie, pile on the toppings, and bake another 5-7 minutes!
Don't be intimidated, don't doubt those air pockets. You're gonna be chasing the memory of your first bite into one of those delightfully crunchy, saucy, cheesy air bubbles for life.
Scout's Honor.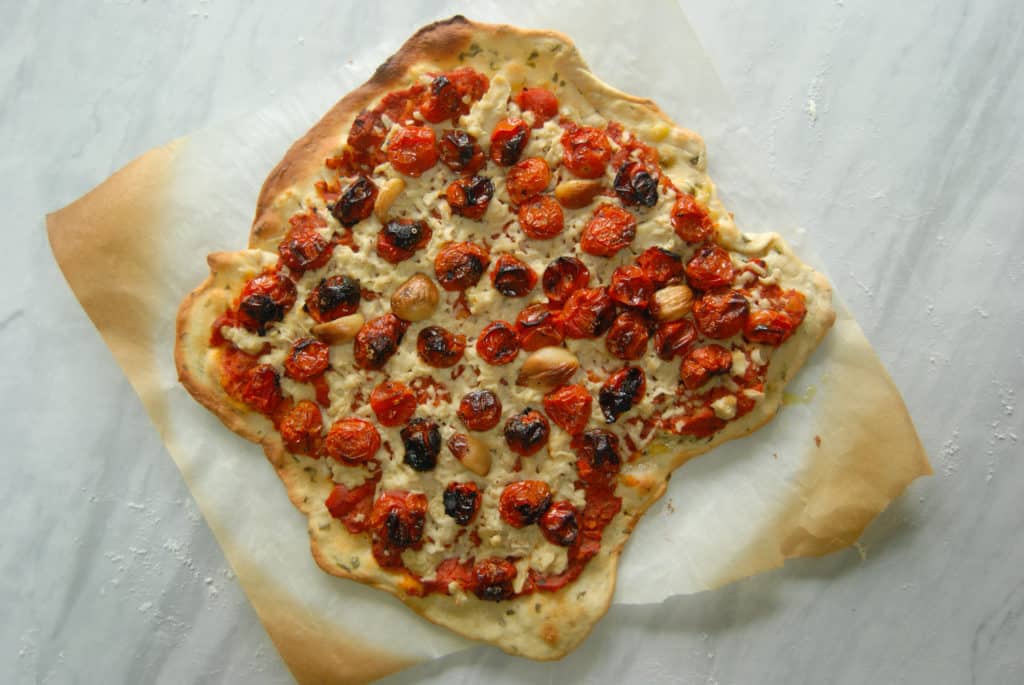 This pie is one of our favs & we've got a recipe for this exact vegan cheese pizza!
Or, perhaps you need a vegan melty cheese to sprinkle all over your pie?
Common Questions About This Recipe
Can you make this recipe without yeast? I guess you could, but the yeast activity causes the air pockets and the light, crispy crust. Without yeast, we wouldn't have this action!
Do I have to let this thin crust rise? Again, I feel this is a crucial step! Especially the second rise! The second rise is exactly where the air bubblage magic happens.
Can I use a pizza stone to cook this? Yes, we've cooked this recipe with a pizza stone! The only thing to note here is that your pizza stone needs to be HOT! IE I used to pop my pizza stone in the oven, preheat the oven, and then figured I was good to go- this is not the case. To ensure your pizza stone is scalding-hot-gonna-deliver-a-gorgeous-crust, it needs 30 minutes to heat up. Also: The dough you place on a pizza stone should be room temperature.
Do I need to par-bake the crust before adding the toppings? I vote yes here, 100%. Par-baking the crust before it's weighed down with all the ingredients helps to lock in air pockets! This also helps if you want your pizza like I do- I'm here for the sauce.
Print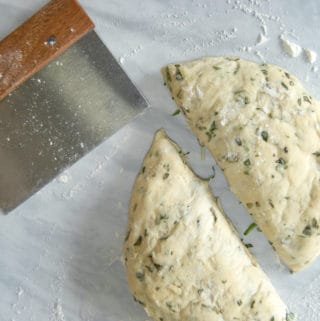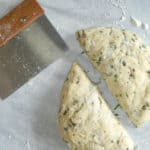 Vegan Thin Crust Pizza Dough
Author:

Adriana

Prep Time:

15 minutes

Cook Time:

24 minutes

Total Time:

39 minutes

Yield:

2

pizzas

1

x

Category:

recipes

Method:

oven

Cuisine:

pizza, italian
---
Description
We 20/10 recommend this vegan thin crust pizza dough recipe! This bad boy is here to make your pizza dreams come true- get your sauce, get your toppings and *most importantly* get crackin' on this vegan thin crust pizza dough!
---
1 teaspoon

yeast

1 teaspoon

sugar, honey, or maple syrup

3/4 cup

warm water

2 cup

all purpose flour

1 teaspoon

salt

2 tablespoon

chopped fresh herbs (optional)
---
Instructions
Combine yeast, sweetener, and warm water in a mixing bowl. This is a sponge to wake up the yeast. Let sit for 5 minutes.
Add flour, salt, and fresh herbs into the mixing bowl, stir to combine
As the the mixture turns into a dough, roll out on a floured surface and knead less than 5 minutes. If dough remains sticky add flour as needed until smooth.
Place dough back into mixing bowl, cover with a tea towel and leave to rise until doubled in size, 30-90 minutes.
Preheat oven to 500*. If using a pizza stone, place in oven at this time.
Flour a cutting board/countertop and press the dough into a disc. Cut the disc into 2 pieces.
Working with one piece of dough at a time, rollout until the pizza dough is roughly 12″. It can be larger or smaller, but for this recipe 12″ is the ideal thickness for a thin crispy crust.
Leave the rolled out pizza dough to rise for 15 minutes while the oven preheats. Ideally you'll want your oven to maintain 500* for about 15 minutes prior to baking your first pie.
Slide pizza onto parchment and onto the pan. Par-bake with no toppings for 5 minutes.
Remove pizza from oven (it should have air bubbles and be golden brown in some areas), flip the crust over and add toppings to your pizza.
Return to oven and bake an additional 5-7 minutes. For added browning on the crust, lightly drizzle olive oil around the perimeter on the crust.
Remove from oven and repeat with the second pizza.
---
Notes
** This recipe will make 2- 12″ thin crust vegan pizzas. If you roll the dough into smaller pizzas, the crust will be thicker.
** You don't HAVE to parbake and flip the crust but these steps are instrumental in achieveing a crispy, air bubbly crust!
** A perforated pan works well for creating a crispy crust. If you use a pizza stone ensure the stone is VERY hot!
** If you want a REAL crispy crust, brush the crust with olive oil prior to parbaking and keep an eye on the pie as it will brown faster!
Keywords: vegan pizza crust, vegan pizza, yeasted bread