All hands on deck: We've got an amazing homemade melty vegan cheese recipe and we need pizzas prepped stat! It's an easy homemade vegan cheese that's nearly too delicious to be allowed, but let's make an exception. This recipe is ready & available to adorn all the nachos, pizzas, sammys, and quesadillas you could think of and take you to carby, cheese-covered heaven…
Please, take me with you?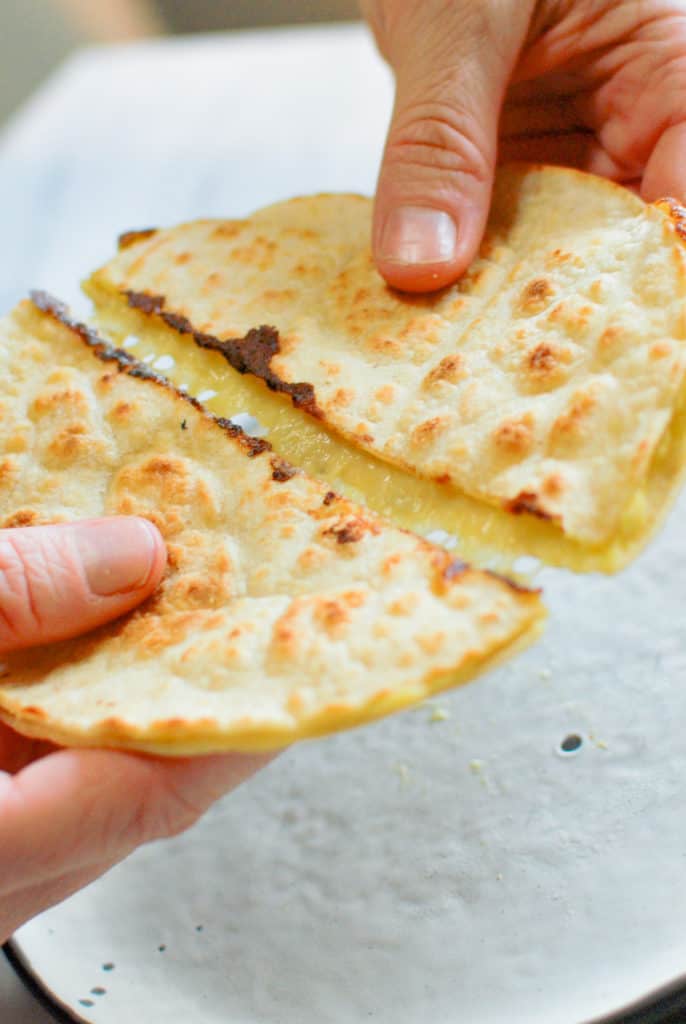 Let's make vegan cheese!
This recipe is SIMPLE and SATISFYING! The vegan cheese market has come a long way in the last 5 years and many grocery stores offer great vegan cheese alternatives. Why make your own? This recipe uses items you can buy at your local grocer, so you can reduce the number of unpronounceable, unknown ingredients AND you can adjust the flavor to suit your palette!
Need this recipe to be nut-free? It IS! You can make this meltable vegan cheese without cashews! Simply use a coconut yogurt! Need vegan cheese without agar? This is it!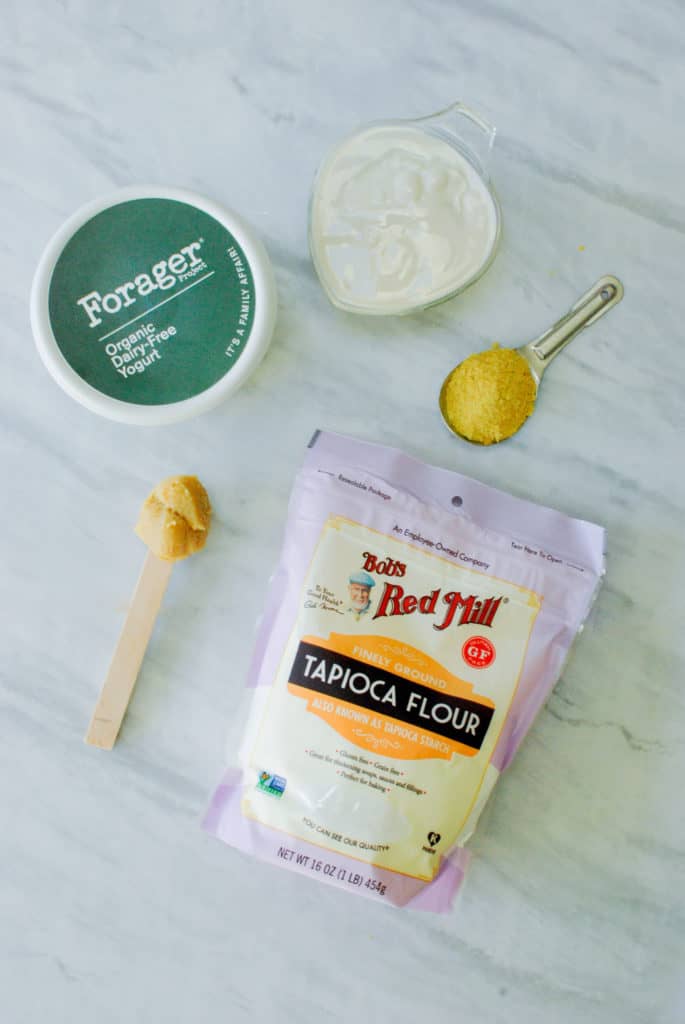 What you'll need
The main ingredient in this melty vegan cheese is YOGURT! You can buy a wide variety of vegan yogurts and you can use whichever vegan yogurt is your favorite. Just ensure you are using a plain (not flavored) yogurt.
The yogurt adds another bonus- flavor! As yogurt is a fermented food it naturally has a slightly acidic, fermenty flavor which is reminiscent of many dairy cheeses. Yes please, give us more cheese.
Another ingredient you MUST have is tapioca starch aka tapioca flour. You can purchase this in the baking or health food section of most national grocery chains. It's inexpensive and often used in gluten-free baking. Tapioca starch is what lends the stretch & melt factor in this cheese.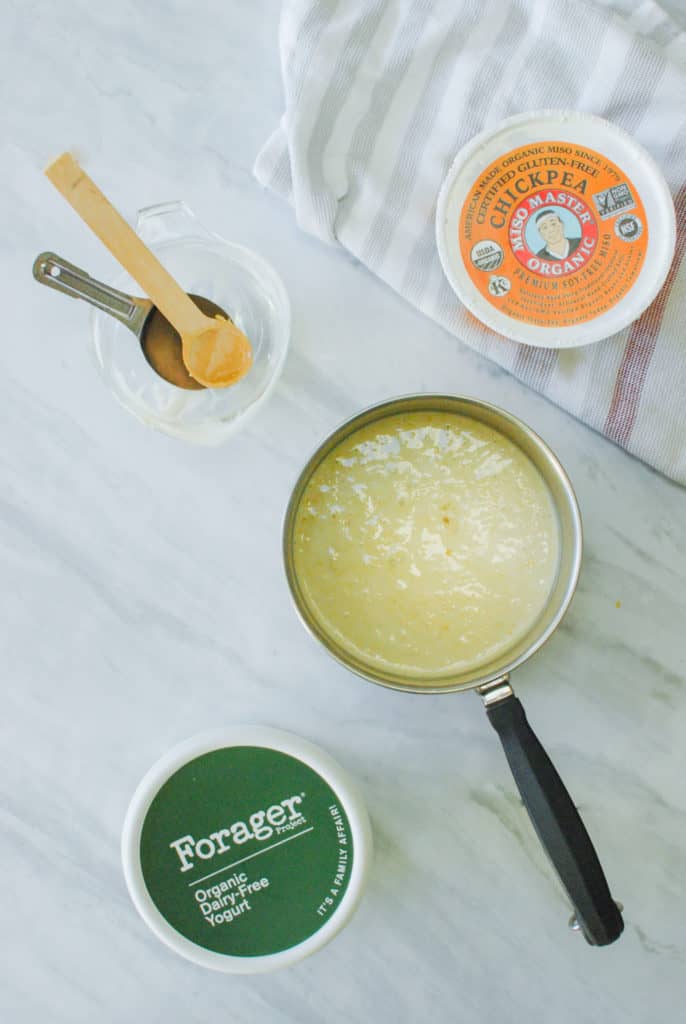 The process
Real talk: this recipe is a keeper. It's really simple, requires no fancy equipment, and comes together in less than 20 minutes of hands-on time. We're here for it.
Here's how to make melty vegan cheese:
First, you'll need to combine all ingredients until a smooth mixture forms. You can do this with a whisk right in the pot or you can pour everything into a blender and blend for 30 seconds. The miso can take a bit to incorporate if using a whisk, so we usually pop this in the blender right quick.
Next, heat the mixture in a pot over medium heat for 5-7 minutes, stirring often. At first the mixture will seem like nothing special, what's the big deal, who wrote this recipe, anyway?– Then! Then you'll see it!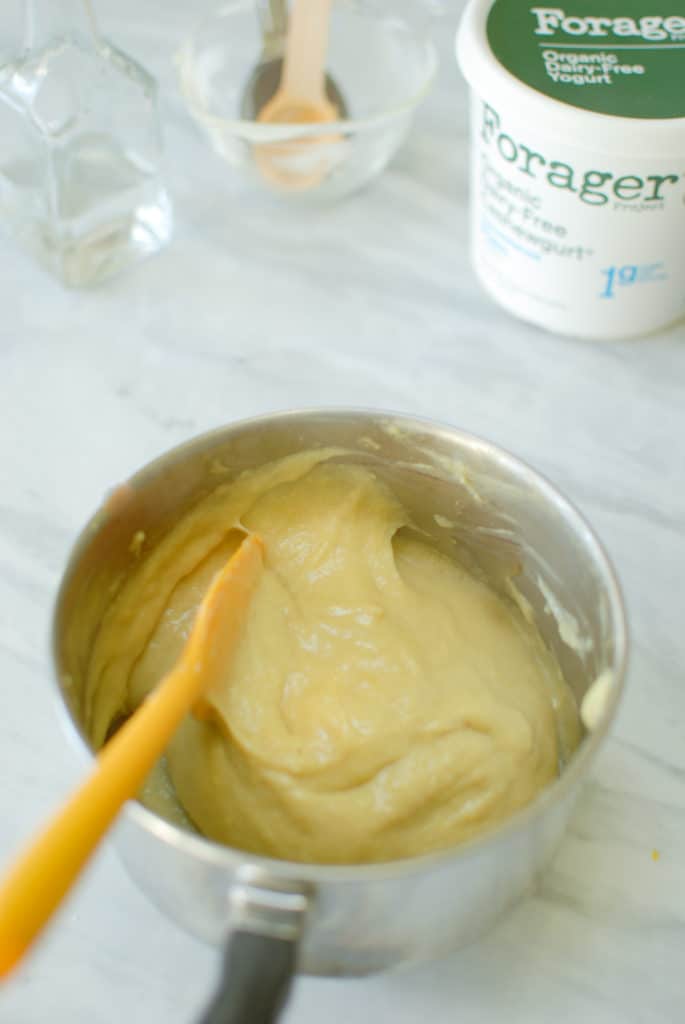 The vegan cheese mixture will begin to thicken!
After 3-5 minutes on the stovetop, the mixture will begin to cling to the bottom of the pan, keep stirring for another 1-2 minutes. The cheese will take shape and turn into one stretchy, melty, cheesy, mass. It won't be a solid ball, this is A-okay!
You'll be able to see the melty, stretchy action kicking into high gear prior to using this…. imagine this on top of a pizza!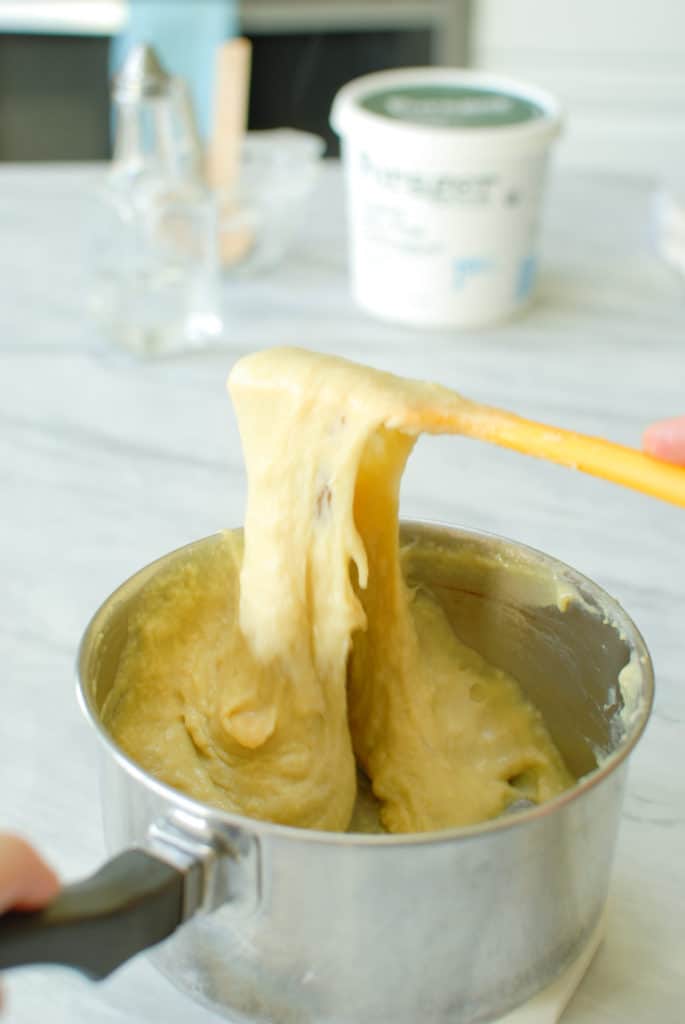 The secret to making this ULTRA melty
There is an extra step you need to take here in order to reach the ultimate level of meltability here- freeze the cheese! Say whaaa?
Hear me out… If you've made a tapioca starch cheese before, you know they are more of a glop and drop situation. You can reach that melty feel-good factor, but it's difficult to get maximum coverage on dishes you prepare with MOST tapioca starch cheeses. IE when you think of vegan cheese pizza, don't you envision a nice melty blanket of cheese covering the entire pizza?
The magic: If you freeze this cheese for a couple of hours you are able to grate it. After grating this cheese, store it in the freezer until ready to use. If left at room temperature or in the fridge, it will turn back into one gooey cheesy solid. This extra step is WORTH IT as grated cheese easily covers any surface you place it on!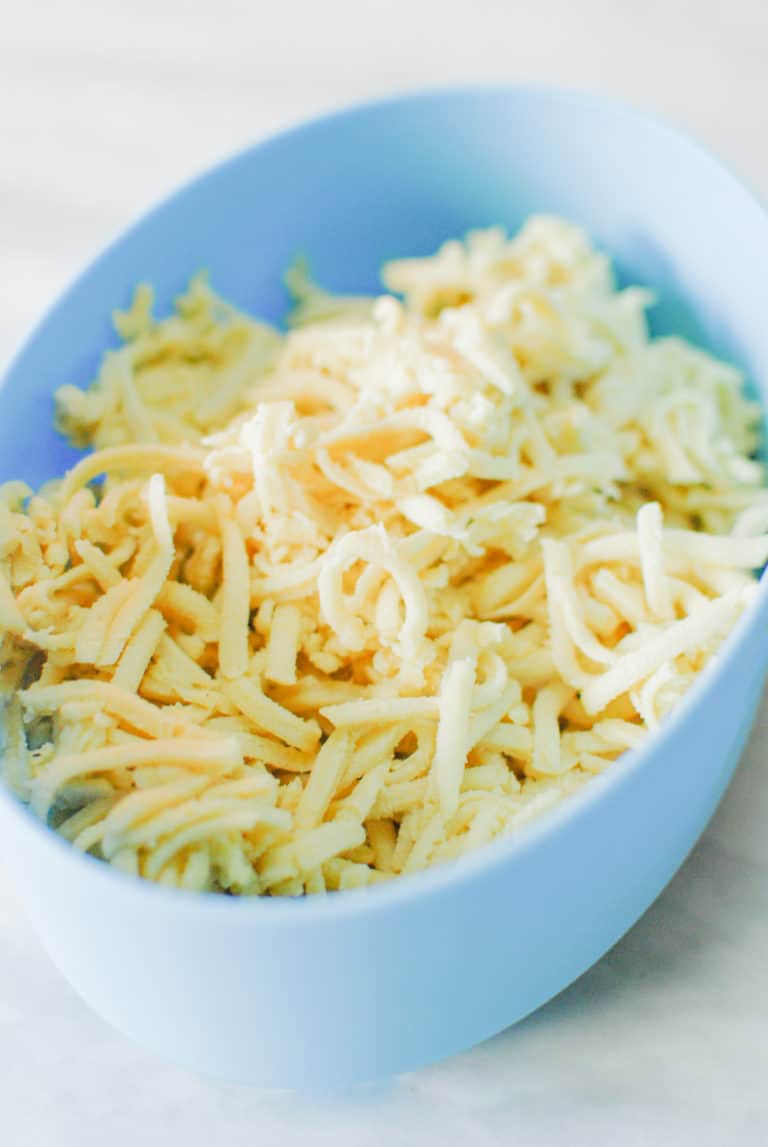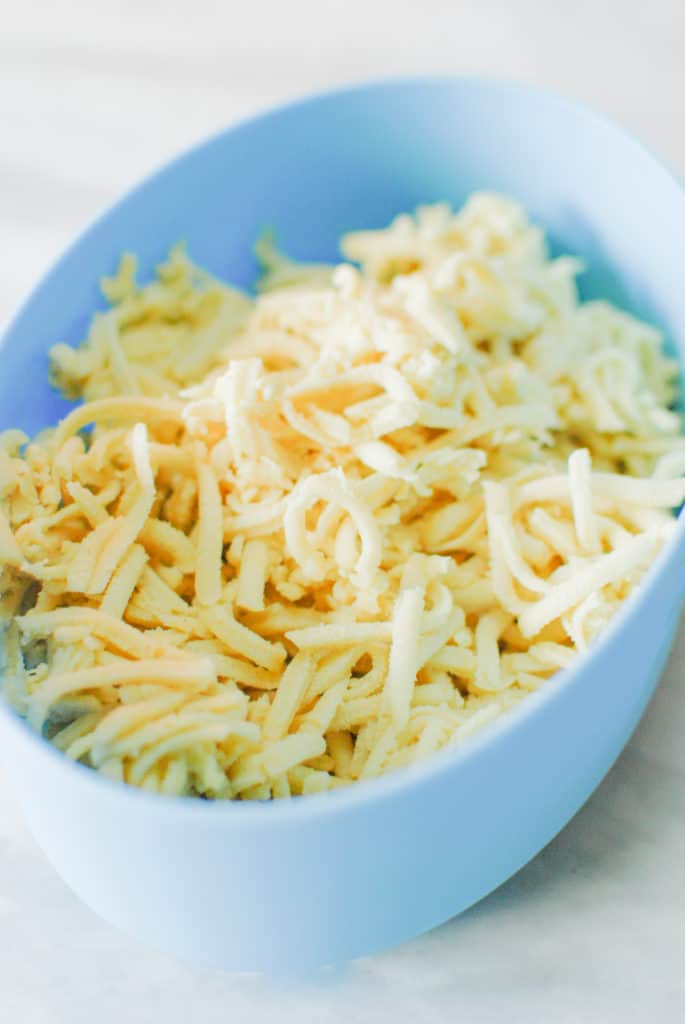 I repeat, the process is important:
Make this cheese
Place into a dish to freeze
Grate & return to the freezer to store
Make your cheesy dreams come true
When you select a dish to freeze this in, remember you're going to grate it. Think: compact, block, easy to hold shape- something that would be easy to hold in your hand while you grate it. This recipe makes about 1 cup, so we use our 1-cup pyrex dish to freeze it.
Yes, it is going to be VERY cold in your hand when it's time to grate it! Alternatively, you could cut the frozen cheese block into chunks and use the shredding attachment of your food processor— this works amazingly!
It's easy to cut into food processor-sized chunks when frozen, and with the shredding disc in your food processor, grating this cheese is a snap! We highly recommend it!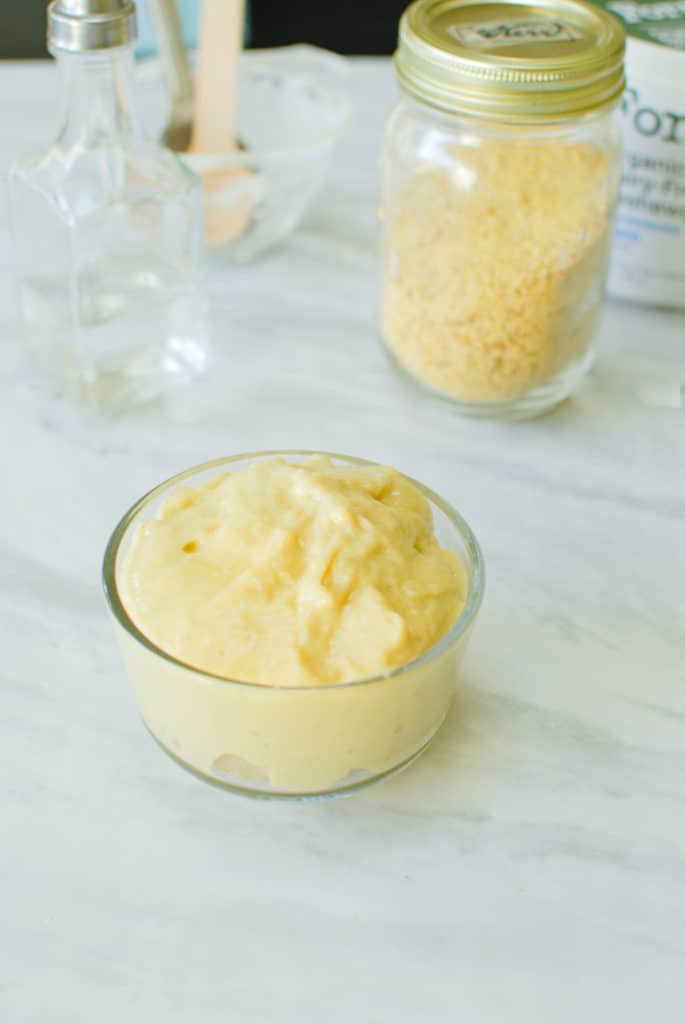 FAQs about this delicious melty cheese:
Can I add herbs or garlic or other seasonings to this homemade melty cheese? Yes! You most definitely can, this cheese recipe is a canvas for you to expand on. We've done a lemon/garlic blend and it's really delish!
Do you HAVE to freeze this cheese? No, you can simply prep this on the stovetop, then spoon/ spread it onto whatever dish you like. The freezing and grating steps turn this into a very melty, very usable cheese and I highly recommend it!
Will this harden in the fridge enough to grate? No, you'll need to place this in the freezer to grate it.
I grated the cheese then it melted in the fridge, what happened? Oh nooooo! Yes, the grated cheese will turn into one solid cheese form if stored in the fridge/ left at room temperature for a while. After grating this melty cheese make sure you place it back into the freezer until use!
Does vegan cheese taste good? Yes, although it has a different taste and mouthfeel in comparison to dairy cheeses. There are many brands to purchase and many recipes to make your own at home, play with it!
What is vegan cheese made out of? Vegan cheese is made using a variety of bases including vegan yogurt, coconut, cashew, and other nuts and seeds!
Can I make this vegan cheese without cashews? Yes, you can use any vegan yogurt to make this. Forager, the brand pictured above is a cashew-based yogurt, however, they now have a coconut alternative!
This vegan cheese recipe is the one we use to top our vegan chipotle margherita pizza!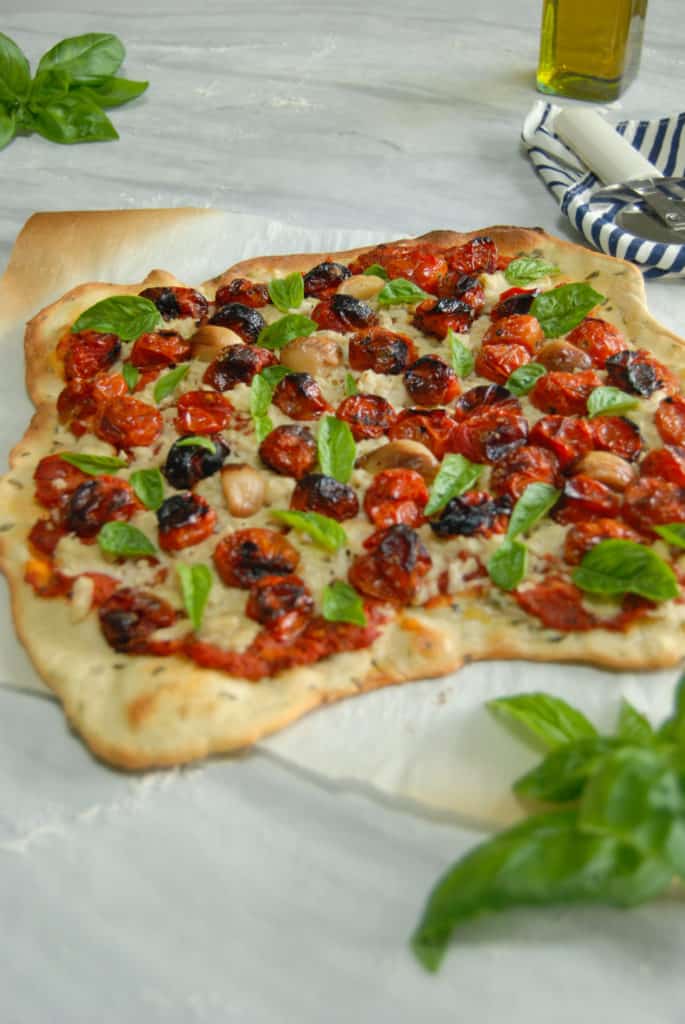 Print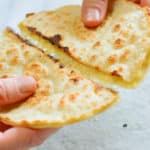 Melty Vegan Cheese
Author:

Adriana

Prep Time:

5 minutes

Cook Time:

5 minutes

Total Time:

10 minutes

Yield:

1 cup

1

x

Category:

Recipes

Method:

stovetop

Cuisine:

cheese
---
Description
We have the vegan cheese recipe, that actually melts, to make all your pizza, nacho, and grilled cheese dreams come true. We welcome you with open arms to make this recipe again and again– anytime a cheese craving strikes!
---
1 cup

vegan yogurt

1 tablespoon

white wine vinegar

1.5 teaspoon

salt

1

–

2

tablespoon nutritional yeast (more nooch=more cheesy flavor)

1 tablespoon

miso (we like chickpea miso)

1/4 cup

tapicoa starch
---
Instructions
Measure all ingredients and combine until a smooth mixture forms. You can do this by hand with a whisk or in a blender.
Heat the mixture in a pot over medium heat for 3-5 minutes, stirring often after minute 2.
After 3-5 minutes on the stovetop, the mixture will begin to thicken along the bottom & sides of the pan, keep stirring for another 1-2 minutes.
The vegan cheese mixture will never turn into a solid ball, it will become one mass with a very sticky nature. 
We recommend freezing and grating this, then storing in the freezer to use on all the vegan cheese recipes you can dream up! You can use this directly as-is off the stovetop, simply spoon and drop/glop the cheese onto pizza or nachos and bake!
---
Notes
** We recommend making a double batch of this– once you've tried it and know you love it– and keeping it on hand in the freezer! In a sealed container it can last up to 3 months!
** Play with the flavors! Add spices or seasonings, fresh herbs, a dash of mustard or a sprinkle of liquid smoke to change up the end result!
Keywords: vegan cheese, yogurt, miso