It's a spice blend, a crunchy textural pop, and a smoky flavor addition all at once– you guessed it, today we're dishing up the dukkah! Dukkah seasoning is simple to make and has definitely earned its place in our pantry because it's also so simple to use!
Your turn, friends, to experience the wonders of dukkah!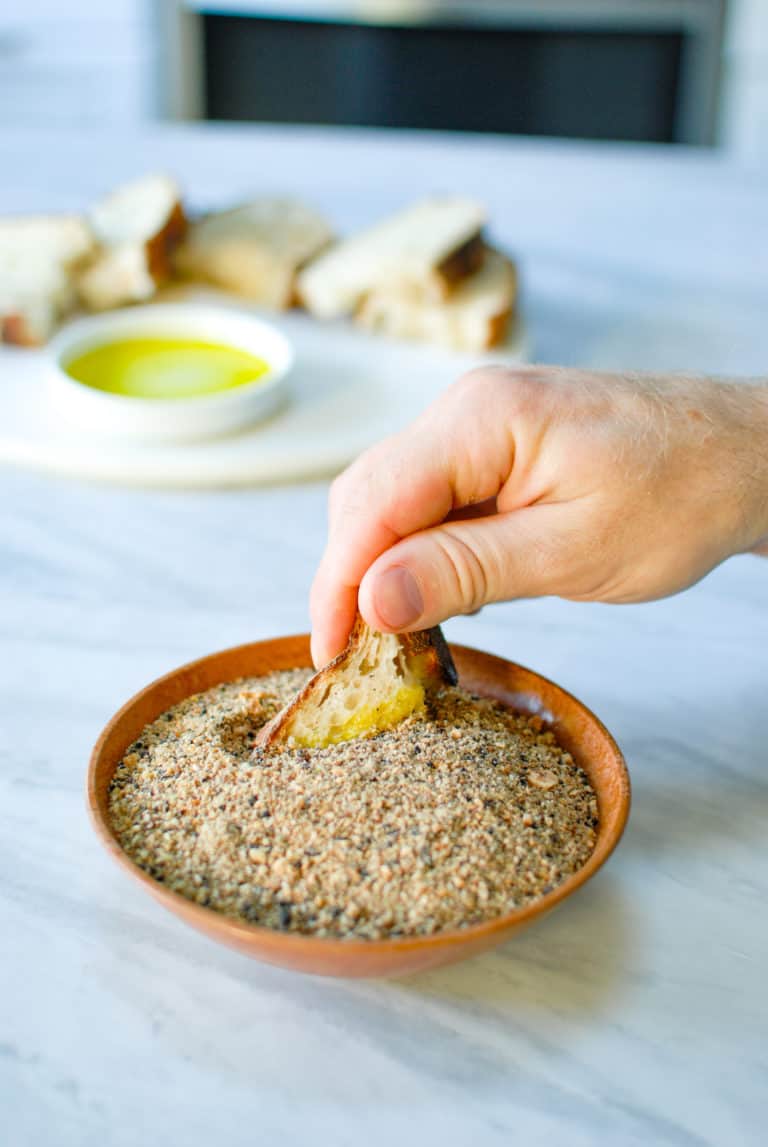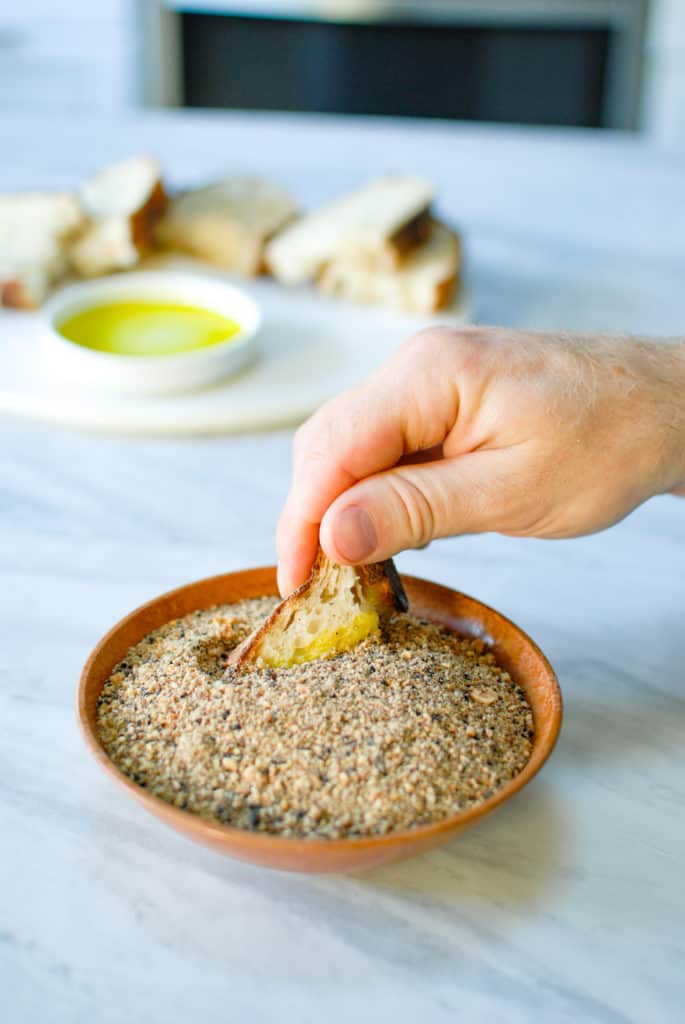 The Process Of Making Dukkah
Dukkah is a condiment consisting of a wide variety of nuts, seeds, fresh or dried herbs, and whole or ground spices or seasonings. As we call the great PNW home, we're going to showcase the beloved hazelnut in this version but you can substitute any nut you fancy!
You can even swap the hazelnuts for pumpkin or sunflower seed if you need dukkah without hazelnuts! There is a nut-free variation of this recipe! Use 1/2 cup pumpkin seeds in place of hazelnuts!
Here's the quick & dirty on how to make dukkah:
Roast the nuts & seeds
If using whole spices, roast the spices as well
Combine the nuts & spices and coarsely chop
Congrats & enjoy your dukkah!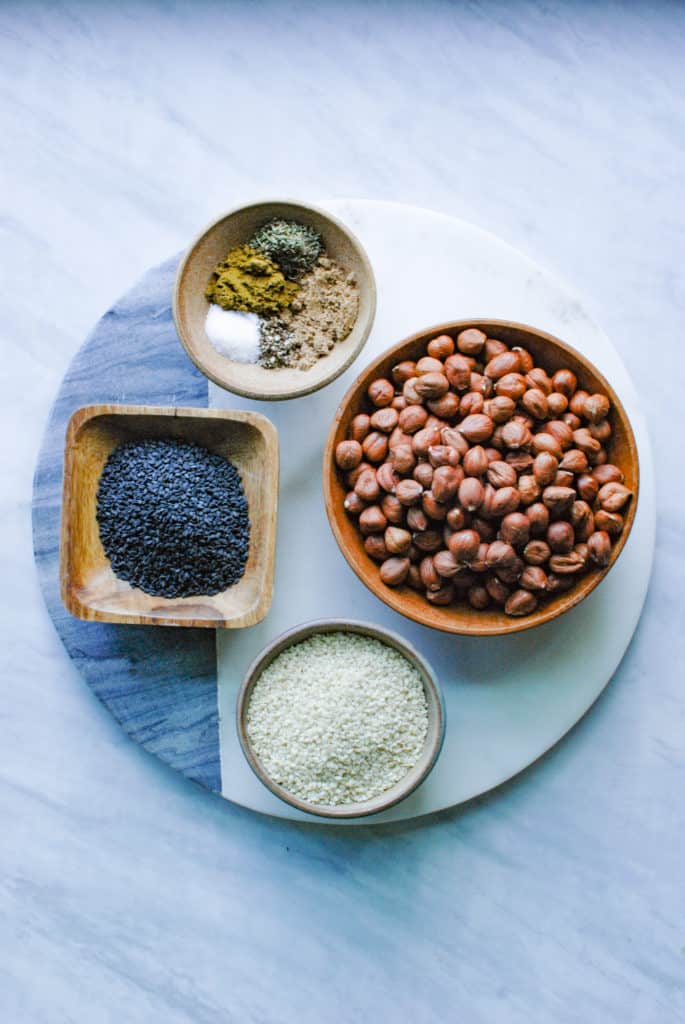 Roasting the seeds and nuts allows their flavors to really sing brightly– you don't haaaave to do this. But you do.
Also, in this recipe, we're not messin' with whole spices. If you feel like you need to go forth and be extra on this, you are goals, my friend! In our spice cabinet, we always have ground spices & rarely have whole– use what you have conveniently available!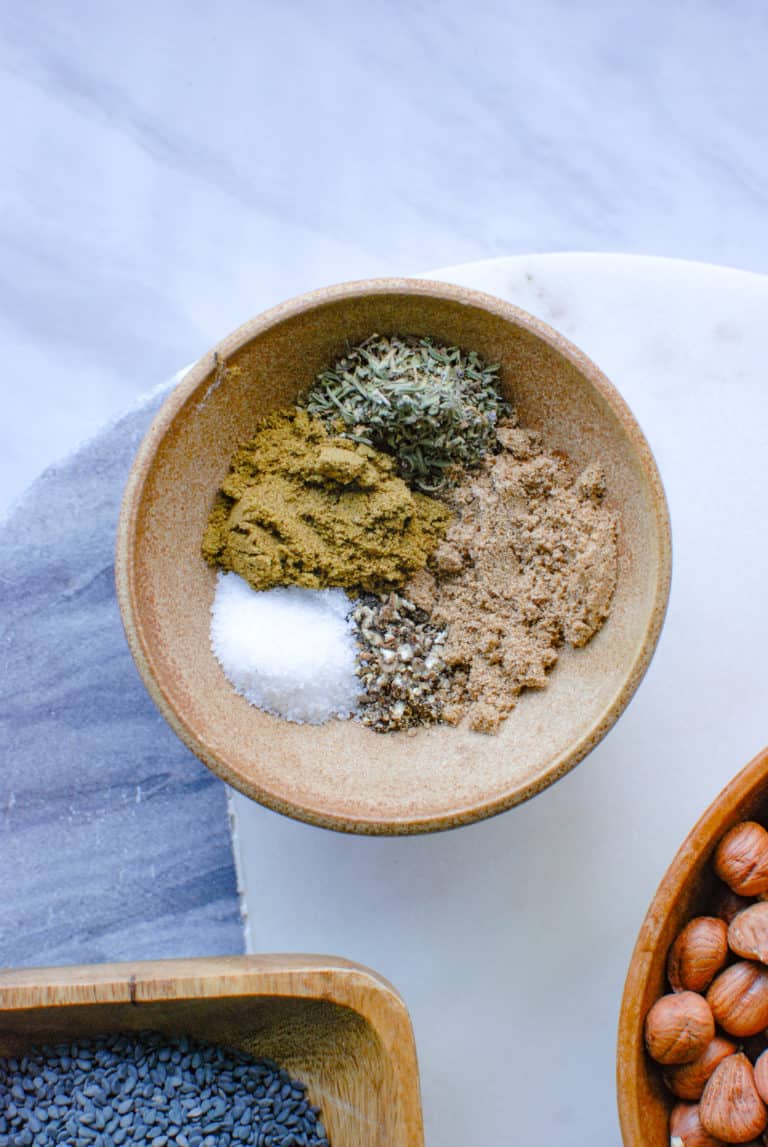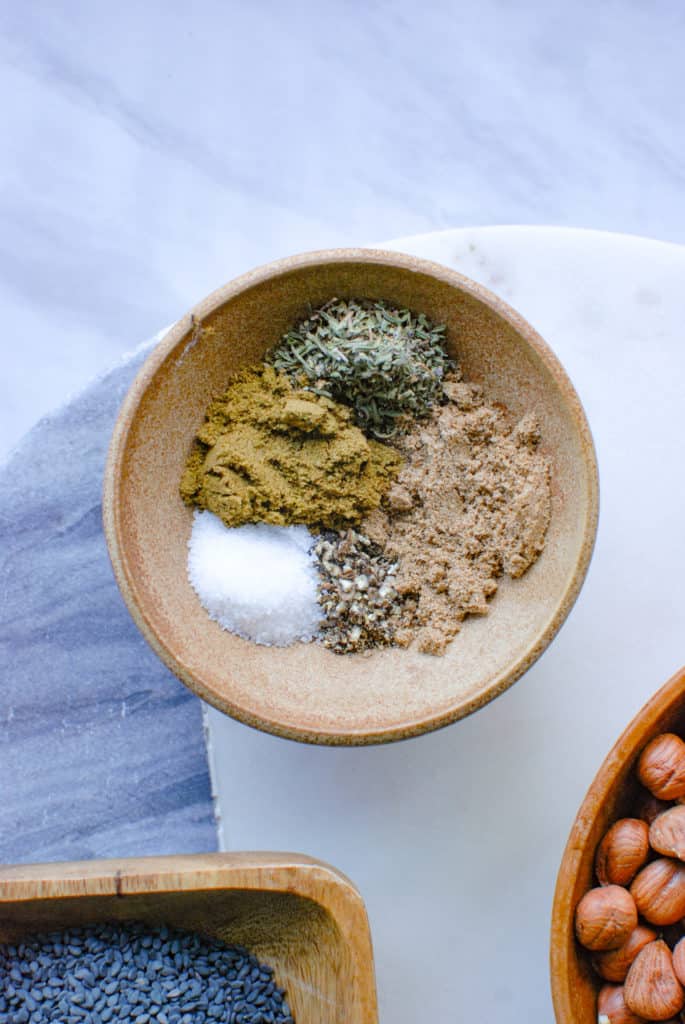 Oh yes, the spices! The nut & seed combo brings the texture, but the spices! The spices bring the flavor. We're fond of thyme, coriander, cumin, and black pepper.
We have made this before with fresh thyme (or other fresh herbs) but your dukkah will last longer and maintain flavor better if you use dried herbs. 100% fresh herbs are the winners here IF you know you'll use this within a week.
On a side note: making your own dukkah is far more cost-effective than purchasing this already made. For about the same price where we live, we'll get about 3/4 cup of dukkah for the price of 1 premade spice jar! Yes please.
Time To Eat Dukkah!
There are many ways to eat this delicious dukkah seasoning blend once you've prepared it! Dukkah is a classic pairing with fresh olive oil and rustic bread, but how else can you use dukkah seasoning if you whip a batch up yourself?
Here are some of the ways we have found ourselves enjoying a homemade dukkah seasoning!
On a charcuterie board with hummus and other dips
To garnish and add texture to soup
On salads for crunch factor
Sprinkled on top of tacos (our favorite!)
Instead of parmesan cheese on pasta dishes
Added on top of baked casseroles in place of bread crumbs!
Recipe Roots
A quick Google search will give us all the dirty deets on dukkah– also spelled duqqa! Dukkah is typically served prior to a meal as an appetizer across Eygpt. It's a dip to accompany olive oil and serve with bread and veggies. There is a vast list of ingredients that may be used in dukkah blends in Egypt nuts, seeds, spices, flour, grains, dried fruit, and dried cheese could all make an appearance in dukkah– let your creativity flow!
We see this similar to curry powder blends, each family has their own flair and special blend used in curries- we believe it's the same situation with dukkah.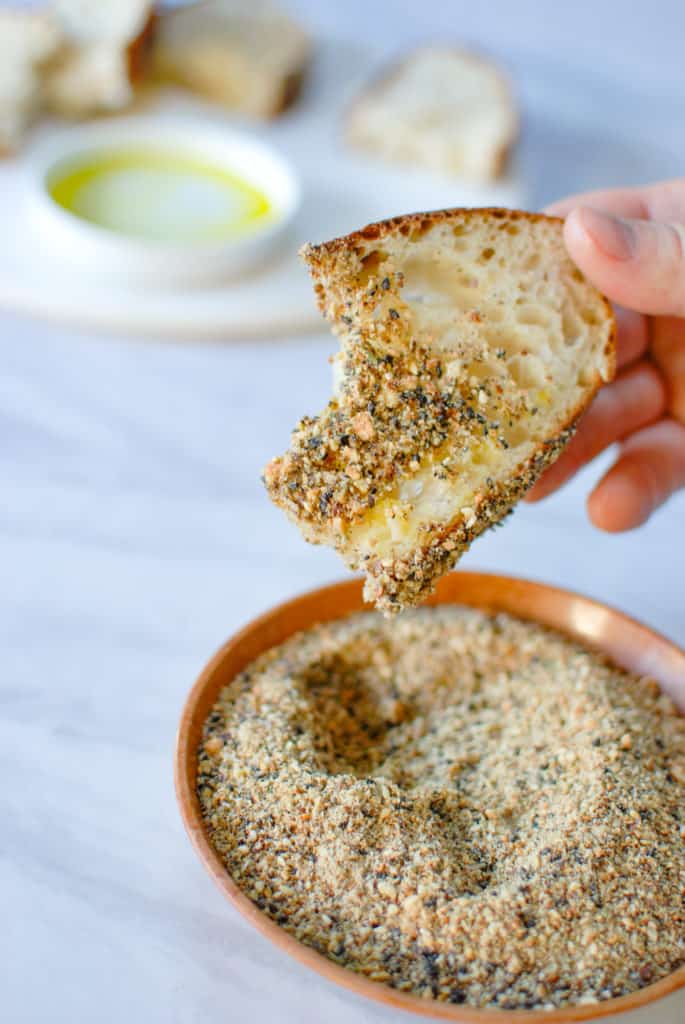 Variations To This Recipe
We'll point out a few quick notes on popular variations and twists you can take when using this recipe as a guide to making your own dukkah!
On texture: We prefer a finer dukkah seasoning blend! Some recipes will call for coarsely chopped nuts, showcasing a rustic texture of large and small pieces- our 'house dukkah' spice blend is a much finer texture. Through making and using dukkah, we noticed we used it far more often when it was a finer texture!
What about dukkah without nuts? Yes, this is real! Substitute pumpkin seeds, sunflower seeds, hemp seeds, poppy seeds (oh!), or flax seeds to meet your dietary needs!
Here's an FYI: This recipe is a suggestion– there are several ingredients we haven't used that are frequently included in dukkah! Use these to kickstart your inspiration…
Fennel seeds
Caraway seeds
Pistachios (so fragrant!)
Mint
Oregano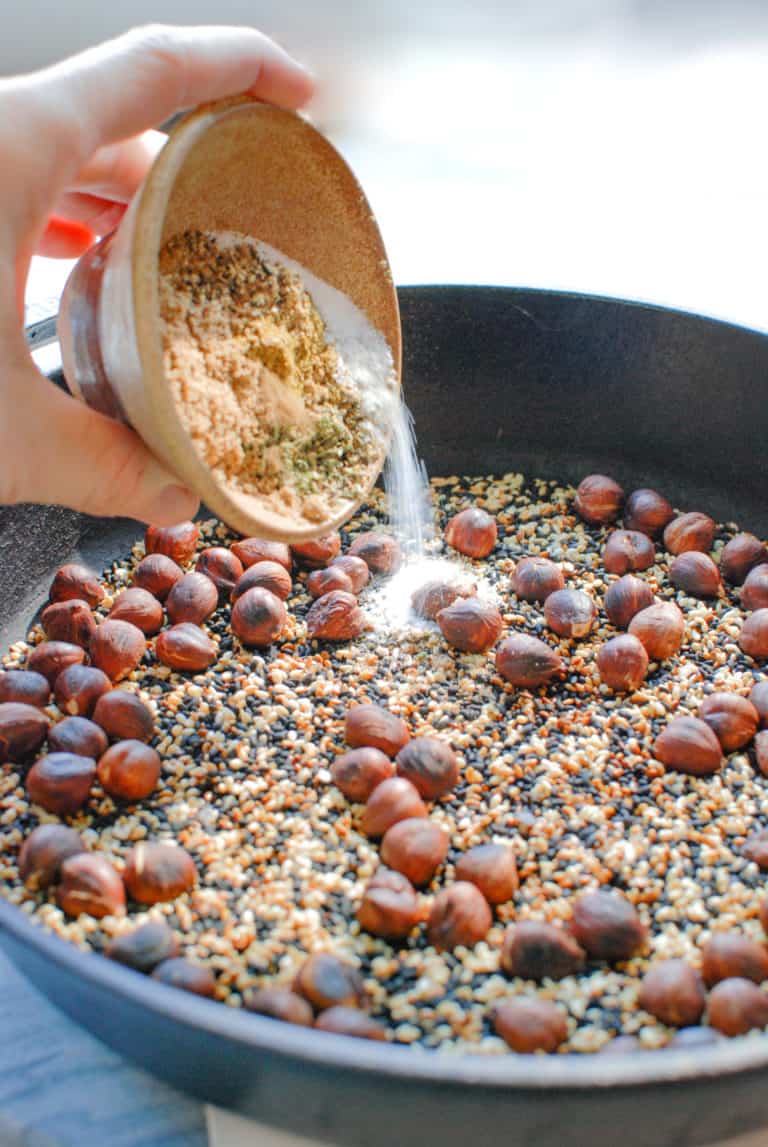 Hazelnut Dukkah FAQs
What does dukkah taste like? Dukkah is a smoky, herby, seasoning mixture. It reminds me of a middle eastern furikake (a Japanese seasoning used on rice a lot)! It adds a deep, roasty flavor to anything you add it on.
Is dukkah the same as Za'atar? They are similar, as we aren't local to the region we can't fully speak to this–buuuut we'd call them cousins. Za'atar uses sumac, a deep red berry that's dried and ground into powder, thyme, and sesame seeds. Sumac really changes the flavor. Dukkah blends, on the other hand, usually have larger nuts that are coarsely chopped resulting in more texture.
What to put dukkah on? How to use it? You can put dukkah on bread, on salads in place of croutons, on hummus, guacamole, or other dips, sprinkle it over pasta, and even add it to tacos!
What can I use instead of dukkah? For certain recipes, dukkah is used as a breading, for this, we suggest panko or bread crumbs. In other cases, chopped nuts or seeds would work– which is 80% dukkah so just go ahead and make this!
Print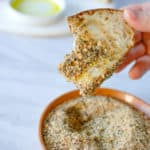 Hazelnut Dukkah
Author:

Adriana

Prep Time:

10 minutes

Cook Time:

10 minutes

Total Time:

20 minutes

Yield:

1.5 cup

1

x

Category:

Recipes

Method:

stovetop

Cuisine:

seasoning, spices
---
Description
Say hello to the newest addition to our condiment collection: Hazelnut Dukkah! We know you'll love this dukkah seasoning as much as we do and we hope you'll think up all the creative ways to use it! Think: on dips, on salads, over roasted veggies, over eggs/tofu scrambles, atop your guacamole and much, much more!
---
1/2 cup

hazelnuts

1/4 cup

sesame seeds

1/4 cup

black sesame seeds

1 teaspoon

cumin

1 teaspoon

dried thyme

1 teaspoon

coriander

1/2 teaspoon

black pepper (about

10

–

15

cranks)

1/2 teaspoon

salt
---
Instructions
Heat a pan over low heat and slowly toast the hazelnuts. 
When hazelnuts are brown and fragrant, add in the sesame seeds, stirring frequently to toast.
When sesame seeds are toasted, remove the pan from heat and add spices.
Pour contents into blender or food processor and pulse 5-10 times until the nuts are roughly chopped and a coarse sandy texture is achieved.
Alternatively, you can chop this by hand.
---
Notes
** You must try this with rustic bread and olive oil. 
** We prefer a finer textured dukkah, as we use it in a wider variety of applications this way. Feel free to go very rustic with it and coarsely chop the nuts.
** This will keep in the fridge for about 1 week if using fresh herbs, up to 3 weeks if using dried. Best flavors if used within 10 days.
Nutrition
Serving Size:

1 tablespoon

Calories:

62

Sugar:

4.2g

Sodium:

61.8mg

Fat:

4.2g

Carbohydrates:

5.6g

Fiber:

.7g

Protein:

1.1g
Keywords: dukkah, hazelnut