We're going to make vegan cheese of an extraordinary variety right now… it's vegan ricotta cheese! Whoop Whoop! In this version of vegan ricotta, we'll combine hazelnuts with lemon & nutritional yeast for a dairy-free alternative to ricotta cheese, PNW style!
Whose makin' vegan lasagna this week? (*Raises hands!)
Let's Make Ricotta!
The first critical step in creating uber fluffy ricotta is soaking your nuts! Regardless of the type of nuts you're using, you'll get the best result if you soak the nuts.
Don't have an extra 4 hours to soak the hazelnuts? Girl/boy we're right here with you. Like helloooo, I'm knee-deep in lasagna layering and I NEED CHEESE NOW!
There are 2 routes you can go to soften the nuts prior to blending:
Place hazelnuts into a jar or container and cover with cold water. Soak for 4-6 hours (or longer in the fridge, if your schedule needs) strain, and blend!
If you're in a pinch and don't have the time you can quick soak. Place the hazelnuts into a small pot of water and bring to a boil. Once boiling, remove from heat, cover and soak for 10-15 minutes!
Ingredients & Substitutions
One of the major perks to this recipe is that we're only using ingredients commonly found in many vegan/vegetarian kitchens! Aside from the nuts, we'll add in some olive oil, salt, and lemon juice.
Feel free to zest the lemon in addition to juicing it if you're okay with a snappy lemony ricotta! Take that next level by adding 1/4 cup of chopped basil and you're sittin' on a bright and creamy pesto ricotta.
Alternatively, if you are out of lemons, sub 1 tablespoon vinegar- white wine vinegar would work amazing!
You can omit the olive oil in this recipe if you need oil-free vegan ricotta. We've included it as it provides a nice silky mouthfeel.
On the hazelnuts: Many vegan ricotta recipes call for macadamia nuts, almonds, or cashews– if you don't have hazelnuts on hand, you can substitute any of those!
Nut-free ricotta: We'd opt for a mix of hemp, sunflower or pumpkin seeds. Note: sunflower seeds are more bitter and pumpkin seeds will change the color!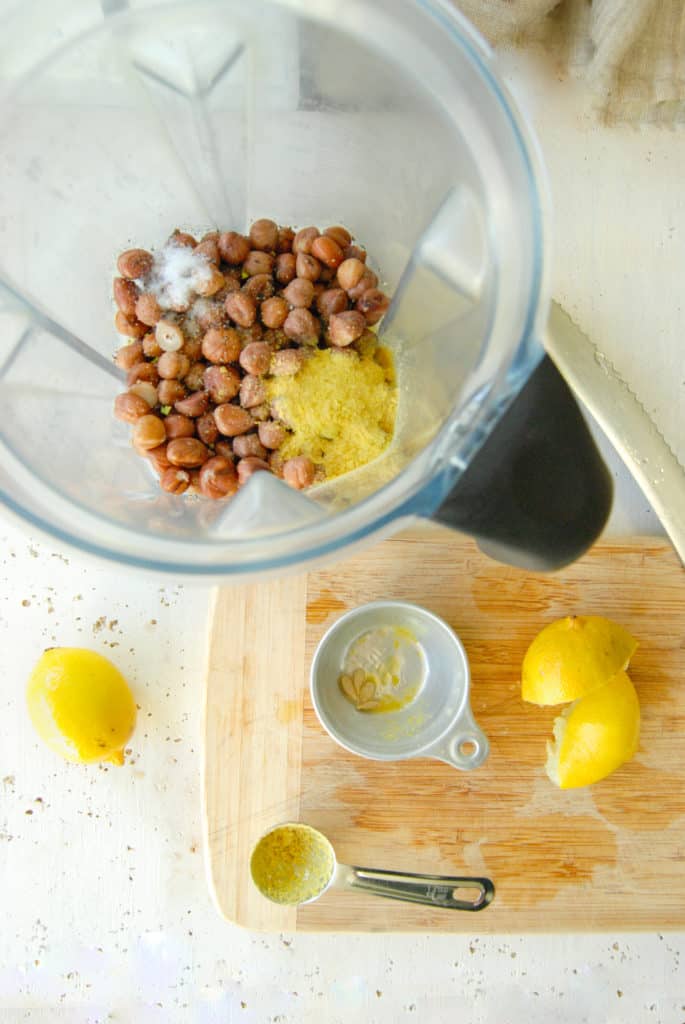 Blender V. Food Processor
We tried making this recipe in both a blender and a food processor to see which yielded the best-most-ricottaesque consistency and our Vitamix took home the trophy.
You could make this in a food processor, the resulting texture isn't as creamy or fluffy as with a high powered blender. As most vegan ricotta recipes are usually a component of another dish, (like lasagna) a coarser texture may go unnoticed.
Let us know if you pull it off!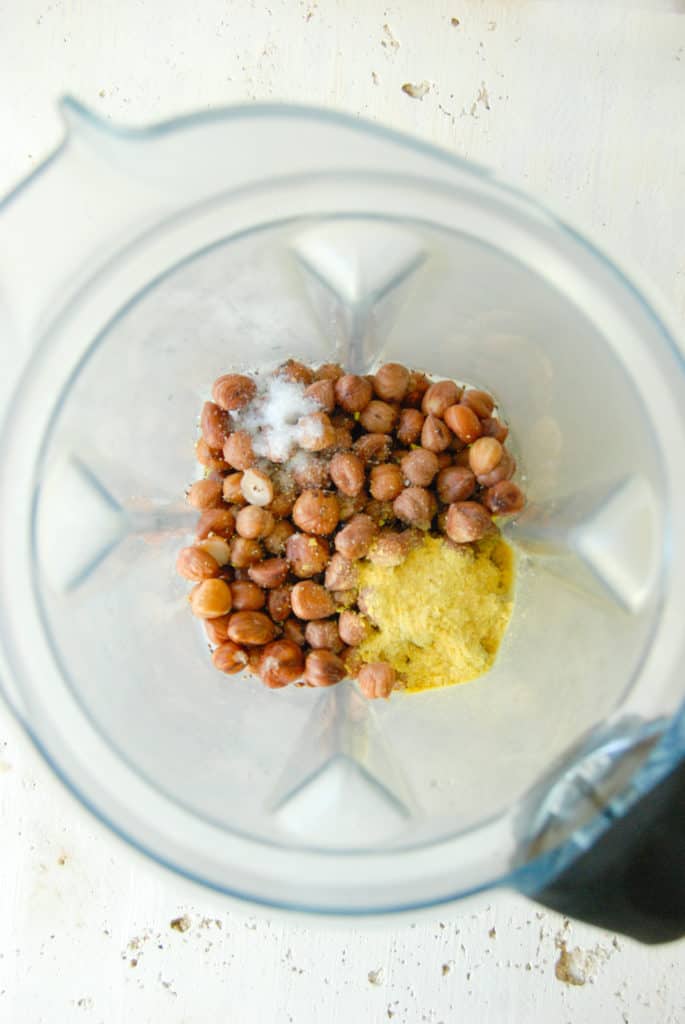 Ways to use Vegan Ricotta
You can start using this vegan ricotta immediately after whipping it up! Although take note: this recipe does thicken after chilling in the fridge.
If you intend to use this as a dip on an appetizer board we do recommend making this one day in advance and storing it in the fridge. The ricotta will firm up a bit as it chills, making it super airy and luxurious as a dip for toasted slices of bread and veggies!
Okay- now you've made a batch of vegan ricotta… what to do with it? Most recipes that call for vegan ricotta as an ingredient will leave you with leftover ricotta… how to use it?
These are our favorite ways to use vegan ricotta cheese:
In vegan lasagna
In vegan stuffed shells
As a thickener/base for vegan pasta sauces… think: creamy pesto sauce, creamy tomato sauce!
As a dip- add lemon, curry paste, fresh herbs, or seasonings to change up the flavors and away you go!
As a cheese on vegan pizza
Use to create creamy salad dressings
Vegan Ricotta FAQs
Does this vegan ricotta work for lasagna? Yes, this vegan hazelnut ricotta works great in lasagna.
Can you freeze vegan ricotta? Yes, you can freeze vegan ricotta. Simply defrost fully prior to using!
Do I have to peel the hazelnuts? No, you can roast and peel the hazelnuts if you'd prefer but we skip this step! The skins do add color and texture to ricotta, but we're after simplicity– we don't mind!
Can I use cashews instead? Yes, as-is, this recipe is vegan ricotta without cashews but if that's all you have on hand- use them!
How to make this a nut-free ricotta? You could use sunflower seeds or pumpkin seeds to make this recipe– but the color, texture, and flavor will change.
Print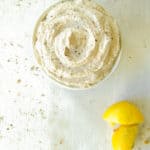 Vegan Hazelnut Ricotta
Author:

Adriana

Prep Time:

10 minutes

Cook Time:

10 minutes

Total Time:

20 minutes

Yield:

2 cups

1

x

Category:

Recipes

Method:

Blender

Cuisine:

vegan cheese
---
Description
We're dropping a vegan ricotta recipe today that will make your creamy pasta dreams come true! Vegan hazelnut ricotta adds a velvety oomph to lasagna, stuffed shells, pasta sauces, and vegan pizza PLUS it's easy-peasy to make!
---
1 1/4 cup

hazelnuts

1.5 teaspoon

salt (more or less to taste)

2 tablespoon

olive oil

2 tablespoon

lemon juice

2 tablespoon

nutritional yeast (more or less to taste)

3/4

–

1

cup water
---
Instructions
Prepare the hazelnuts for blending: Option A-soak them in cold water for 4-6 hours, Option B- place them in a pot, bring them to a boil, remove from heat and soak for 10 minutes.
Strain the hazlenuts and add to blender, with remaining ingredients.
Blend for 60-90 seconds, stopping 2-3 times to scrape the sides of the blender.
Use immediately or transfer to a storage container and refridgerate. 
---
Notes
** This keeps in the fridge for 5-7 days!
** You can freeze any leftover ricotta to save for a later date!
** A high-powered blender creates a creamier, fluffier end result.
** Substitute cashews, macadamia nuts, or almonds if you prefer!
Keywords: Vegan Ricotta, Vegan Cheese