Have you ever tried orgeat syrup? It's a simultaneously nutty & sweet, delicate & bold, easy & interesting addition to your home chef repertoire and today we're doin' all things orgeat! We're seriously hot to trot on orgeat and think you're gonna be also.
Let's get nutty…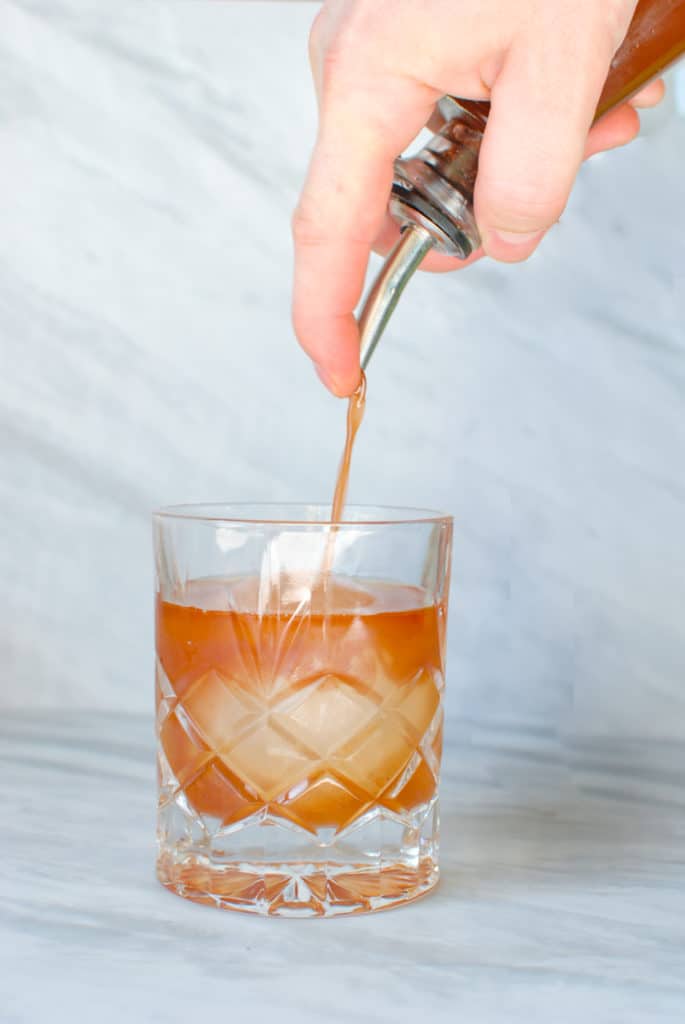 On Making Orgeat
Here we go, let's learn how to make orgeat syrup! Orgeat is a syrup traditionally made with almonds, sugar, and orange flower water. To make our DIY orgeat syrup you need 2 ingredients- 1 cup of hazelnuts (or other nuts of your choice) and 1 cup of cane sugar. That's it!
Here are the steps to making orgeat syrup:
Measure and roast the nuts. You can toast them in the oven or in a skillet.
Finely dice the nuts by hand or using a food processor.
Add the diced nuts, sugar, and water to a small pot.
Heat over medium heat until simmering, stirring occasionally.
Continue to gently simmer for 5 minutes, stirring continuously or the syrup could overflow.
Remove from heat, cover, and steep for 8-12 hours.
After at least 8 hours, strain the syrup from the nuts and place it into an air-tight container in the fridge.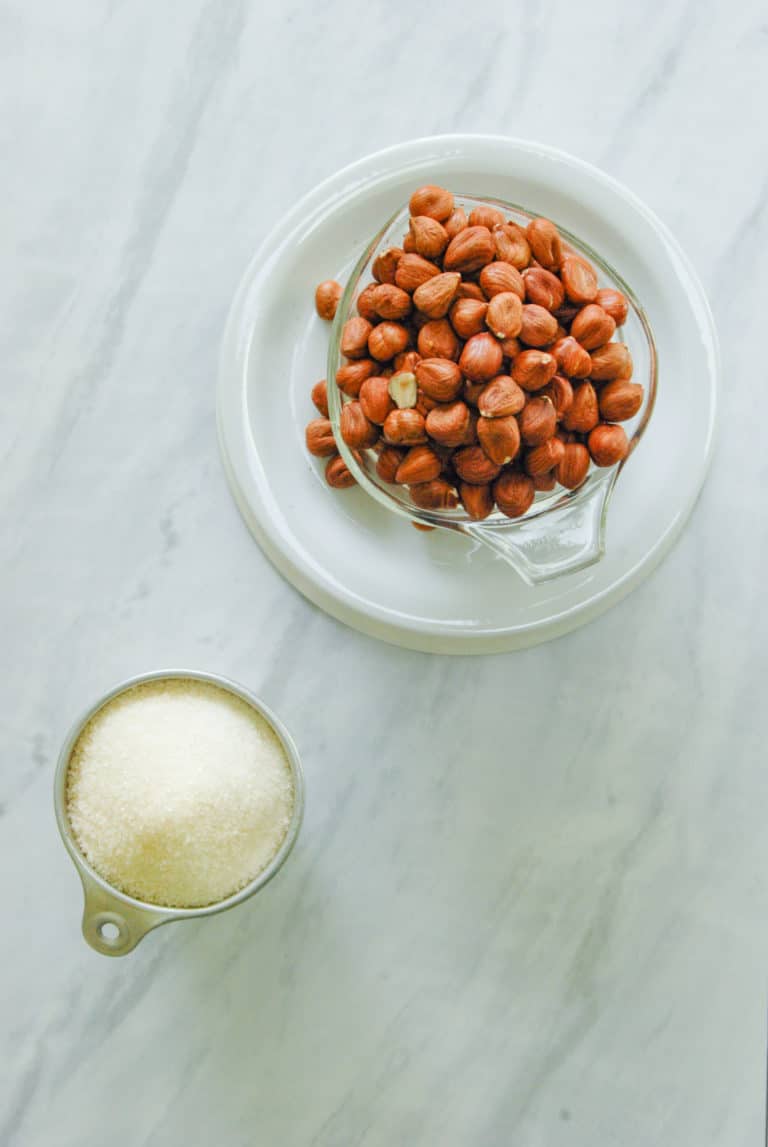 Add brandy or vodka as a preservative? To lengthen the shelflife of orgeat syrup you can add 1-2 tablespoons of liquor, commonly brandy or vodka, to the finished syrup. This is optional and up to you to decide!
Soak for 8-12 hours? Trust us, we didn't want to patiently wait either. We tested making orgeat syrup with a 1, 8, & 12 hours steep to know for sure if the length of time made any difference. You bet it did! In terms of color, flavor, and aroma the 12-hour steep was the shining star!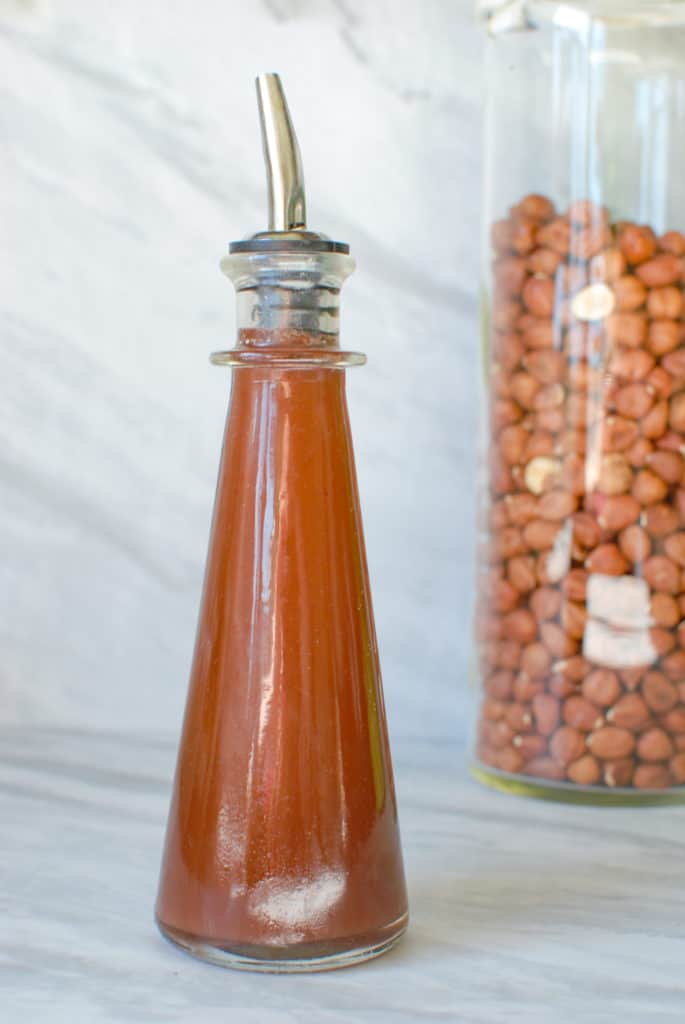 Orgeat- Just For Cocktails?
We're guessing some of you have never heard of orgeat, but you've probably tasted it before! We all know Hawaii's famous cocktail, the Mai Tai, right? Almond orgeat syrup is a standard ingredient in a Mai Tai recipe! In fact, orgeat shows up in a variety of tiki and island-inspired drinks.
We're taking things to the next level. Living in the PNW, we're all about using and embracing our hometown flavors– hence, hazelnut orgeat was born– and we thought orgeat would be an easy means of infusing hazelnut flavor onto dinner plates! We've always been fond of orgeat syrup but we rarely used up an entire batch so here are additional uses for orgeat!
Start here, with our hazelnut ice cream recipe. You guessed it- it's made using hazelnut orgeat! We're working on other home-chef applications for using orgeat more often… Until then start with these:
Use in coffee in place of sugar
Drizzle on french toast or pancakes
Sweeten your summer sangria with orgeat ( It's heaven)
Add orgeat to your homemade whipped cream
Many curry recipes call for a bit of sugar to balance the heat, fat, and acid– you know what we're gettin' at
In salad dressings or marinades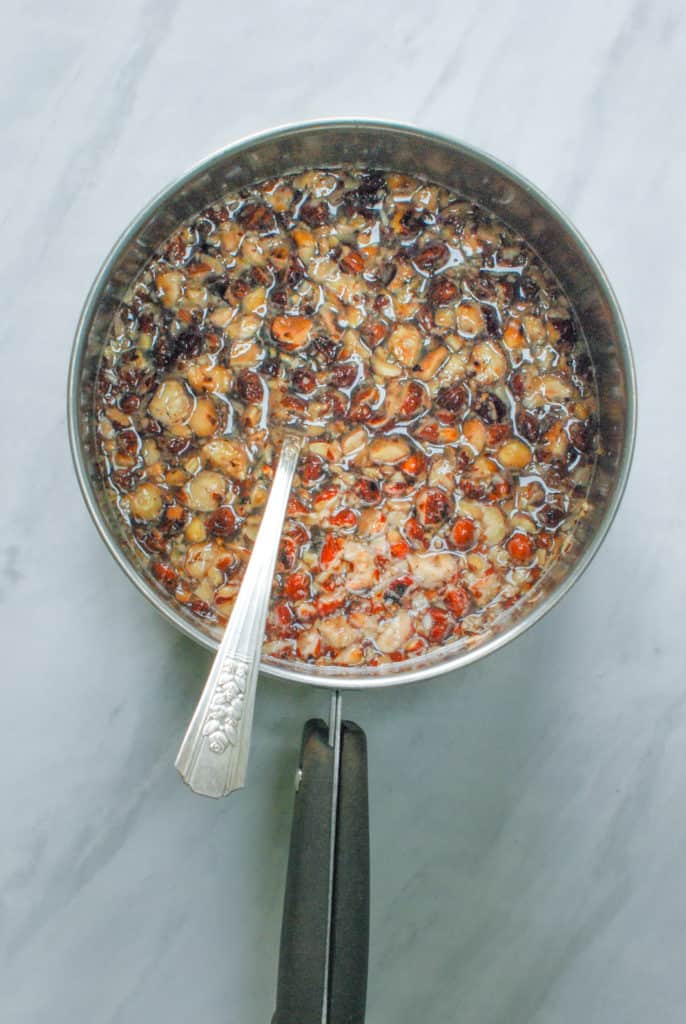 Try These Variations…
Alright, orgeat is historically made with almonds, we've learned that… but we used hazelnuts? 'Explain yourselves, at once!' you say. Our reply: 'Who doesn't love Nutella?!'
As you can imagine, orgeat can be made with a variety of different nuts! Doesn't pecan orgeat sound like it could be spectacular? Macadamia orgeat margaritas? Sounds deliciously tempting! We're seriously considering switching directions to focus fully and exclusively on orgeat recipes. (We wish)
If you jump on the orgeat train and love it so much you never look back, play with the type of sugar you use! This recipe calls for white or cane sugar, imparting only sweetness. Feel free to substitute brown sugar, coconut sugar, or honey to add complexity and depth of flavor.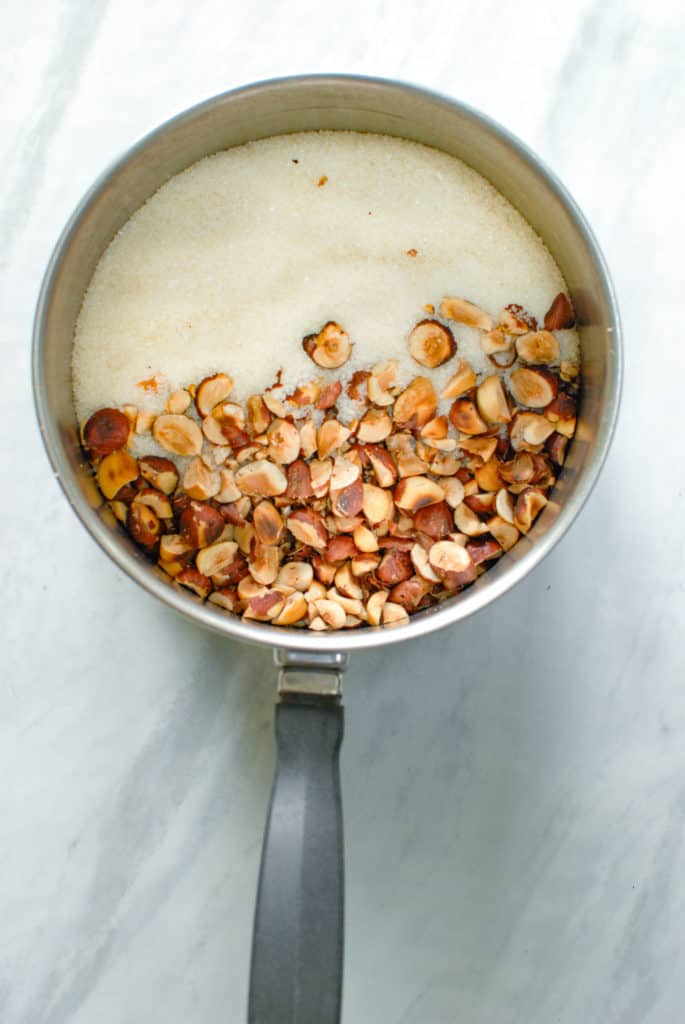 What about orange flower water (AKA orange blossom water)? Do you need it? This is an affordable ingredient at around $5 US for a large bottle. If you don't want to purchase an entire bottle just for this recipe– simply sub 1 tablespoon of fresh orange zest, or omit the orange component entirely as we do.
There are recipes out there on how to make your own orange blossom water— if you have orange blossoms going off in your backyard… Yeah, us neither.
Pssst. Hey, Whiskey Drinker
If you're fond of whiskey, we reckon you have a soft spot for old fashions, orgeat will play nicely with your liquor cabinet friend! Try making an orgeat old fashioned!
Instead of using simple syrup or a sugar cube, use hazelnut orgeat as a sweetener. It lends a rich, nutty flavor that oh-so-nicely compliments whiskey. As orange flower water is a traditional ingredient in orgeat, you can guess it also gorgeously pairs with the orange aroma and garnish showing up in old fashions regularly.
Trust, once you've tried an orgeat old fashioned, you won't be able to get it out of your mind.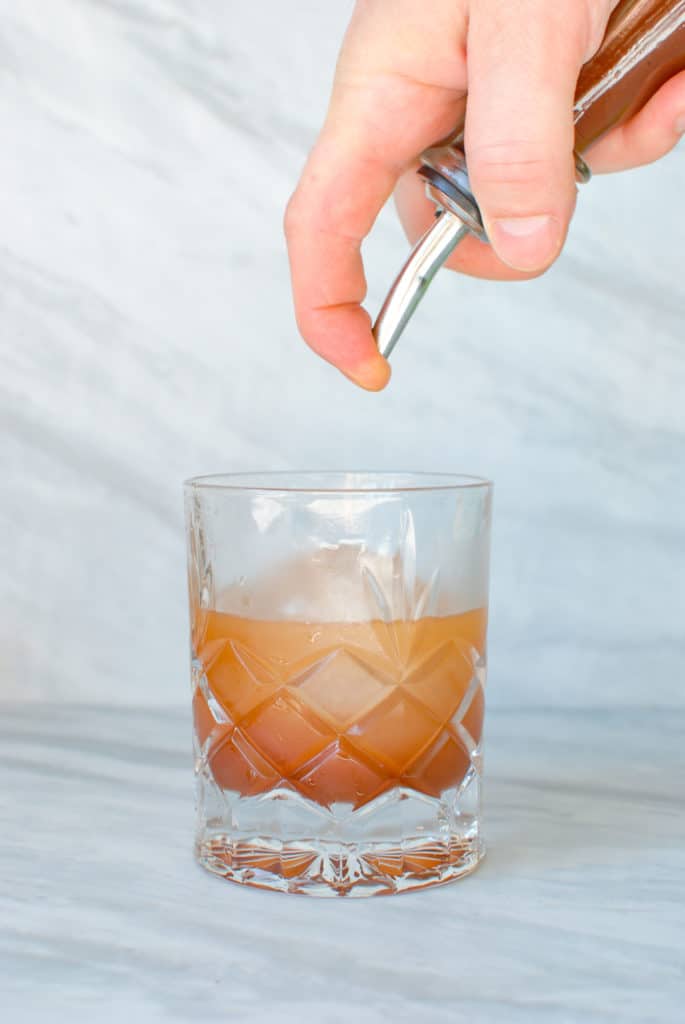 Hazelnut Orgeat FAQs
Does orgeat contain alcohol? No, orgeat does not usually contain alcohol. Amaretto is a close cousin, which is an almond liqueur that does indeed have alcohol!
Is orgeat gluten-free? Historically, orgeat was made with a combination of almond and barley, some commercially prepared and sold orgeat is still made this same way! Orgeat does not need gluten for flavor or consistency, so you can make your own orgeat at home that is completely gluten-free!
Do you need to refrigerate orgeat? Yes, just like simple syrup, this sweetener needs to live in the fridge.
Does orgeat go bad? Yes. If left at room temperature or in the fridge for an extended amount of time, orgeat may become moldy, slimy, or stale.
Do you need orange flower water to make orgeat? The orange blossom water adds a floral aspect, great for cocktails– we usually skip this step and don't notice a huge difference!
How to pronounce orgeat? Yes, mysterious isn't it? "Or-zhaat; Or-zhoot," the -ge- creates a zzzhhh sound. Or-zzzhh-aat; Or-zzhh-oot.
Can you freeze orgeat? Yes. Freeze orgeat as fresh as possible for up to 2 months. The aroma does lessen with freezing but the flavor remains!
Print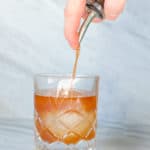 Hazelnut Orgeat Syrup
Author:

Adriana

Prep Time:

4 hours

Cook Time:

20 minutes

Total Time:

4 hours 20 minutes

Yield:

~ 1 cup

Category:

Recipes, condiment

Method:

stovetop

Cuisine:

Orgeat
---
Description
Hazelnut orgeat is a sweet, nutty, and roasty flavored syrup commonly used in tiki drinks! We think orgeat syrup deserves a place on every home chef's kitchen shelf so today we'll show you how to make your own hazelnut orgeat!
---
1 cup

hazelnuts (or other nut)

1 cup

cane sugar (or white sugar

1 cup

water
pinch salt
Optional:
1 teaspoon

orange flower water or

1 tablespoon

orange zest

1

–

2

tablespoons vodka or brandy, to preserve
---
Instructions
Toast the nuts in a skillet over medium heat for 10-15 minutes, stirring often until browned and fragrant. Alternatively, you can roast the nuts on a baking sheet in a 350* oven for 15 minutes, removing every 5 minutes to stir/shake the pan until toasted.
Dice the nuts by hand with a kitchen knife, or pulse in a food processor until finely diced.
Add the roasted & diced nuts, sugar, water, and salt to a small pot over medium heat.
Bring to a simmer and simmer gently for 5-7 minutes, stirring continuously so the syrup does not overflow out of the pot.
Leave the orgeat to steep for a minimum of 4 hours, up to 12 hours for maximum flavor and aroma.
Strain the syrup from the nuts and add orange flower water and liquor, if using.
Place syrup into an air-tight container in the fridge.
Use immediately, or within 4 weeks.
---
Notes
** You can freeze orgeat syrup if you'd like. Freeze for up to 2 months.
** Almonds and orange flower water are traditional orgeat ingredients. If you don't want to purchase orange flower water, substitute 1 tablespoon or orange zest.
** Adding 1-2 tablespoons of liquor, such as vodka or brandy, can help to extend the shelf life of orgeat. Even with adding liquor, orgeat must still be refrigerated. 
** We tested this recipe with a 1, 8, and 12 hours steep- it truly does make a difference to let this syrup steep overnight!
** Substitute any nuts you please! Orgeat is traditionally made with almonds.
Keywords: hazelnuts, orgeat syrup