Fancy seeing you here, fellow coconut lover! Want to learn how to make your own coconut butter at home? My dear person, we are going to do just that and more! This recipe for coconut butter is most definitely a keeper and the options on how to use coconut butter-limitless!
The time has come… let's make homemade coconut butter!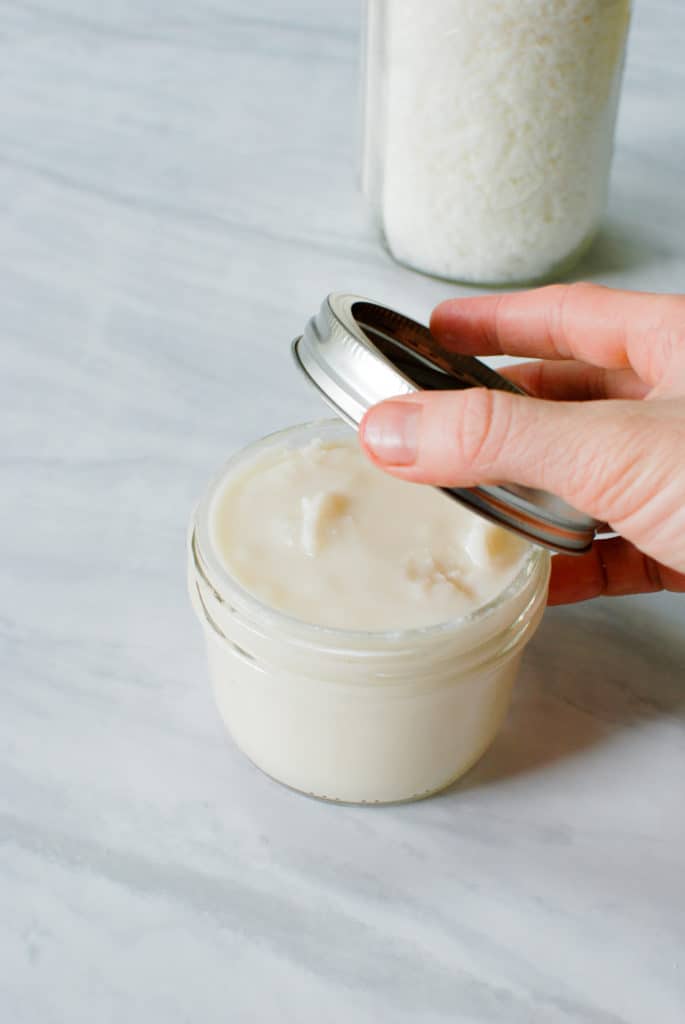 The process
What is coconut butter made from? Coconut butter is made entirely from coconuts, more specifically dehydrated coconut chips! We always throw in that mandatory 'pinch of salt' but this is truly, madly, deeply a 1 ingredient recipe.
Let us outline the basic steps of how to make coconut butter:
Measure 14 cups of coconut chips* (this is important, stay tuned!)
Using a blender or food processor, fill the blender/food processor cup with 8 cups of coconut chips.
Blend for 30 seconds, scrape the sides, and add remaining coconut chips.
Marvel at your new creation & eat coconut butter atop everything in sight, we're friends now.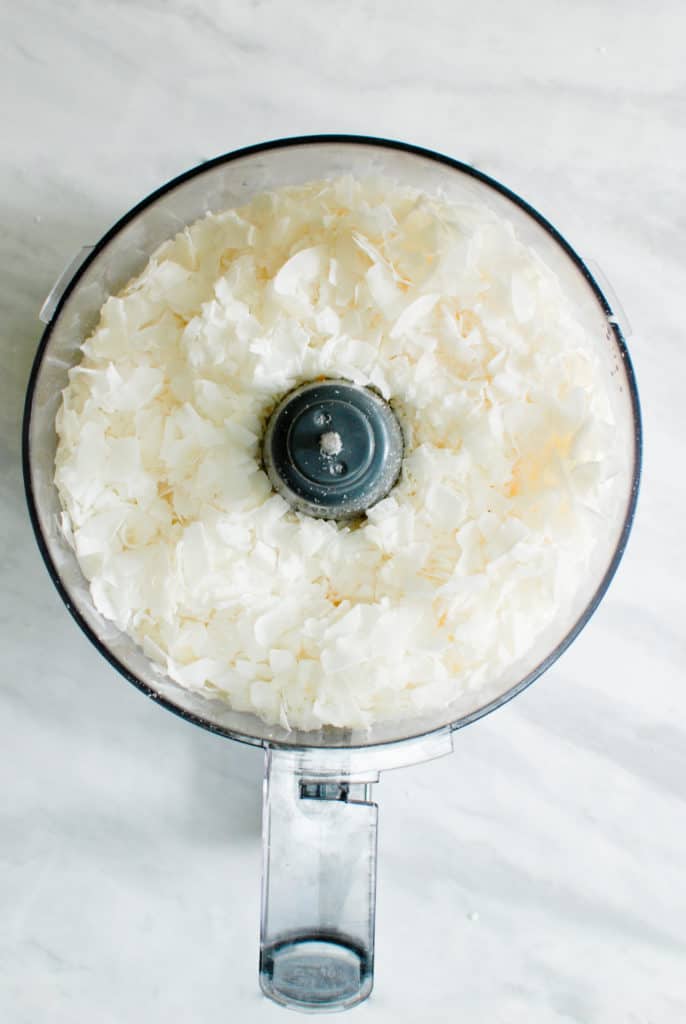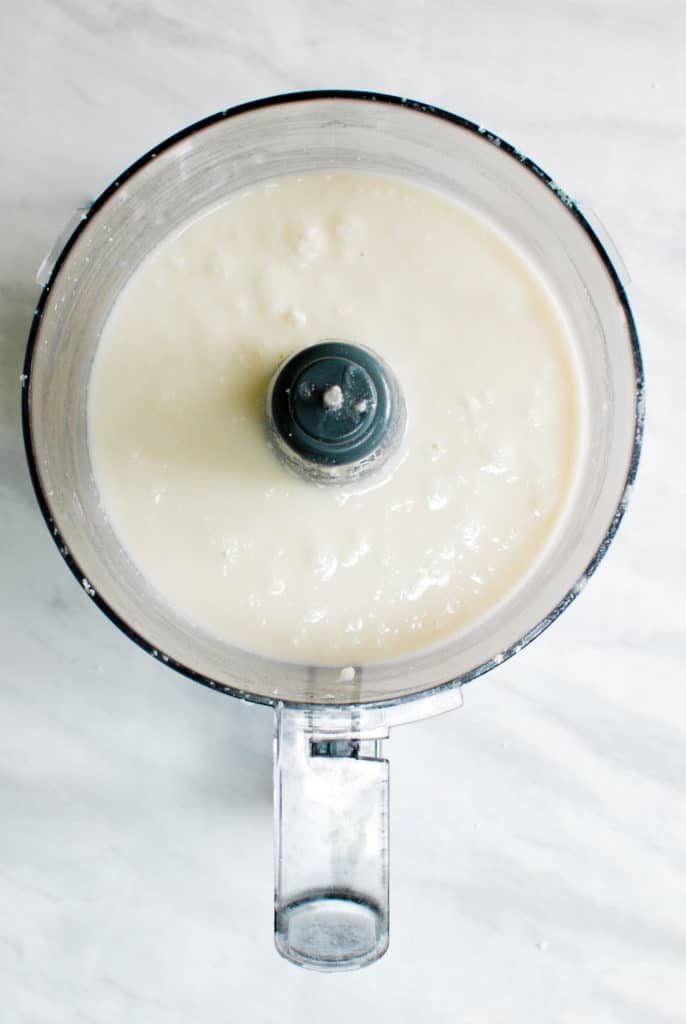 *Coconut chips… you'll need 14 cups.. what gives? We want to give you enough information to be wildly successful on your first attempt at making coconut butter and there are several things at play here.
You'll need a minimum amount of volume to achieve the perfect blending consistency. Ever tried to make a small batch of pesto in your Vitamix? Girl/Boy, you know exactly what I mean… 14 cups of shredded coconut may seem like an enormous amount but it breaks down very quickly into less than that. (a lot of air) You need to have enough volume of coconut chips to ensure this can blend up into a smooth consistency!
Second- The type of coconut you use is important. The larger, wider coconut flakes work far better than the smaller, desiccated or shredded varieties! Trust me, we've tested. And tested. We'll dive into this hot topic next…
Start with the right type of coconut
Why coconut chips (Also called coconut flakes) instead of shredded coconut or desiccated coconut? We have had far greater success making coconut butter using the larger, wide coconut chips v. smaller shredded or desiccated coconut.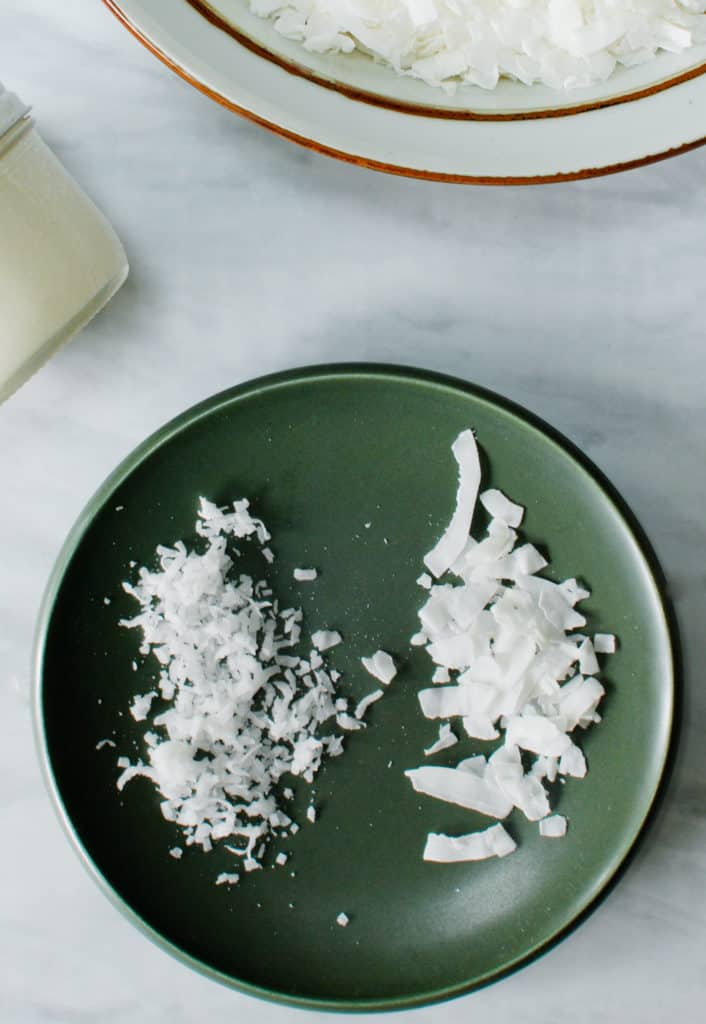 The coconut chips have higher levels of moisture in comparison to the desiccated coconut. Moisture is definitely necessary for proper blending. The small shredded coconut simply undergoes a more rigorous drying, blanching, and grinding process than coconut chips.
For this reason, we strongly recommend using coconut chips. Test over test the coconut chips turned into butter with less added coconut oil- and faster!
It's a conspiracy… but we think that desiccated coconut or finely shredded coconut is the by-product of coconut oil and/or other coconut products. Ok, aluminum hats off to ya.
May I suggest a variation…
Three additional words. Toasted Coconut Butter. Um, hai, hello, yes. If you're a fan of coconut butter not only for the luxurious texture it can add to vegan treats but also for that coconutty flavor… you really need to try toasted coconut butter. It's sensational.
The toasting also helps expedite the process of making coconut butter! Ha-haaa!! I learned this when I was producing and selling fresh coconut butter myself. I'd husk and shred the coconut, dehydrate it, then blast it in the Vitamix. I noticed a trend: if I blended the coconut butter right after removing it from the dehydrator (120* F), it would instantly melt before my eyes! What the what is this black magic?! Essentially it is heat that creates coconut butter. The shredded coconut with a 120* temperature versus an ambient temperature was far easier to work with!
Hear me out, in either a Vitamix or a food processor there is a massive amount of power, producing a large amount of friction amongst all those coconut chips (not shreds or desiccations!) all smashing into each other at high speeds.
This heat encourages the coconut chips to soften and release their oils, allowing for the coconut fiber and coconut oil to combine into a creamy, dreamy butter.
Pretty cool stuff, right?! Where's Bill Nye when we need him!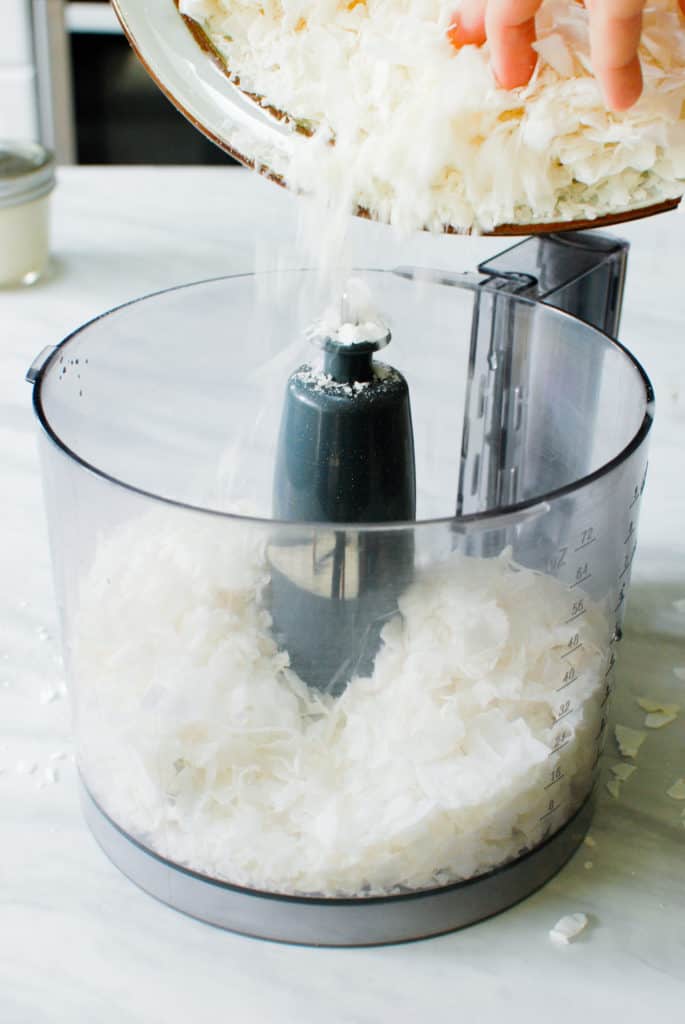 Showdown: Blender v. Food Processor
Alright Aaron Burr, let's hit it guns blazing… which machine delivers the best results? The fastest results? The easiest results? We have recipe tested this enough times to have 10 large jars of coconut butter staring us down in the kitchen every day… Clearly heaps of recipes on how to use coconut butter will flood your feeds shortly!
Ok, ok. Pics or it didn't happen. There is such a drastic difference between a food processor and a Vitamix (or other high powered blender) that we captured photographic evidence for you.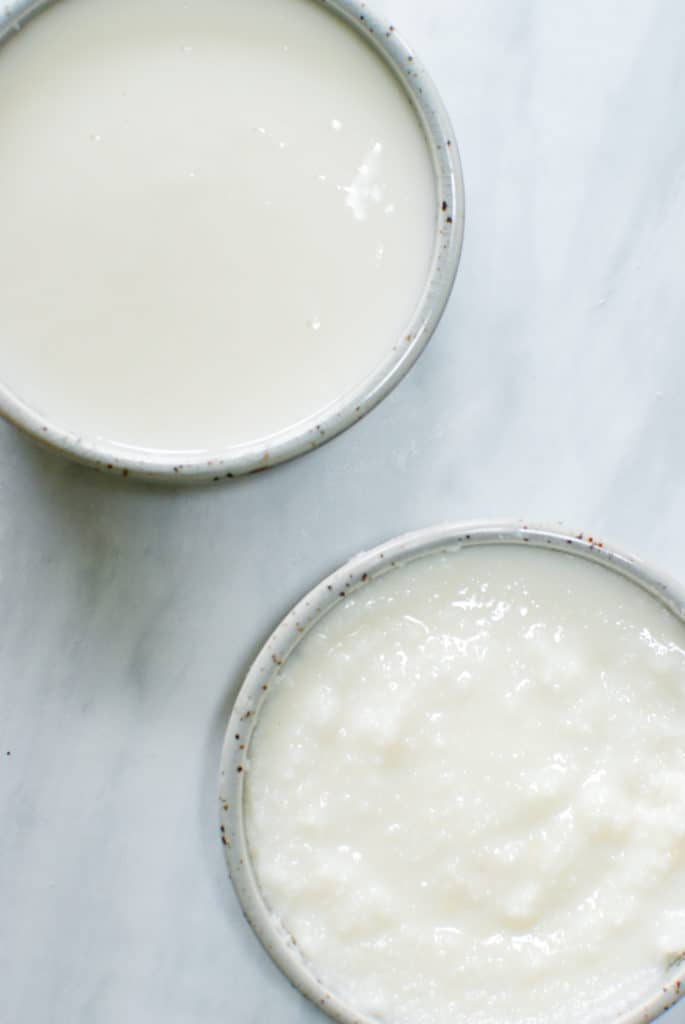 Detective, tell me your thoughts! Does the top or the bottom look silkier?
To answer all questions regarding: Can you make coconut butter in a food processor? Yes, you can make coconut butter in a food processor but it has a more fibrous texture. We recommend using a high powered blender (like a Vitamix) to achieve that silky, drizzly consistency! Our Vitamix is nearly 7 years old and still making gloriously creamy coconut butter!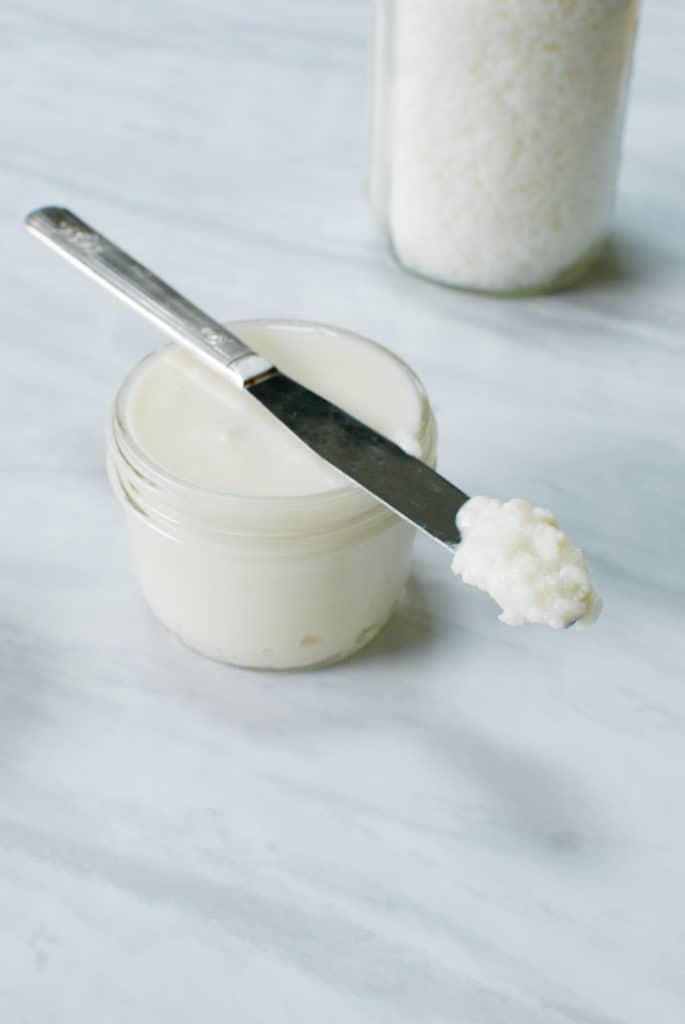 How To Make Coconut Butter FAQs
Can you make coconut butter in a Nutribullet? No, unfortunately, we don't think this is possible! Although we have not personally tried it.
Can you make coconut butter from coconut oil? No. Coconut butter is a blend of coconut fiber and coconut oil– you need both to make this magic happen!
Is coconut butter keto? Yes, it is low carb and keto-friendly. The exact nutrition information is included in the recipe below.
How to make coconut butter from fresh coconut? Yes, this is possible. I used to sell fresh coconut butter at the farmers market when I lived in Hawaii! You'll need to remove the meat from the coconut, shred it, dehydrate it, and finally blend it! Enjoy it- you worked hard for this!
How to use coconut butter? It's commonly used in healthy desserts, freezer-set desserts, and sometimes in baking. It's also great in icing, as a drizzle, and as a flavoring agent… if you're making a coconut milk curry, throw in 1-3 tablespoons of coconut butter. You're welcome.
In recipes, can you substitute coconut oil for coconut butter? No, especially not in baking. We recommend another nut butter, maybe applesauce as a replacement. Coconut oil lacks the fiber and would result in runny or watery dishes!
What can I use as a substitute for coconut butter? Similar to the above, we recommend other nut butters. Almond butter would be great but impart a nutty flavor, sun butter would also work but has a more bitter flavor, cashew butter and hazelnut butter both have milder flavor profiles!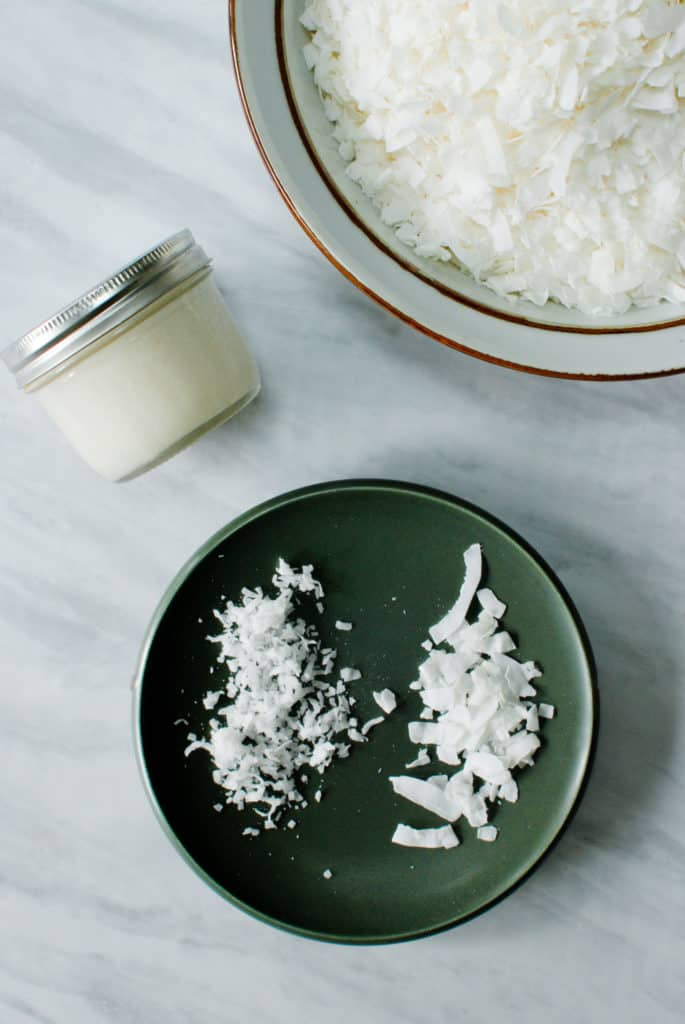 Print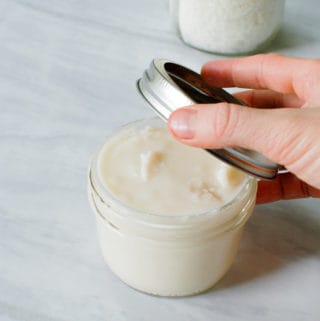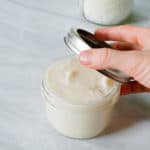 Make Your Own Coconut Butter!
Author:

Adriana

Prep Time:

5 minutes

Total Time:

5 minutes

Yield:

3 cups

1

x

Category:

Recipes

Method:

cold prep

Cuisine:

Ingredient
---
Description
We're making homemade 1 ingredient coconut butter, casual. No big deal. Dare we say homemade coconut butter is going to be the high point of your day? We'll leave that for you to decide…
---
14 cups

coconut chips (

1.5

lbs!)
pinch of salt
---
Instructions
Fill blender cup with 8 cups of coconut chips and a pinch of salt. Blend & tamp for 30 seconds, or until the volume of coconut breaks down significantly.
Use a spatula to scrape the sides of your blender. Add the additional 6 cups of coconut chips. Blend for 60-90 seconds until a smooth, blending consistency is achieved.
If after 2-3 minutes the coconut still does not resemble a butter, add 1 tablespoon of coconut oil. Blend & tamp again.
Place into a jar & enjoy!
---
Notes
** We recommend keeping this at room temperature v. in the fridge. In cool temps, the coconut butter will turn into one solid block of coco butter!
** To return coconut butter to a soft state for cooking, measuring, or baking simply place the jar of coconut butter in a bowl of hot water for 15 minutes, covered.
** If you have difficulty making coconut butter, double check you are using a high powered blender and wide coconut chips, not desiccated coconut!
** You can use a food processor just note the coconut butter will not yield nearly as smooth a consistency!
** Making your own coconut butter is cost-effective! To make 3 cups of coconut butter, it only cost me about $8.00 whereas a small jar (8oz) costs $10-$12! That's a win.
Keywords: How-to, coconut