This flax milk recipe is perfection- it's smooth, creamy, and satisfying. You can use whole flaxseeds or flaxmeal in this recipe, but I recommend whole seeds for a silkier mouthfeel.
Be sure to read the instruction on how to make flaxseed milk because the steps aren't the same as other homemade plant milks, this recipe has a twist! Also, read on past the recipe card for tips and tricks about how to make easy flaxseed milk….
Let's go get into some trouble in the kitchen, shall we?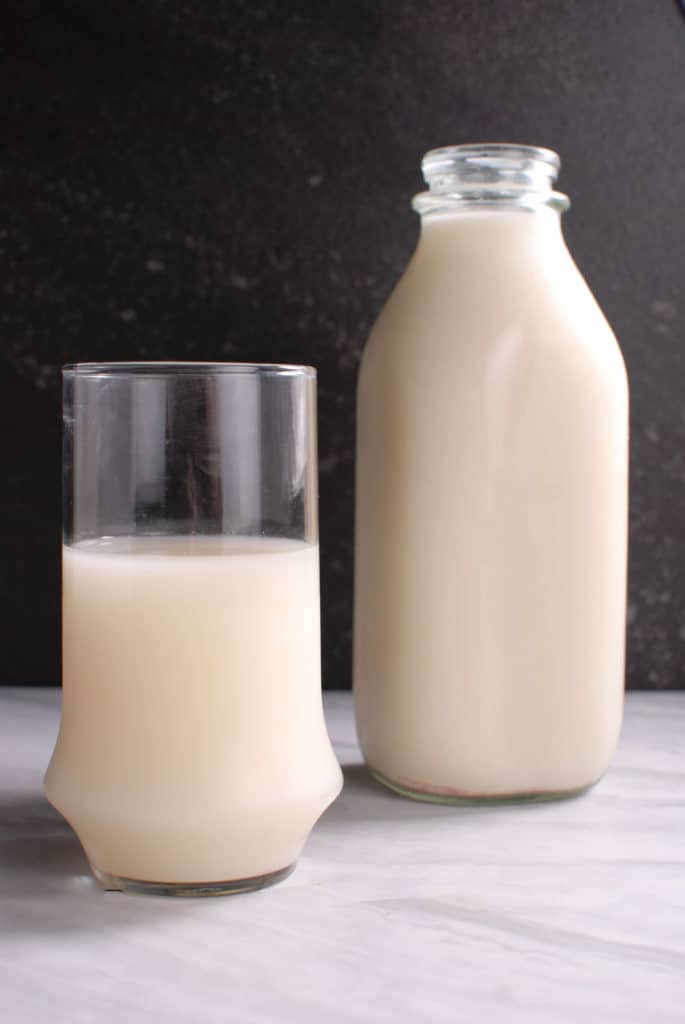 Print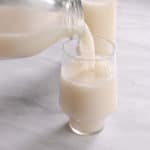 How To Make Flaxseed Milk
Author:

Adriana

Prep Time:

15 minutes

Total Time:

15 minutes

Yield:

~2 cups

Category:

Flaxseed recipes

Method:

Blender or Food Processor

Cuisine:

Vegan
---
Description
Let's make homemade flaxseed milk! This flax milk recipe is vegan, keto, gluten-free, and super easy to make at home with a blender. An added bonus: homemade flaxseed milk is far less expensive than buying it at the store and it only contains 2 ingredients: Flaxseeds and water!
I usually add a sweetener and a dash of vanilla extract, but we'll get to that later…
---
1/4 cup

whole flaxseeds OR

1/3 cup

flaxseed meal

3 cups

water
Pinch of salt
Optional Flavorings: Vanilla Extract, Honey, Maple Syrup, or Dates
---
Instructions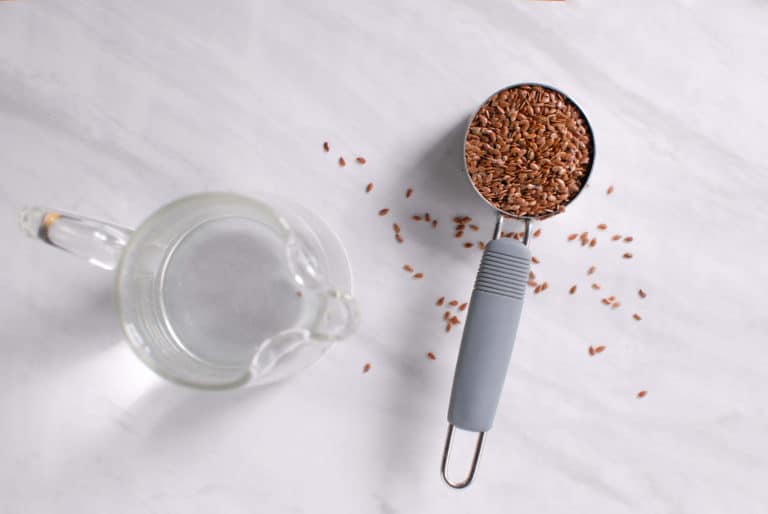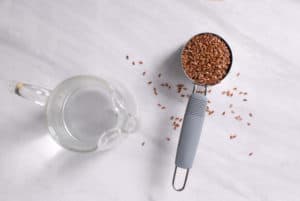 1. Add 1/4 cup flaxseeds, 3 cups of water, and a pinch of salt to blender cup. Blend for 10-15 seconds- yes that's all you need!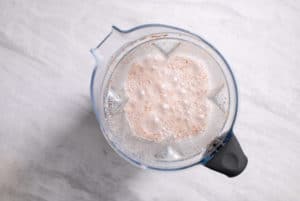 2. Pour flaxseed milk into a container and let it sit for 10 minutes. Flaxseed milk is difficult to strain through a nutmilk bag or cheese cloth as it has a gelling characteristic- if you let the flax milk sit for 10 minutes the seed husks & fibers will separate, allowing you to scoop them out with a spoon! You can save the gell and add it to smoothies, baked goods, or use it as a flax egg! This tip is pure magic!
The flaxmilk will separate into 3 layers: Flaxseed gell on the top, perfect flax milk in the middle, and a bit more flaxseed gell on the bottom! We want that pure center portion for a nice creamy flaxmilk!!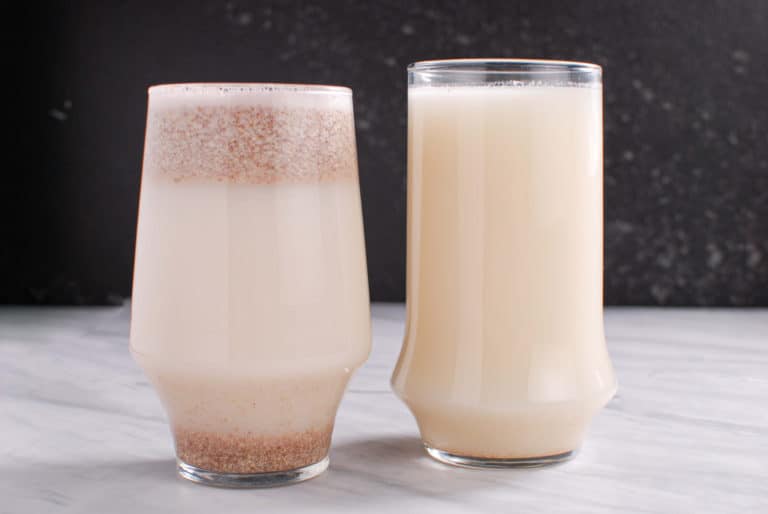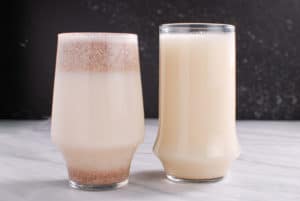 (TIP: if you let the flaxmilk sit & separate but are having a hard time scooping out the flax material, place in the freezer for 5 minutes. The flaxseed matter will firm up even more making it very, very easy to scoop out. This is what I usually do!)
3. After the milk has separated into layers and you have removed the top layer of flax matter, you can easily strain the rest of the milk through a nut milk bag- be sure to leave the last bit of flaxseed at the bottom and don't pour it into the nut bag.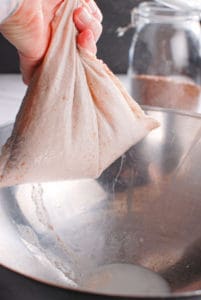 4. Flavor as you see fit and store, covered, in the fridge for 3-5 days.
Recipes yields about 2 cups of flaxmilk, I like to add 1 teaspoon of vanilla extract, a pinch of cinnamon and 1-2 teaspoons of maple syrup.
---
Notes
Continue reading past the recipe card for:
Tips on making
How to store flaxseed milk
How to adjust the taste
Keywords: Flax milk recipe, Flaxseed milk recipe
Tips On Making
Let's dive into some tips for how to make homemade flax milk in the tastiest and easiest way. The first time I tried flaxseed milk I thought it was more bitter than other dairy-free milks. We have experimented with this recipe in so many ways, here are our tips & tricks on making flaxseed milk!
Use A Nutmilk Bag. Some recipes online suggest that running homemade flax milk through a sieve or fine mesh strainer is sufficient. However, this allows a decent amount of the seed husk/pulp to stay in the milk, changing the color to brown and increasing the bitter flavor. Use a nut milk bag to thoroughly strain homemade flaxseed milk.
Toast The Flaxseeds. We prefer to gently toast the flaxseeds in a skillet prior to making flax milk. This seems to help cut down the bitter aftertaste as well as a slimy texture.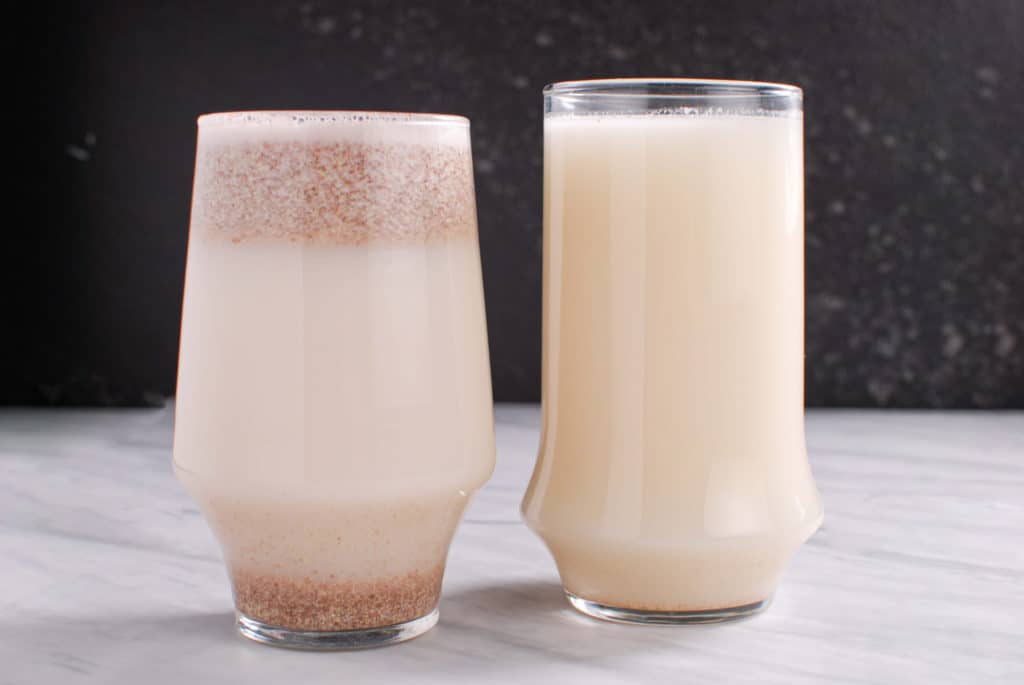 Why is Flaxseed Milk Slimy? This is similar to homemade oat milk! Flaxseeds have natural gelling properties which is why they are commonly used to make flax eggs for vegan baking. If the ratio of water to flaxseeds is too low, the milk can have a slimy texture. Using hot water increase the likelihood of a slimy flaxmilk- so use cold water instead. Also, don't over blend the flaxseed milk, 10 seconds in a blender and it's ready. The longer you blend it, the more slimy/gel-like it gets.
Be patient when straining. Flaxmilk is more difficult to stain through a nutmilk bag than almond or coconut milk due to the gelling or mucilaginous quality of flaxseeds. This can coat the inside of a nut milk bag which slows down the straining. This is why we recommend letting the milk sit for 10 minutes to separate then scooping off the flax gel. It is worth it, flaxmilk that is strained through a bag is far superior in taste and texture!
Do I have to let the milk sit then scoop out the pulp? You can pour this into a container and drink with the pulp for more fiber if you'd like- the milk will separate, gently shake before drinking.
However, the gell portion that you separate is a usable flax egg! Flax eggs are common ingredients in alternative baking, like vegan and gluten-free baking! Alternatively, the flax gell that you remove from the flax milk you can add to oatmeal, baked goods, smoothies, and bread!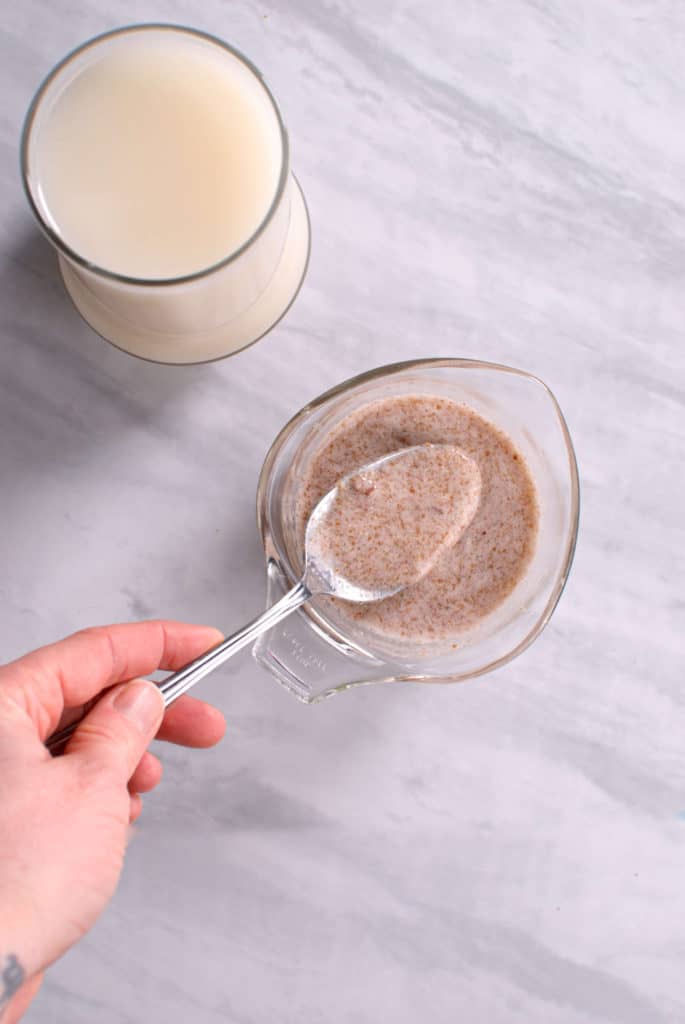 On Storing & Using
Flaxseed milk is easy to use in cooking and recipes just as you would use almond or soy milk. Freshly made flaxseed milk will last for 3-4 days in the fridge. As flaxseeds are an excellent source of omega-3 fatty acids, ensure your flaxseeds or flaxseed meal are fresh and store them in the refrigerator or freezer to preserve their quality!
How long does flaxseed milk last? Fresh flaxseed milk can last from 3-5 days in the fridge. I've had batches last longer than this frequently- ensure your blender and cheesecloth/ nut bag are clean to extend the shelf life of your homemade flax milk!
Does flaxseed milk go bad? Homemade flaxseed milk can go bad after 3-5 days in the fridge or if left out at room temperature.
What does it taste like?
Flaxseed milk has a mild taste with nutty and bitter undertones. It is easy to add flavors and sweeteners to and remind me of a blend between almond and oat milk. If you are sensitive to the bitterness we listed tips on how to cut down the bitter flavor earlier in this post.
Flax milk vs. almond milk: Flaxseed milk has a less nutty, more bitter taste than almond milk. Flax milk has a milder flavor than almond milk and a pleasantly thicker/creamier consistency!
Flax milk vs. soy milk: Soy milk has a more neutral flavor profile compared to flaxseed milk, it's also has a thicker consistency than flax milk.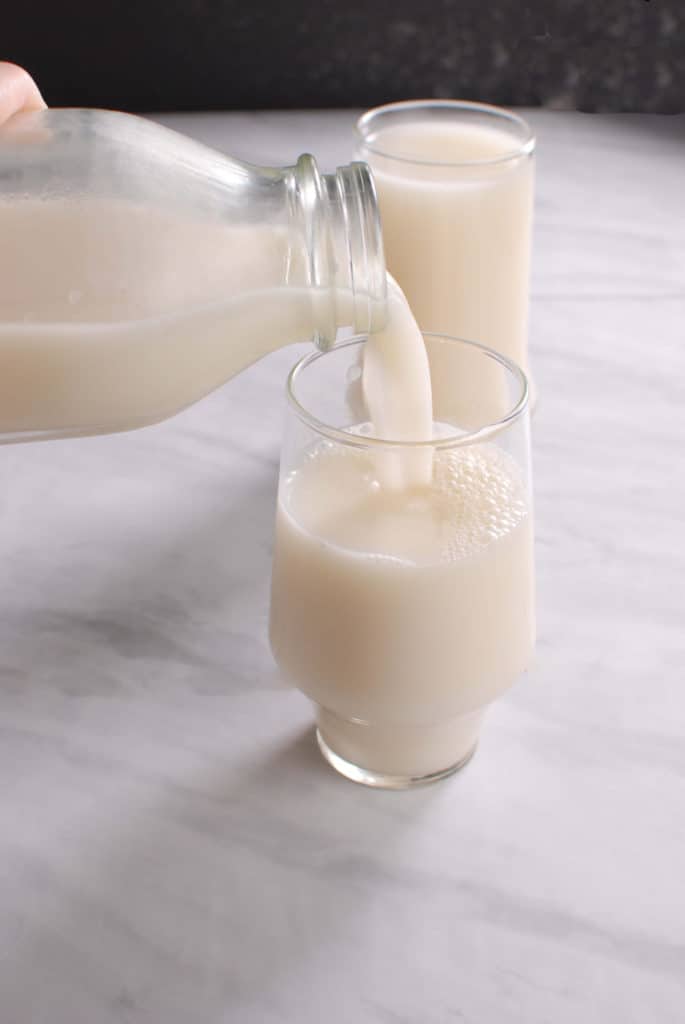 What Exactly Is Flaxseed Milk?
Flaxseed milk is a plant-based milk made from whole flaxseeds or ground flaxseed meal and water. Flax milk is an affordable vegan, keto, and gluten-free option- it's also nut-free as flax is classified as a seed.
Flaxseed milk has an impressive nutritional profile boasting omega-3 fats, fiber- both soluble and insoluble, and protein. This dairy-free milk can be used in a variety of ways and has a flavor similar to almond milk.
FAQS ABOUT FLAX MILK
Can flaxseed milk be frozen? Flaxseed milk can be frozen for up to 1 month. Defrost in the fridge prior to use.
How to make flax milk taste better? The taste of flaxseed milk benefits from adding a flavor like vanilla or almond extract, and a sweetener. Ensuring the flaxseeds or flax meal are fresh is beneficial for the taste of flaxmilk as flaxseeds & meal have a short shelf life.
How long does flax milk last? Homemade flaxseed milk lasts 3-5 days when properly stored in the fridge; storebought varieties last 7-10 days after opening.
Does flaxseed milk have protein? Flaxseeds do contain protein, 1 tablespoon of whole flaxseeds has nearly 2 grams of protein, healthy fats, and is loaded with omega-3 fatty acids!