Here's an easy clementine upside-down cake recipe to make in the dreary months of winter when mandarins & clementines are at the peak of their flavor and freshness! This mandarin upside-down cake is approachable for all bakers- if you've never made an upside-down cake before, this post will walk you through how to succeed!
Why upside-down cakes?
Upside down cakes of any flavor scream nostalgia to us! The iconic pineapple upside-down cake was popular in the early 1900s and upside-down cakes have come in and out of style every few years since then.
This type of cake is part mystery, part simplicity, part confidence. As upside-down cakes bake it can be difficult to tell when they are fully baked, if the bottom is still too liquidy, or if the fruit layer has caramelized.
The simplicity comes from a cake that doesn't need any additional decor in order to sit proudly on the table for serving. You don't need frosting, icing, streusel, or fondant to adorn the top- it's already decorated for you!
However, you do need confidence. For everyone who has baked upside-down cakes or desserts of any kind, there's always a moment of hesitation when it comes time to flip. Remember this recipe was designed to be baked and inverted- just go for it!
How to make a mandarin upside-down cake
The batter for this cake is very similar to other scratch-made cakes- with one difference: this is a clementine cake without eggs! The batter comes together quickly and bakes up light and fluffy. This cake isn't overly sweet- it's well balanced. The clementines add both a sweet and sour flavor that perfectly pairs with the soft cake.
First things first, we'll peel and arrange the clementines or mandarins in the baking dish. Spend time on this step to be sure the whole pan is lined with clementine/mandarin pieces as this will be the top of your cake! You can even create a pattern as you place the mandarins cut side down in the greased pan.
Next, cream the butter and sugar, add the dry ingredients, add the wet ingredients, mix and pour in the pan!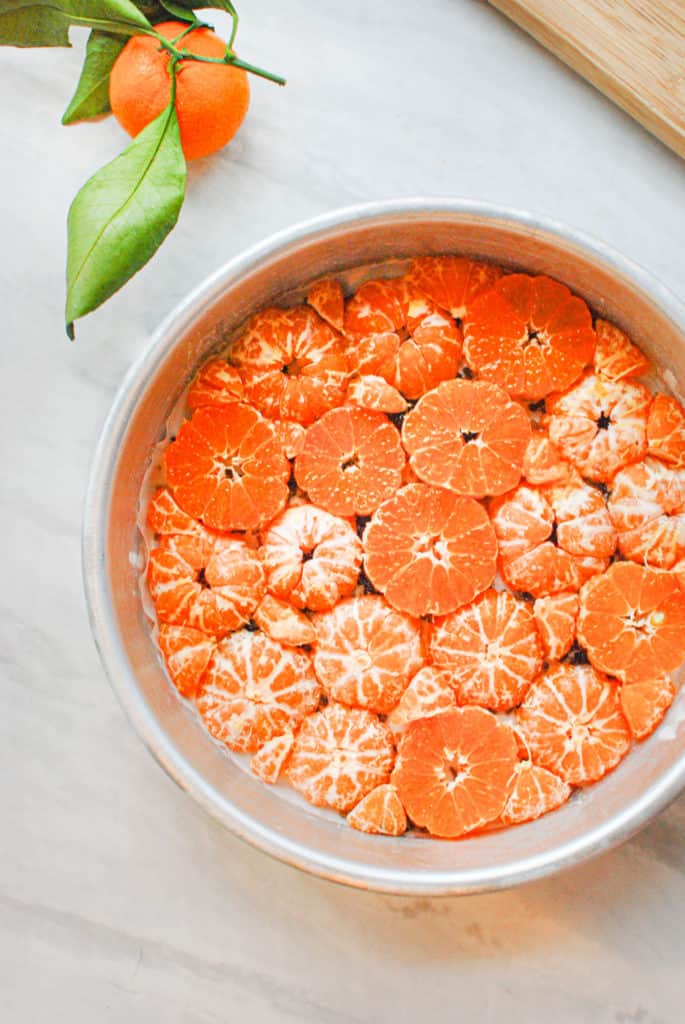 Tips on Making
These gorgeous and tasty cakes can be tricky to make on your first few tries. We made this recipe over 15 times in a couple of weeks, testing different pans, methods, and ingredients to ensure we got this mandarin upside down cake just right!
Here are the tips & tricks we learned while recipe testing:
Cream the butter and sugar!
Creaming butter and sugar feels like a thing of the past to me. Growing up my mom would ALWAYS use the KitchenAid mixer when she baked cookies, leaving the butter and sugar to whip away for 4-5 minutes. As I grew up and started baking on my own I ALWAYS skipped that step. I've come full circle- after nearly a decade of baking sweets as an adult I have learned the importance of the step outlined in all those cookbooks of yesteryear, 'cream butter and sugar.'
Girl/boy, in this clementine upside-down cake we are gonna cream that butter & sugar!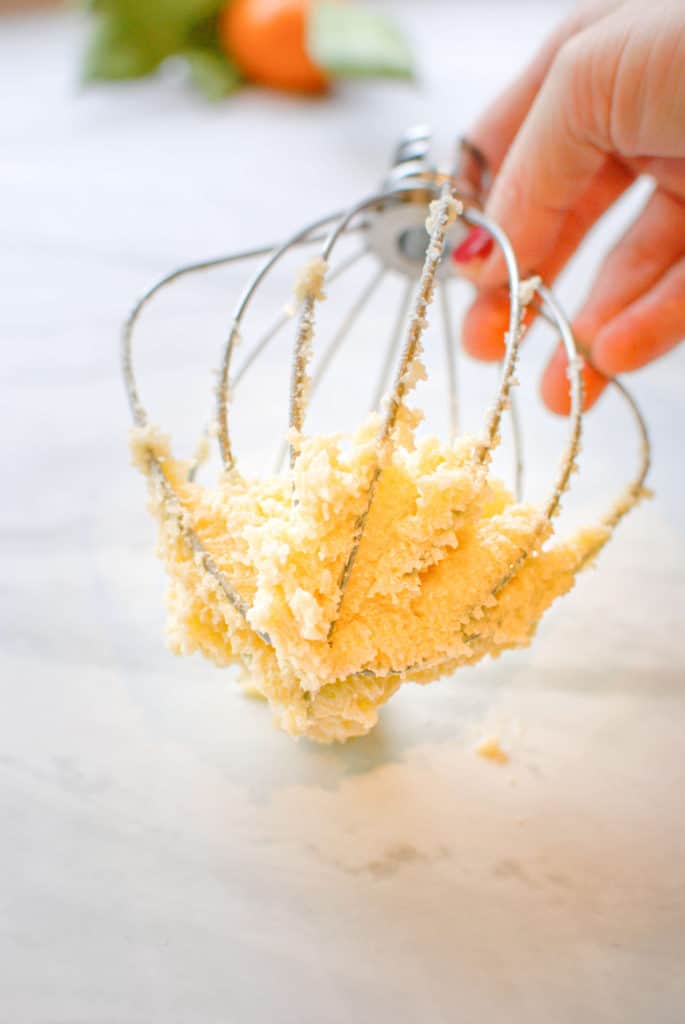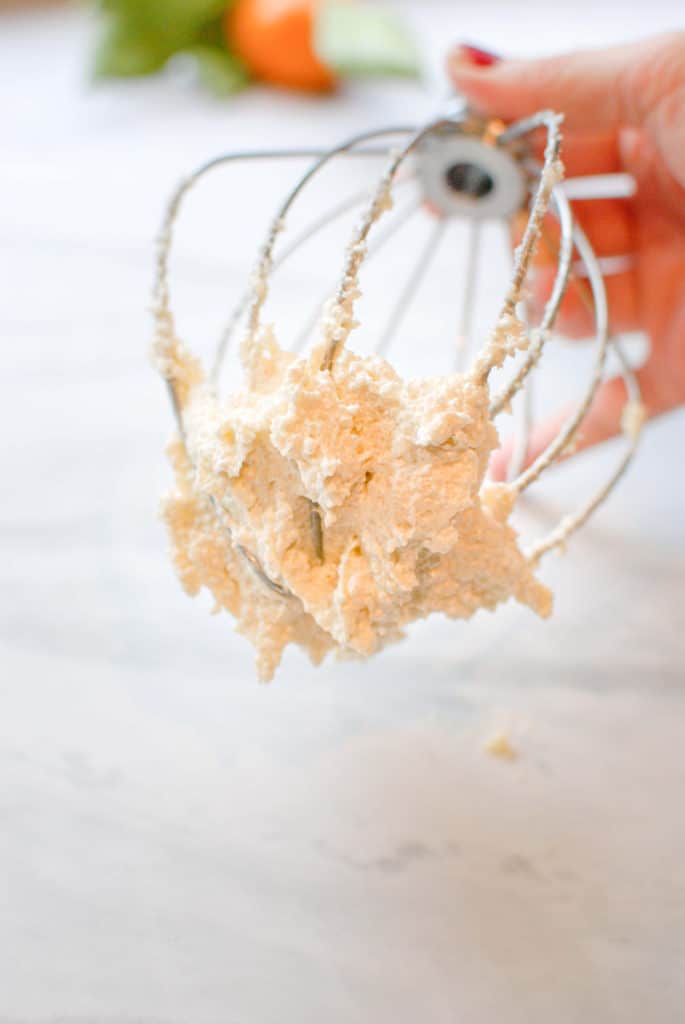 You can see in the image on the left the butter/sugar mixture is more yellow and denser. After creaming on medium speed for 3 minutes, the butter is more pale and fluffier!
Why it's important:
Ok, here we go. There are several reasons that properly creaming butter and sugar together with a mixer versus simply stirring together with a spoon yield a better cake.
Texture: When you cream, you are incorporating air into the mix. Butter- even vegan butter- is a fat. When you whip air into a fat, air pockets get trapped and surrounded by the fat, the butter. When you think of a cake you think of something that is light and fluffy right? This step helps make that texture come to life!
Even Baking: Properly creamed cakes and cookies with have significant amounts of air incorporated into the batter which helps provide an even bake. PLUS a light & airy batter helps ensure all additional ingredients are evenly combined.
It's time to pull your trusty KitchenAid mixer out of its hiding place so you can start creaming the butter and sugar in all your baked goods! We tested this side by side multiple times- the proof was in the cake, and yes, it was delicious!
How to flip and upside-down cake:
Does the idea of making batter and baking a cake only to throw it on its face fresh outta the oven freak you out? You are not alone. First things first, walk into this creation knowing this recipe was designed to be flipped after baking and turn out beautiful!
Here's a quick list of tips to help with the flip:
Trace a circle of parchment to match your pan and use it. This way, even if some pieces of fruit stick, they'll be easy to arrange back in place as you peel the parchment.
If you have a cast-iron pan- use it! I'll show the differences in photos below but the cast iron skillet is super helpful in this recipe for 2 reasons! In recipe testing this, my cast iron skillet cake flipped beautifully every time & it gave extra oomph to the caramelization of the fruit and sugar!
Make sure the mandarin upside-down cake is fully baked prior to flipping! As this cake bakes and the mandarins release their juices, there is more liquid in the bottom of the pan (and cake) than the top. Fruit cakes can be difficult to determine doneness- make sure your cake is fully cooked!
Don't wait until your cake is cool to invert the pan! As the cake cools, the syrupy, caramelizey, fruity top of your cake (in the bottom of your pan) will thicken and solidify, making it more likely to stick to the bottom! Set a timer for 5 minutes once it's out of the oven, then invert that clementine upside-down cake!
About mandarins & Clementines
Citrus is in season in the wintertime here in the US so this is a perfect cake to make in those cold, blustery months when we need something to pep us up! You can use any clementines or mandarins- in this recipe for clementine cake we're using the gorgeous satsuma mandarins- and you can find them at your local grocery store. What other way to showcase the sheer snappy deliciousness of citrus than a satsuma cake? I mean hello.
You can substitute any other citrus fruit in this recipe: lemons, oranges, blood oranges, Meyer lemons, grapefruit, or a mix of citrus! You don't have to peel them, just thinly slice.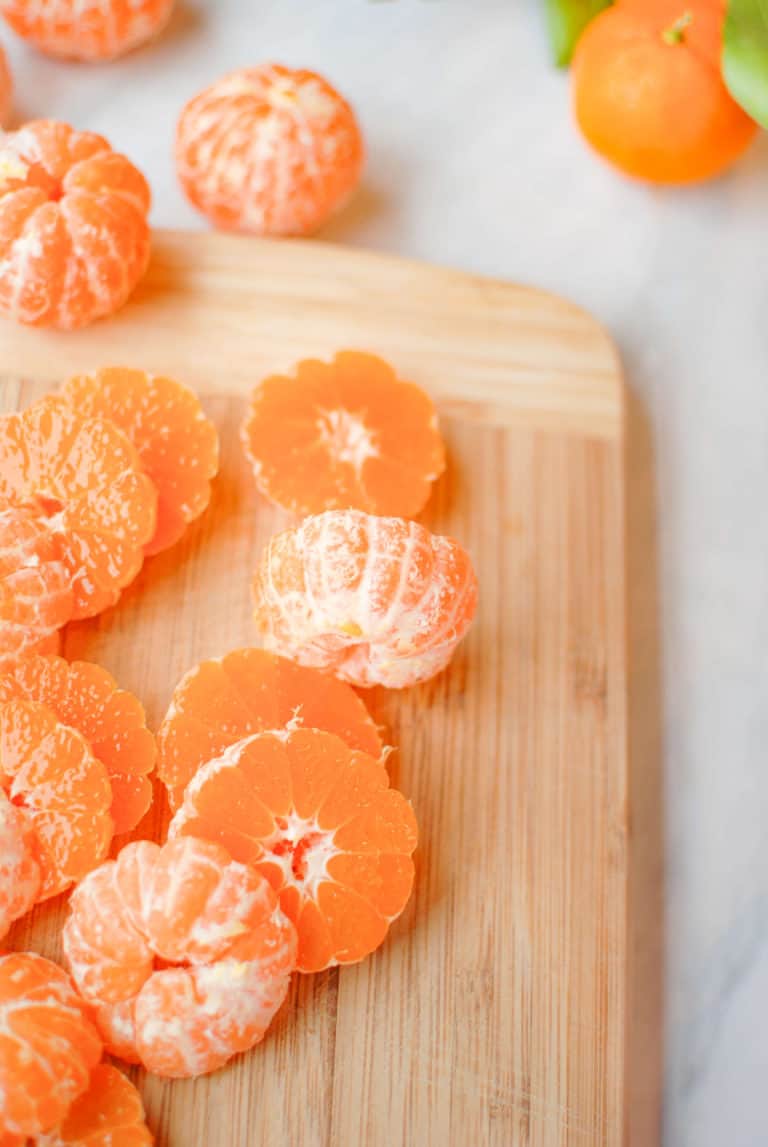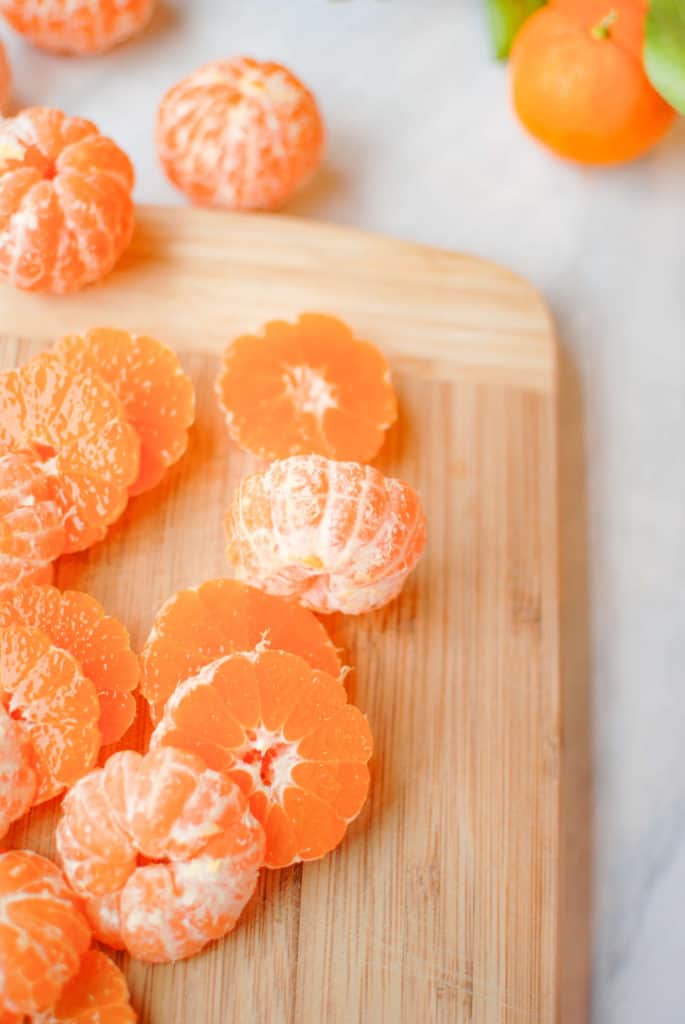 MANDARIN ORANGE UPSIDE DOWN CAKE FAQS
Is this mandarin upside-down cake vegan? Yes, if you use vegan butter this recipe is vegan.
Can you add pineapple to this orange upside-down cake? You can add pineapple to this recipe for a twist on the classic upside-down cake!
Do I have to use fresh mandarins? Can I use canned/tinned mandarins to make this recipe? Both fresh and canned mandarins work well in this recipe. If using tinned mandarins, be sure to thoroughly drain and pat them dry prior to placing them in your baking dish.
My mandarins weren't caramelized- what happened? Many upside-down cake recipes that have an ultra caramelized top call for making and pouring the caramel in the pan prior to baking. If you use a cast iron pan for this recipe there will be more caramelized portions!
Do mandarins and cardamom go well together? Yes, those flavors pair together well! You can definitely add some cardamom to the batter.
Print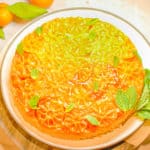 Clementine Upside Down Cake
Author:

Adriana

Prep Time:

15 minutes

Cook Time:

55 minutes

Total Time:

1 hour 10 minutes

Yield:

1

–

9

" cake

1

x

Category:

Vegan Desserts

Method:

Oven
---
Description
The perfect way to show off satsuma mandarins or clementines- bake a clementine upside down cake! Even if it's your 1st time baking an upside down cake this recipe is easy and approachable. This mandarin upside down cake recipe uses just 6 ingredients + mandarins and turns out beautifully!
---
Wet Ingredients
1/2 cup

butter, cold from fridge +

1 tablespoon

for greasing the pan

1/2 cup

+

3 tablespoons

cane sugar +

2 tablespoons

for greasing the pan

3/4 cup

milk or water

1

flax egg (

1.5 tablespoon

flaxmeal,

3 tablespoons

water)

2 teaspoons

vanilla extract (optional)
Dry Ingredients
1.5 cup

flour

1.5 teaspoon

baking powder
.5 teaspoon salt
6-8 medium mandarins
---
Instructions
Grease a 9″ round cake tin with 1 tablespoon butter, then sprinkle 2 tablespoons sugar evenly across the bottom of the pan. Preheat the oven to 350*
Peel the 6-8 clemtines or mandarins. Place whole mandarins on their side with segments parallel to your cutting board and slice each whole clementine into 3 even sections.
Arrange the sliced mandarins in your baking pan. We like to start at the center and work out, ensuring the entire surface of the pan in covered in mandarin pieces. After arranging full slices in your pan you can cut the remaining mandarin slices into smaller pieces in order to fill any gaps.
With a stand or handheld mixer, cream the 1/2 cup butter and 1/2 cup + 3 tablespoons sugar for 4-6 minutes on medium speed, scraping down the sides of the mixing bowl as needed. When properly creamed, the mixture will be a pale white vs. yellow color and have a light & fluffy texture.
Make the flax egg (1.5 tablespoon flaxmeal + 3 tablespoons water)
In a separate bowl, combine and mix all dry ingredients together. ( 1.5 c flour, 1.5 teaspoon baking powder, .5 teaspoon salt)
Add the flax egg to the creamed butter and sugar & mix. If using, add the vanilla extract.
To properly mix the remaining ingredients we'll alternate adding flour and milk to the batter. Add 1/2 of the flour mixture, then 1/2 of the milk and mix. Add the rest of the flour, then the rest of the milk and mix until just combined.
There may be some flour not fully incorporated, that's ok. Use a spatula to finish gently mixing as we don't want to overmix the batter. Pour batter into the cake pan over the mandarin pieces, careful to not disturb and move the clementines/mandarins.
Use a spatula to even out the batter and tap the cake tin lightly on the counter several times to help even out the batter.
Place in the middle rack and bake for 50-60 minutes. A toothpick inserted should come out clean and the cake should have an even, golden appearance. 
Leave to cool for 5 minutes. After 5 minutes run a knife around the edges of the pan then place a plate or wire rack on top of the cake pan and invert the cake upside down. 
The cake should fall out of it's pan within 15-30 seconds of being upside down. If it doesn't you can lightly tap the bottom (now top) of the pan to help it along.
---
Keywords: Mandarin upside down cake, citrus recipes