---
Description
Let's make homemade flaxseed milk! This flax milk recipe is vegan, keto, gluten-free, and super easy to make at home with a blender. An added bonus: homemade flaxseed milk is far less expensive than buying it at the store and it only contains 2 ingredients: Flaxseeds and water!
I usually add a sweetener and a dash of vanilla extract, but we'll get to that later…
---
1/4 cup

whole flaxseeds OR

1/3 cup

flaxseed meal

3 cups

water
Pinch of salt
Optional Flavorings: Vanilla Extract, Honey, Maple Syrup, or Dates
---
Instructions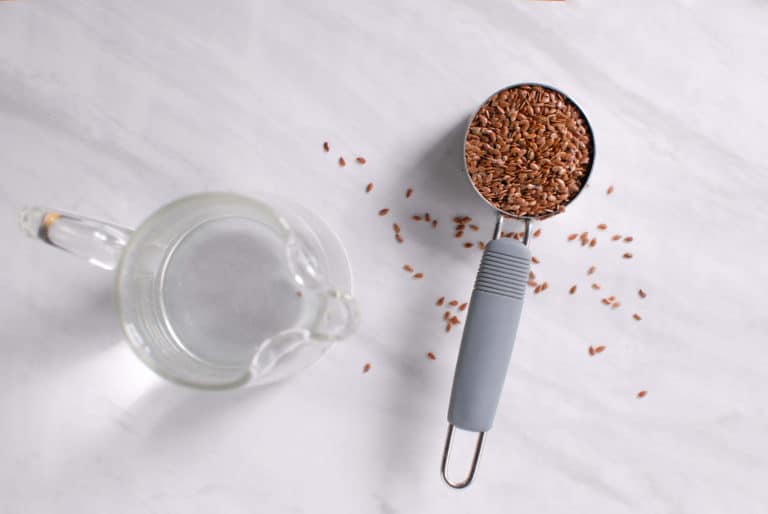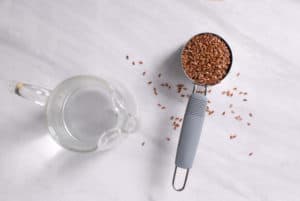 1. Add 1/4 cup flaxseeds, 3 cups of water, and a pinch of salt to blender cup. Blend for 10-15 seconds- yes that's all you need!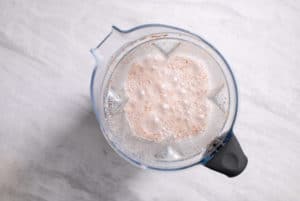 2. Pour flaxseed milk into a container and let it sit for 10 minutes. Flaxseed milk is difficult to strain through a nutmilk bag or cheese cloth as it has a gelling characteristic- if you let the flax milk sit for 10 minutes the seed husks & fibers will separate, allowing you to scoop them out with a spoon! You can save the gell and add it to smoothies, baked goods, or use it as a flax egg! This tip is pure magic!
The flaxmilk will separate into 3 layers: Flaxseed gell on the top, perfect flax milk in the middle, and a bit more flaxseed gell on the bottom! We want that pure center portion for a nice creamy flaxmilk!!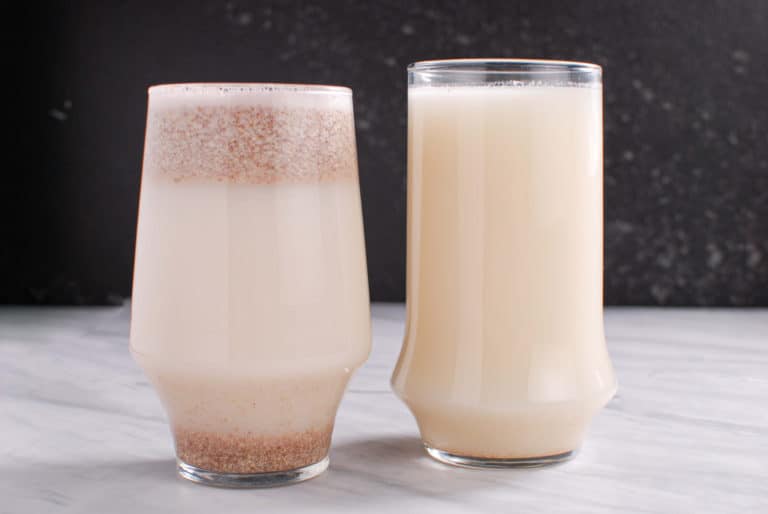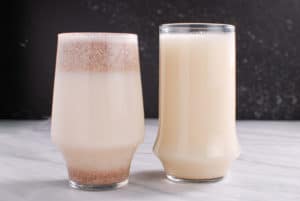 (TIP: if you let the flaxmilk sit & separate but are having a hard time scooping out the flax material, place in the freezer for 5 minutes. The flaxseed matter will firm up even more making it very, very easy to scoop out. This is what I usually do!)
3. After the milk has separated into layers and you have removed the top layer of flax matter, you can easily strain the rest of the milk through a nut milk bag- be sure to leave the last bit of flaxseed at the bottom and don't pour it into the nut bag.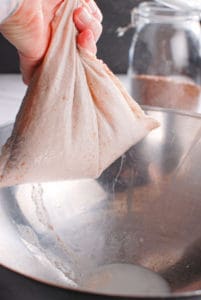 4. Flavor as you see fit and store, covered, in the fridge for 3-5 days.
Recipes yields about 2 cups of flaxmilk, I like to add 1 teaspoon of vanilla extract, a pinch of cinnamon and 1-2 teaspoons of maple syrup.
---
Notes
Continue reading past the recipe card for:
Tips on making
How to store flaxseed milk
How to adjust the taste
Keywords: Flax milk recipe, Flaxseed milk recipe