Grapefruit juice is easy to make in a juicer or a blender, offers numerous health benefits, and is a pleasantly flavorful and aromatic homemade citrus juice! In this grapefruit juice recipe, we're including apple and carrot to balance the flavor and boost the nutrition.
Let's hop to it!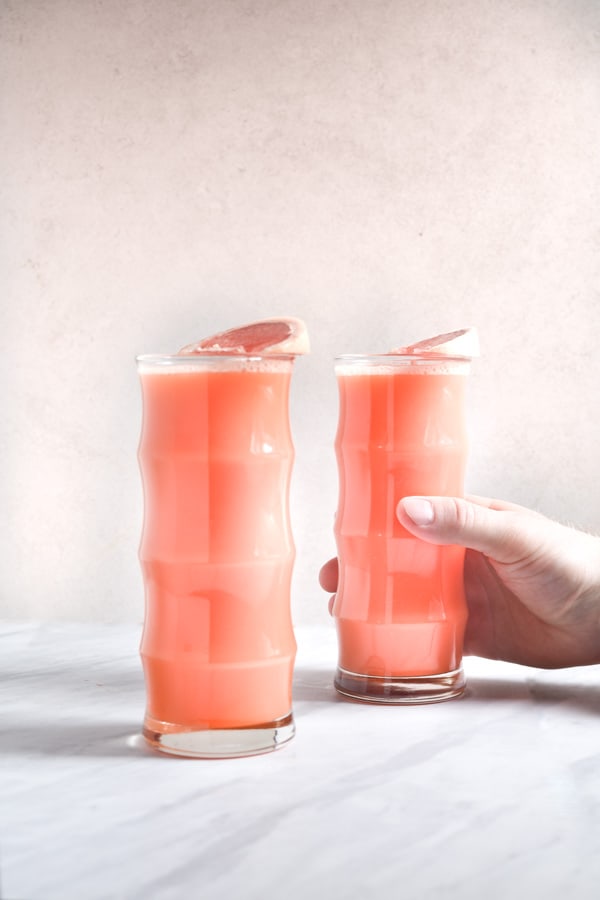 How To Juice Grapefruit: A Blender Or Juicer?
Using a high powered blender to make fresh juices adds a few more steps and a touch of patience but it is absolutely doable! To make this grapefruit juice in your blender you'll also need a nut milk bag (cheesecloth/a tea towel)to strain it and separate the pulp from the juice.
Making this juice in a juicer requires less effort and has a less pulp in the final juice compared to making this in a blender. Although juicers do a fantastic job, they come with a hefty price tag and aren't standard in every home! On top of that, they are one more appliance to have to tuck away somewhere in your cabinet and pull out when you want to use it.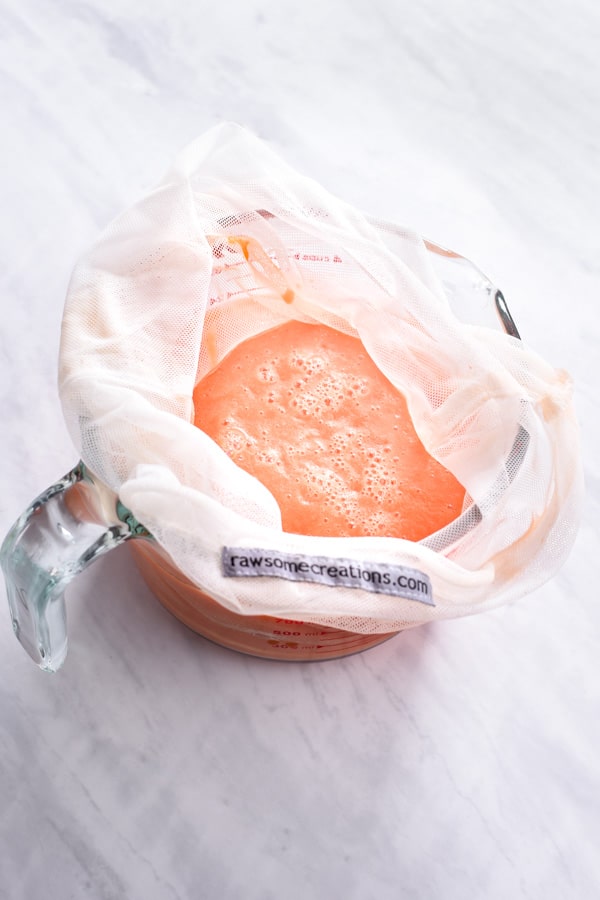 We use the Rawsome Creations 'more than a nut milk bag' which has larger gaps that can allow for easier straining. Although if you squeeze too hard, a lot of pulp can pass through- low and slow is key!
Why Grapefruit Apple Juice?
Pure grapefruit juice can have a sour and bitter taste to some palettes; white grapefruits are more bitter than red/pink varieties that you'll usually see in the grocery store.
Adding an apple to this juice helps to brighten things up with a touch of sweetness, especially if you are using a white grapefruit. Carrots add a touch of sweet along with more body; carrots are loaded with vitamin A!
We've tried several combinations of grapefruit juice and this one is our favorite!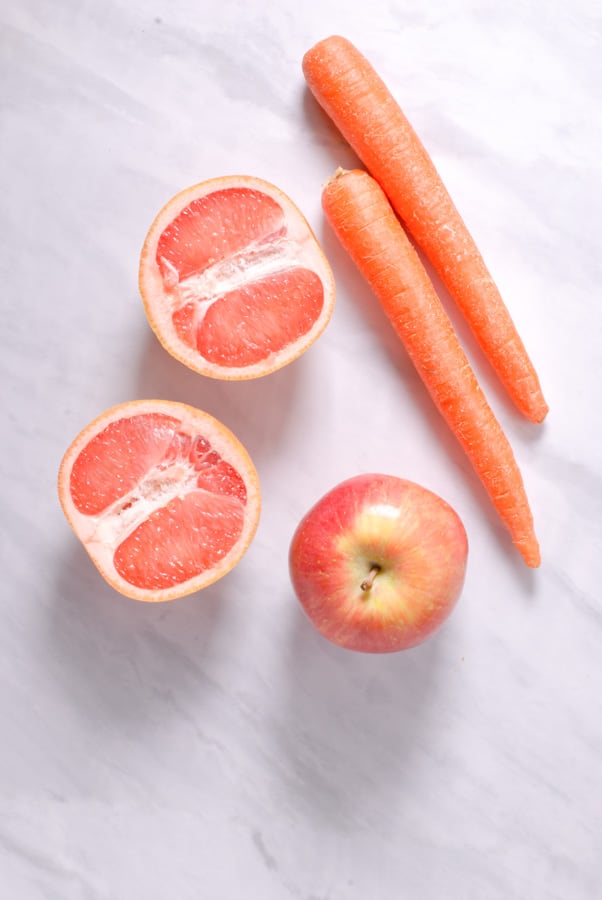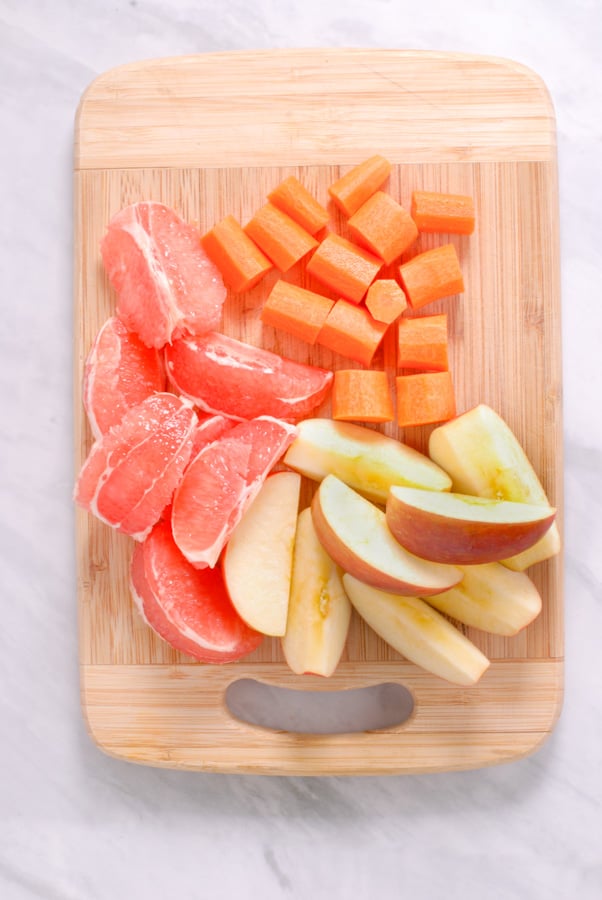 Grapefruit Juice Benefits
Fresh grapefruit juice has many nutritional benefits including over 70mg of Vitamin C plus beneficial minerals like calcium, magnesium, phosphorus, and potassium.
Health benefits aside, citrus is a welcome tradition for morning meals! Swapping orange juice with fresh grapefruit juice is easy to do and offers a similar taste. Also is it just me or does any and all citrus have a remarkable energizing and invigorating effect?!
Grapefruit juice has been studied and linked to some medication interactions which are above my pay grade, specifically surrounding: allergy medications, anti-anxiety, and heart medications. Info on that here.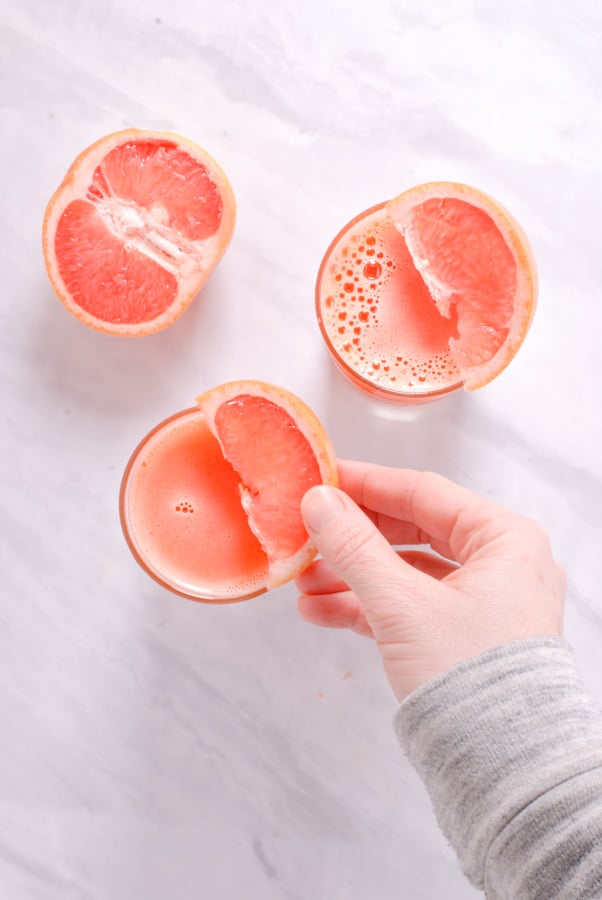 Variations: Try Adding Lemon, Ginger, Or Greens
This juice is delicious on its own however, we can offer some suggestions if you like this recipe and want a little variety in your life.
Serve the juice with sparkling or bubbly water for a healthy spritzer
Add 1″ or more of fresh ginger or turmeric root
Add a handful of spinach- which will change the color but doesn't really affect the taste. This is a tasty grapefruit green juice!
Include one whole peeled lemon in the recipe for extra zippiness
Blend this with some vanilla yogurt to make homemade popsicles for healthy treats on hot summer days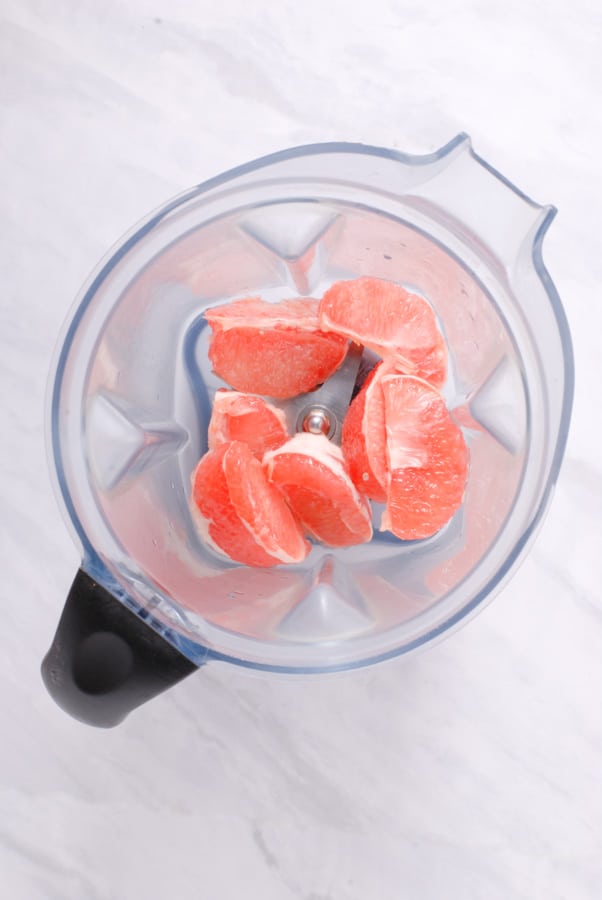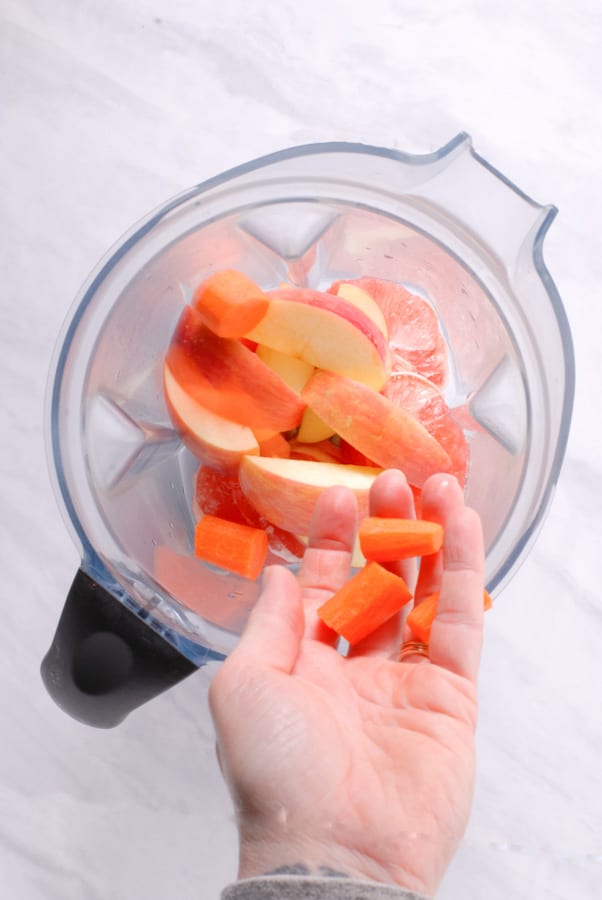 Grapefruit Apple Juice FAQs
What are the benefits of grapefruit juice? Freshly squeezed grapefruit juice delivers a wealth of vitamin C, vitamin A, and other vitamins and minerals. Making your own grapefruit juice ensures you aren't consuming added sugars that are usually found in storebought juices.
How do you make grapefruit juice taste better? Including an apple or pear in your grapefruit juice will add a boost of sweetness; using red/pink grapefruit also helps.
How do you take the bitterness out of grapefruit juice? Although grapefruit gets a bitter wrap, most grapefruit sold today is red, ruby, or pink grapefruit, which isn't nearly as bitter as the white grapefruit.
Is grapefruit bitter or sour? Grapefruit is sour and bitter and sweet simultaneously! The type of grapefruit and how ripe it is play a role in determining the final taste.
Can you juice a whole grapefruit? As long as you peel the outer rind, you can juice all the flesh and pith of a grapefruit.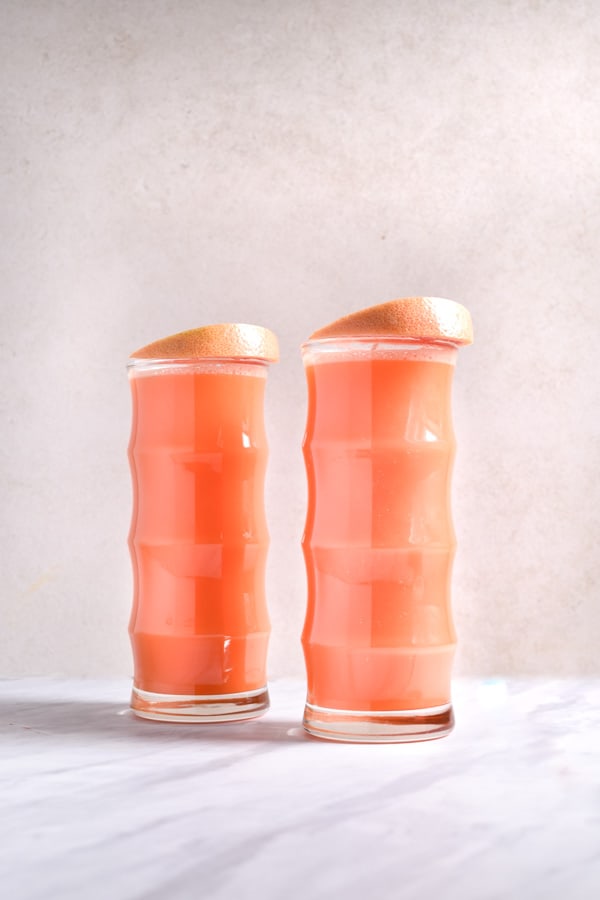 Print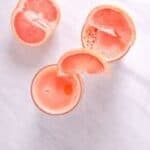 Grapefruit Juice In A Blender!
Author:

Adriana

Prep Time:

10 minutes

Total Time:

10 minutes

Yield:

~1 cup

Category:

Grapefruit juice

Method:

blender or juicer

Cuisine:

healthy
---
Description
No need for juicers here- this grapefruit juice with carrot and apple can be made with a blender and a nut milk bag! The apple and carrot make this a deliciously balanced grapefruit juice recipe you can make again and again!
---
1

whole grapefruit

1

small apple

2

medium carrots
---
Instructions
Slice the grapefruit in half, then into quarters. Peel the skin off each piece, trying to remove the white pithy section as you peel it. Place this into the blender first.
Cut the apple and remove the seeds. We leave the skin on and cut into cubes that are 1-2″ in size. Place this into your blender on top of the grapefruit.
Cut the ends off the carrots and peel (optional) then slice into 1″ or smaller pieces. Add the carrots to your blender and blend for 1-2 minutes.
If needed, have your tamper nearby. With our vitamix we never need it, but depending on your specific blender you may. You can also add 1/4 cup of water if things aren't blending well but we never need to do this.
Use a tea towel, 4-5 layers of cheese cloth, or a nut milk bag to strain the juice. Place the fabric over a large mixing bowl and pour the juice into the nut milk bag. Squeeze & twist GENTLY to slowly push the juice through while leaving the pulp behind.
If you squeeze too hard/too aggressively more pulp will escape through the bag. 
If using cheese cloth or a tea towel, I find it's best to layer the material over a sieve prior to pouring the juice out.
This is best consumed immediately or within 24 hours when stored in the fridge.
---
Notes
** This recipe works well in a juicer or a high powered blender, we have not tested this recipe in a standard blender or a bullet blender.
** Placing your grapefruit & apple into the fridge the night before making juice will deliver a cold juice vs. leaving them at room temp will create a room temperature juice.
** This recipe yields about 1 cup/ 8oz of juice, depending on the size of your fruits!
Keywords: grapefruit juice recipe, grapefruit apple carrot juice