Have you ever heard of the immune-boosting potion that is fire cider or the master tonic? Fire cider is a DIY, homemade cold and flu busting tonic packed with beneficial ingredients to help bolster your immune system in times of need.
Make a batch of this in early fall and store it in your cupboard to use as needed- a shot daily or as needed to supercharge your immune system to aid the cold and flu!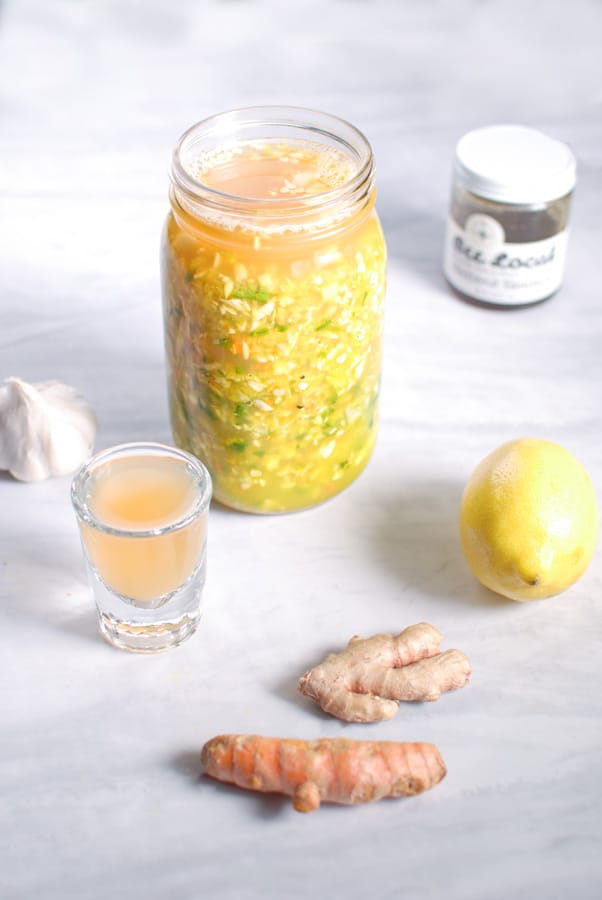 Fire Cider Recipe
I first heard and tried fire cider in Hawaii about 10 years ago- there it was commonly made with Hawaiian chili peppers and fresh turmeric- and without horseradish- as fresh horseradish isn't widely available there. Here in the Pacific Northwest, my mother-in-law makes a version of this master tonic called Winkie Juice.
There are many varieties of an apple cider vinegar tincture using similar ingredients, all variations of fire cider aka the master tonic, that are chopped and stepped for 4-6 weeks. Today we're going to share ours with you!
The 7 magic fruits and vegetables to make this are turmeric, ginger, onion, garlic, hot peppers, lemon, horseradish! More on these items later.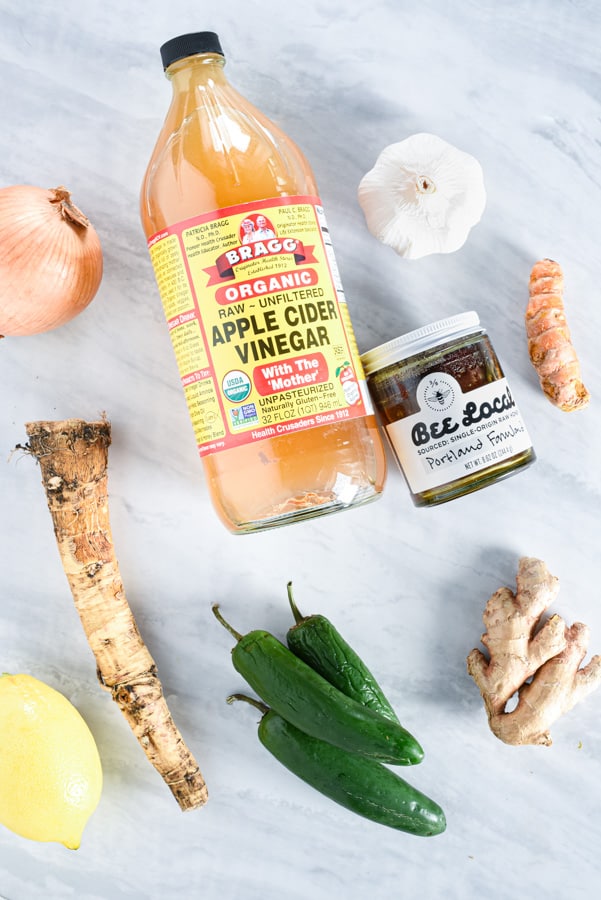 You'll need apple cider vinegar with the mother– Bragg's is the brand we know and trust, it's certified organic, unfiltered, and unpasteurized! Buying a vinegar 'with the mother' means it has not been filtered or pasteurized and the colony of bacteria (and probiotics) are still present. The mother looks like chunky brown algae that usually settles at the bottom of a bottle, simply shake gently before using.
NOTE: If you are a home booch brewer, you can use your raw kombucha in place of apple cider vinegar! Raw and unfiltered kombucha also contains the mother colony of bacteria and probiotics!
I recommend a small amount of sweetener to balance the acid and the heat in this recipe- honey or maple syrup. If you can find local, unprocessed, raw honey that will work best. Typically a small health foods store or local farmers market will have local raw honey.
*If it's offseason for the farmers market, usually your farmer's market will have a website & a vendor list so you can contact and purchase direct from the supplier!
You'll also need a glass jar and a plastic lid. This recipe fits perfectly into a 1-quart mason jar! Plastic is important as vinegar is corrosive to metal and will cause rust to form and may ruin your fire cider!
Benefits
The master tonic is believed in folklore to help fight off plague and diseases and has evolved into modern-day households keeping a batch on hand to strengthen immune systems in order to fight the cold, flu, or other sinus ailments.
Some believe it may help with fluid circulation in the body, think digestive fluids, lymphatic fluids, and blood. Others think it may help with depression and candida. Have a case of athletes foot? Try adding fire cider to a small spray bottle and misting your feet twice daily, leaving for 5 minutes, then rinsing.
The list of potential benefits and uses in nearly neverending!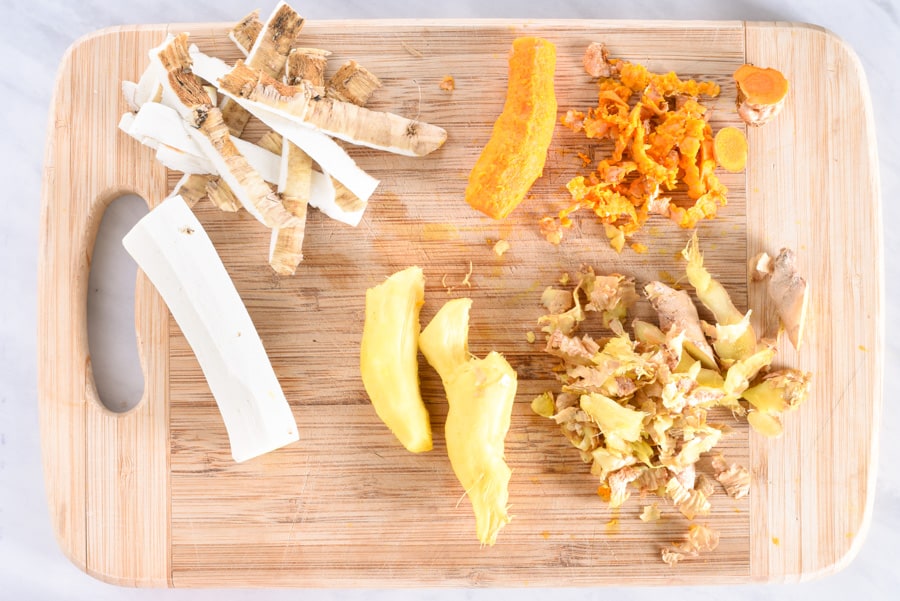 Related: You can buy fresh, organic turmeric root on Amazon!
There is a wealth of information online about fire cider, evaluate if this is a good fit for you and your family by speaking with your doctor. Let's jump in and look at each of the remaining ingredients, shall we?
Here are some highlights of the ingredients we'll be using in this master tonic!
Ginger: Ginger is a rhizome, an edible underground root, famous for both culinary flavoring and healing uses. Ginger is known to help heal the gut with everything from nausea, to motion sickness, morning sickness, and menstrual cramps. Additionally, ginger is believed to help ward off cold, flu, and infections- plus has been studied for anti-inflammatory and cholesterol-lowering properties!
Turmeric: Turmeric is also a rhizome, one that is wildly famous for its believed anti-inflammatory properties. Turmeric may be helpful with a variety of skin conditions- from psoriasis to eczema- and may help maintain proper blood sugar and cholesterol levels.
Black Pepper: Increases the bioavailability of the beneficial compound curcumin, found in turmeric. Black pepper may also help absorb other nutrients, offers a plethora of anti-oxidants, and may help your digestive system.
Garlic: What doesn't garlic do? Garlic is believed to be an anti-inflammatory, anti-oxidant, anti-viral, and anti-fungal, qualities that make it a popular immune-booster. Additionally, it may help with toothaches!
Horseradish: If you've ever cut into fresh horseradish root, you know the purging effect it has on your sinuses and nasal cavity! Horseradish may also contain special sets of anti-oxidants known to be helpful against cancer.
Onion: Has a variety of anti-oxidants and is believed to help with overall homeostatic processes like blood sugar, blood pressure, cholesterol, and a variety of cardiovascular health benefits.
Hot Peppers: Can help with digestion and metabolic rate. Red & Orange varieties have high levels of vitamins A & C.
Lemon Zest + Juice: Citrus fruits like lemon are high in vitamin C and may help regulate your digestive system functions. Lemon water has also been studied as an aid for weight management.
OPTIONAL: include herbs such as fresh rosemary, thyme, or oregano.
** Please note every BODY is different and the above list is simply a collection of common and historical uses, benefits, and healing properties. A remedy that works well for one person, make have the opposite effect on another. I am not a medical doctor and cannot give medical advice.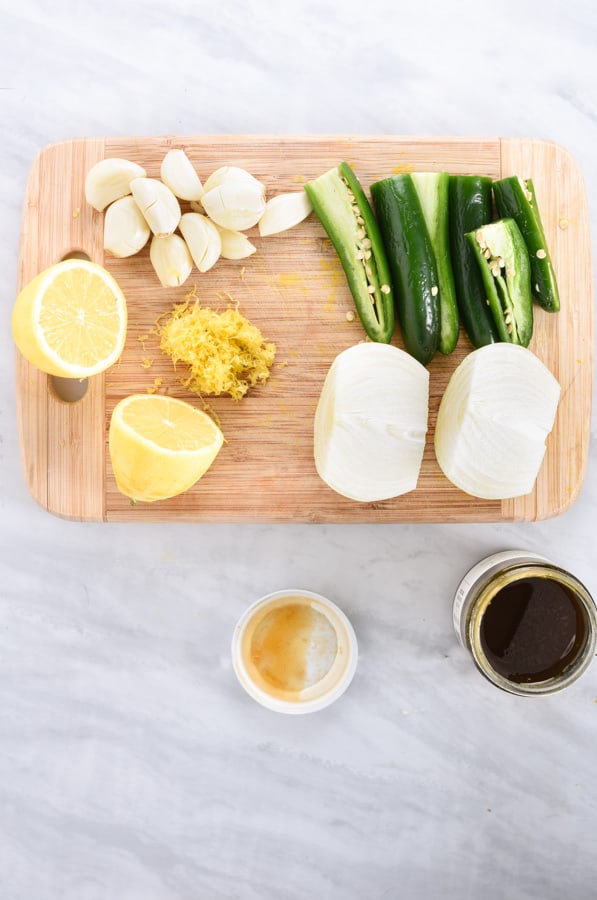 How to use this master tonic
Let's touch on the most common way people use fire cider to boost immunity. At the first onset of cold or flu symptoms, I was always told to take a shot of fire cider right away- a shot meaning 1.5- 2 ounces, exactly the size of a liquor shot. When faced with an ailment, increase to 3-4 times a day until symptoms fade and homeostasis is regained!
By all means, you can wake up and reach for the master tonic in place of your coffee every morning and feel a fantastic pick me up! I went off coffee for a while and instead took a dose of this every morning, let me tell ya, the hot peppers and ginger will DEFINITELY get your blood flowing and wake you up! ZING!
The serving size for fire cider, the master tonic of all health tonics, is 1.5 ounces taken once a day for health maintenance and 3-4 times a day when used as an aid to boost immunity.
**Check with your doctor, this is my personal experience with fire cider!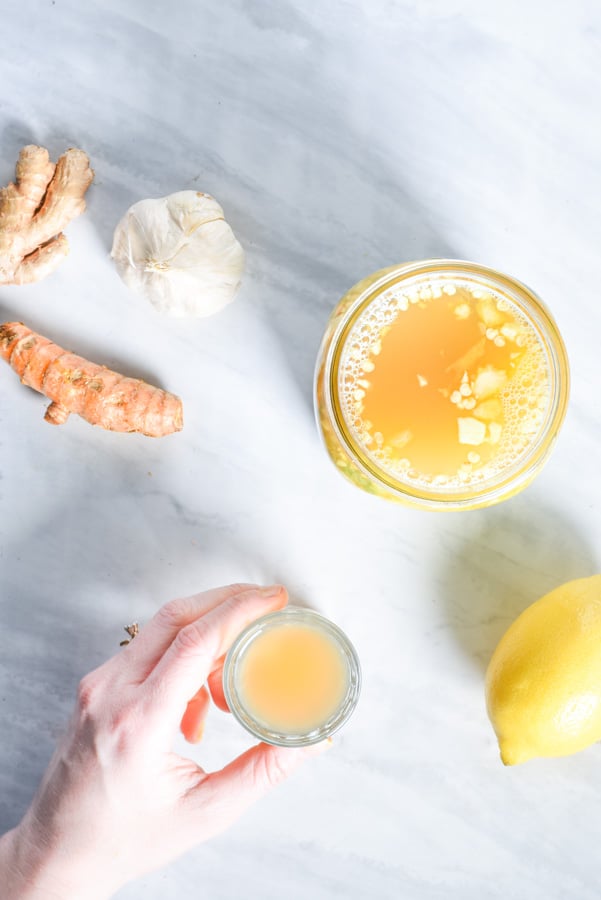 How else to use it? There are many recipes for using fire cider in salad dressings and to toss with cooked vegetables, you can add some to hummus, to pesto, or even dip it in bread with a bit of olive oil.
You could also use it as a drinking bitters before a meal to help tell the body 'food is on the way!'. About 30 minutes prior to eating a meal, add a few teaspoons to a small glass of water and drink to help kickstart your digestive juices!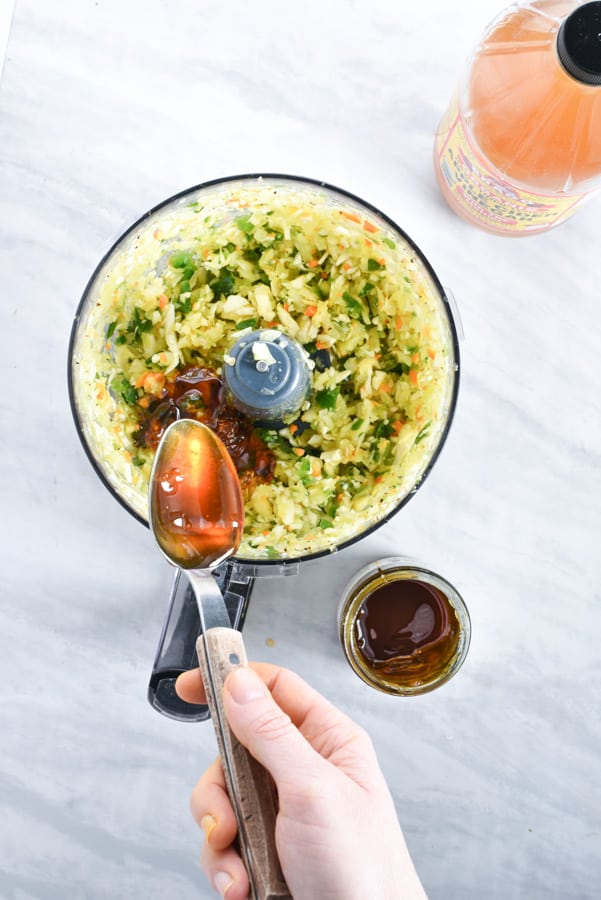 How to store fire cider
Yippee! 3 weeks have passed it's time to strain and use your fire cider!!! After separating the vegetable matter from the liquid, fire cider can be kept in your pantry indefinitely to be used as needed. Keep it out of the light and store it in a glass jar with a non-metal lid like plastic or cork.
Can it get moldy? I have personally never heard of a batch of fire cider getting moldy, however, shaking the jar once a day during the 3 weeks of steeping will help prevent this.
The portion of this that could get moldy is any piece of vegetable that floats to the surface and becomes dried out over time. Vinegar is acidic and inhibits mold, so a proper shake once a day will keep things in ship shape!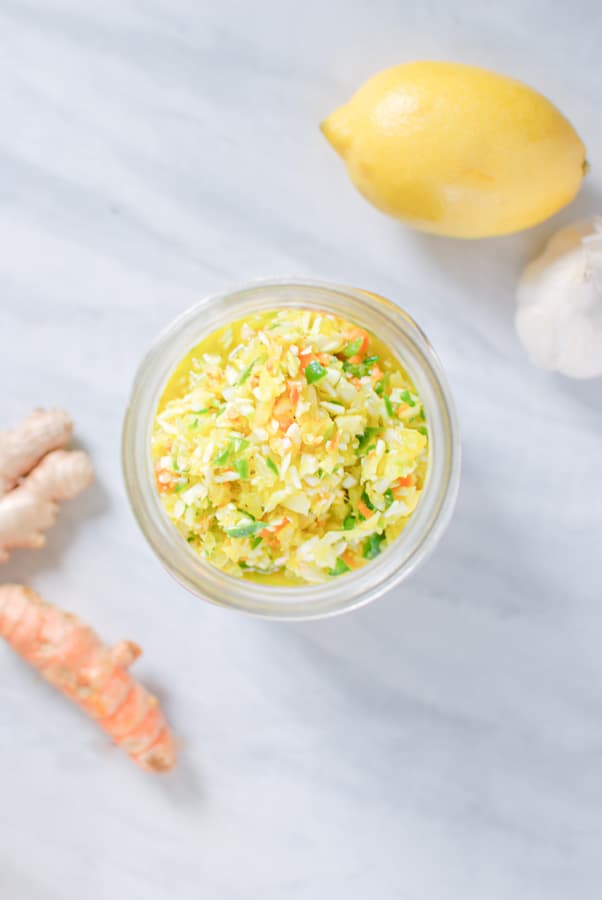 Make This Apple Cider Vinegar Tincture!
Many people don't realize that fire cider aka the master tonic is actually a type of apple cider vinegar tincture! You sorcerer, you! Making tinctures and you didn't even know it!
To make a vinegar tincture, plants and herbs are placed into raw vinegar and left to steep for several weeks, then strained. Sound familiar?
Vinegar is used as a solvent to extract beneficial nutrients and compounds from plants and herbs and provide a longer shelf life thus access to those nutritional compounds for an extended period of time.
Print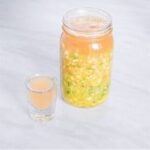 DIY Fire Cider: The Master Tonic
Author:

Adriana

Prep Time:

500 hours

Total Time:

500 hours

Yield:

~3.5 cups

Category:

Fire Cider

Method:

Cold Prep
---
Description
Fire Cider is here to help you say hello to homeostasis! This is an easy fire cider recipe to keep on hand in your pantry for an immune boost when ailments come knocking. Also known as the master tonic, this packs a powerhouse of nutrients in liquid form!
FYI: You can buy your organic turmeric root on Amazon- my pick here.
---
3

" fresh ginger

3

" fresh turmeric

2

–

4

hot peppers, the hotter the better

1

medium onion

1

head of garlic (

10

–

14

cloves)
zest and juice of 1 lemon

4

" fresh horseradish

25

cranks fresh black pepper or

2 teaspoons

2 tablespoons

fresh honey or maple syrup (more or less to taste)

3 cups

raw apple cider vinegar
---
Instructions
Roughly chop the onion and hot peppers. Peel the papery skins of all cloves from 1 head of garlic.
Use a peeler to peel the horseradish and roughly cut into 1″ pieces.
Peeling the ginger and turmeric is optional- i don't peel them and simply cut into 1″ pieces. As they grow underground in the dirt, you can use the back of a spoon to peel them if you wish.
Zest the lemon and squeeze out all juices.
Add all vegetables to a food processor, including about 25 cranks of fresh black pepper. Pulse until all veggies are in small, semi uniform pieces- similar to the texture of sauerkraut.
Add honey, to taste, and pulse again several times.
Add contents to a 1-quart mason jar with non-metal lid and top with apple cider vinegar.
Keep out of the light and shake gently once a day. Leave to steep for 3 weeks.
After 3 weeks, use a clean tea towel, nut milk bag, or cheesecloth to strain the liquid through, leaving the processed vegetable matter behind.
Store the finished fire cider away from the light in a glass jar for up to 18 months. 
For use: Take 1.5 ounces once a day for health maintenance, and increase this to 3-4 times per day for an immune boost!
---
Notes
** I am not a medical doctor. Check with your doctor to discuss all ingredients and their potential effect on your health.
** You can substitute ginger powder or turmeric powder if you cannot locally source fresh. Use 1 tablespoon of powder to replace the 3″ of turmeric or ginger root!
** Local, raw, unfilitered, and unpastuerized honey is recommended.
** If you make your own kombucha, you can use fresh, raw, unfiltered kombucha instead of ACV to make this!
** If you're after healthy, immune-boosting, or anti-inflammatory recipes, you should check out our gallery of recipes using turmeric!
Keywords: Fire Cider, Master Tonic, Vinegar Tincture