Store shelves across the nation are sold out of hand sanitizer PLUS common ingredients for DIY versions using Isopropyl alcohol, Everclear, and aloe vera gel are nowhere in sight- what to do? Here's a solution featuring fresh aloe vera and whatever high proof alcohol you can find.
This recipe is intended to help those individuals who don't have access to hand sanitizer, isopropyl alcohol, or Everclear. Many stores in my area are even sold out of aloe vera gel. This recipe is for a spray hand sanitizer- not a gel sanitizer.
It seems many of us want to feel we are being proactive in our own health and self-care during this time—this recipe is here to help give us peace of mind, a sense of action, and some germ-busting power at a time when resources are temporarily limited!
The consistency of this fresh aloe vera hand sanitizer is a thin, sprayable liquid, not a gel!
We've also got to point out that if you're here, you're likely resourceful and enjoy a good DIY. Fall is right around the corner and making your own pumpkin pie spice is a great fall recipe for you and the kids to do together 🙂
How to cut fresh aloe
A spear of fresh aloe vera is commonly available for sale at most health food stores, Mexican stores, and restaurant supply stores. A single aloe vera succulent costs between $3-$5 here in the Pacific Northwest.
One spear of aloe vera will yield about 1 cup of aloe vera gel and will last 1-2 weeks in the fridge; up to 3 months in the freezer.
If you have ever fileted a fresh fish, the process to obtain fresh aloe is going to be familiar. Fresh aloe can be sticky, slimy, and foreign to work with- you'll definitely want a large cutting board and a sharp knife. I have found a serrated knife to be easiest to use as you can work in a sawing motion.
Start at the base of the aloe spear which is the widest part that often has a white or light coloring. Look for where the light coloring disappears and the green coloring begins and slice the white portion off.
Your first glance at fresh aloe vera gel- strange looking, isn't it?!
Now, move to the top and thinnest part of the aloe vera. The gel in the skinny tip is useable, it's just more work and maneuvering with your knife for a small amount of gel. Look for an area where the spear is about 1" thick and slice there.
There may be some yellow sap that drains from the aloe vera. There may also be a musty smell. This is normal!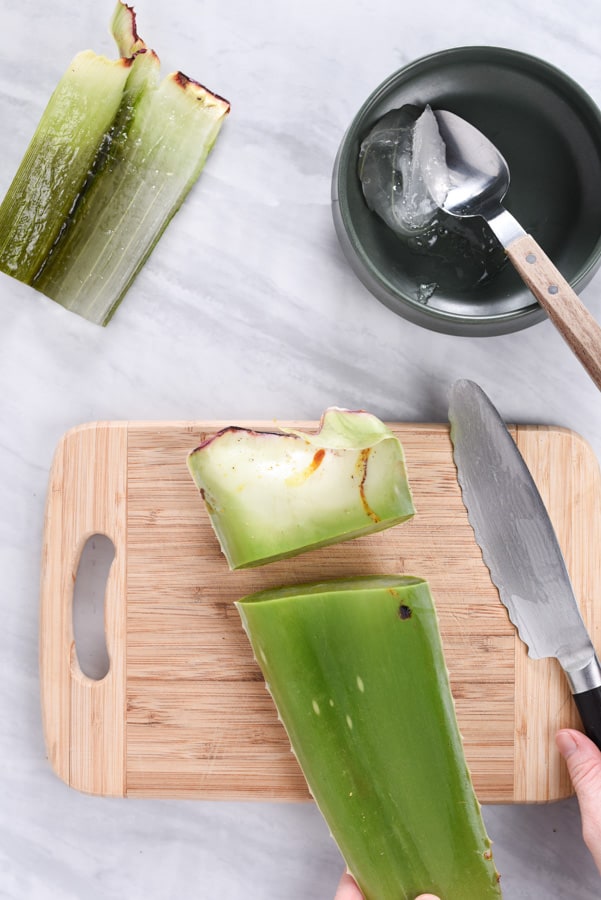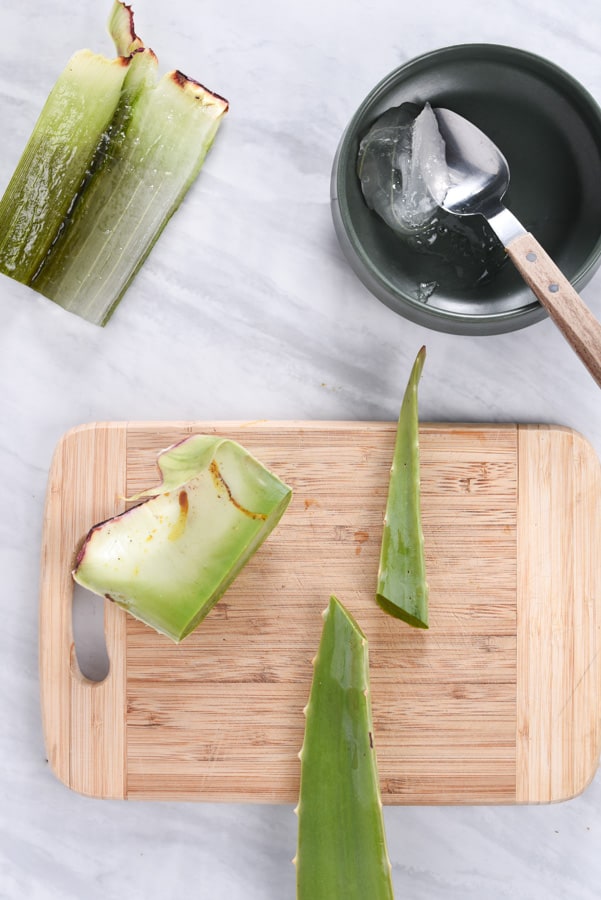 Now you should be left with an aloe filet consisting of the thickest and meatiest part of the plant— Here's how to get to the good stuff!
Starting at the bottom and widest end of the aloe, turn the aloe on its side for a cross-sectional view. Place your knife just under the outer green skin, as close to the edge as possible, and add pressure or a gentle sawing motion to continue deepening the cut. After you've made one slice you can remove your knife and begin to gently peel the outer green skin back. Continue slicing as close to the edge of the aloe filet as possible and peeling the green skin away until you have exposed one entire side of the aloe.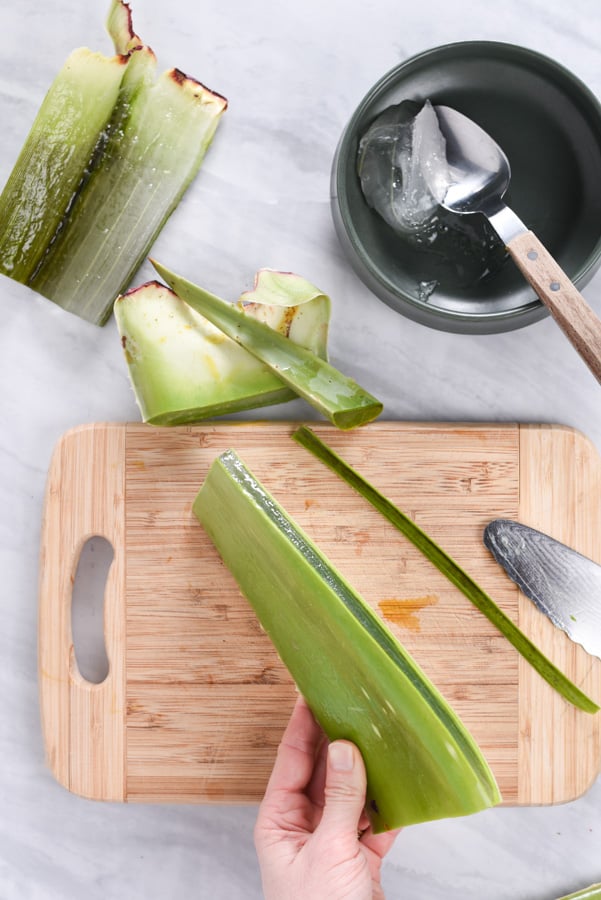 The easiest method is to simply use a spoon to scrape the aloe vera gel off the green matter.
Place the aloe in a sieve and rinse under cold water to remove any yellow sap.
We'll only need 1/4 cup aloe vera gel for this recipe, you can simply measure that portion to blend then freeze the rest of the aloe in chunks to add to smoothies or save for summertime sunburns!
A note on freezing aloe, the texture does change after thawing from frozen. The gel is less solid and more watery, in smoothies it's unnoticeable but for topical skin applications, it has a thinner, more watery consistency.
How to make fresh aloe vera hand sanitizer
To make this fresh aloe vera hand sanitizer we are going to blend the aloe to fully break it down, then blend once more with alcohol. You can use a blender, food processor, or bullet type blender for this process.
Isopropyl alcohol is the preferred disinfectant to use to make a homemade aloe vera hand sanitizer- it has a 91% alcohol content. Second to that would be a high proof grain alcohol, such as Everclear- 75%-95% alcohol. As most cities and grocery stores are currently out of the above items, you can use a high proof vodka(or other alcohol) as a substitute, preferably at 65%-75% alcohol.
Here's the skinny: hand sanitizer needs to have at least 60% alcohol to be considered effective by the CDC. A 60% alcohol, high proof vodka qualifies, right? Wrong- as we'll be diluting the vodka with aloe vera gel, this sanitizer will drop below 60%. Using a 50% alcohol vodka will further lower the alcohol percentage. Make sense? See the chart below for further details.
What to do? This recipe is intended to help those individuals who don't have access to hand sanitizer, isopropyl alcohol, or Everclear. Many stores in my area are even sold out of aloe vera gel.
DIY Sanitizer Alcohol Percentages
The following table is an estimation of the final alcohol percentage of this hand sanitizer recipe based on the proof of alcohol used. This is only an approximation and cannot be guaranteed.
| Base Alcohol % | Fresh Aloe Vera | Alcohol | Final Estimated Alcohol % |
| --- | --- | --- | --- |
| 80 proof 40% | 1/4 cup | 3/4 cup | 30% |
| 100 proof 50% | 1/4 cup | 3/4 cup | 38% |
| 120 proof 60% | 1/4 cup | 3/4 cup | 45% |
| 151 proof 75% | 1/4 cup | 3/4 cup | 56% |
| Isopropyl Alcohol 91% | 1/4 cup | 3/4 cup | 60% |
| 190 proof 95% | 1/4 cup | 3/4 cup | 64% |
| | | | |
CDC recommended alcohol percentage
The CDC recommends hand sanitizers are at least 60% alcohol in order to effectively kill germs and bacteria. Will a sub 60% hand sanitizer have any effect on germs, bacteria, and viruses? While this blend may not be as effective as a 60% hand sanitizer, it still has a high alcohol concentration. This, paired with the mechanical process of rubbing hands together for 20-30 seconds after applying is still going to help remove microorganisms.
**This DIY aloe vera hand sanitizer has not been lab-tested, I am not a medical doctor, and I cannot give medical advice. Testing the alcohol concentration of homemade hand sanitizer is beyond reach for the average household. (And should we mention the shortage of testing about now?) Use this with your own discretion.
Also note: Excessive use of hand sanitizers, or homemade hand sanitizers that may have an alcohol percentage higher than the typical 60%, may have a drying effect on your hands. This could cause small, microscopic cuts and/or abrasions on your hands potentially creating an entry point for microorganisms.
Hand washing is preferred over using hand sanitizer!
Washing your hands with soap and hot water for 20-3 seconds is an effective means of reducing the number of germs present on your hands. Even without hand sanitizer, we all still have handwashing as an option to keep germs at bay!
Prioritize hand washing over applying hand sanitizer and be sure to moisturize your hands when regularly using hand sanitizer.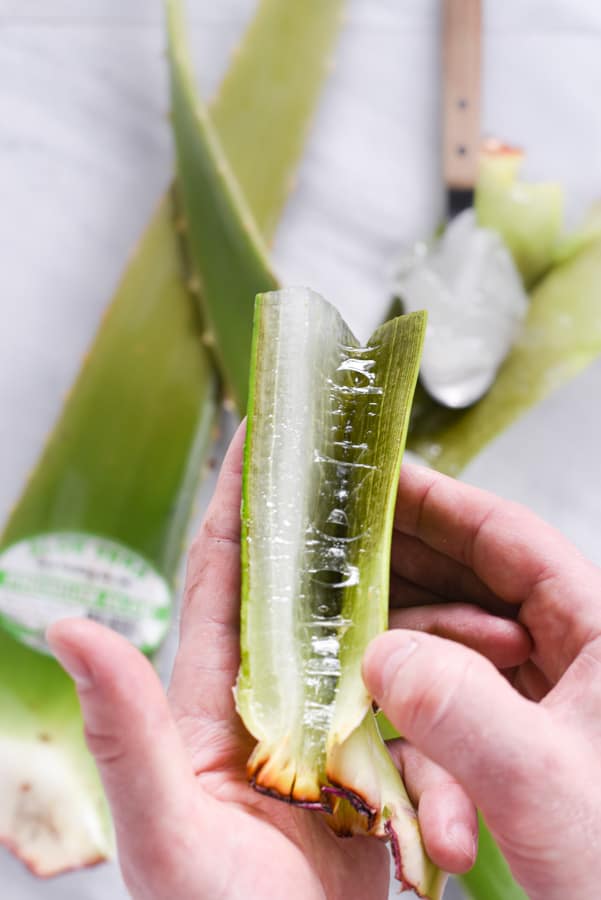 Benefits of fresh aloe vera gel
Using fresh aloe vera to make your own aloe vera gel ensures you get nothin' but the good stuff! Fresh aloe is touted for having moisturizing, cooling, and healing effects when used topically on the skin.
It's included in DIY hand sanitizer recipes as its moisturizing properties may help combat the drying affects high strength alcohol can have on the skin.
Reading beyond the shiny front-facing labels and investigating the ingredients panel to find the truth about what is actually in a product is a practice we are all, unfortunately, becoming more accustomed to. Aloe vera gel sold in stores is another great example- most aloe vera products sold on store shelves today contain numerous processed, synthetic, and preservative ingredients, and for some brands, a very low percentage of actual aloe vera.
Print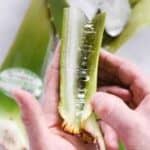 Fresh Aloe Vera + Vodka Hand Sanitizer
Author:

Adriana

Prep Time:

10 minutes

Total Time:

10 minutes

Yield:

~1 cup sanitizer

Category:

Hand sanitizer

Method:

Cold Prep
---
Description
Fresh aloe vera and vodka may be an alternative option when stores are out of all common ingredients in DIY hand sanitizer recipes. This recipe gives you options to use nontraditional ingredients to make your own hand sanitizer!
---
3/4 cup

grain alcohol

1/4 cup

fresh aloe vera gel
spray bottle
---
Instructions
Cut the aloe vera leaf at the base, after the white portion fades and the the leaf is green. Usually 2″-3″ from the base of the leaf.
Cut the skinny top portion once it narrows to about 1″ wide.
Slice the spiny edge of the aloe leaf down the length of one side to reveal the fresh gel inside.
Gently place your knife between the aloe vera gel and the green skin as you would filet a fish, keeping the knife close to the green skin. Run the knife just under the green skin until you reach the base of the other side.
Remove the knife and gently peel back the green skin. Continue slicing and peeling until one side of the aloe is fully exposed. Use a spoon to scrape out all the fresh aloe vera gel and place into a blender.
Blender for 15-30 seconds until foamy and no chunks remain.
Measure 1/4 cup of the aloe vera gel and corresponding amount of isopropyl alcohol or grain alcohol following the table in the notes. Blend again for 15 seconds to fully combine the mixture.
Pour into a spray bottle and store for up to 3 weeks.
To use, spray onto your hands and rub hands together for 20-30 seconds.
---
Notes
** Review the table in the post for an estimated final alcohol percentage. Depending on the grain alcohol used, the final alcohol percentage may fall below the CDC recommended 60% alcohol solution for hand sanitizer.
** Excessive use of hand sanitizer may have a drying effect on the skin. When possible, wash your hands with hot water and soap for 20-30 seconds.
**This DIY aloe vera hand sanitizer has not been lab-tested, I am not a medical doctor, and I cannot give medical advice.
Keywords: Fresh Aloe Vera Hand Sanitizer
Additional Recipes:
Here are some additional recipes that may be handy right now:
Here is a roundup of all the turmeric recipes we have on the site. These turmeric recipes use either fresh or ground turmeric and are easy to make!
This recipe for lemon tea is super soothing for sore throats and uses ingredients you probably have on hand already!
This recipe for fire cider is an immunity-boosting recipe loaded with healthy vegetables and spices!