Hooray! If you're ready to make pumpkin pie spice, the fall season is clearly upon us. Cozy sweaters, favorite boots, crisp-clean air, and the sounds of a fireplace are all on their way. No matter what region you're in, the weather will soon cool down and we'll all be reaching for the jar of pumpkin spice and looking for the best ways to celebrate warmth and comfort in our homes.
For those of you experiencing an SOS moment in the kitchen, needing the recipe for pumpkin pie spice ASAP, here's the basic breakdown for about 2 tablespoons of pumpkin spice:
3 teaspoon Cinnamon
1.5 teaspoon Ginger
3/4 teaspoon Nutmeg
1/2 teaspoon Allspice
1/2 teaspoon Clove (optional)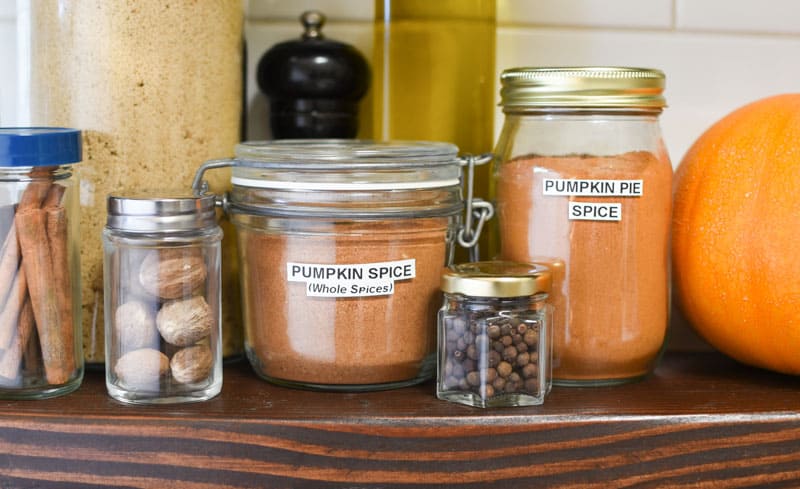 As always, Willamette Transplant has you covered. For all of you at-home-gourmet's out there, we're going to show you how to make your own pumpkin pie spice blend and touch on everything from history to substitutions and answers to your frequently asked questions.
Ready? So are we! Cozy in for a nice read or use the links below to find exactly what you need my friends! Cheers & happy baking!
Table Of Contents:
What Is In Pumpkin Pie Spice?
Pumpkin pie spice (or pumpkin spice for short) has become an essential ingredient of the season, adding indulgent flavors to almost any type of food or beverage in the fall and winter. But what is in this infamous pumpkin spice seasoning?
Pumpkin spice a perfectly crafted blend of cinnamon, ginger, nutmeg, allspice, and sometimes clove. Its main partner in crime is, of course, pumpkin puree. These two ingredients instantly transport many of us to our fondest cozy memories and greatest hopes for the season ahead.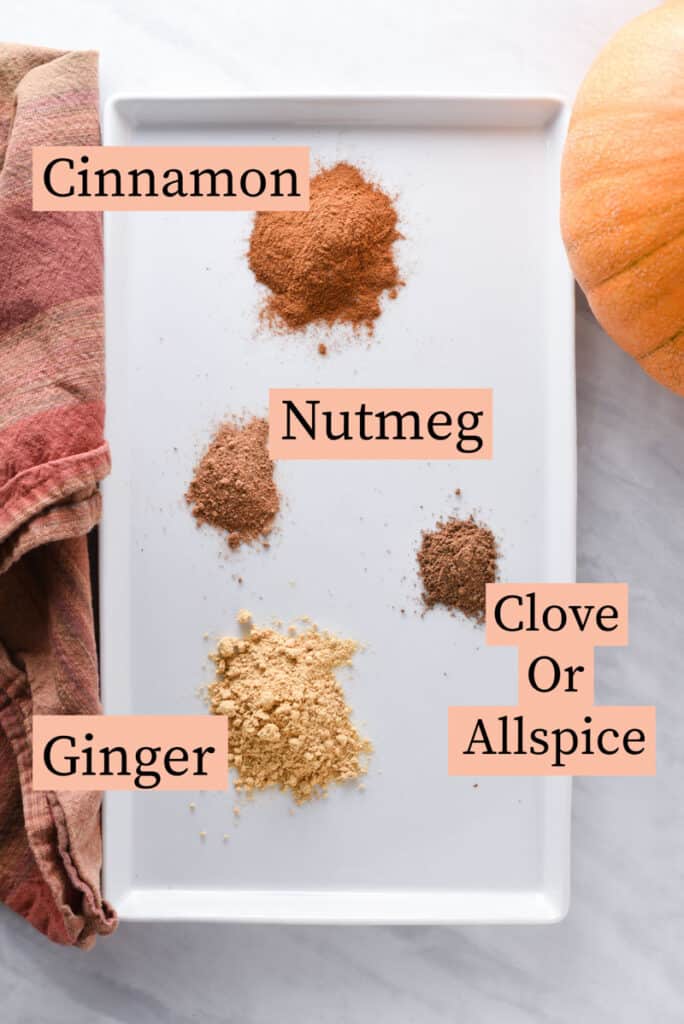 Reaching for a jar of pumpkin pie spice means gatherings with family and friends and lots and LOTS of cooking. Yes, this time can be stressful, but it's also filled with the joys of demonstrating how much we care for those around us, by the thought and effort we put into how we host and entertain.
History
For starters, pumpkin spice is not the unknown member of the mid-90's pop-sensation girl-group. Most of us are acquainted with this seasonal delicacy through its appearance in pies or savory dishes and yes, main-stream coffee culture has also contributed to our global obsession.
But did you know, people have always been crazy about the ingredients in pumpkin pie spice? Get your Indiana Jane hat on, because understanding the origins of pumpkin spice is a wild adventure through history.
Most of us have heard of the Spice Islands. Tucked between Australia and Asia in the South Pacific, these islands are subtropical, ideal growing conditions for most of the ingredients you would find in a pumpkin spice blend. In fact, archaeologists have found residue of stored nutmeg in pottery shards dating back 3500 years!
According to trade records found from Marco Polo's day (1254AD-1324AD), 1lb of nutmeg was so valuable you couldn't even trade some gold to get your hands on it. If you didn't bring 7 plump Oxen to the table, the deal was off!
Slightly later, when the Dutch became obsessed with these spices, they traded their little colony of New Amsterdam (now known as New York City) to the British for a small piece of the Spice Islands.

Most recently, we found out that the earliest published recipe using pumpkin pie spice In America was in a 1936 article of the Washington Post for Pumpkin Spice Cakes. Donna Reed, Betty Crocker, McCormick, and Starbucks have all done their part in making these sought-after spices a holiday staple that we continue to crave.
The good news is, you don't have to travel from Venice to Indonesia by sea like Marco Polo did to get your hands on some. We'll walk you through how to make your own pumpkin seasoning next!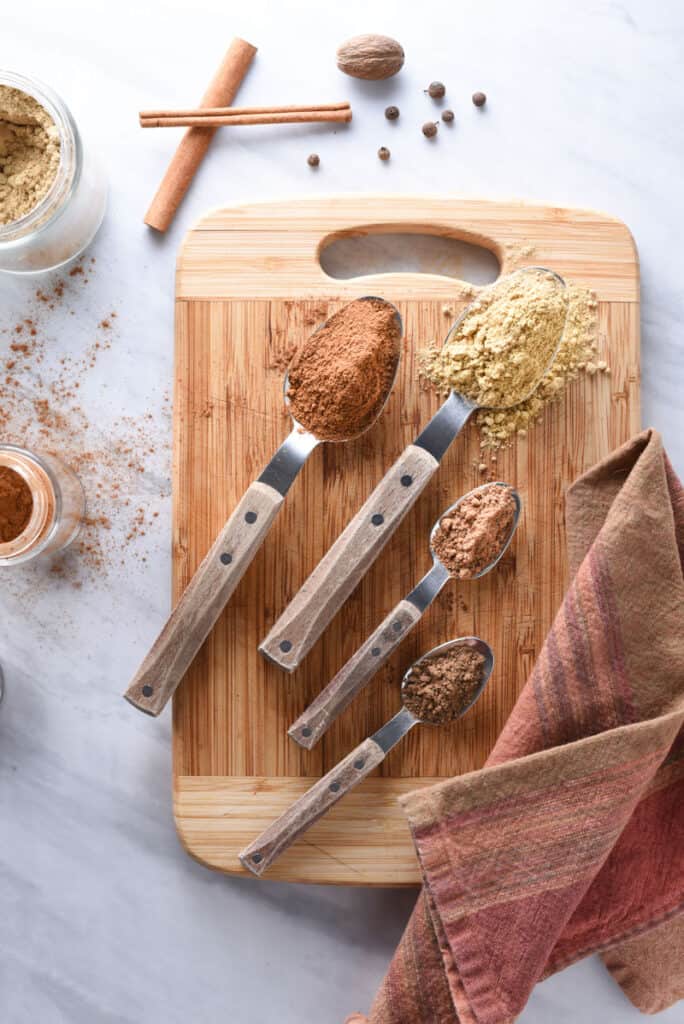 How To Make Homemade Pumpkin Pie Spice:
Making your own pumpkin spice mix couldn't be easier! Your homemade pumpkin pie spice can be whipped together with ingredients that you likely already have in your spice cabinet.
There are some tools of the trade that you might want to have handy like a teaspoon, tablespoon, and a sifter. For bonus holiday props, use cute mini-mason jars to show off your tasty culinary creation.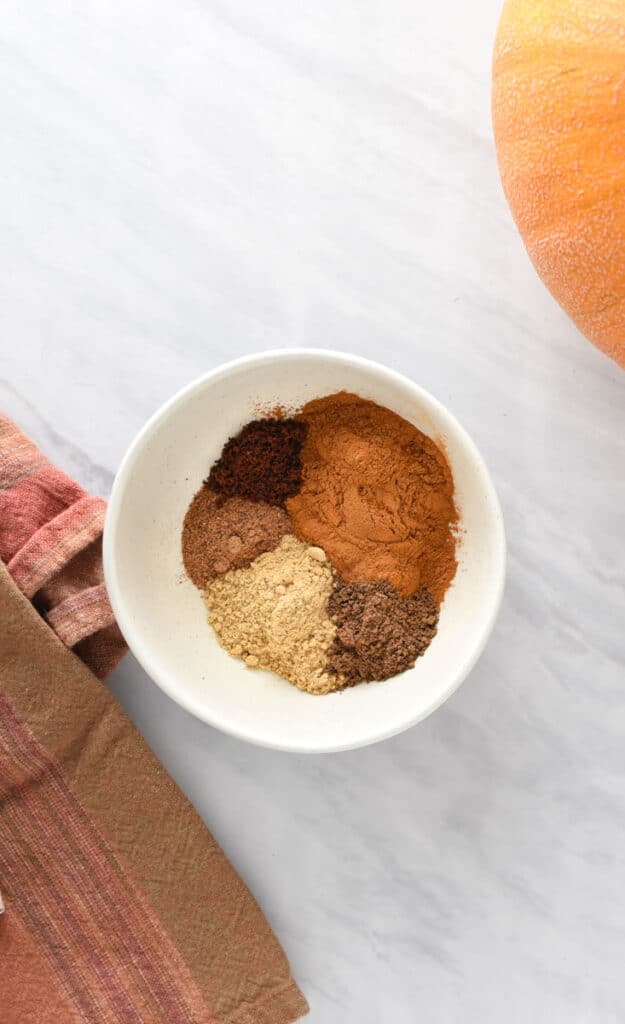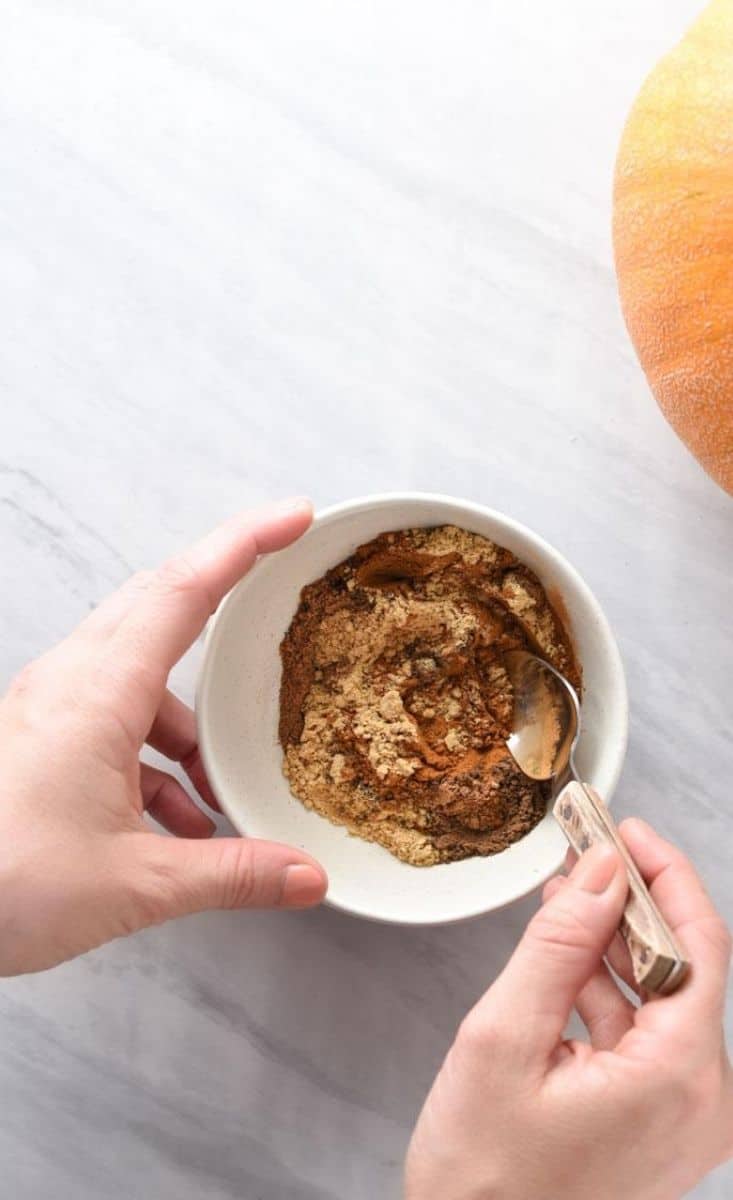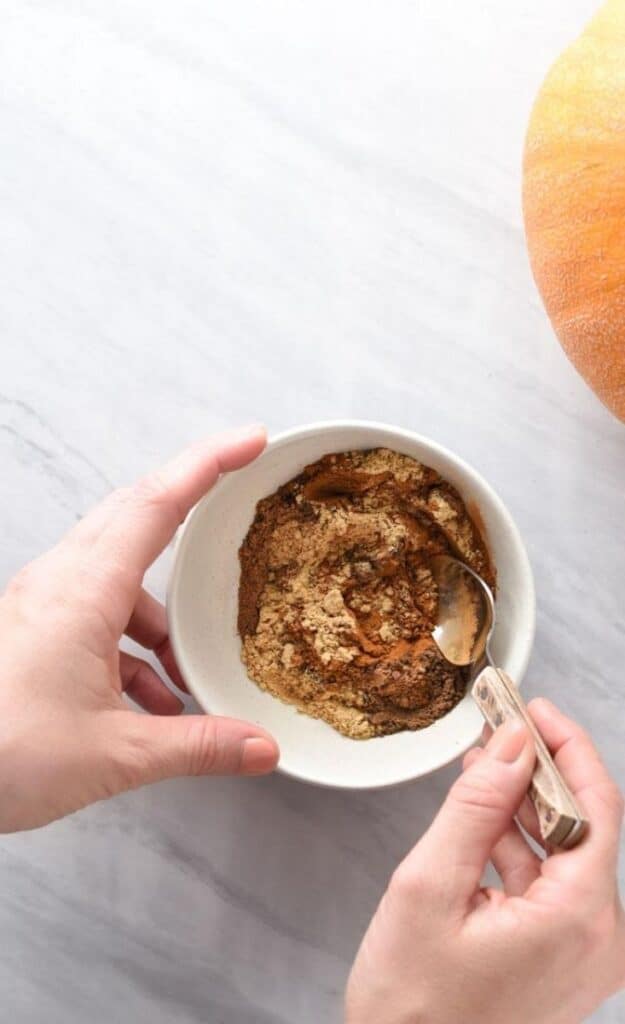 No matter how much, or how little pumpkin spice you want to make, the tried and true ratio across contemporary food publishers and the iconic McCormick blend we all grew up eating is as follows:
50%-60% Cinnamon
15%-25% Ginger
8%-12% Nutmeg
5%-10% Allspice or Clove
Add the above spices to a small mixing bowl, stir to combine, and you have your own personal blend of pumpkin pie spice! It really couldn't be easier!
A little gourmet trick is to sift all of these ingredients together. Ginger and nutmeg have a tendency to clump up. Sifting the spices removes the clumps and creates a finer blend that you and your guests will definitely appreciate.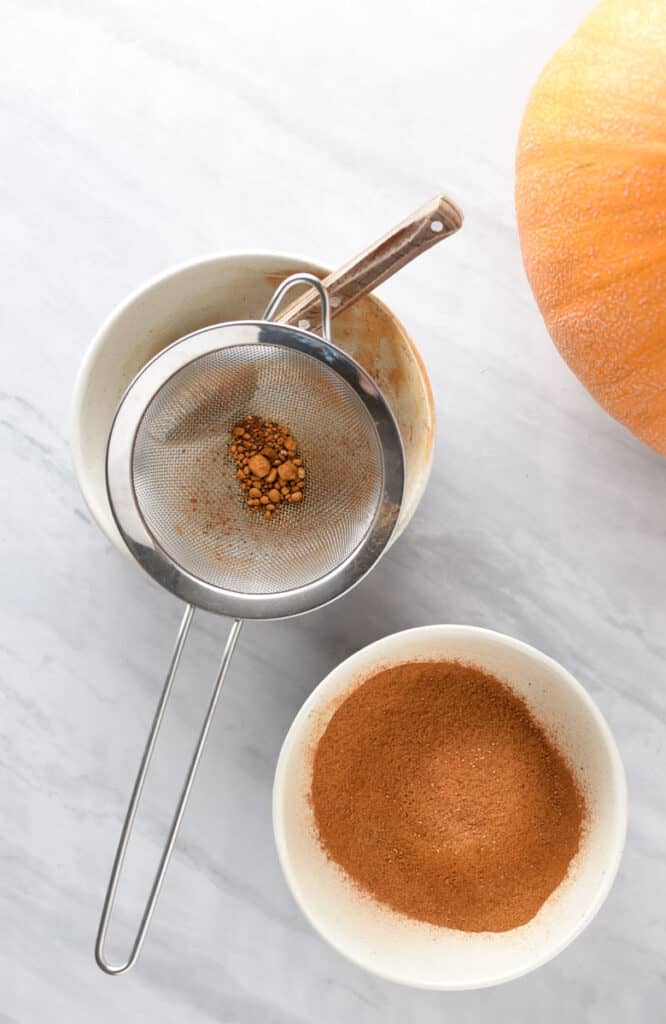 Pumpkin Pie Spice Uses
Ok! So now that you are the master of creating traditional pumpkin pie spice or a variation that's totally yours, what oh what, can you do with all this jar of goodness?
You can get as creative as you want but it might help to remember, this spice makes its appearance in our lives when the weather turns cold. We love it so much because we are looking for warmth.
It enhances any food or beverage that falls into the comfort variety so get ready to add some soul-filling flavor to anything from homemade butter to spirited beverages, and beyond!
Willamette Transplant has put together some of our favorite recipes to inspire your own creativity, dazzle your guests, or enhance those chilly mornings in your pjs:
Perk up your pancakes or your coffee with our amazing pumpkin syrup.
Unleash your inner barista with this pumpkin cold brew recipe.
And, while you're thinking of coffee, why not whip up some pumpkin biscotti?
Vegan pumpkin muffins are the perfect breakfast for a crisp fall morning.
An absolute must for the table: vegan pumpkin bread.
Get your kids in on PSL season with a batch of Harry's favorite pumpkin juice!
Make your mornings magic with our pumpkin oatmeal.
Cheers to pumpkin season, the official soft start of the holidays, good time spent with family, and the year coming slowly to a close. We hope this pumpkin pie spice blend adds warmth to your season and your meals for many years to come.
Recipe
Print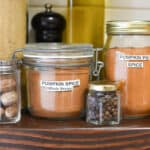 Pumpkin Pie Spice
Author:

Adriana

Prep Time:

5 minutes

Total Time:

5 minutes

Yield:

1/4 cup

1

x

Category:

Pumpkin Recipes

Method:

Cold Prep
---
Description
Homemade pumpkin pie spice- we'll show you the basics of this flavorful seasonal essential. Making your own pumpkin spice blend gives you creative culinary control, saves you money, and is just way more fun! Impress your guests and satisfy your inner-gourmet self!
---
Ingredients to make about 1/4 cup of pumpkin spice, halve this recipe for 2 tablespoons!
6 teaspoon

Cinnamon

3 teaspoon

Ginger

1.5 teaspoon

Nutmeg

1 teaspoon

Allspice

1 teaspoon

Clove (optional)
---
Instructions
Measure all ingredients and add to a sifter or sieve over a small mixing bowl, no need to pack your teaspoons and tablespoons, just scoop and scrape any excess.
Gently tap the sieve on the palm of your hand until all spices have passed through and only clumps remain. 
Using the back of a spoon, press down on any clumps to break them apart and sift once more. Discard any remaining bits.
Store in a jar for up to 6 months; freeze unused portion to maintain freshness until pumpkin pie spice season rolls around next year!
---
Notes
Continue reading past this recipe card for substitutions and variations to the blend.
Always remember, if you're out of pumpkin spice and need a quick fix in a hurry you can simply substitute with just cinnamon. It won't taste quite the same but it will get the job done!
---
Nutrition
Serving Size:

1 tablespoon

Calories:

21

Sugar:

.2

Sodium:

2.7

Fat:

.5

Saturated Fat:

.3

Unsaturated Fat:

0

Trans Fat:

0

Carbohydrates:

5.2

Fiber:

3.7

Protein:

.4

Cholesterol:

0
Keywords: Pumpkin Pie Spice
Substitutions
If you don't have pumpkin pie spice on hand an need a quick substitute, use cinnamon. Replace the amount of pumpkin pie spice called for with an equal amount of ground cinnamon!
There are more substitutions you can make with pumpkin pie spice. Let's jump into those now.
It's Saturday at 2:30pm. Guests are coming at 7pm. You've left enough time to prep, bake, and open the door when your guests arrive as if you never even broke a sweat. BUT. You discover at 3:47pm that you are out of pumpkin pie spice and there's just no time to run to the market.
What. Do. You. Do? Take a deep breath and rest at ease as Willamette Transplant has emergency pumpkin pie spice contingency plans for you.
The following list is your exclusive mix-n-match guide to pumpkin pie spice ingredients and substitutions. Swap in these favorites for a pumpkin spice combination that will not only save the day but add some… er… spice… to your meal!
But first, our #1 most asked question regarding pumpkin spice substitutions:
How much pumpkin pie spice do I use instead of individual spices? What if a recipe lists individual spices closely related to pumpkin spice seasoning but you don't have each spice separately– you only have the blend?
If a recipe calls for individual spices and you only have pumpkin pie spice, add up the volume (either teaspoons or tablespoons) of all individual spices and use that amount of pumpkin pie spice. This won't be exact but is easy and effective!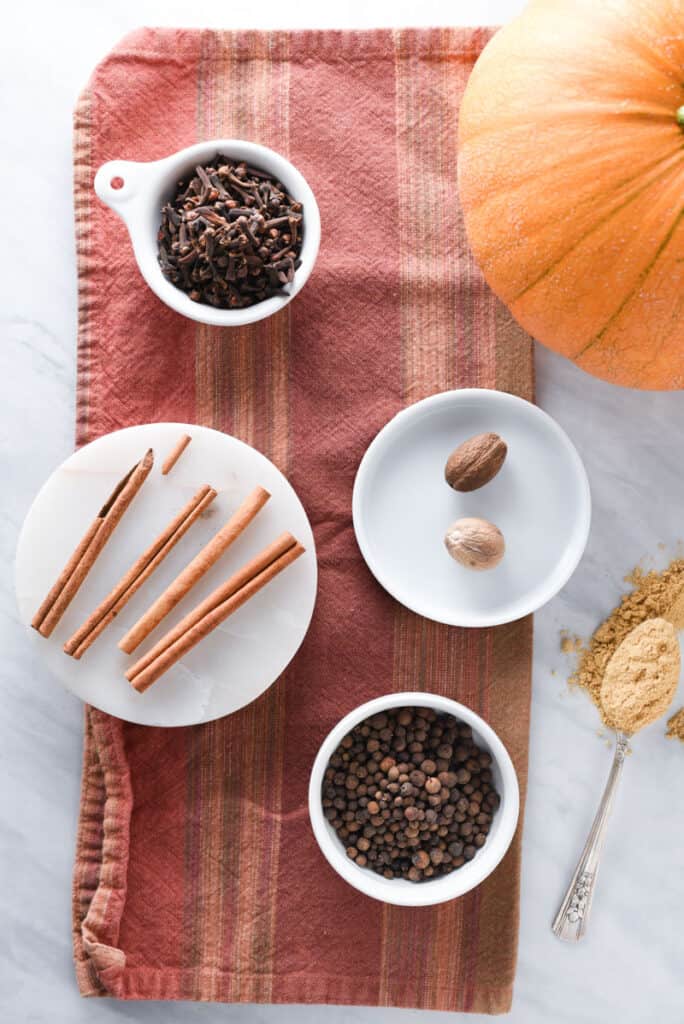 Cinnamon Substitute
Cinnamon has a sweet, warm, and woodsy, flavor with slights hints of peppermint candy. Unfortunately we have tried and we can't recommend a substitute for cinnamon in a pumpkin pie spice blend– cinnamon is the leading lady and quintessential for the blend.
Ginger Substitute
Ginger has a sweet, meadowy aroma with a spicy / lemony flavor. Ginger adds much of the warmth we taste in pumpkin pie mixes. And if you've ever had a pumpkin baked good or dessert that almost tasted hot or spicy, ginger is what plays best-supporting actress.
Ginger is complex so it's hard to offer a charming substitute, however white pepper can help emulate the 'warming or spicy' feeling ginger delivers, without the sharpness and bite of black pepper. Cardamom has a sweet, spicy citrus flavor that can take a good whack at standing in for ginger as well.
1 teaspoon ground ginger can be substituted with 1/2 teaspoon white pepper + 1/2 teaspoon cardamom.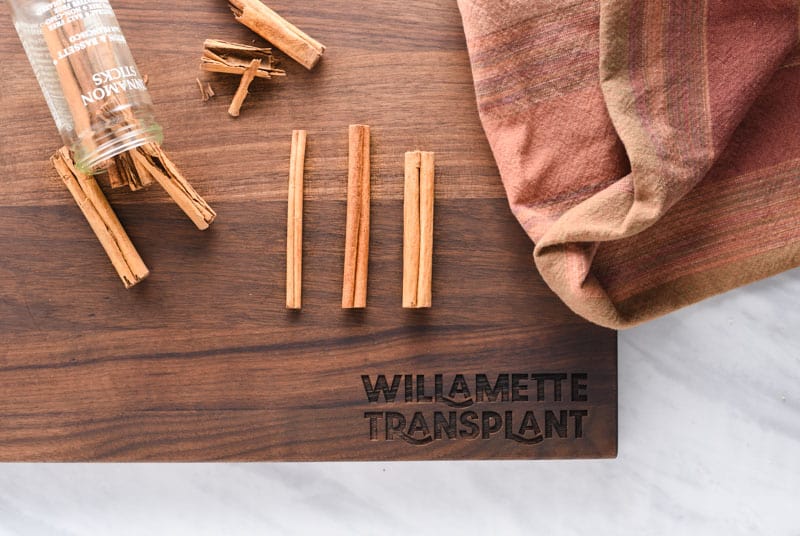 Nutmeg Substitute
Nutmeg has a crisp, fresh flavor, with undertones of lemon or menthol. Its floral aroma evokes the same rapture of walking into a bakery first thing in the morning.
You can count on Coriander as a substitute for Nutmeg as it also has a fresh floral aroma.
1/2 teaspoon of coriander and is a substitution for 1 teaspoon of nutmeg.
Allspice Substitute
Allspice has a sweet, slightly floral aroma with undertones of black peppercorns. It's an aromatic spice, and contributes more to aroma than flavor in our opinions! No Allspice? No Worries! Grab some cloves instead and call it good!
You can substitute 1 teaspoon of allspice with either 1/2 teaspoon clove or 1/2 teaspoon mace.
Clove Substitute
Clove has a deep, energizing smell that's reminiscent of dried raisins, mint, and anise/licorice wrapped up into one. It has a darker, deeper flavor than allspice. No Cloves? Grab allspice, or…
Little known Chinese 5 spice can be used as a substitute for cloves.
A substitution for 1 teaspoon of clove is 1/2 teaspoon Chinese 5 spice or 1/2 teaspoon allspice.
Pumpkin Pie Spice Variations
So there you have it. The essentials and the variables of pumpkin pie spice. But there's still some creative culinary ground to cover.
Why not add in Vanilla bean seeds? After all, most recipes that call for pumpkin pie spice also call for vanilla extract!
For those that like their pumpkin goods with a kick, adding a pinch of finely ground black pepper or orange zest will add an interesting twist to this holiday classic.
It's now 6:59pm, your home smells amazing, and your guests enter ready to be delighted by everything that you're about to serve up. No one knows a thing, and in fact, your meal will be one of the most distinctive and memorable ones on record. Score!
Use Whole Spices
The benefits of making your own pumpkin pie spice from whole spices are fantastic. You take control of purity, quality, and quantity. The results are very likely standing ovations from your guests, but the control over your kitchen and what comes out of it is really all yours!
Of course, making your own pumpkin spice blend from the ground up will require a bit more time and effort, but isn't that what the holidays are all about?
You'll need to prepare for a quick shopping trip to get a hold of these whole spices. Get ready, because you are about to kick your flavor into high-gear. Making your pumpkin pie seasoning from whole spices is the flavor equivalent of a bolt of lightning baking your pumpkin pie!
These conversions just might come in handy…
1- 3" cinnamon stick (2 grams)= is about 1.5 teaspoons ground cinnamon
1 teaspoon ground cloves (2 grams) = is about 16-18 whole clove seeds
1 teaspoon ground allspice (2 grams) = is about 30-32 whole allspice berries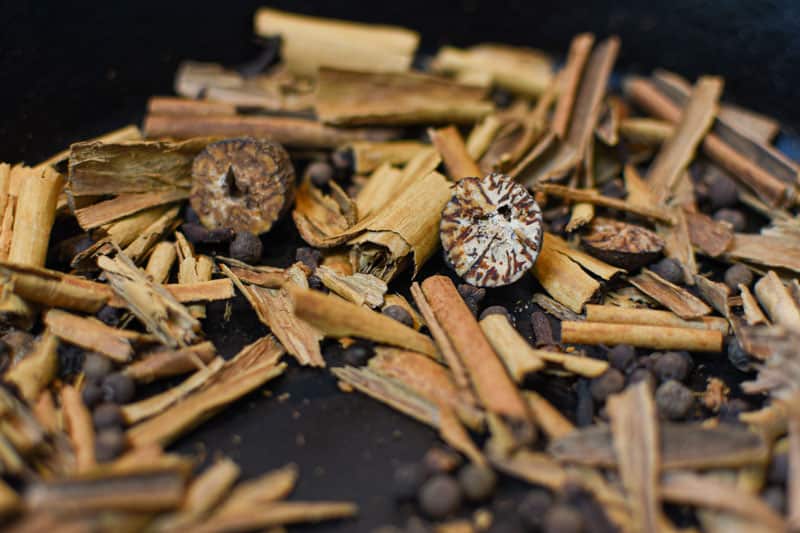 Making Your Own Pumpkin Pie Spice Mix vs. Buying It
If you're taking the time to read this article, and have made it this far, you obviously want to get a leg up on your culinary skills, and make your seasonal foods and drinks that much more special. Of course, you'll have done it for yourself, but the kudos from your guests will make all the effort, that much sweeter.
Making pumpkin pie spice at home takes time and effort yes, but in exchange for your troubles you will have something that's fresher, preservative-free, local and organic (if you use organic whole spices), suited to your palette, and just downright tastier! You can easily freeze any leftovers or give samples away to friends!
So which is better? Making it yourself or buying it at the store? I think we all know the answer to that one already!!!
Pumpkin Spice FAQs:
Is pumpkin pie spice and allspice the same? Pumpkin pie spice and allspice are not the same, however, allspice is a spice commonly used in pumpkin pie spice.
What can I use if I don't have pumpkin pie spice? If you are in need of a pumpkin pie spice substitute, substitute equal parts cinnamon in place of pumpkin spice called for in the recipe. Cinnamon will work in a pinch.
What is pumpkin pie spice made of? Pumpkin pie spice is a blend of cinnamon, ginger, nutmeg, allspice, and sometimes clove. There are many variations but these are the most common spices in pumpkin pie spice.
Can I put pumpkin spice in my coffee? You can put pumpkin pie spice seasoning in your coffee. Note that cinnamon is a fiber and will thicken any liquid you add it to– for one cup of coffee use 1/2 teaspoon or less of cinnamon.
Is pumpkin pie spice keto-friendly? Pumpkin pie spice is a keto-friendly seasoning blend used in a variety of sweets and desserts in the fall.
What is pumpkin spice good for? Pumpkin pie spice is quintessential for pumpkin pie but can also be used to flavor a variety of baked goods in the fall- from muffins and scones to cakes and cookies.
How much pumpkin pie spice do I use instead of individual spices? To use pumpkin spice instead of individual spices, add up the volume (likely, teaspoons) of individual spices and use that amount of pumpkin spice.
How many teaspoons are in an ounce of pumpkin pie spice? There are 6 teaspoons in 1 ounce of pumpkin pie spice.
Can I just use cinnamon instead of pumpkin pie spice? Cinnamon is an appropriate substitute for pumpkin pie spice; it doesn't have the aroma or depth of flavor equal to pumpkin spice but is a fair substitute.
Does pumpkin spice taste like pumpkin? Pumpkin spice mix does not contain any pumpkin nor does it taste like pumpkin. It is commonly used to flavor pumpkin desserts so we closely associate the two flavors.
How much pumpkin pie spice in 1 pumpkin pie? Recipes range from 1-4 teaspoons of pumpkin pie spice in 1 pumpkin pie. The amount you use depends on your flavor preference: use less for a mild-tasting pie, and more for a flavorful pumpkin pie.