Invite your Italian Grandma over so you two can drink wine and bake up a batch of this pumpkin ginger biscotti. Nothing says frost on your windshield like a hot cup of coffee and a few crunchy biscotti cookies. *Take a moment to biscotti cheers with your neighbor prior to dunking*
There may be satisfying amounts of pumpkin pie spice involved. There may also be a ginger drizzle involved. After all, biscotti is a cookie, right?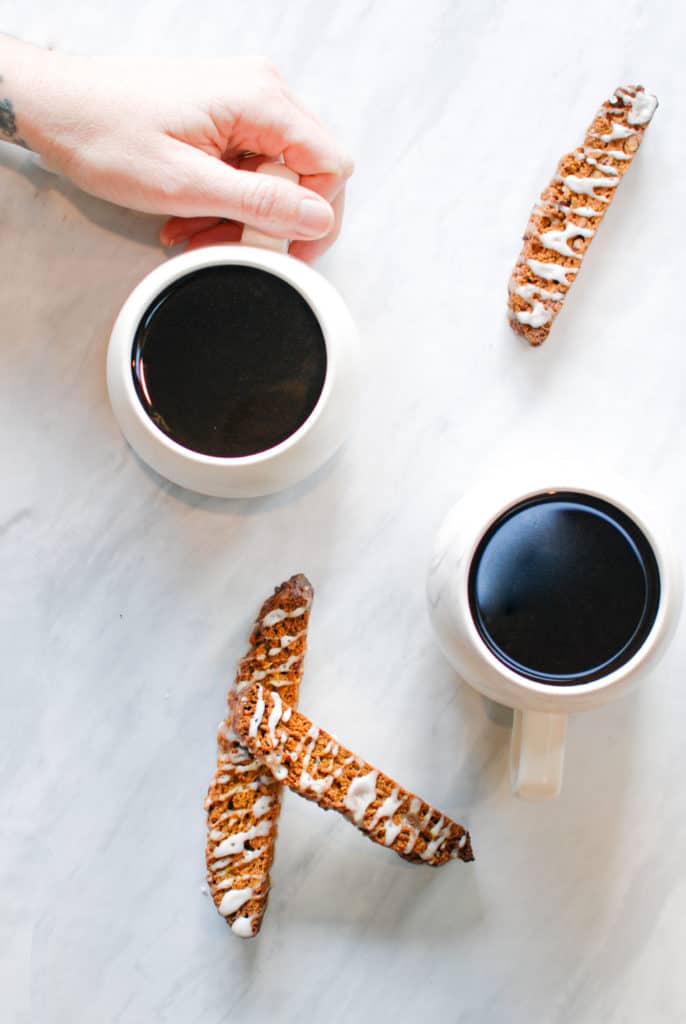 Let The People Eat Biscotti
The hands-on time required to make healthy pumpkin biscotti and the kitchen skills needed are pretty minimal, it's patience you truly need. TL;DR: Make and shape the dough, bake it, slice it, and bake it again. Sounds doable, right?
How to make biscotti? Biscotti dough is a classic: mix wet ingredients, mix dry ingredients, mix it all together situation. Easy as pie. The dough will be on the sticky side, this is okay as you don't need to work with it much.
The basic ingredients you need for pumpkin spice biscotti are:
canned pumpkin puree
all-purpose flour
sugar
butter/vegan butter
pecans
baking powder, salt, and spices
fresh ginger & powdered sugar (if drizzling)
See? You've got this! You're about to go pro and we are here for it.
Twice Or Thrice baked?
Biscotti means 'twice baked' but biscotti are actually thrice baked in most home kitchens! Who are you?! Why have you cast away tradition?! Hear us: To achieve that iconic biscotti dunkability the cookies need to be baked until very little moisture is present– this is why we love to dunk! A hard, crunchy biscotti can take anywhere from 50-70 minutes to bake, depending on humidity and temperature but trust us, it is worth it.
Here's what to expect when baking biscotti:
After making and shaping the dough, into the oven they go! The 1st bake is the longest and firms up the logs enough to slice them.
Next, the logs cool for 10 minutes and get sliced into individual biscotto.
All the precious little biscotti are placed on their side and 2nd bake commences! It's about 20 minutes.
For the 3rd and final bake, the biscotti are flipped and baked for an additional 20 minutes or until golden brown on the edges and crisp.
Depending on temperature & humidity in your kitchen, the biscotti may need another 5-10 minutes.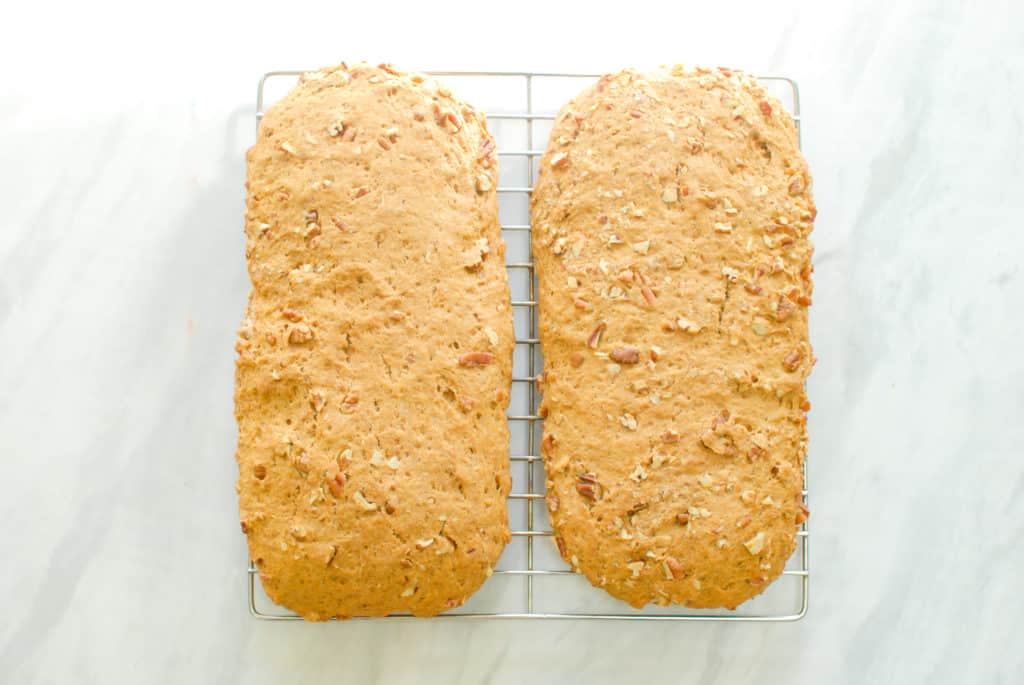 Let's troubleshoot crunch factor
Storytime: When we bake in the kitchen, we're always multitasking, baking/cooking several things at once, doing dishes, sweating, and generally making an unfortunately huge mess. The kitchen can become a hot, humid terrible environment for biscotti to reach prime crispiness.
When we make biscotti we let them cool in a different room. Ask your Grammie Nonna if they can cool in her room while she knits, okay? She might sneak a taste test but we'll allow it. The biscotti will absorb moisture from the air and in humid environments (like our kitchen) and they may never fully crisp up.
Speaking of crisping up… Follow these optional tips to ensure your biscotti have that crunchy crunch:
Place the smaller end pieces of biscotti in the center of your baking sheet and the larger or thicker pieces on the edges! The perimeter of baking sheets get hotter in the oven.
Don't crowd a baking sheet. Use 2 baking sheets. Biscotti have boundaries too.
After the 3rd bake keep the oven on and let the biscotti cool in Nonna's room. In 10 minutes check on them. If they still feel flexible or semi-soft, place them back in the oven for another 5-10 minutes.
To help guarantee crisp biscotti, once you know they are firm place them back in the oven after it's been turned off. Let them hang out in there until the oven fully cools. They will become super crispy, but won't burn at the low heat. (This is our 100% go-to method!)
Don't bake the biscotti standing up as some recipes call for. We tried this several times– the bottom burns before the cookie dries out! Flipping them from one side to the other really helps crisp them up.
The first time we baked biscotti we were stunned, sitting, sweating and staring at the oven like WHEN?! How much longer?! Why is it taking forever and a day?! It's okay. If you rush it the biscotti won't be as good!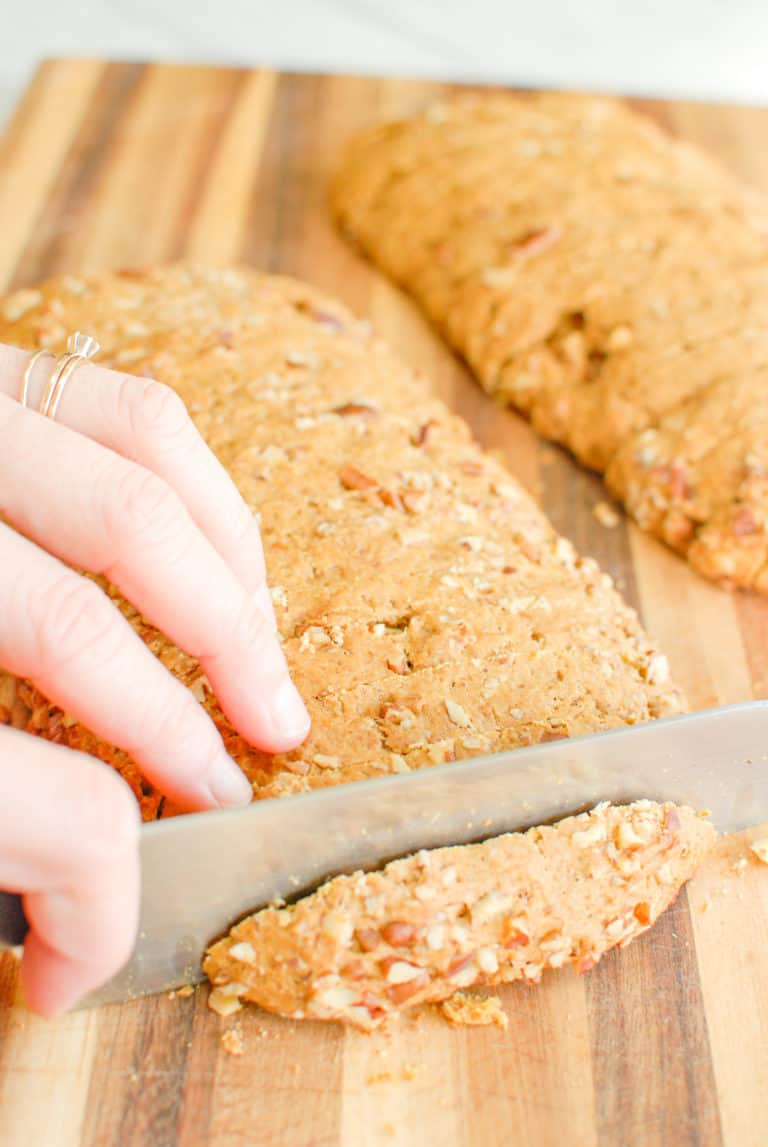 How To Slice Biscotti Without Crumbling
Oh dear, the dreaded biscotti crumble. You don't want granola! You're here for long slender, dippable cookies! Nothing says heartbreak like a pile of rubble instead of a pile of cookies. We're gonna get through this….
First off, don't overmix the dough. When the ingredients are combined and you no longer see specks and spottings of flour– you are all clear! Overmixing the dough can incorporate too much air and lead to larger cracks (and more of them!) on the surface of the logs.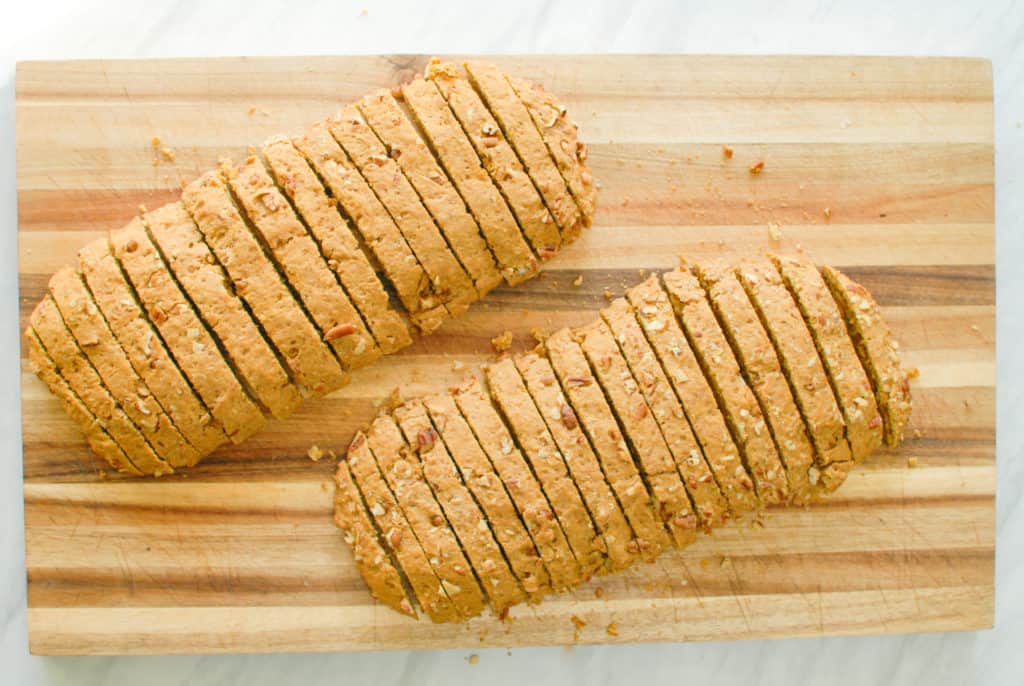 Next, if using chopped pecans or chopped dried fruit ensure the pieces of fruit and nuts are small. When you slice the logs into individual biscotti you need to cut through all these mix-ins!
If it's your first time making biscotti and you want a no-fuss, gorgeous end result try leaving the pecans out. We tested this and it is far easier to slice. Baby step your way to biscotti master.
Additionally, we like to use two different knives to slice biscotti. Use a serrated knife to map out all your individual cookies, only slicing about 1/4-1/2 way through the biscotti. Then follow up with a SHARP chef's knife and chop those cookies up. Why? A serrated knife is great at piercing the surface layer without smashing it and a chef's knife is great at chopping through pieces of nuts and fruit! This is totally optional and totally extra so don't sweat it if you aren't up for it!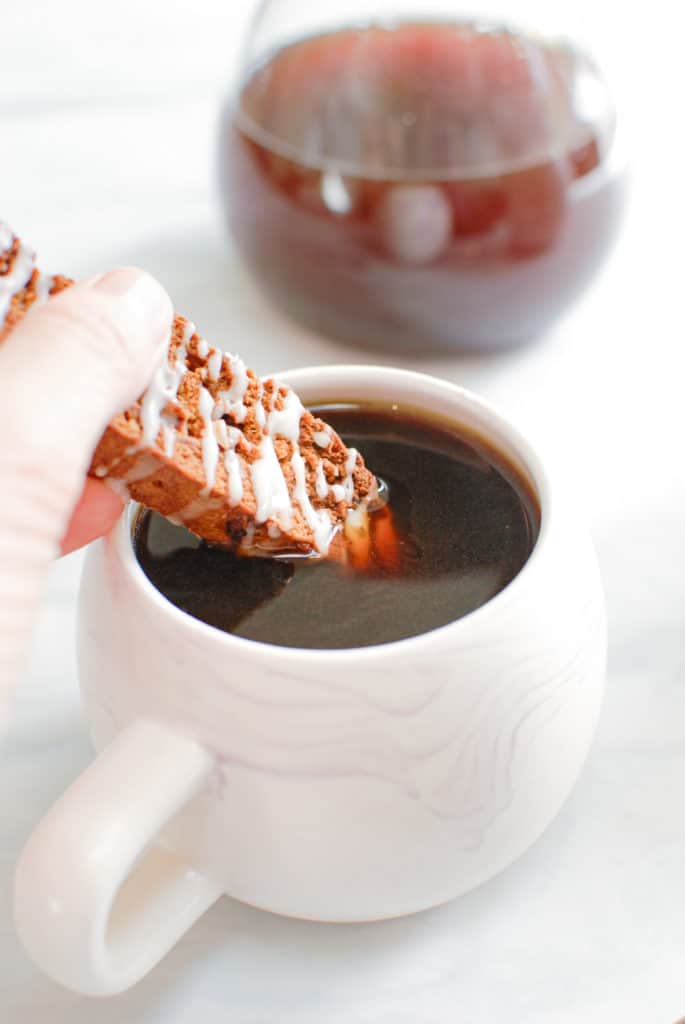 How To Serve Biscotti
When we think of biscotti, we all envision a cup of coffee on a tea saucer with a biscotti about to get dunked and devoured. Yes, this is one way to eat biscotti but we've got a few more tricks up our sleeves!
Biscotti are a great textural component to dessert! Serve up a bowl of ice cream or gelato with a few biscotti pieces.
You can also use biscotti in place of granola, crumbled into morning yogurt or smoothie bowls!
Adding The Ginger Drizzle
This drizzle is a typical powdered sugar icing but with a zippy ginger twist! Use a 3-4″ piece of peeled ginger to extract the juice to flavor the icing. Shred the ginger with a Microplane or a fine grater, squeeze the juices, and discard the pulp. The pulp will prevent the icing from fully setting.
It's also important to sift the powdered sugar after measuring and to only add as much water is needed to reach a drizzly consistency.
Dip a spoon into the icing and quickly work back and forth across each biscotti. The thinner the icing is, the faster and harder it will set.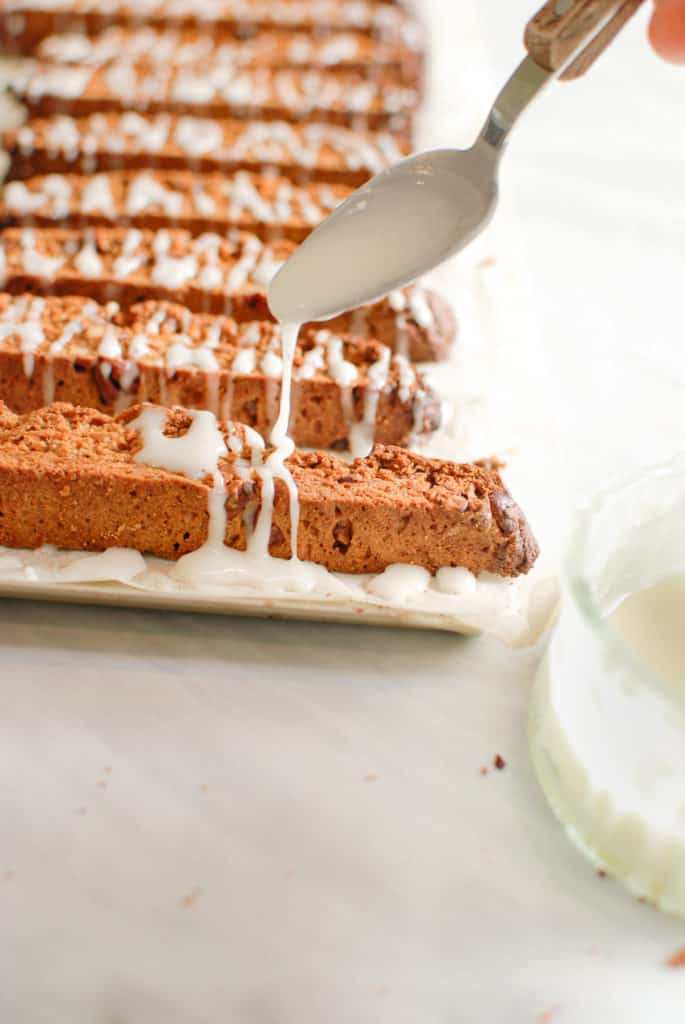 Pumpkin Biscotti FAQs
Why is my biscotti soft? The biscotti were not baked long enough, were stored in a humid environment and reabsorbed moisture from the air, or they have simply been stored too long. Re-crisp biscotti by baking them for ~10 minutes in a 350* oven.
How long do homemade biscotti keep for? Homemade biscotti keep for up to 1 week in an airtight container.
Why does my biscotti crumble when I slice it? Biscotti can crumble when slicing if there are large pieces of nuts or dried fruit, if the 1st bake was too long, or if the 1st bake was too short.
Should biscotti be dunked? Yes, these cookies are very crunchy and very dry as they are intended to be dunked in tea or coffee!
What is one biscotti called? One biscotti is called 'biscotto'!
Print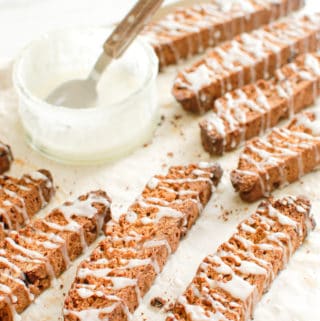 Pumpkin Ginger Biscotti
Author:

Adriana

Prep Time:

15 minutes

Cook Time:

90 minutes

Total Time:

1 hour 45 minutes

Yield:

32

biscotti

1

x

Category:

Recipes

Method:

oven

Cuisine:

Pumpkin
---
Description
Pumpkin spice biscotti are here to help you celebrate the season of fall! These healthy biscotti are vegan and the ginger drizzle is beyond words AMAZING! Your weekend forecast calls for a slow morning with hot coffee and crunchy biscotti!
---
Dry Ingredients
2.5 cup

flour

1/4 cup

cane sugar

1/2 cup

brown sugar

2 teaspoon

baking powder

2 teaspoon

salt

3/4 cup

pecans, finely chopped for best result

3 teaspoon

cinnamon

3 teaspoon

ginger powder (optional, ok if you don't have it)

1 teaspoon

nutmeg

1 teaspoon

allspice
Wet Ingredients
1 cup

pumpkin puree

1/2 cup

vegan butter, melted

2 teaspoon

vanilla extract
Ginger Drizzle
1.5 cup

powdered sugar, sifted after measuring

1 tablespoon

+

1 teaspoon

water

1 tablespoon

ginger juice (about 3″ of ginger, shredded on a microplane and juices squeezed from pulp)
dot of salt
---
Instructions
Add all dry ingredients to a mixing bowl. Misk well with a whisk to ensure baking powder incoporates throughout.
Melt butter, & remove from heat. Mix with pumpkin puree and vanilla extract, and add to dry ingredients.
Mix just until the flour is incorporated, and no white speckling remains. Try not to overmix. The dough will be sticky.
Divide dough into 2 portions, we use a kitchen scale to ensure they are equal size and equal baking time.
Place onto a parchment lined baking sheet, form into rectangles. Our rectangles we roughly 9.5″ long x 4.5″ wide X 3/4″ thick. This is an estimate.
Ensure there is space between the two rectangular patties as they will spread during baking.
Place in a preheated 350* oven and bake for 35 minutes.
Remove from oven and cool for 10 minutes, preferrably on a wire rack.
Once cooled for 10 minutes, slice into individual biscotti. The thicker the biscotti, the longer they'll need to cook. Too thin and they will fall apart. 1/2″ slices are perfect. As the recipe notes state, we like to make slices with a serrated knife, then chop with a sharp chef's knife to cut through the pecans without crumbling. Read the post for more tips on preventing crumbling!
Place on cut sides, back onto a baking sheet, lower the temp to 325* and bake for 20 minutes.
Flip and bake another 20 minutes. Turn off the oven and leave biscotti until oven cools for maximum crunchy, crispy biscotti. The biscotti will be dark brown with darkened edges, and won't feel flexible if you hold one in two hands and try and bend it.
If the slices are too thick and are not firm when done, simply bake an additional 5-10 minutes and check again.
For the ginger drizzle, run a 3″ nub of ginger on a zester or microplance. Gather the pulp and squeeze out the juice. You could wrap it in a tea towel, but placing it in your hand works just fine. Measure 1 tablespoon of the juice only– this is important for the icing to set and harden!
Add 1.25 cup of powdered sugar into a sifter and sifter into a mixing bowl– this is important for the icing to harden! To this add the tiniest dash of salt, the ginger juice, and 1 teaspoon water. Whisk together.
Pull the whisk out of the mixture. if the icing is too thick, thin with water .5 teaspoon at a time, fully mixing and testing prior to adding any more liquid.
Drizzle over biscotti once they are fully cool.
Store in an airtight container, will keep crisp up to 5 days.
---
Notes
** Finely chop the pecans to avoid biscotti crumbling when you try to cut them. Also, don't let the biscotti cool completely prior to cutting.
** The ginger drizzle is optional but really sets things off! This will make about 1/2 cup of icing, you will only need 1/4 cup or so for all biscotti. You can freeze the rest for use later!
** Read the full post for all the tips on making biscotti if it's your first time, biscotti requires patience to achieve the perfectly shaped, perfectly crisp dunkable cookie we know and love!
** Traditional biscotti have eggs, which help the biscotti crisp up and hold shape without adding much moisture.
Keywords: Fall recipes, pumpkin recipes, biscotti