Three cheers for pumpkin queso, our favorite savory pumpkin dip! Pumpkin queso is truly one of our favorite vegan pumpkin appetizer recipes as it is vegan, gluten-free, and a snap to make!
Call your friends over, Cinderella, ask them to bring the chips! We're doing more with pumpkin than the standard pumpkin pie spice recipes… When the clock strikes midnight we're feasting on pumpkin all night long!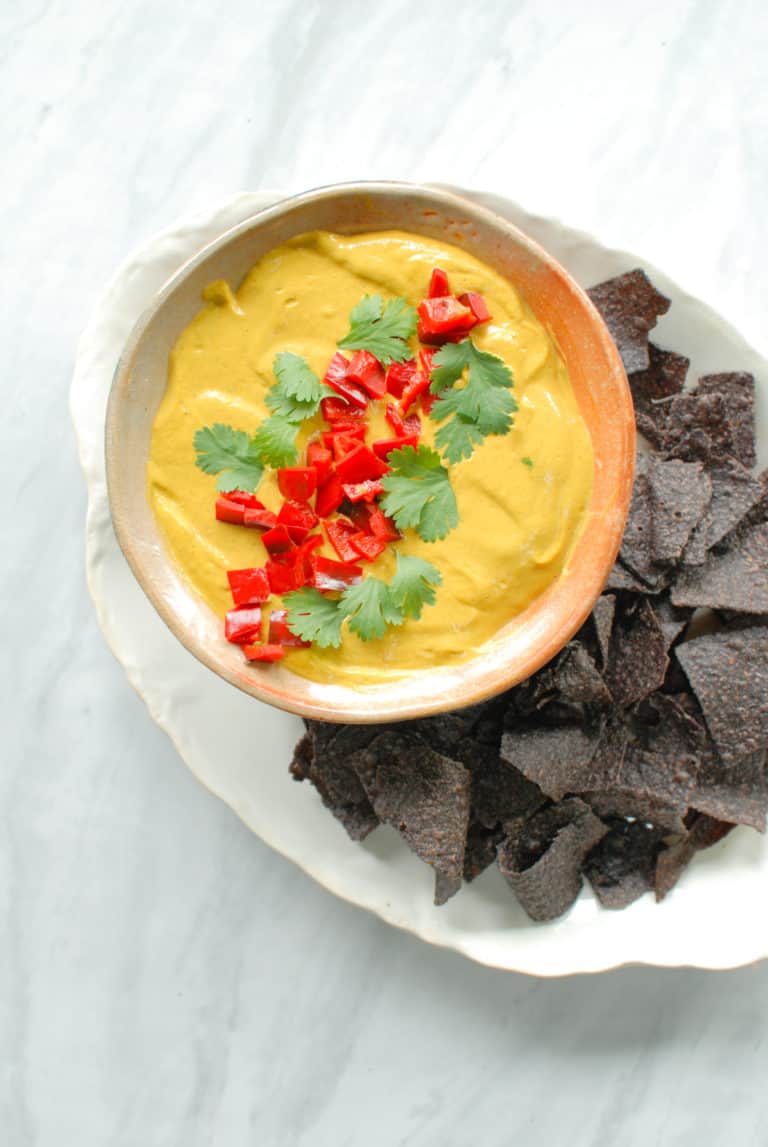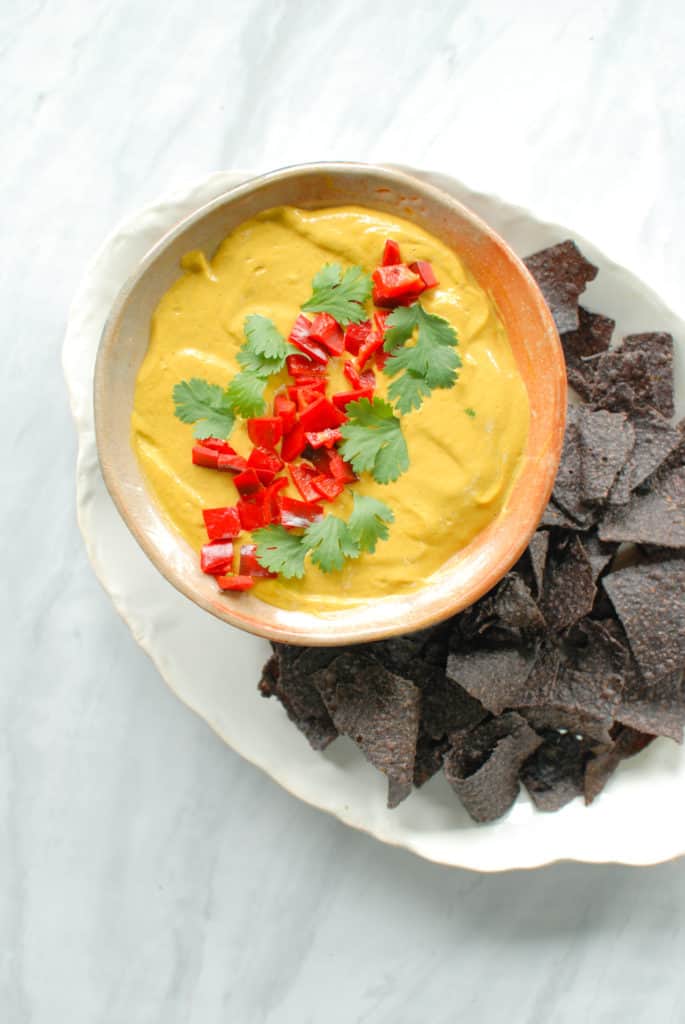 On Making
While you can roast and use fresh pumpkin for this dip, we're going for canned! The simplicity of canned pumpkin for making sides and savory pumpkin recipes just can't be beaten!
This vegan pumpkin recipe is a gem because it not only hits on those fall feels we all get this time of year but it also complements taco night– which is on regular rotation at our house.
The only real work involved in making this dippable queso is roasting the peppers for that desirous smoky flavor. With a gas stovetop it's easy to flame 'em up right there using tongs and being careful but roasting in the oven or under the broiler works just fine as well.
Everything goes into the blender and abra-cadabra, you've got yourself a tasty pumpkin appetizer! Tidbit: We don't even heat this up on the stovetop, we blend it for 3-4 minutes to heat it up. Lazy or innovative? Fine line, but we're walking it.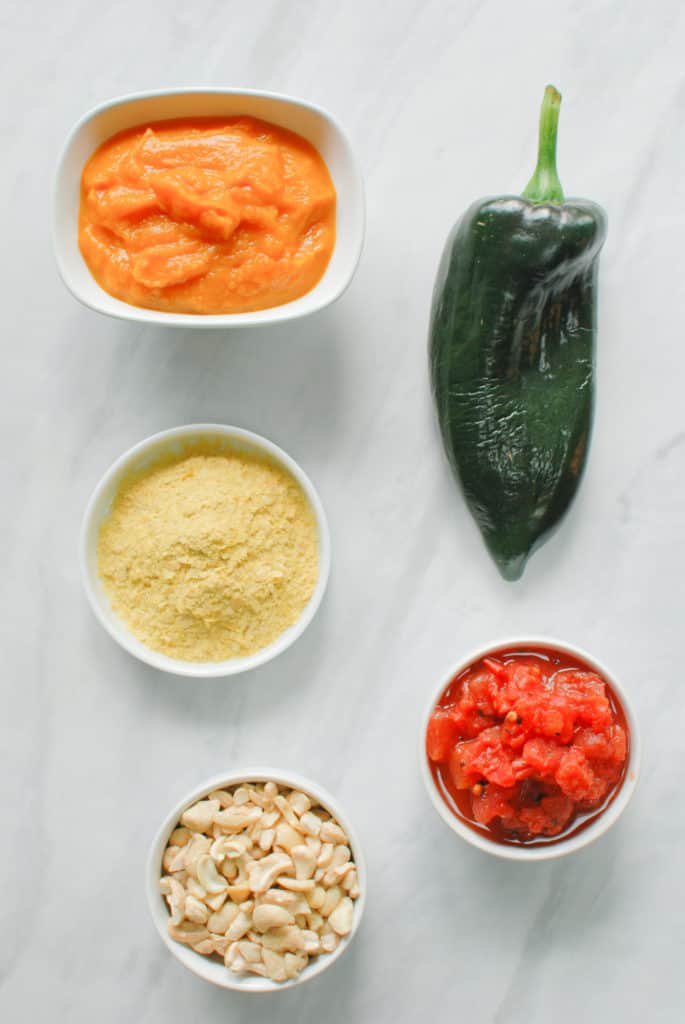 Variations To This Recipe
This recipe is a great base for your holiday eating and entertaining. We have played around with this recipe a lot and we have some suggestions to kickstart your creative flow…
Add curry paste for curried pumpkin queso!
Add a jar of salsa in place of the diced tomatoes!
Use this in a vegan layered dip, black beans, salsa, guacamole, and corn! Viva Pumpkin Queso!
3 words: Pumpkin mac & cheese!
There are nuts in this recipe as-is, to make this pumpkin queso nut-free replace the cashews with hemp seeds or 1/2 cup steamed cauliflower!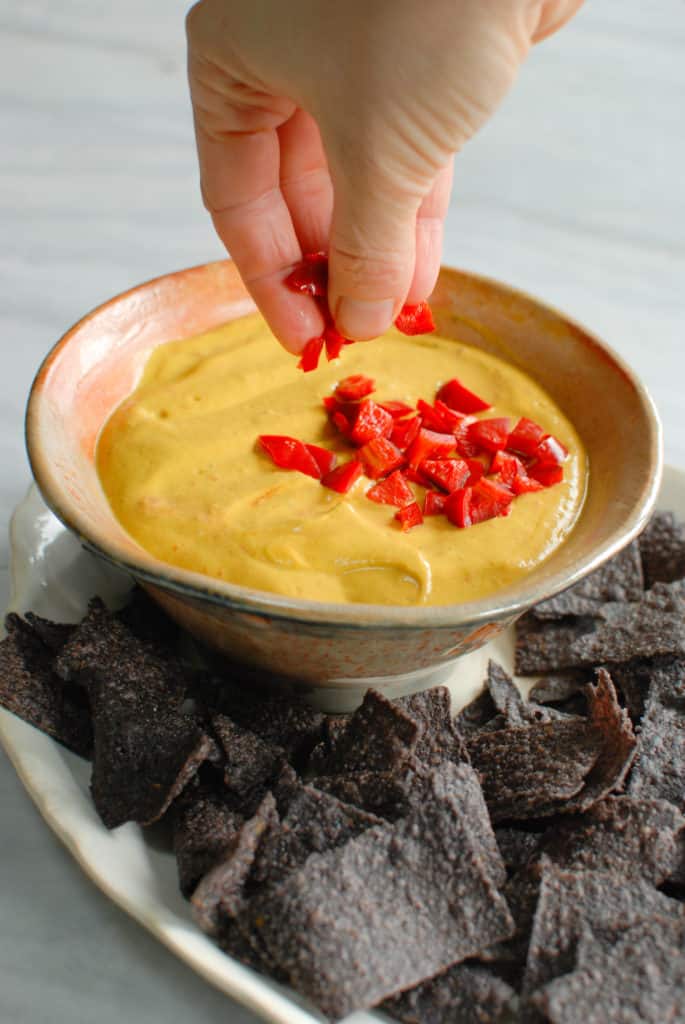 Does It Taste Like Pumpkin?
Your question is valid. Does it taste like pumpkin? Most pumpkin recipes and dishes don't have a strong pumpkin taste. Can we say this pumpkin queso has a pumpkin bassline? Pumpkin is present, but it isn't overpowering.
Storytime: My brother stopped by as I was getting ready to shoot this recipe and this queso was on the counter, in a bowl with chips next to it. He didn't know what it was, he just assumed hey, we're here to eat. He is the ultimate dude, works in construction, and wants nothing to do with pumpkin-spice-anything season and he was noshing on this pumpkin queso.
Pumpkin queso passed the test y'all.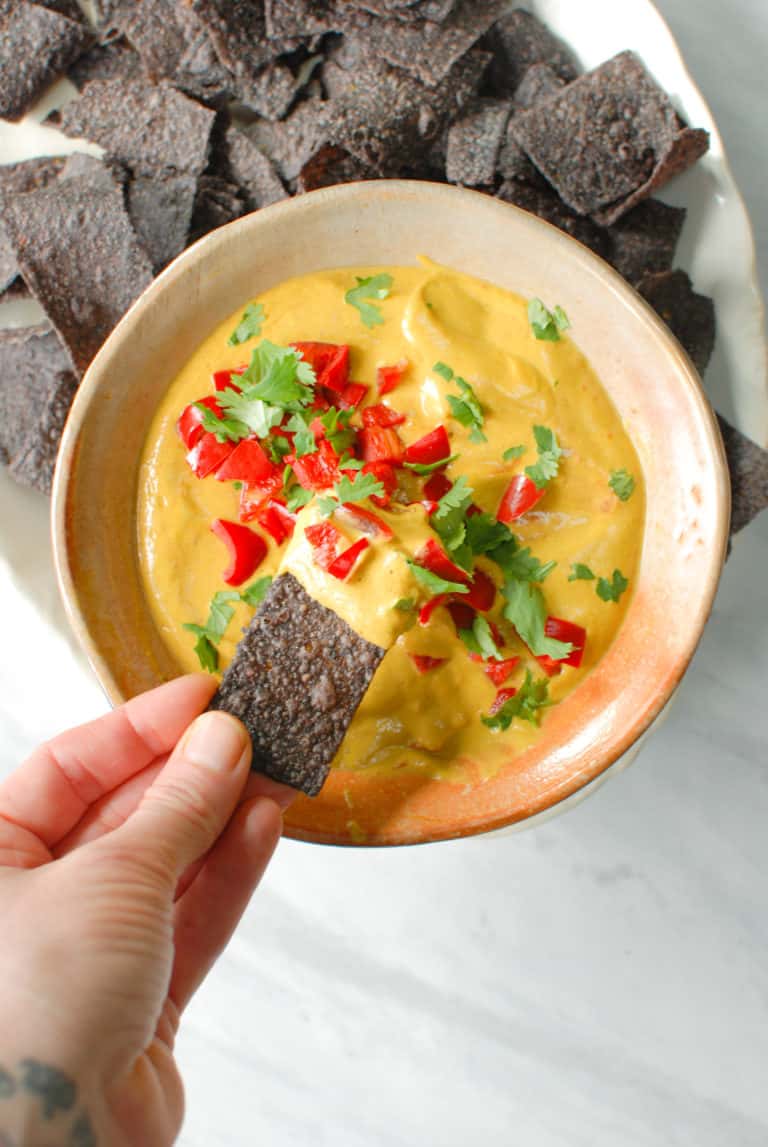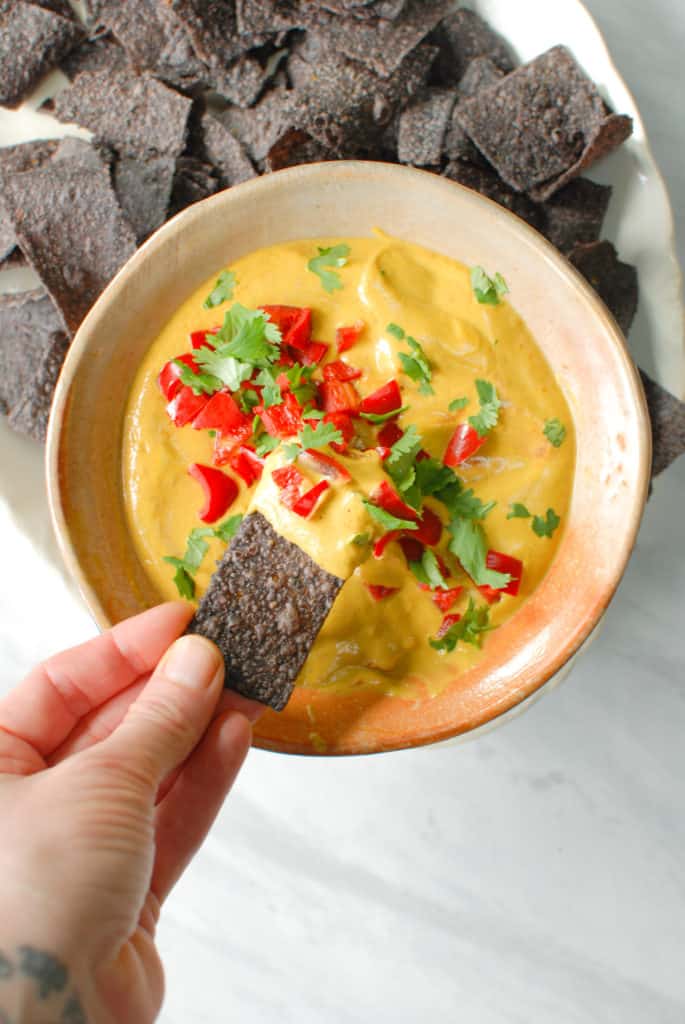 Savory Pumpkin Dip For A Crowd
Let's touch on how to serve this savory pumpkin dip for a crowd. This dish works perfectly set out with tortilla chips or crackers for dipping. For a healthy pumpkin dip, you can skip the crackers and opt for fresh veggie sticks instead. Pumpkin queso is truly a crowd-pleaser as it is a vegan and gluten-free pumpkin recipe!
We're here for the creative pumpkin recipes you can use in oh so many ways. This would be great as the sauce on tacos for maximum fall feels. Or use this as a sauce in lasagna! Use it as a sauce for pasta! We'll say it again: turn this into pumpkin mac and cheese. Mic drop.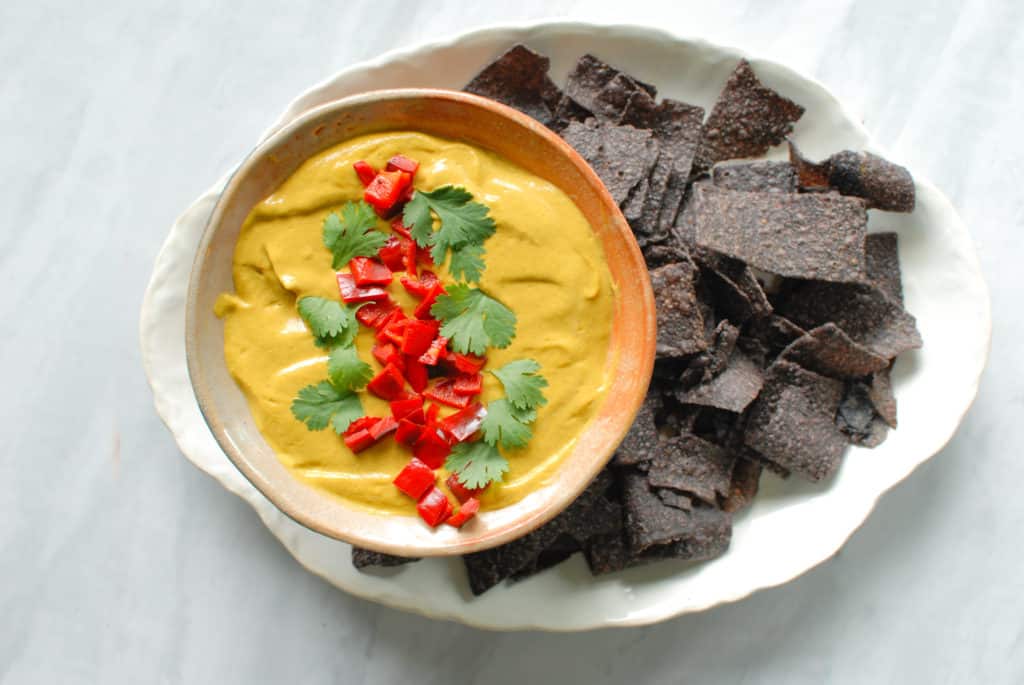 Pumpin Queso FAQs
Does this taste like pumpkin? This recipe has a mild pumpkin flavor, without the herbs and spices you can taste the pumpkin more.
Can you make this with fresh pumpkin? Yes, you can roast and scoop the flesh of a fresh pumpkin to make this.
How long does this last in the fridge? This recipe lasts for about 5 days in the fridge.
Can I make this ahead of time? Yes– this keeps very well for 3-5 days. You may need to add a bit of water to thin the queso when you reheat it!
Can I use regular cheese instead of nutritional yeast? Yes, if not vegan swap the nutritional yeast for cream cheese or shredded cheddar/Monterey jack cheese!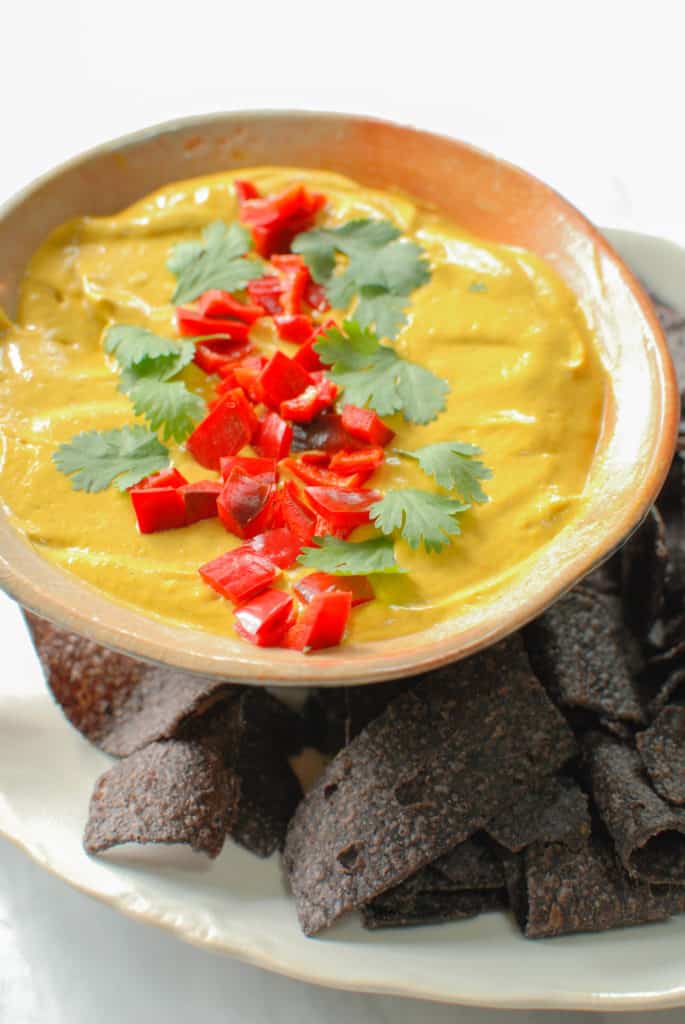 Print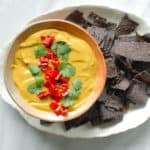 Pumpkin Queso Dip
Author:

Adriana

Prep Time:

15 minutes

Total Time:

15 minutes

Yield:

3.5 cup

1

x

Category:

Recipes

Method:

Oven

Cuisine:

Vegan Cheese, Pumpkin
---
Description
Hi fall, here's a healthy and savory pumpkin dip we lovingly call pumpkin queso! This recipe makes enough dip for a crowd so it's perfect for your fall gatherings. BONUS: This is a 1 dish event, whizz it all up in your blender! 
---
1 cup

pumpkin puree

1 cup

cashews

1 cup

diced tomatoes including their juices, fire roasted is best

3/4 cup

water

1

poblano pepper, roasted and peeled (or sub hatch green chiles)

2

–

3

teaspoons chipotle peppers in adobo sauce

2 tablespoons

apple cider vinegar

2 teaspoons

salt

1/4 cup

nutritional yeast
---
Instructions
First, roast and peel the pepper. If you have a gas cooktop, simply flame roast it otherwise set it under the broiler for 3-7 minutes, flipping and watching carefully.
Place the pepper on a cutting board and cover with an upside down bowl.
Next, measure out all ingredients and add to blender.
Use a fork to scrape the skin off the roasted pepper. Destem and deseed the pepper and add to blender.
Blend for 1 minute, stopping to scrape down the sides. We usually blend for another 2 minutes so we don't need to heat on the stovetop!!! Up to you.
Garnish with chopped peppers, cilantro, or toasted pumpkin seeds!
---
Notes
** When we tasted, we added another teaspoon salt! ** If you like spicy, add more chipotle sauce. If you don't have a can of chipotle peppers in adobo sauce handy, opt for sambal olek (chili garlic sauce). ** This is a great pumpkin appetizer to make in advance if you are hosting guests. May need to add a touch of water to thin the dip out when reheating.
Keywords: Vegan Cheese, Pumpkin Recipes