Siiiigh, pesto. Pesto is feelings and thoughts and emotions disguised as a glossy green sauce. It's your warm bed on a cold morning. Or your S.O. loving you even more after seeing you in your old, ratty PJs and too large a glass of wine after a bad day.
Pesto allows you to feel like a kid again, drop the woes of adulthood, and only think of the delicious meal you're about to enjoy.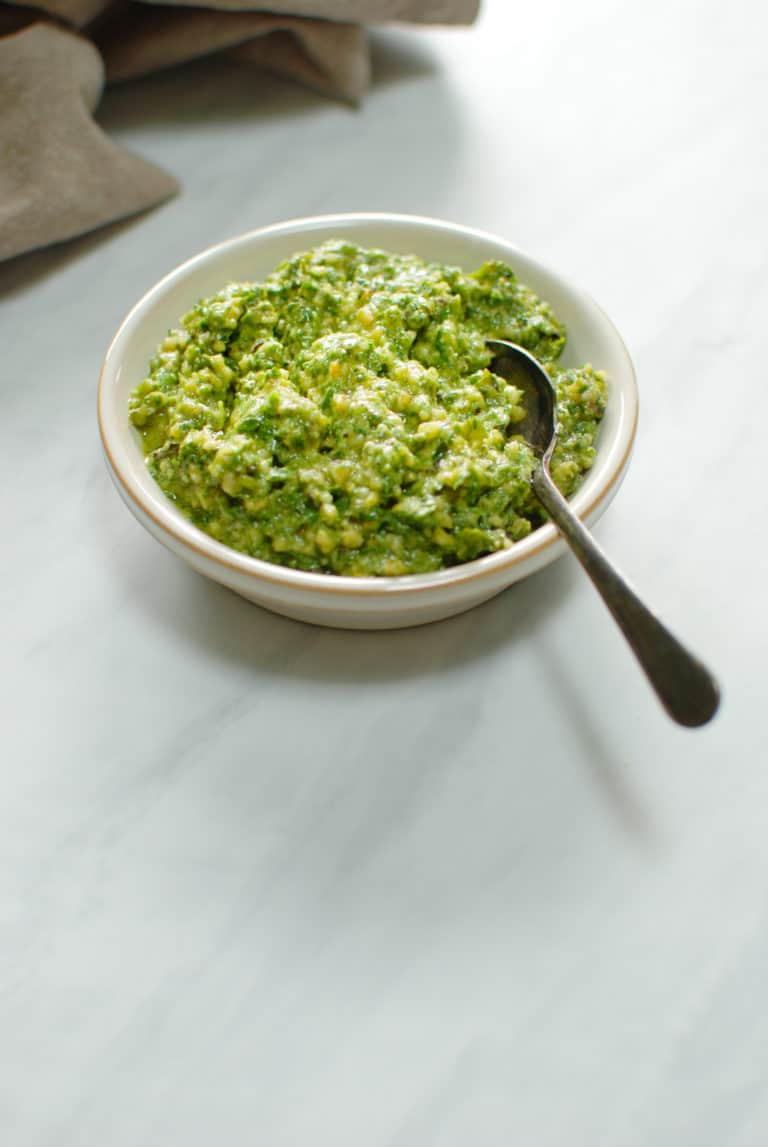 Basic Ingredients In Pesto
The bright, basil flavored pesto we know and love has 7 ingredients that come together in perfect harmony to create this versatile and irresistible sauce. We aren't adding anything additional in this roasted garlic pesto, we're simply changing the taste of the garlic. Before we get there, let's detail the usual suspects present in pesto across kitchens.
Basil: This leafy green herb is incredibly fragrant and flavorful. Basil can showcase a wide variety of flavors including: grassy notes, licorice, lemon, clove, cinnamon, mint, oregano, floral, perfumey, sweet, peppery, bitter, bold, and root beer. Confused? We'll jump into the types of basil available at most grocery stores in a bit. Not a fan of basil? Try this oregano pesto!
Olive oil: Olive oil is the carrier that makes everything creamy, fatty, and delicious! High-Quality olive oil truly shines in homemade pesto, as most olive oils available on the market today are blends of various oils, leftover supplies from years prior, or heavily processed. We just tasted real, fresh olive oil for the first time last year– it's like nothing we've ever tasted! Grassy, peppery, spicy, and bitter! Thanks for coming to our Ted Talk, we'll leave this here if you're interested in learning more about olive oils for sale in the US.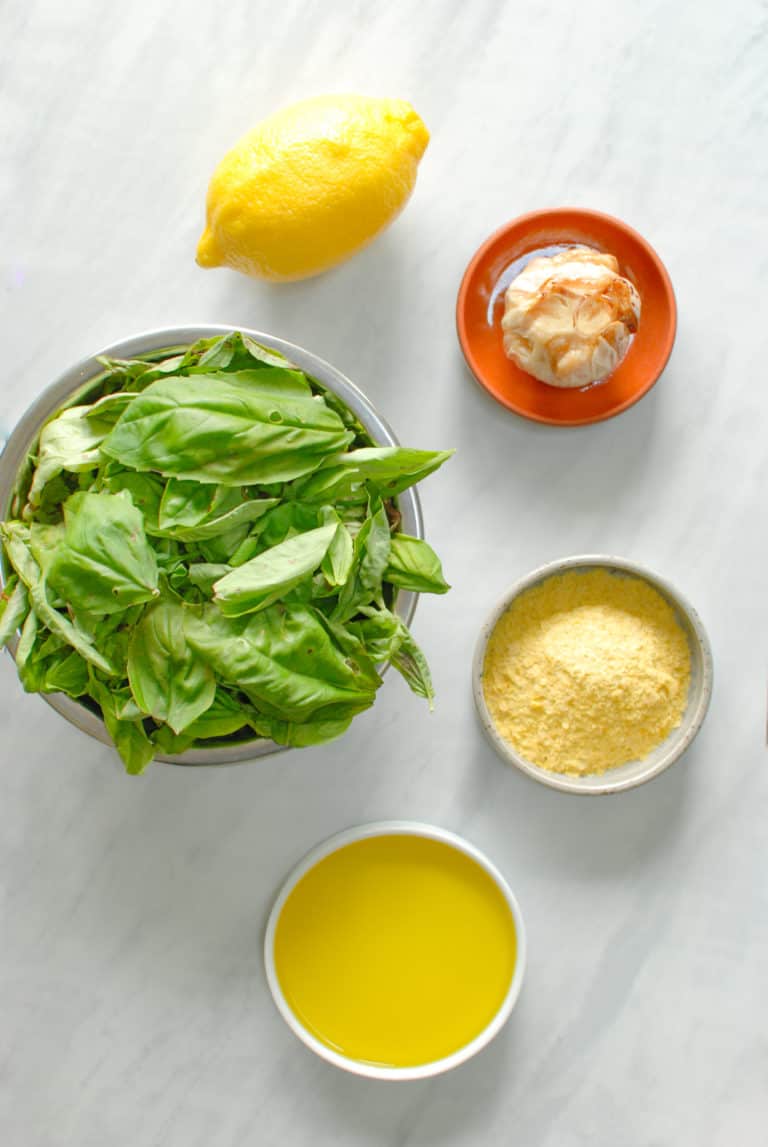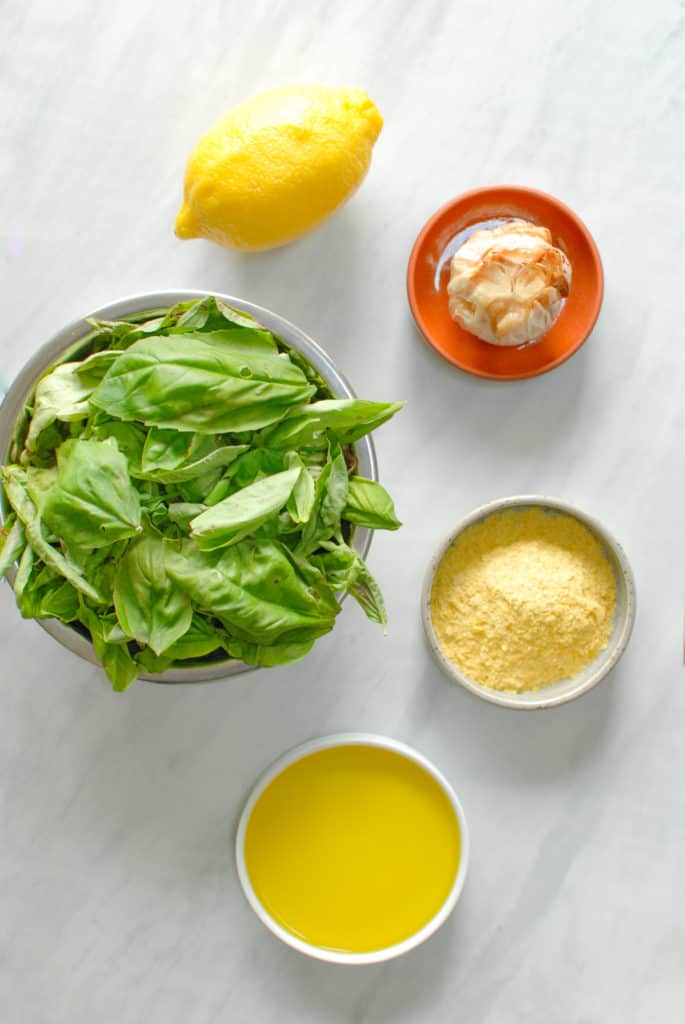 Cheese: Parmesan, Romano, Pecorino, or nutritional yeast if vegan. The cheeses used are aged, hard cheeses that provide fat, flavor, saltiness, tang, and aroma. Think of parmesan cheese, it's kinda tangy (acidic), kinda salty, and kinda funky (the fermenty taste)! In vegan pesto recipes miso can provide the tangy, fermented flavor and nutritional yeast offers the salty, cheesy flavor. Needless to say, cheese adds a complex and multi-dimensional flavor to pesto!
Lemon: If you've got a soft spot for lemon, you should definitely give Meyer lemon pesto a try. !Que Magnifique! Lemon adds acid to pesto and works to balance out the fats from oil and cheese. Fresh lemon juice really brightens things up, it's like Prozac for pesto. Lemon also helps to mellow the raw sharp bite of raw garlic!
Nuts: Pine nuts are the route of tradition. Pine nuts are also incredibly expensive and can be difficult to come by. Walnuts, almonds, and macadamia nuts are great substitutes. The nuts used in pesto can be raw or roasted, with roasted nuts adding a much deeper, smokier, nuttier flavor!
Garlic: Garlic adds a bite, something sharp and nosey. Garlic can be bitter, sulfury, tongue-burning, and completely overpowering. Sometimes raw garlic has an intensely sharp bite… that's why today we're making roasted garlic pesto!
Salt & Pepper: Salt enhances the flavors of all ingredients, and pepper adds a touch of heat. In the mortar and pestle days, coarse salt would aid in the process of breaking down the basil.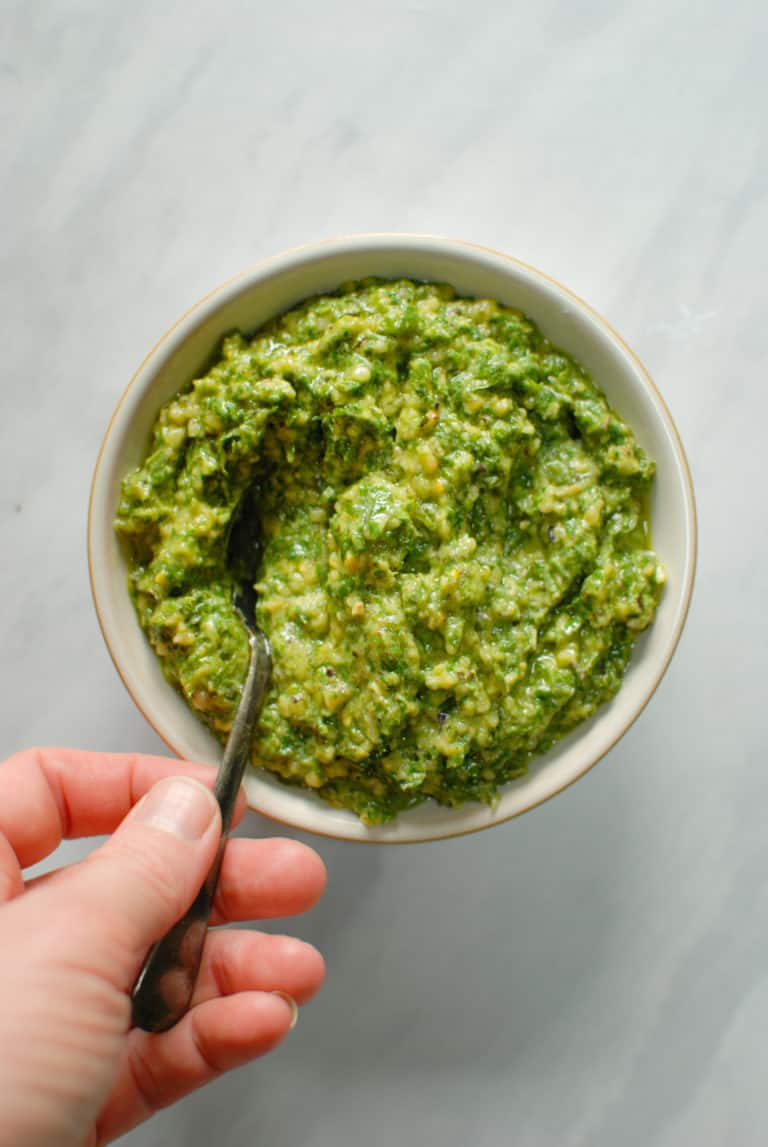 Food Processor Or Blender?
Time to whip up this homemade pesto sauce! At home, you can use a blender, food processor, or a bullet blender to make pesto very quickly. Of all the kitchen appliances we have tried, we favor our food processor to make vegan pesto.
Here's the thing, many high powered blenders have a minimum capacity in order to reach a smooth, blending consistency. In our Vitamix, we need to make about 2 cups of pesto (double this recipe) for the blender to work catch the ingredients and properly blend everything together.
A food processor is more powerful than most bullet blenders and is better able to finely chop the nuts.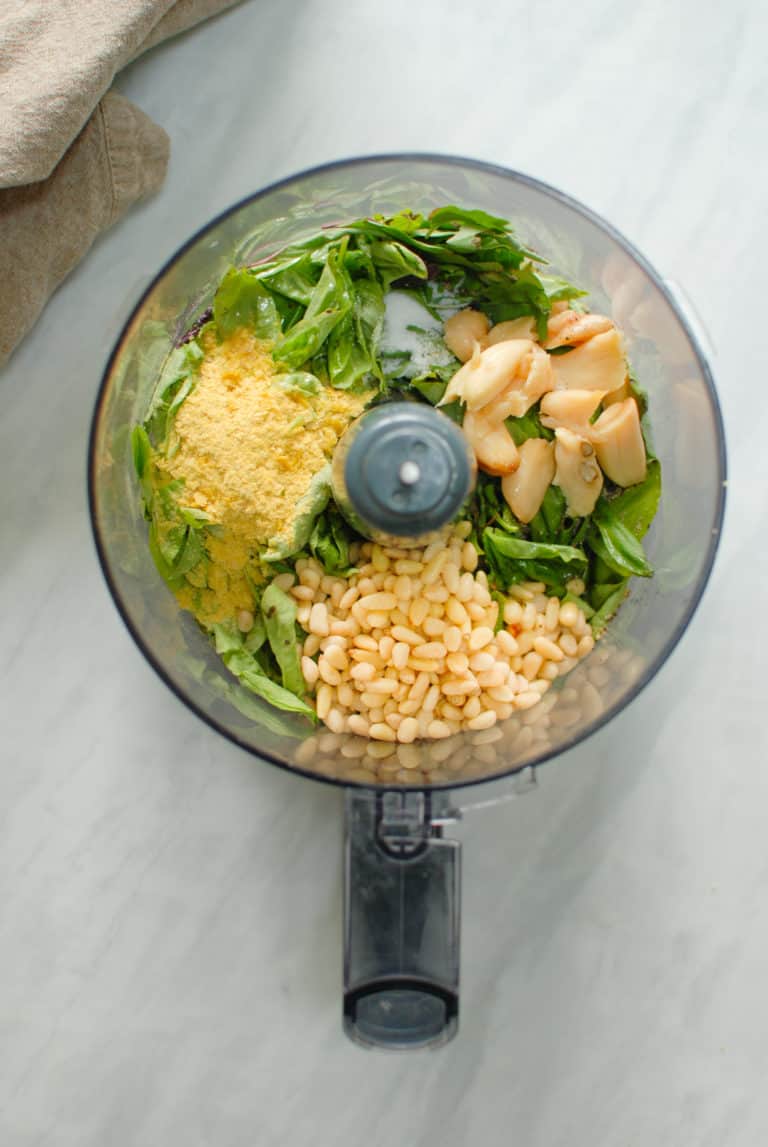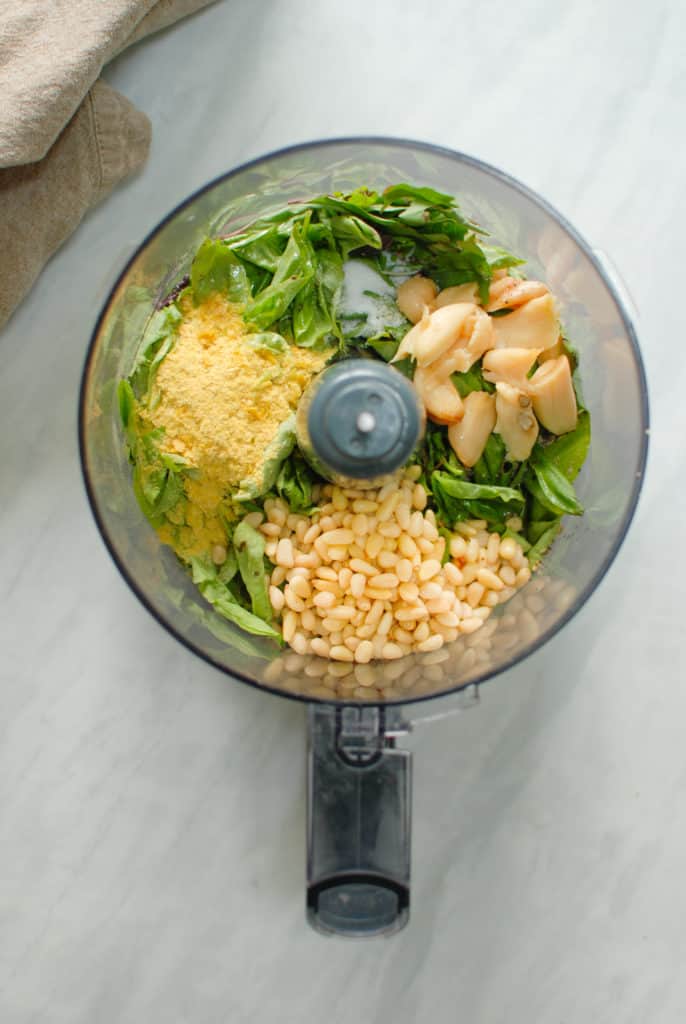 Storytime: Different Types Of Basil!
Sweet Basil: This is widely available at stores in the PNW. It's bright green, sweet and perfumey. Sweet basil has both good flavor and good aroma and will make a great pesto.
Genovese Basil: This makes the best pesto! Genovese basil tastes similar to sweet basil varieties available but with a stronger, deeper flavor. Genovese basil has a more complex flavor and definite hints of anise (licorice), mint, and pepper. Grab this if it's available!
Thai Basil: Thai basil is less sweet and has more clove-heavy notes, more cinnamon notes, and an overall 'warmer' aroma and taste. Thai basil leaves are smaller than sweet or Genovese basil, and the leaves of Thai basil are thicker. The flavors of Thai basil are more resilient also; use this if you plan to cook with basil.
Dark Opal Basil (Purple basil): This is less sweet-smelling and tasting, and we think it's prone to cause bitter-tasting pesto. Purple basil isn't as flavorful or aromatic and it creates a muddy colored pesto.
On Roasted Garlic
Raw garlic has a sharp, peppery, nasally bite. Roasted garlic is mild, creamy, sweet and complex. Question: Can you imagine eating an entire clove of garlic? Answer: Yes, if it's roasted! We'll spread roasted garlic on crackers and eat it. It's that good.
To roast garlic place the entire head of garlic onto a piece of aluminum foil, drizzle with olive oil and salt, and bake for about 45 minutes. If you slice the top of the cloves will be very easy to remove without peeling.
If you don't have aluminum foil or don't want to use it, you can place a small oven-safe bowl upside down over the garlic to roast it.
A variation you can make from this roasted garlic pesto is adding 1 clove of raw garlic to the mix. You will be able to taste the entire scale of garlic flavors, the deepest notes and the highest-pitched.
Print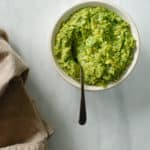 Roasted Garlic Pesto
Author:

Adriana

Prep Time:

10 minutes

Cook Time:

45 minutes

Total Time:

55 minutes

Yield:

~1 cup

Category:

Recipes, Sauces

Method:

Oven

Cuisine:

Italian
---
Description
Here's a twist on traditional pesto- instead of using raw garlic, use roasted garlic to make this roasted garlic pesto! It has a deeper, more complex flavor and lacks the sharp bite garlic can sometimes deliver. Use it as you would your favorite pesto!
---
2 cups

packed basil leaves

1

head of garlic (

12

–

14

cloves)

1 tablespoon

lemon juice

1/4 cup

olive oil

1/3 cup

pine nuts (or sub other nuts)

2 tablespoons

nutritional yeast OR

1/4 cup

grated parmesan if not vegan

1 teaspoon

salt
fresh black pepper
---
Instructions
Prepare the roasted garlic. Slice the top of the garlic head, drizzle with olive oil and a pinch of salt and wrap with aluminum foil. Place in a 350* oven for 40-50 minutes until soft and caramelized. 
Add all ingredients to a food processor, squeezing the roasted garlic into the mixture.
Pulse for 30-60 seconds, until a smooth texture is achieved.
Taste. Add more salt if the flavor is lacking, more lemon juice if the flavor is flat or bland, and more olive oil for a thinner consistency.
---
Notes
** This will keep for 7 days in the fridge. Roasted garlic pesto can also be frozen for up to 3 months!
** If you're roasting veggies or cooking anything savory in the oven you can easily roast a clove of garlic and keep it in the foil, in the fridge for several days prior to making this.
** If vegan, omit parmesan cheese and replace with nutritional yeast. 
Keywords: Pesto, Vegan Sauces, Roasted Garlic
Roasted Garlic Pesto FAQs
How to make pesto without oil? You can use 1/2 an avocado and 2-6 tablespoons of water in place of oil.
Why is my pesto turning brown? Pesto will oxidize and turn from a bright, cheery green color to dark, muddy green- just like guacamole does.
Do you have to toast pine nuts for pesto? No, regardless of the nut used to make pesto, the nuts can be raw or toasted.
Can you freeze pesto? Pesto freezes well for up to 3 months in an airtight container.
I don't have olive oil- Can I use a different oil? Avocado oil would work but olive oil is recommended for the best flavor.
Can I make this pesto without nutritional yeast? Yes, you may need to add more salt if you omit the nutritional yeast or cheese.
How long does pesto last? This keeps in the fridge for up to a week. Pesto freezes well- up to 3 months!
Do you eat pesto cold? Yes! One of the best qualities of pesto is aroma! If you heat the pesto, the basil flavor will remain but the aroma will fade.
Is pesto vegetarian? Yes, most pesto recipes are vegetarian.
Can you make pesto without a food processor? You can use a mortar and pestle or make this in a blender. To properly blend all ingredients you may need to double the recipe.
Can you make pesto without garlic? Yes, you can omit the garlic. You can also substitute garlic powder if you are out of fresh garlic.
Can you make pesto with dried basil? No, we do not recommend this. The texture, flavor, aroma, and consistency of pesto are all based on using fresh, leafy basil.
What makes pesto not vegan? Parmesan cheese is commonly added to pesto sauces, you can replace this with nutritional yeast.
Why is my pesto bitter? This can happen for several reasons, the culprit is usually basil! Some varieties of basil leaves are more bitter than others and off-season basil can have more bitter notes. If your pesto has a very bitter taste try adding more lemon juice (acid), nutritional yeast (flavor), or nuts (fat + flavor).
How to use pesto? Use pesto as a pasta sauce, pizza sauce, a sauce in lasagna, as a dressing for grain/rice bowls, on toast, use pesto to flavor hummus or other dips, add it to a scramble, spread it on quesadillas or sandwiches, or use as a dressing for cold pasta salads!